Designer dining tables are not only functional furniture but also an original way to add variety to the interior. Combining modern trends with functionality makes it a solution for people who value fun in interior design, but also respect the comfort of use.
The dining room is a showcase of every house, because it is the centre of meetings with family and friends. It is worth making sure that the table complements this interior perfectly. Check out our selection of luxury and unique dining tables from world-class interior designers: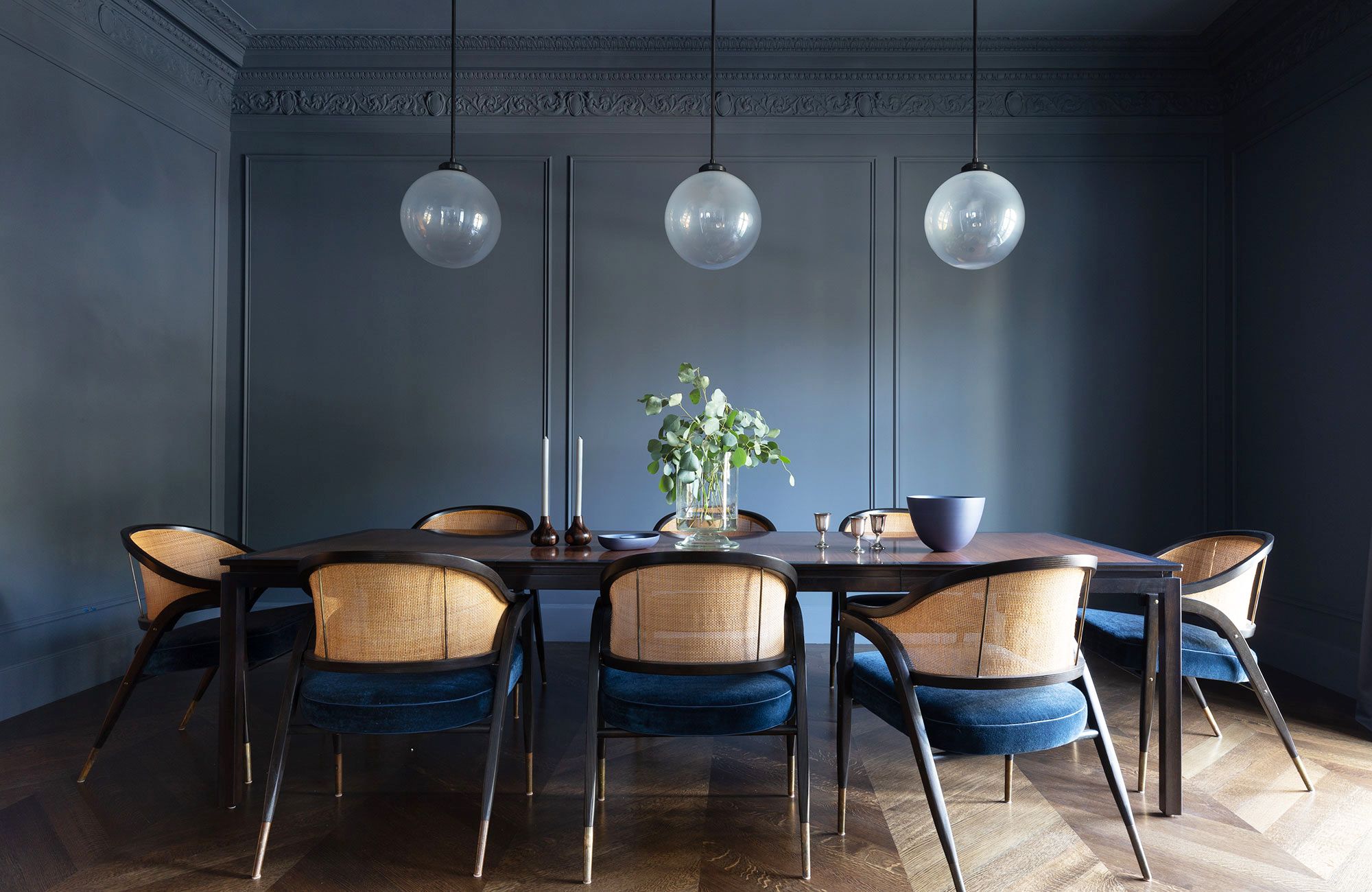 1. Bond dining table by Jonathan Adler
Jonathan Adler is a remarkable product and interior designer with a passion for pottery. His attention to detail and aesthetic approach makes him a true virtuoso. His furniture and art collection features very unique and outstanding pieces that will enrich every interior.
The Bond Extendable Dining Table is a minimalistic chic wooden table that will make a statement in every dining room. Featuring a warm, Mappa wood surface with a satin-matte finish, supported by a polished nickel base, it gives a natural and organic feeling. A removable 20″ leaf extends the table to comfortably seat up to 10, making this the perfect perch for entertaining.
Sahara dining table is a statement piece that will add a touch of luxury into your dining room. Featuring black lacquered wood and a gold leaf resin top, this dining table possesses a boldly shaped base.
This table will look well in every contemporary dining room and will catch the attention of every visitor. If you love the desert colours and accents in interiors, don't think twice!
"Sahara dining table creates the most individual interior that an art lover can wish for" – Hommes Studio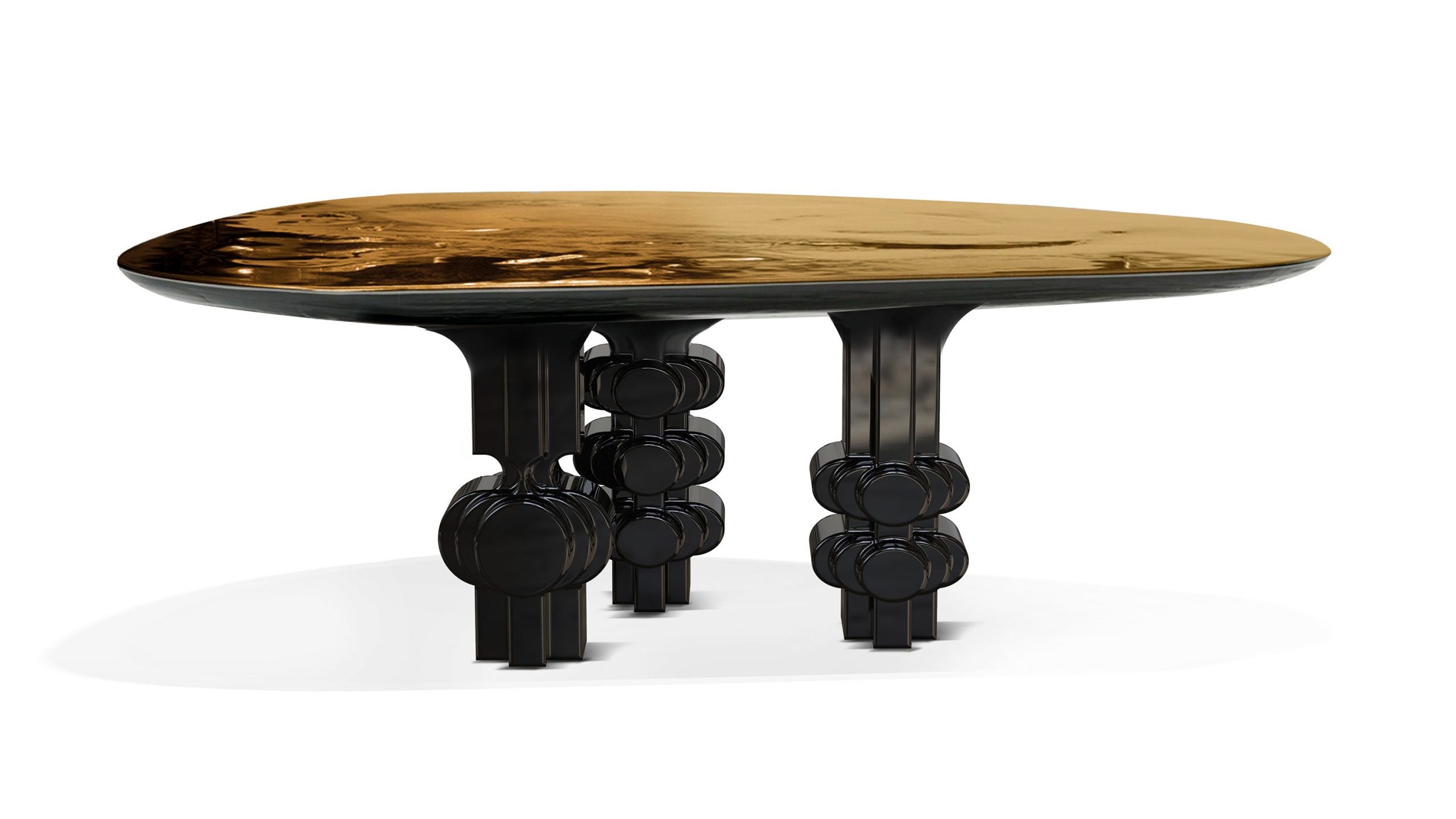 3. Pylon dining table by Tom Dixon
Designed by a well-known British designer – Tom Dixon, Pylon dining table is a mixture of industrial style and opulent craft.
Tom Dixon is a furniture and lighting designer with worldwide recognition for his use of raw materials. Works of this talented designer resemble out-of-space objects. Those pieces will astonish every industrial style and even sci-fiction fans. However, Tom Dixon loves to mix industrial style with a little luxury touch, creating truly wonderful art.
The Pylon dining table is a part of collection that consists of dining table, a coffee table and a side table all made from smoked glass lid rests on a base made of hand-welded copper-plated steel rods. Tom Dixon took inspiration from architecture, designing tables that resemble the structural look of bridges, towers and electrical pylons, served in a unique luxury way.

4. Rustic Industrial Live Edge Dining Table by Limited Abode
Rustic Industrial Live Edge Dining Table will be a perfect choice for all rustic, boho, and vintage interiors.
This beautiful wooden table creates a contemporary style whilst preserving the natural flowing shape of the tree from Sumatra.
Because of the willingness to keep the most natural shape of the Juar wood, designers guarantee that every table is unique and features a slightly different look.
It's a timeless design made for all kinds of contemporary interior projects. Its wooden tabletop and solid black legs make it the best statement dining table for any modern house.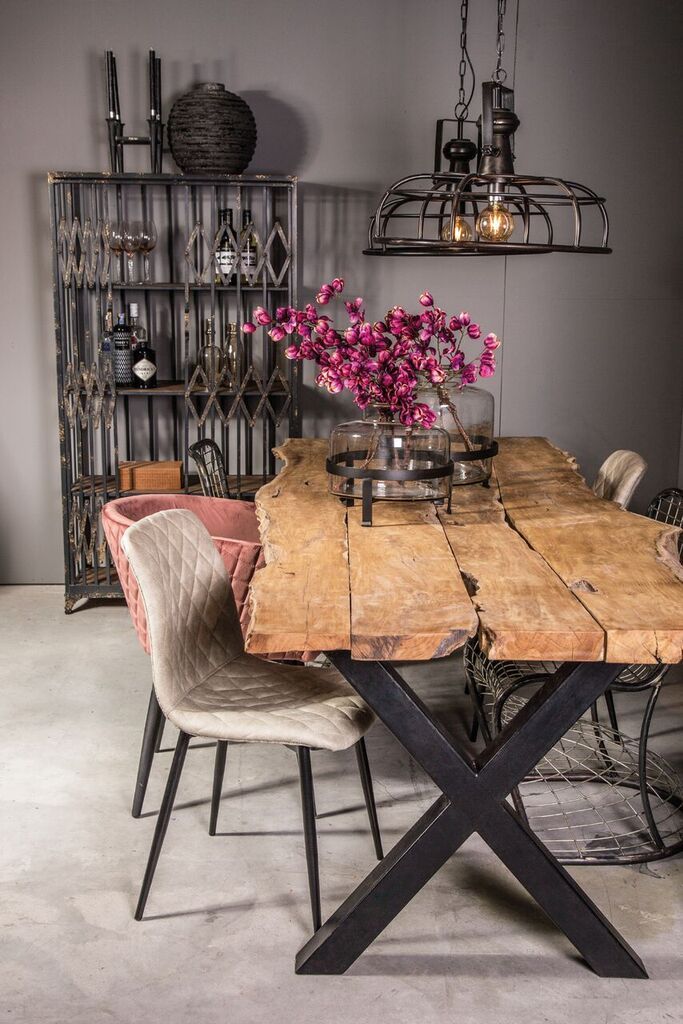 5. Memphis dining table by Dooq
Dooq is a luxury furniture company dedicated to glamorous and unique furniture pieces. Studio focuses on extensive research of details together with a vast iconographic research around art and design. Their work is a true masterpiece that will make a statement in every interior.
As Dooq studio describes on the webpage, this dining table was designed to question so-called "good taste" and functional design.
The Memphis table is a round piece with an atypical shape. The intentional imbalance was created by the bottom half spheres which seem too small to even the solid marble top structure.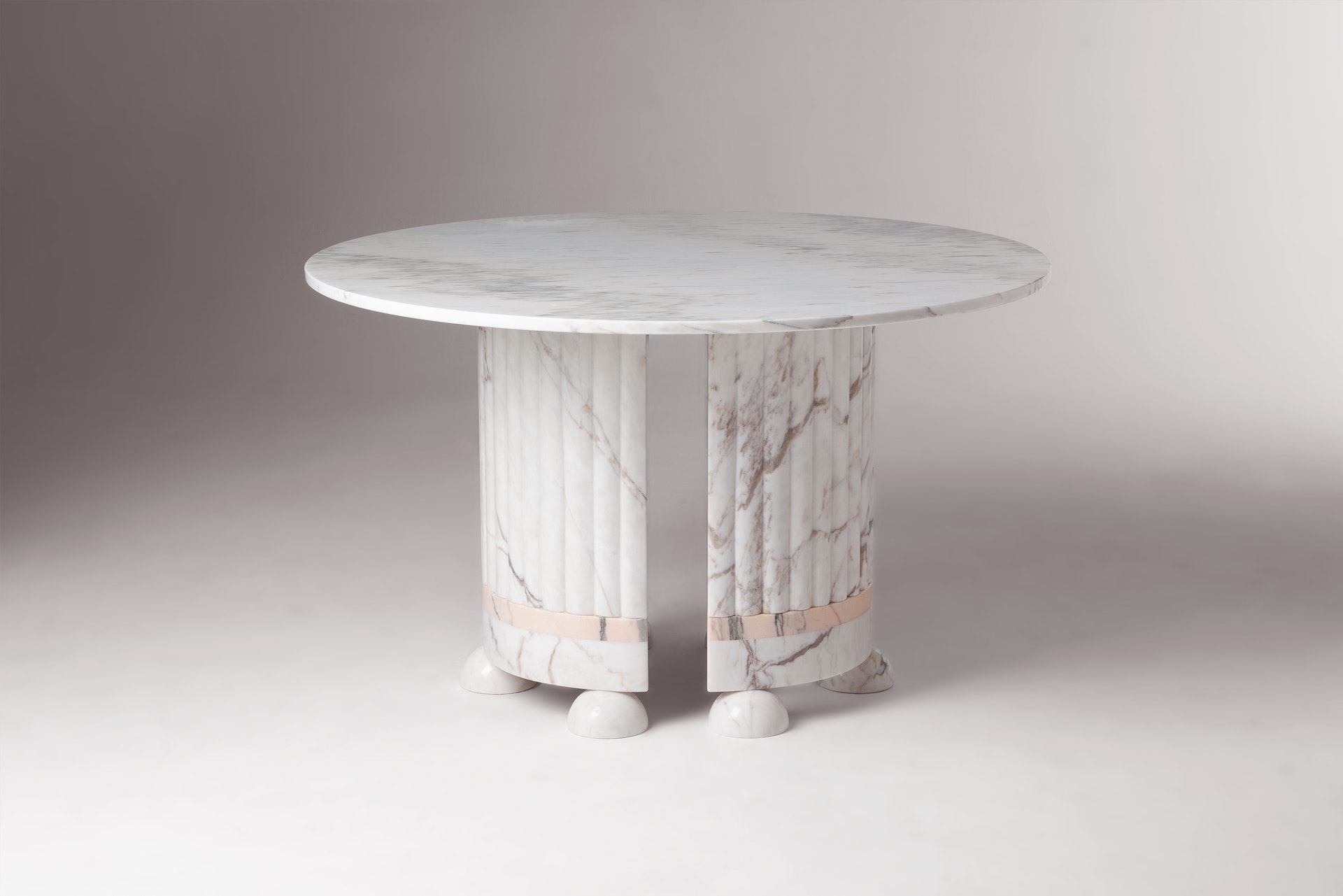 Its swivel base made from beautiful golden polished brass brings a touch of luxury into this remarkable armchair project. Despite its look, it won't poke you like a cactus, so don't be afraid! You can expect full comfort from this luxury piece.

Fushia dining table is a remarkable piece crafted with love for Memphis style, which is one of the most popular choices for 2020. It's a provocative mix of shapes and styles that will find its way in every contemporary dining room.
Gold finishes and colourful lacquered wood accompanied by polished brass element on top resemble the timeless art-deco style.
The use of fine Carrara Marble gives an extra luxury yet extravagant touch to the design.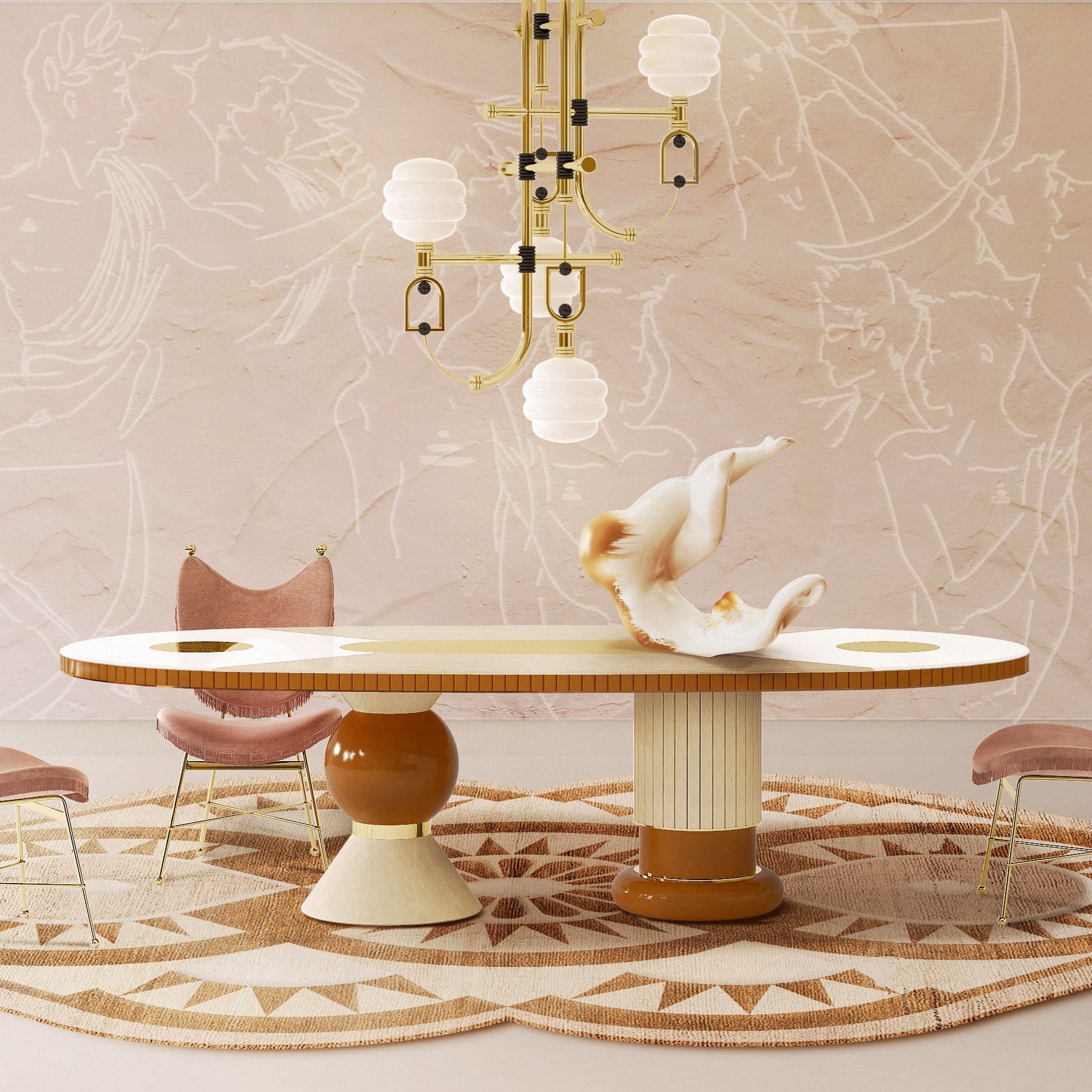 7. Dichotomy Racetrack Table by Kelly Wearstler
There is no need to introduce Kelly Wearstler. But apart from her remarkable interior projects, she is also truly devoted to furniture design, which results in marvellous pieces of art.
The Dichotomy Racetrack Dining Table is yet another of her masterpieces. Inspired by classical figurative décor, this unique table will make a statement in every modern dining room.
The two bases, resembling hands that hold the tabletop, are cast in bronze and meticulously polished by hand. The tempered glass racetrack-shaped top is banded in matching burnished bronze trim.
We really hope you liked our article. Feel free to pin all the images to your favorite Pinterest board or to print it and use it on your projects' mood boards. You can also visit our Pinterest boards in order to get more inspirations.
Get more ideas for your projects and find functional, stylish, and sizable lighting and furniture choices: