The actress Sienna Miller enlisted the services of her friend, filmmaker Gaby Dellal, to breathe fresh life into a centuries-old country house.
Aligning friendship with interior design
This 16th-century thatched-roof home in Buckinghamshire, England, captured the heart of the actress Sienna Miller. "It was a time when there was a lot of press attention on me, and I wanted somewhere to escape. I bought the house on a whim—it offers a sanctuary. I also wanted somewhere where family and friends could gather. It has a nurturing feeling; it is a home with a heart", she claims.
When Sienna Miller isn't appearing in movies, television shows, or performing on stage (including a role in the upcoming Apple TV+ series Extrapolations), her daughter, friends, and family enjoy wonderful moments together at the house. She essentially left the engineered flooring and the interior's fading chintz unchanged for more than a decade. But during the pandemic, when the need to repair the house arose, the actress knew exactly who to contact.
Sienna Miller claimed, "I wanted a Gaby house!" in reference to her dear friend Gaby Dellal's homes in Cornwall and London, which feature wonderful eclectic interiors that combine vintage textiles and kilims with industrial fixtures and other cozy elements in unexpected ways to exude warmth, impeccable taste, and heartfelt character.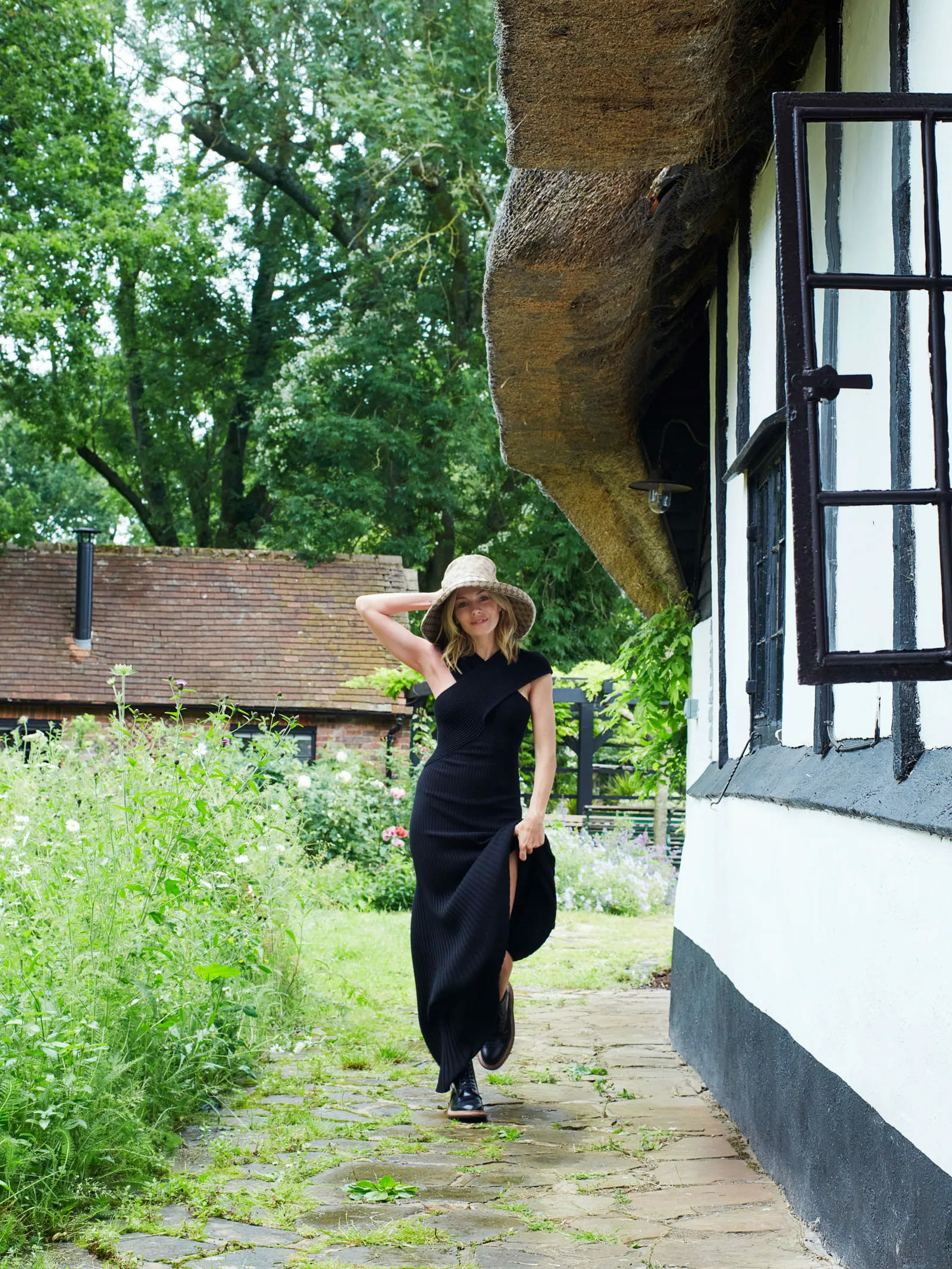 Dellal, a film and theater director by profession, was excited to take on the project and went to work with vigor. The film director shuttled back and forth between London and the location, while Sienna Miller, US born and UK raised, was grounded in New York City during lockdown. "What was beautiful is that she just trusted me, and we had a deal whereby she was not allowed there for six months until I completed the project," recalls Dellal.
Both the architectural concept and the restoration procedure are stories about friendship. "I gave Sienna her first job right here at my kitchen table. She had never acted before, and I remember our meeting so clearly—she had a cold and was wearing a cagoule and big old sweater and I fell in love with her. I made her first film, called The Ride, with Paul Nicholls, about kids on motorcycles, and her career catapulted after that," adds Dellal, who evidently has a knack for spotting potential.
See Also: Discover This Joyful Retreat in Alentejo With A Rustic Atmosphere
Gaby Dellal's ingenuity
But this was not a straightforward makeover. Dellal, who had been to the house frequently, was familiar with its foundation and could see its full potential. She started by completely emptying the house, including all of the furniture, beds, cabinets, clothing, boxes, and closets. After that massive clean-out, Dellal hired contractors to start replacing all the lattice windows, tearing up the floorboards, and opening the eaves of Sienna Miller's bedroom, which had a low ceiling.
A gravel road and parking lot outside were removed to create room for a beautiful wildflower meadow with a car-parking area around it. Additionally, the old garage was also converted into a guest bedroom, for family and friends who are welcome to stay even while Miller is in New York (she just bought a West Village town house) or away filming.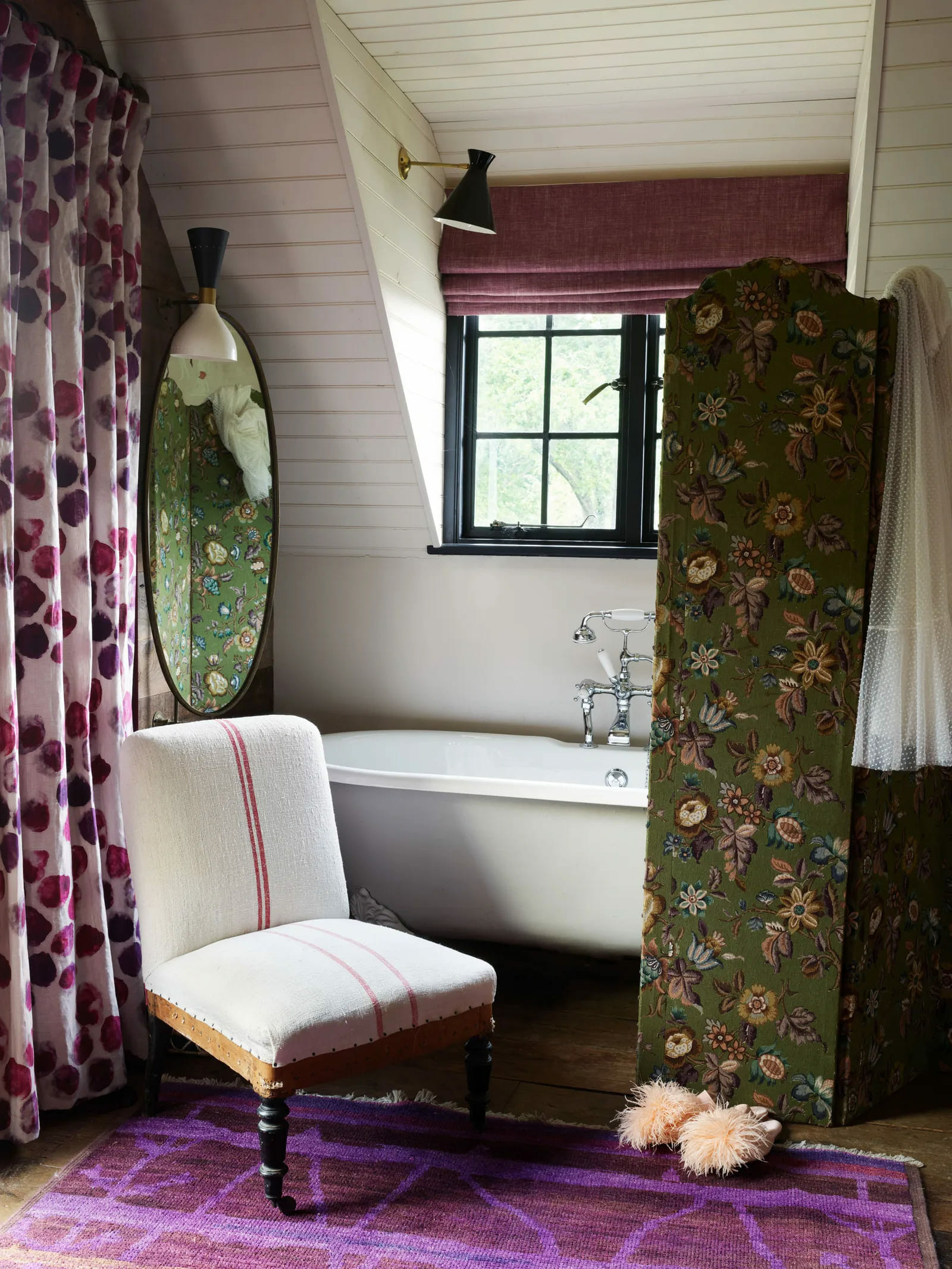 "When I took on the project, I did tell Sienna that I would want to change everything—floors, windows, doors included," says Dellal, who began the multifaceted task of finding suppliers, artisans, and merchants throughout the United Kingdom, the United States, and Turkey.
"I found that people in the interior business are just so lovely," states Dellal, whose own black book of dealers and suppliers increased during her years of filming and releasing detailed and atmospheric films
Crittall windows were obtained on eBay, dark brown floorboards from the Georgian and Victorian eras were found at Norfolk Antique & Reclamation and other stores, and the ideal fennel green kitchen tiles were discovered at Bert & May. The kitchen worktops made of black and white Carrara were obtained from Retrouvius and Verona Marble, respectively, and a stunning set of French doors from the French House in York that magically filter light were also purchased there.
"All the beams were black, which I can't bear. So we burnt the black off—it's so much softer", recalls Dellal, who had in mind much brighter, more airy interiors with hues and textures that subtly transitioned from one place to the next.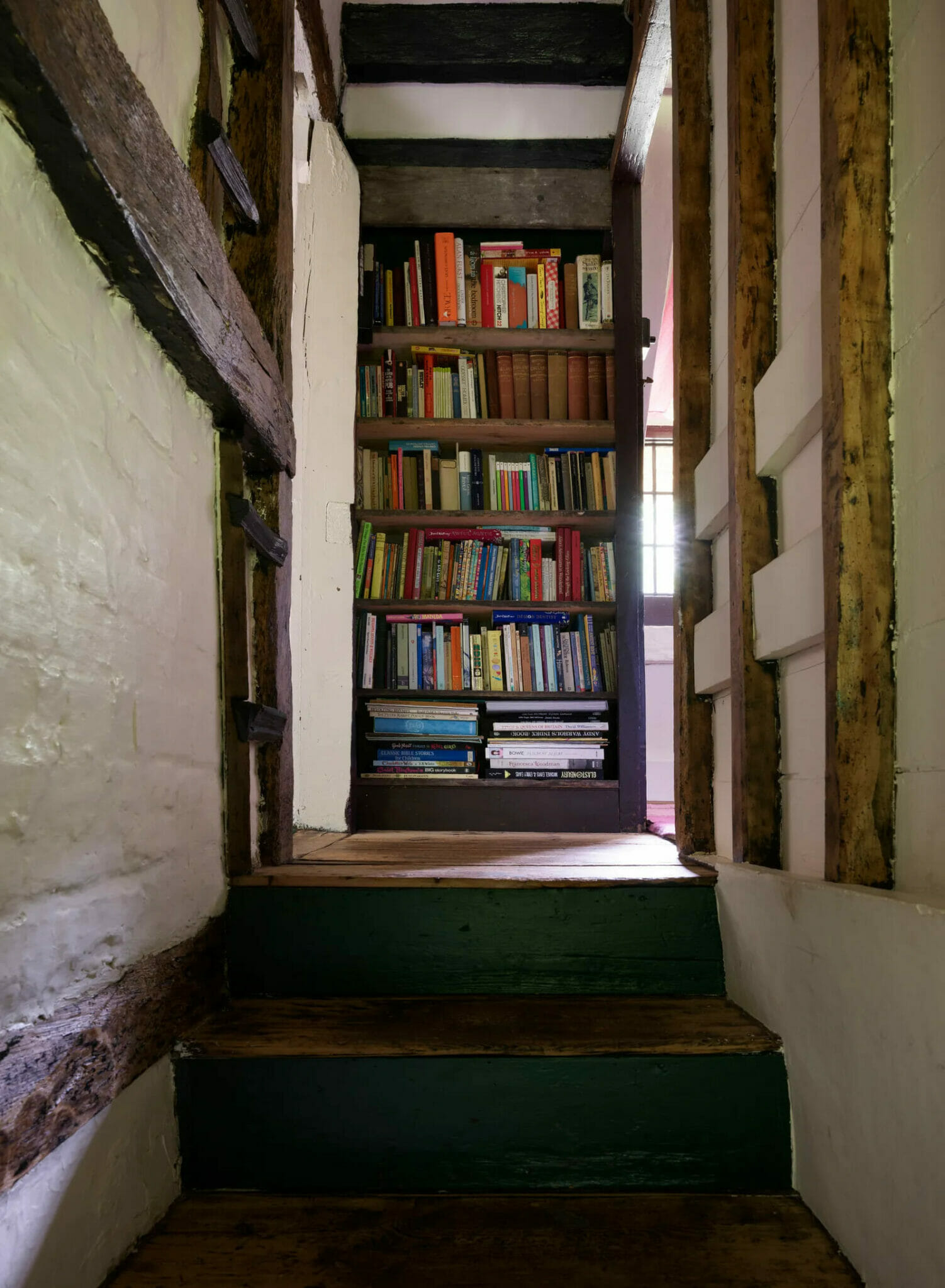 See Also: Inside A 100-Year-Old Renovated House In Dalla
In contrast to a showpiece, Dellal envisioned a home that would embody Sienna Miller's joie de vivre, generosity, and spontaneity. "There are always lots of friends with muddy boots and dogs, yet, miraculously, the house never feels crowded—you can spill into all the different rooms and find space," she claims.
Dellal meticulously worked on every detail of the intricate jigsaw puzzle she had created in her head. She spent hours selecting the colored cathedral-glass panels for the doors at Lead & Light in Camden, went to Francesca's Paints to find the ideal shade of bubble-gum pink for the kitchen, and spoke with Turkish artisans who vegetable-dyed the vintage Anatolian kilims for the bedrooms and staircase. From the Hungarian striped linen kitchen curtains to the distinctive silhouette of the 1957 Hans Brattrud dining chairs, there is inventiveness to be admired everywhere you look.
"I worked on the project over a period of months and looked at every tiny aspect—right down to every doorknob and hinge—because it is Sienna and I love her", states Dellal, who transformed a big sitting room into a dining room, due of Sienna Miller's interest in cooking.
Sienna Miller's 10-year-old daughter Marlowe received headboards of Welsh blanket fabric adorned with sheepskin, blush and olive gingham bedding, and a tent-flap-style window shade, while Miller herself received a proper big bathtub, Maison C wallpaper, a Murano-glass light, and a rich purple vintage Gabbeh rug. "It is heaven sleeping in my room and waking with the morning light filtering through the curtains", says Sienna Miller of the space, which opens onto a balcony.
Sienna Miller's reaction
"I had the confidence to think if I love it, she will too, and if she doesn't, that's also cool," Dellal claims. Dellal was at the property at daybreak to ensure that everything was in order when Sienna Miller arrived to visit once the job was done. The sight of the meadow and the lovely pergola touched the actress before she even reached the home.
"I could not believe the transformation—I knew it had massive potential, but arriving to see this meadow in front of the house planted with wildflowers, I started to cry," she recounts. "And it was all achieved in such a short space of time. Gaby is a true artist. Everything has a story, like the kitchen cabinets that were made from old school desks, and there is a real sense of place—it is an artistic retreat but not in any sense precious. Every time I stay here, I discover new aspects."
ARE YOU INTO INTERIOR DESIGN?
If so, discover modern furniture and lighting designed by design lovers for design lovers. All you need is to download the Hommés Studio catalog. To complete your interior design project, choose the high-end homeware by ACH Collection.

SOURCE: Architectural Digest