Bold, sophisticated and refreshing. These 10 Memphis style furniture pieces by HOMMÉS Studio are essential in modern home design.
Memphis Design style is iconic. But it can easily become overwhelming. The design style born in Milan at the beginning of the 1980s is characterized by impactful silhouettes, sharp lines, glossy finishings, and vivid colors. By blending art deco proportions with pop art features, the Memphis Group led by Ettore Sottsass created an unseen and iconic retro design aesthetic that makes a statement in every room. Therefore, a Memphis style furniture piece is essential in any interior design project.
Memphis Design furniture borrows many features from Memphis Design style – it brings strong colors together (yellow and cobalt blue, for instance), coats furniture in plastic-laminate and lacquer, and adds a retro-futuristic flair to streamlined shapes.
While the Memphis Design aesthetics is undeniably bold, sophisticated, and refreshing, decorating with Memphis Design style furniture is challenging. Even the most experienced interior designer might need a little guidance on how to decor with Memphis Design furniture.
These 10 bold, sophisticated, and refreshing Memphis style furniture pieces by HOMMÉS Studio make decorating with Memphis style furniture easy. The selection of luxurious materials, the timeless patterns, the daring within the geometric shapes, and the excellence of finishings makes HOMMÉS Studio's Memphis style furniture essential in modern home design.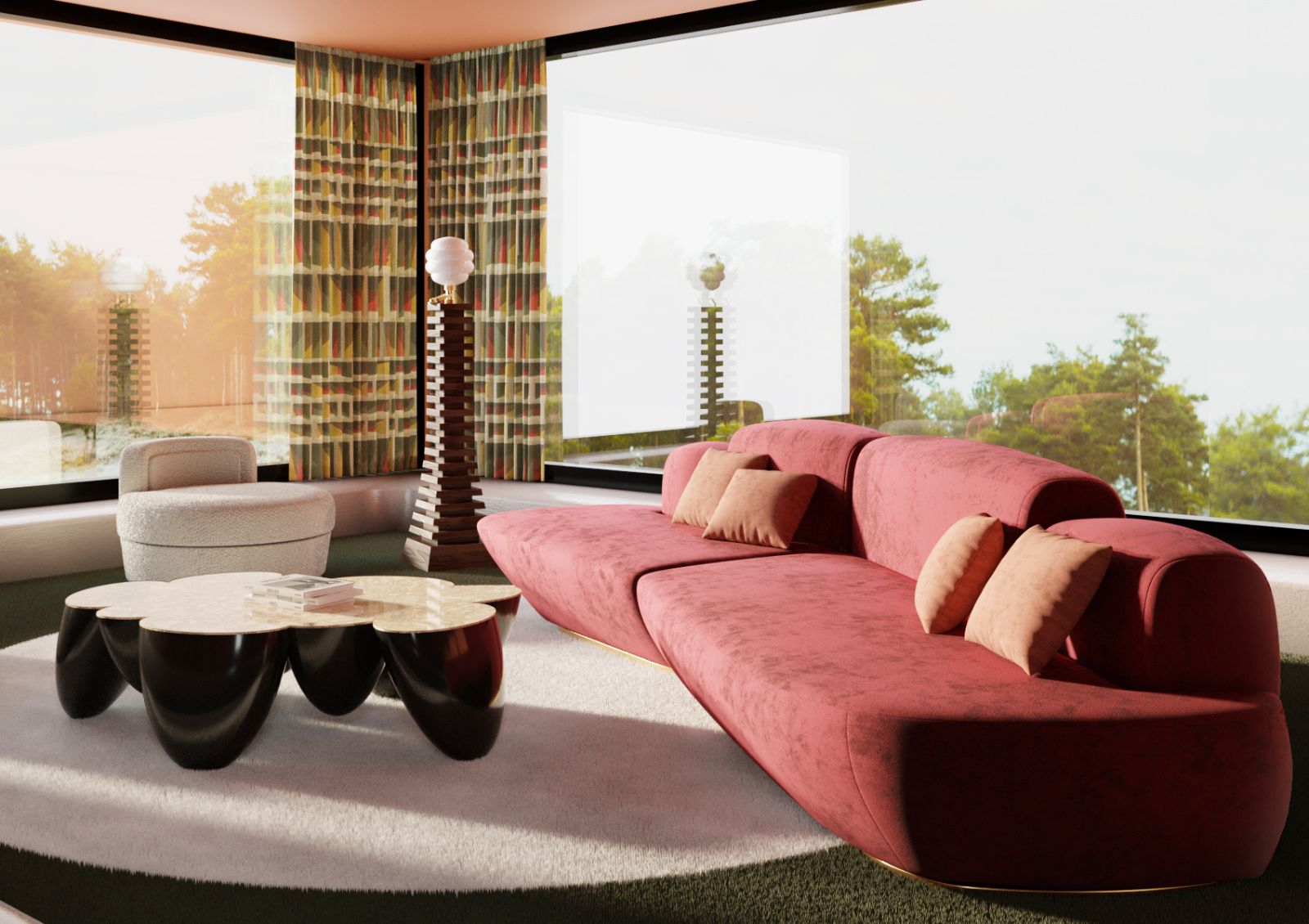 Memphis Style Furniture
Memphis Design furniture is a merge of art deco with pop art and a pinch of 1950s kitsch aesthetic. The postmodern design style was created by Memphis Milano, or the Memphis Group, a group of Italian designers and architects led by Ettore Sottsass delivered objects and furniture with streamlined shapes, maximalist silhouettes, and vibrant finishes. The main characteristics of this design style is the symmetry and verticality of art deco, the bold patterns of modern graphic design, the vibrant colors of commercial art and product design, and the timelessness of black and white stripes.
Memphis Design Style
The Memphis Design Style created by the Memphis Group is one of the most instantly recognizable design styles and blends art deco with pop art. The design movement born in the living room of Ettore Sottsass on the evening of December 11, 1980. Sottsass invited a group of 22 Italian architects and designers to discuss the future of design. In common, they disliked the simplicity of Modernism, its use of modest lines, bland shapes, and neutral colors.
The Memphis Group decided to design and create decorative objects, fabrics, prints, ceramics, and furniture with unusual shapes, colors, materials, and perspectives. The Memphis Milano group was bold enough to create 'bad-taste' objects that would get bad critical acclaim at the time. Little did they know that groundbreaking as they were, their unique aesthetics would become a design movement that would be trendy for decades on – and would inspire new artists and brands to combine geometric and sterile shapes with bold colors, materials, and finishes.
10 Best Memphis Style Furniture For Modern Home Design
Our selection of the 10 best Memphis style furniture is made to complement different home spaces and blend in with different design styles – from a modern bedroom to an art deco living room. The colors, materials, and construction of the Memphis style furniture make sure that it makes a statement in any room.
1. FUSCHIA II SIDE TABLE
The Fuschia II Side Table is the ideal cocktail table for modern living rooms. The bulky geometric shape, the golden details, and the black and white stripes pattern introduces a chic and luxurious interpretation of Memphis Design furniture that makes a statement in any living space.
2. GUFFY BOOKCASE
Guffy Bookcase is a modern double-sided bookcase design. This multi-level bookcase with contemporary lines is a posh example of modern Memphis style furniture. The playful composition of shapes translates a classic Memphis composition of geometric shapes. The polished brass structure makes it the most eye-catching item for any modern home office or living room corner.
No products were found matching your selection.
3. DUNA CENTER TABLE
Duna Center Table is a playful combination of round shapes and lush textures. The wood and travertine balance the bulky silhouette of this Memphis style coffee table. With sultry elegance, the Duna Center Table is an unmissable Memphis style furniture in modern living rooms.
4. MOROCCO POUF BLACK & WHITE
Morocco Pouf Black & White Set is a modern take on the traditional Morrocan poufs. With a classic black and white pattern and a squishy anatomy, the Morocco Pouf evokes a Memphis Design flair. This set features two poufs upholstered in fabric.
Morocco Pouf Black & White Set

Pouf

$

2.659
5. LUNARYS CENTER TABLE
Lunarys Center Table is an outstanding modern design piece. This iconic travertine coffee table results from the combination of different oval shapes. The stone's natural color balances living spaces with a rich palette of vivid colors.
6. FUSCHIA DINING TABLE
Fuschia Dining Table is the revivalism of the Memphis Design's charm and charisma. Distinguished shapes are pulled together to design a dining table that is playful yet stylish. This high-end dining table is the best Memphis style furniture for creating a unique dining room.
7. MYKONOS DAYBED
Mykonos Daybed Cream is the perfect outdoor furniture piece. The curvy and opulent shapes of the sunbed evoke an authentic Memphis Design flair. This Memphis style furniture piece can complement your home design project.
Mykonos Daybed Cream

Daybed

$

11.752
8. ODONTO CENTER TABLE LEVANTO
Odonto Center Table Levanto is a modern coffee table that is an excellent choice for a contemporary design. This Memphis style furniture is a marble center table also suitable for outdoor decor.
9. CLUEDO ARMCHAIR
Cluedo Armchair is a Memphis design style sofa. This rounded armchair has a sleek geometry that offers comfort, and a modern vibe to any modern living room design.
10. MOA BENCH
Moa Stool is a modern design bench. This Memphis style furniture is upholstered in suede and structure in matte wengue ash wood with details in polished brass. Its design expresses a solemn geometry accentuating a modern identity in any contemporary interior design project.
If you're in live with these 10 Memphis style furniture, you'll be very pleased to discover our collection of Memphis Design furniture for complementing you modern interior design project.