Discover Manhattan's ultimate luxury penthouse and get inspired by the fusion of the Japanese and Art Deco styles in interior design. Elevate your decor dreams.
As you step into this luxury penthouse, it's evident that Sebastian Zuchowicki has orchestrates an experience that transcends traditional interior design. The panoramic views of Manhattan's skyline, stretching as far as the eye can see, create a backdrop of unparalleled grandeur. Every window is a canvas, framing the city's hustle and bustle like a work of art.
What truly sets this penthouse apart is the innovative fusion of Japanese and Art Deco design elements, a testament to Sebastian Zuchowicki's visionary approach in Japanese aesthetics blend seamlessly with the opulence, geometric patterns, and glamorous materials of the Art Deco era, resulting in a unique design language within this luxury language.
Japanese aesthetics are renowned for their simplicity, harmony, and connection to nature. In this project, these principles manifest in various forms. The influence of Japanese design is evident in the clean lines, uncluttered spaces, and exquisite of natural materials like wood and stone. The luxury penthouse exudes a sense of serenity reminiscent of a traditional Japanese Zen garden.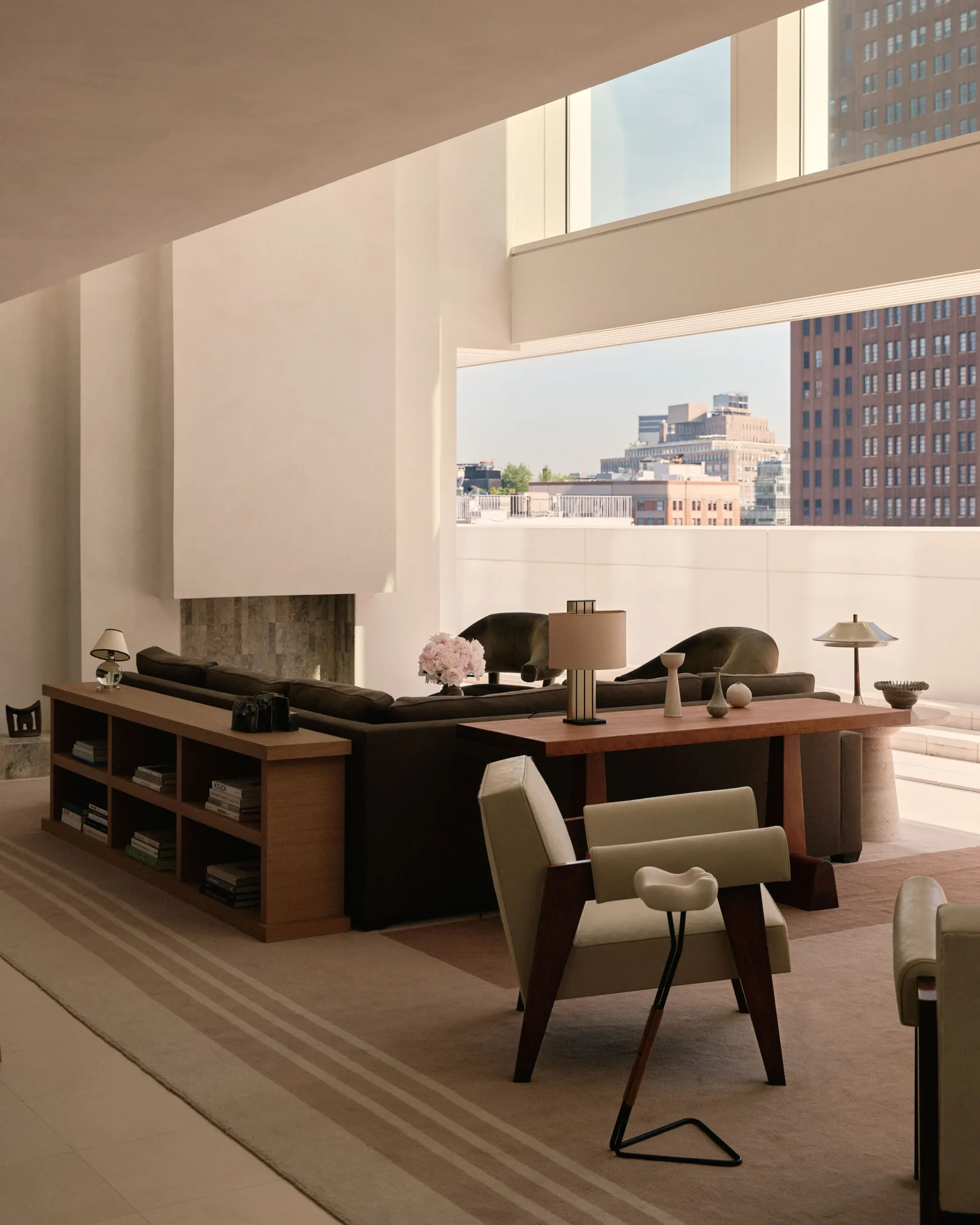 Lisola Armchair White

Armchair

$

6.564

Lunarys Round Center Table

Center Table

$

9.455

Kongo Armchair

Armchair

$

7.369
One remarkable feature is the integration of Shoji screens, allowing natural light to filter through delicate rice paper panels, creating a play of light and shadow within the luxury penthouse. These screens offer a sense of privacy without sacrificing the panoramic views that make the penthouse so extraordinary.
Another nod to Japanese aesthetics is the presence of carefully selected bonsai trees which bring a touch of nature indoors. These miniatures marvels not only symbolize harmony but also add layer of authenticity to the luxury penthouse's design.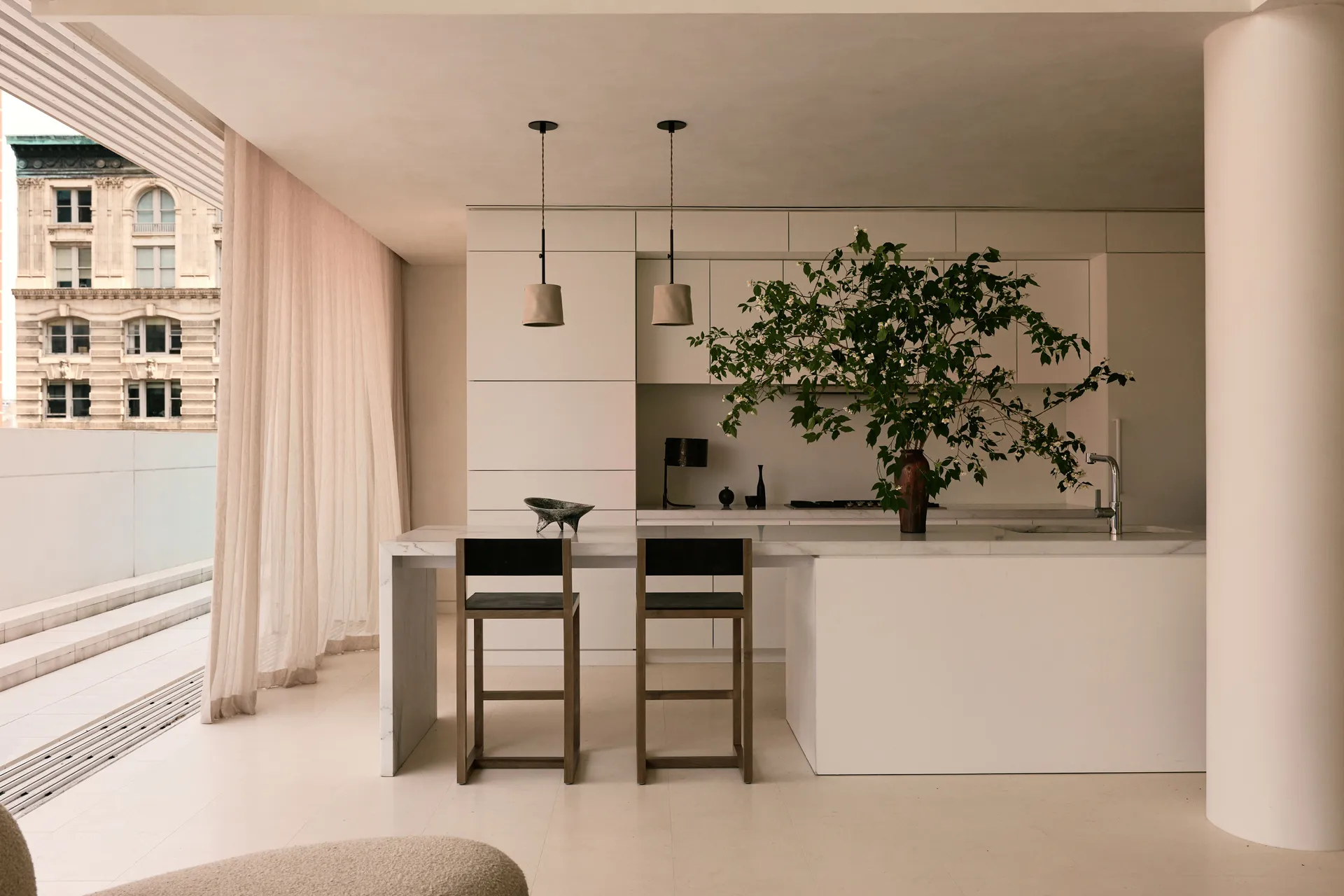 While Japanese design elements infuse a sense of serenity, the luxury penthouse also pays homage to the opulence and glamour of the Art Deco era. Art Deco is characterized by its bold patterns, metallic accents, and lavish use of materials such as brass, gold and marble.
The fusion of Art Deco with Japanese design creates a striking combination that captivates the senses. In this luxury penthouse's living spaces, you'll find Art Deco inspired furnishings that are sumptuous and extravagant, yet seamlessly integrated into the overall design.
Velvet padding, gilded mirror, and elaborated chandeliers evoke the extravagance of the project, while geometric and bold metallic accents resonate with Art Deco style. This fusion doesn't overwhelm; instead it, it elevates the luxury penthouse, making it a space where history, culture, and modernity converge.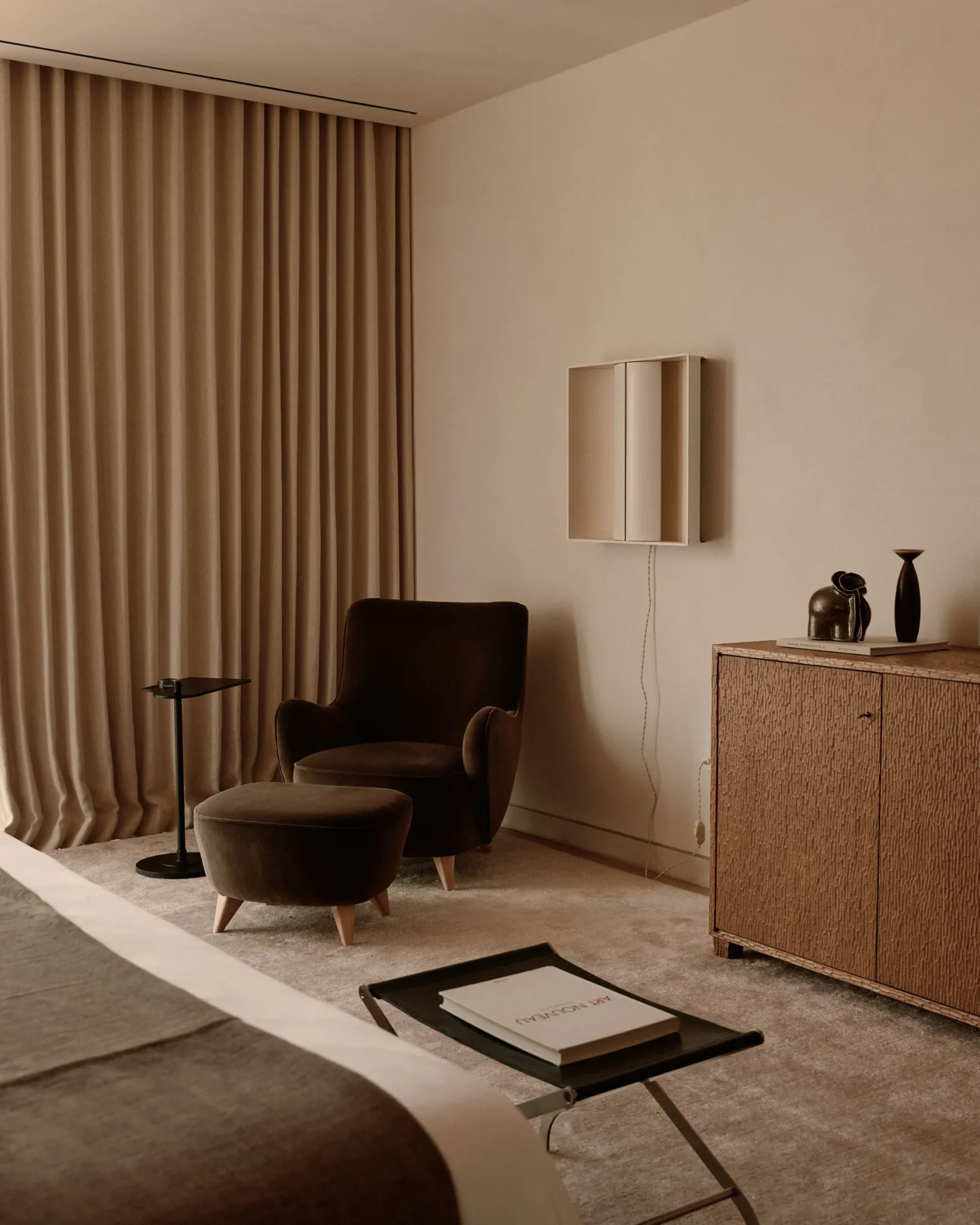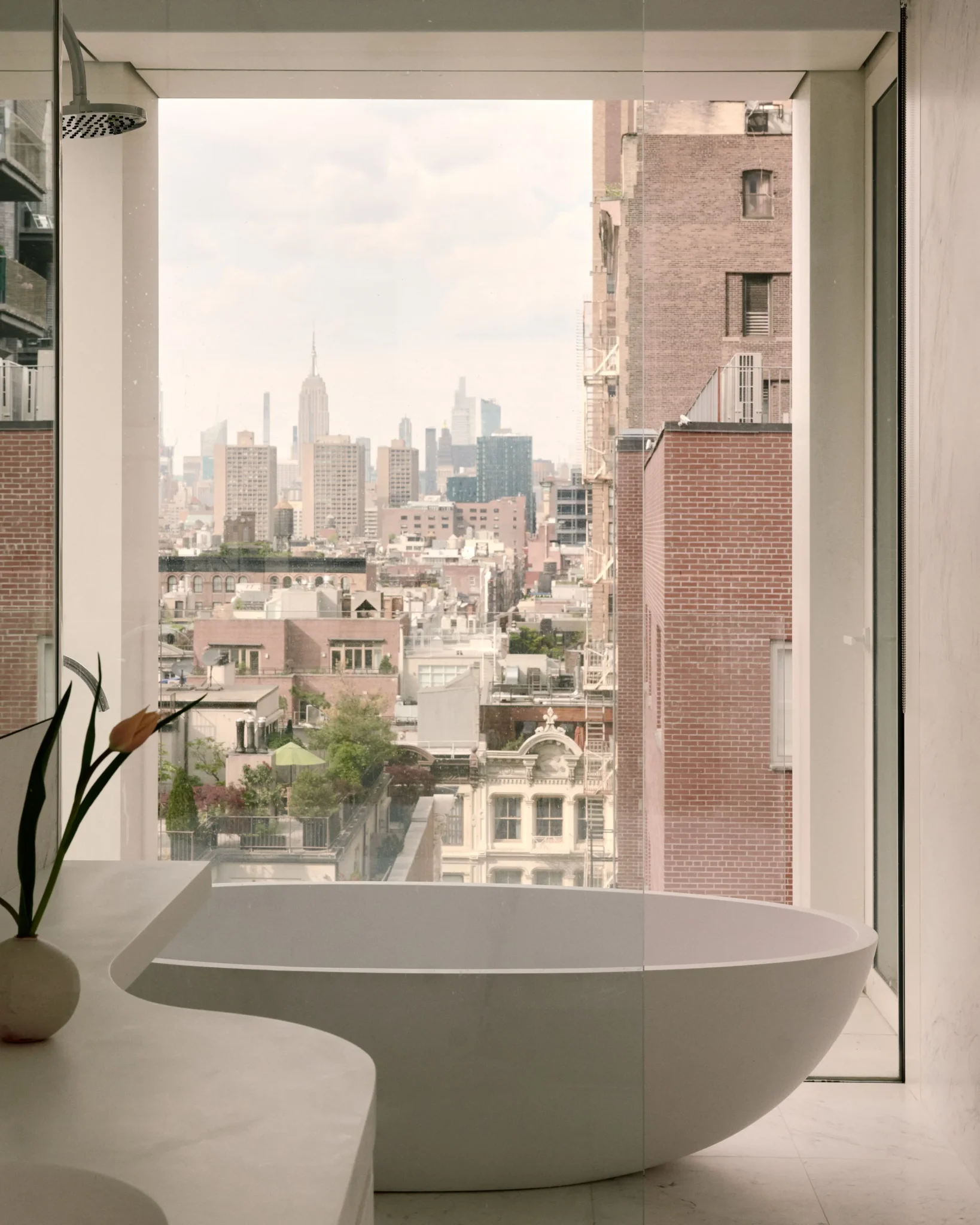 As you step into the living room you can see that the contrasting with the serene Japanese elements are bold Art Deco accents that infuse the living room with a sense of glamour. Velvet upholstery in rich jewel tones adornes the sumptuous sofas, providing contrast to the minimalist backdrop. The incorporation of geometric patterns, reminiscent of the art decor era, can be seen in the area rugs and throw pillows.
Connected seamlessly to the living room is the dinning room, where elegance meets extravagance. The dinning table, crafted from rich, dar wood, exudes simplicity and functionality. The chairs surrounding it feature clean lines and neutral padding, ensuring that the focus remains on the dinning experience and the panoramic views.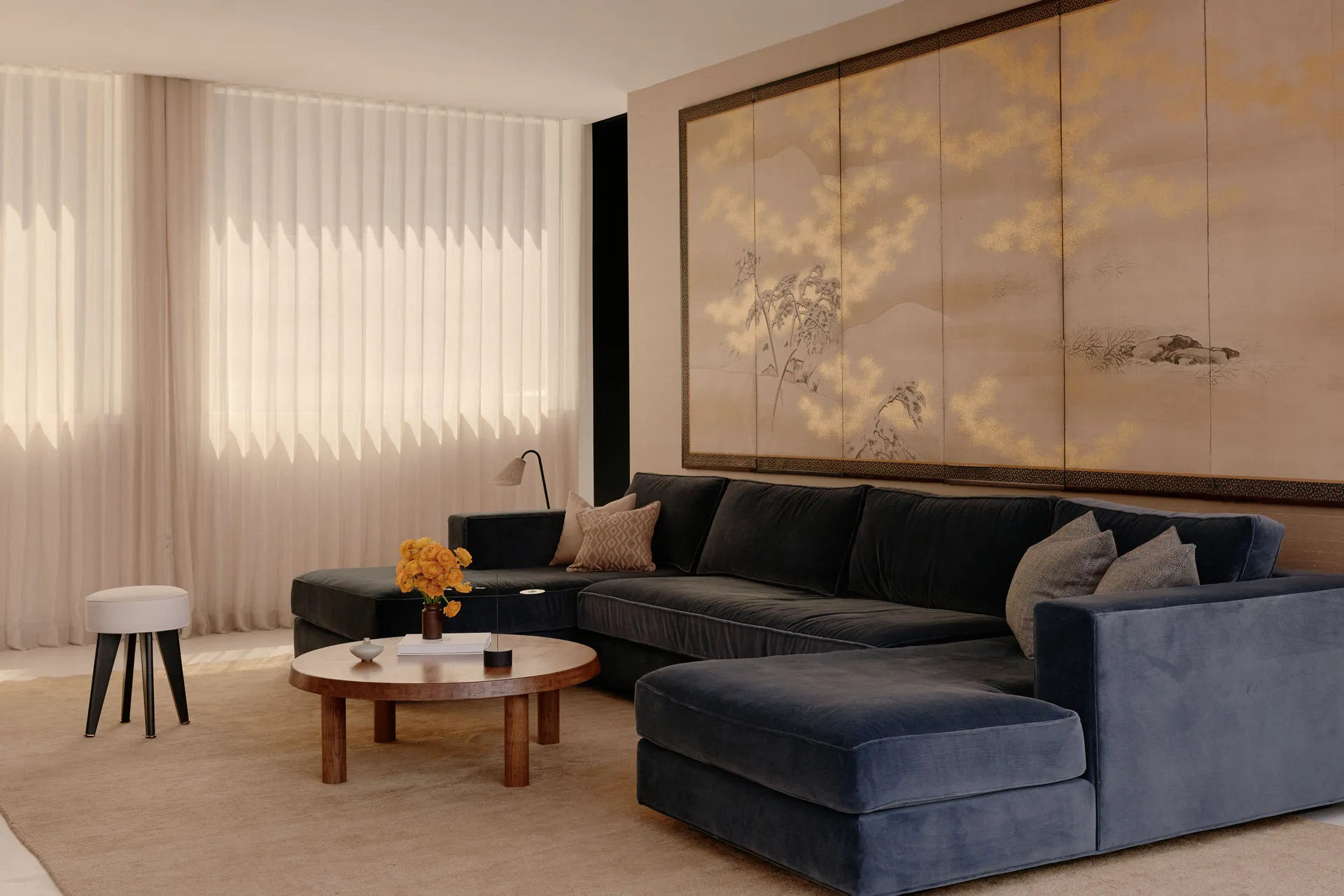 Pina Chair Iron

Chair

$

2.163

Billie Oval Dining Table Travertine

Dining Table

$

24.888

Kara Sofa

Sofa

$

7.499
What makes the fusion of Japanese and Art Deco in this luxury penthouse truly remarkable is the harmony achieved between two seemingly contrasting design languages. The careful curation of elements by Sebastian Zuchowicki ensures that each style complements and enhances the other, resulting in a space that feels harmonious balanced, and uniquely captivating.
As you explore this luxury penthouse, you'll notice that every detail has been meticulously considered, from choice of materials to the placement of decorative elements. This thorough approach ensures that the fusion feels organic and seamless rather than forced.
Zuchowicki has showcased how the fusion of to distinct styles can create something extraordinary with luxury penthouse setting. Now you have the opportunity to draw inspiration from this masterpiece, infusing your own luxury penthouse projects with creativity, elegance and a touch of unexpected.
To bring these design concepts to life, consider exploring the Art Deco furniture selection at HOMMÉS Studio, which seamlessly complement your next penthouse project. Our pieces offer you a curated selection of furnishings to elevate your interior design projects to new heights, creating exceptional living spaces that defy convention, just like Zuchowicki did.