In a neighborhood that has drawn Dean Martin and Frank Sinatra, designer Miles Redd turns a 1950s flat into an eclectic and contemporary house.
Miles Redd embarked on his interior design career after graduating from NYU. In 1998 he opened his design firm in New York City's NoHo neighborhood.
He is known for his eccentric brand of warm glamour. Playful mixtures of high and low characterize his unique aesthetic vision. Also, he likes to refresh with splashes of color and modern gestures.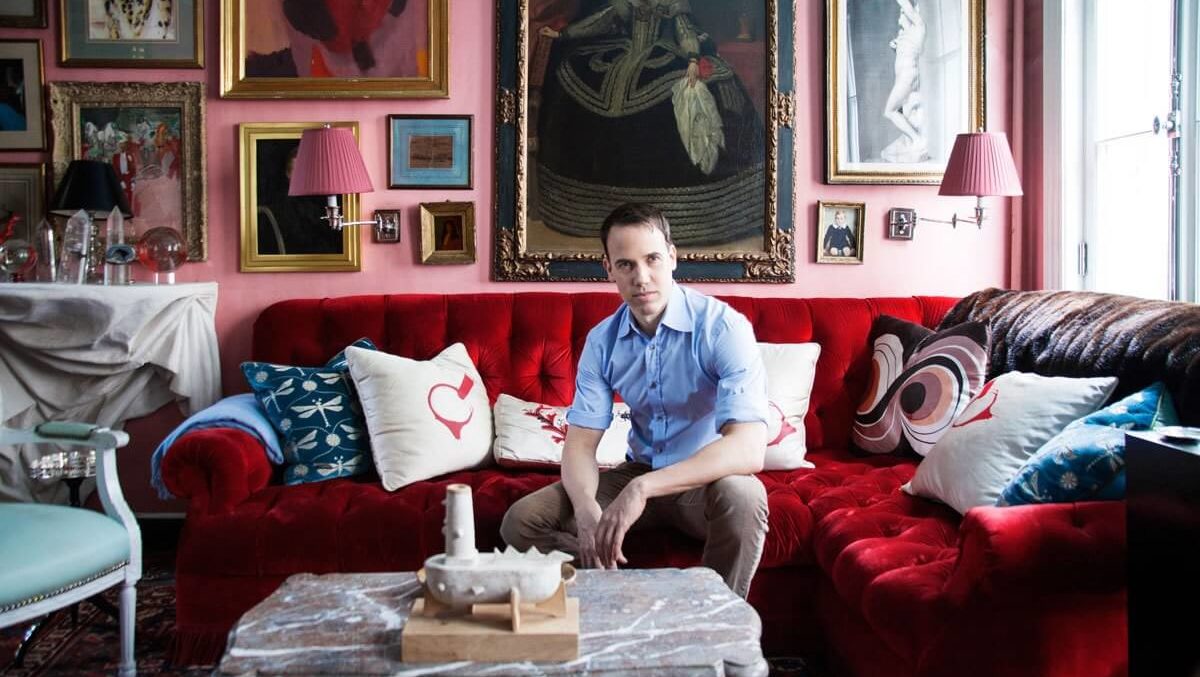 Curvy and sexy as all get-out, the 1961 Mercedes-Benz 300 SL parked outside Sarofim's new home is the perfect throwback.
Built in 1958, the single-level house, whose crescent roof, swooping walls, and perfectly round dining room are signatures of its architect, Robert L. Earl, is one of many wonders that landed in the Trousdale Estates.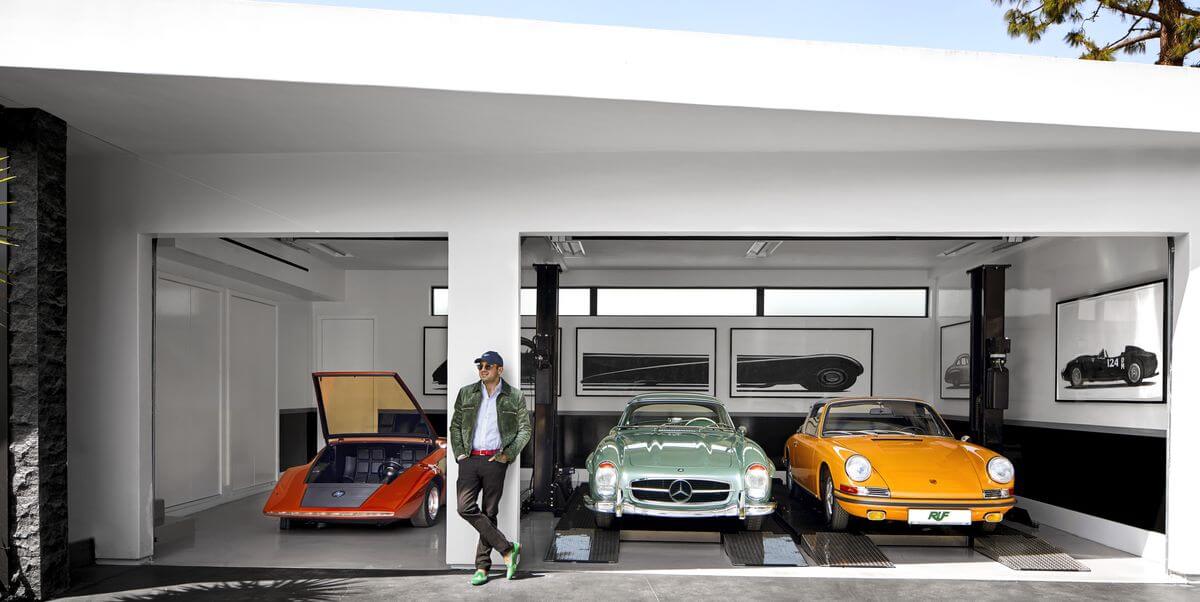 Sarofim restores cars and enters them in competitions around the world. Therefore, he is so passionate that he has been known to remove the furniture from his dining room. He turns it into a stage for one of his biggest prizes: a rare 1970 Lancia Stratos HF 0 that looks like it is straight out of a James Bond movie.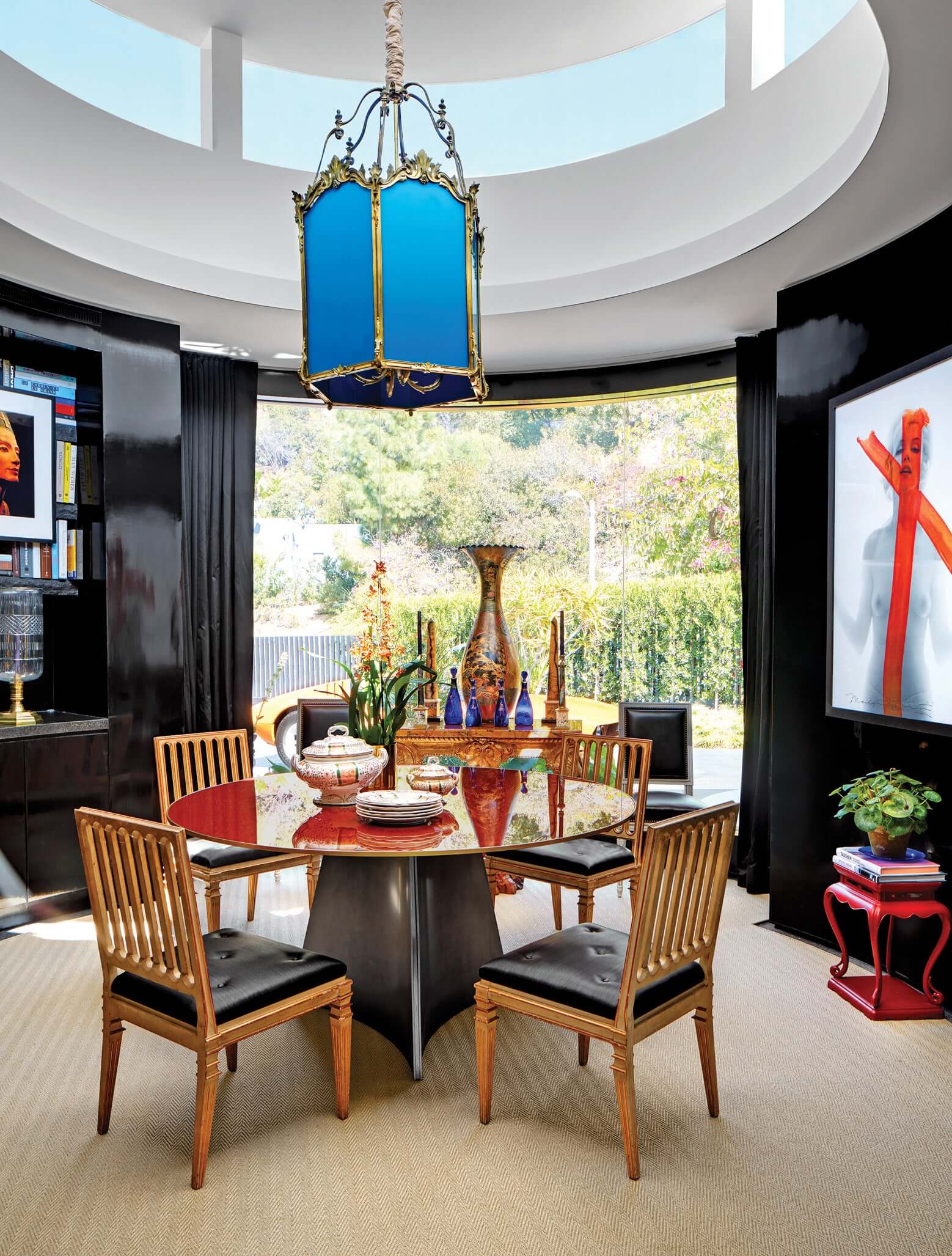 Nevertheless, if vintage cars are the perfect Trousdale touch, the home's furnishings are counterintuitive. The rooms are filled with museum antiques and an art collection that mixes old masters with edgier contemporary works.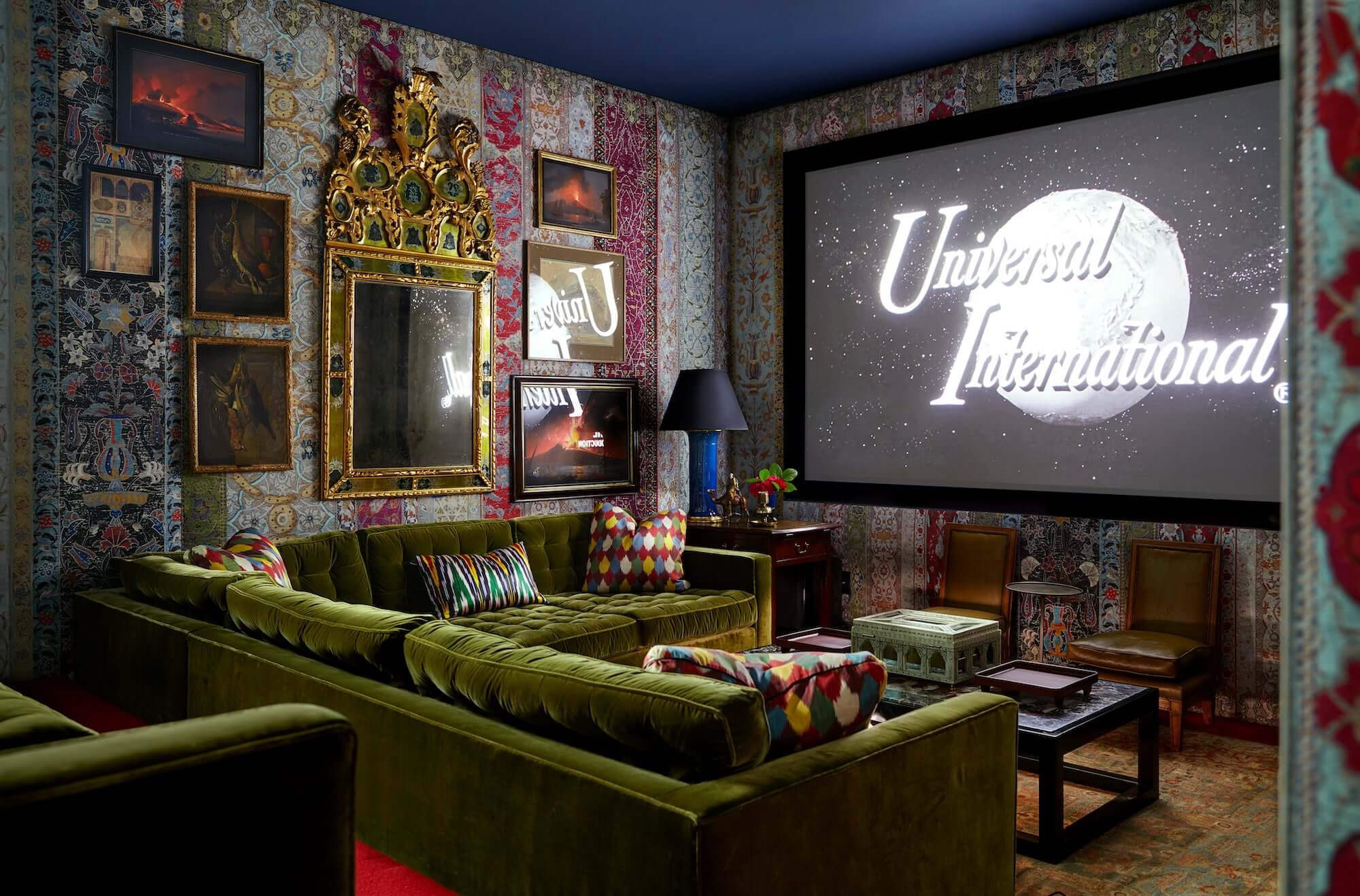 The home's zeitgeist can be described as "maximum minimalism," says the interior designer, Miles Redd.
The mixes clearly work, but it took some convincing.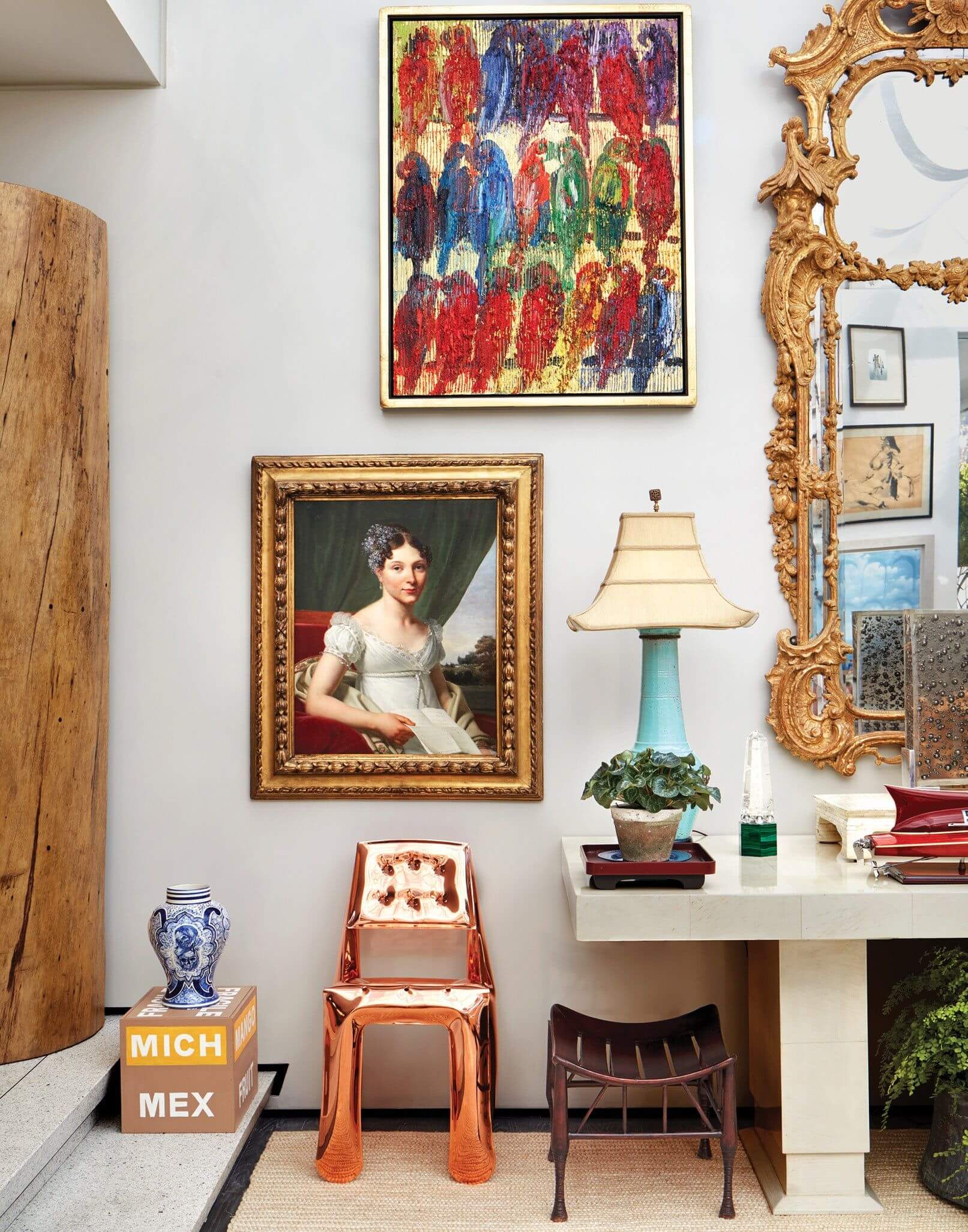 Meanwhile, Redd and his partner David Kaihoi began a sprint to furnish the house. They accomplished it in just six months.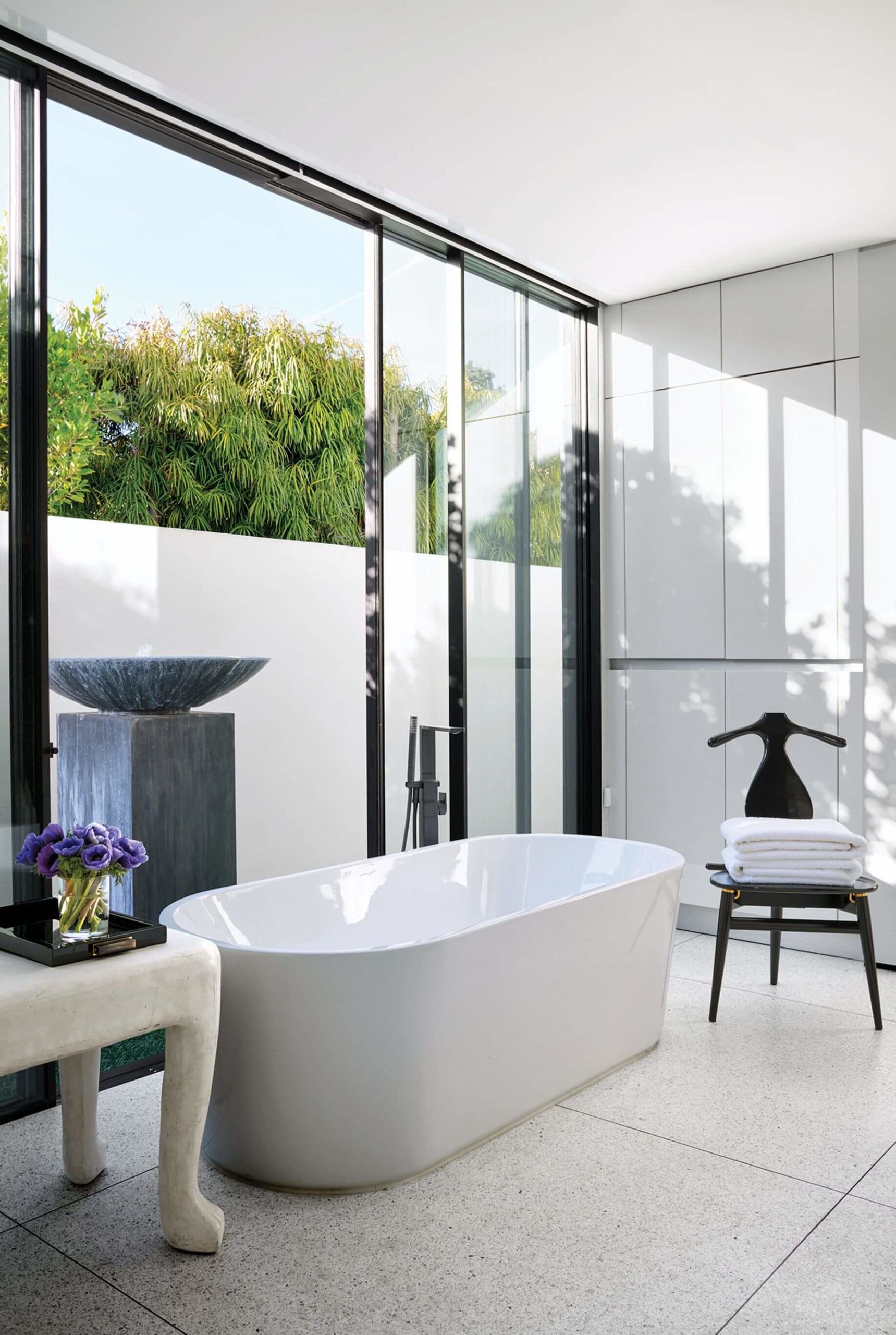 Sarofim trusted the team to bring coherence and a sense of style to his home, although he did push back on one of Redd's suggestions. Sarofim likes blue, and Miles had an idea to do something like 14 shades of blue lacquer. However, the house owner disagrees and wants to keep it black, white, and grey. Redd and Kaihoi made sure that the home is not lacking in color.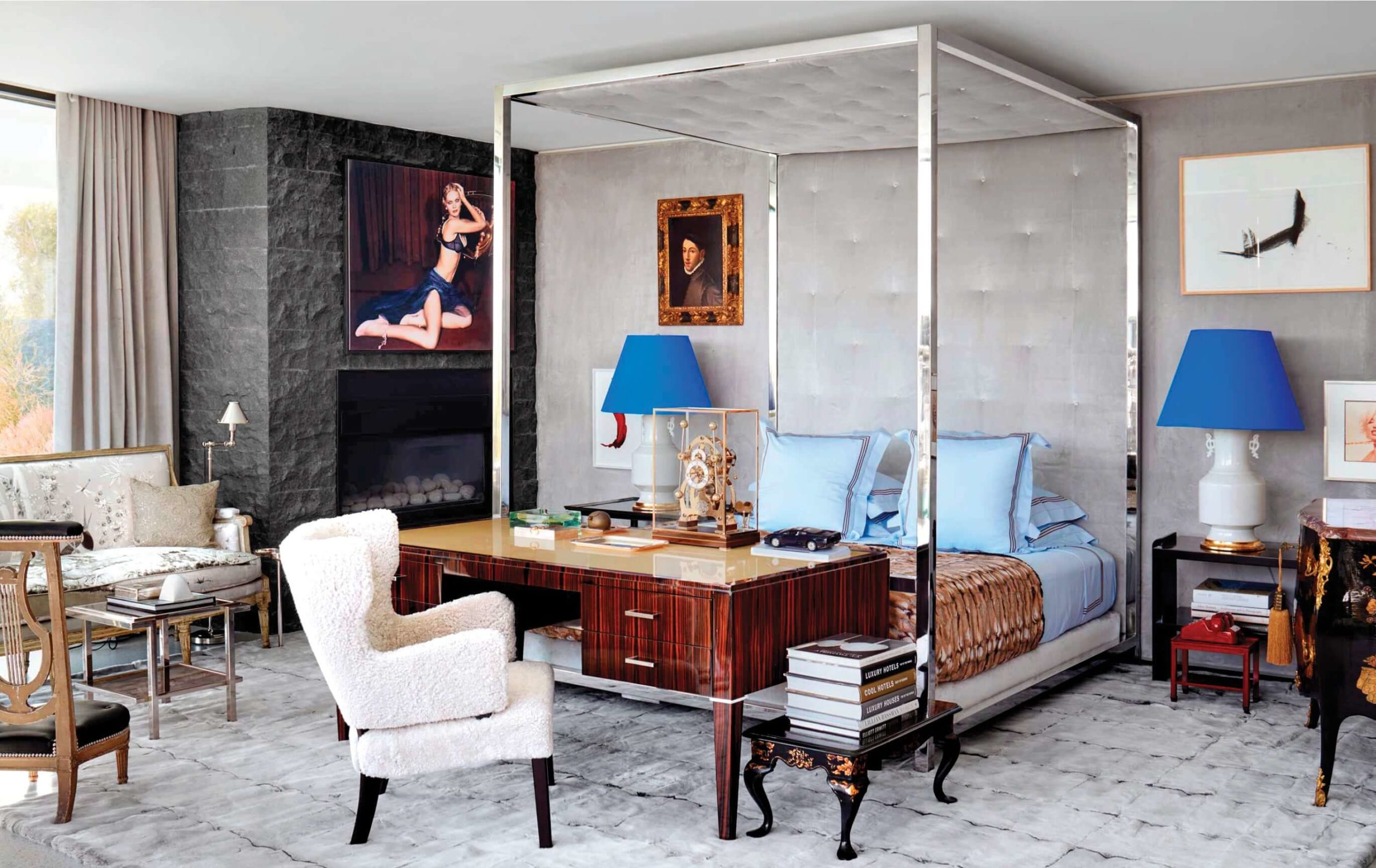 A peacock-blue biscuit-tufted velvet sofa has a dialogue with one of Damien Hirst's vivid spot paintings in the living room.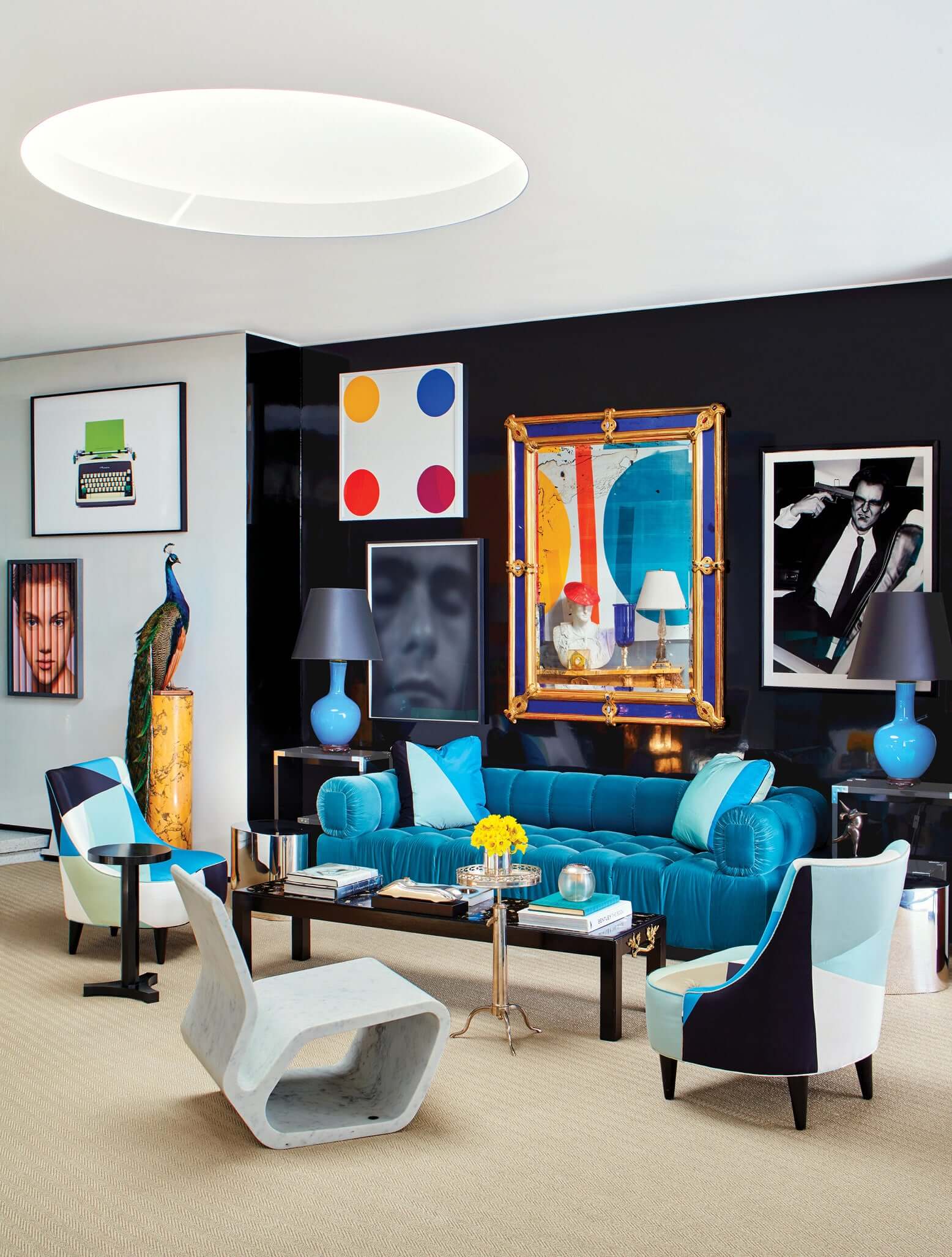 A guest room, upholstered in Kaihoi's green-velvet Tutsi fabric, features a blue-lacquered canopy bed with a matching blue rug.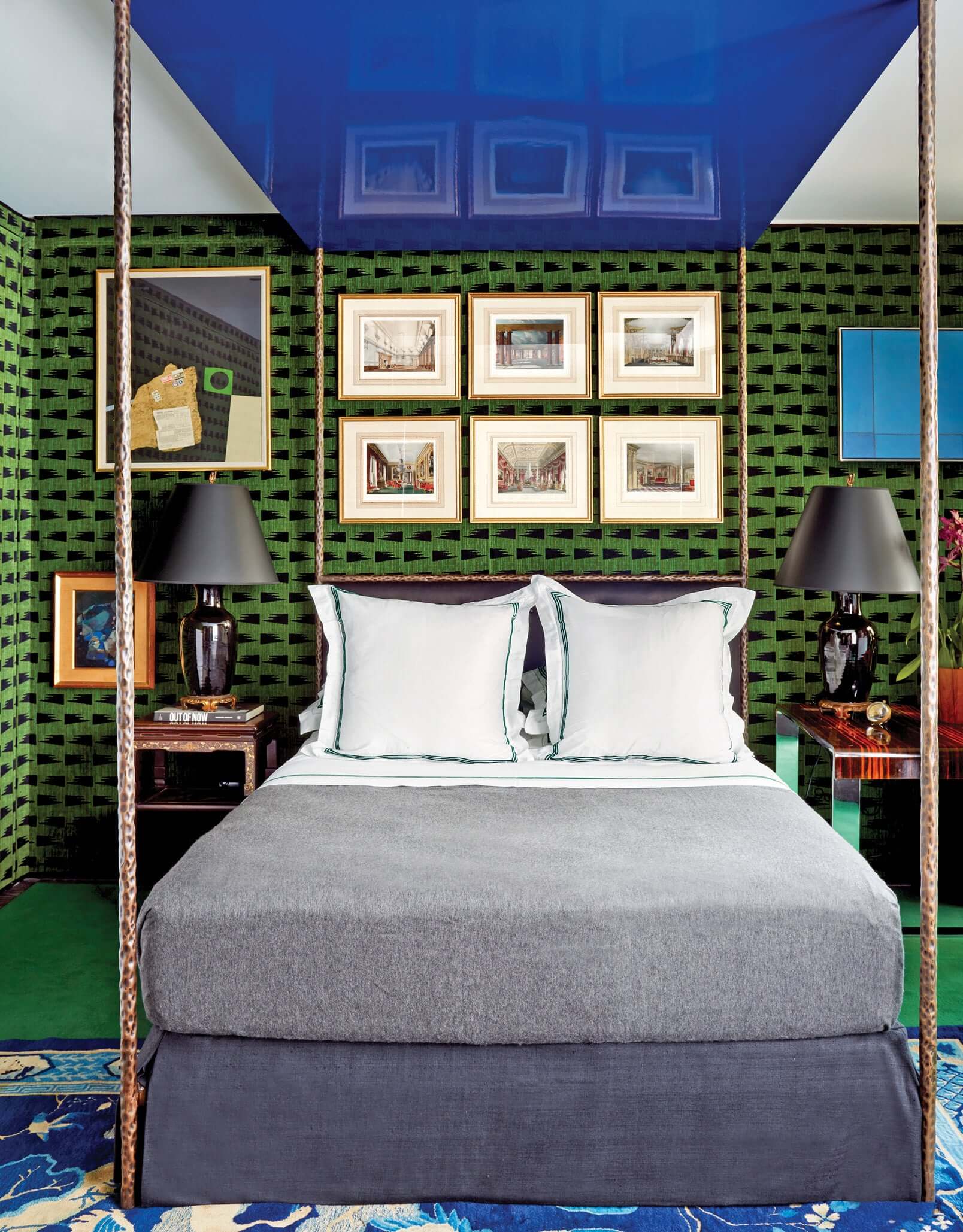 Meanwhile, in the bright sunroom, the color scheme gets an extra jolt from a horizontally striped ikat in a crayon palette on the sofa.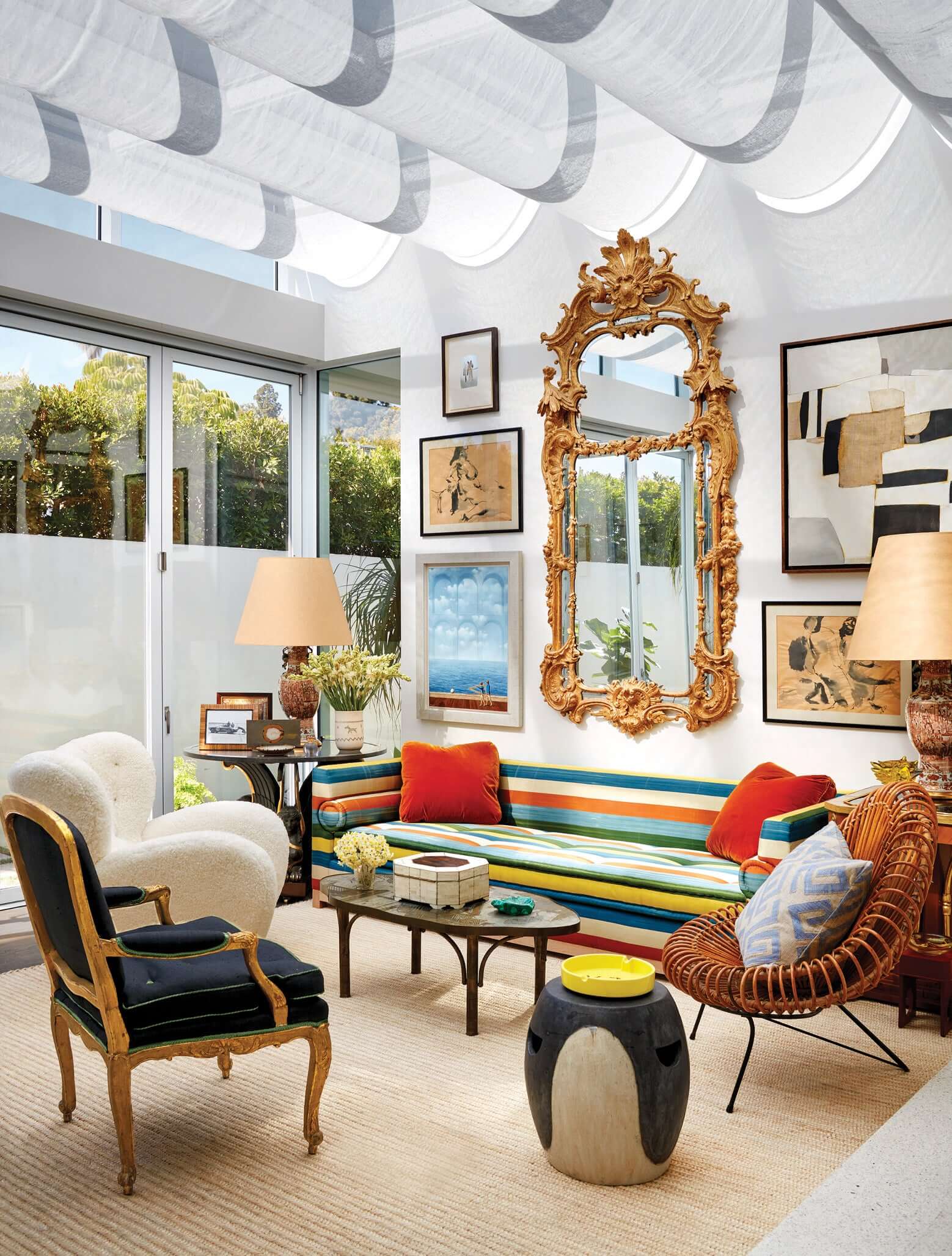 Sarofim loves to socialize, and with five bedrooms, the 6,200-square-foot contemporary house has ample space for the constant stream of family and friends who come to visit.
"I entertain quite a bit, everything from small dinner parties to cocktail parties. On weekends, we have barbecues and pool parties with the kids," he says.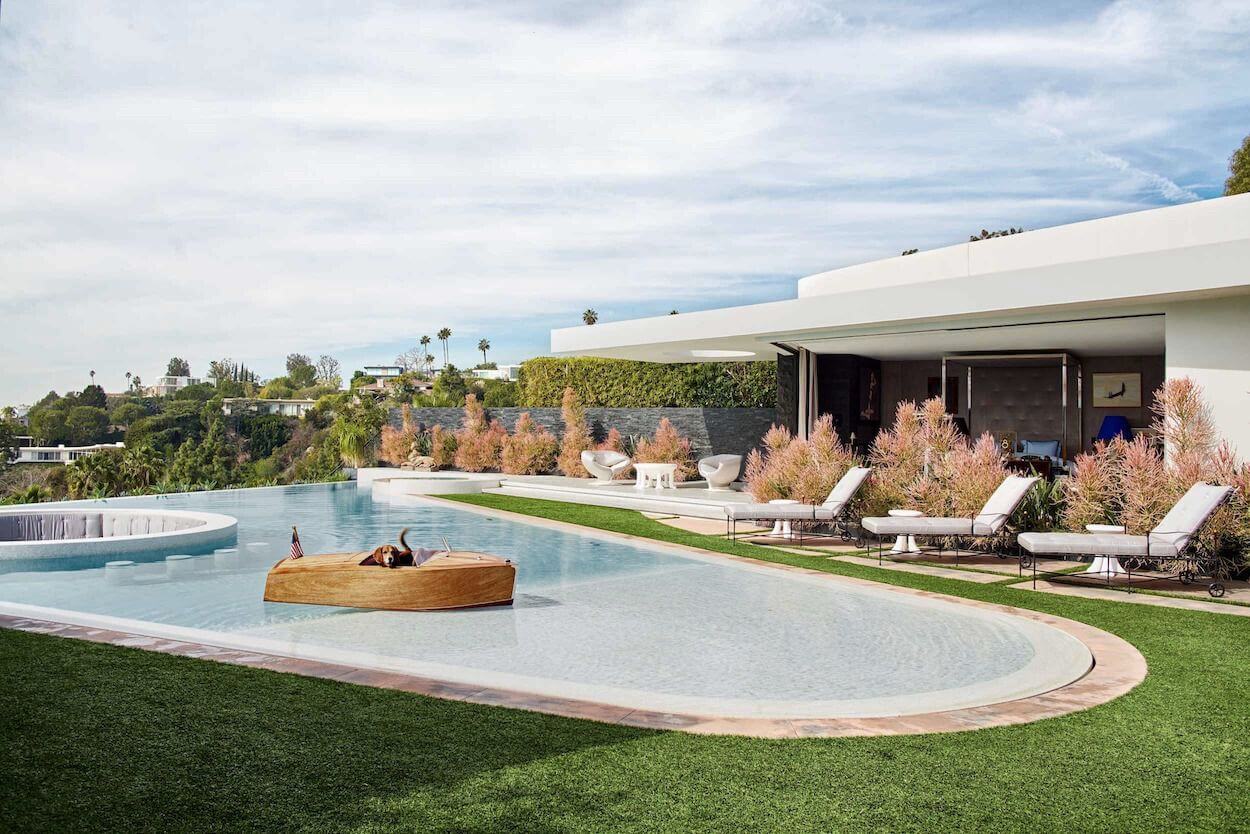 We really hope you liked our article. Feel free to pin all the images to your favourite Pinterest board. Meanwhile, you can also visit our Pinterest boards to get more inspirations.
Get more ideas for your projects and find functional, stylish, and sizable lighting and furniture choices: