Firstly, one of the favorite ways, for interior designers, to infuse personality and charisma into any environment is through wallpaper ideas.
Therefore, from an attractive design to a more traditional style, wallpaper can renovate almost any space.
Hommés Studio selectes 15 inspiring wallpaper ideas for you to be inspired.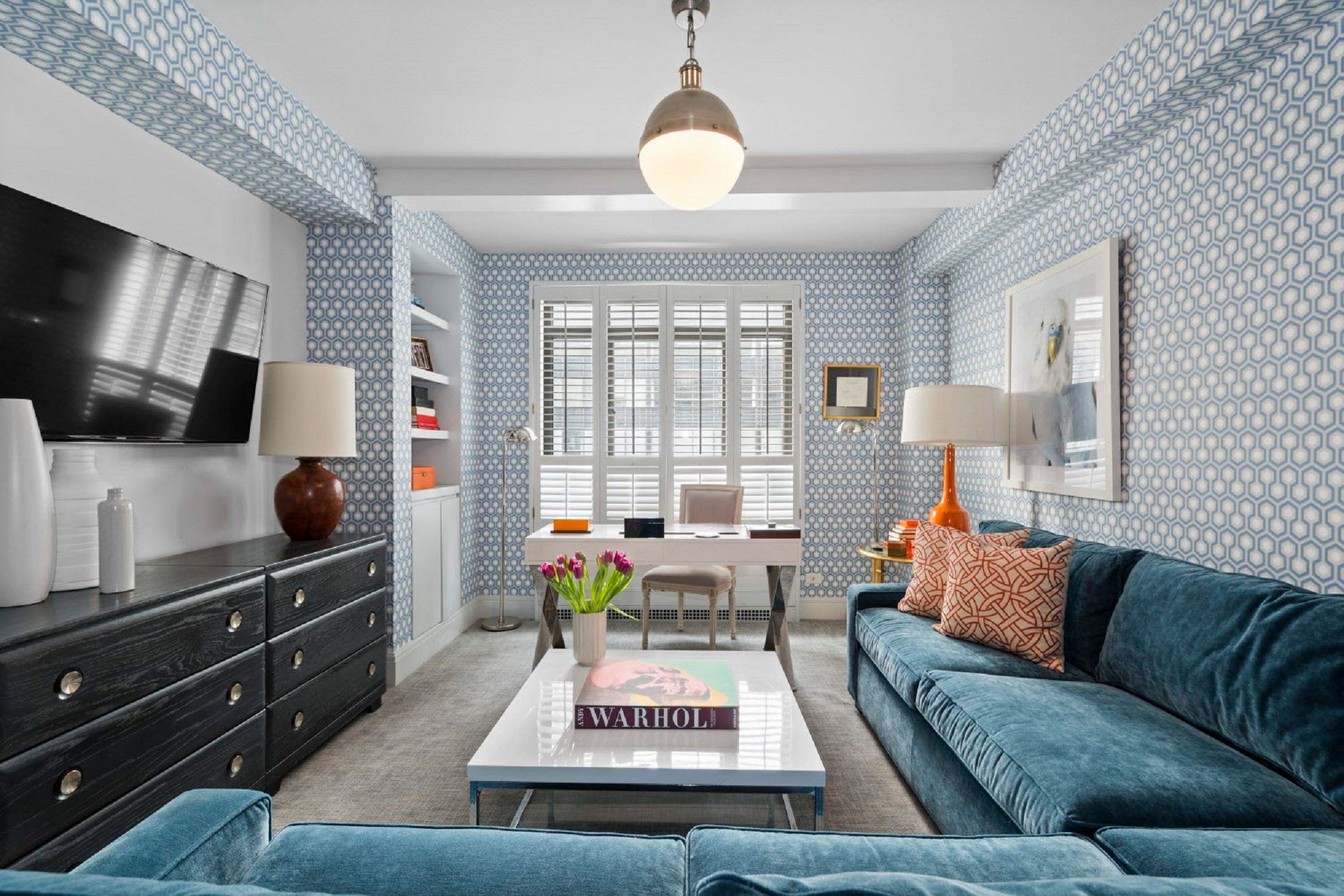 A living room space in Wilhelmina Models CEO Bill Wackermann's New York home features grasscloth in a light blue-gray tone. Nonetheless, accessories with pops of color add to the cozy vibe.
The truth is that wallpaper can make or break an environment, making it timelessly chic or permanently tragic.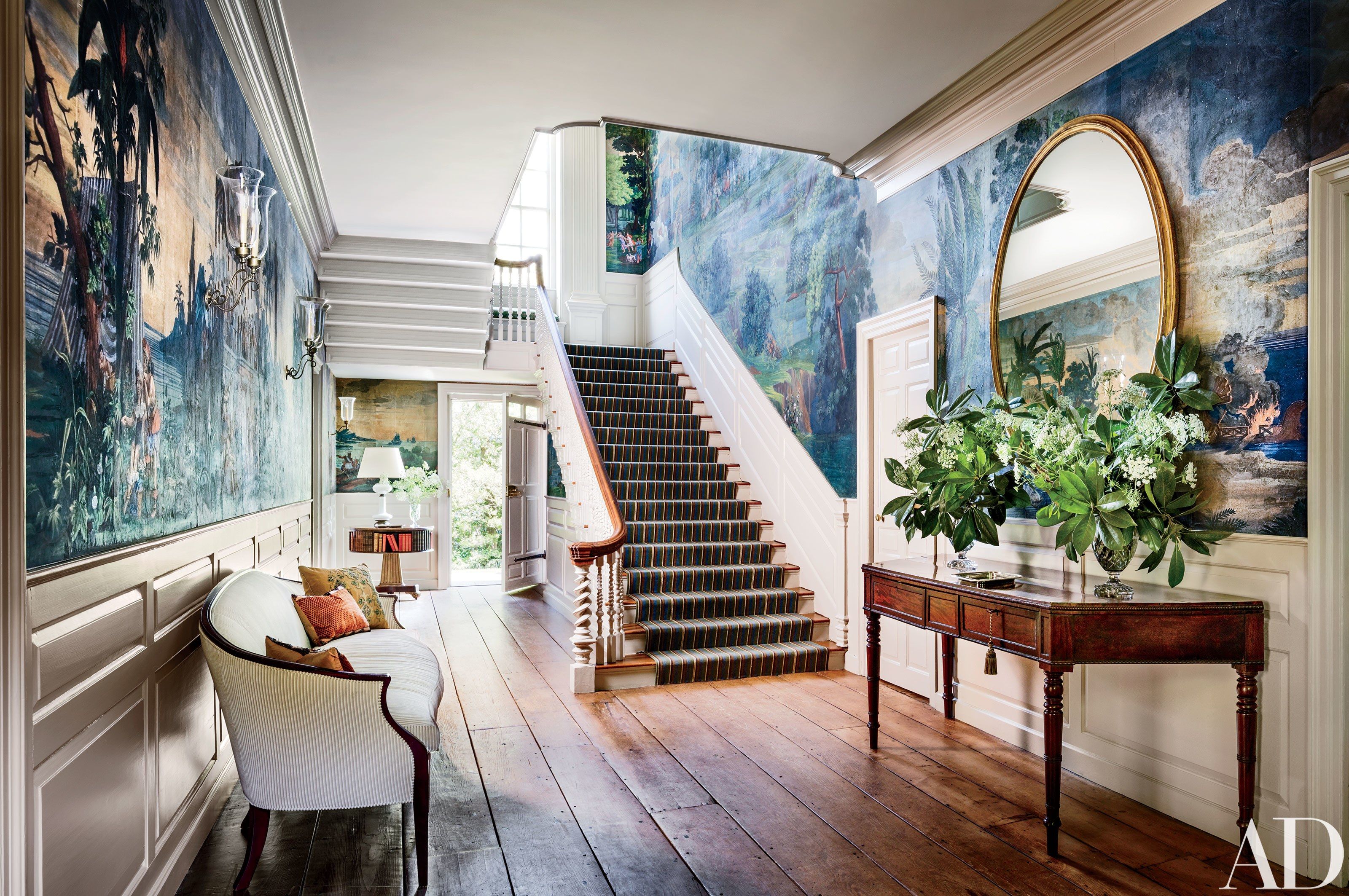 Source: ArchitecturalDigest
French scenic wallpapers introduce exotic panoramas to the entrance hall and staircase of a 1754 Georgian residence in Washington, D.C., which was redecorated by Gomez Associates.
Source: ArchitecturalDigest
This office in a New York home by Carrier and Company is clad in an Eskayel wallpaper. Moreover, the brass floor lamp is from Neo-Studio, and the rug is by Sam Kasten Handweaver.
In some of the spaces, the element acts as a thief of scene and scenery. Drawing attention and adding dimension while allowing the drama of life to unfold against a beautiful setting.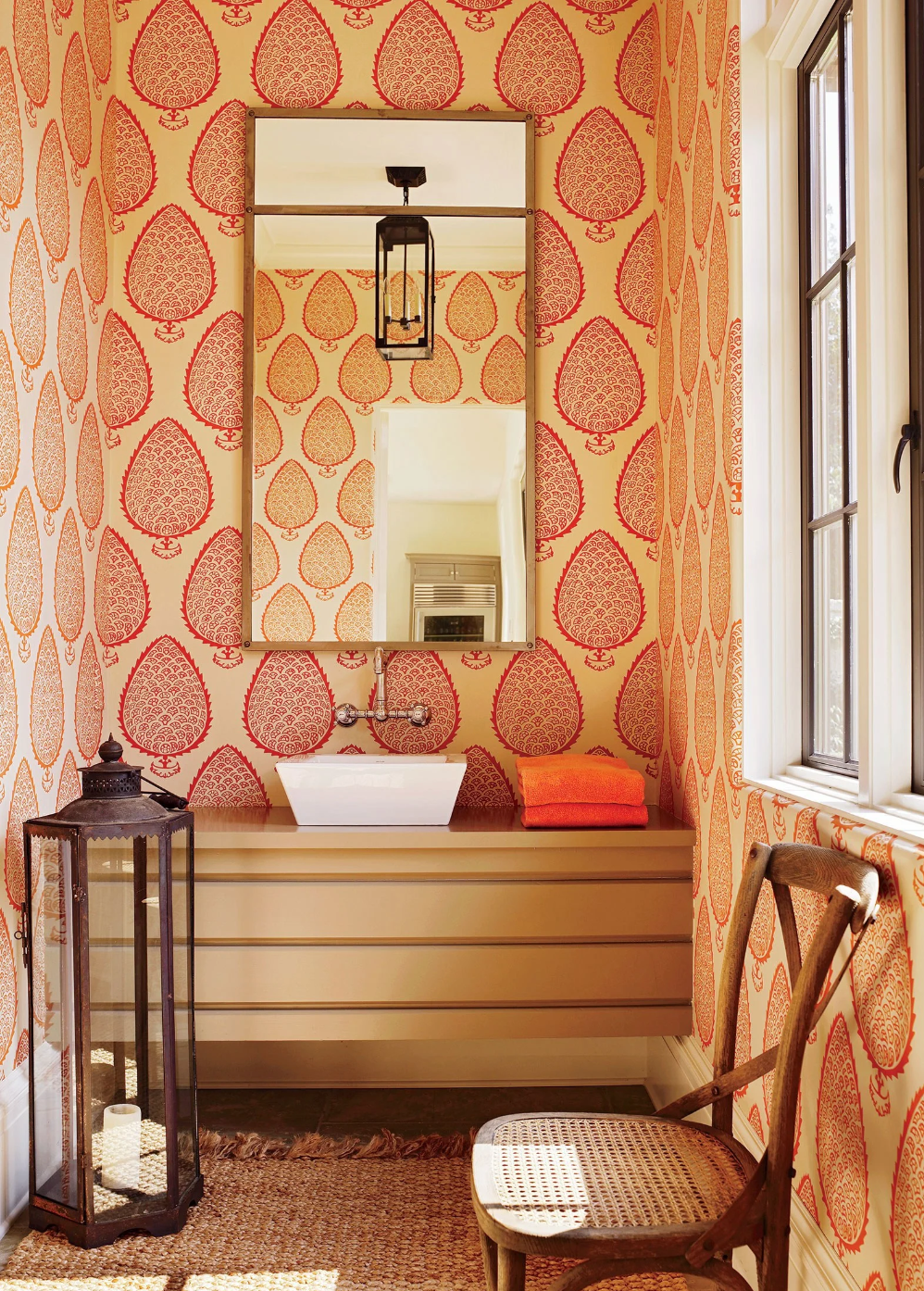 A Katie Ridder wallpaper from Holland & Sherry lines a powder room decorated by Suzanne Kasler.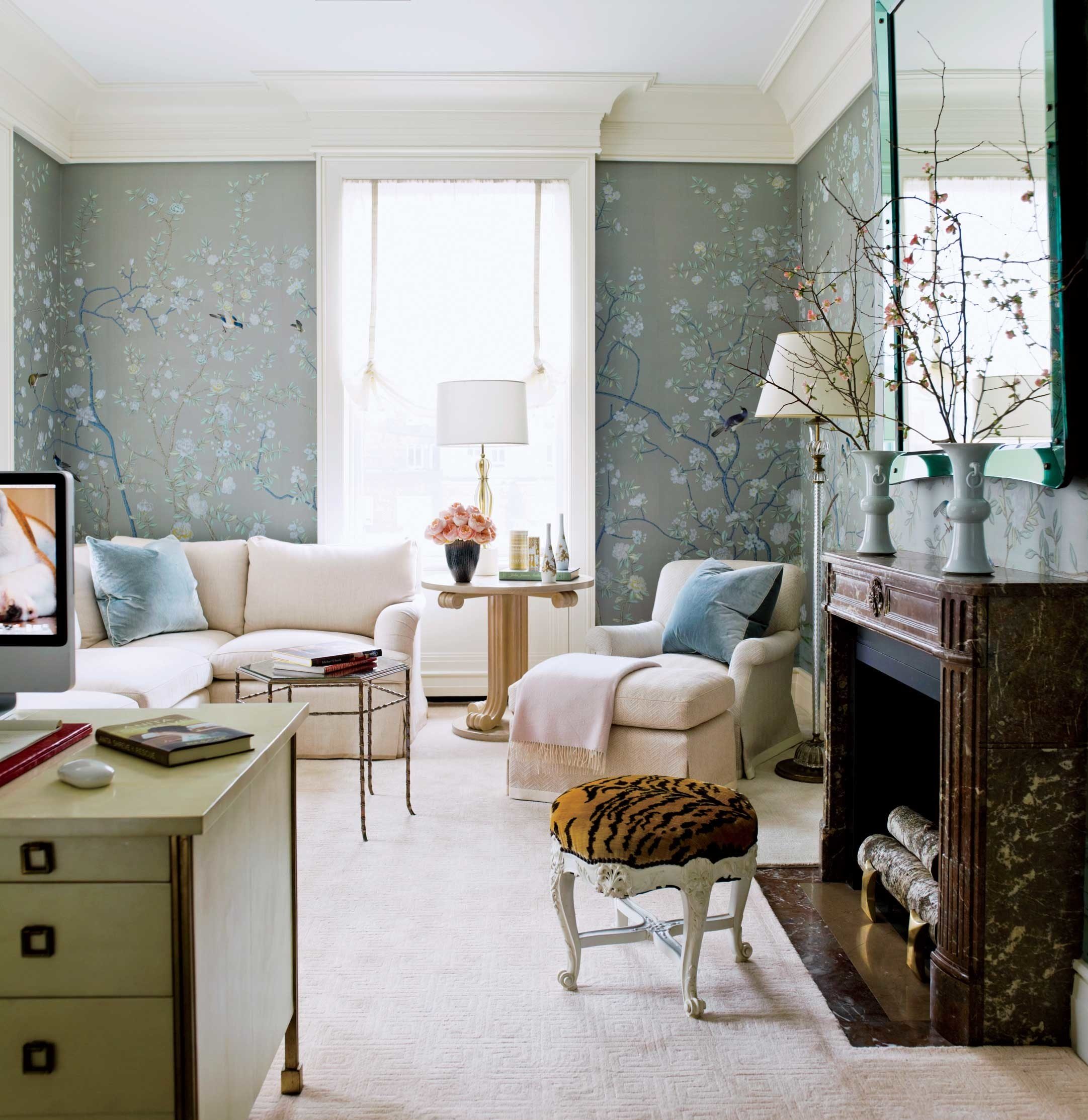 Chinoiserie wallpaper by de Gournay lines this office in a New York City home by David Kleinberg Design Associates. Also, the Jean-Charles Moreux gueridon by the window is from Craig Van Den Brulle, and the carpet is by Tai Ping.
Surround yourself with bold design details and envision a space that makes you happy. This joyful set will infuse a bit of excitement into your home.

This set and the wallpaper create a luxurious room that reflects your joyful personality.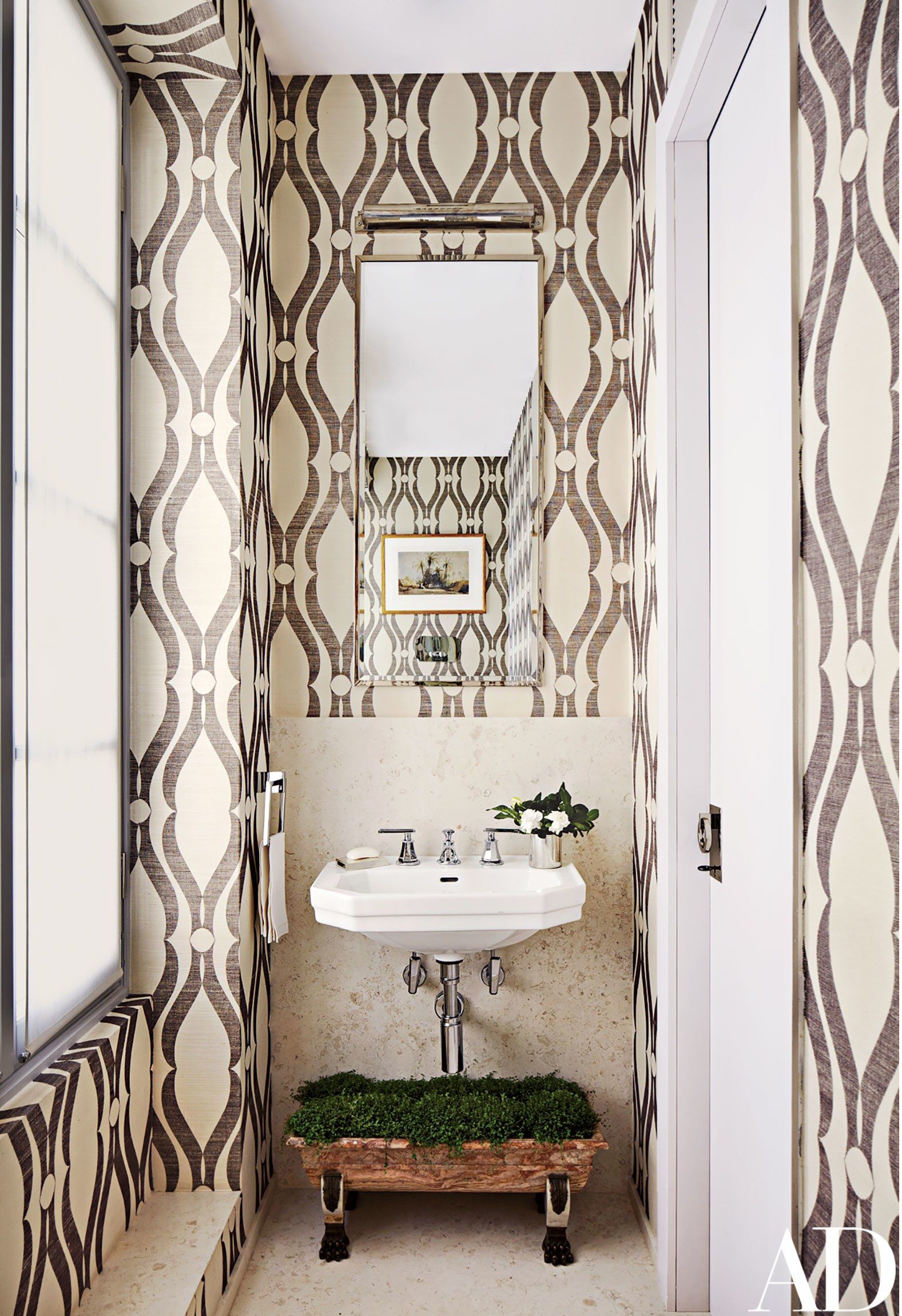 Source: ArchitecturalDigest
The powder room of a house in Monte Carlo designed by Timothy Whealon features Phillip Jeffries wallpaper idea and Dornbracht fittings.
From living rooms, master bedrooms to bathrooms and stairs, each interior design evokes a different vibe with these wallpaper ideas. A subtle romance, lust, vibrant energy, elegance, and glamor.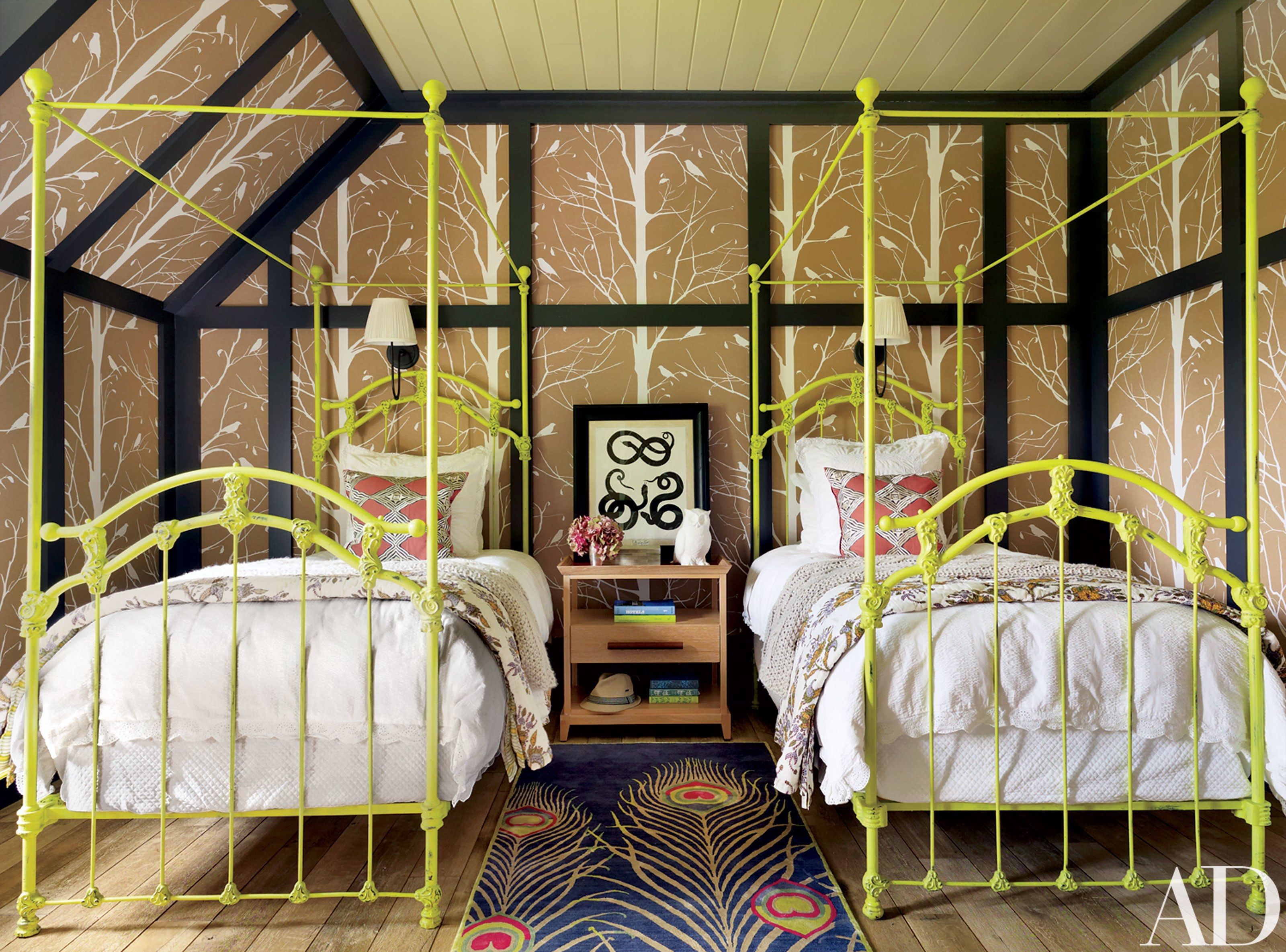 Source: ArchitecturalDigest
In this room in New York designed by Thom Filicia, a Cavern wallpaper adds a woodsy note. The vintage beds are painted in a Benjamin Moore green. Also, the sconces are by the Urban Electric Co.. Moreover, the carpet is a Matthew Williamson design for The Rug Company.
Source: ArchitecturalDigest
A wallpaper conceived by De la Torre and custom made by de Gournay decorates the three-story stairwell.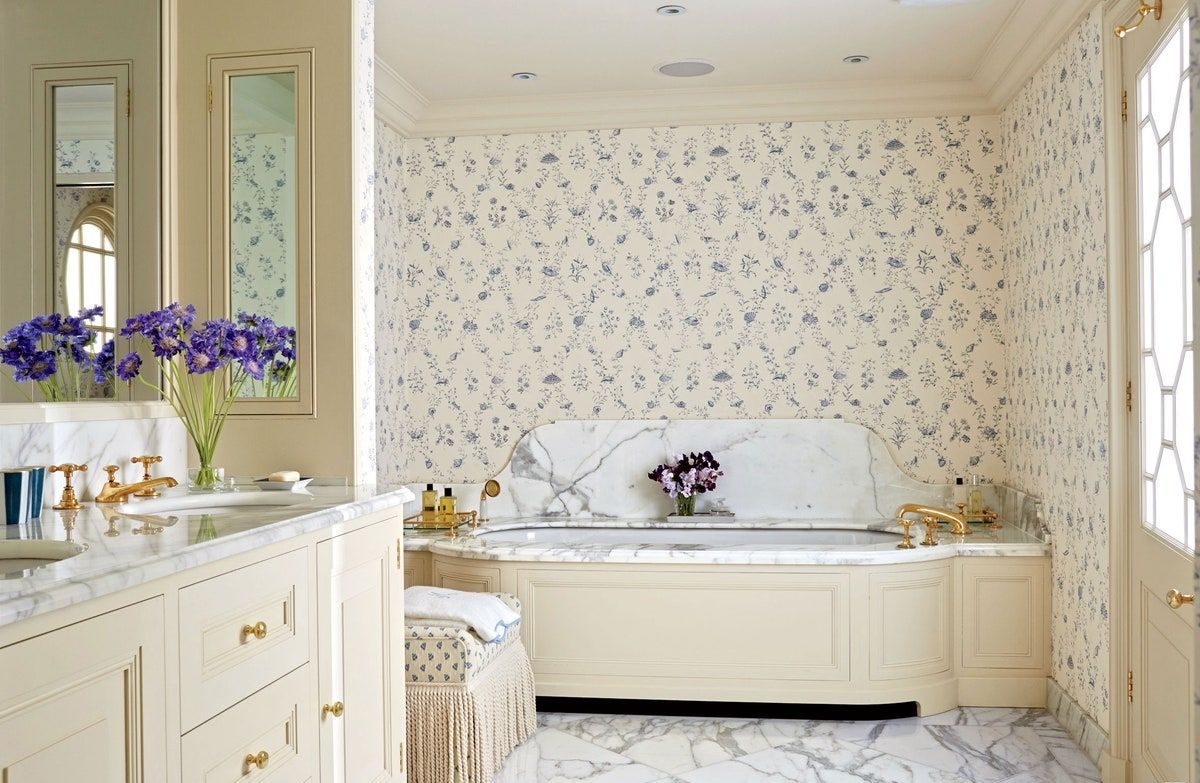 Gillette chose a wallpaper by Brunschwig & Fils to grace the master bath.
In this master bedroom, the wallpaper is by Carolyn Ray.
The wallpaper has, in this project, the main role, which evokes energy and color to the space.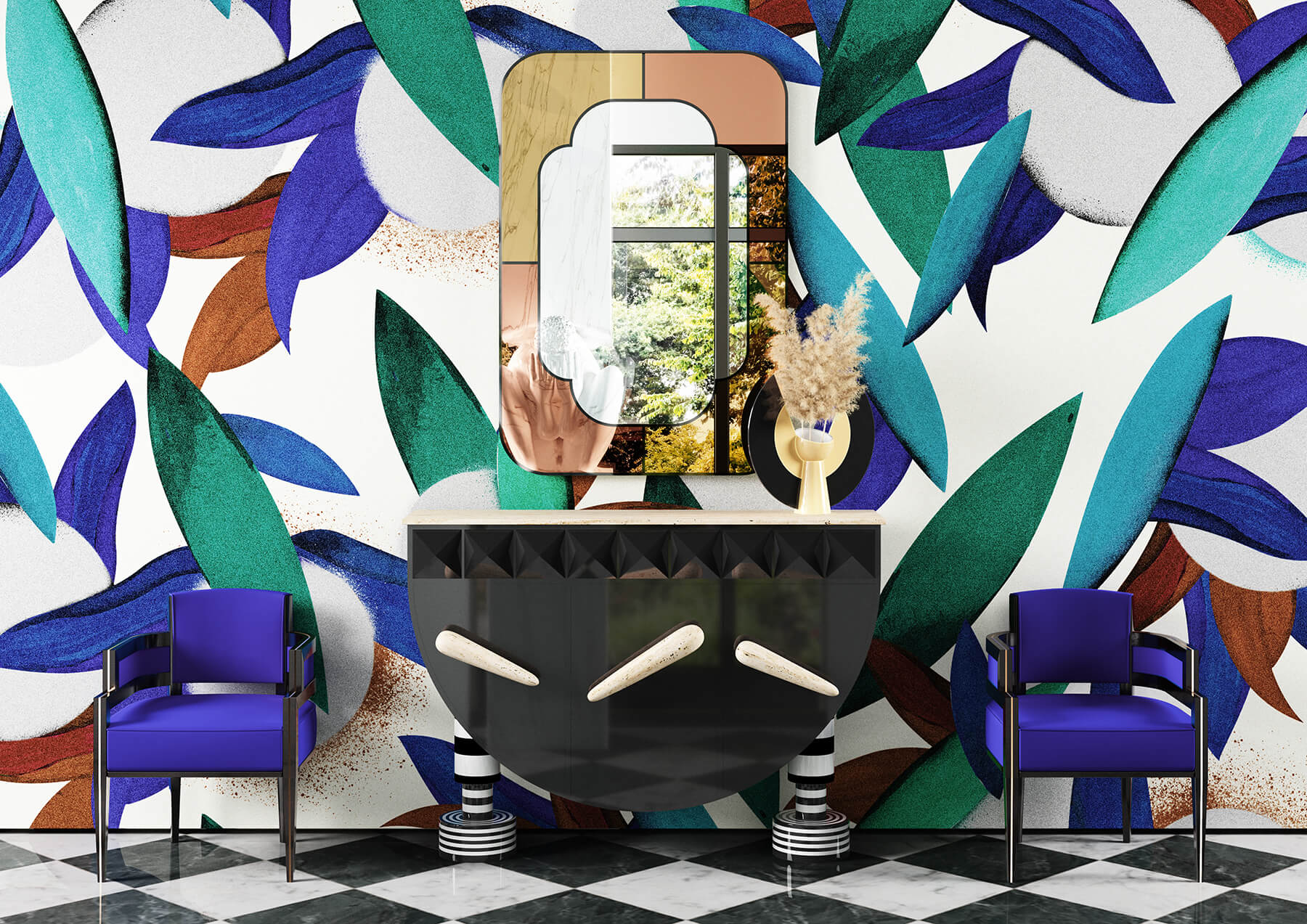 The Hommés Studio Optimistic maximalism set is a vibrant and exciting aesthetic style that doesn't follow any rules!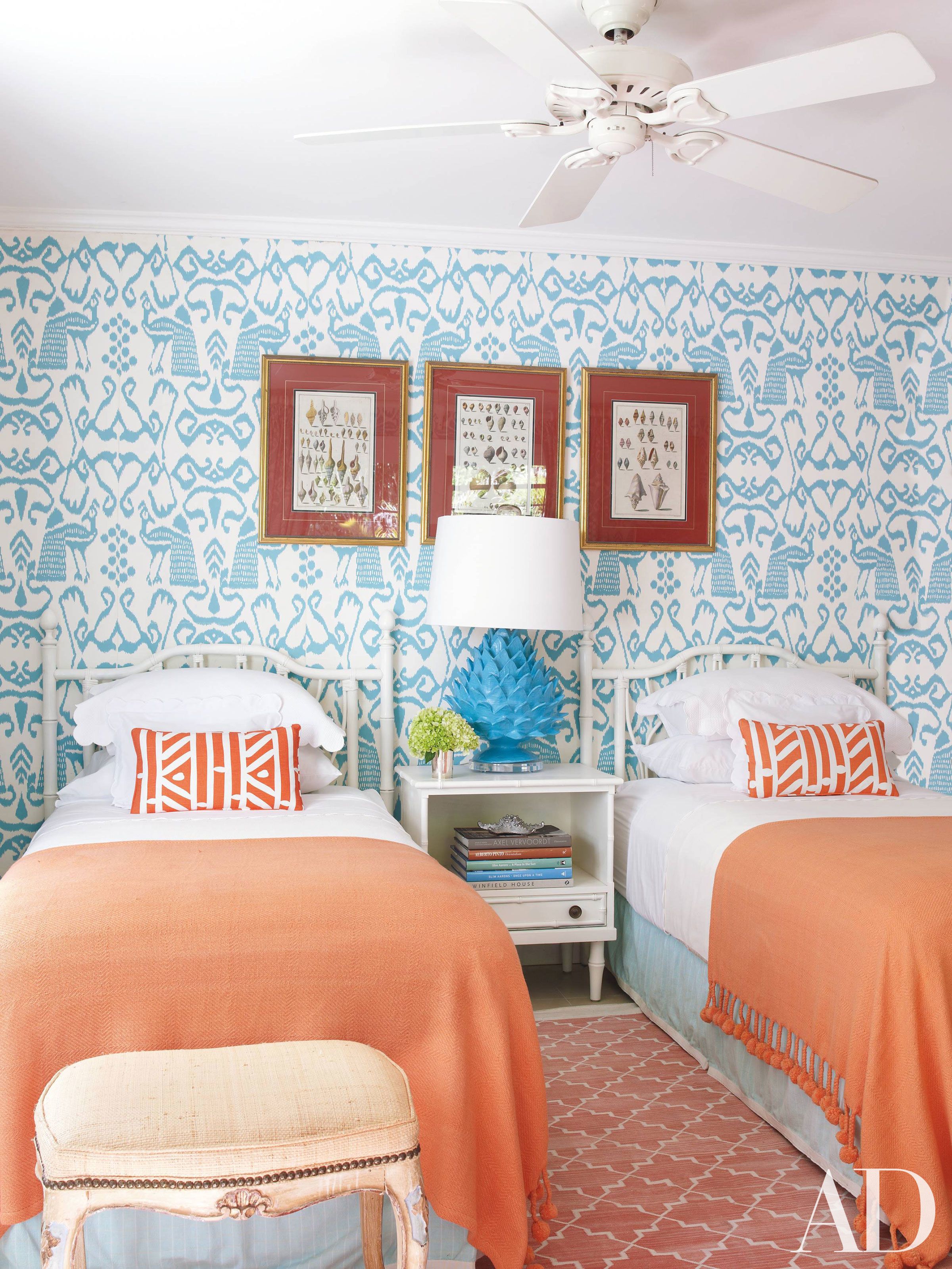 Source: ArchitecturalDigest
Dubbed the Bali Isle Room, the guest bedroom by Andrew Raquet Interior Design combines a primitive-style China Seas wallpaper with citrus hues.
Select joyful patterns, fun decor accessories, and daring design pieces evoking an attitude that "welcomes a positivism in."
Moreover, the key to achieving balance in such a bright and full interior is to work in the same color palette.
An Eero Aarnio Bubble chair hangs in the bedroom. Also, the hexagon wallpaper is by Cole & Son.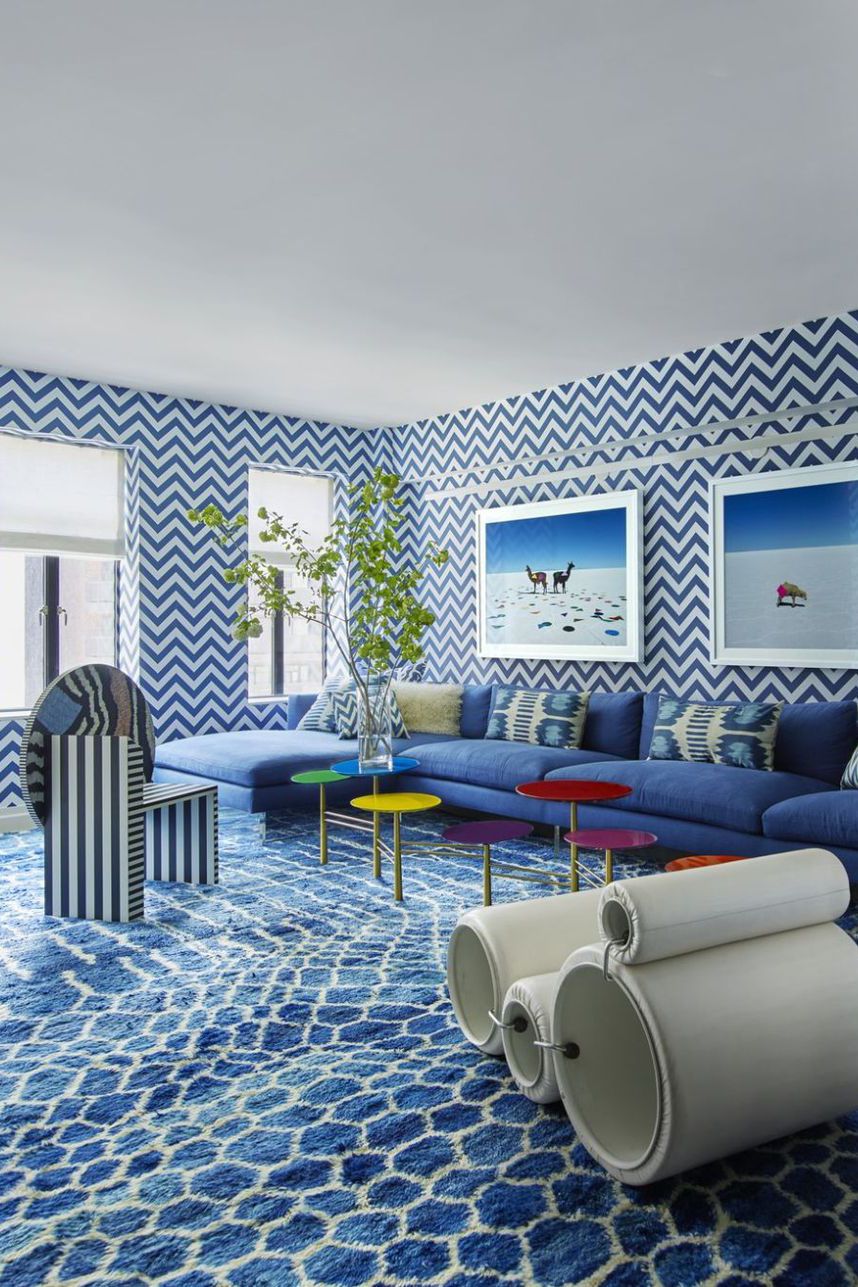 Firstly, a palette of blues fills this living room designed by Kelly Behun. The bold chevron wallpaper by Schumacher complements the graphic carpet from Marrakech. Secondly, a custom sectional covered in Pindler linen, a cocktail table by Nada Debs. Therefore, the striped chair by Kelly Behun Studio. A vintage tubular chair by Joe Colombo for Flexform completes the look.
We hope you liked our article. Feel free to pin all the images to your favorite Pinterest board. Meanwhile, you can also visit our Pinterest boards to get more inspiration.
Also, get more ideas for your projects and find functional, stylish, and sizable lighting and furniture choices: