The art-filled house designed by Suzanne Lovell features extraordinary architectural details, careful curation of fine furniture, and an incredible palette of soft neutrals with moments of playfulness and eccentricity.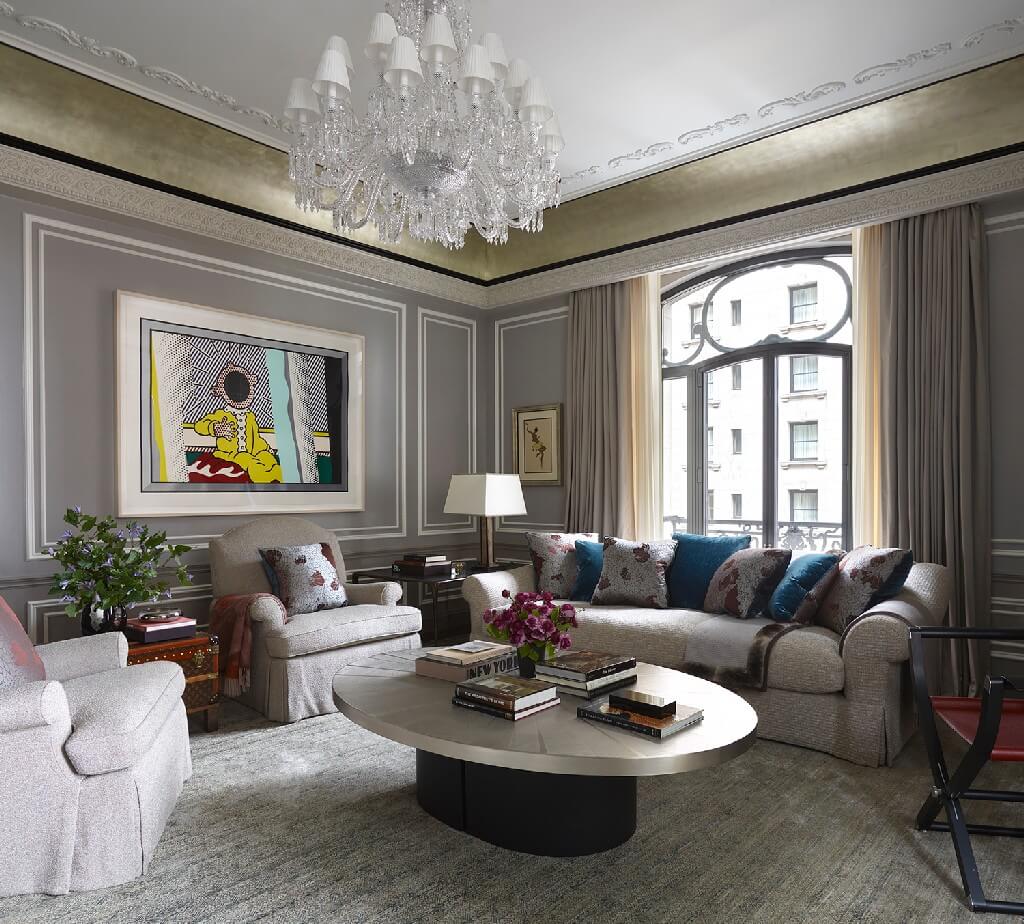 The classic language about not reinventing the wheel, just readjusting it, rarely pertains to great interiors, where designers look to create unique spaces that speak to a homeowner's individuality. However, for Suzanne Lovell, working on a client's third residence in New York's famed St. Regis meant rethinking many of the elements that had made their first two projects together so successful.
Her client already knows that she is going towards maintaining the French Beaux-Arts architecture. "We are respecting that and bringing it into a contemporary world."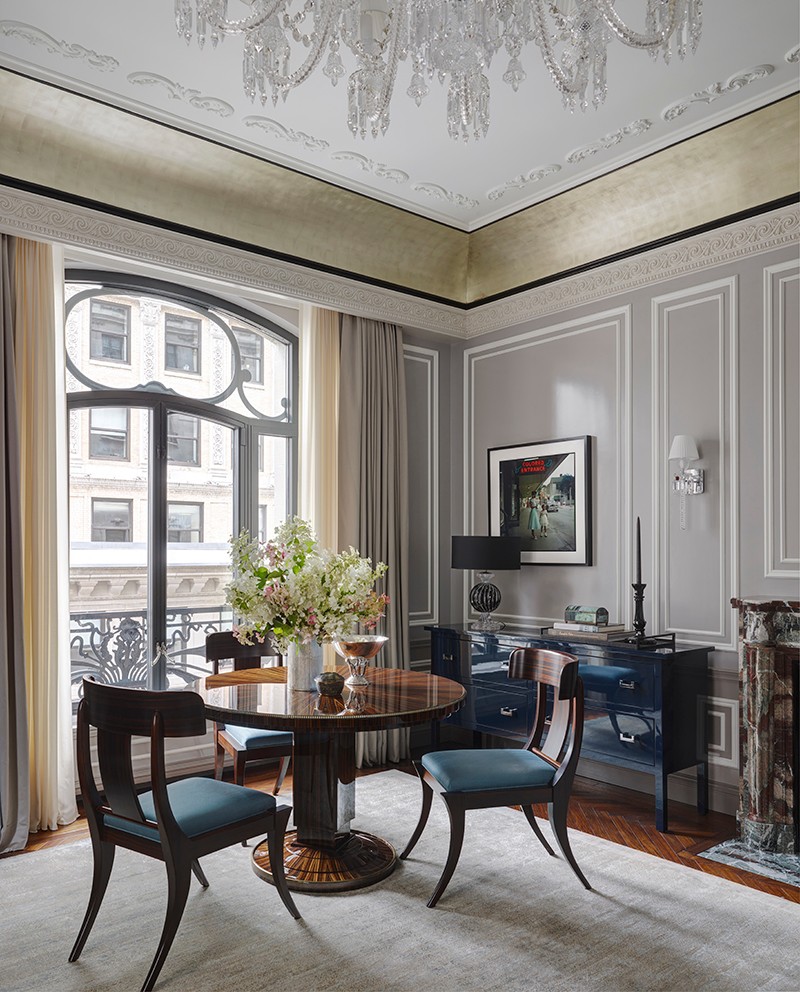 After finishing two renovations within the building, Lovell approached this project with the same enthusiasm, replacing flooring, lighting, and more to elevate the space to the rigorous prospects of a veteran art collector. Everything is new. She reconfigured the floor plan to create three bedrooms with space for an office. "I think the difference that we bring to any project is not only that we have this capability to research and create dialogue for art, but that we are architects first."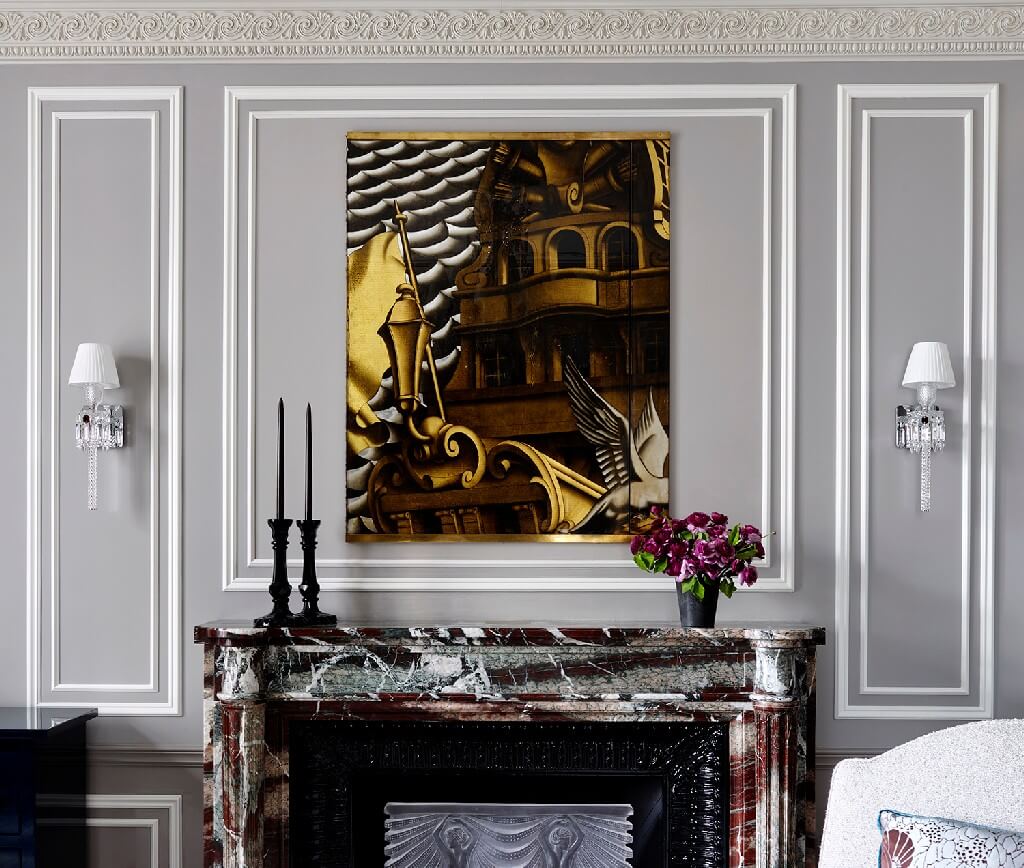 After first addressing the structure and the function of the home, Suzanne Lovell designed a consistent design featuring a neutral palette of black, white, and gray, most remarkably in the glamorous bath that features a bold hexagon-patterned stone floor.
The soft grays of the living room is given dimension through the layers of textures. A durable textile on the traditional armchairs and sofa, a wool and silk rug by Oscar Isberian, a sleek glass Baccarat chandelier with pleated silk shades.
Pops of color appear in a Hermès folding chair with a deep red leather seat, a pair of custom Frank Pollaro dining chairs upholstered in a rich peacock-color Hermès fabric, a work on paper by Jean-Michel Basquiat, and a Roy Lichtenstein lithograph entitled Reflections on The Scream (1990).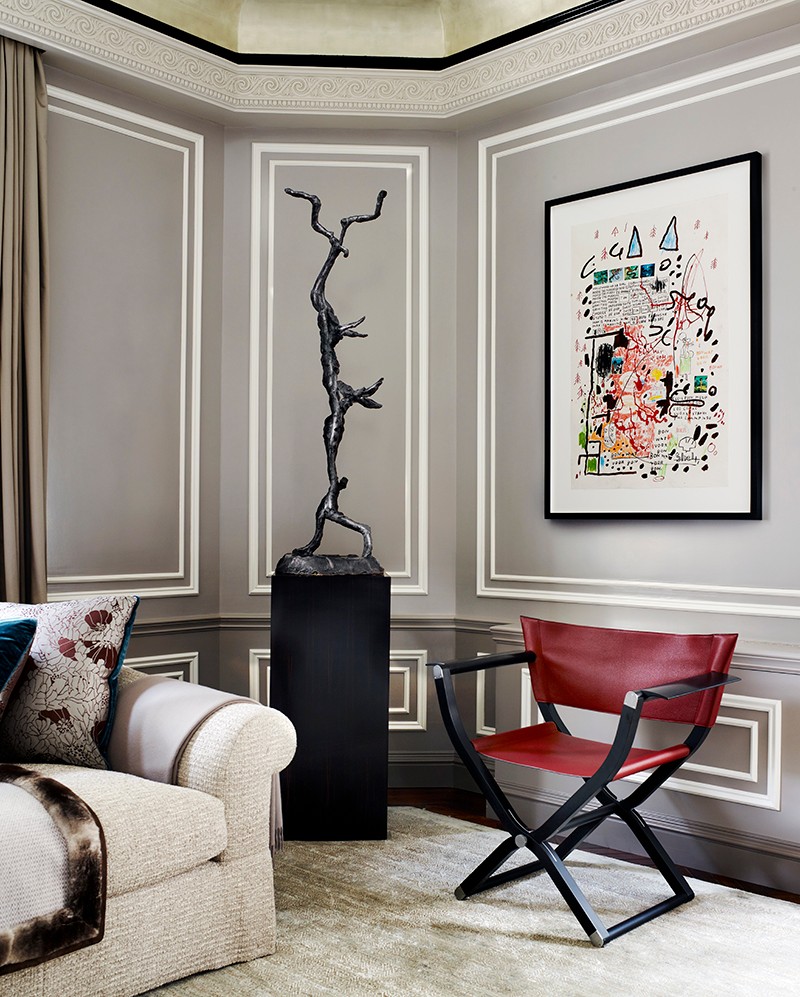 "Holistically, we were thinking about the balance of the artwork and the floor, about the balance of the color and materials," says Lovell. "We would be working on the balance of color in three dimensions and asking how we bring warm and cool colors together to give confidence and comfort inside the space."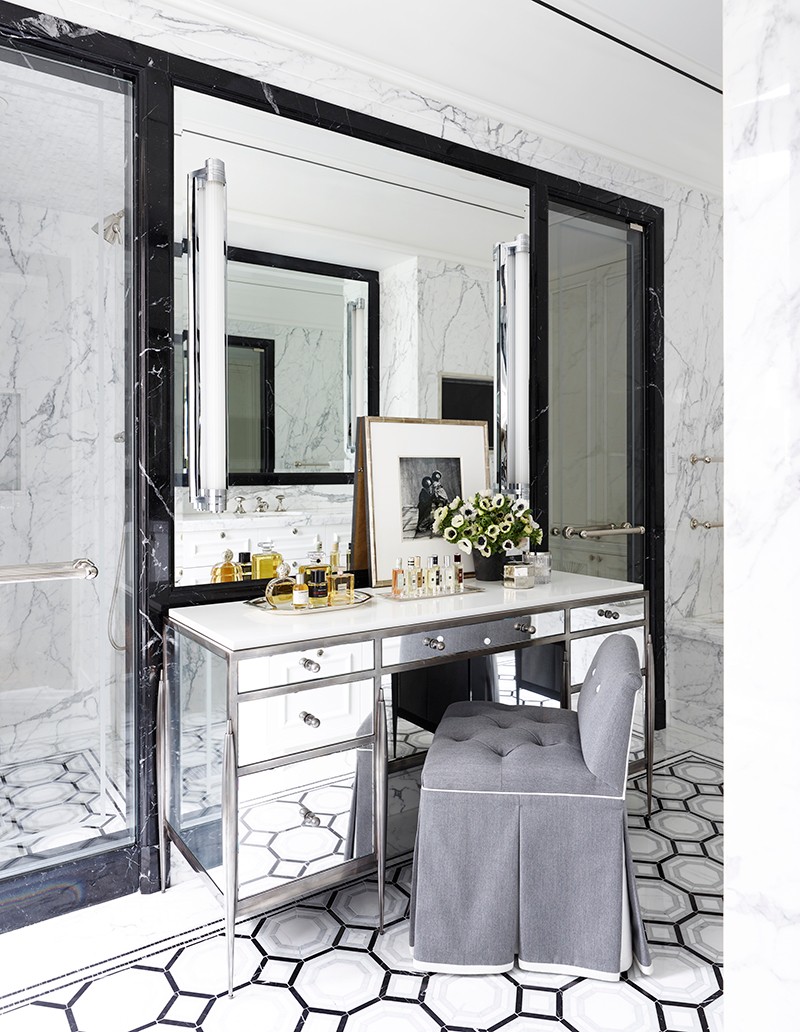 A similar appeal carries over into the study, where another Hermès Pippa folding armchair is coupled with the atelier's Metiers desk, featuring a cherry-red leather. Again, the tranquility of that as a background was appropriate for someone who is very fashionable. However, in this project, subtle sophistication was the most important.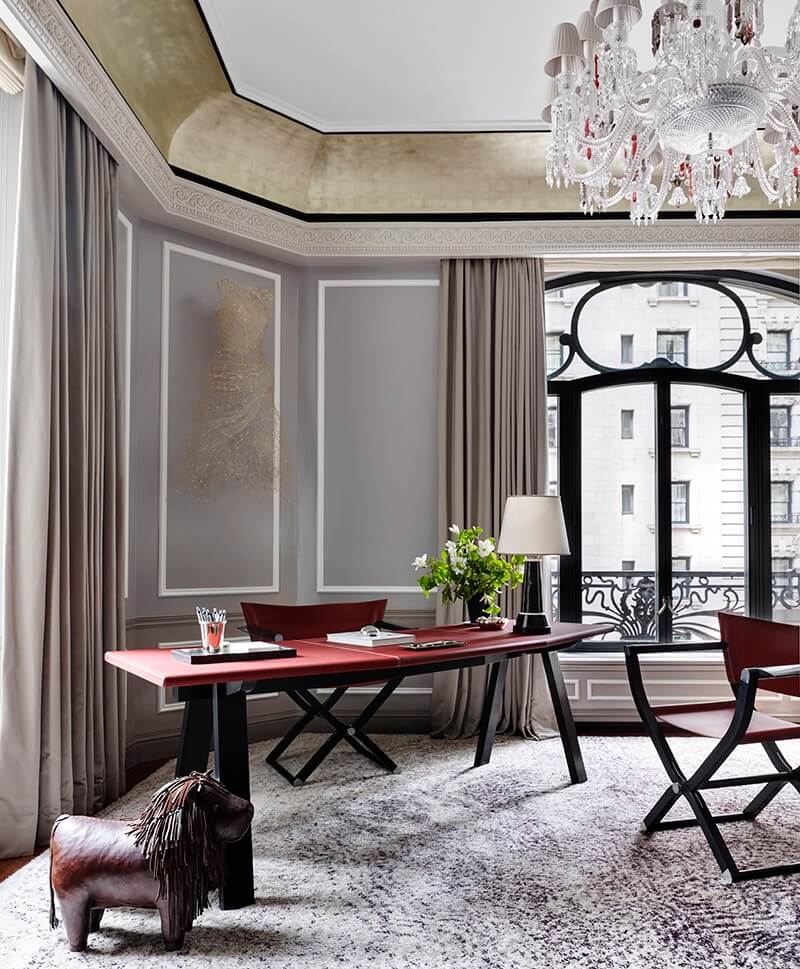 In the peaceful main bedroom, the muted tones take an elegant turn when paired with a jet black Baccarat chandelier and high-gloss bedside tables topped with a set of sculptural lamps. Just beyond the door, plasterwork entitled Little Ida by Charles Calverley was one of the collaboration's moments of serendipity: Lovell realized it was an art fair and immediately texted her client to explain its virtues only to learn the homeowner had already purchased the piece.
The home's most decisive color moment happens in a bedroom conceived for the homeowner's daughter. The walls enveloped a romantic seashell pink are echoed in a painting by Hiroyuki Matsuura, a sculptural work by Kristine Mays, and a custom chandelier that features a cluster of handblown glass orbs in white and gray but also red, orange, black, and gold.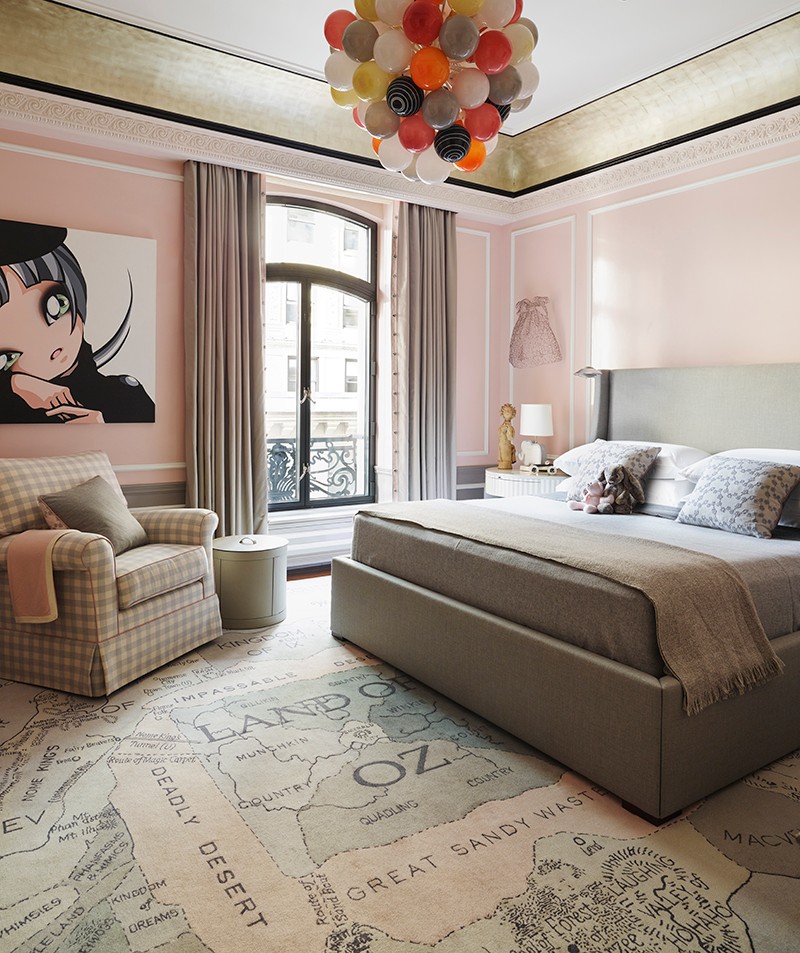 There is consistency. You still feel like you are in the same house. Some ideas follow through. It is a sophisticated, large pied-à-Terre in New York City. You have got to have a little fun.
We really hope you liked our article. Feel free to pin all the images to your favorite Pinterest board. Meanwhile, you can also visit our Pinterest boards to get more inspiration.
Get more ideas for your projects and find functional, stylish, and sizable lighting and furniture choices: