The COVID-19 pandemic forced the entire world to stay at home, depriving us of going to the bars. Why not create your sophisticated home bars? Simple or stylish, equipped with console, cart, or custom cabinetry, these fashionable home bar areas deserve a toast.
The Daun Curry Design Studio team sees every project as a new opportunity to immerse themselves in the architecture, the location, the client, and the function of the space. While Curry is known for incorporating unique finishes, textures, and materials that enhance the balance between shapes, color, light, and shade, the clients' history and lifestyle remain the impetus for each design.
In this project, the team took their sign from the Jean-Pierre Cassigneul portrait. Its sensuality and warm palette are confirmed in the sofa, with a counterpoint provided by the funky Judy Kensley McKie baboon sculpture, which serves as a fully functional bar.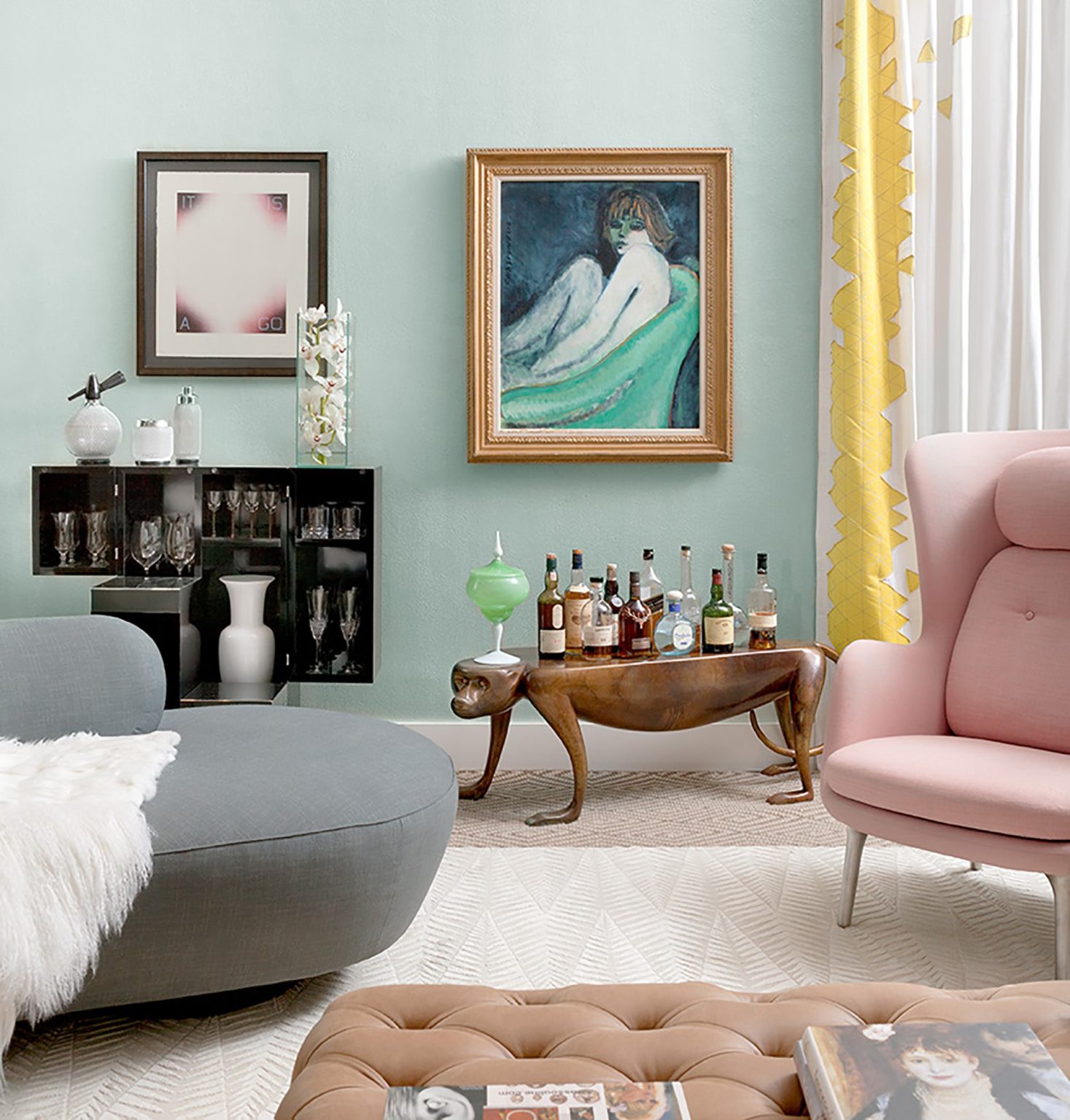 The Kelly Behun Studio provides a distinctively hands-on approach producing customized environments completely tailored to each client's needs. Kelly has deep connections to the art world and is always seeking new and innovative ways to integrate art into their clients' homes.
In designing this ultra-contemporary Hamptons home bar, the designer discovered her muse in an unusual spot: the neighboring bowling alley.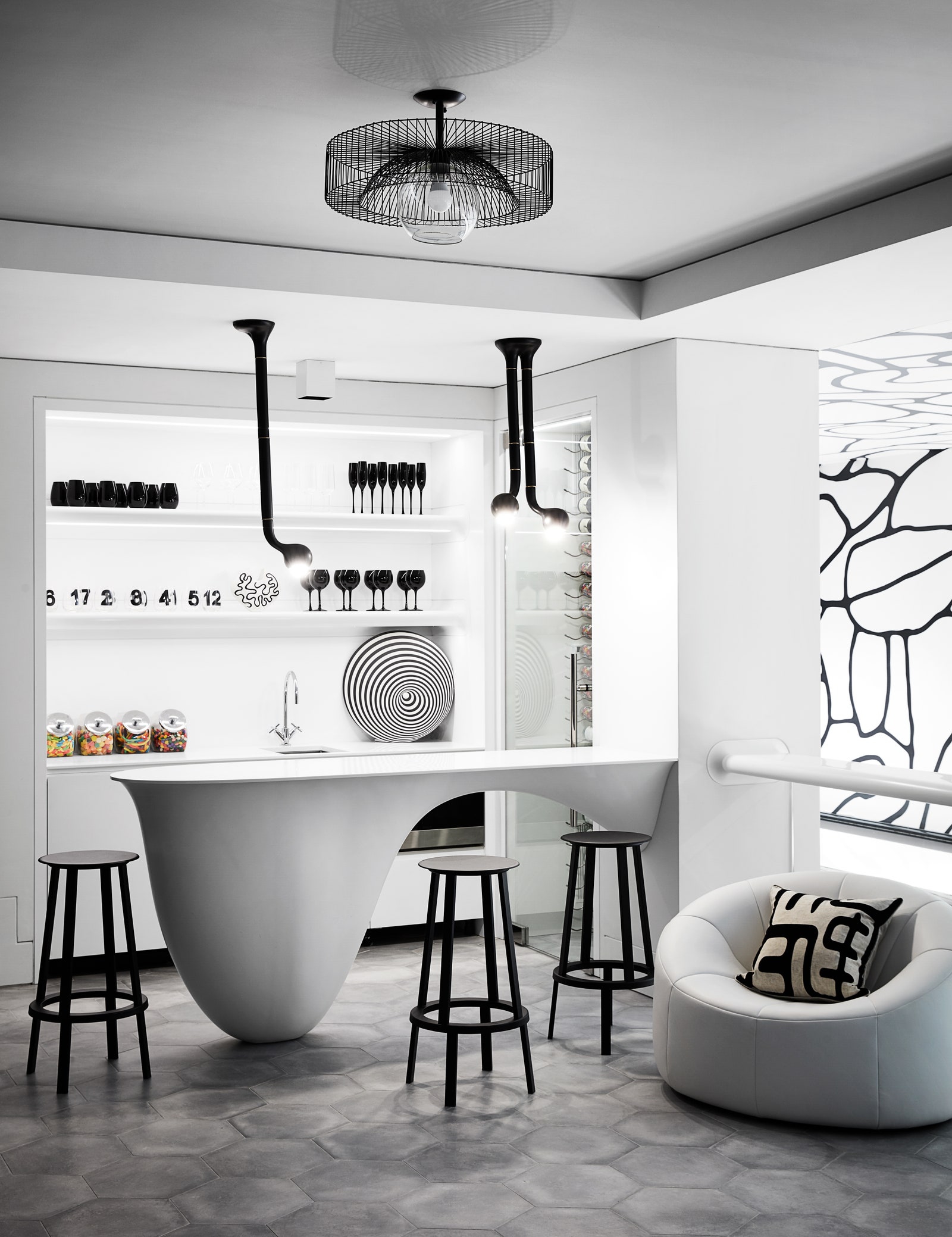 Although some may say that a designer's home is never finished, the home of Lisa Queen is the perfect example of how establishing a robust design framework in a home can allow for a space to be ever-evolving while still maintaining a cohesive identity.
With a carefully balanced blend of the old and the new, the space evokes a feeling of comfort and timelessness. The designer's intention for the entire home was to use color to create spaces within spaces. Setting the color scheme in the home bars and game room is an enormous floral painting by a 20th-century American folk artist.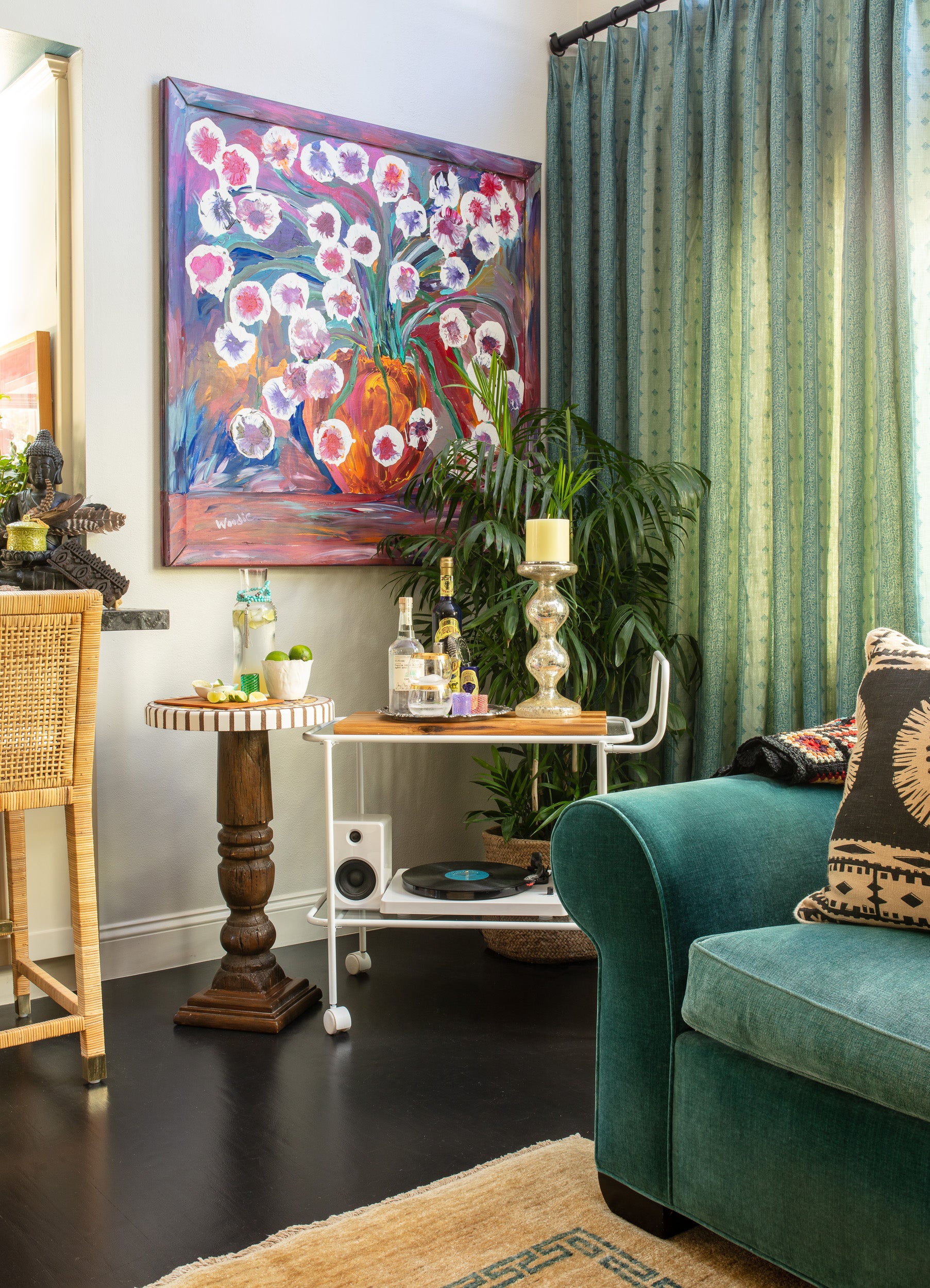 Located in the beautiful surroundings of Hertfordshire, the designer altered the layout of the house to create a space suited to family living. With a juxtaposition of light and dark, new and old, and a dash of the unexpected, the final look is theatrical, dramatic, and marvelously homely.
Tiffany Duggan designed this bar area for clients keen to create a moodier evening space that added an extra dimension to their otherwise light and airy.
Peter has a passion for sourcing antiques from various periods and countries. Over his many years of experience in the fashion and interiors industries, Peter has gained an in-depth knowledge of materials, product design, and detailing.
The designer is known for his playful yet versatile designs, understanding of space, movement, development, and fresh and elegant style. Peter Mikic had a client who wanted a bar that did not look like a bar, so they found an old Giò Ponti office and changed its use.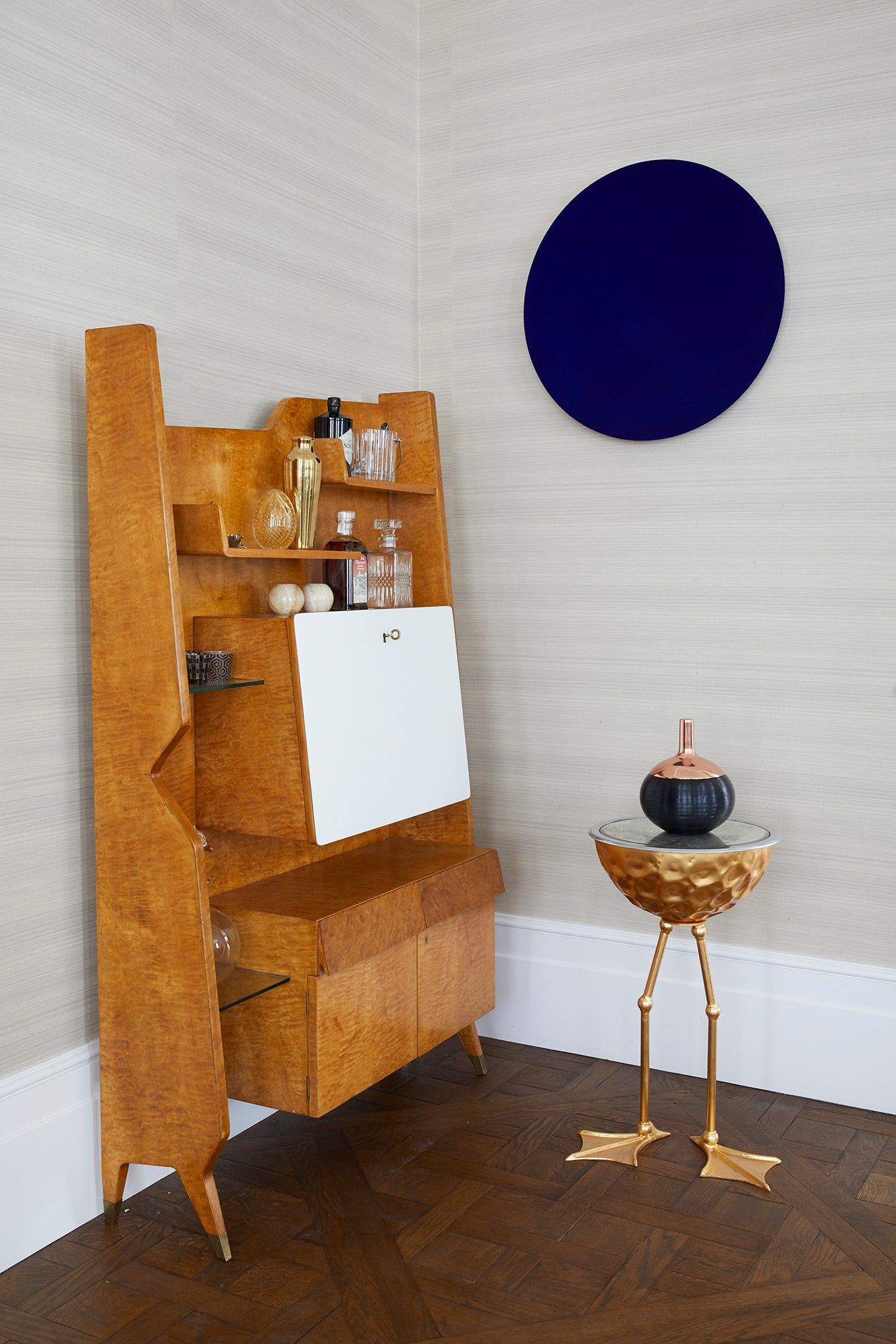 Hommés Studio Suggestions
Rosalia Cabinet is an outstanding modern style design. This bar cabinet combines harmonious shapes and materials. An elegant theatrical shape to store your favourite drinks and be part of your high-end design project.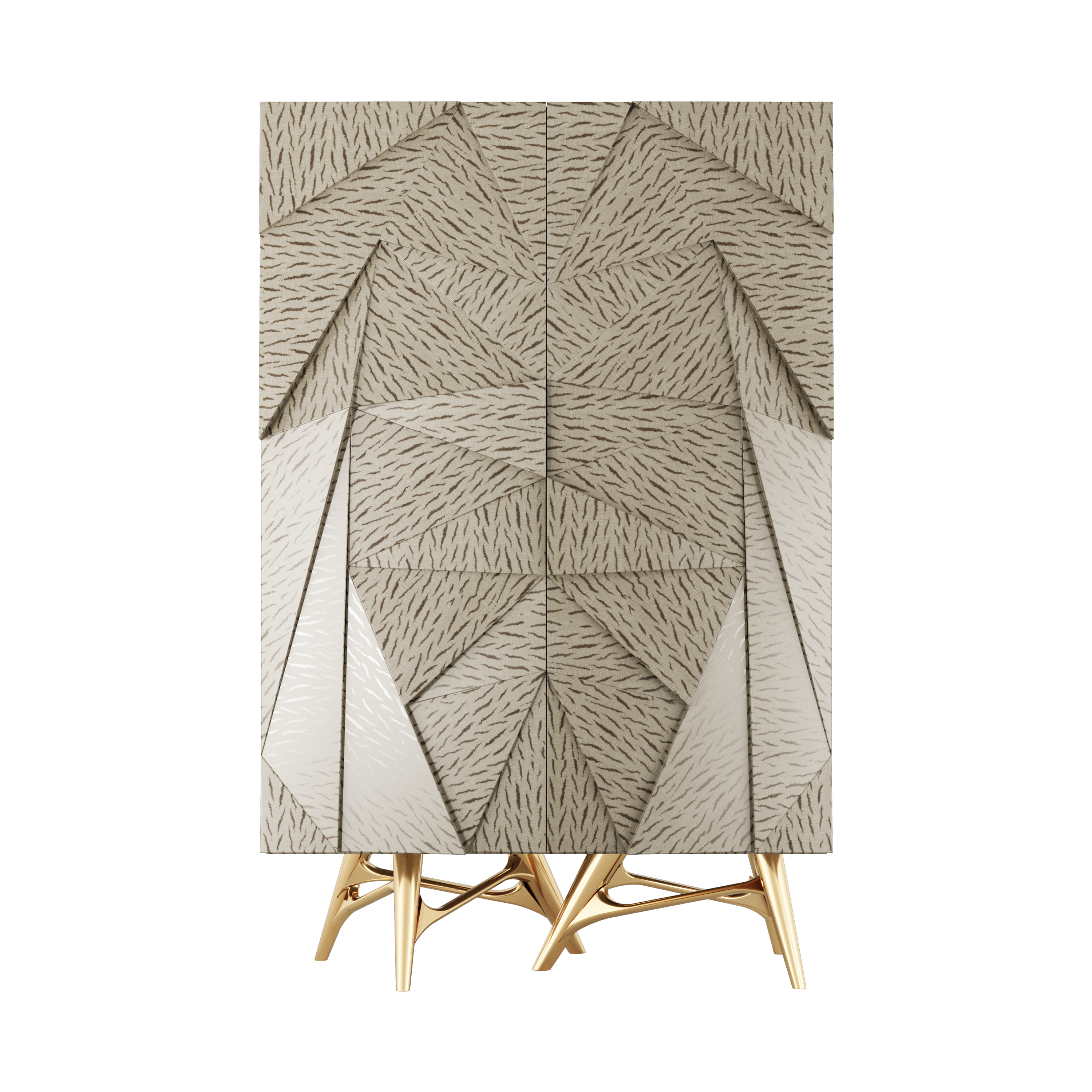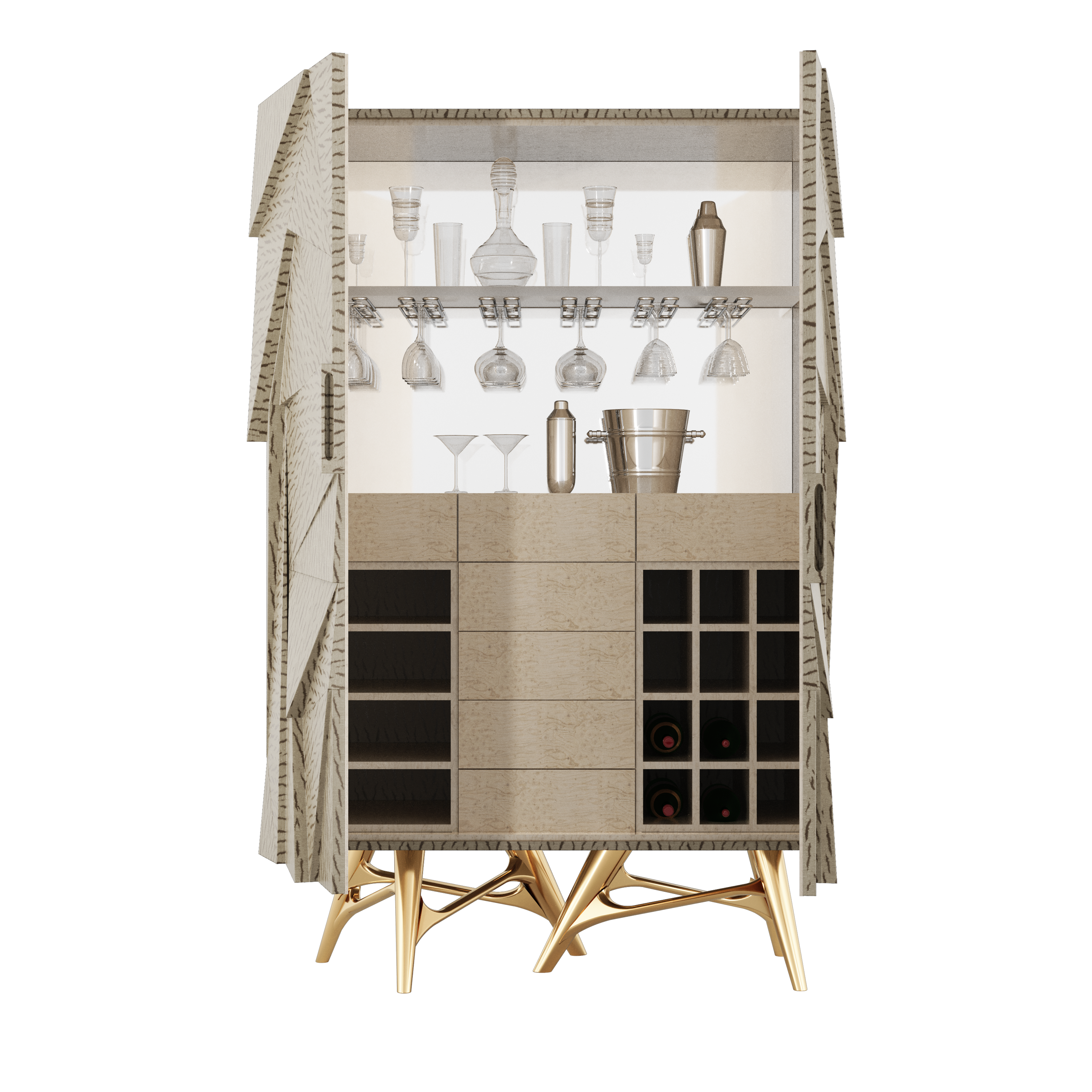 Alix Lawson studio has designed a 33,000 square foot project in Dubai Hills that showcases subtle, thoughtful design throughout. The clean interiors are a design departure for Dubai and show that the tides are shifting towards the minimal.
This bar is infused with a spectrum of neutral tones recalling the surrounding desert. Except for the Oluce table lamps and rattan tables, the furniture is all custom designed.
Hommés Studio Suggestions
Ajui Armchair II is a conceptual piece. It's an accent chair that combines an artsy interpretation of a cactus with the comfort expected from a luxury armchair. This armchair is the perfect choice for a modern living area project.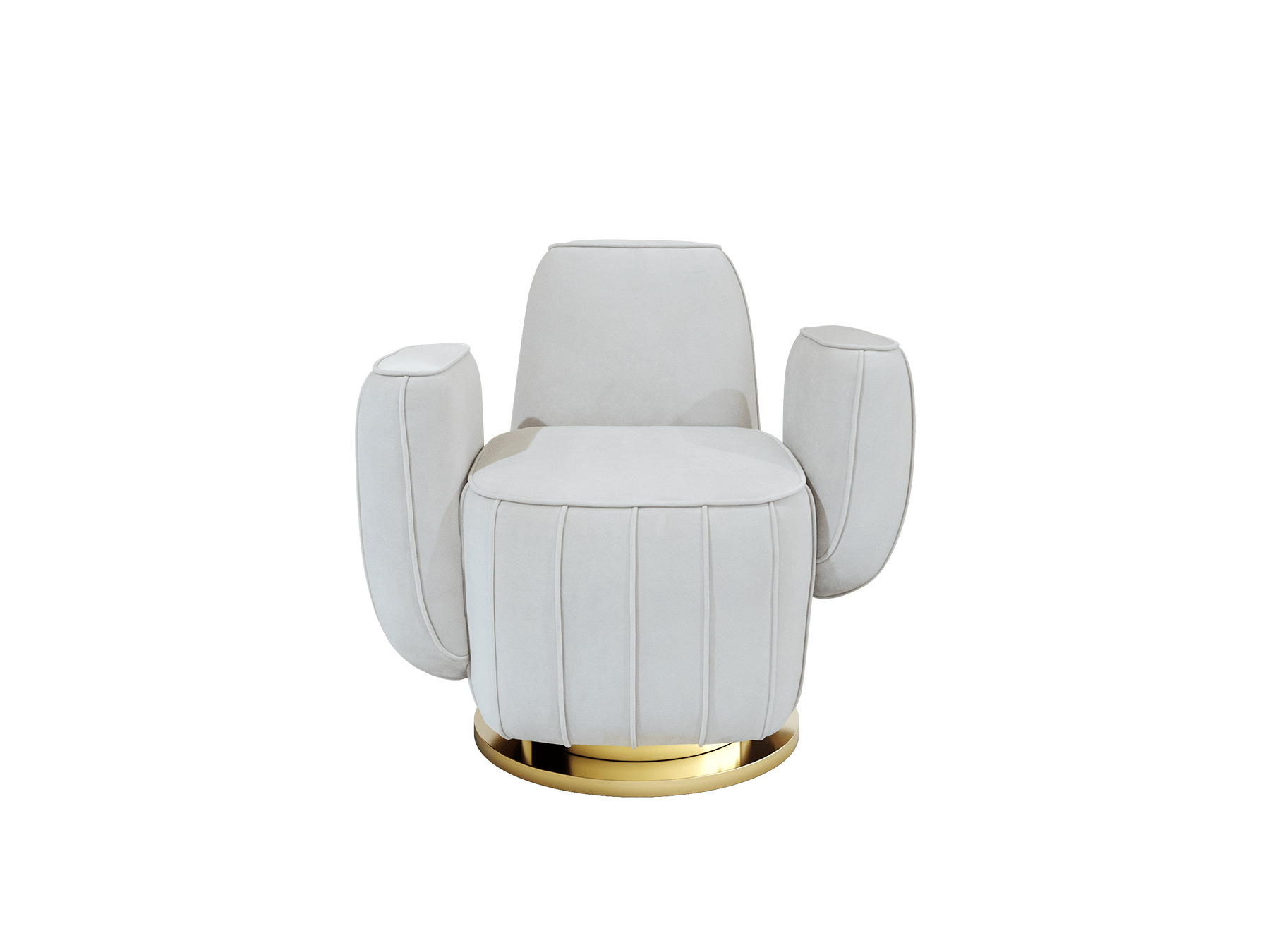 Dallas based designer Jan Showers believes that design should connect to the way we live. It also should be beautiful, glamorous, comfortable, and luxurious, even when very casual. The interiors of Jan Showers & Associates are chic and timeless. They exude charm and grace with an approachable and at ease feeling.
Topped with the homeowner's barware collection, a silver serving cart pops against the midnight blue walls of an Austin, Texas, dining room.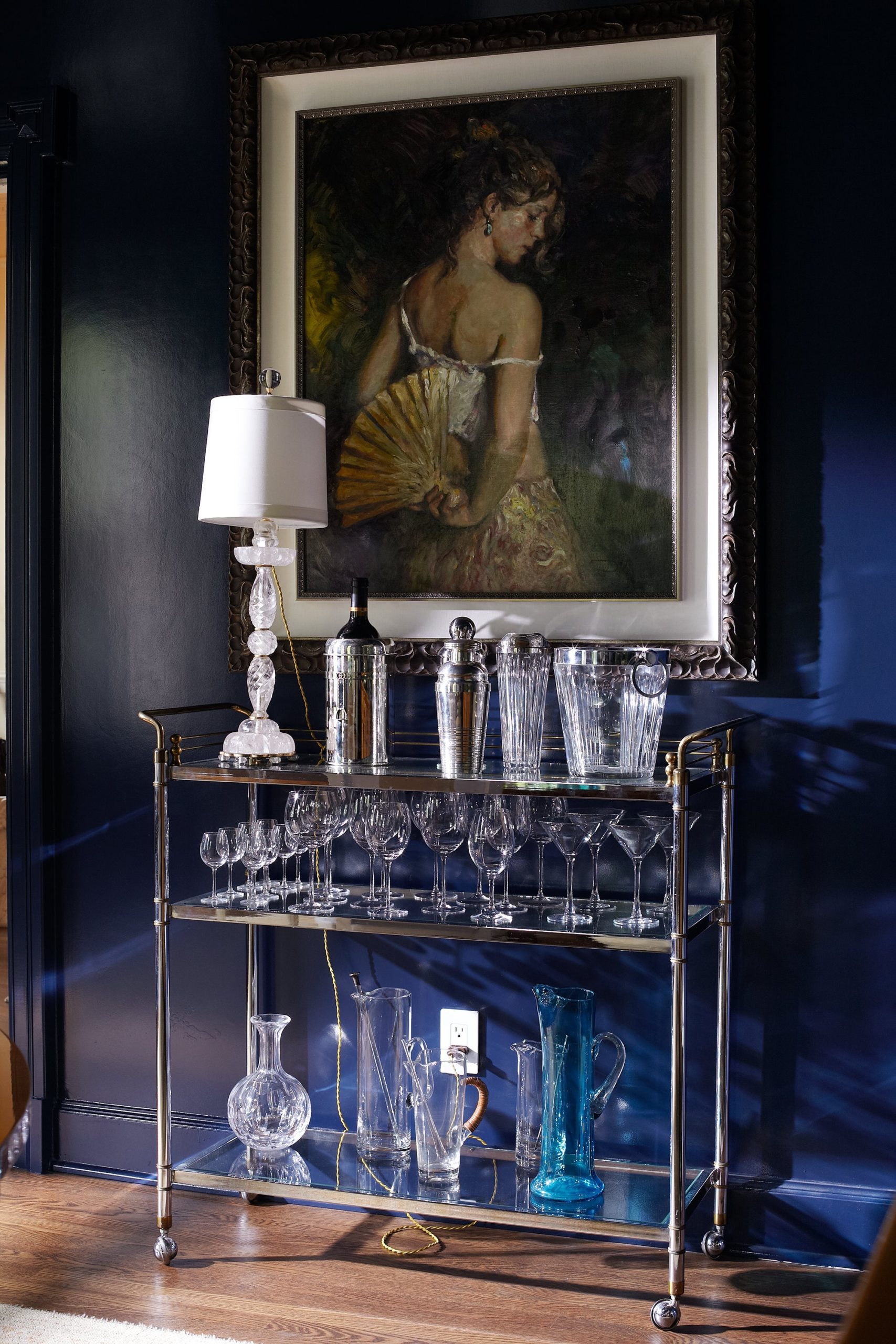 Hommés Studio Suggestions
Roma Bar Cabinet is an exclusive furniture piece inspired by the Memphis Style. This luxury cupboard is a must-have for any design lover that wants to make its house a living design experience.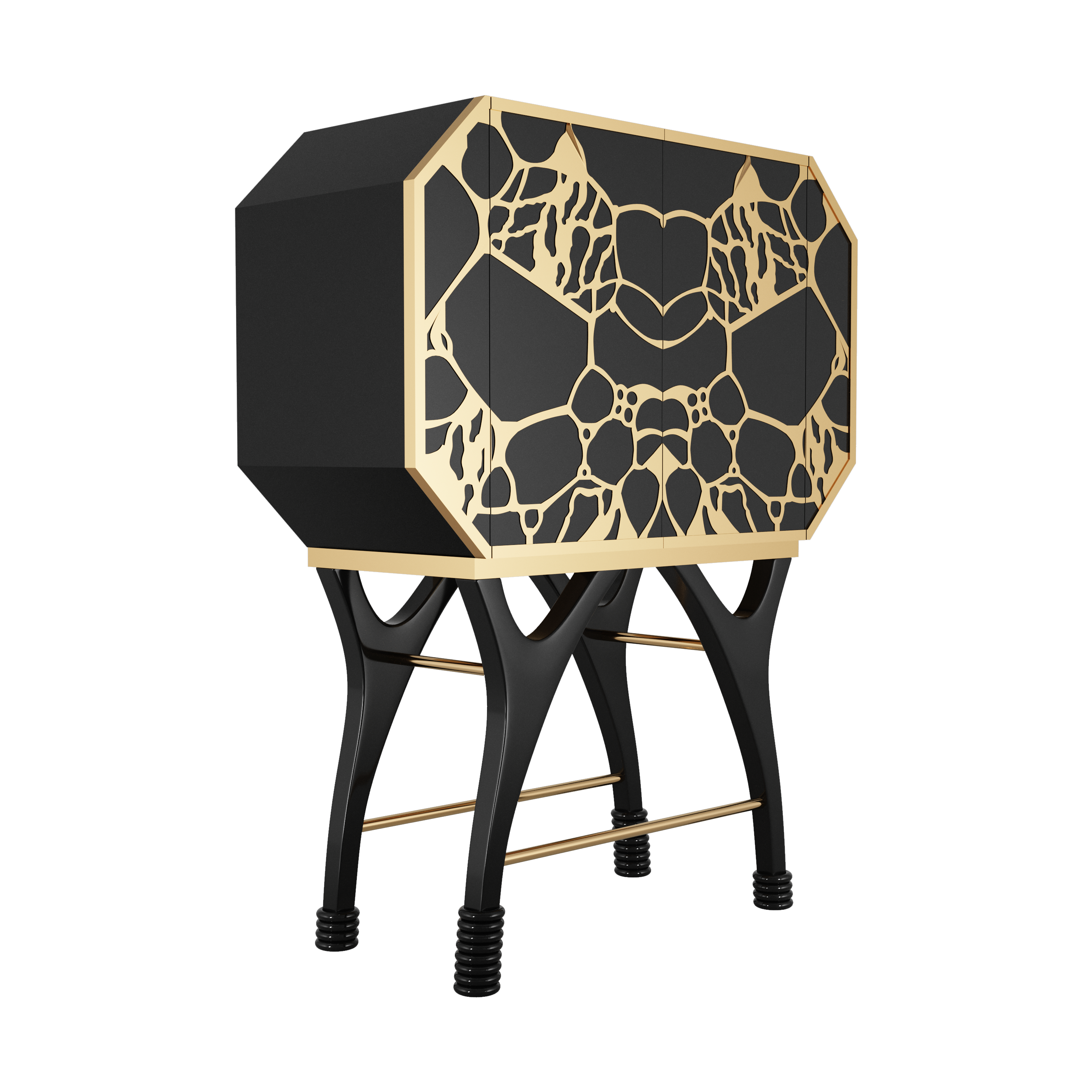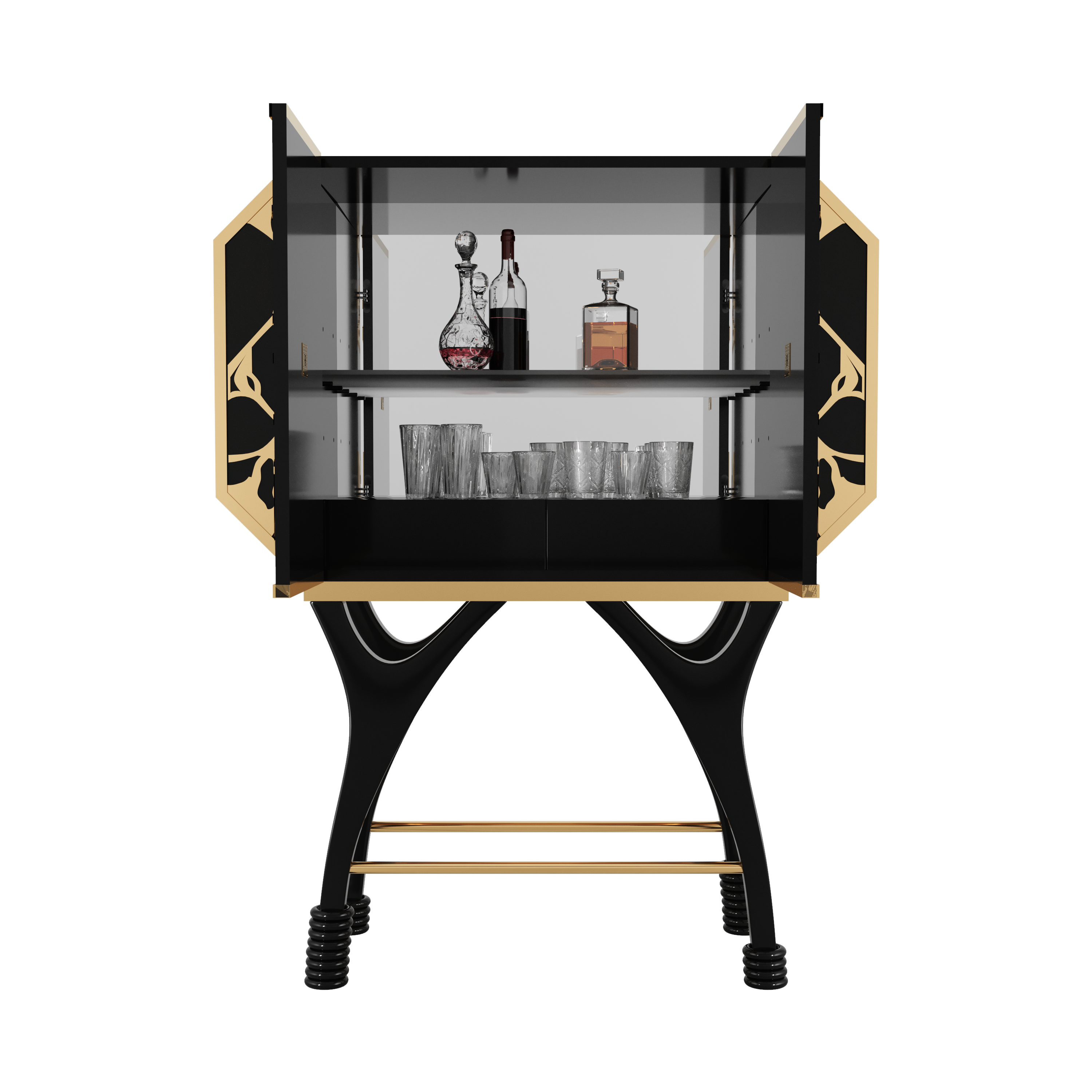 Fall tones of russet amber and orange welcome the outdoors into a sparkling, light-filled modernist lake house upstate.
Amy Lau chose a vintage Florence Knoll wall-hung bar for the foyer of this open-plan home in New York. The pair of benches are by Edward Wormley for Dunbar, purchased from Mark Frisman, and the mirror comes from the Amy Lau Studio Four Season collection.
Hommés Studio Suggestions
Cadiz Stool is a Memphis design style stool, which combines daring shapes with comfort.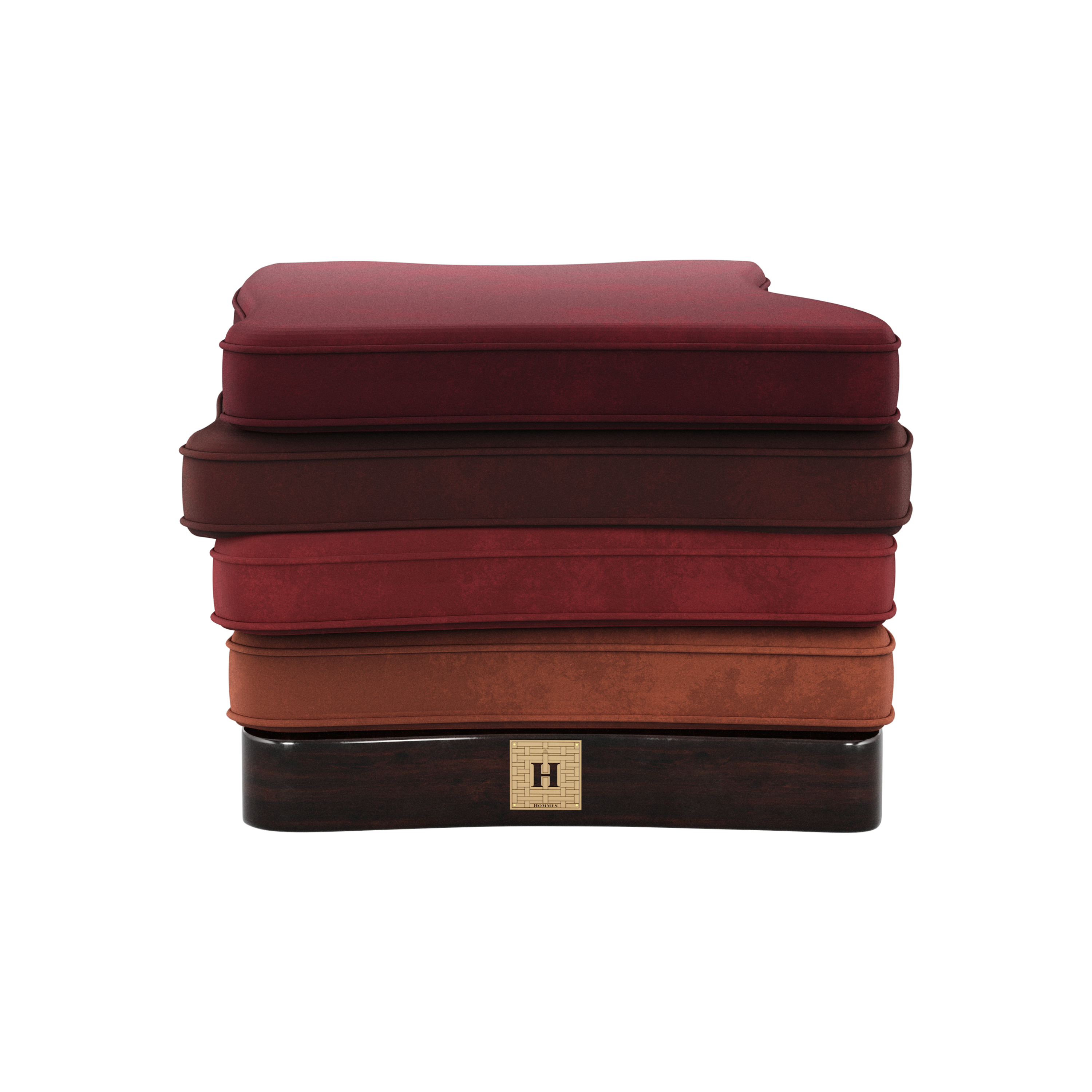 Sara Story has forged a reputation for conveying all of her projects an ineffable style she can truly call her own. Drawing inspiration from extensive travels, an active interest in contemporary art and fashion, and a rigorous lifestyle, Sara wields a keen eye to exact her aesthetic vision.
Sara Story sought to converge Asian and Art Deco style in the rooms of a Singapore penthouse. Created the lacquered-wood bar with brass and marble inlay, whose sleek lines are accentuated by stools.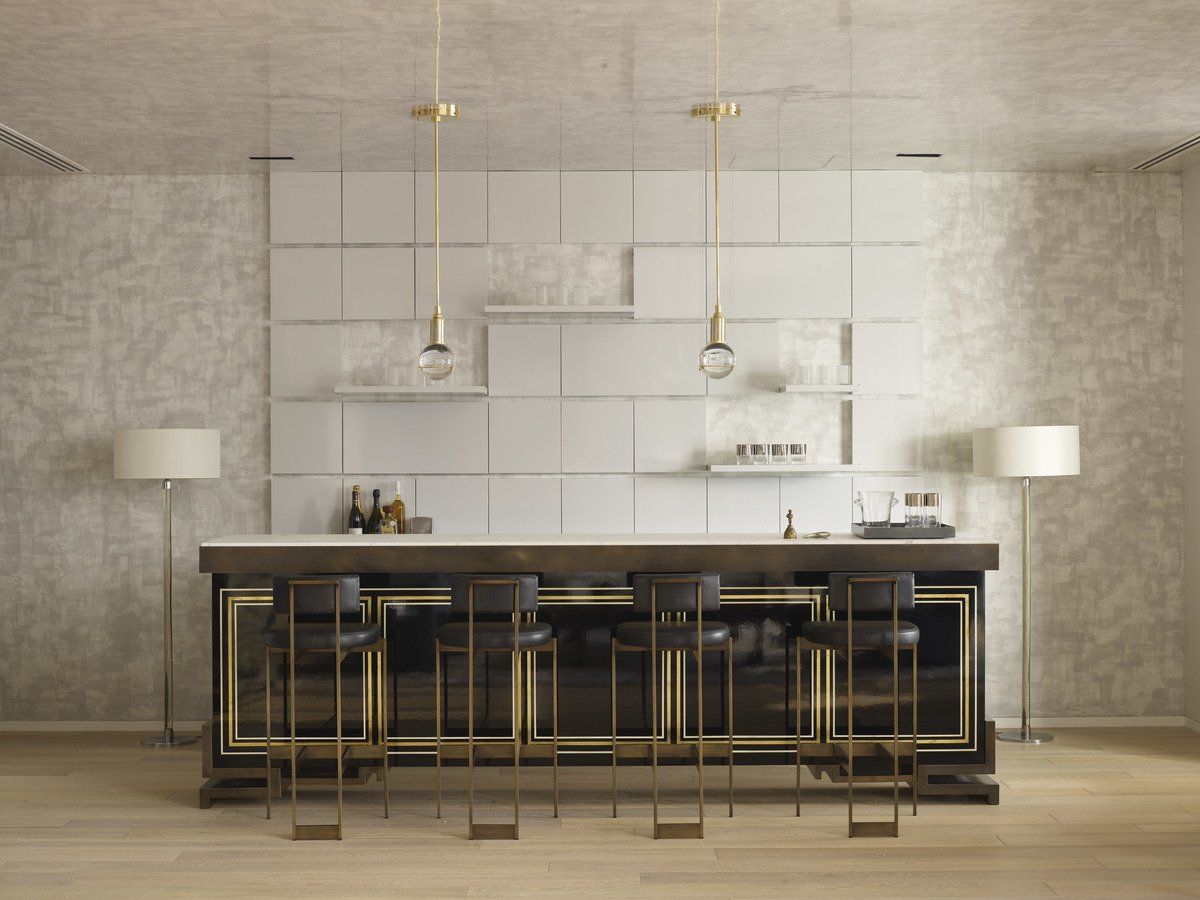 Ike Kligerman Barkley is known for distinctive design rooted in tradition but modern in its sculptural forms, taught detailing, glass expanses, and often a touch of whimsy.
This Upper East Side apartment is both comfortable and elegant. A soft turquoise Venetian plaster envelops the walls, reflective of the dynamic personalities of our clients.
Jean Royère Yoyo stools are arranged around the bar of this Park Avenue apartment in New York City.
Heather Wells Studio inspires and supports creativity with its open spaces, streaming light, and unique architecture.
This basement-level bar on Martha's Vineyard was meant to feel like a cross between a men's club, speakeasy, and Soho loft. It may look like an old-school haunt, but all the furnishings, including the Restoration Hardware chandelier and the Bright Group stool, are contemporary finds.
Hommés Studio Suggestions
Mystic Suspension features a unique selection of lampshades with different shapes. This bold design is the result of a creative explosion of ideas and design inspirations.
We really hope you liked our article. Feel free to pin all the images to your favorite Pinterest board. Meanwhile, you can also visit our Pinterest boards to get more inspiration.
Get more ideas for your projects and find functional, stylish, and sizable lighting and furniture choices: