Founded in 2001, Amy Lau Design creates interiors known for their warm and artistic sensibility, expressiveness, and impeccable attention to detail. Amy has a reverence for the inherent beauty of natural materials, landscapes and carefully incorporates elements of each in each project.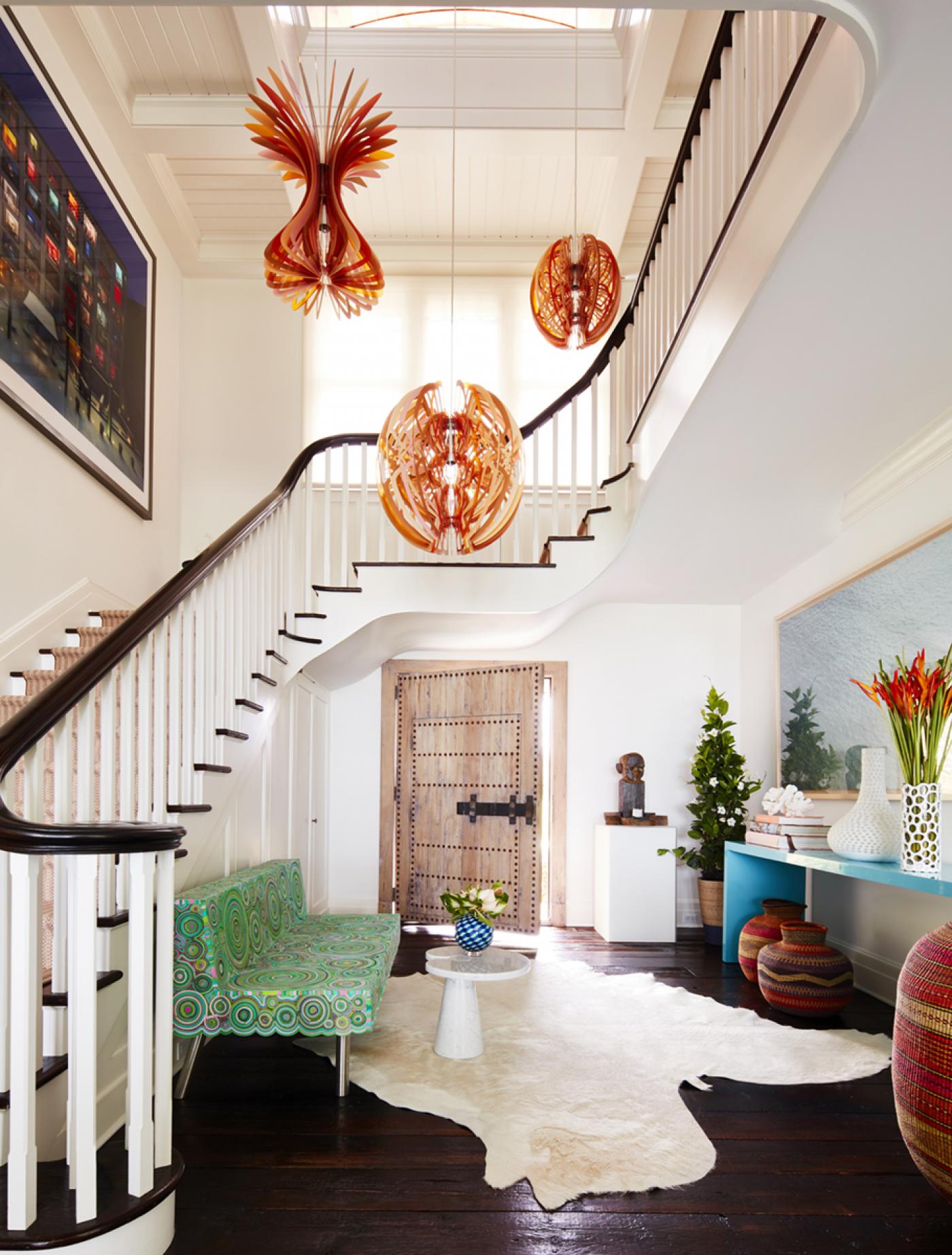 Custom Jorge Pardo hanging lights pack a visual punch in the foyer, which features artwork by In Sook Kim (left) and Richard Misrach (right).
Amy's aesthetics encompasses both art and design, where each personalized space is animated with dynamic mixes of vintage and contemporary pieces.
Amy Lau Design is one of the most gallant talents in the AD Top 100 list of 2021. The designer's luxury residential interiors portfolio includes a collection of artistic and sophisticated homes around the world.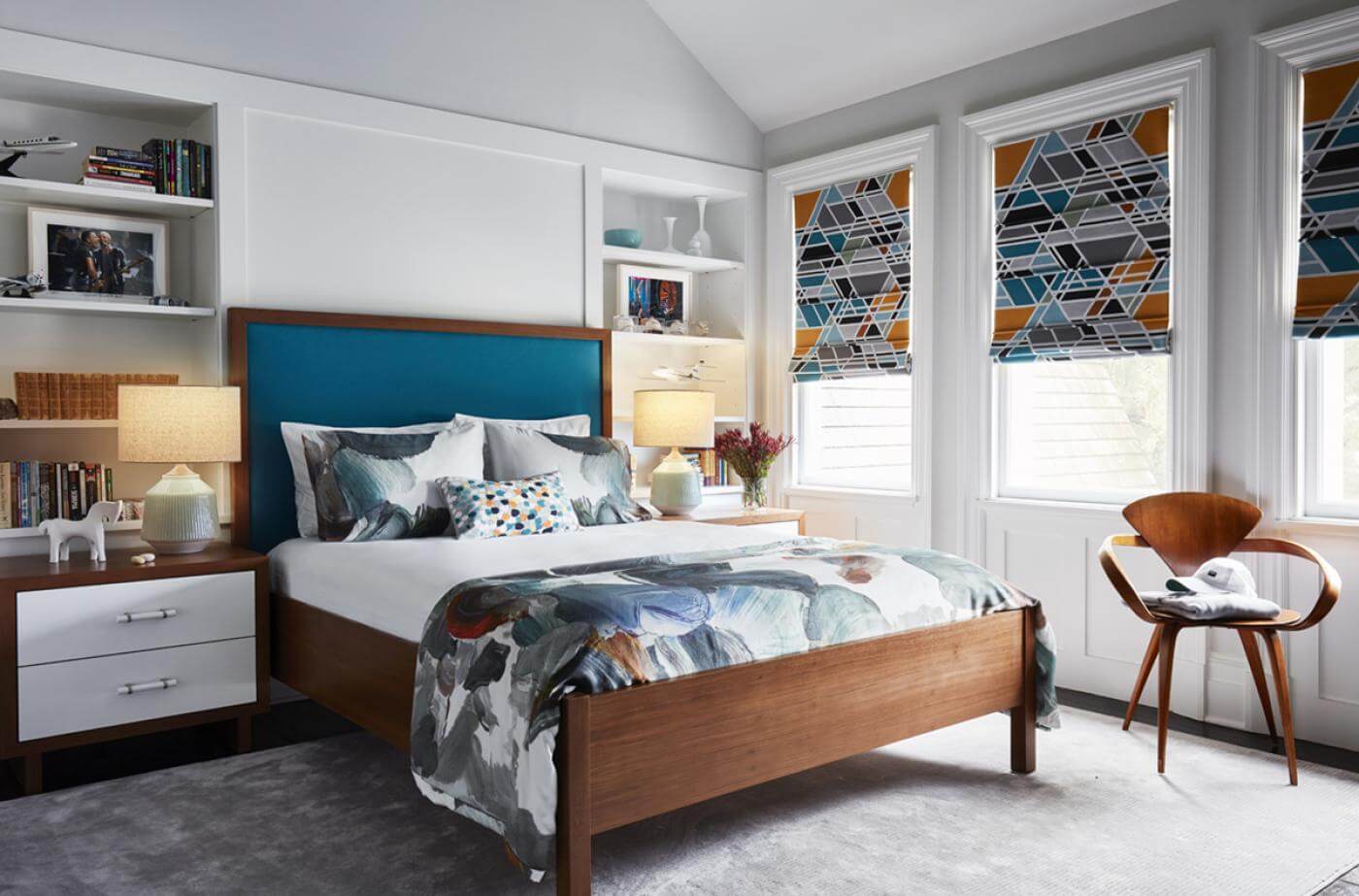 One of Amy's projects is a Family Home in Bridgehampton, New York, where an eclectic mix of art and furnishings animates this customized Hamptons retreat for a passionate collector's family home.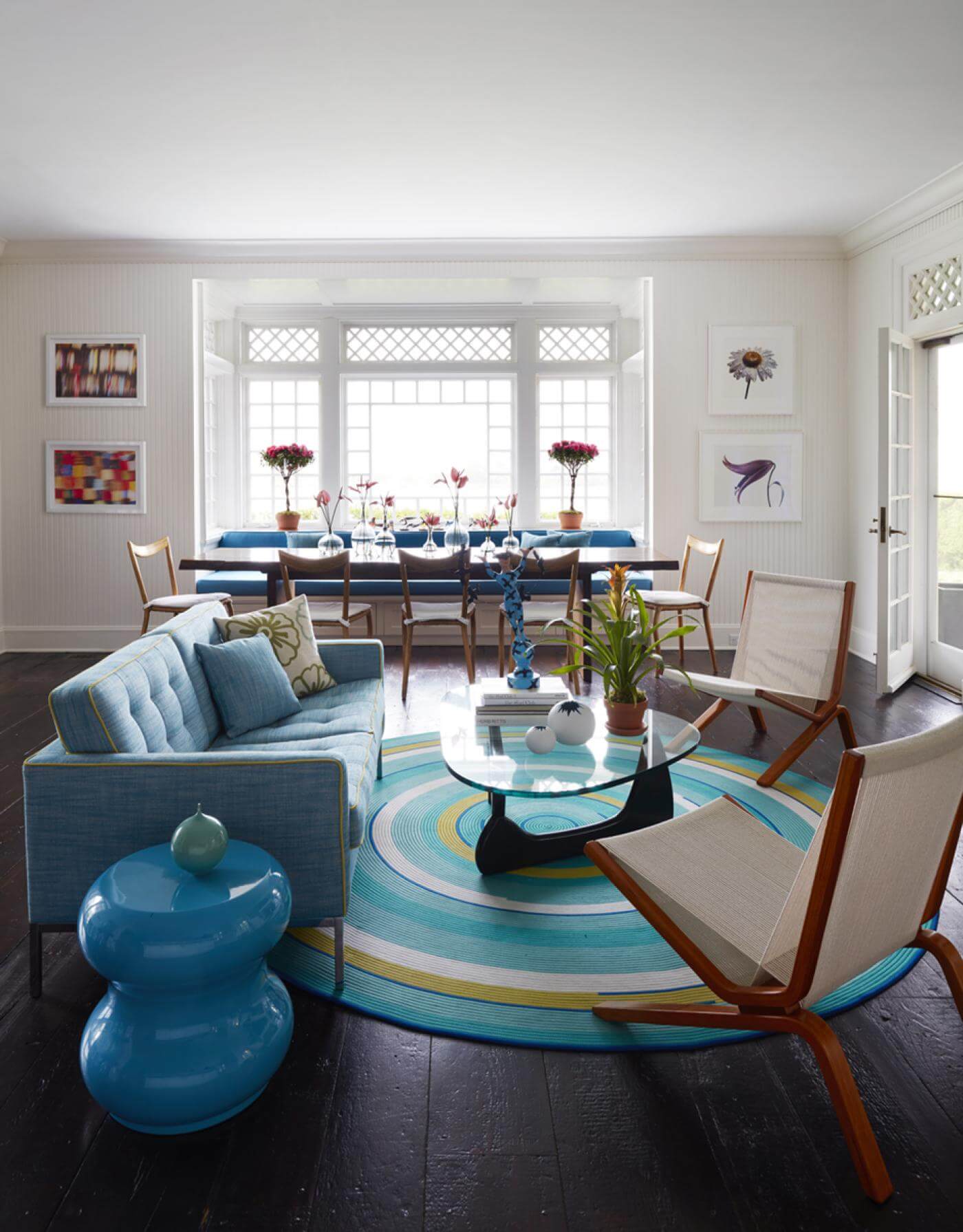 Clarissa Bronfman knows what she likes. This is very clear at the Long Island weekend home that she shares with her husband, venture capitalist Edgar Bronfman Jr., and her four children.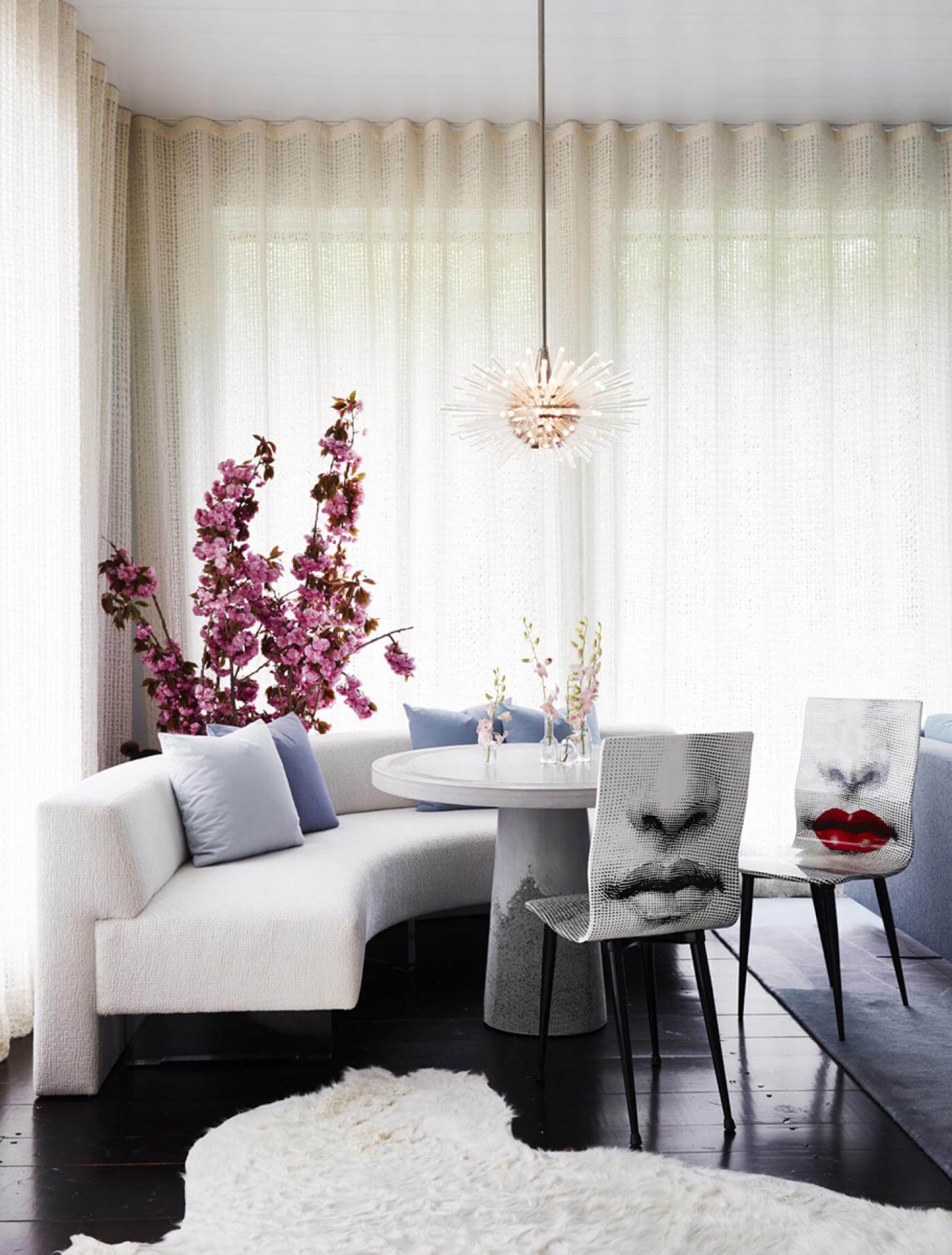 The living room combines works by contemporary artists such as Ernesto Neto and Pia Camil, modern classic furniture, recent pieces, and African armchairs with beads. There is even a motorcycle that belonged to the actor Steve McQueen.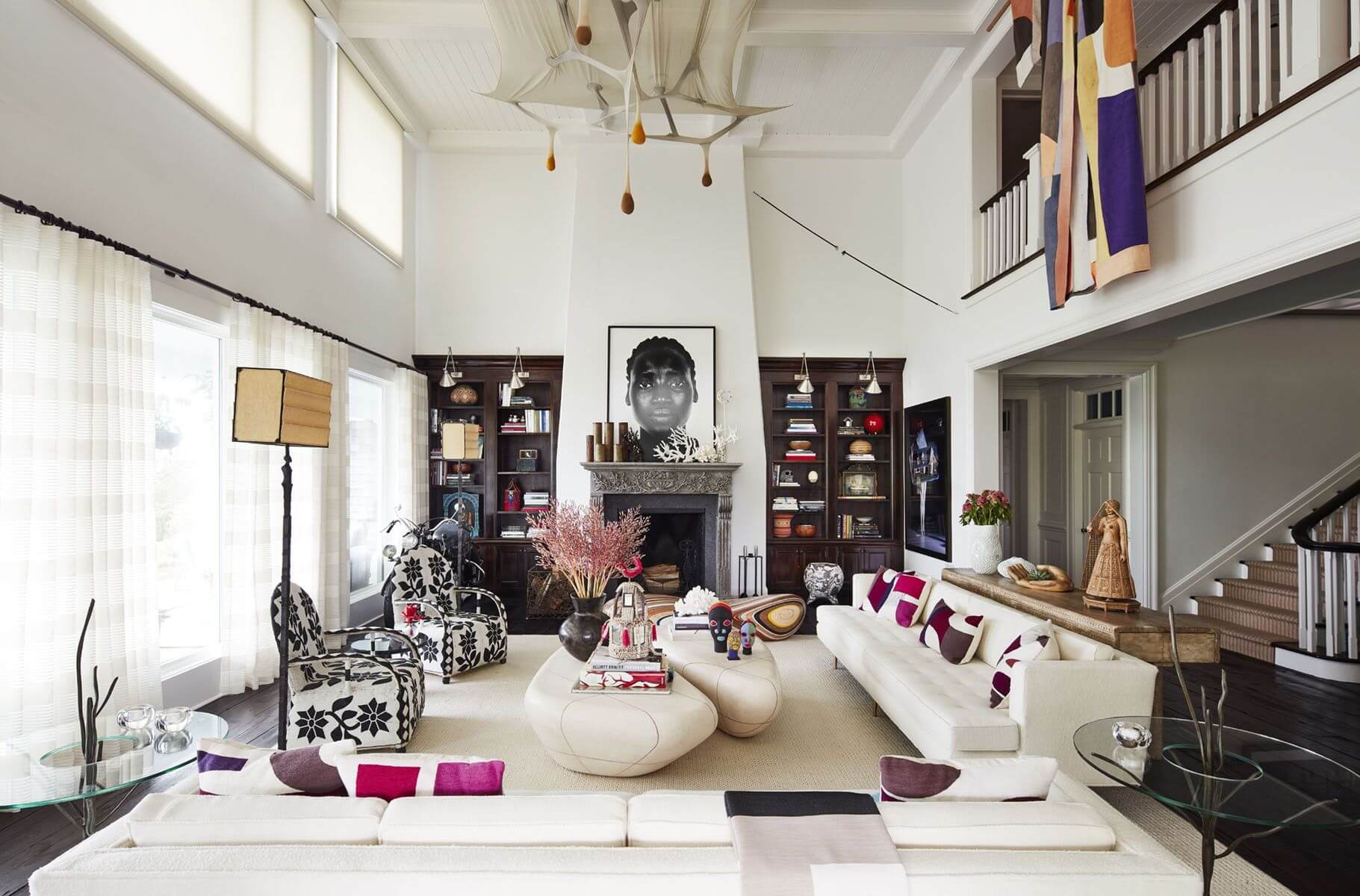 In this living room, installations from Ernesto Neto (top) and Pia Camil (top right) share space with works by Valérie Belin (center) and Laurie Simmons (right). Christopher Chiappa's Beaded Terrazzo stool, a Brodie Neill chaise longue, and Robert Stadler cocktail tables, commissioned through Carpenters Workshop Gallery.
Clarissa is a true collector of art and design. Among other things, Lau added larger windows in the living room to maximize the views and found furniture and fabrics that complement the vintage pieces from the 20th century that the couple already had.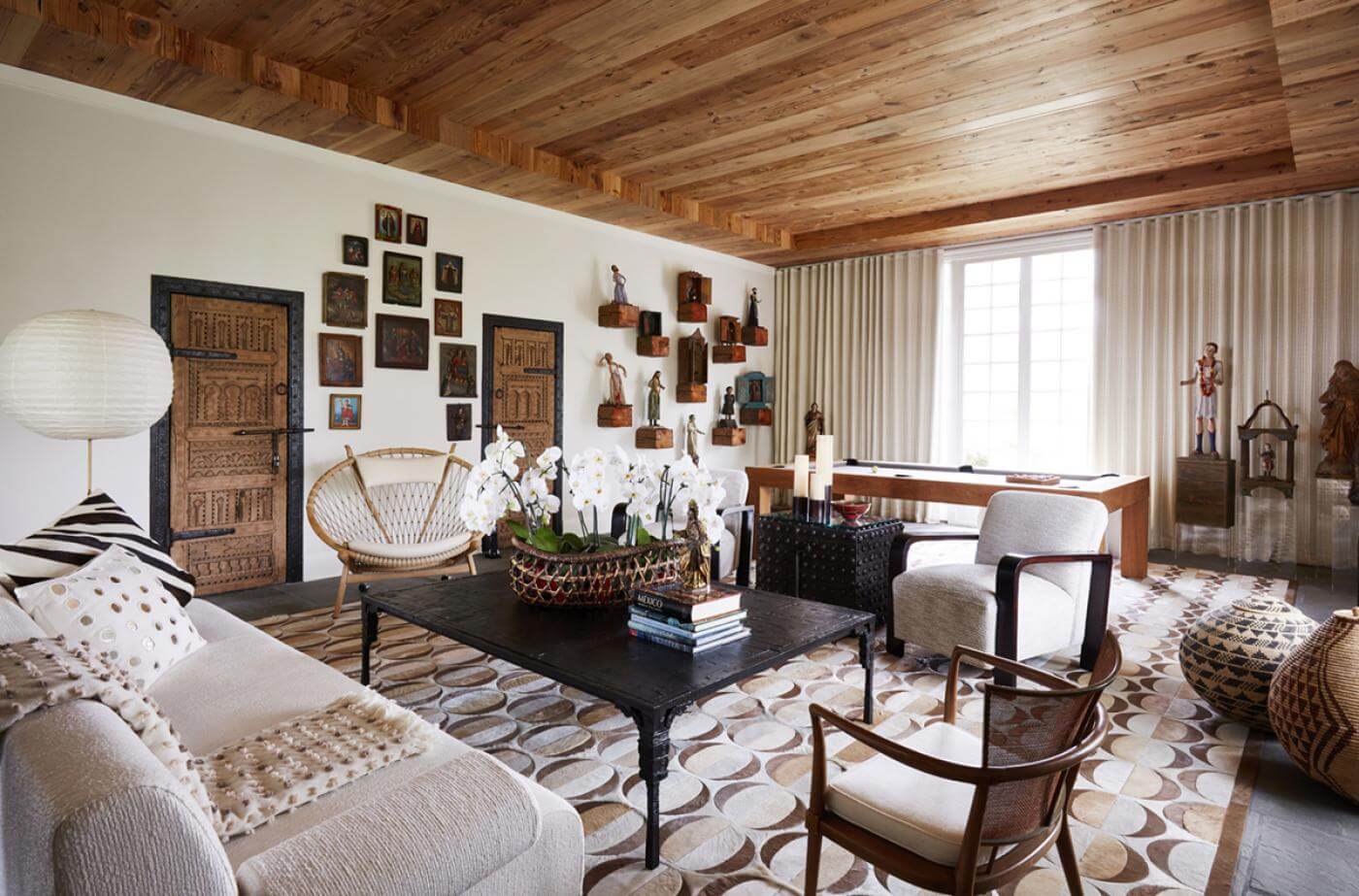 In addition to showcasing a collection of 18th-century Colonial Spanish saints, the sunroom features a cocktail table by Ingrid Donat and a James Perse billiards table. Donat casts her coveted creations from bronze. Carves patterns by hand, while Perse constructs his out of the finest solid teak.
In the lively dining room, anchored by a suspended light of fantastic flowers by Hsiao-Chi Tsai and Kimiya Yoshikawa, work from the 1960s on the fireplace of kinetic art pioneer Julio Le Parc.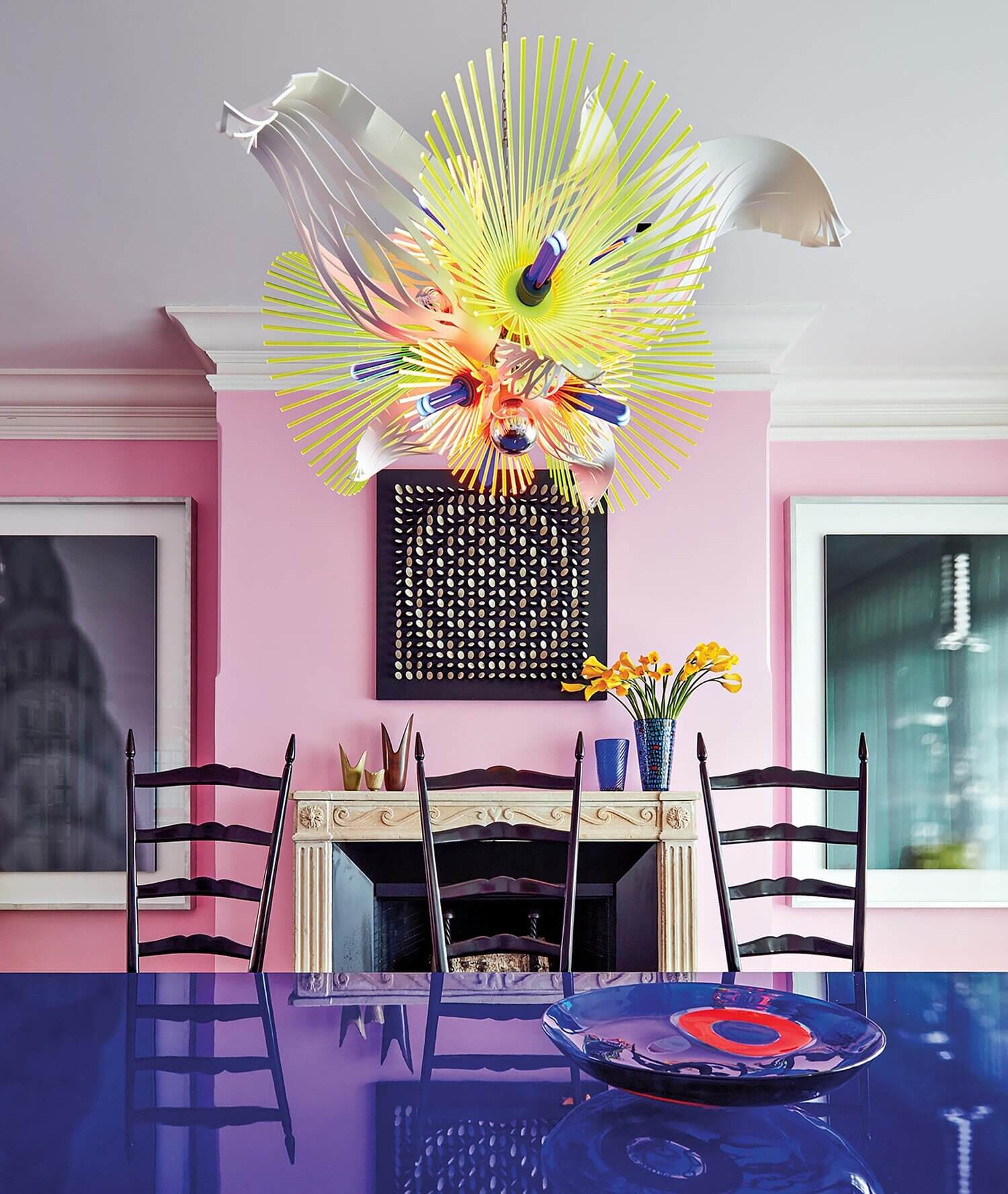 Edgar Bronfman Jr. pushed for the pink wall color that serves as a jubilant backdrop for Hsiao-Chi Tsai and Kimiya Yoshikawa's Blooming Spark I hanging light in the dining room. Works by Hiroshi Sugimoto flank a piece by Julio Le Parc.

Bronfman has been taking photographs since the age of 12. Her photographs of a flower that opens only one night a year are hanging in a private dining room at the Four Seasons Restaurant in New York City.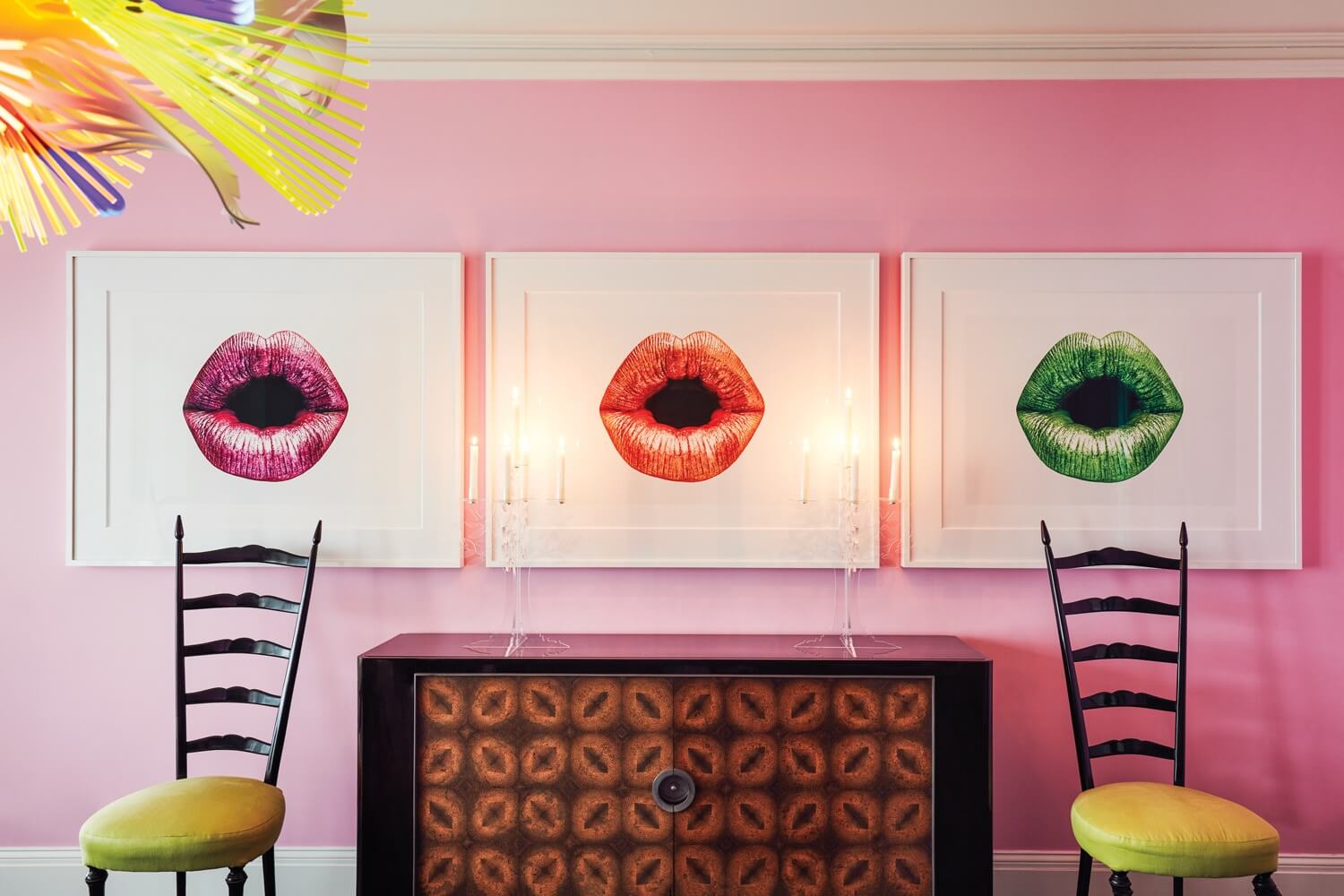 Installed over a 1930s sideboard by Paul Dupré-Lafon is a triptych of photographs by Bronfman—images of her lips in three different colors—that was an anniversary gift to her husband.
On one side of a large window in the spacious kitchen are more colorful photographs of Bronfman. Lau has filled a nearby living area with bright shades, and Bronfman loves the color.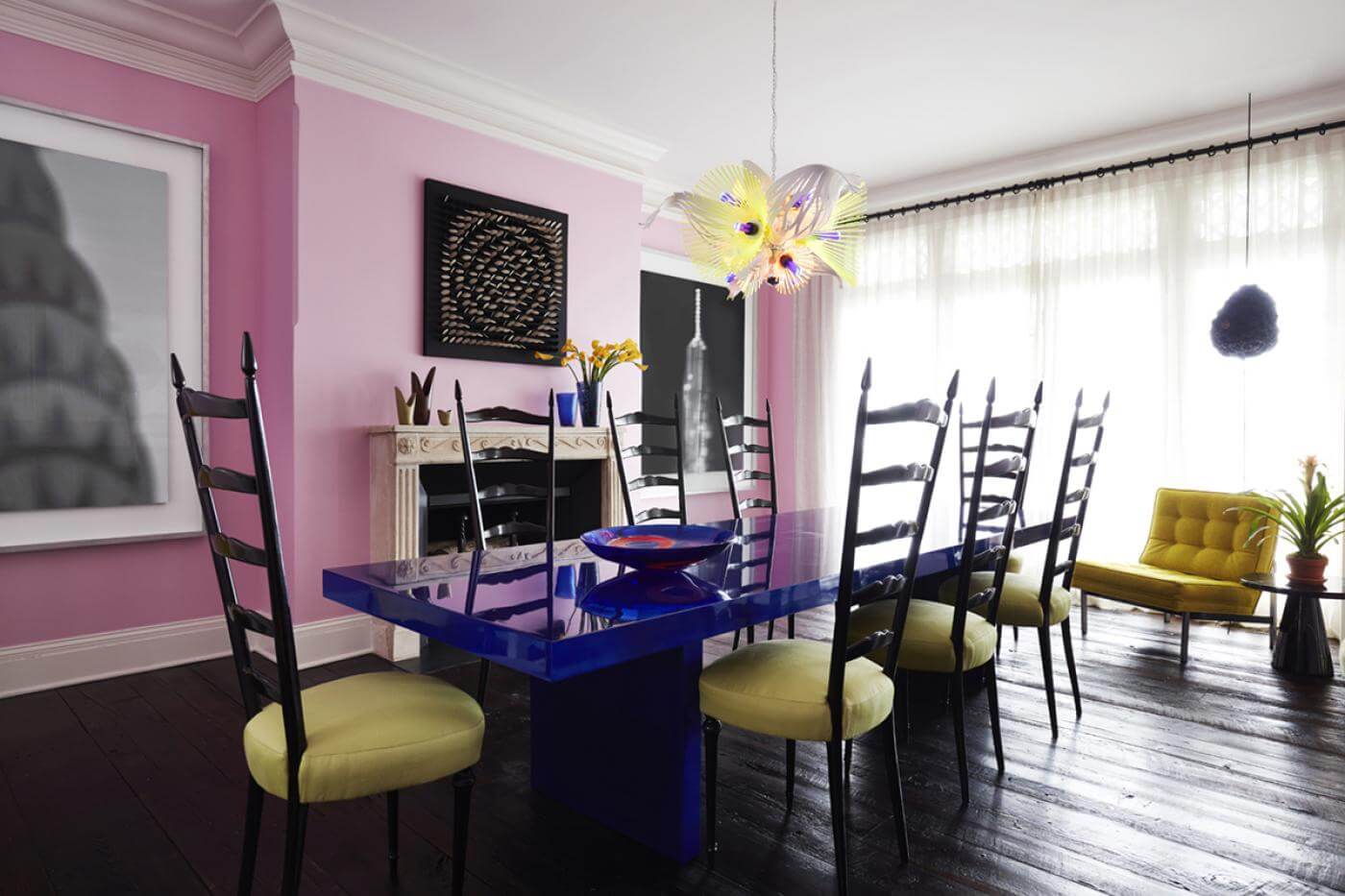 Fresh shades of blue accentuate the main room. Which features a work of art by Louise Lawler and a cyanotype of 19th-century botanist and photographer Anna Atkins. One of Bronfman's favorite finds, a stool by remarkable designer Judy Kensley McKie, stands at the foot of the four-column bed. Hanging from another Moroccan door is a symbol of the evil eye, to ensure that nothing bad enters the room.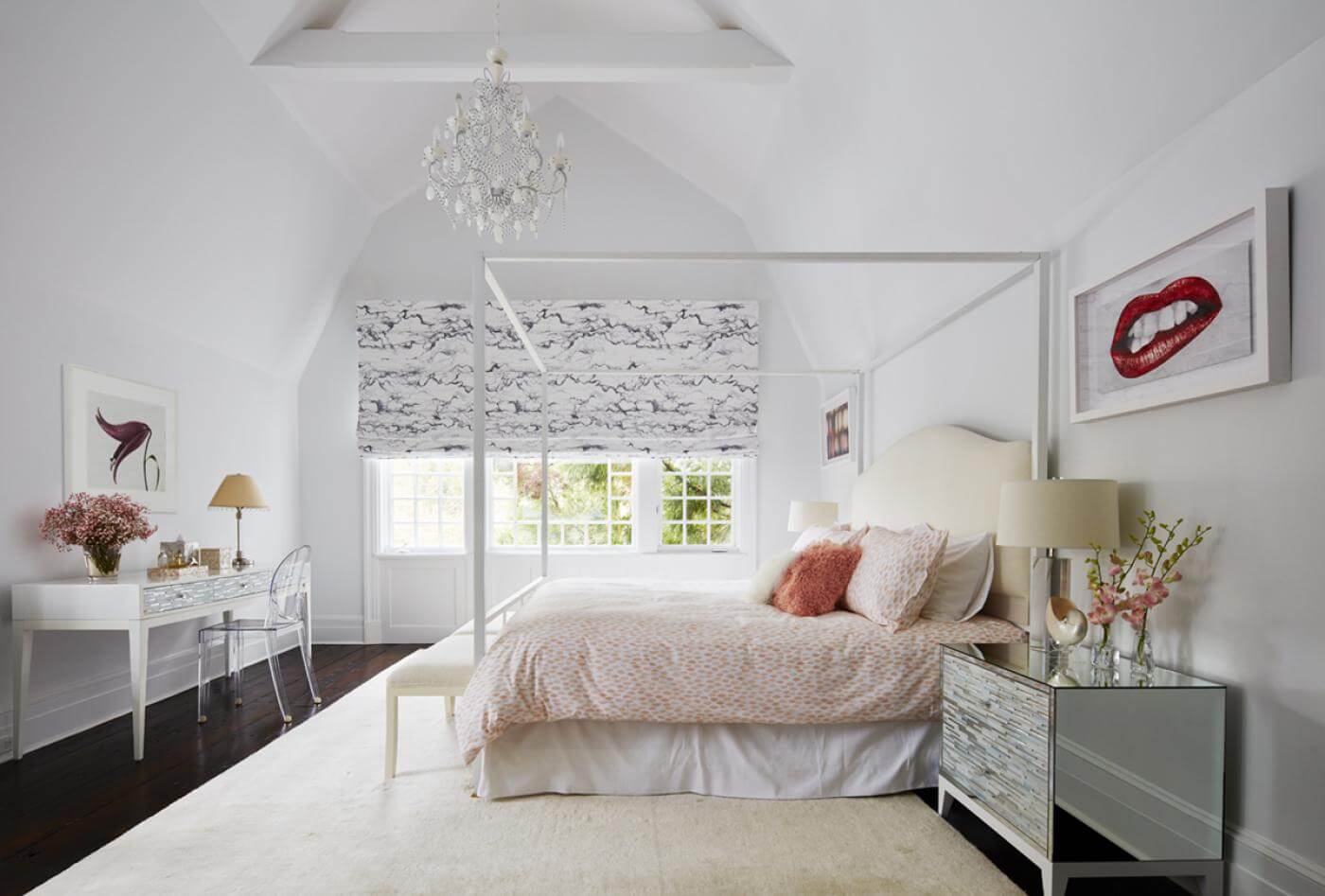 The weekends in the house are full of children, family, and friends, who gather inside the house and on the porches and terraces. The lush landscape was originally conceived by Edmund Hollander and more recently updated by Juan Ramón Pacheco.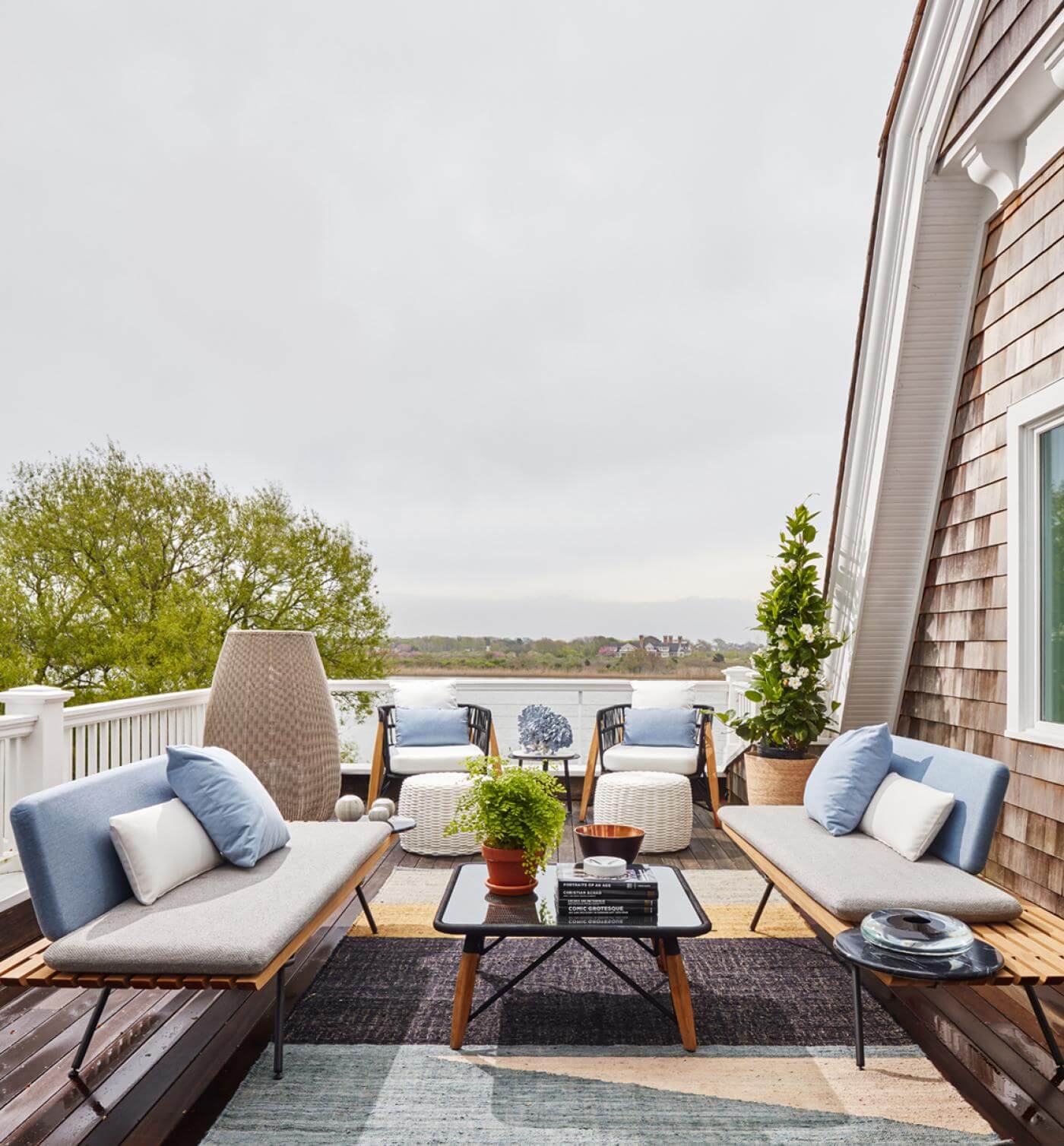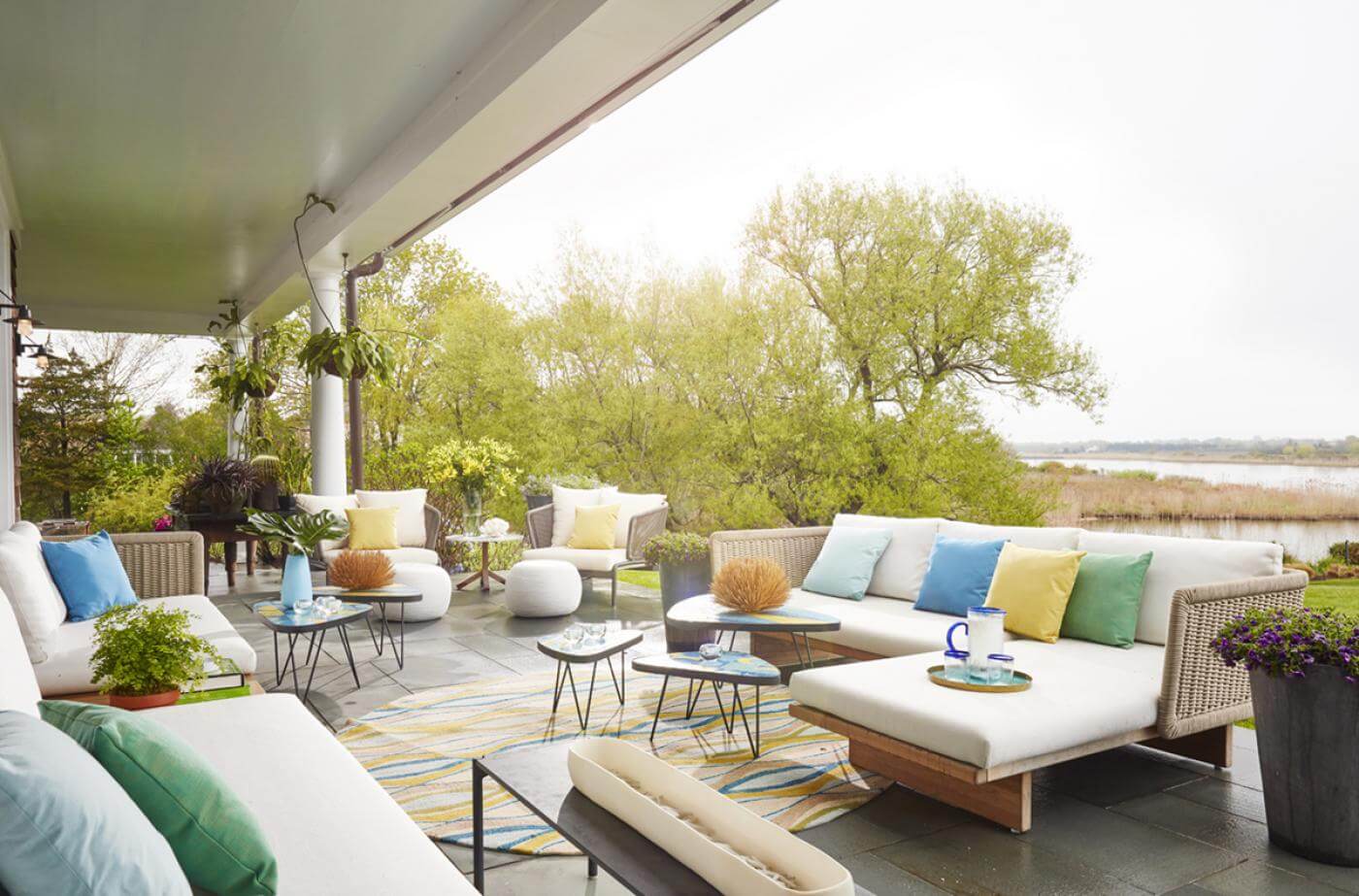 As Lau admirably notes, "Whenever you enter a Bronfman house, there are always flowers, wonderful smells, and hippestana music. For Bronfman, it's about cultivating an atmosphere of fun and comfort – which basically sums up his vision for the house.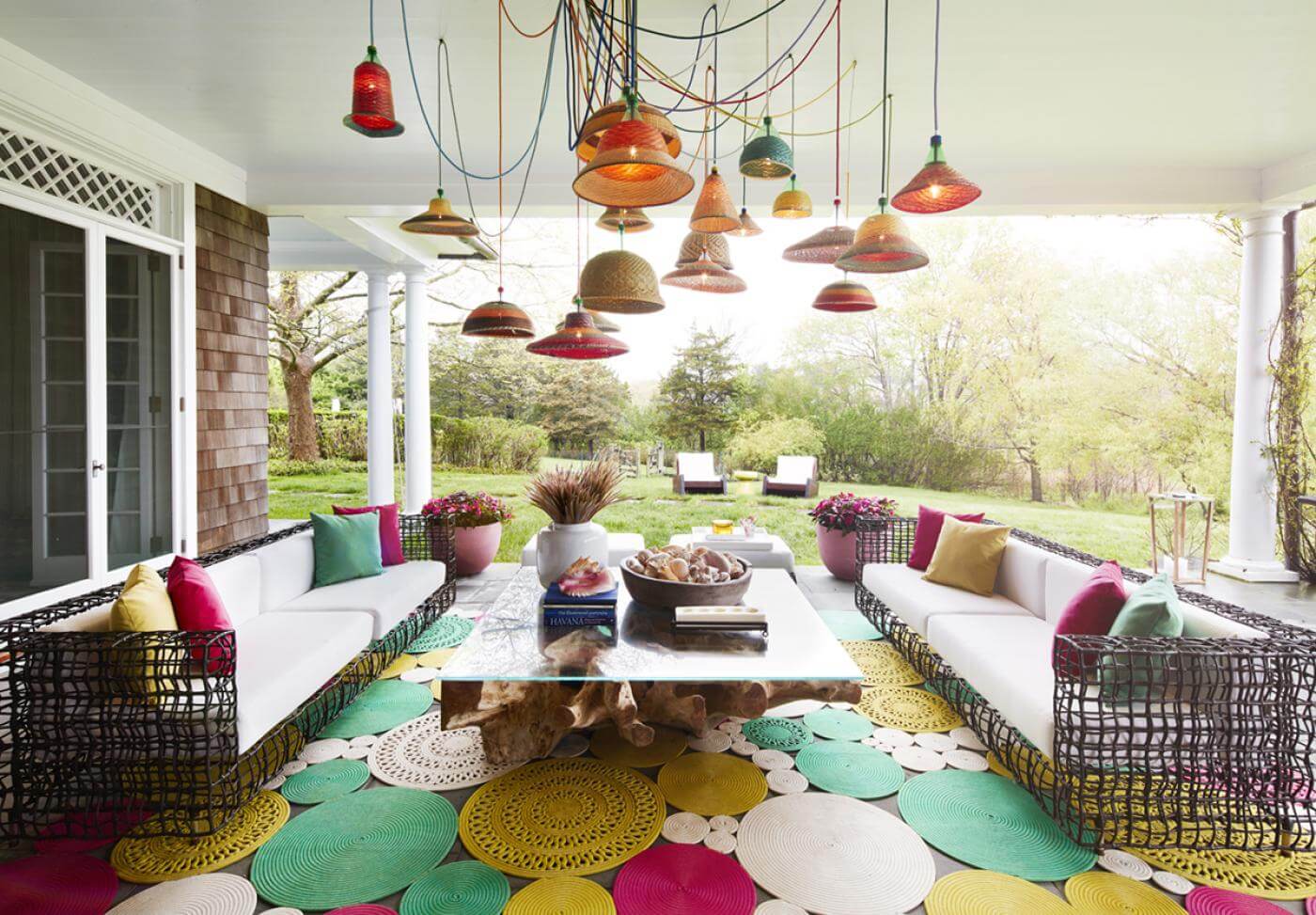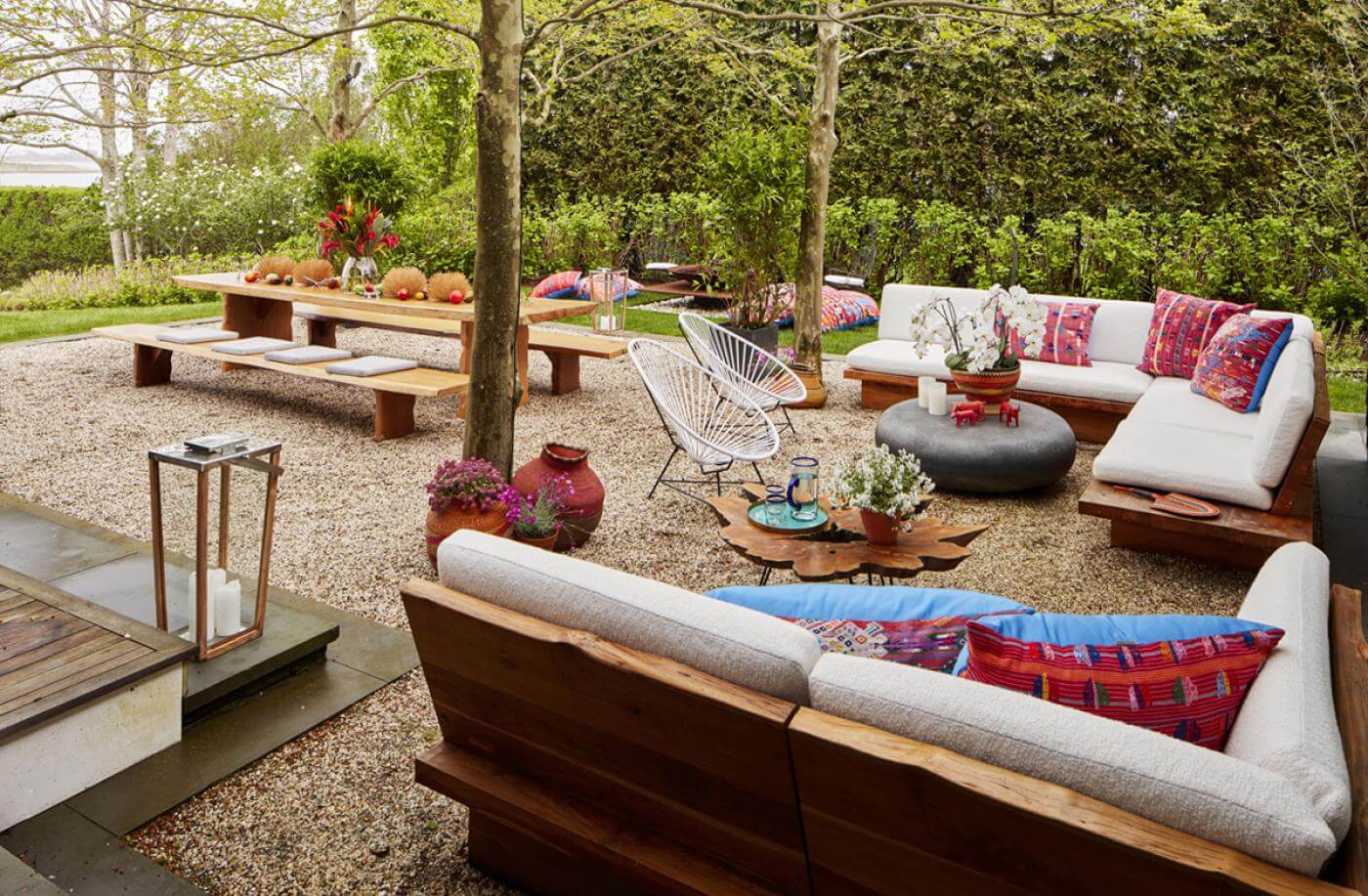 We really hope you liked our article. Feel free to pin all the images to your favorite Pinterest board. Meanwhile, you can also visit our Pinterest boards to get more inspiration.
Get more ideas for your projects and find functional, stylish, and sizable lighting and furniture choices: