Letters From Marrakech: Shop The Look is the survival of craftsmanship, an oasis of creativity and life, and a bohemian luxury way of living.

Letters From Marrakech. They arrive at our home with all the hustle and bustle that inhabits the city. They recall our spirit of the sounds, the scents, the light and colors, and the sparkle of the facades of Marrakech.
The modern Moroccan design reveals a brilliant simplicity in everything beautiful. From the Majorelle blue, the Cardomom green, and a cluster of Terracotta shades to the arcs, textiles, and mosaics.
All the glow, colors, and textures of the city of Marrakech are the survival of craftsmanship, an oasis of creativity and life, and a bohemian luxury way of living.
Discover Letters From Marrakech below.

LETTERS FROM MARRAKECH: SHOP THE LOOK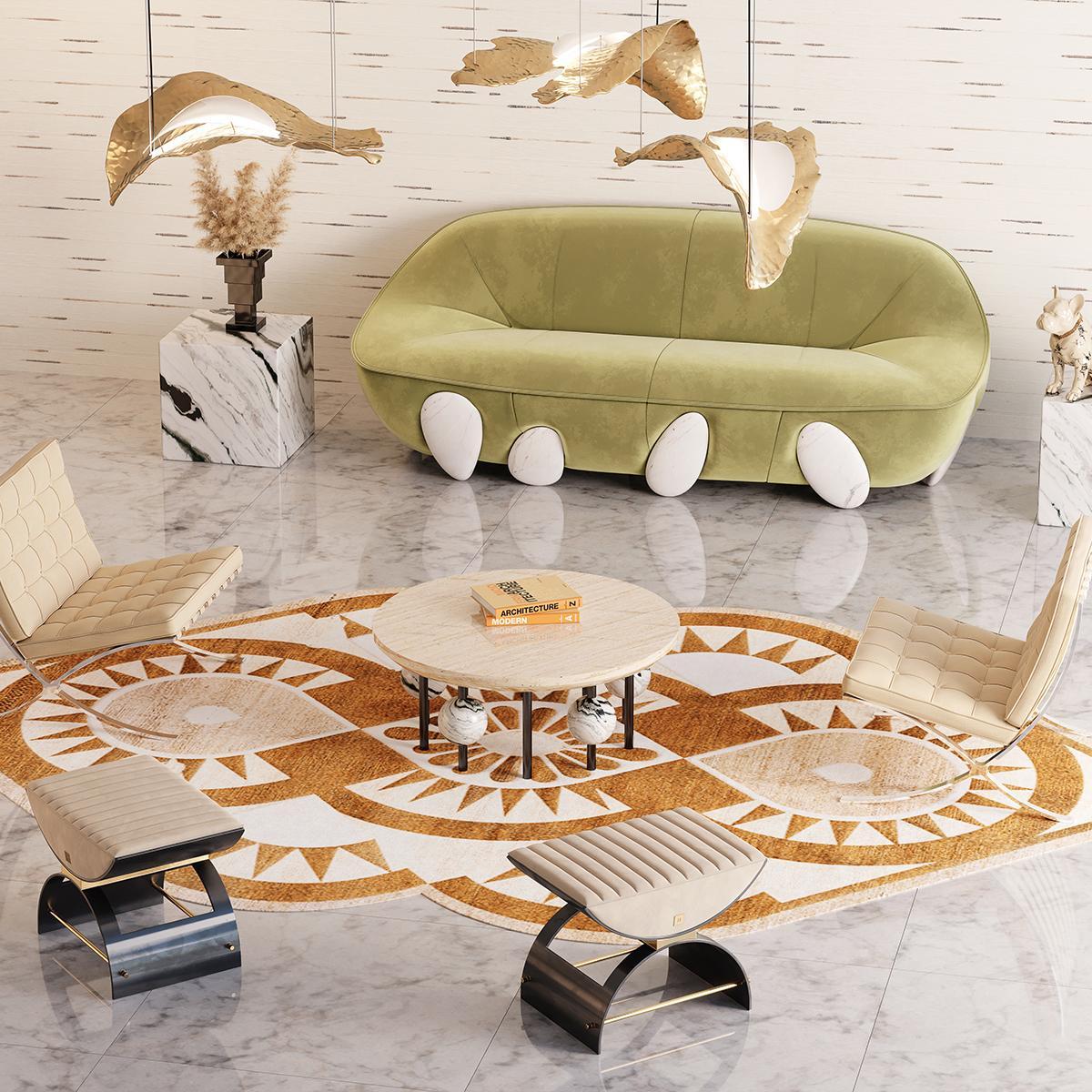 LEAFUS SUSPENSION
Leafus Suspension Lamp unveils a subtle breeze of fresh and modern design. This luxury suspension lamp is full of sophistication with an organic and elegant shape. Nature-inspired, this design lamp is perfect for enhancing any contemporary living area.

LUNARYS SOFA
Lunarys Sofa is a contemporary style sofa that features a glamorous aesthetic look. It's an outstanding sofa that amazes everyone with its powerful presence.
A stunning piece that disrupts commonly seen shapes, transitioning its admirers to another dimension.

KÓSMOS CENTER TABLE
Kósmos Center Table is the sculptural table that will continually enhance any space, highlighting your modern living room style. A unique is a design piece that designates modernism and elegance as a whole.
Etymologically, Kósmos is order and balance. But the Kosmos center table without a worthy living room is just Chaos; it lacks reason, which is utterly baffling.
The luxurious marble spheres in the legs will make the guest around the table levitate above the room. They will float in an infinite universe of beauty and harmony, where everything makes sense.

AMMIR RUG
Ammir Rug designed by Hommés Studio is a boundless expression of the Islamic culture.
Hand-tufted with New Zealand wool, mohair, and cotton. A mix of shapes and neutral tonalities will make your dining room one-of-a-kind.

EROS STOOL
Eros stool is a modern design with a vintage legacy. The curved seating benefits the comfort and style of your interior projects.
Perfect for master bedrooms or to be placed next to the sofa.

LETTERS FROM MARRAKECH: SHOP THE LOOK
Since you came this far, you should pay a visit to Shop The Look and discover a selection of products to recreate Letters From Marrakech.
Download the Hommés Studio e-book 2022 The Future Of Trends and get ready for an endlessly creative new year.
Pay a visit to ACH Collection website as well and discover high-end homeware and pet accessories for a wholesome modern lifestyle.