The French style in interiors takes on different faces. Sometimes it intimidates with Baroque splendor, sometimes it seduces with the scent of lavender and the idyllic atmosphere of Provence. Parisian flats are like a lady: without showing-off and pretentiousness. They look refined, but not enough to make us feel embarrassed. What makes the apartments of the French elite so graceful and elegant?
Even if someone has never been to Paris, they will recognise the wide boulevards with rows of plantains and six-storey tenement houses. Behind their magnificent facades, there are beautiful apartments. Furnished quite simply, but with taste; elegant, yet cosy and casual. This is mostly due to the neat combination of classics and modernity. It seems that Parisian interiors were created without much effort. But this is only a mirage: they are planned to the smallest detail.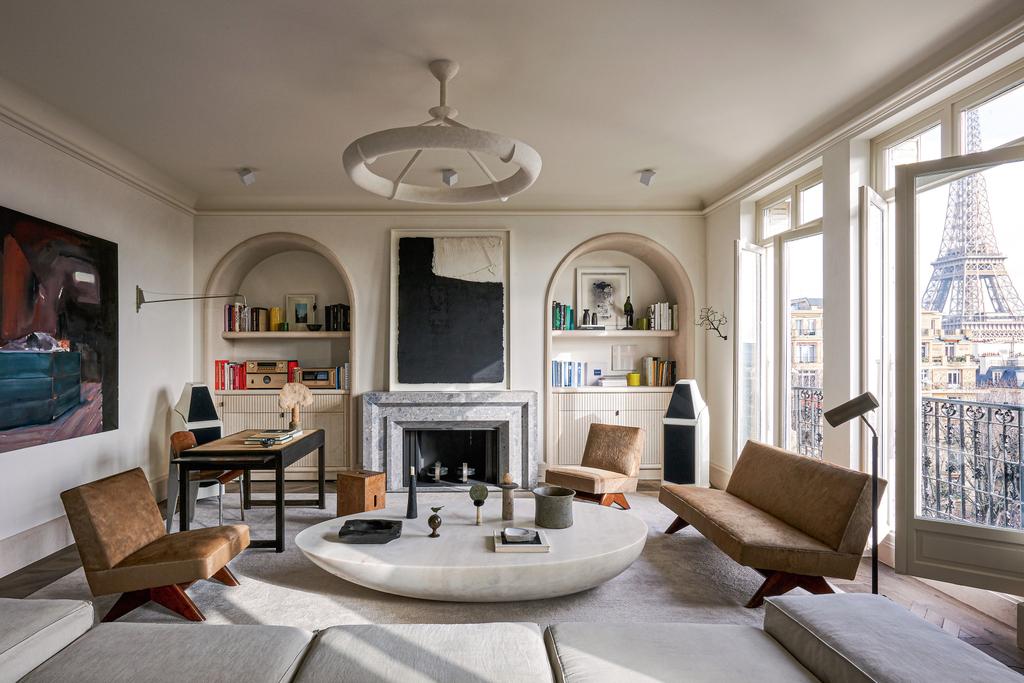 Where does it come from?
Parisian style wouldn't exist without the help of Georges Haussmann. The French Baron created the plan to rebuild Paris (1852-1870). It gave the city a completely new face. It was during this period of great reconstruction that most of the tenement houses were built. Today they are the showcase of the city, and within their walls, they hide the most beautiful Parisian apartments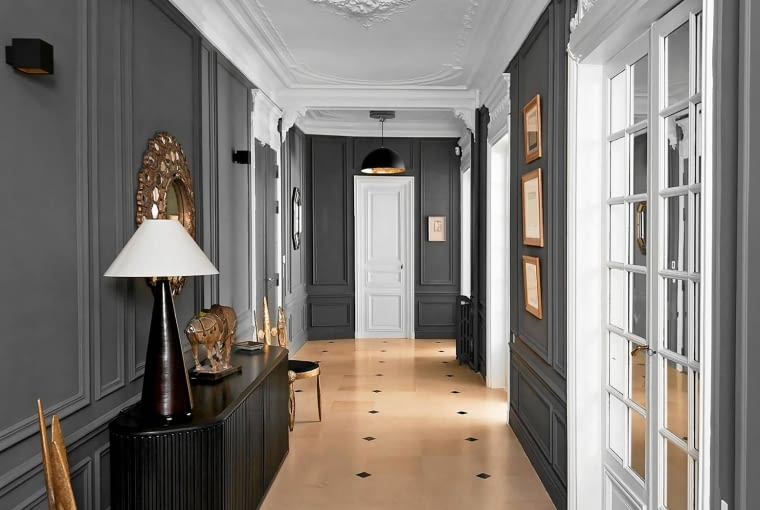 Haussmann has set itself the goal of providing Parisians with high-standard apartments: large, elegant, comfortable, with modern sanitary systems. According to the fashion of the time, their interiors were decorated in a traditional style. The architecture of Parisian apartments is thus a mixture of forms and motifs taken from the Baroque, Regency, and Rococo periods, but somewhat simplified and more modest.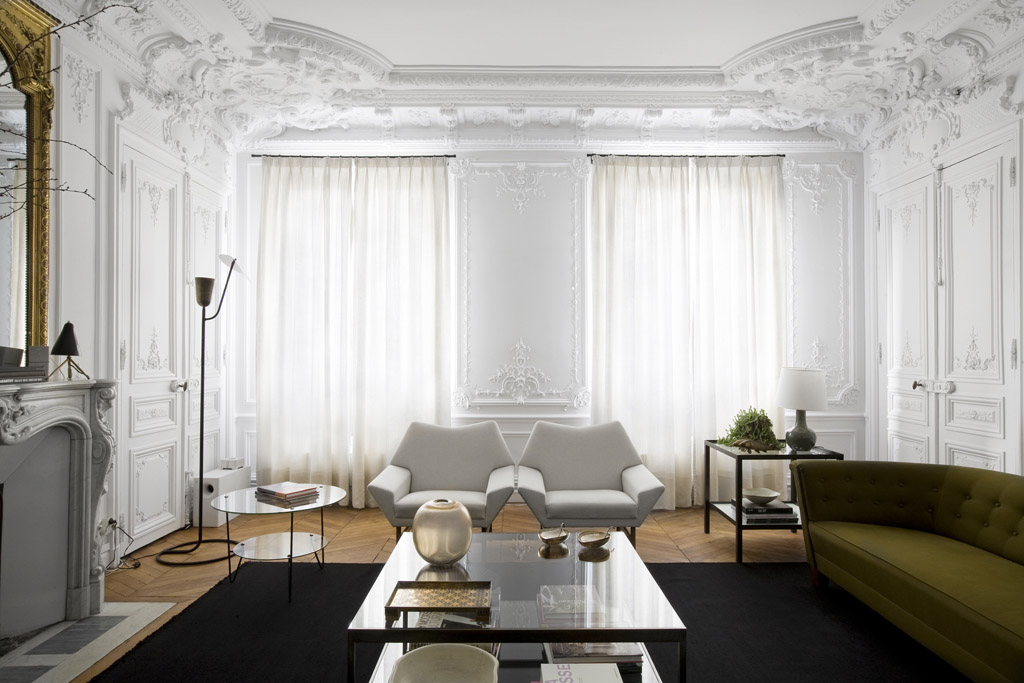 What are the main features of French high-society design style?
Historical architecture is one of the greatest assets of Parisian apartments. The French willingly expose 19th-century decorations, and renovate oak parquets, marble fireplaces, wooden windows, and doors. Instead of chasing fashion and changing the look of the apartment every time a new trend appears on the horizon, they prefer to take care of the legacy left by previous generations. Does this mean that Parisian apartments resemble dusty museums filled with old exhibits? Not at all! An elegant eclecticism rules French-style apartments.
In the Parisian style, the most important thing is the axis of symmetry "linking" individual rooms. It is also the symmetry that brings harmony to the entire interior design. Space, lots of light, bright colors and natural materials are the quintessence of French style. Interiors in French style are light, bright and invite you to relax, attracted by delicate beige, gray and broken white. The French style in interiors is created for everyone who loves simplicity and chic.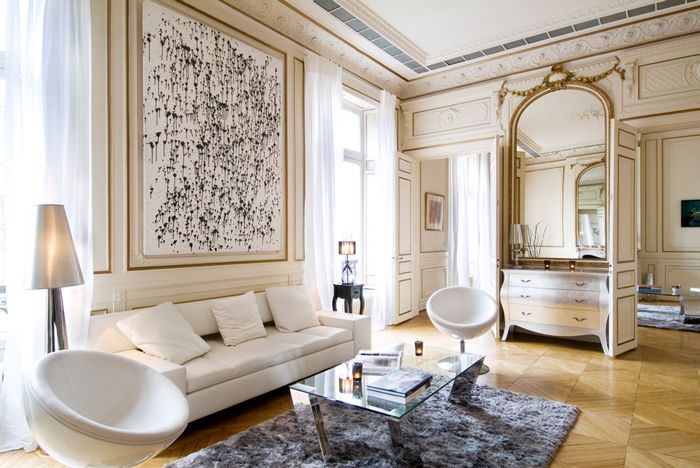 Space, space, and more space!
Few people know that apartments in Parisian tenement houses are full of nooks and crannies, narrow corridors, and secret rooms. The photographs on the Internet have accustomed us to the view of spacious, well-lit interiors. Nothing strange about that! A large, open space is perfect for a living room, dining room, and office with a library. The French skillfully exposes its advantages by painting all rooms in bright colors, hanging curtains under the very ceiling, and decorating the walls with high mirrors. The magnificent interiors then seem even bigger and more spacious than in reality.
When arranging an apartment in the Parisian style, let's make sure to enlarge and open the space visually. First of all, let's paint the walls in a light, neutral color. If there are partition walls in the apartment, you should try to demolish them to open the space as much as possible. Finishing the floors in the same style would also help blur the boundaries between the rooms.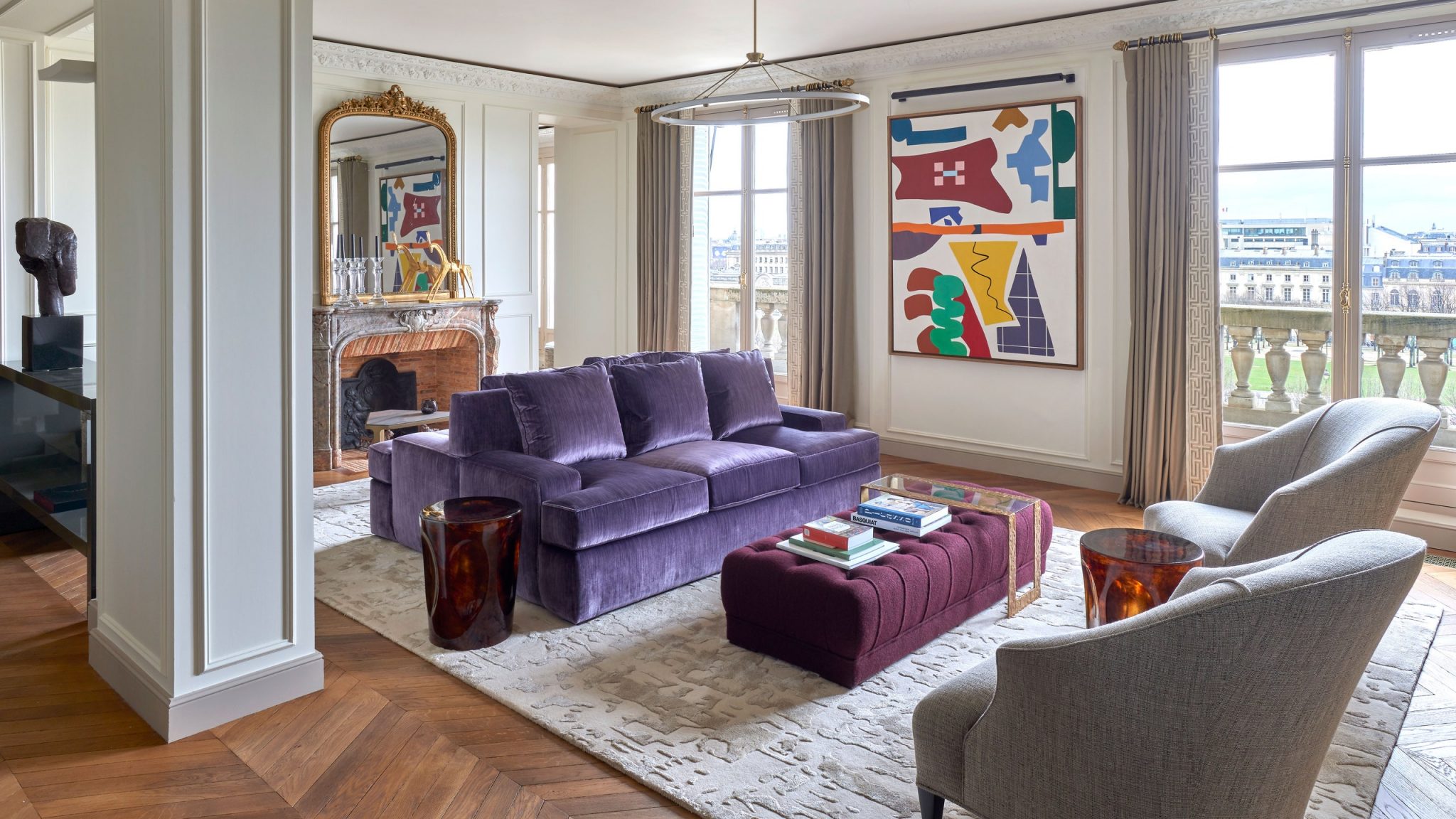 Louis on the pedestal
Furniture in the French style, the one from the times of Louis XV, functioning as common "Louis", is light, very feminine, and elegant. Even if there is a stocky sofa in the middle of the living room, the bright and spacious surroundings avoid clutter. French people like streamlined furniture with marble or glass tops.
The French style of furniture is dominated by wood and original fabrics. The equipment has numerous decorations and carvings. Tables, chairs, chests of drawers, armchairs or consoles are equipped with bent legs. The French style is one of those styles that incorporate all decorations and plant ornaments.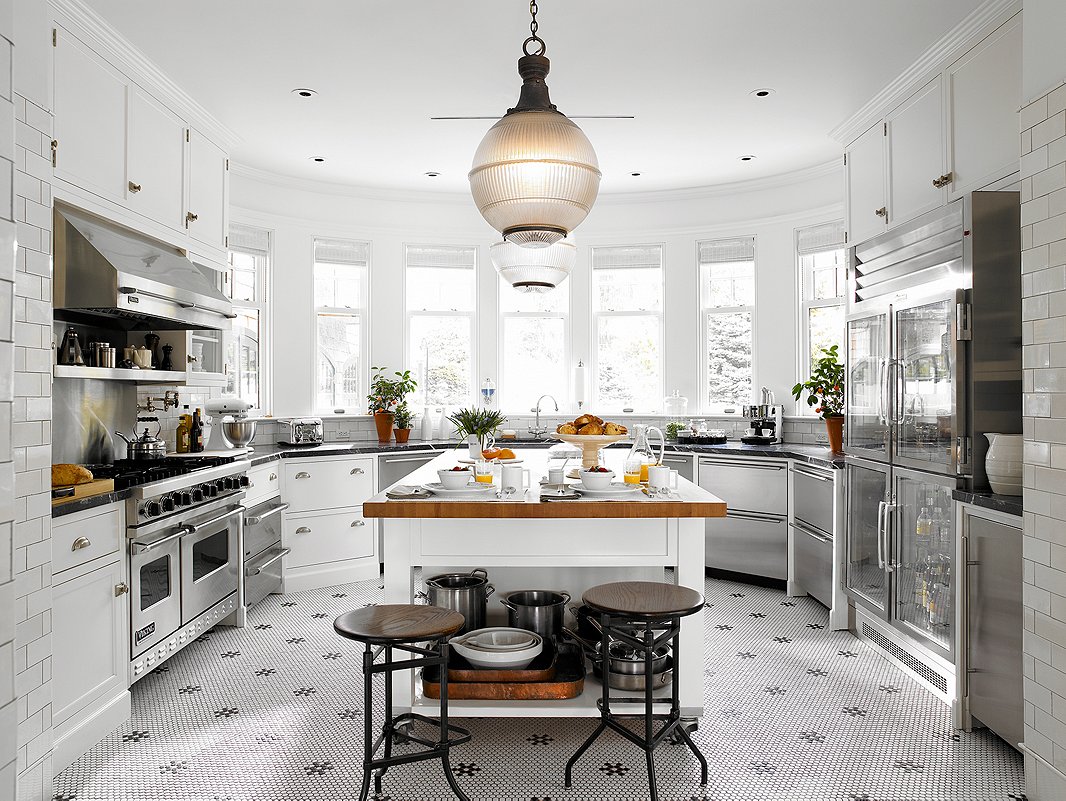 Epochs and styles mish-mash
The French love to mix the old with the new. They boldly hang 17th-century paintings next to contemporary graphics and place avant-garde furniture against the background of a classic fireplace. It is the ability to combine different styles that makes Parisian interiors so unique. It is also worth noting that Parisians know and appreciate good design. In Parisian apartments, you can find furniture and lamps of the world's greatest designers.
Flats in French style make an impression as if they were decorated without any effort. Some of the furniture looks worn out, there are various souvenirs on the shelves and piles of books or magazines kept on the floor. At the same time, all objects fit together, creating a coherent and harmonious composition. Good taste, a bit of slack and nonchalance are the quintessence of French-style interiors.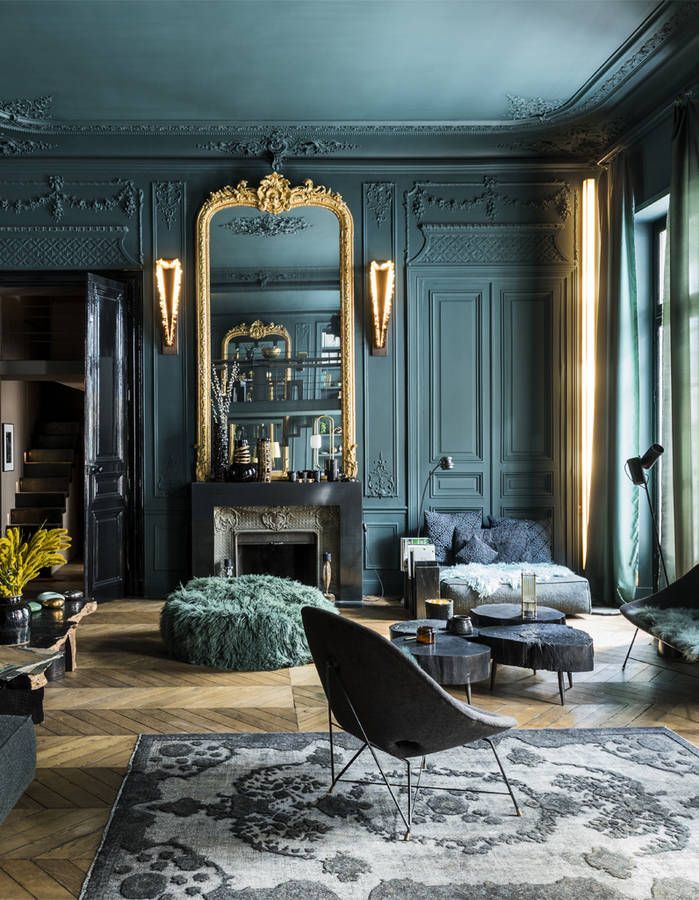 French-style textiles
In the case of textiles found in French-style interiors, all fabrics must be of good quality. Everything, starting from upholstered equipment (sofas or armchairs) and even walls (wallpapers) in French-style interior design, is covered with glitter, velvets, and jacquards. Windows are also "dressed up". Even wallpapers must be made of fabric, because fabrics warm up the interiors and give them softness and elegance. Plant patterns dominate the French style, but there are also very characteristic vertical stripes.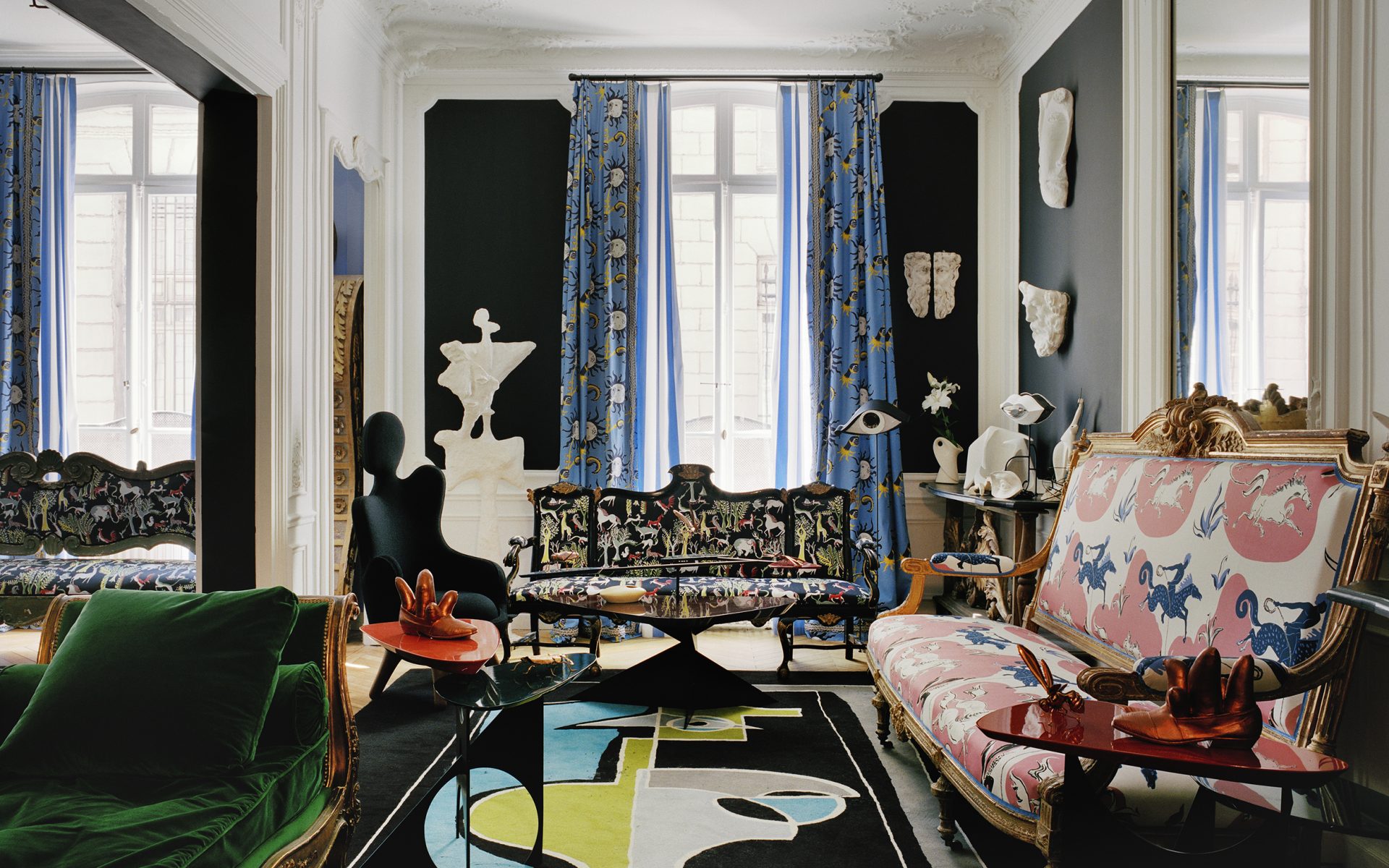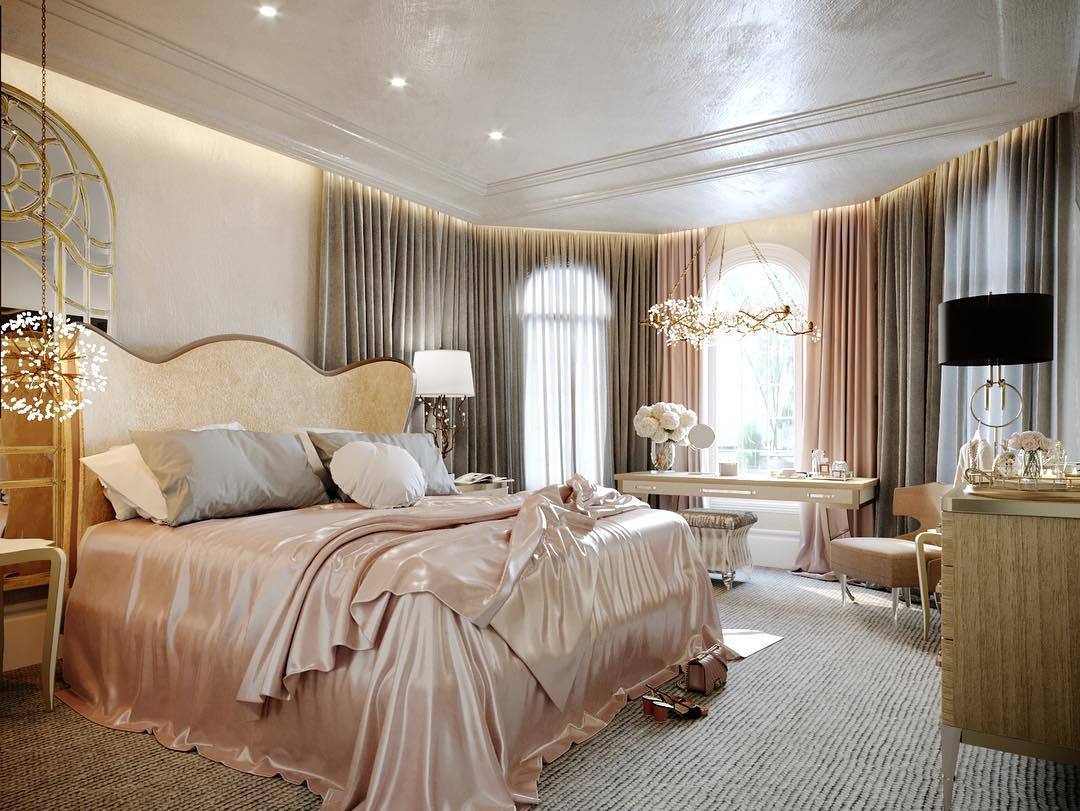 Light and glow
French-style loves light and glow. The French are very keen on shiny accessories, often using glamour style. Lamps, candlesticks, handles, and picture frames in gold will be a perfect addition to any room. In a Parisian apartment, there must be one element in particular – an elegant gold mirror. According to tradition, the mirror should hang above the fireplace. But the effect will be equally spectacular if you simply lean it against the wall.
An important element of French-style interiors is, among others, windows (large with delicate muntin bars) and properly selected doors with handles in gold or brown. In French interiors, "palace details", such as curtain rods, laces, and tassels, as well as cushions, large headrests, and quilts, are also important.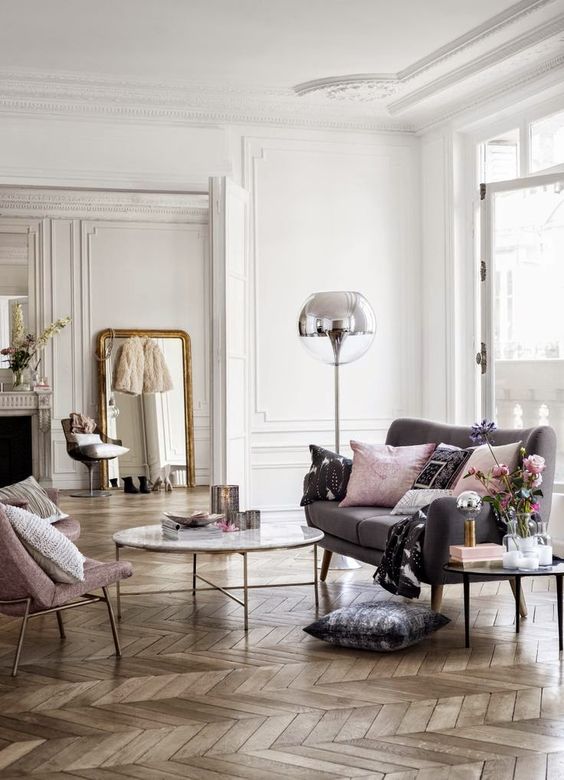 French style is about ease and elegance in one. This unusual combination of subtle colors and stylized furniture with modern forms gives an amazing effect. However, this trend requires a great sense of arrangement, which allows combining of two distant worlds in an extremely subtle way without crossing the border of kitsch.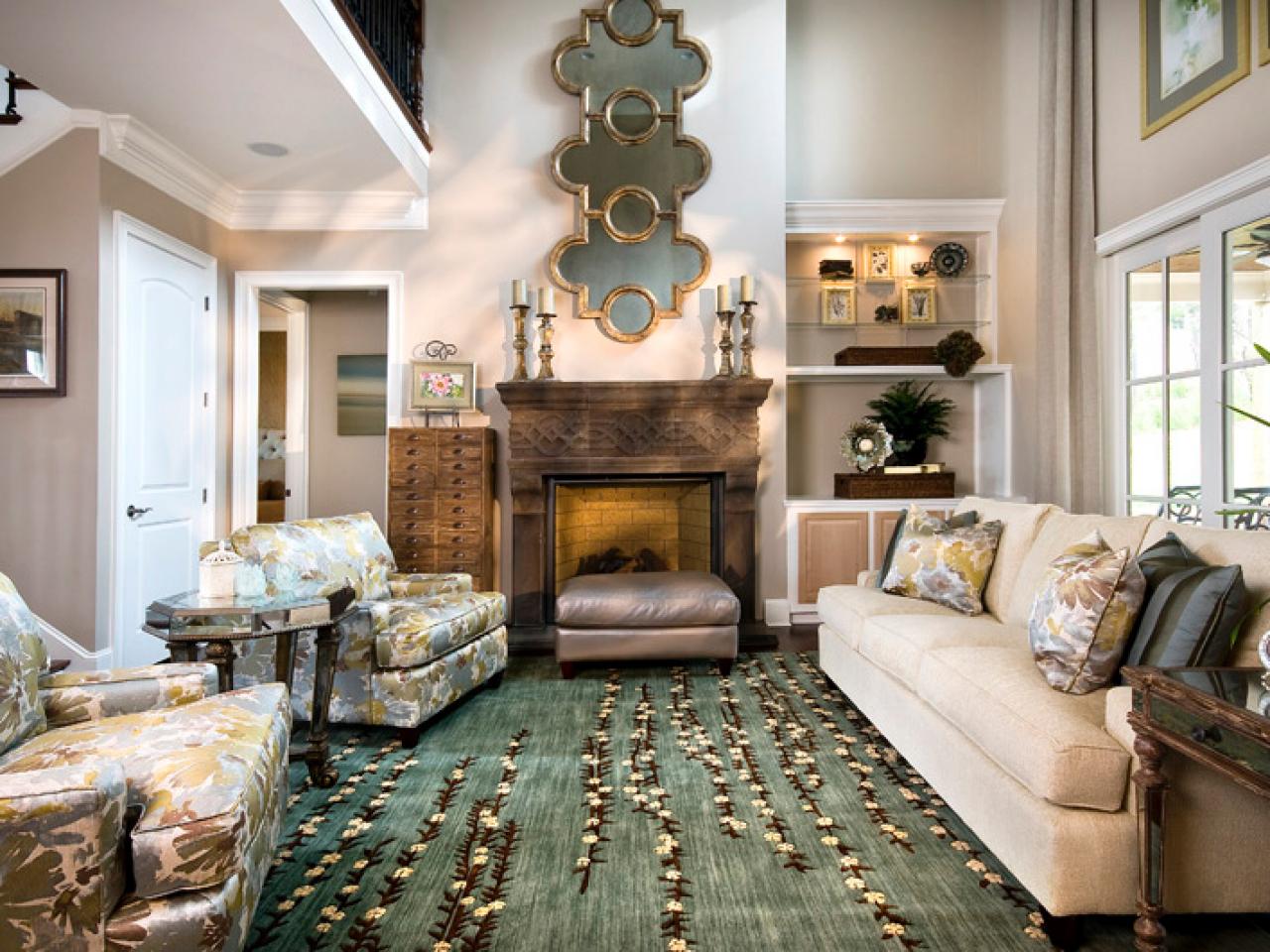 We really hope you liked our article. Feel free to pin all the images to your favorite Pinterest board or to print it and use it on your projects' mood boards. You can also visit our Pinterest boards to get more inspiration. Get more ideas for your projects and find functional, stylish and sizable lighting and furniture choices: