How to choose art for living room? And how to blend artwork and furniture? These are 10 bold ideas for a spotless living room layout.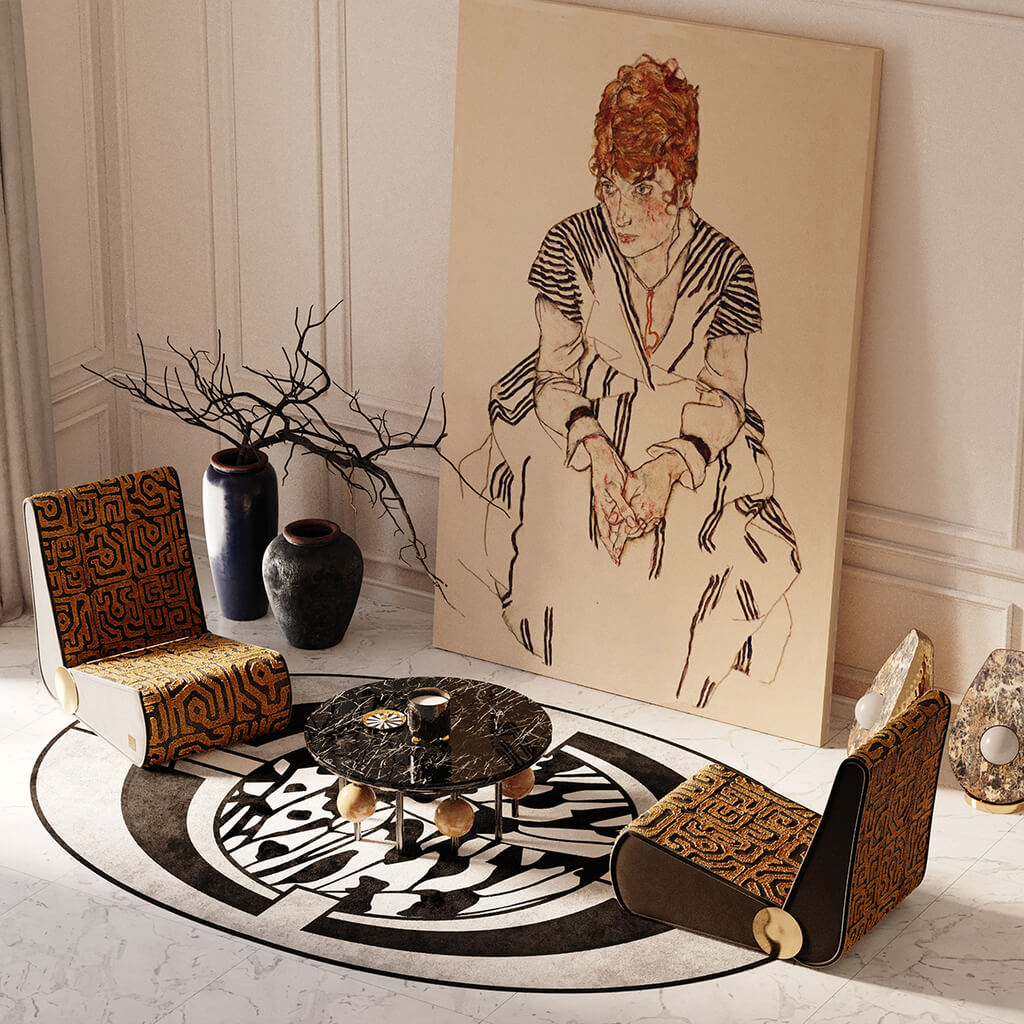 PARIS APARTMENT, CATHY VEDOVI AND BENOIT DUPUIS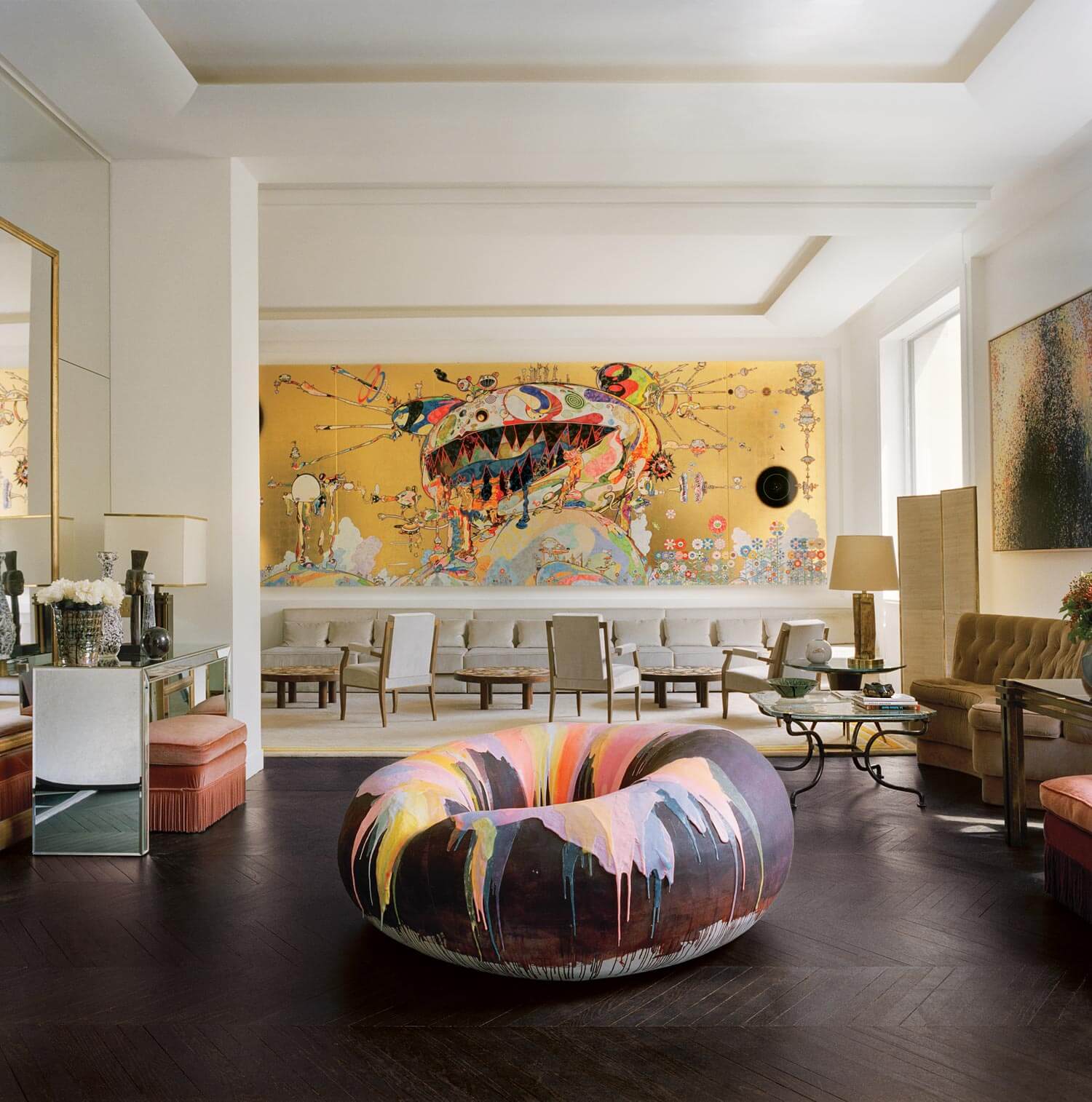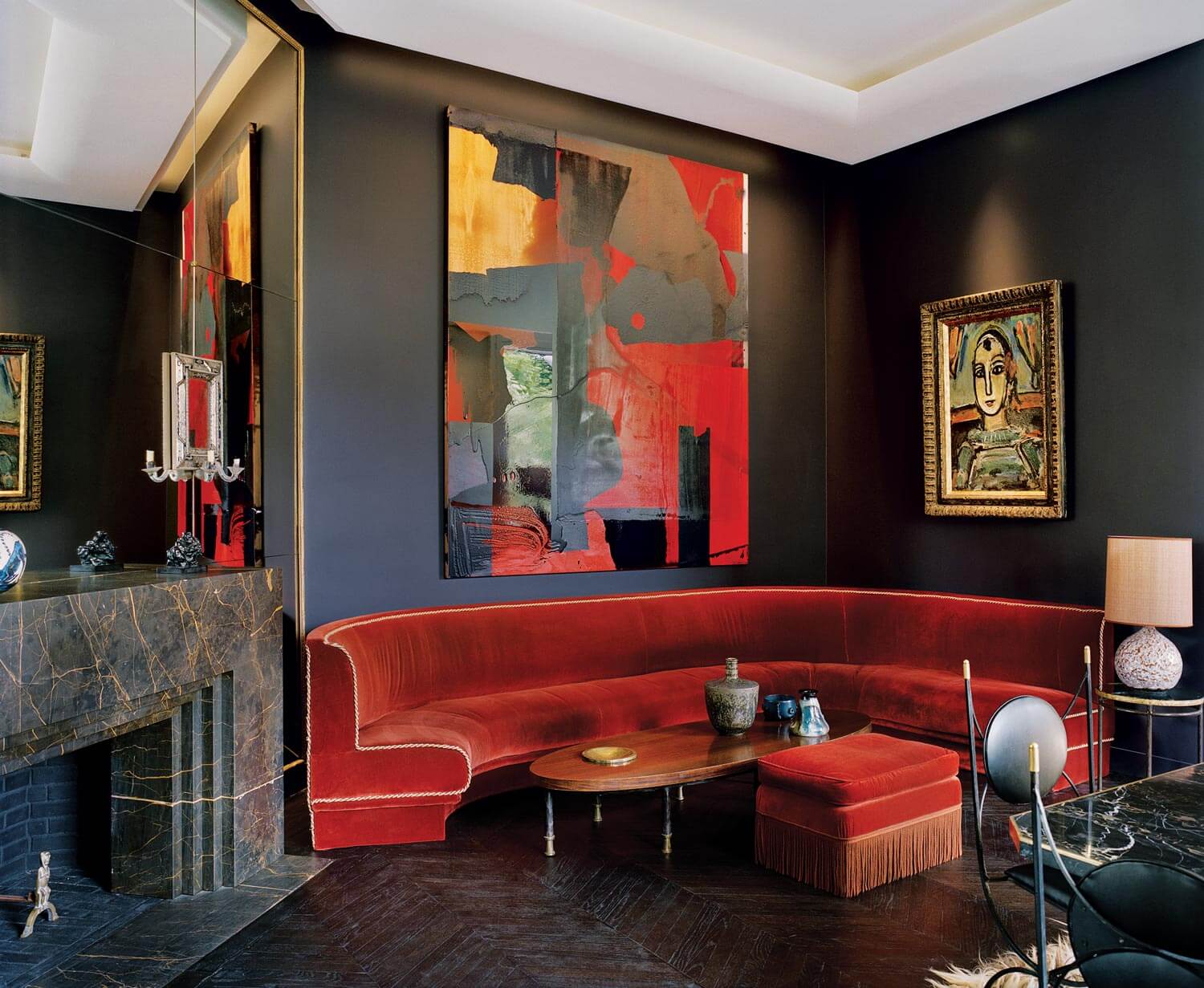 In this historic apartment in Paris, originally designed by Jansen, Cathy Vedovi and the architect Benoit Dupuis renovated the house to host and highlight three big Takashi Murakami panels.
The living room is big enough to have two distinctive areas – one is an angular nook with dark hues and red blocks of color (including an abstract art piece). The other one is an airy an neutral conversational area with a large wall art that creates a whimsical landscape in a room that lacks outdoor views. The distinctive areas become one with a doughnut-shaped artwork by Nathalie Djurberg right in the middle of the tow distinctive sites.
MADRID APARTMENT, JAIME BERIESTEIN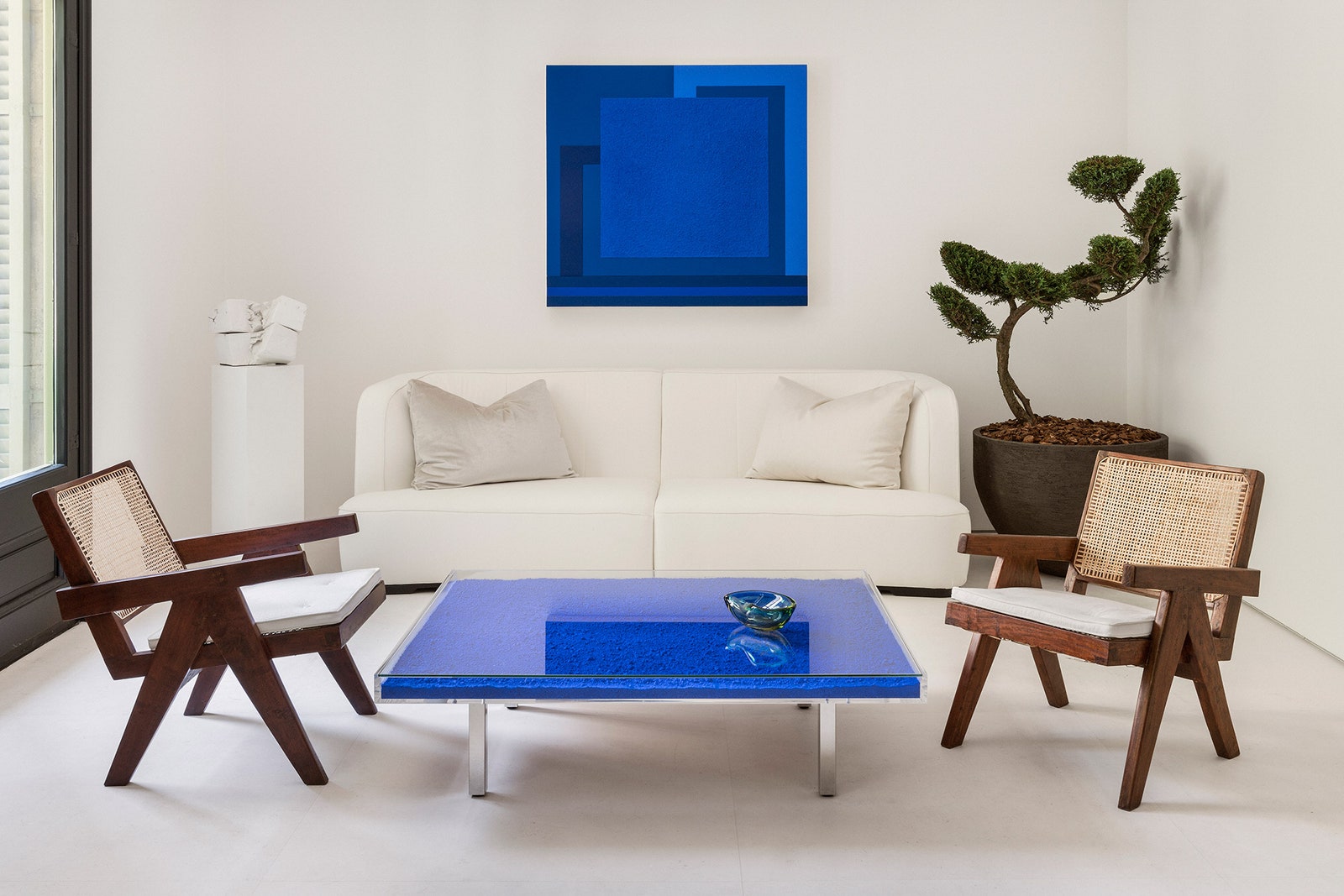 At Jamie Beriestein's own apartment in Madrid, the designer achieves a spotless neutral living room with minimal layout. Two iconic Le Corbusier armchairs surround a vibrant Table Bleue by Yves Klein among an all-white living room. On the wall, a blue-klein artwork by Peter Helly is a mirror to the square center table.
MANHATTAN PENTHOUSE, 2MICHAELS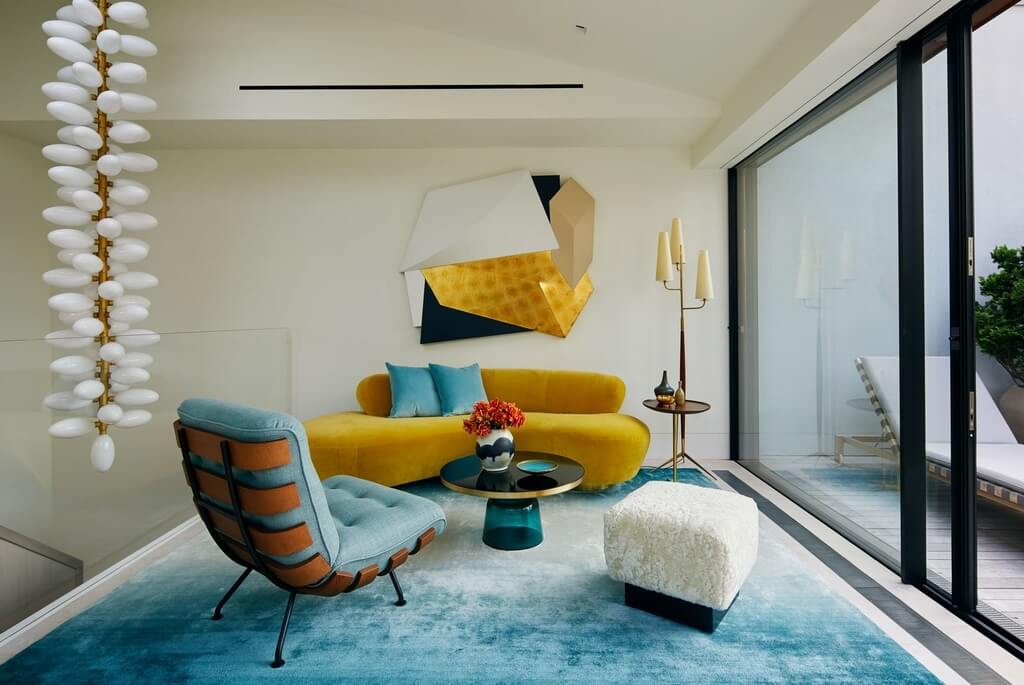 In this penthouse in Manhattan designed by Joan and Jayne Michaels, the sister behind 2Michaels, one of the living rooms combines curvy furniture with an abstract artwork. For instance, the sculpture on the wall of the living room is a work of New York-based artist Charles Hinman. The interior designers heavenly matched the mustard yellow round sofa with the wall art.
BAY AREA HOME, GEOFFREY DE SOUSA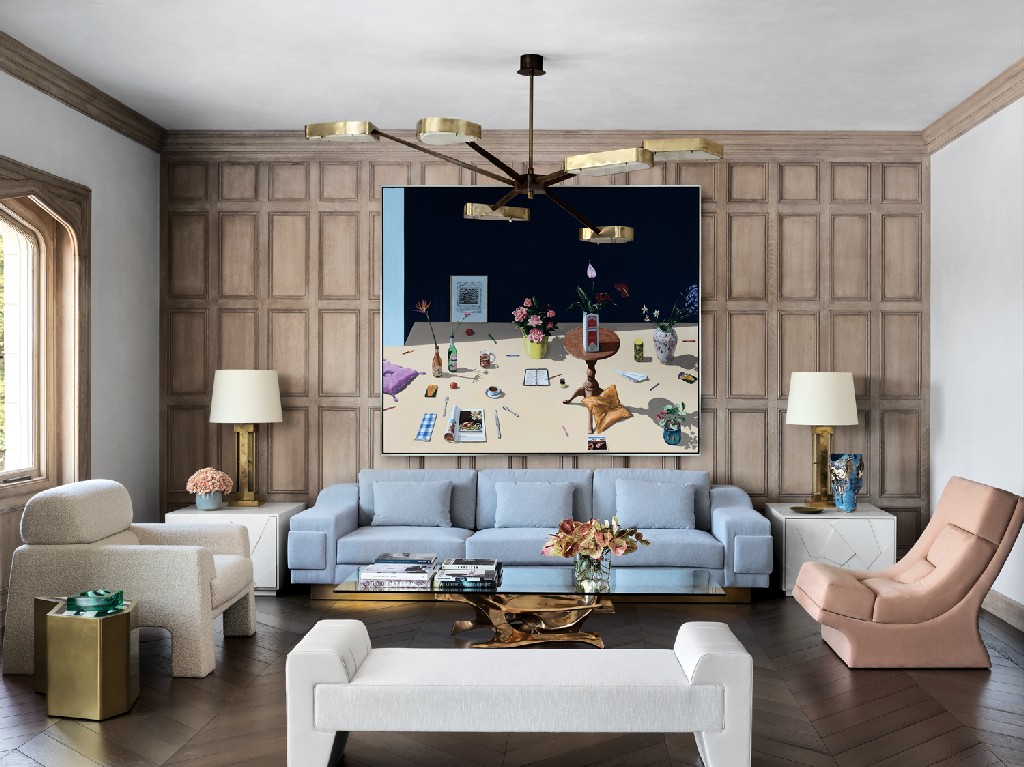 Geoffrey de Sousa takes a Tudor-style home and reinterpretates the timeless English interior design. For a modern living room, the San Francisco-based designer keeps the traditional chocolate walnut floor and the classic paneled walls which is the backdrop for a surrealist painting. This surrealist painting is the focal point of the living room whose dark tint pigments contrast with the pastel upholstery.
RESIDENCE IN TORONTO, KATHERINE NEWMAN DESIGN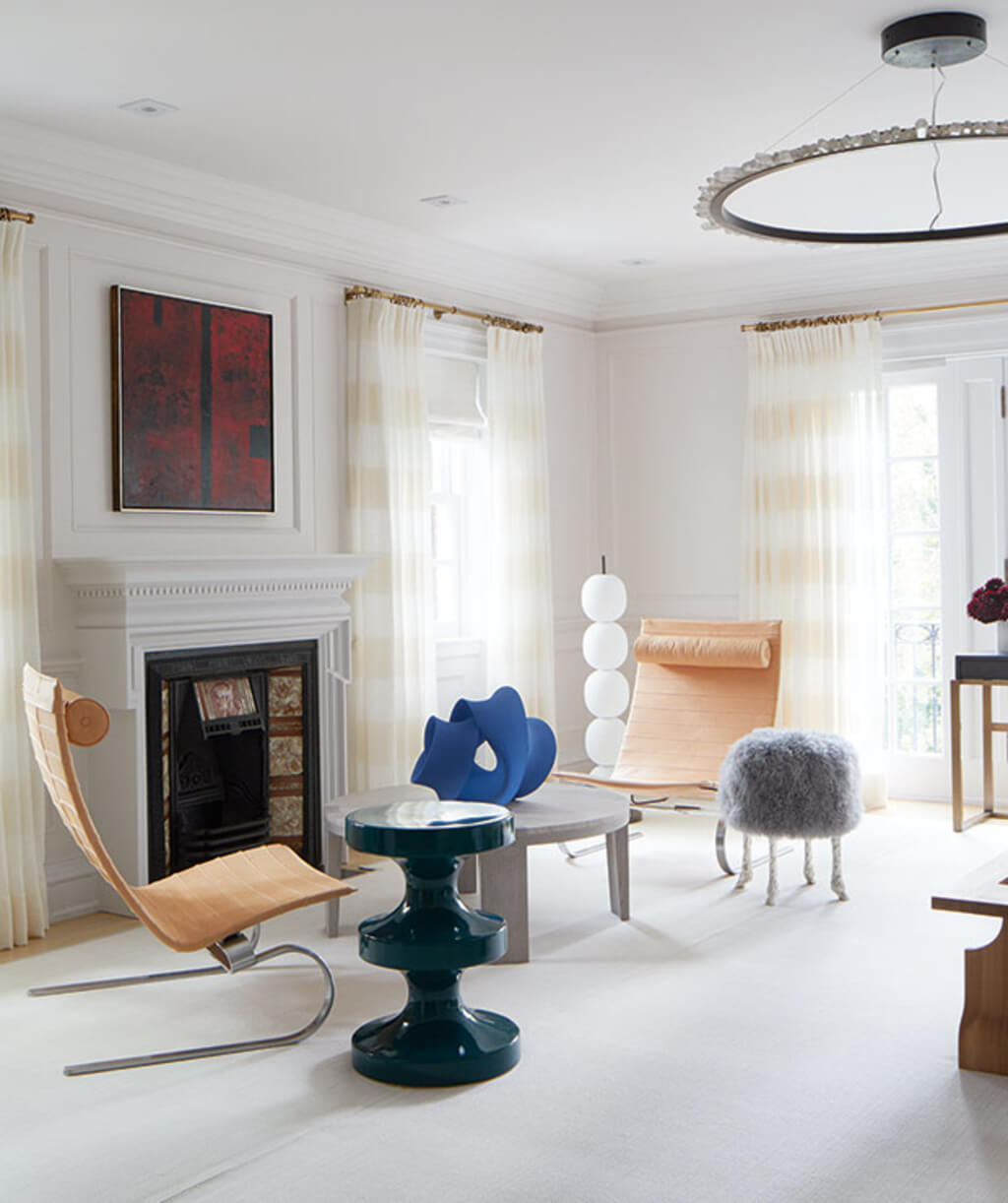 The art for a living room in this residence in Toronto is the perfect blend of artwork and topnotch furniture design. It's hard to tell which one came first to the mind of Katherine Newman Design, the creative behind this gallery-look-alike family room.
NEW YORK RESIDENCE, SUZANNE LOVELL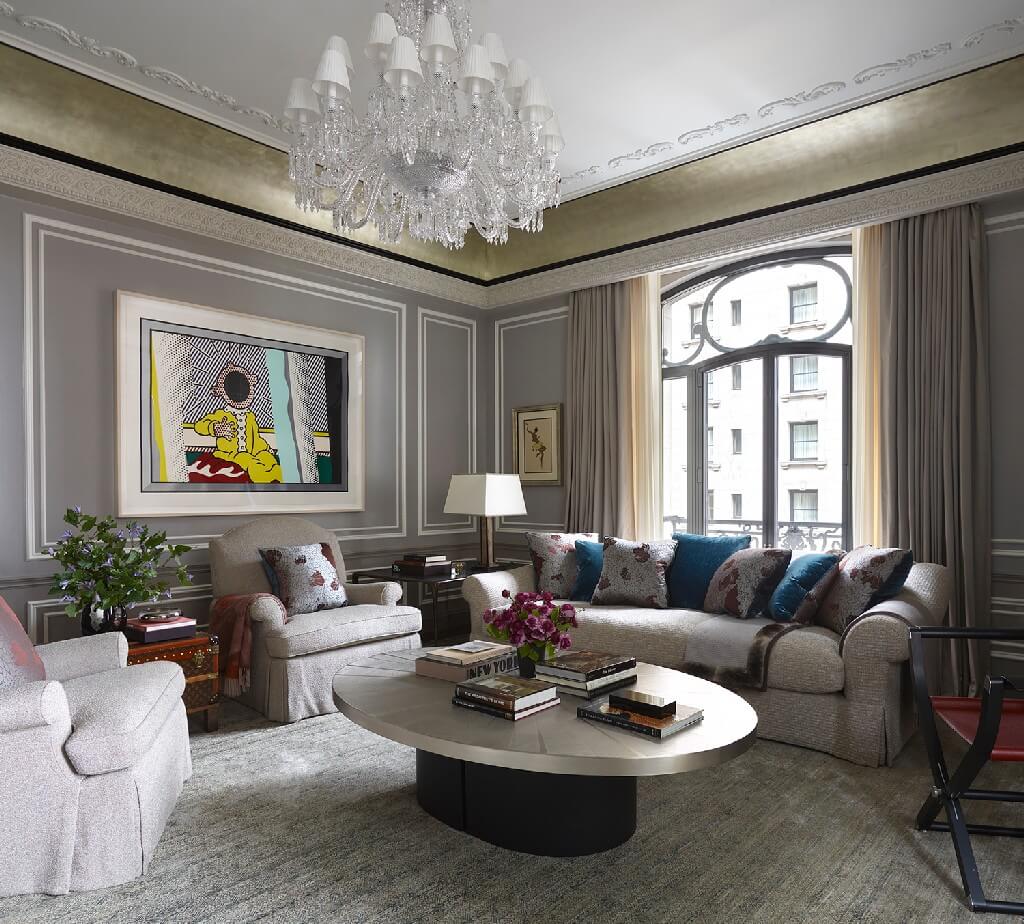 This residence in New York keeps the French Beaux-Arts architecture after Suzanne Lovell's intervention. Being the home of a true art collector, choosing the art for a living room with high-end furniture and grayscale. To add eccentricity and modernity, Suzanne Lovell curated a vibrant pop art artwork.
NEW YORK MAXIMALIST HOME, KEVIN ISBELL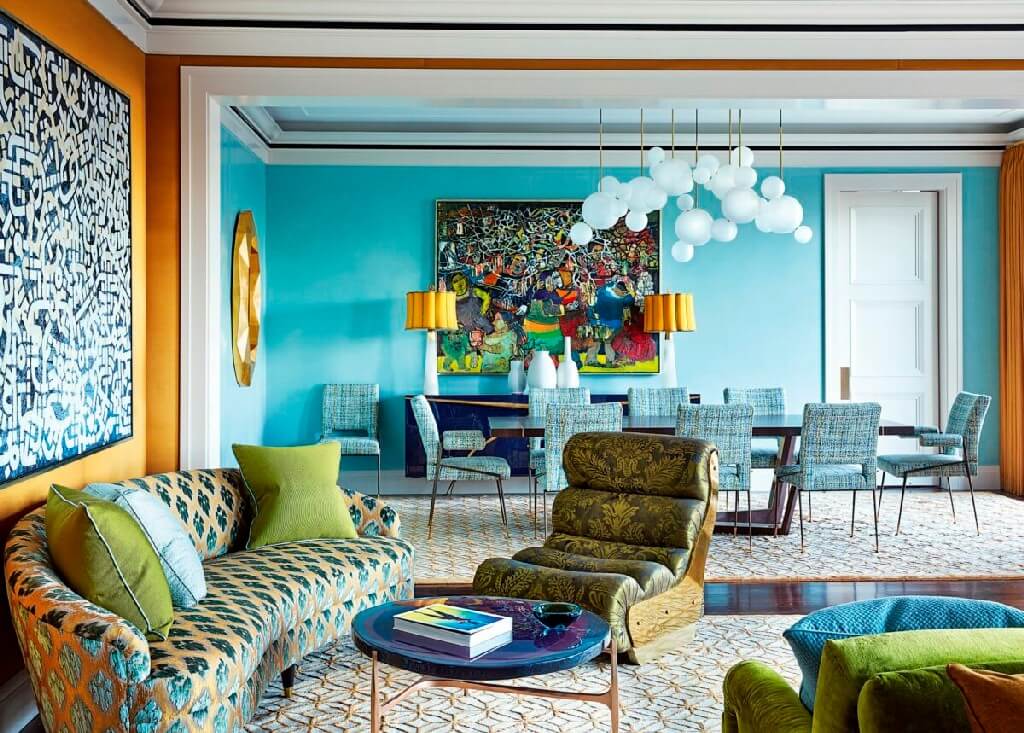 Designed by Kevin Isbell, this maximalist home is bold, and magnificently out of the box, made for a Kuwaiti family. The owners of this maximalist home in New York City wanted something eclectic and personal. Something to go out of their comfort zone by not having a monotone, minimalist space. This living room alternates between the color blue and the color green with barocque patterns and prints. Even though the art for the living room is abstract and contemporary, the paintings both on the living room and dining room blend in with the upholstery.
PSYCHEDELIC HOME IN KEIZERSGRACHT, JOB SMEETS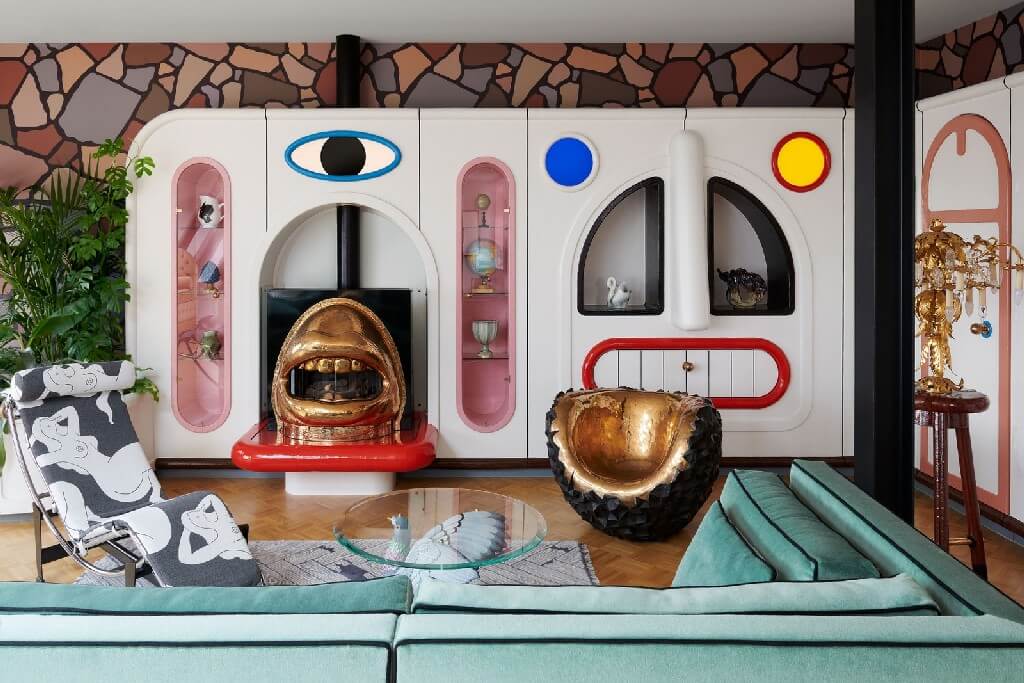 Every furniture piece is a work of art in this unworldly home in the Netherlands. Designing for friends, Job Smeets brought to life a psychadelic home that ressembles a theme park.
PARIS APARTMENT, JEAN-LOUIS DENIOT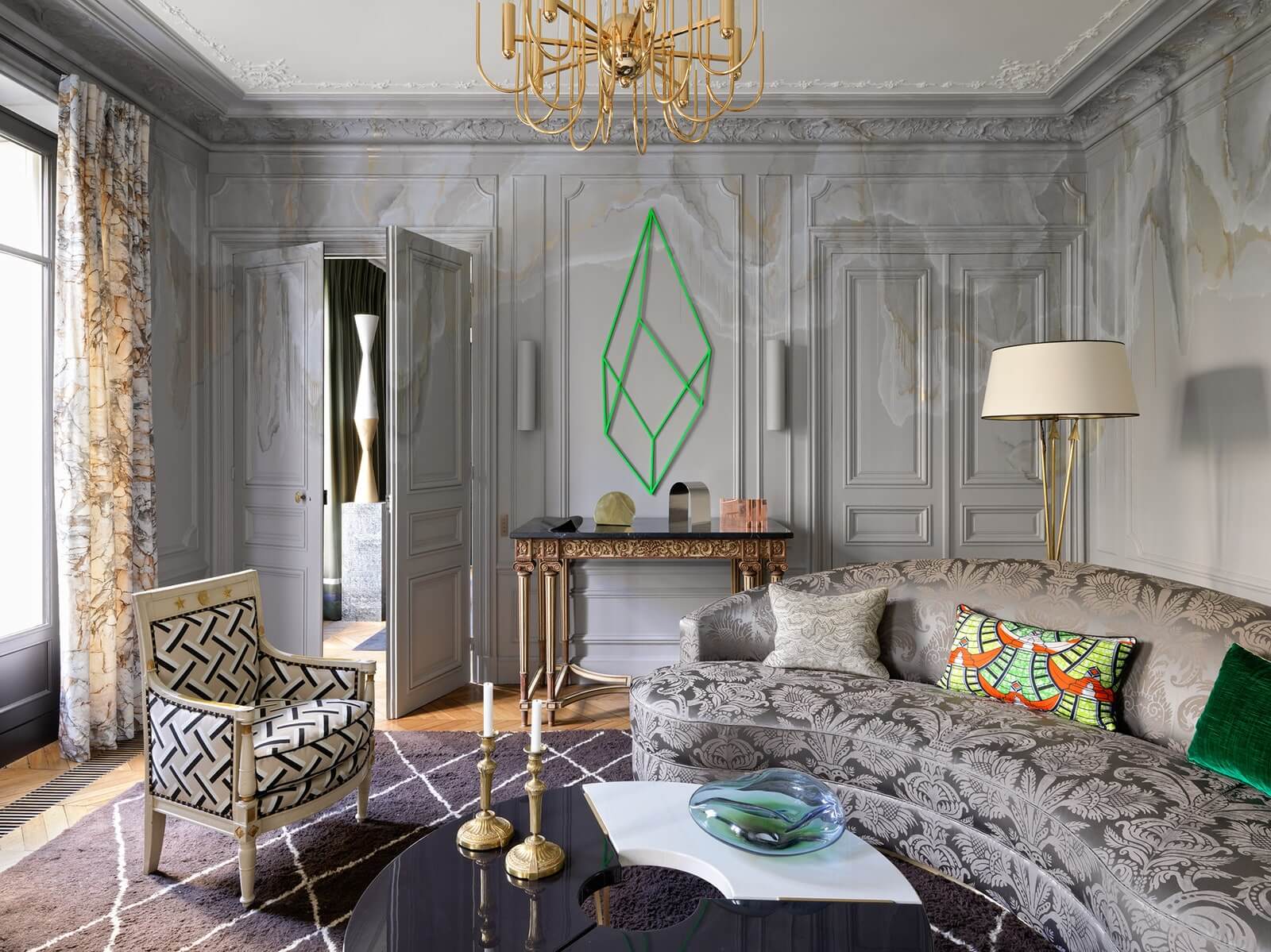 The customer of the French decorator honestly admited that he loves art, but wasn't ready to invest a lot of money in it. Yet, the owner of the apartment in Paris wanted a chilled and artistic ambiance. As a result, Jean-Louis Deniot created the geometric art for the living room of the maximalist interior.
MOSCOW APARTMENT, AKANT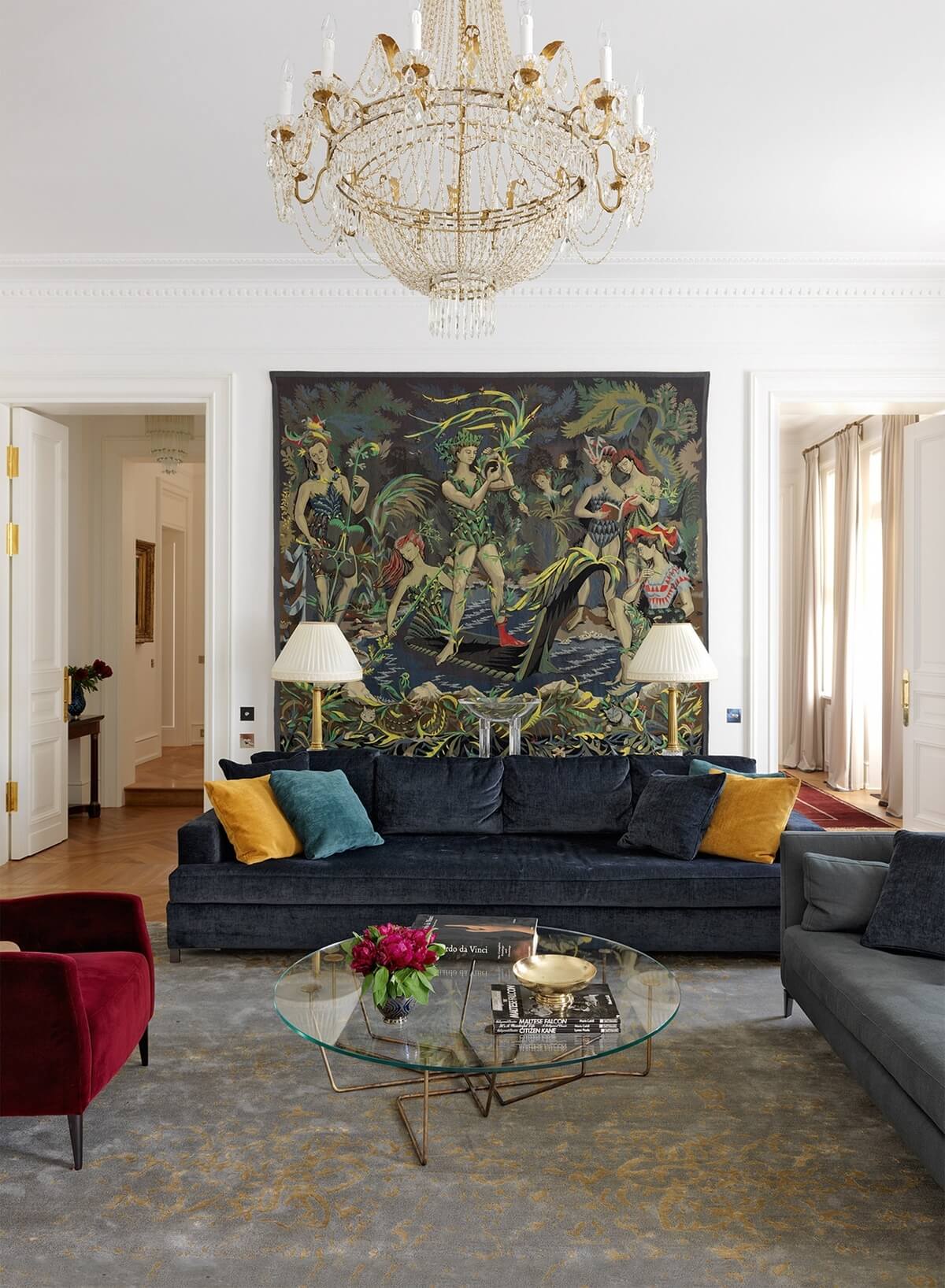 The choice of art for a living room in a modern Moscow apartment was a 1942 tapestry by Lucien Couteau. A traditional artwork for a bold interior design.
LIVING ROOM DECORATING SECRETS FOR A SPOTLESS LIVING ROOM LAYOUT
A spotless living room layout ain't difficult to achieve. Especially if you take into account essential – and easy to follow – interior design tips. Prepare yourself to decorate well-appointed living rooms effortlessly.
KEEP READING THE ARTICLE HERE
Since you came this far, we kindly invite you to download the Hommés Studio's Catalog and discover furniture, lighting and home accessories to design a iconic home.
Pay a visit to ACH Collection website as well and discover high-end homeware and pet accessories for a wholesome modern lifestyle.

Source Vogue RU