In his charming Los Angeles House, Giampiero Tagliaferri, the Italian interior Designer, revived the essence of the past with modernism decor.
In the 1950s, an optimistic and inventive decade emerged, coming out from the darkness of World War II and developing the iconic design features that have come to represent the Mid-Century with its mix of simplicity and sophistication.
A unique style from this timeless period makes us feel nostalgic, reviving the souvenirs of warm living rooms, cozy kitchens, and comfortable bedrooms. This 50's style is also characterized by a desire to combine functionality with aesthetics.
Thus, we seek not only aesthetic objects but also valuable and durable. The spaces are, therefore, much more refined, and the objects there all have a specific functionality.
This article will show how Giampiero Tagliaferri mixed vintage with modernism decor to leave the era's signature bright palette and geometric patterns in a charming style.

A captivating story of a stunning fusion awaits your discovery
Giampiero Tagliaferri, born in Bergamo in Italy, spends his time between Milan and Los Angeles, which he considers home. His aesthetic combines elements of Southern Californian modernism and Italian design from the previous century.
Mixing the Italian touch with the Japanese shoji screen vibes and creating a sophisticated-simple atmosphere, Tagliaferri created a perfect combination of modernism decor, vintage objects, and minimalistic furnishings.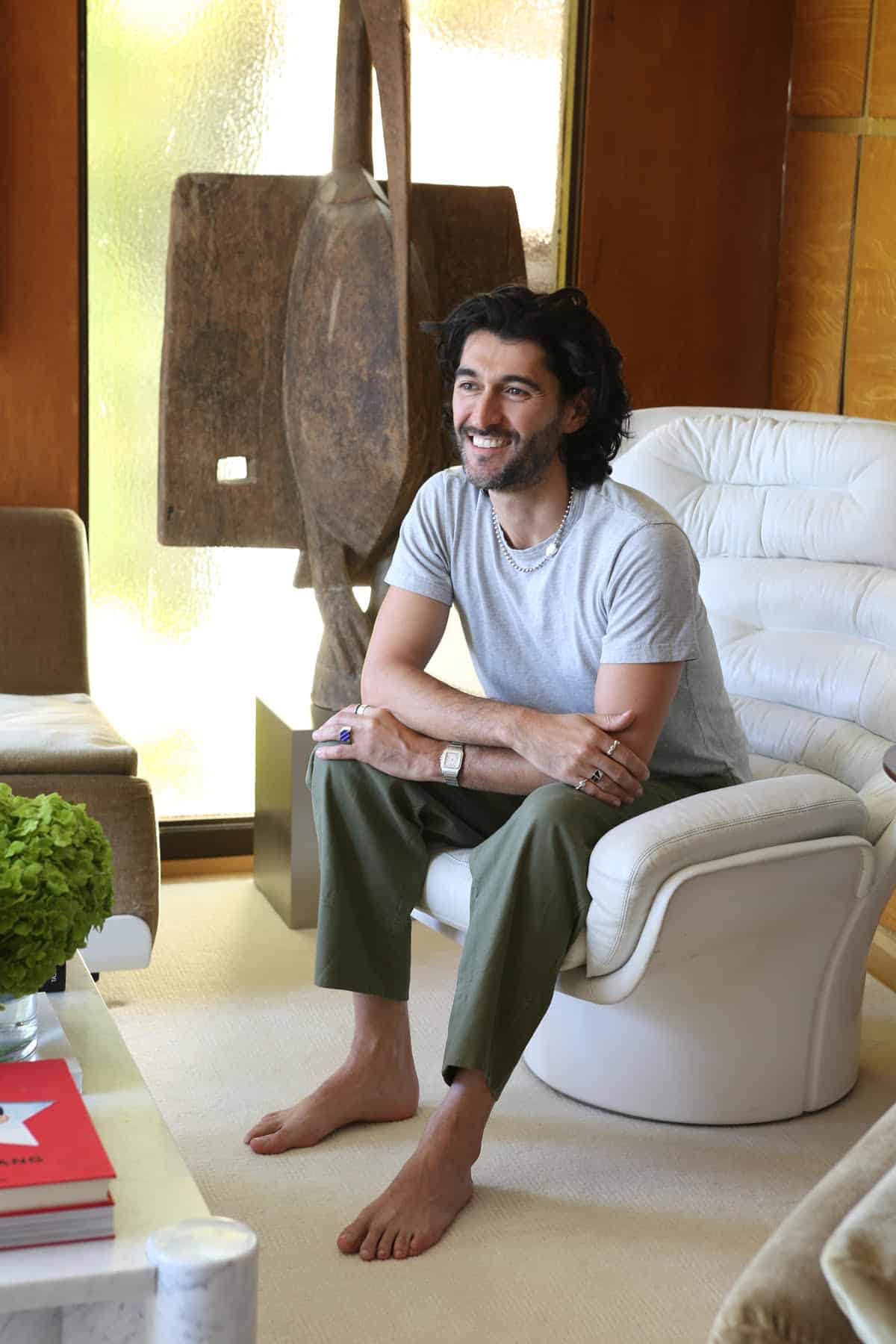 Ideas for a cozy and vintage-inspired Mid-century modern style:
Creating a home that radiates simplicity and sophistication is an art form in interior design. By incorporating modern and mid-century techniques into your designs, you may strike this delicate balance in one of the most alluring ways possible.
Choice of Furniture
Your furniture choices are the secret to the ideal fusion of modernism and 50's design. Choose items that reflect the natural forms and clear lines of both styles. Consider legendary mid-century pieces like chairs, sofas, lounges, cocktail tables, and circular chairs. Incorporating wood and leather complements the modernism decor in the room.
These items perfectly combine the warmth and comfort of mid-century style with the mélange of vintage and modernism decor.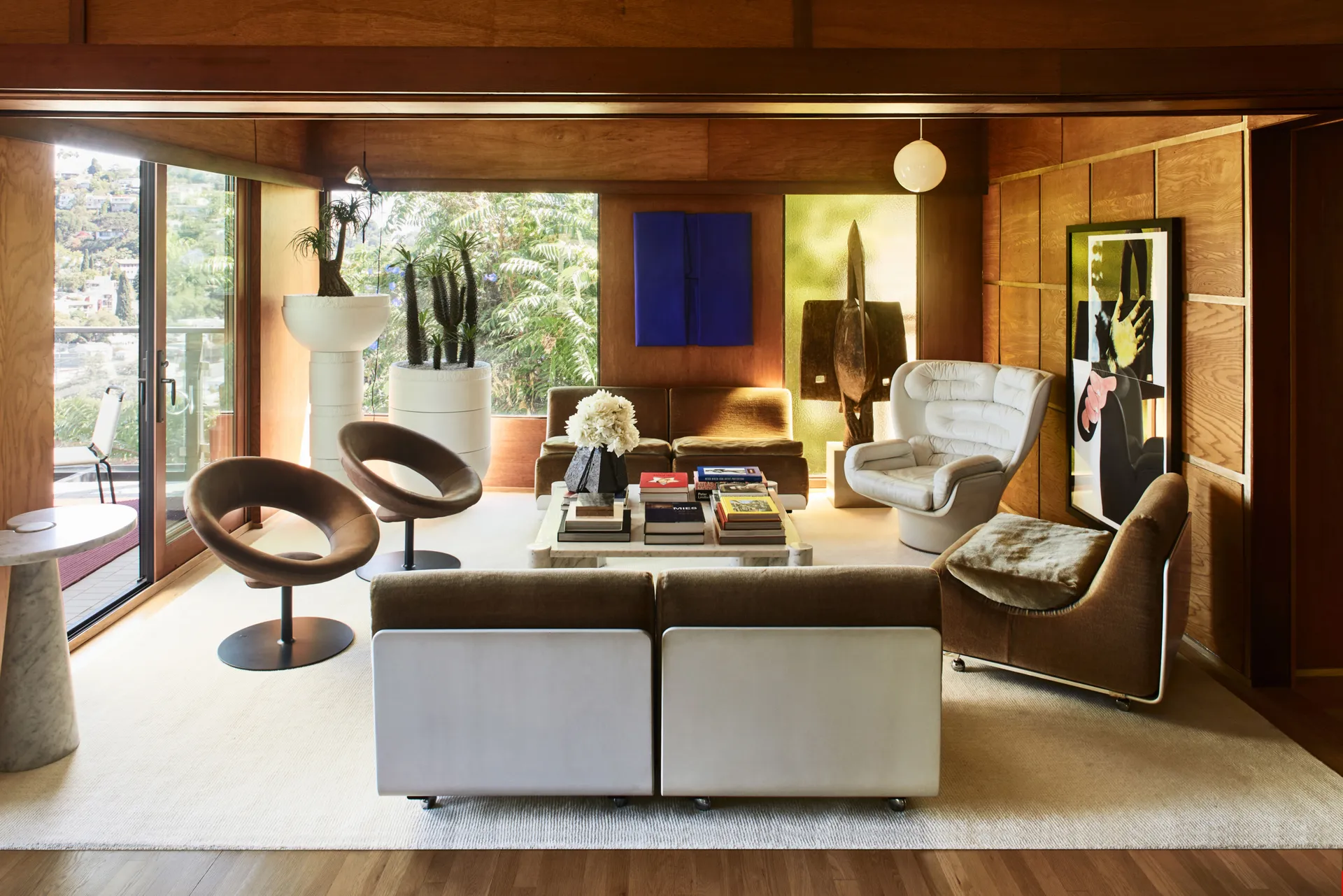 Neutral Colors and Minimalist Accessories
Simplicity often begins with a neutral color palette. The foundation of simplicity is frequently a neutral color scheme. Consider variations of white, beige, brown, and calming earth tones. Thanks to these shades, your furniture and other design components will have a calm backdrop.
To maintain modernism's clean and uncluttered aesthetic, choose minimalist artwork, paintings, sculptures, and lighting fixtures that add sophistication without overwhelming the space.
Functional Design
Modernism decor and mid-century design place a strong emphasis on functionality. Pick functional pieces of furniture and decor.
Consider these swag-leg chairs arranged around a classic Italian marble table with a nuance of black and white for a cool, simple look.
However, by focusing on geometric designs, the end effect is a space that radiates efficiency, timelessness, and order, with each design element contributing to the space's functionality and aesthetic harmony.
Looking deeply inside, Tagliaferri added the touch of royal blue that serves as a striking backdrop for a captivating red painting, creating a dynamic and visually arresting composition.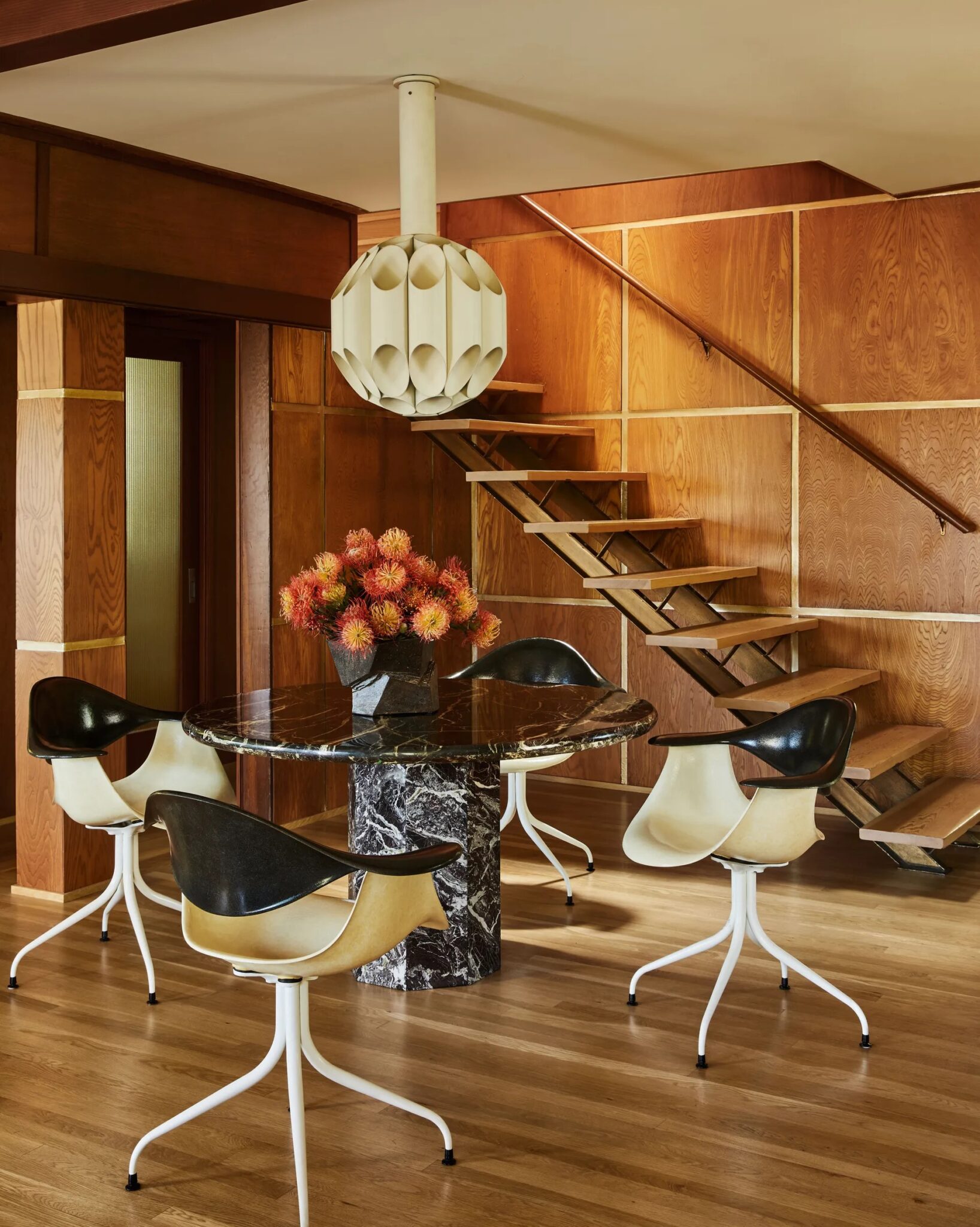 Incorporate Nature
Both modern and contemporary styles show a strong love of the natural world. Introducing indoor plants or incorporating raw materials like wood, stone, or leather brings the outdoors in. This infusion of nature adds warmth and sophistication.
For example, on the deck, a sofa is joined by a pair of armchairs and the ceramic planter, a touch of green and yellow to an exotic touch.
Combining outdoor furniture design with green, white, and black shades can work perfectly for modernism decor.
This charming combination in this house unlocked the beauty of the 1950s style, and Giampiero Tagliaferri showed us how he mastered the art of styling a home with modernism decor.
By carefully choosing every element, you can create interiors that captivate the eye and provide a comfortable and inviting environment. With this fusion style, you'll craft spaces as effortlessly chic as they are timeless, so it's all about finding the sweet spot between simplicity and sophistication.
We hope these ideas for modernism decor have inspired you to try new approaches and discover the beauty in each detail. Now, you can continue your journey in this style by exploring the Mid-Century Furniture selection from HOMMÉS Studio.