Looking for living room inspiration? In this article, we will show you 13 Stunning Living Room Ideas to enhance your design projects.
Living rooms are spaces that can be both formal and informal. In this space, you can recline on your sectional sofa to watch a movie or receive guests. If you use a living room in one way or another, this space should be elegant and unique.
This living space must prioritize your comfort and aesthetic. Building an elegant and modern living room can be stressful, so we collect the best 13 Living Room Ideas to inspire your decorating project and to create the most stunning living room.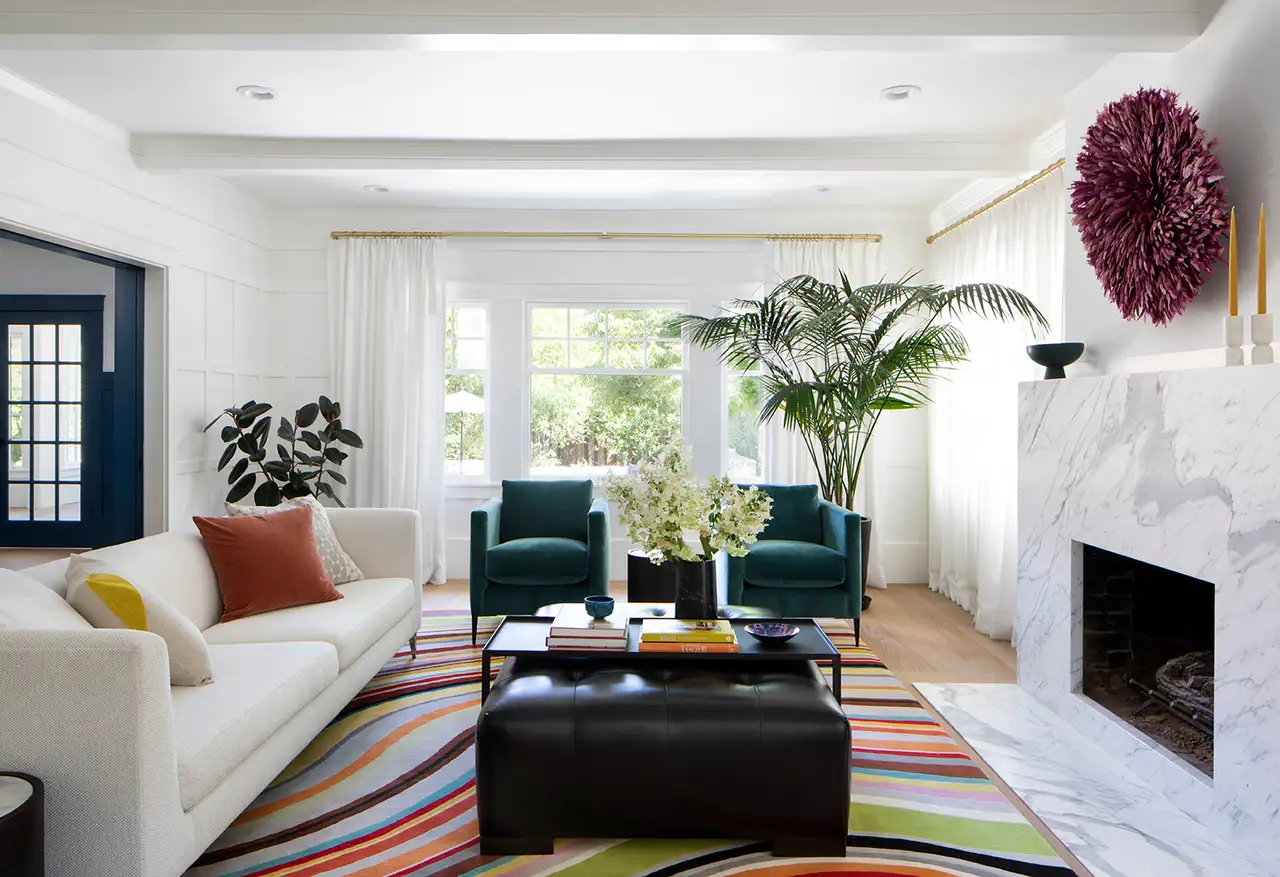 1. Clean Lines with Simple Materials
Our first living room ideas are stunning for your design projects. In this living room by Devin Kirk, mix the clean lines with simple and classic materials. A light shade of blue-gray and clean-lined furniture make for a polished backdrop, while the woven chairs, a soft wood side table, a vintage rug, and a tree-stump coffee table create a peaceful atmosphere. This idea is the perfect combination of formal and tranquil balance.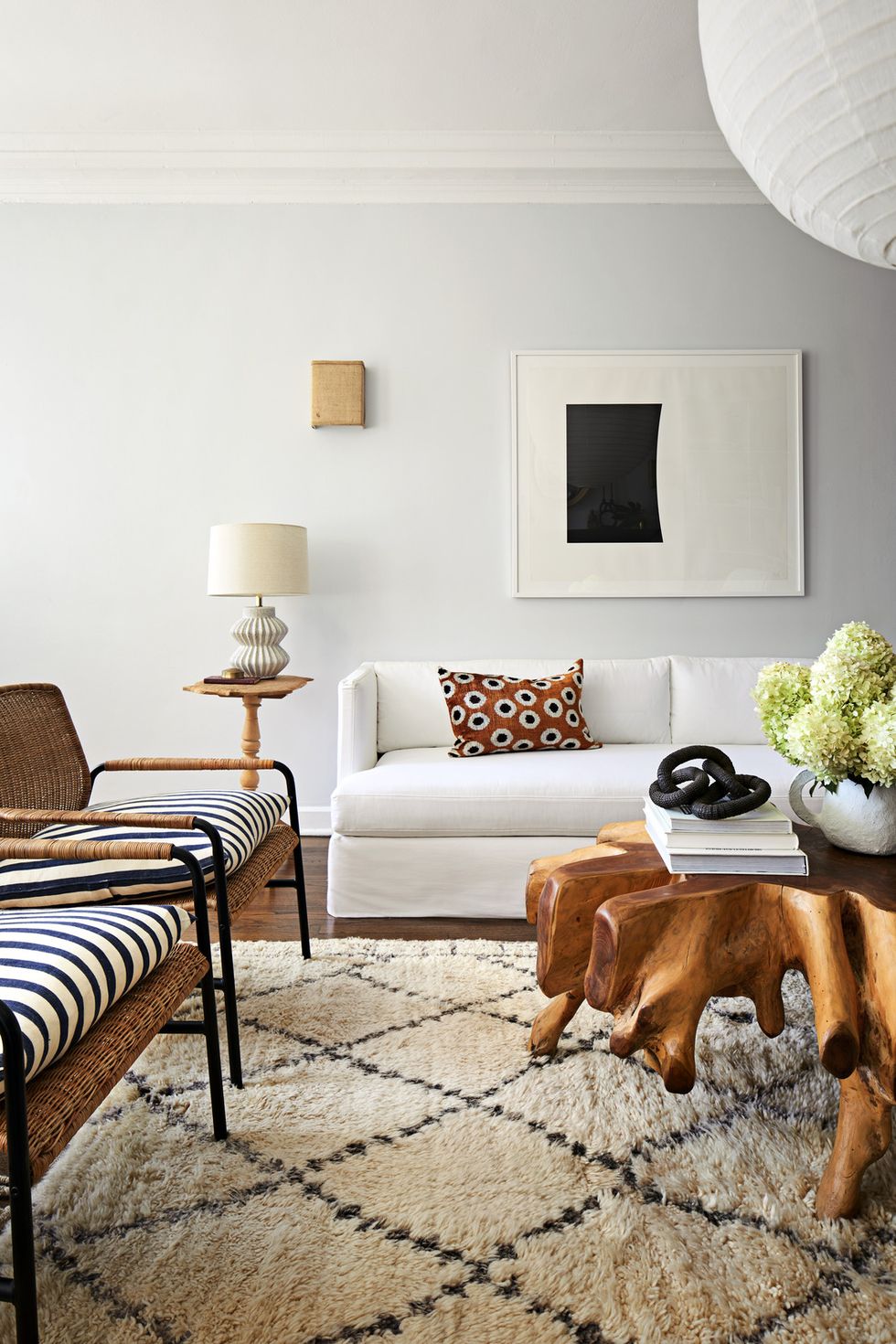 2. Keep it Neutral
Sharon Rembaum designed a neutral and gorgeous living room. Playing with neutrals creates a minimal and tranquil ambiance to the living space. Textures are the secret element to making a soft white living room. This living room idea is decorated with textured pieces in a neutral color scheme and curated with beautiful modern artwork.
3. Upgrade with Stunning Elements
Achieving a flawlessly chic living room may seem daunting, but fear not, for we have the ultimate solution from these beautiful living room ideas. With this idea, you will add a stylish touch to your living room. The designer Zoë Feldman uses a Serena & Lily rattan piece to create a statement and divide the large living area. The nap bench, paired with a cushion covered in Sanderson fabric, can instantly elevate the art of lounging in your living room, exuding a remarkable chicness and presenting a multifunctional classic look.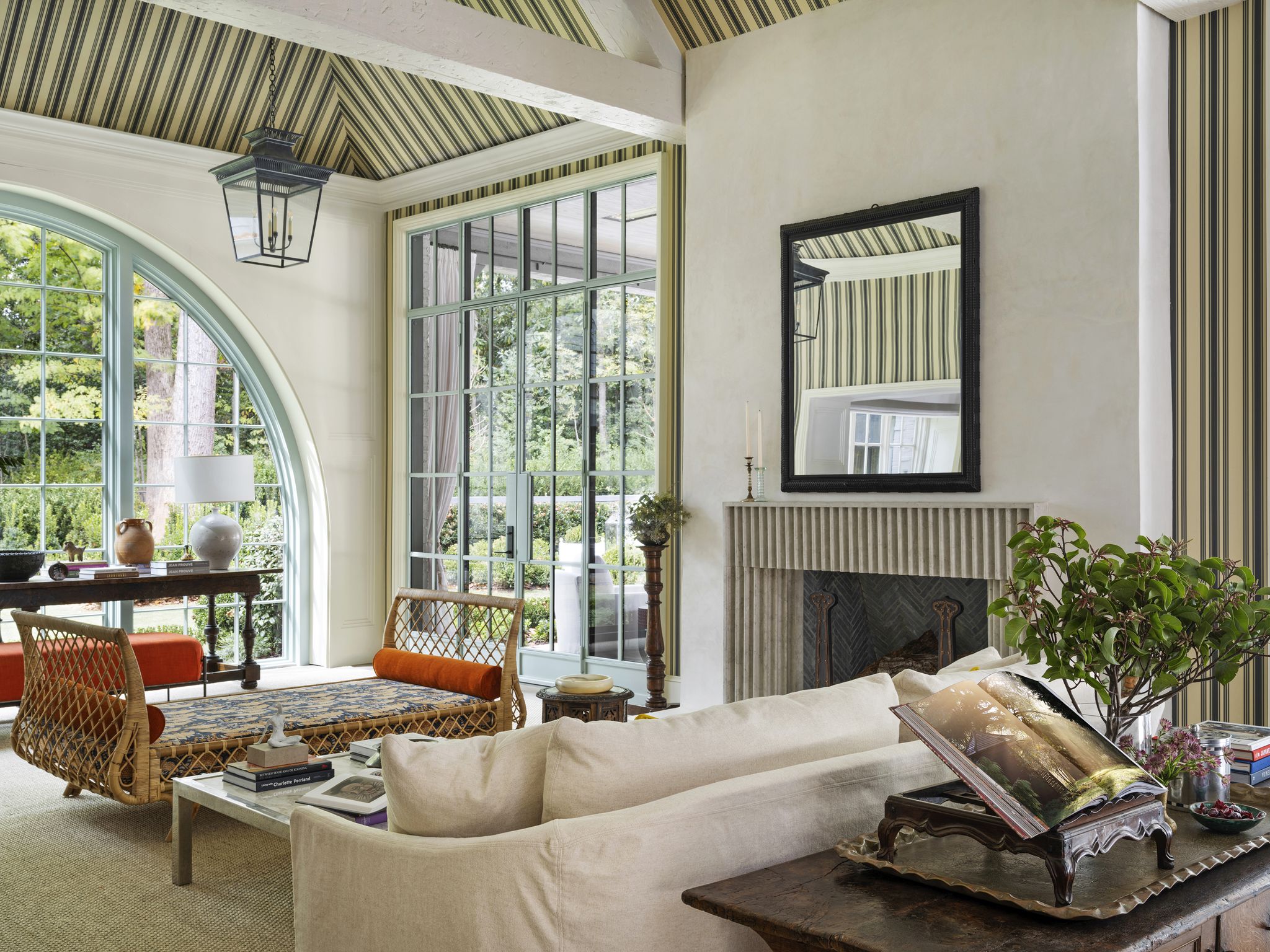 4. Warmth and Texture
Designed by Liz Hoekzema, this living room idea is different than the other living room ideas. This grand double-height living room features a chimney's hand-applied lime wash treatment and a soapstone fireplace bringing warmth and texture into the living room. This living room idea is a mix of wabi-sabi informality and the richness of the pieces, Hoekzema said.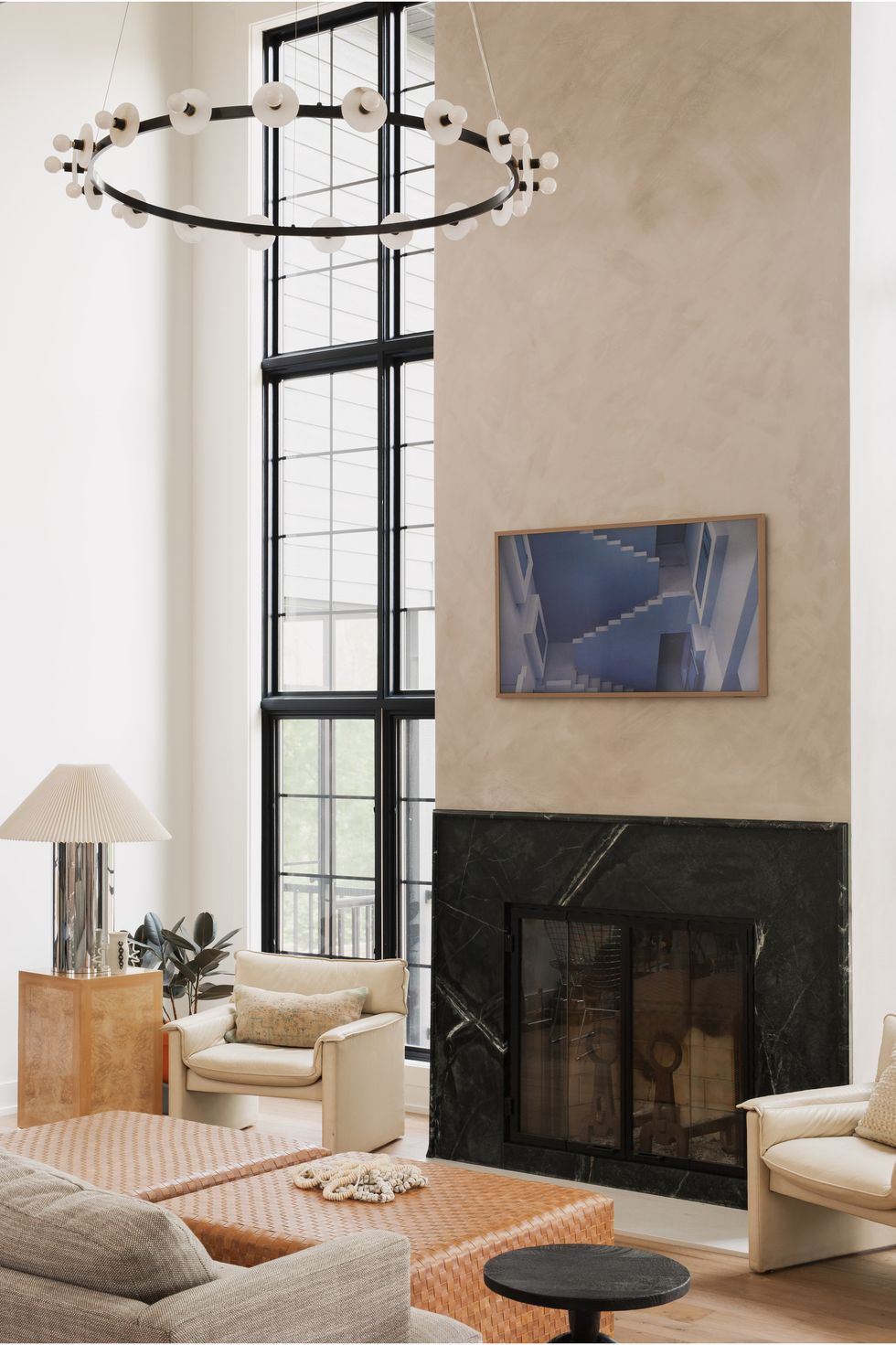 5. Enhance the Space with Rugs
This living room gives access to the open kitchen and dining room. This beautiful living room, designed by Regan Baker, features a custom-designed curved sofa, custom cabinets, and a silk rug centerpiece. Plus, the armchair is displayed diagonally to create a balanced look. These living room ideas with rugs are perfect for visually separating open areas and creating the ideal balance between them.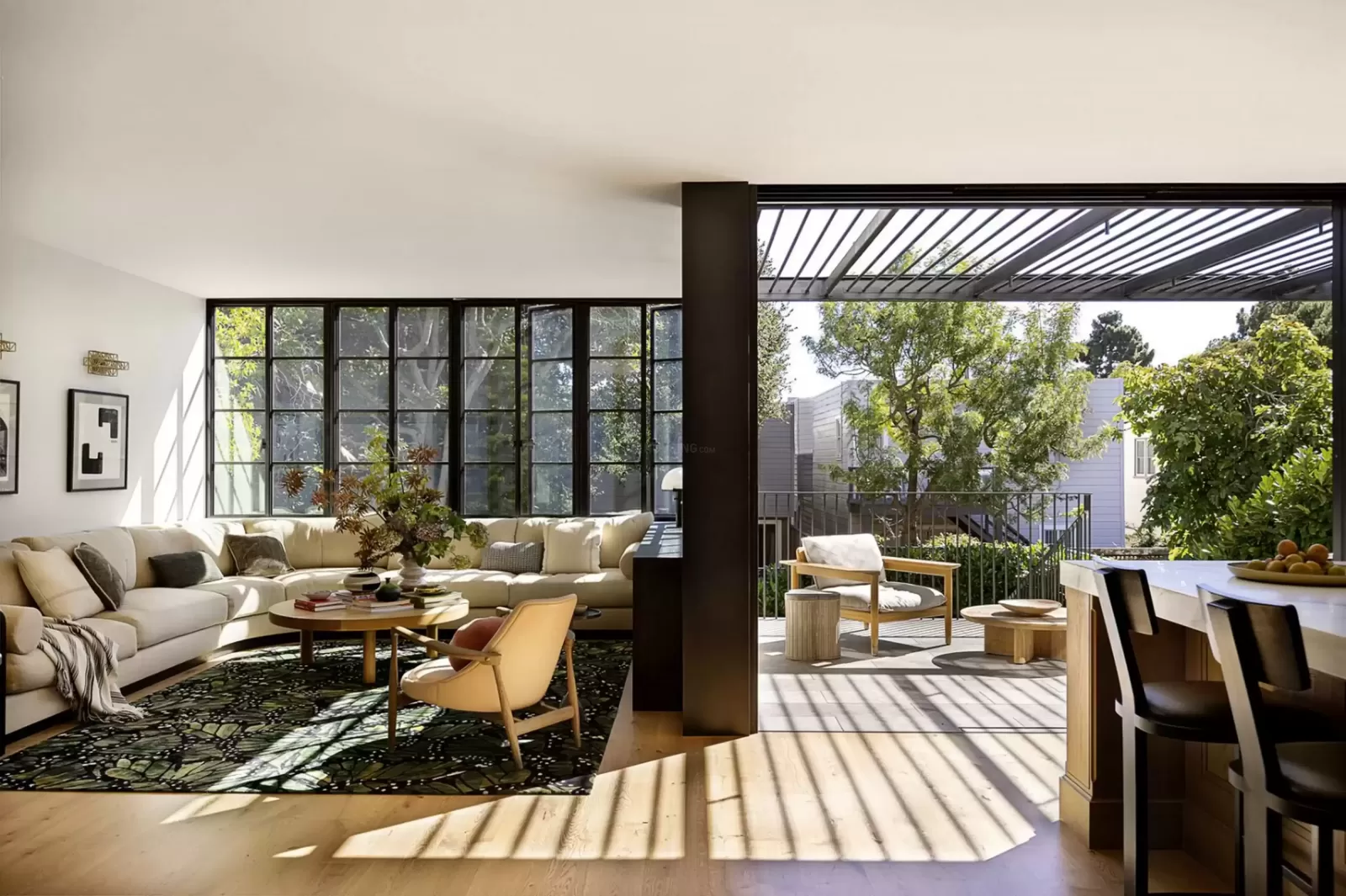 6. Bring Nature Inside
Incorporating trees and plants is the best element for your living room! Invite Nature into your living room with indoor plants and fun trees. Elizabeth Cooper positioned a luxuriant citrus tree in this living room to add color and life. To complete the look, the designer adds topiaries on the windowsill.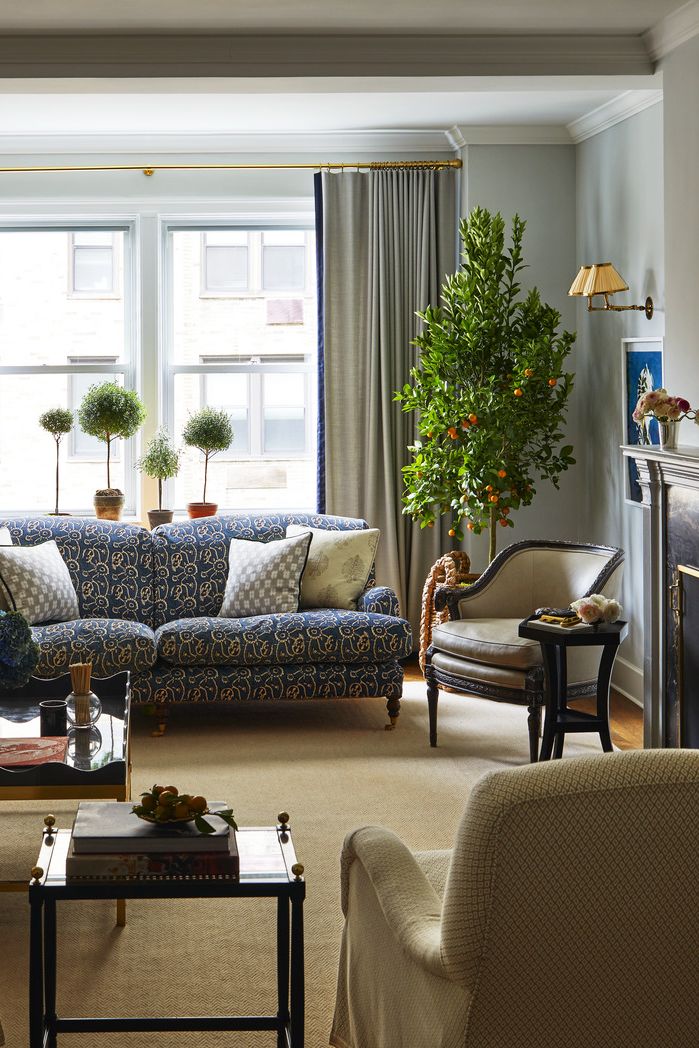 7. Balance Hard Materials with Soft Elements
Caroline Turner creates the perfect balance between hard materials and soft elements. This living room has wooden floors, stone tiled flooring, and many glass surfaces. Turner softens it with a relaxed sofa, a black wooden coffee table, and velvet upholstery. A pair of matching brass floor lamps were added to the living room to complete the look.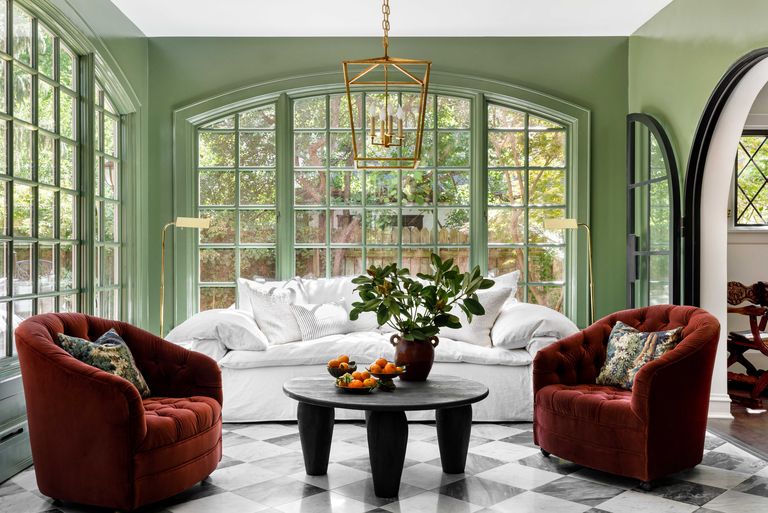 8. Embrace your Backyard Views
These inspiring living room ideas are exquisite and create the perfect blend of indoors and outdoors. This next living room idea perfectly embraces the landscape outside. Nestor Santa Cruz worked with landscape architect Lila Frendrick to create a living room that embraces the outdoors, seamlessly merging the best of both worlds.
This living room boasts a wall of steel and glass windows and doors. Every element exudes sophistication, from the pendant light to the charming coffee table and delicate glass decor, crafting an ambiance of serene intimacy. The living space boasts a plush rug and ethereal curtains, artfully extending the peaceful essence of the summer look.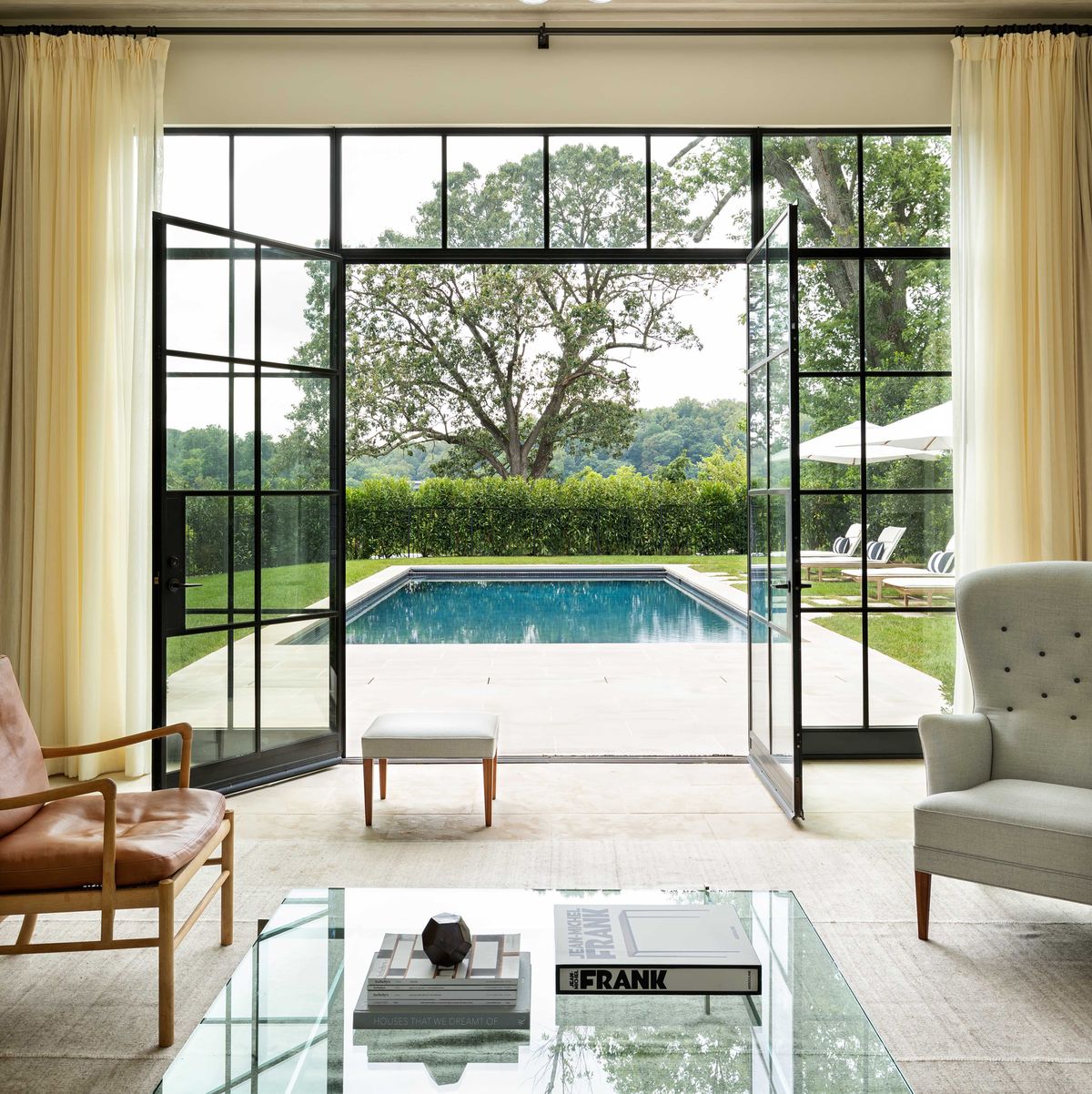 9. The Feel of Nostalgia
Old-fashioned living room ideas are the best! Embracing old trends and second-hand furniture creates a nostalgic atmosphere in a living room. Designed by Amity Worrel, this living room features delicate florals, ginghams, and plaids combined with modern touches and artwork. The designer added a stunning chaise to the living room, creating a nostalgic and contemporary style.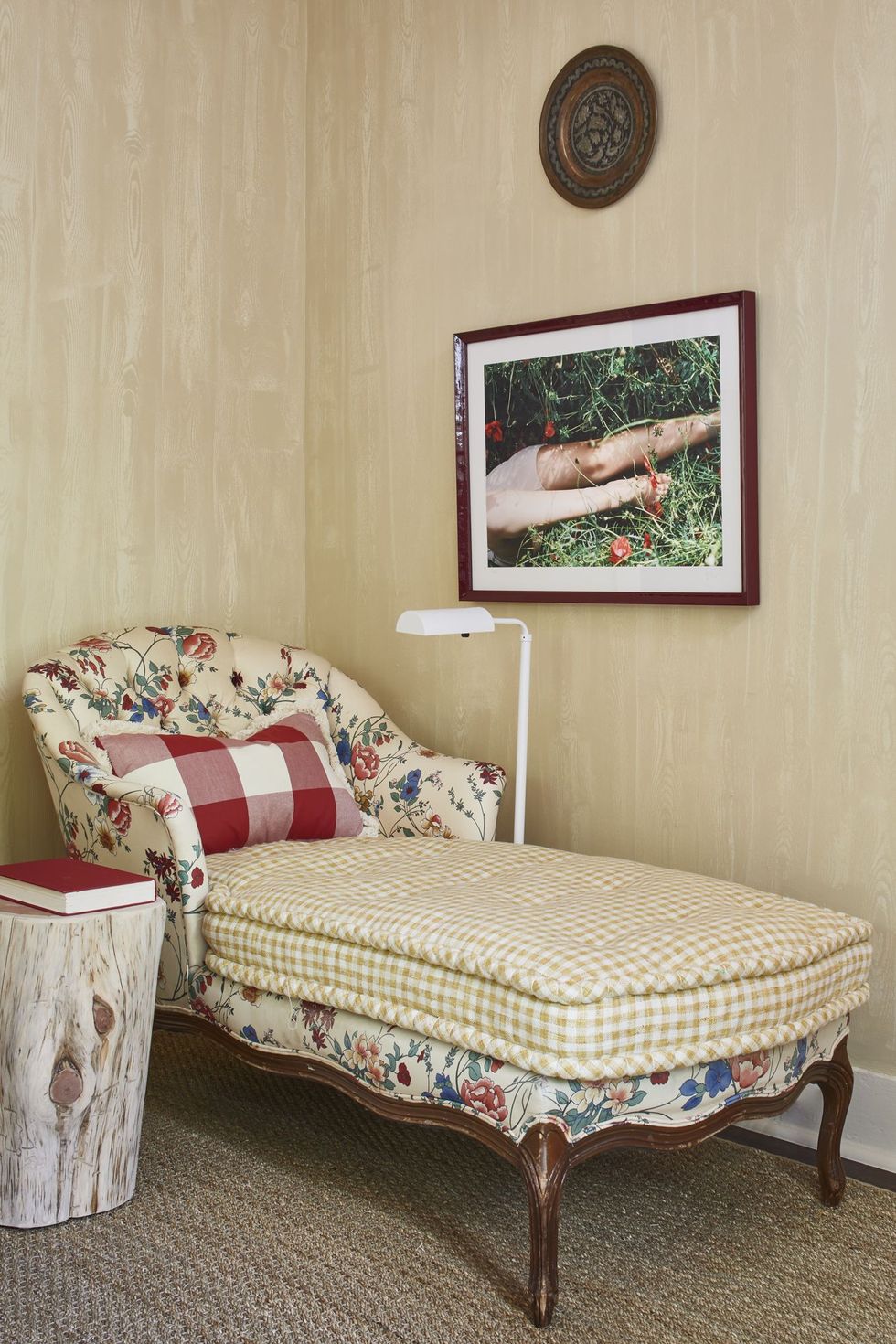 10. Use Color to Tell a Story
Reviving your living room with color might seem daunting. Designed by Mona Hajj, this living room has the piano as center stage. The designer's creativity shines through, deftly blending the grand piano with captivating corals, elegant greys, and gleaming brass tones. The elements create a dynamic yet accessible living room that exudes charm and allure, inviting you to revel in the beauty of colorful living.
11. Summer Bar in a Living Room
John Fondas expertly showcases a cozy home bar in the living room, deriving a delightful summery ambiance. The designer transformed a shallow closet into a hidden bar nook, cleverly eliminating the doors and incorporating built-in cabinets and side shelves for ample wall storage.

Nautical and aquatic motifs have been included to enhance the space's charm, setting the ideal atmosphere for summer parties. This living room concept is a perfect model for crafting a splendid summer getaway, promising joyful moments during warm summer evenings.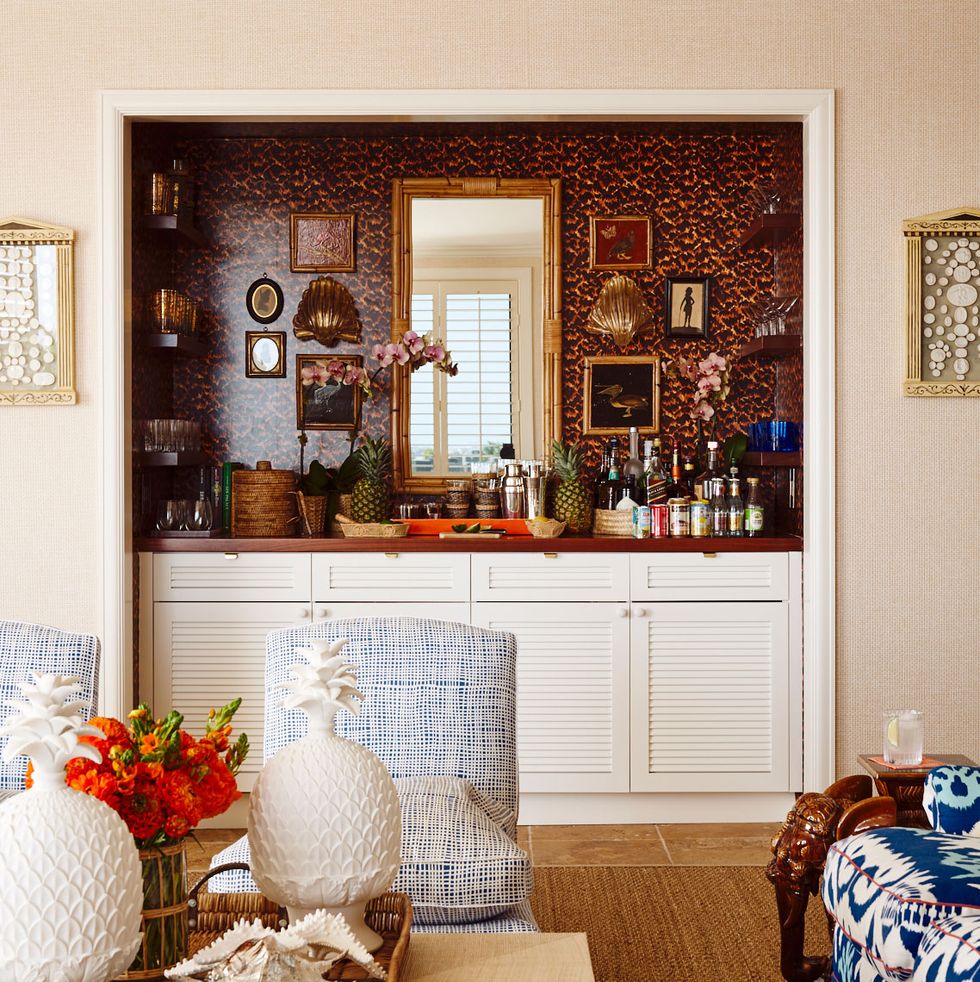 12. Add Personality to Your Living Room
This refined and cosmopolitan living space, designed by Shawn Henderson, stands out as one of the most charming living room ideas we've collected. The interior design features a sophisticated palette of cooler gray neutral tones, accented by an indoor tree—the fusion of various textures with these rich.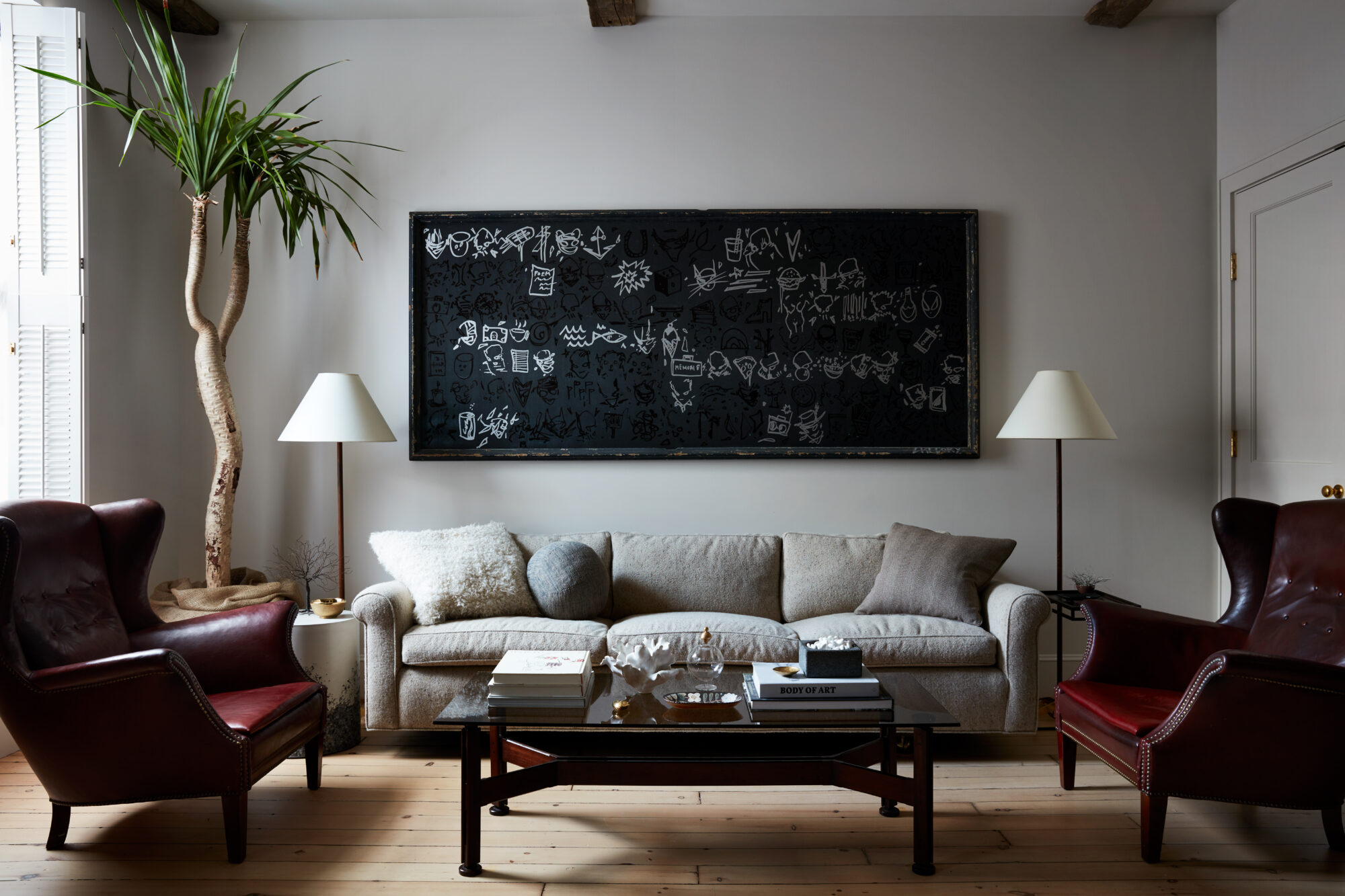 13. Embrace the Essence of Summer
This last living room idea embraces the feeling of summer in a stunning way. From our Summer Home Ebook, this living room features modern furniture, a fantastic white floor lamp, and a center table that embrace the summer sunset. The interior design of this living room provides a comfortable and inviting environment for those seeking a perfect summer scenario.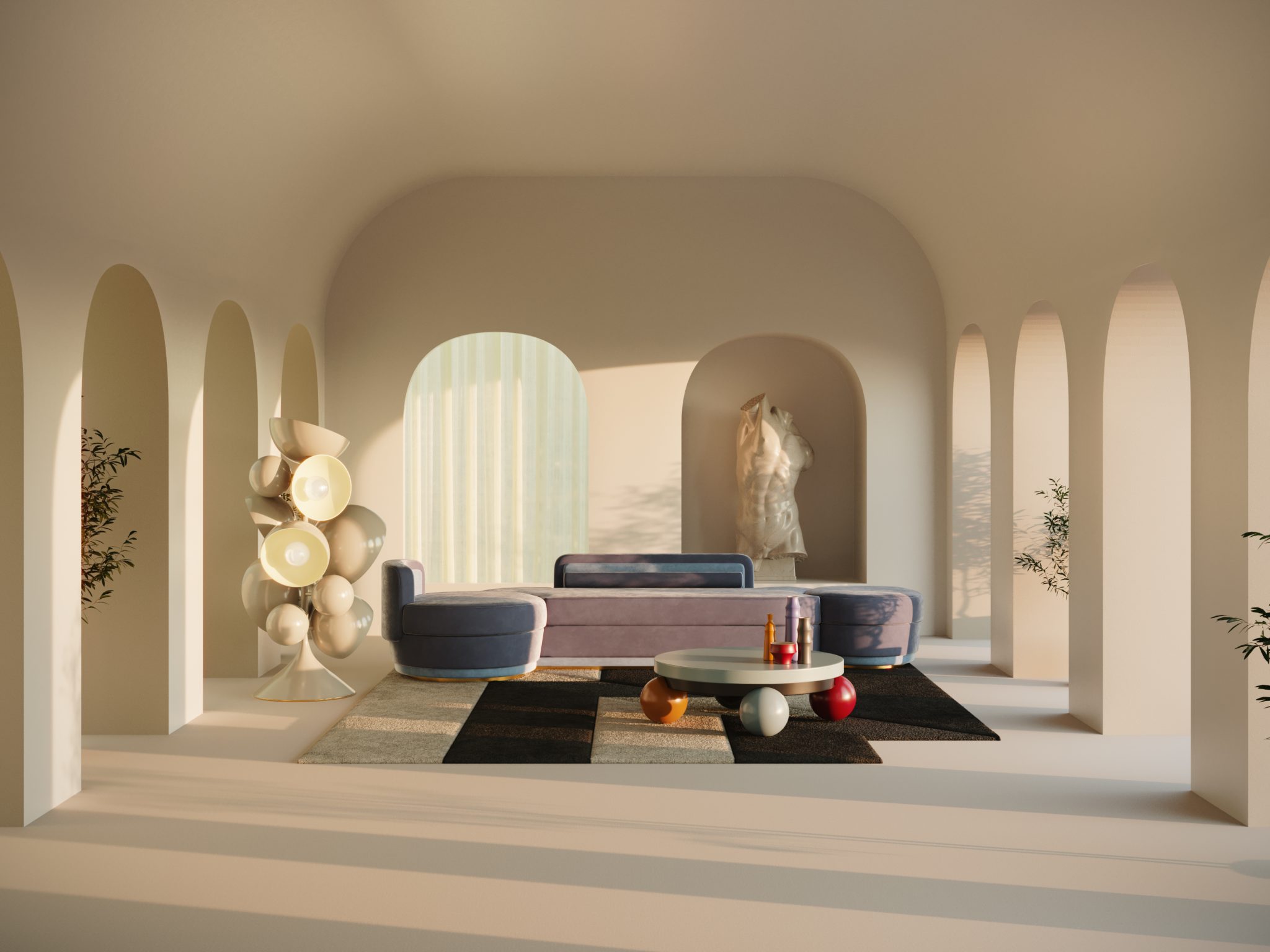 Elevate Your Living Room Projects
Discover the ultimate solution for your design projects with these captivating living room ideas. Whether you seek an old-fashioned charm or a vibrant summer look, our curated collection of the best living room ideas will help you to upgrade your design projects.
We hope these stunning living room ideas have inspired you as much as they have inspired us. If you're looking for more inspiration, we invite you to explore our blog post, 5 Living Room Trends, to succeed in your interior design projects.