Aaron David Clarke, the designer behind this stunning villa, blends Goa's local Indo-Portuguese design language with a modern aesthetic in this tailored holiday retreat. A stunning villa surrounded by green hills, tall trees, and paddy fields stands tall and distinct. The ivory façade is a traditional Goa design, except that it is in more subtle, neutral hues.
The entrance is a gilded door referencing Lisbon woodwork with a traditional Portuguese azulejos nameplate on top. The door leads to a small balcão comfortable enough for four to lounge on. The simple arc designs and beautiful column capitals executed in the front verandah and balcãos have been repeated in the villa's internal paneling to ensure design continuity.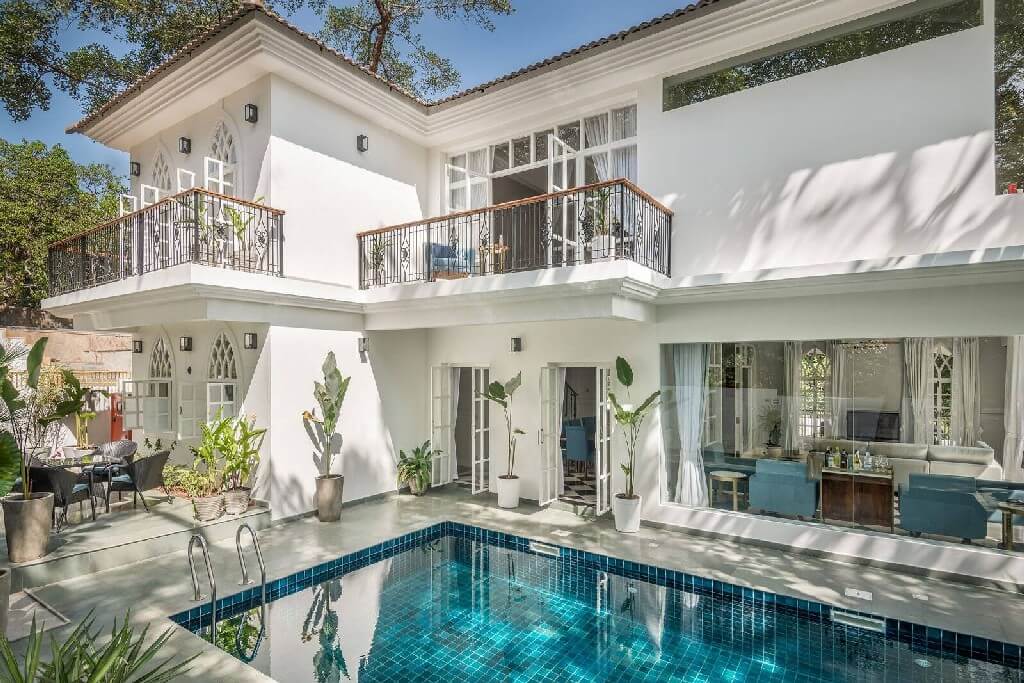 The 6,410-square-feet, 4-bedroom holiday villa is part of a larger reality project called Mayaland Homes. The space provides enormous living, dining, and versatile entertainment spaces, with substantial outdoor terraces and a state-of-the-art kitchen, swimming pool, and two landscaped gardens. "Here, we have begun to merge our European approach to classic Indian architecture. We have extensively researched Lisbon villas for color references and exterior detailing, as well as developed interior architecture details based around heritage buildings from the early 1900s from the Iberian peninsula," offers Clarke.
Lounge and Dining Room
This room with chequered flooring, French windows with silk curtains, and bespoke furniture overlook the pool. "We have emphasized the central core of the building. Interconnecting living, dining, and formal workspaces that encourage constant interaction. This building has no wasted hallway space; every room directly interlinks with each other," Clarke explains. "We have kept the accessories to a minimum, a departure from maximalist Portuguese decor.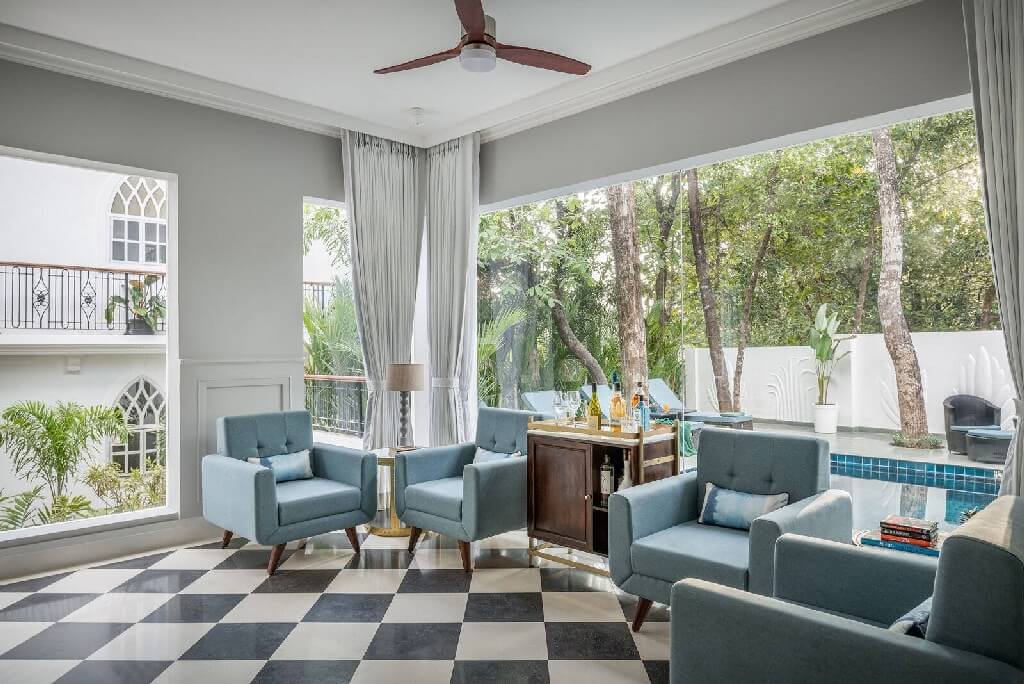 Kitchen
A state-of-the-art Hafele Kitchen spills over onto a herb patch in the backyard. Marble floors, a Corian central island, dishwasher, and Hafele appliances glint in metallic radiance.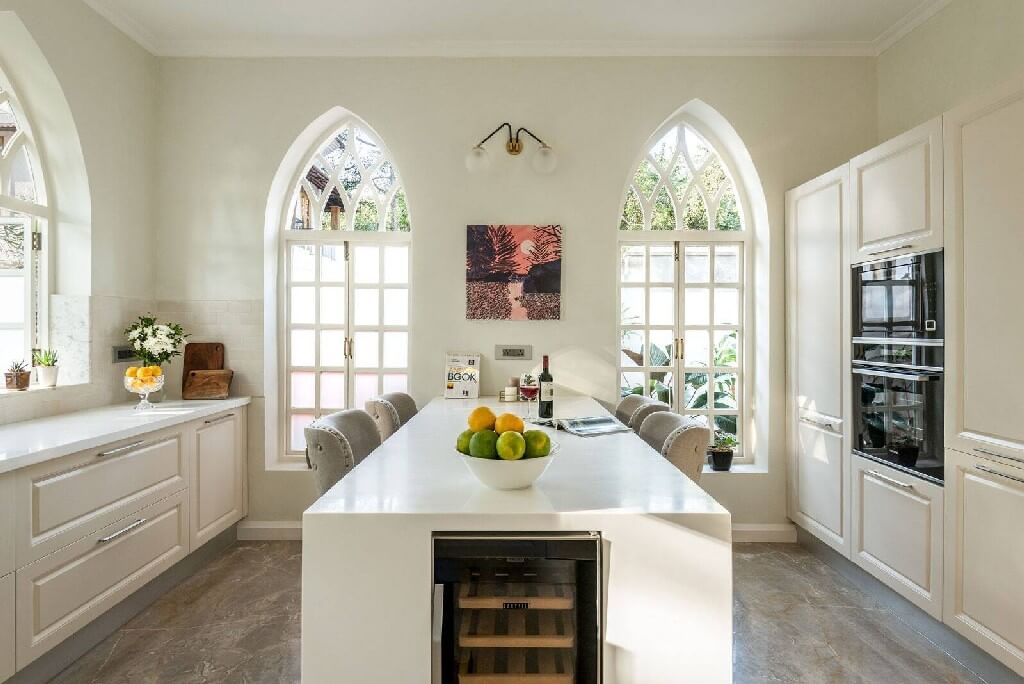 Bedrooms
Abundant natural light pours in through the arched windows in the four sprawling bedrooms with double-height ceilings in this stunning villa. The ground floor houses one guest bedroom, and the other three bedrooms are on the first floor. All three share a common bespoke flooring design with fitted wardrobes and an ensuite marble-clad bathroom, with Toto sanitary fittings and fixtures. The Georgian paneling is both British and used in Portugal at the turn of the last century.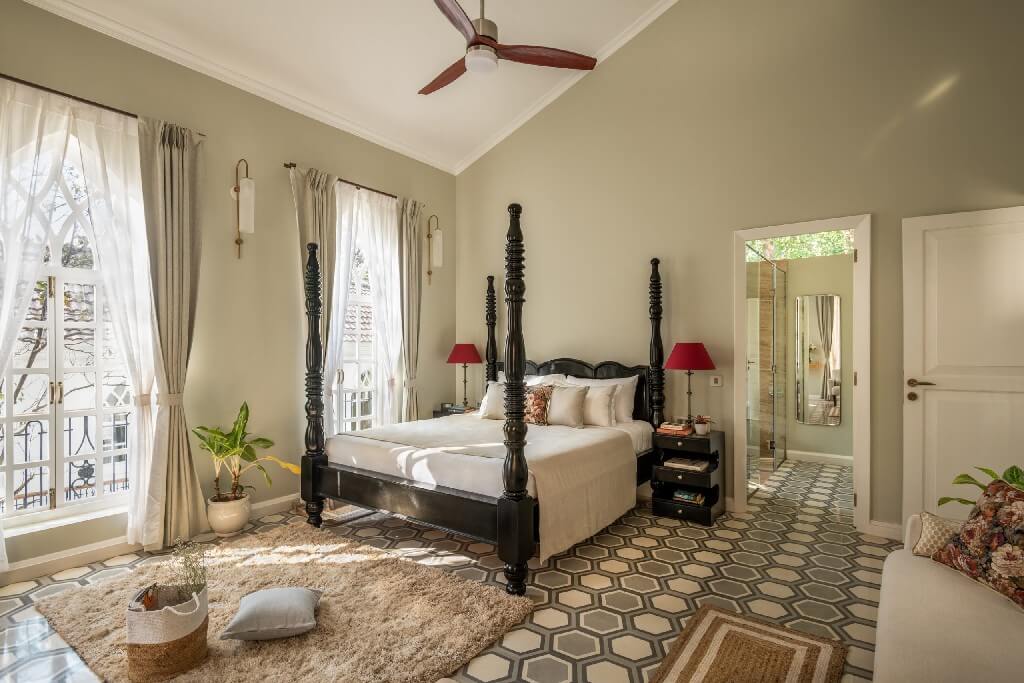 Terrace
Adjacent to the three bedrooms upstairs is a terrace as large as the living room. It is a magnificent space to entertain, host a barbecue, dance, and dine workout or enjoy the tranquillity. Built for all seasons, the state-of-the-art awning shrouded by fuchsia bougainvilleas is perfect for a socially distanced soiree.
Bathrooms
Each of the four bedrooms enjoys luxury ensuite bathrooms made from fully-clad imported marble with top-of-the-range Japanese Toto fixtures and bespoke Portuguese-style vanity units. The master bathroom has a Toto bathtub with a floor-to-ceiling window overlooking green foothills and an avant-garde walk-in wardrobe with enormous storage.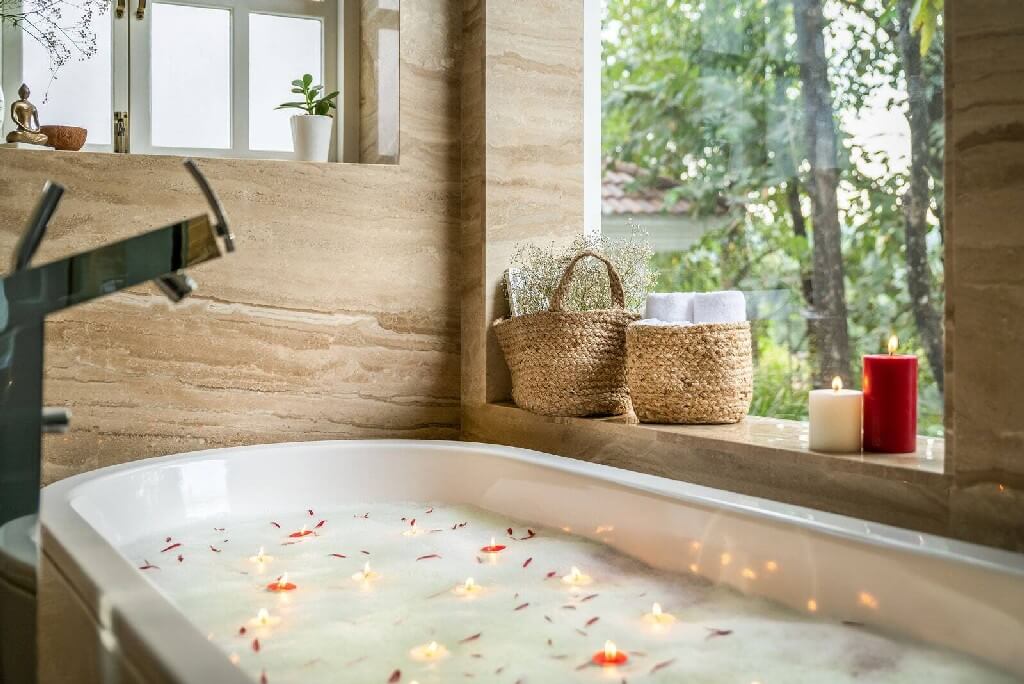 We really hope you liked our article. Feel free to pin all the images to your favorite Pinterest board. Meanwhile, you can also visit our Pinterest boards to get more inspiration.
Get more ideas for your projects and find functional, stylish, and sizable lighting and furniture choices:

Source: AD Middle East