Neutral tones and organic shapes are the backdrops for this modern family home designed by Huma Sulaiman Design in California – where luxury and comfort meet.
Creating a modern family home goes beyond the aesthetic, it needs to find a balance between sophistication and functionality – and it is what Huma Salaiman activated with this stunning modern family home in Southern California. A design that echoes sophistication and still is friendly for all the inhabitants – a home perfectly synonymous with a family dream.
And this dream modern family home is real and has shapes, colors, and materials that make it unique. In the meticulous design created by Huma Sulaiman, there is no limit to beauty, comfort, and luxury – and each detail in this house recalls it. Craved in neutral tones, organic forms, and curved edges, this modern family home is a journey through inspiration with a great selection of furniture and decor items.
Through the stunning journey that is this family home – Huma Sulaiman selected one of the most iconic pieces from the HOMMÉS Studio Collection, which we will reveal as we dive into this dream layout, so keep reading to boost your inspiration with this enchanting family dream.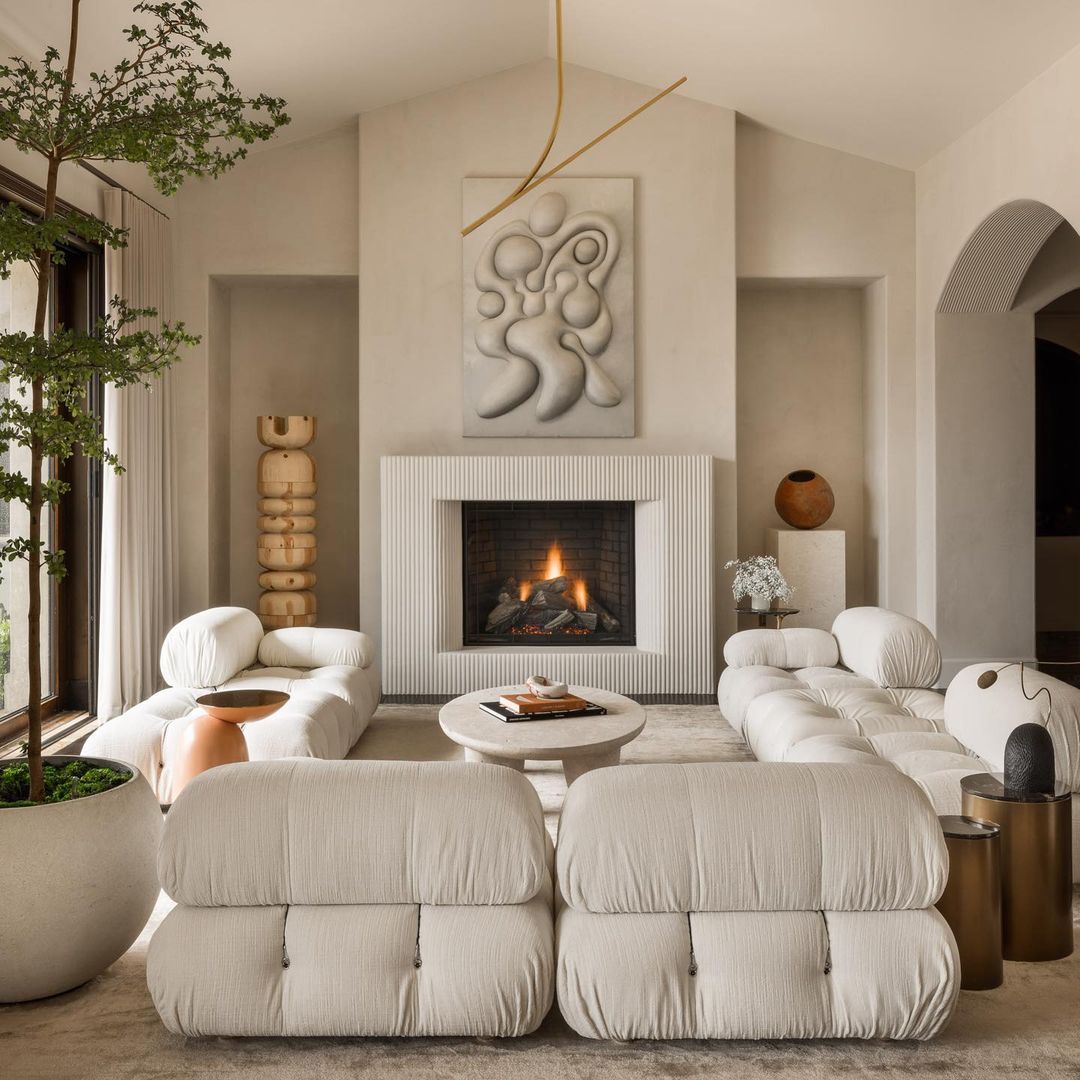 STEP INTO A DREAM
Designing a modern family home requires careful consideration of both style and functionality. In this beautiful modern family home, every detail has been meticulously planned to create a harmonious living environment for the entire family.
From the sleek architectural lines to the thoughtfully curated interiors, this home embodies the essence of modern family living. Let´s explore the main spaces of this stunning scenario that seems out of a dream:
THE LIVING AREA
Our journey into this dream modern family home starts with its heart – the living room. Here, the clean lines, neutral color palette, and carefully selected furniture pieces create a contemporary yet inviting atmosphere. Even with a spacious space, the area seems and feels cozy and asks for relaxing family moments.
Huma Sulaiman balanced the neutral tones with different materials and textures, creating a minimalist space full of visual interest. In this stunning room, the beautiful Lunarys Center table from HOMMÉS Studio stands; made in travertine and with an organic design, this piece perfectly matches the overall aesthetic.
THE DINING
Following our journey, now we head to another gathering place – the dining area. In this modern family home, there are two – the formal and the family. The first one is integrated into the living room and follows its neutral and soft tones but with a bold twist thanks to the caramel fabric of the dining chairs; we could describe this space as elegant and functional.
While the formal dining room has a luxury vibe that is perfect for hosting dinner parties, the family dining has clean lines and less adorns but is still elegant and lavish. According to the designer, the choice in the family dining room was to create a space that would be easy to clean and suit the family's primary needs.
THE FAMILY ROOM
Every family needs a place to connect and enjoy quality time together, and in this design, this spot is inviting and extremely beautiful. In the family room, among the gorgeous choices, there is an equilibrium between shapes and materials and a balance between elegance and comfort.
The neutral tones are still in here but with a new approach; here, the dark green sofa transforms the space with sophistication and energy. The color coordination follows the room and emanates the perfect feel for the best family reunions.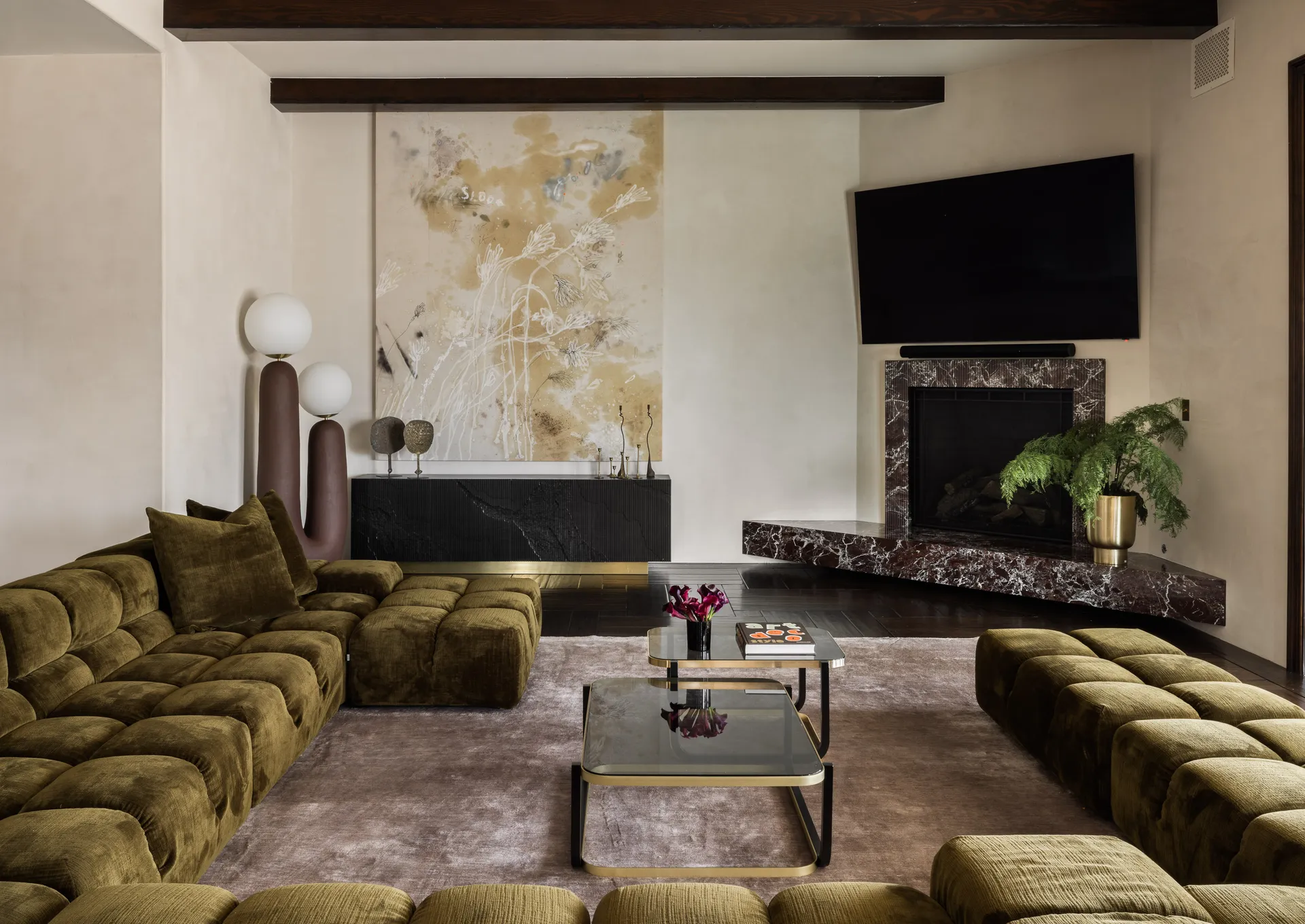 THE BEDROOMS
In a family home, the bedroom is the space where individuality rises, and Huma Sulaiman designed the perfect spot for each member of this young family. The designer creates a sleep sanctuary full of neutral tones, soft textures, and organic shapes for the parents.
For the kids, the aim was to create a place where the imagination could flow in according to the Montessori principles, for that the designer went with three different themes according to each child's personality – which reveals a charming garden girl room, an epic zoo nursery, and a galaxy dream boys bedroom.
More than a beautiful journey, this brilliant design by Huma Suleiman exemplifies the art of designing a modern family home. The balance between sophistication and family-friendly elements creates a harmonious living experience and a stunning backdrop for the best memories. By creating a scenario where well-pointed choices walk together with the needs of each inhabitant, more than a dream, this is a home that a family needs.
SHOP INSPIRED BY THIS DREAM
What an incredible journey this beautiful modern family home presented to us! Inspired by its neutral color scheme, organic shapes, and rich materials, we have made a selection of furniture that would perfectly fit this dream. Check it out:
After all, this beautiful tour of this modern family home revealed more than a beautiful design but also the importance of thinking about the design experience in each detail and choice.
We hope you enjoyed this beautiful journey through a design where comfort and luxury meet and a dream become a reality. You can find more inspirational projects on our interior design page.

Source: AD | Photos: Shade Degges | Design: Huma Sulaiman Design