Sophie Ashby has fashioned a breathtaking bloom apartment that seamlessly blends bold aesthetics with timeless elegance.
A stunning Bloom apartment located in London is the latest project of Sophie Ahby. From the moment she met her client over a cup of tea at Claridge's, Sophie sensed an exciting creative challenge awaiting her at every turn.
Sophie Ashby, the creative force behind Studio Ashby, poured her heart and soul into this project, infusing it with her signature style and attention to detail. And the result is nothing short of breathtaking.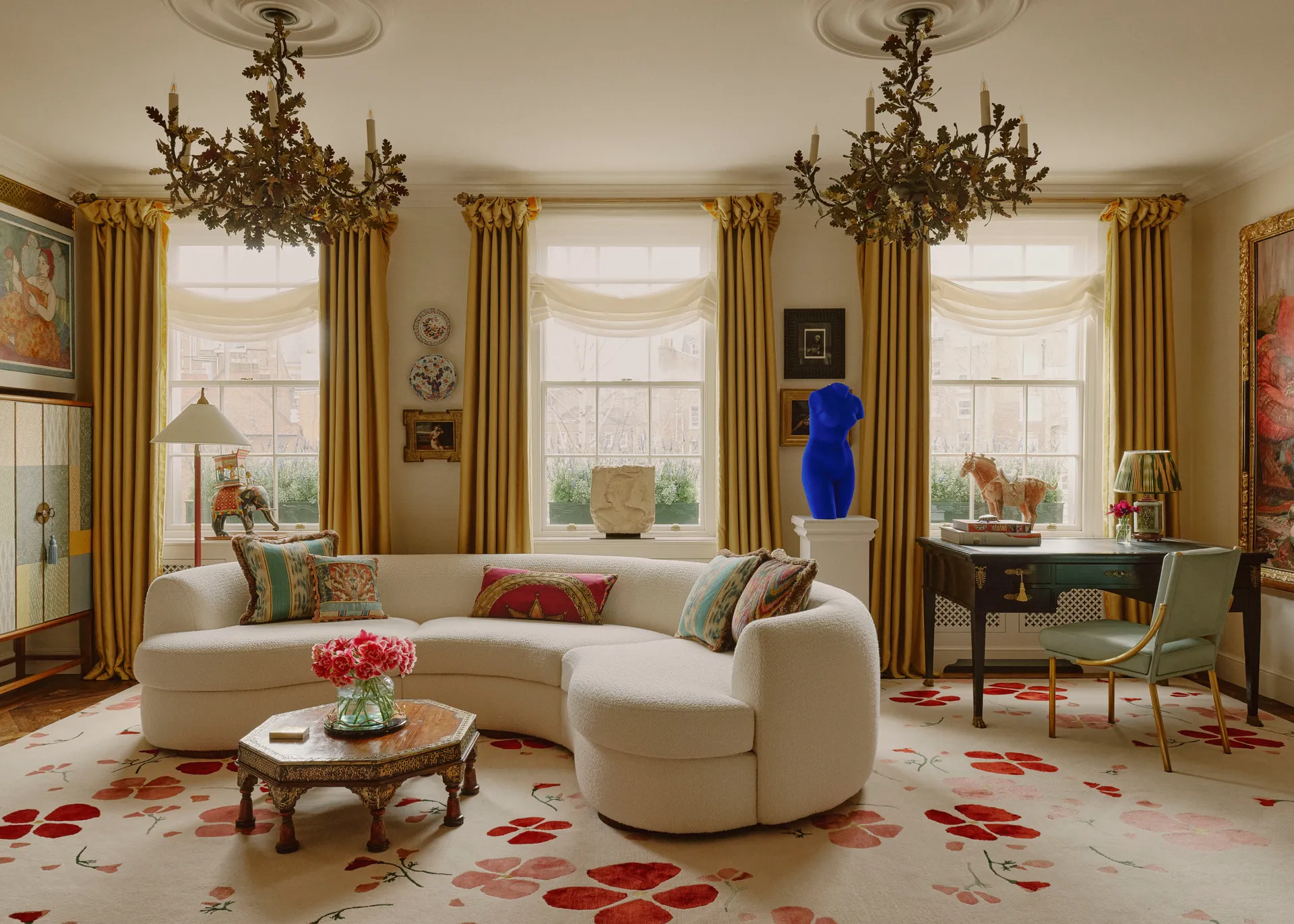 The Bloom apartment is a true reflection of the client's personality, a mix of classic and modern elements that seamlessly blend to create a unique and timeless design, as Sophie Ashby explained.
Sophie Ashby as a true artist is constantly seeking out new challenges and pushing the boundaries of design. Her dedication to her clients and their vision is inspiring, and it shows in every inch of this stunning bloom apartment.
Sophie Ashby humbly reflects on her design style, which often leans towards a refined and minimalistic approach. However, when presented with the opportunity to design a Bloom apartment for a worldly and sophisticated client with roots in France, Sophie Ashby was excited to stretch her creativity and deliver a unique and captivating Bloom apartment.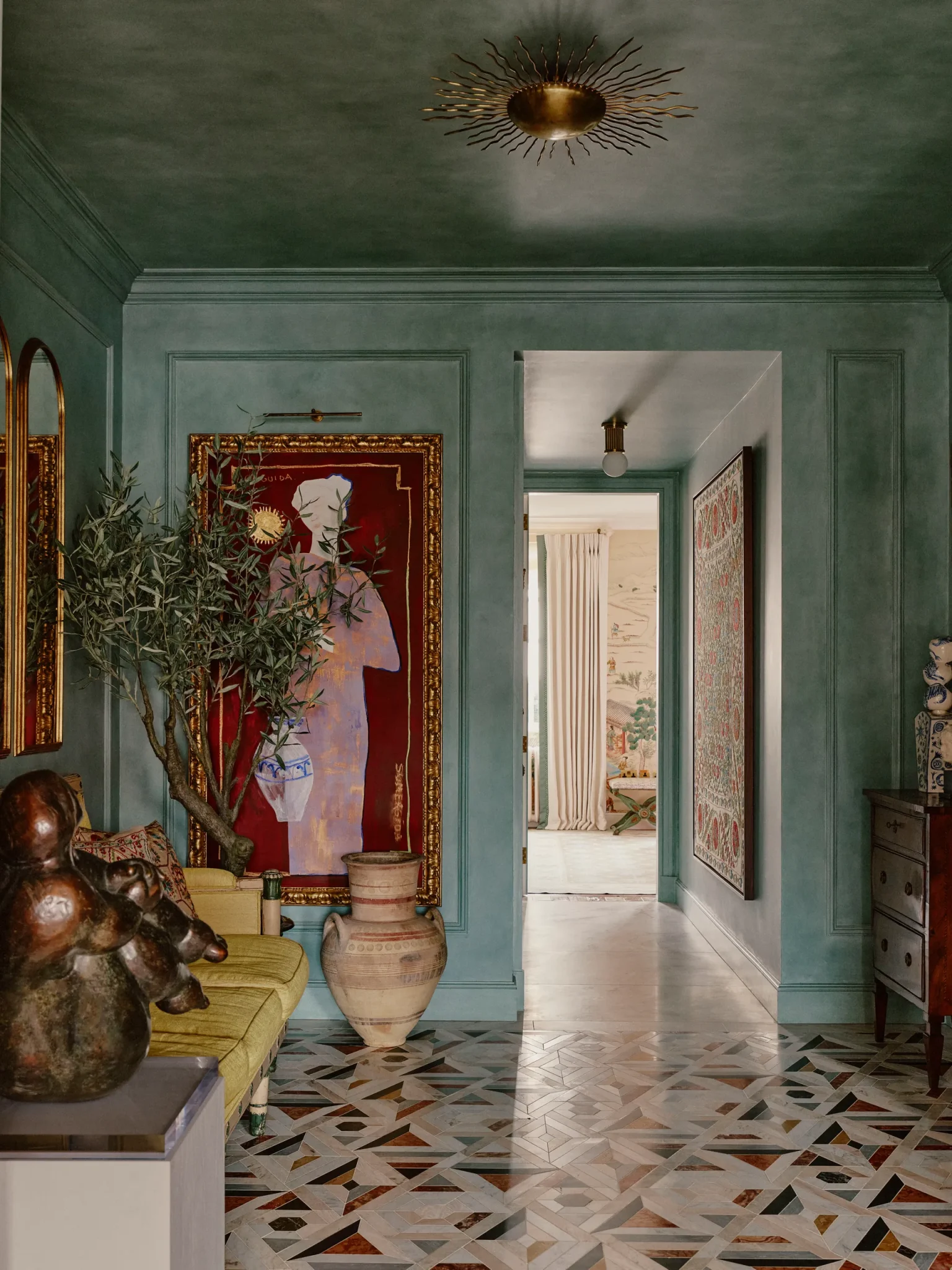 With this bloom apartment project, Sophie Ashby embraced the challenge of creating a space infused with the client's French heritage while incorporating contemporary design elements. The result is a harmonious blend of old-world charm and modern sophistication, executed with the utmost attention to detail and craftsmanship.
Sophie Ashby and her team were undaunted by this setback and instead saw an opportunity to honor the building's architectural pedigree by artfully reinstating period-appropriate details. From the intricate moldings to the wainscoting and reclaimed wood parquet flooring, every element was thoughtfully chosen to blend the old with the new seamlessly.
The result is a bloom apartment that feels both timeless and contemporary, a true reflection of the client's personality and the building's rich history. Sophie Ashby creates spaces that are both beautiful and functional and that honor the unique character of each project.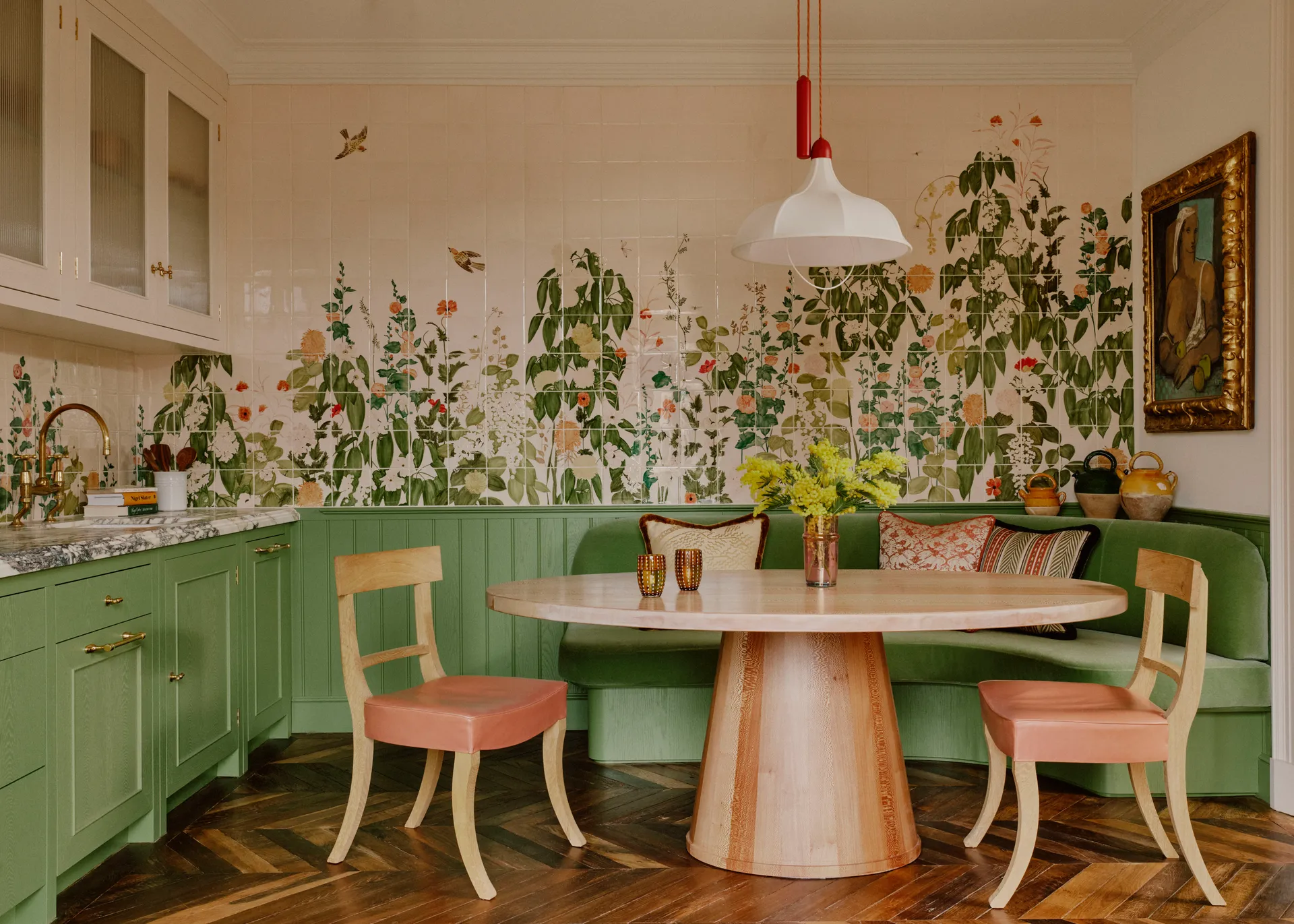 For this Bloom apartment project, Sophie Ashby worked closely with surface designer Anna Glover to create a stunning hand-painted mural that adorns the kitchen backsplash.
The mural, which depicts an English wildflower garden in the style of a Japanese historical illustration, is a true testament to the client's love for nature and art. Sophie Ashby notes that the kitchen presented a unique challenge in that it needed to be both practical and beautiful, but the team was up for the task.
To complement the mural, the team chose Breccia Capraia marble countertops with purple and green veining and lower cabinets painted in a rich hue called Guatemala by Argile. The result is a kitchen that is both functional and visually stunning, with a balance of natural elements and contemporary design in this bloom apartment.
The primary bedroom's magnificent embroidered, hand-painted de Gournay wallpaper was chosen for it. Initially, Sophie Ashby had suggested using the wallpaper on a single accent wall, but the client had a different vision for the Bloom apartment.
The result is a space that exudes luxury and elegance, with every surface exquisitely adorned in the hand-painted design. This push-pull dynamic between the designer Sophie Ashby and her client created a truly personalized and unique result.
Sophie Ashby points out a remarkably serene corner that offers a sense of respite and relaxation. The focal point of this area is the adorable Sister by Studio Ashby polar bear chair, which adds a touch of whimsy and playfulness to the Bloom apartment.
As we move to the guest quarters of the Bloom apartment, Sophie Ashby continues to showcase her impeccable taste and attention to detail. We were designed again with the de Gournay wallpaper, enveloping the room in a dreamy and ethereal atmosphere.
A pair of 1950s bedside tables by Paolo Buffa, sourced from 1stDibs, add a touch of vintage charm to the Bloom apartment room. The antique rug, sourced from Guinevere Antiques, complements the wallpaper perfectly, tying the room together in a cohesive and sophisticated way.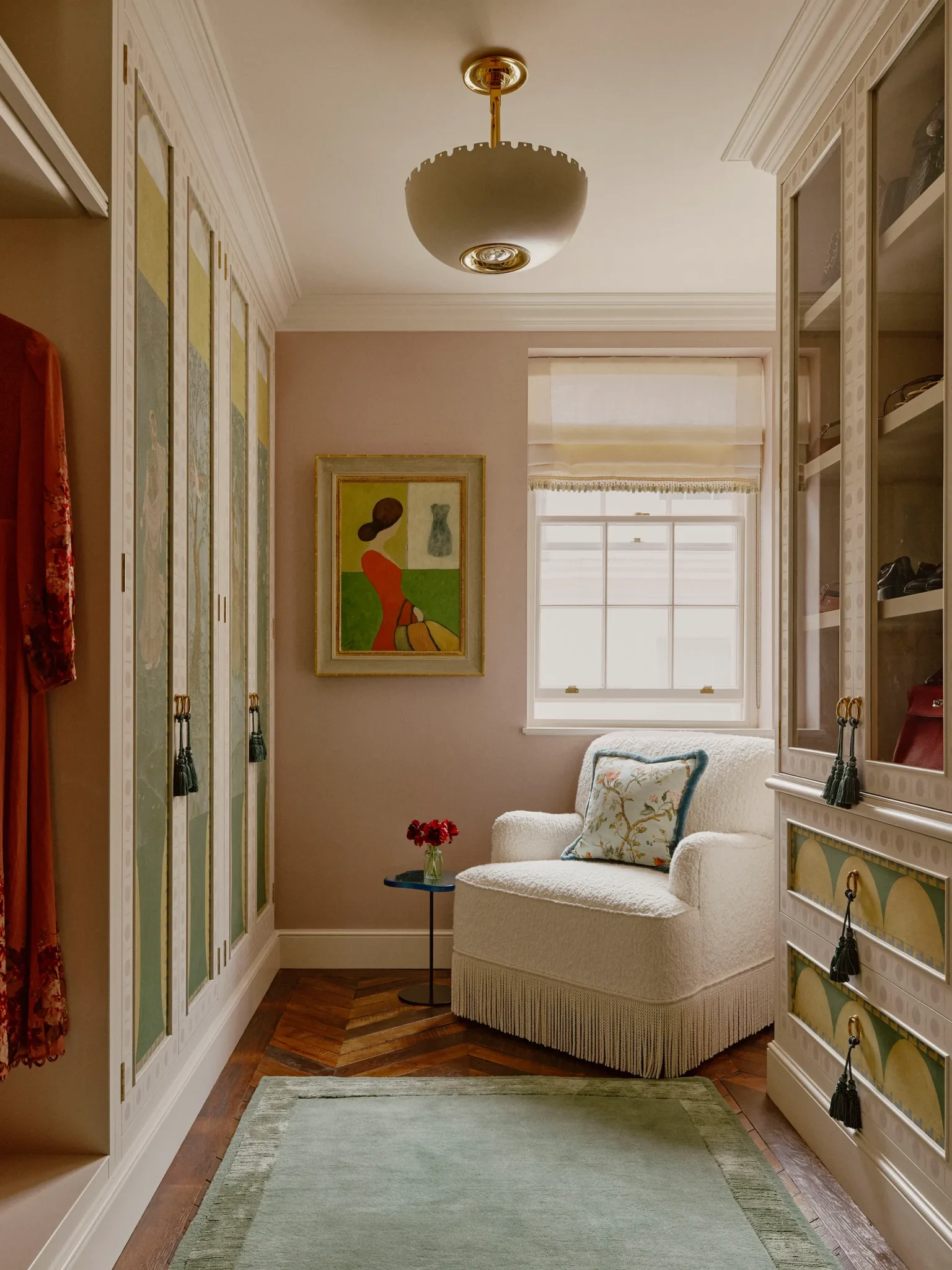 Sophie Ashby's creativity and attention to detail extend even to the dressing room, where she has channeled a Bloomsbury Group-inspired vision. The wardrobe doors have been transformed into a work of art with the addition of a hand-painted Grecian garden motif by the Finished Effect.
The intricate details and vibrant colors of the design add a sense of whimsy and charm to the space, while also creating a sense of continuity with the rest of the apartment's luxurious aesthetic.
It's clear that Sophie Ashby's inspiration for this space was rooted in a deep appreciation for art and design history, as well as a desire to create a truly unique and personalized space for her client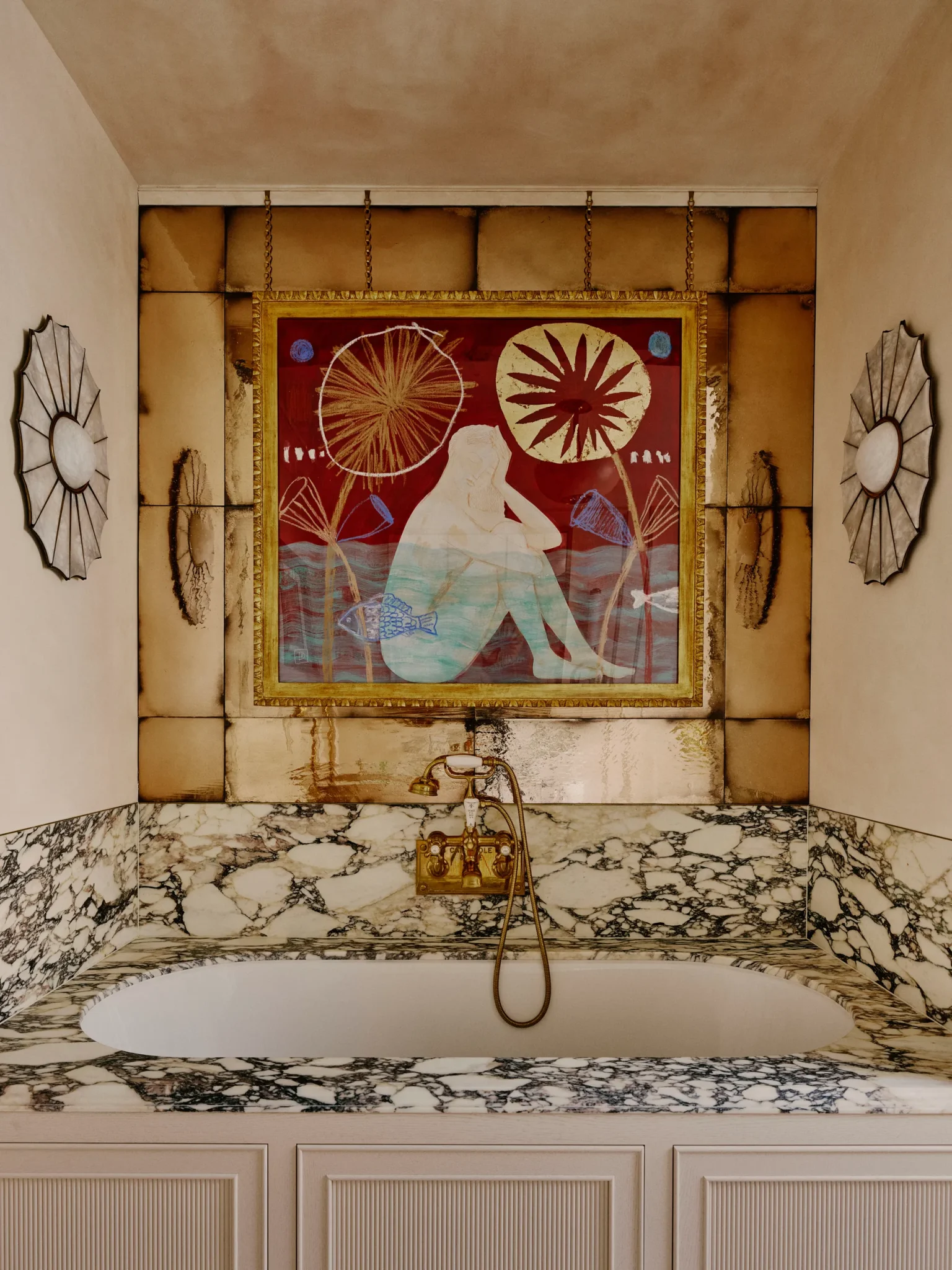 The Bloom Apartment bathroom has traditional fittings and finishes, as well as a vanity top made of opulent Calacatta marble, which also appears on the floor in high-contrast stripes alongside burgundy Rosso Marquina marble. The use of limestone tiles in the space adds a sense of warmth and texture, while the high-quality finishes and attention to detail elevate the overall aesthetic.
Shop the look
We are excited to share with you some HOMMÉS Studio furniture pieces that we believe would be a perfect match for this beautifully designed bloom apartment by Studio Ashby.
From the artful reinstatement of period-appropriate details to the carefully curated selection of furniture and decor, Sophie Ashby and Studio Ashby have transformed this London Bloom apartment into a stunning and sophisticated retreat. The careful attention to detail, use of high-quality materials, and unique design elements throughout the space create a harmonious and timeless aesthetic that is both elegant and functional.
We are thrilled to have shared this amazing and outstanding interior design project with you, where the space travels through time and style with ease. Our hope is that this project will inspire you to elevate your own stunning designs and create spaces that are both beautiful and functional. To further inspire your creativity, we invite you to explore our collection of Shop interiors. From different styles to unique solutions, our collection offers a wide range of options to help you complete your own projects with ease and elegance.