Located in Rome the stunning Penthouse Palazzo, which was once Audrey Hepburn's home was redesigned by the Milan star Cristina Celestino.
The captivating charm of Rome's Parioli District lies a magnificent penthouse, embodying the true essence of a "place of delight" where leisure and relaxation are celebrated with unrivaled splendor.
Originally designed by Cristina Celestino to be a haven of joy and pleasure, this 1930s palazzino's top-floor aerie has been transformed into a crowning example of rationalist architecture, showcasing an abundance of natural light and breathtaking views of the city's iconic Duomo. With its seamless fusion of history and modernity, this stunning penthouse is an exquisite masterpiece that inspires and captivates all who enter its doors.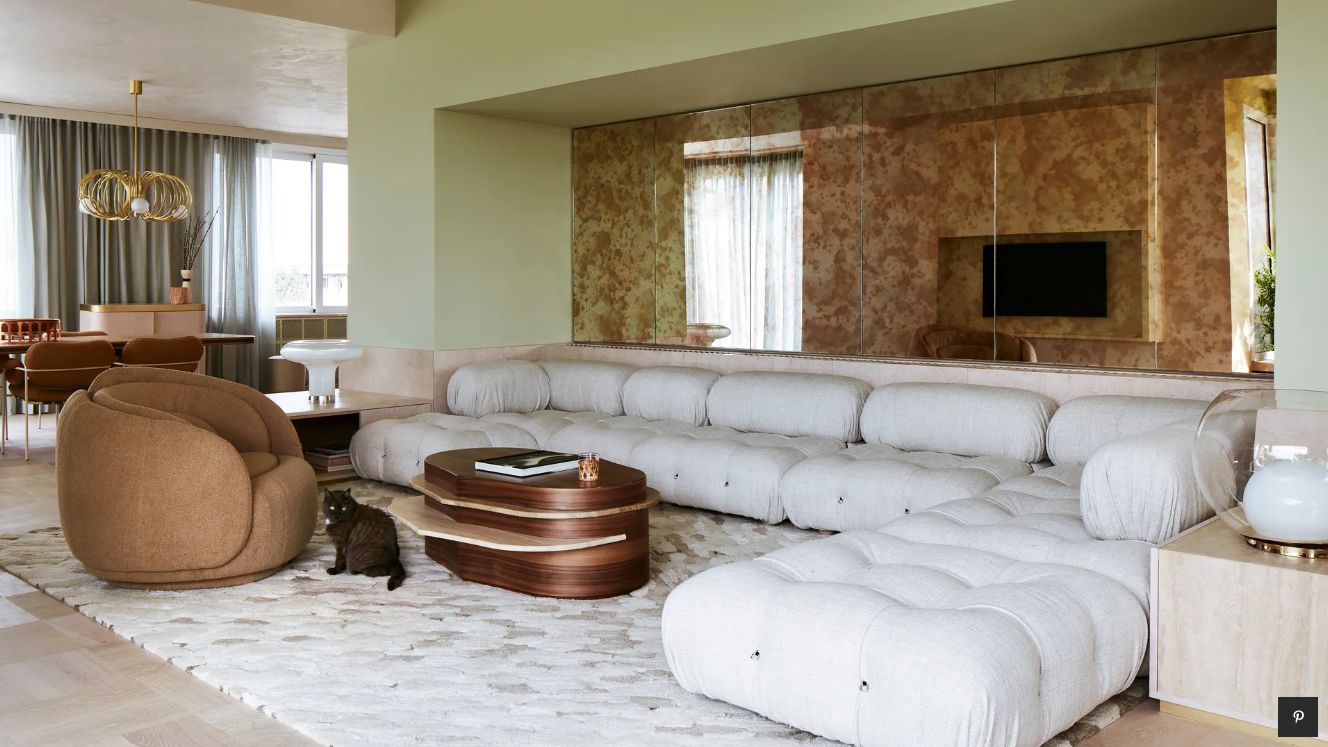 Leisure, creativity, and a peaceful Italian Palazzo are not only luxuries for the new owners of this gorgeous property; they are vital components of their everyday existence. As successful professionals in demanding industries, they recognized the need for a peaceful sanctuary to recharge and rejuvenate after long days of hard work.
With a desire to honor the historical significance of the building and the vibrancy of its urban surroundings, the couple turned to the renowned Milan-based designer, Cristina Celestino. Known for her ability to blend classic and contemporary elements into harmonious and sophisticated interiors, Cristina Celestino was the perfect choice to create a peaceful sanctuary that seamlessly blends with the palazzo's iconic architectural vernacular.
Cristina Celestino's impeccable taste and attention to detail are evident in every aspect of the design, from the exquisite materials and textures to the carefully curated furnishings and decor. The result is a breathtaking retreat that exudes elegance and tranquility while paying homage to the rich history of the building and its surroundings.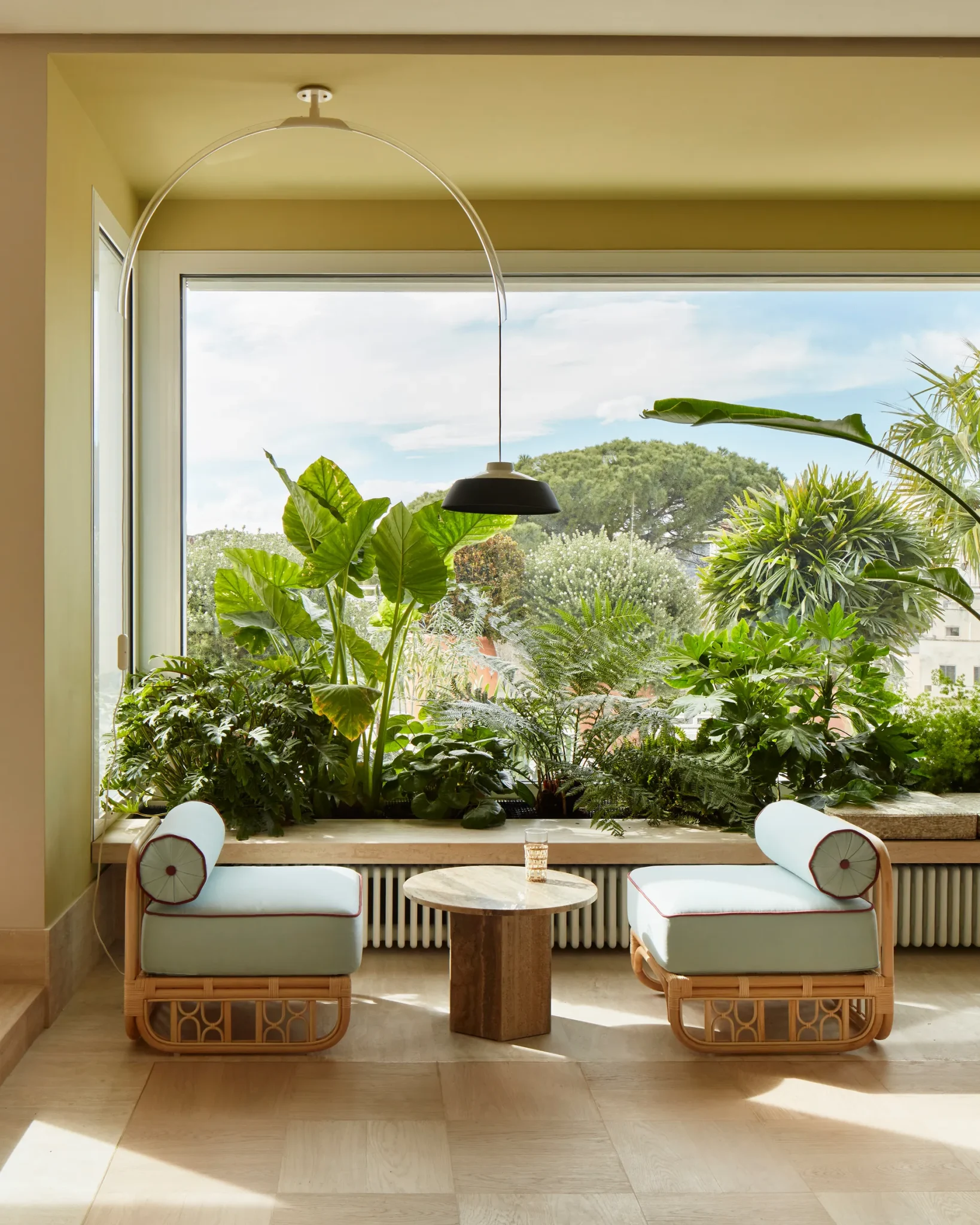 The rationalism movement gained momentum in Italy during Mussolini's rule in the 1920s and 1930s as a reaction to the showy and colorful Art Nouveau style that had swept Europe. The rationalists, or early modernists, preferred mathematical order and minimum decoration, which was a welcome change of pace.
The Italian palazzo in Rome's Parioli district is a prime example of this approach, showcasing the beauty of rationalist architecture with its striking lines and minimal embellishments. The penthouse designed by Cristina Celestino pays homage to this rich history while imbuing it with a modern, serene sensibility.
Cristina Celestino dived into the history of rationalism to build a timeless arrangement for the penthouse, with a sharp eye for detail and a strong respect for the past. She produced a magnificent "woven" pattern out of traditional Italian travertine or bleached-oak tiles that relate to the mathematical order of the era.
Cristina Celestino's love of architecture shines through in her work, as she merges past and present to create a home that is both modern and timeless. Her attention to detail and formality ensures that every detail of the place is precisely made and tastefully decorated.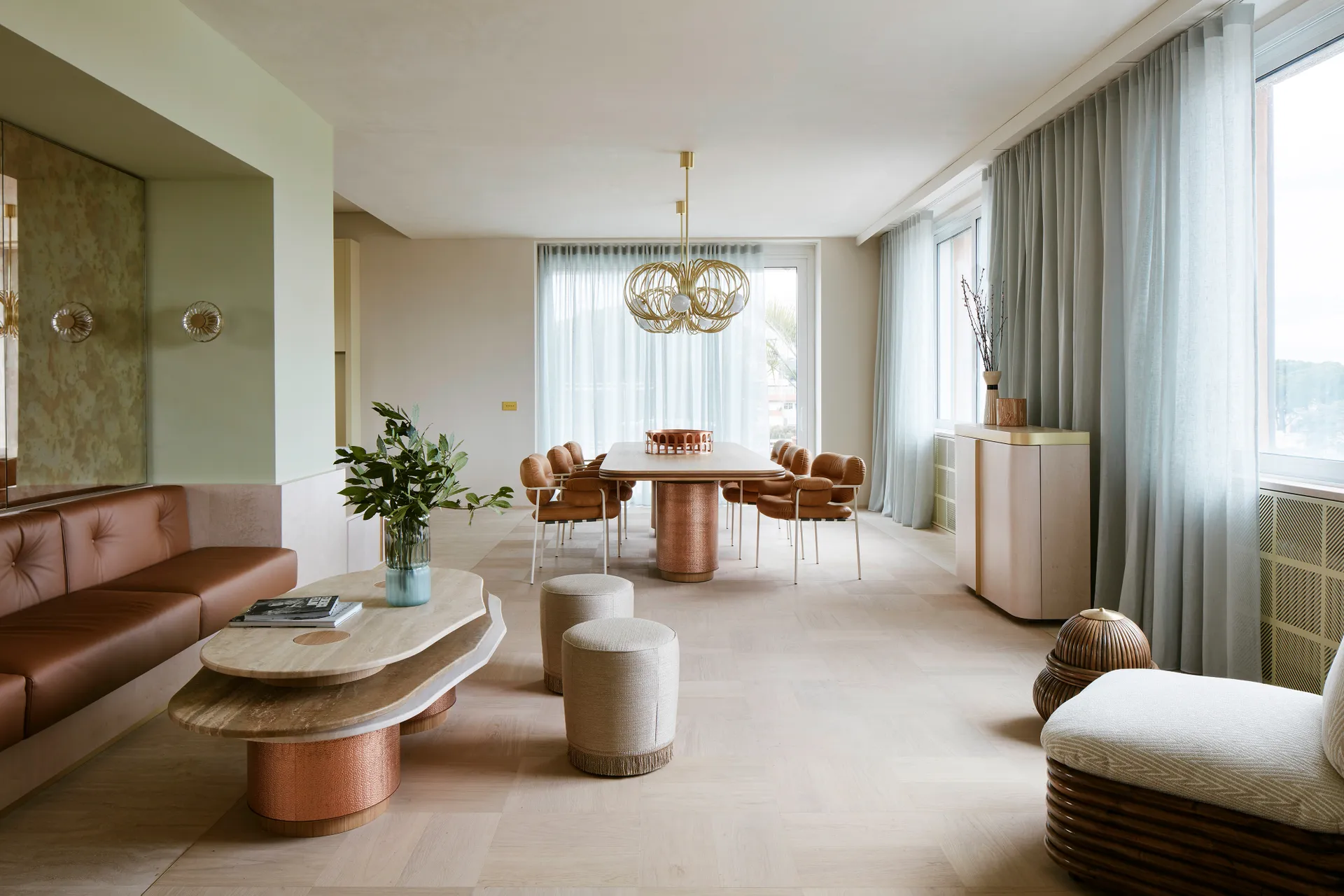 As seen above the living room is adorned with a white Camaleonda sectional while the lounge boasts a bronzed leather banquette. The guest suite, on the other hand, is graced by an upholstered bed in a sun-drenched sienna shade. Cristina Celestino artfully highlighted these architectural features by painting them in ethereal, muted tones that perfectly complement the magnificent natural light that floods the penthouse.
Cristina Celestino employed the same calming green tint throughout the apartment to create a coherent and quiet ambiance, which was inspired by the cityscape's Italian stone pine and Roman cypress. This uniform color palette aids in the identification of the home's structural core and creates a sense of harmony in the living and dining areas.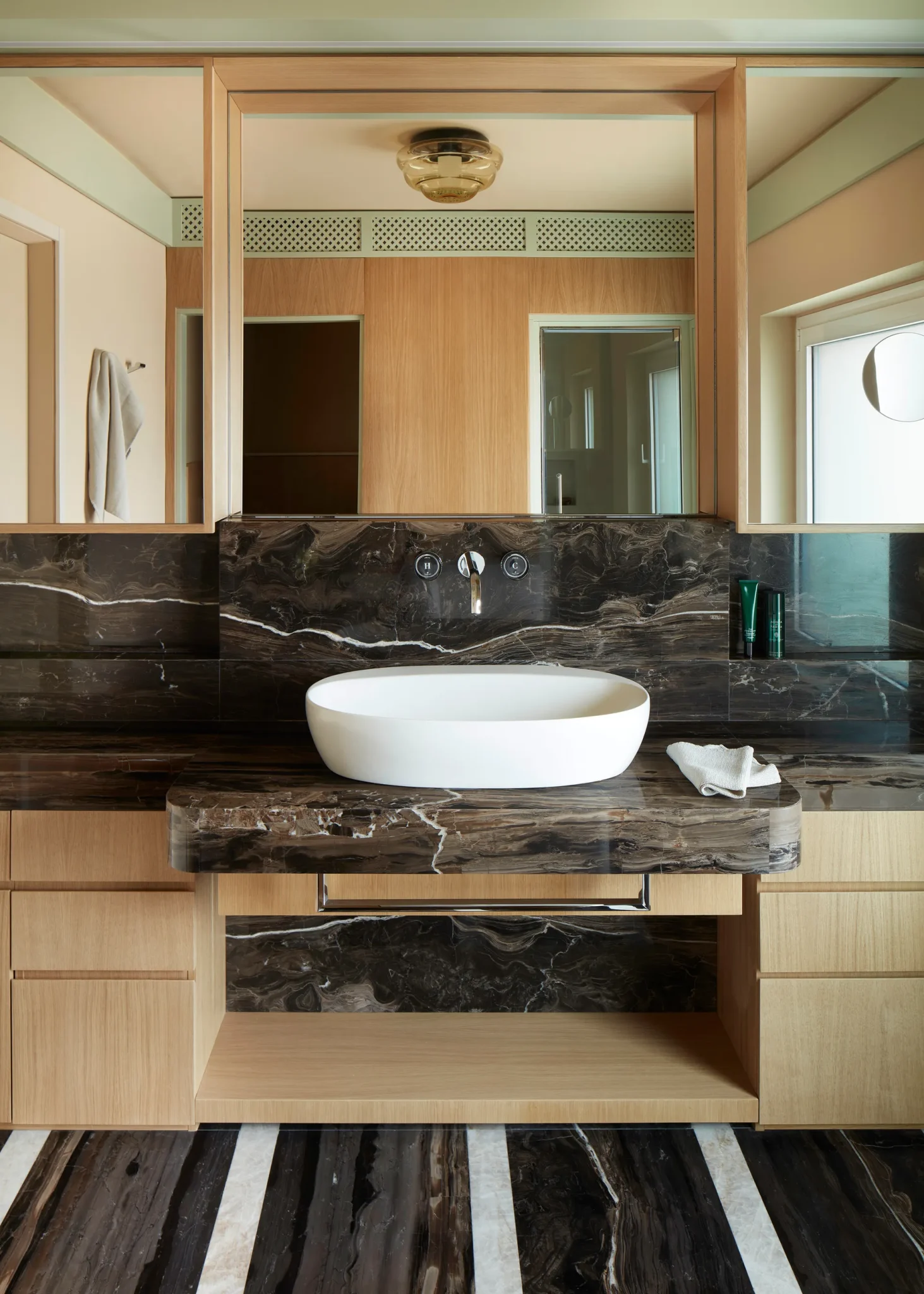 The dressing room and bath of the homeowner are awash with a feminine pink palette, from a salmon lacquer lattice border to the Taj Mahal quartz floor that recalls the swirls of strawberry-ripple gelato, while a mellow mustard shade marks different thresholds throughout the home, creating continuity and warmth.
The renowned Italian designer Cristina Celestino, who has collaborated with Fendi Casa and other prestigious design brands, crafted custom-made furniture for the penthouse that combined the generous curves and sleek lines of streamlined modern style with unexpected materials and asymmetries.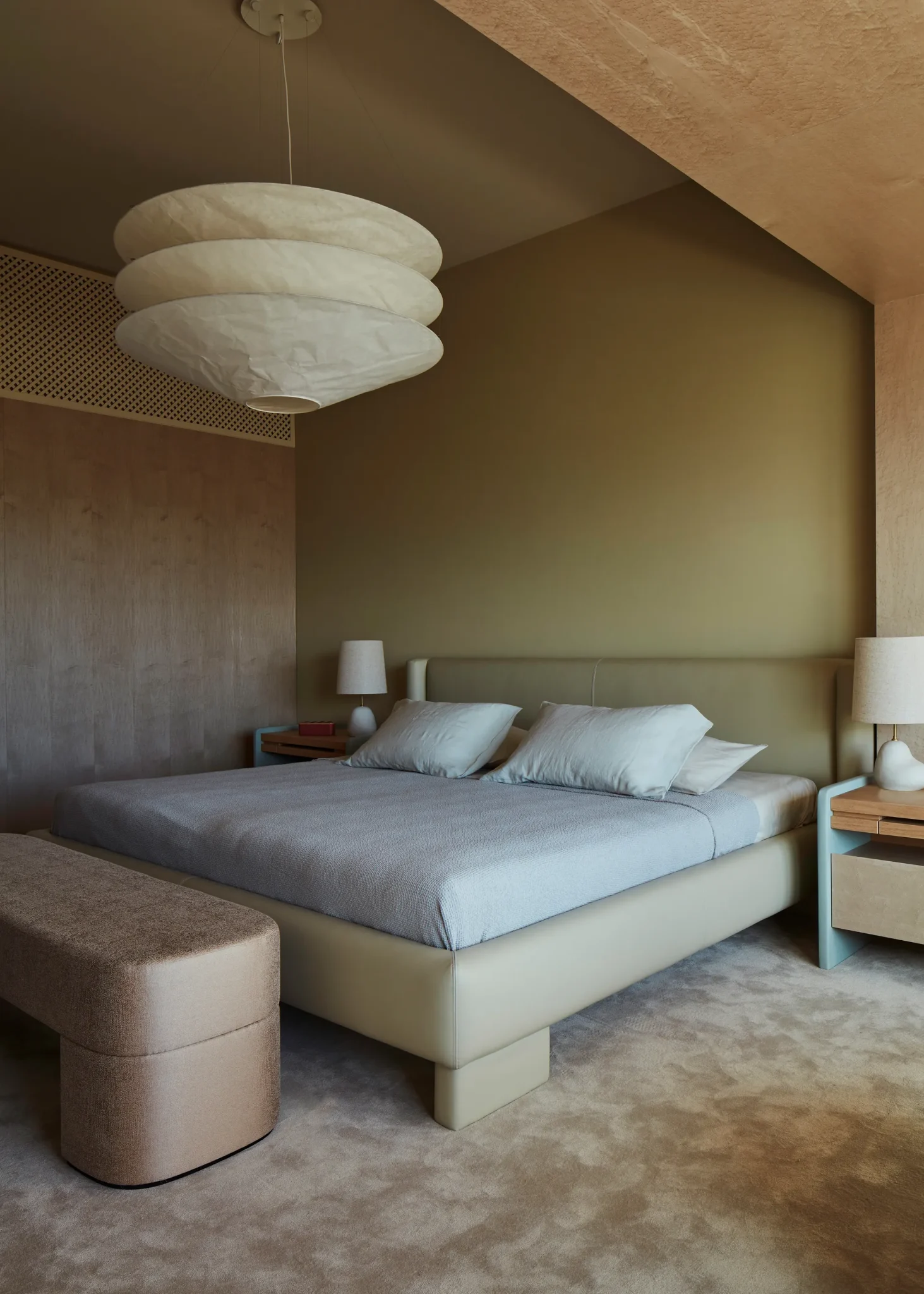 In the primary bedroom, Cristina Celestino chose to ambiance the room with warmth and comfort. The floors are carpeted, creating a soft landing for the feet, while a wall paneling of briarwood veneer provides a cozy, natural touch. This wood comes from the burl of the white heath tree that's native to the Mediterranean. The custom furnishings, including the leather-upholstered bed and fabric-covered bench, exude a sense of weightiness, adding to the feeling of groundedness and calm.
A striking Flotation chandelier by Ingo Maurer, with its delicate and airy design reminiscent of a Japanese paper lantern, hangs above, creating an ethereal contrast. And while pink still feature in this space, it's used more sparingly, as a subtle accent on the bedding and in the custom velvet-covered chairs. The overall effect is one of a luxurious cocoon, perfect for unwinding after a long day.
A beautiful pair of distinctive chandeliers designed by Cristina Celestino for Esperia brighten the dining room. The handmade dining table's optimum proportions and precise geometry are enhanced by hammered-copper bases of varied shapes and sizes that deviate from typical symmetry. As a result, the rationalist layout and Cristina Celestino's fun design vision work in perfect harmony.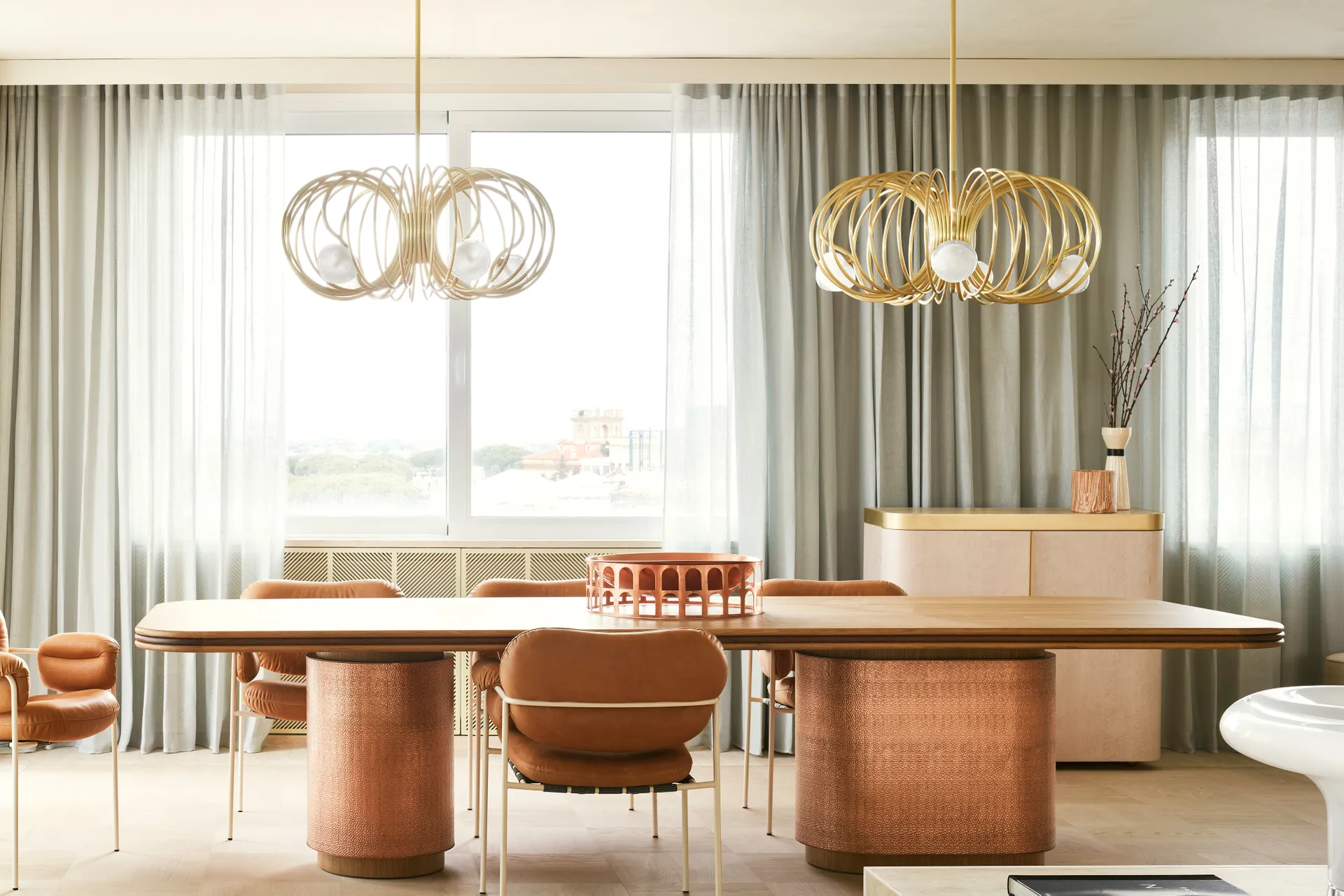 As the muse behind this stunning creation, Cristina Celestino invites you to delve deep into the world of design and explore its infinite possibilities. Her work is an inspiration to all those who aspire to create something truly unique and extraordinary.
We believe that this masterpiece design will not only leave you awe-inspired but also equip you with a profound understanding of the intricate details that go into the making of such magnificent creations. Let this work of art by Cristina Celestino be a guiding light on your journey toward unleashing your own creative potential. So, go ahead and indulge in the magic of design, and let your imagination soar to new heights! If you need further inspiration, please feel free to visit our Inspirational Journal.