Discover how the New York Designer Neal Thomas created a dark interior in a light-filled apartment in a Renzo Piano tower using contemporary art and ceramics.
A light-filled apartment in a Renzo Piano tower may seem like an unlikely place for a dark and moody interior design. However, that is precisely what Neal Thomas, a New York designer, achieved in his home in the architect's 565 Broome SoHo building.
This article describes the design choices and elements that Thomas used to contrast his apartment's natural light and dark atmosphere, focusing on how soft curves, soothing colors, and contemporary art and ceramics create a cocoon-like space in the Renzo Piano Tower.
The Renzo Piano Tower: A Light-Filled Masterpiece
The Renzo Piano Tower consists of four stacked volumes that decrease in size towards the top, creating a stepped profile that reduces the visual impact on the skyline.
Renzo Piano, a renowned Italian architect known for his innovative and sustainable buildings, designed the tower. The piano has a distinctive approach to architecture, which he calls the "Renzo Piano Method."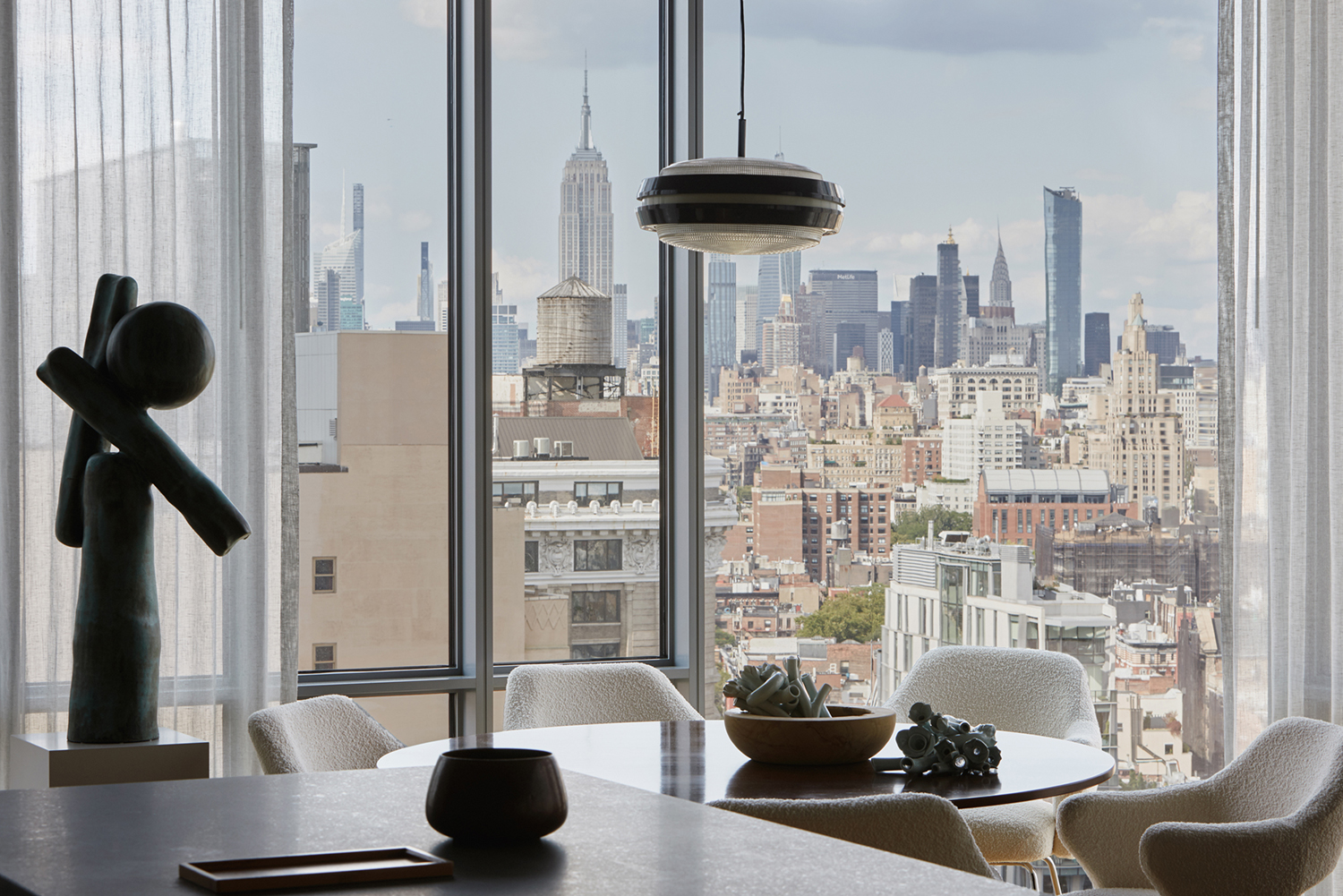 One of the main features of the Renzo Piano Tower is the use of light as a design element. The piano is inspired by the concept of a "glass cathedral," a building that is bathed in light and creates a sense of openness and transparency. He uses different techniques to regulate and diffuse light, such as mechanical louvers, fritted glass, and silky scrims. He also creates roof terraces and gardens that offer panoramic views of the city and the river.
The Renzo Piano Tower is light-filled, reflecting its architect's vision and values. It is a building that combines functionality and beauty and celebrates the power and the poetry of light.
How Neal Thomas Created a Contrast Between Light and Dark in His Apartment
To create a cozy and intimate atmosphere, Neal Thomas wanted to contrast his home's light and the dark. He chose a dark and moody color palette for his apartment, using shades of black, gray, navy, and brown. He also used rich materials, such as velvet, leather, wood, and metal, to add texture and warmth to the space.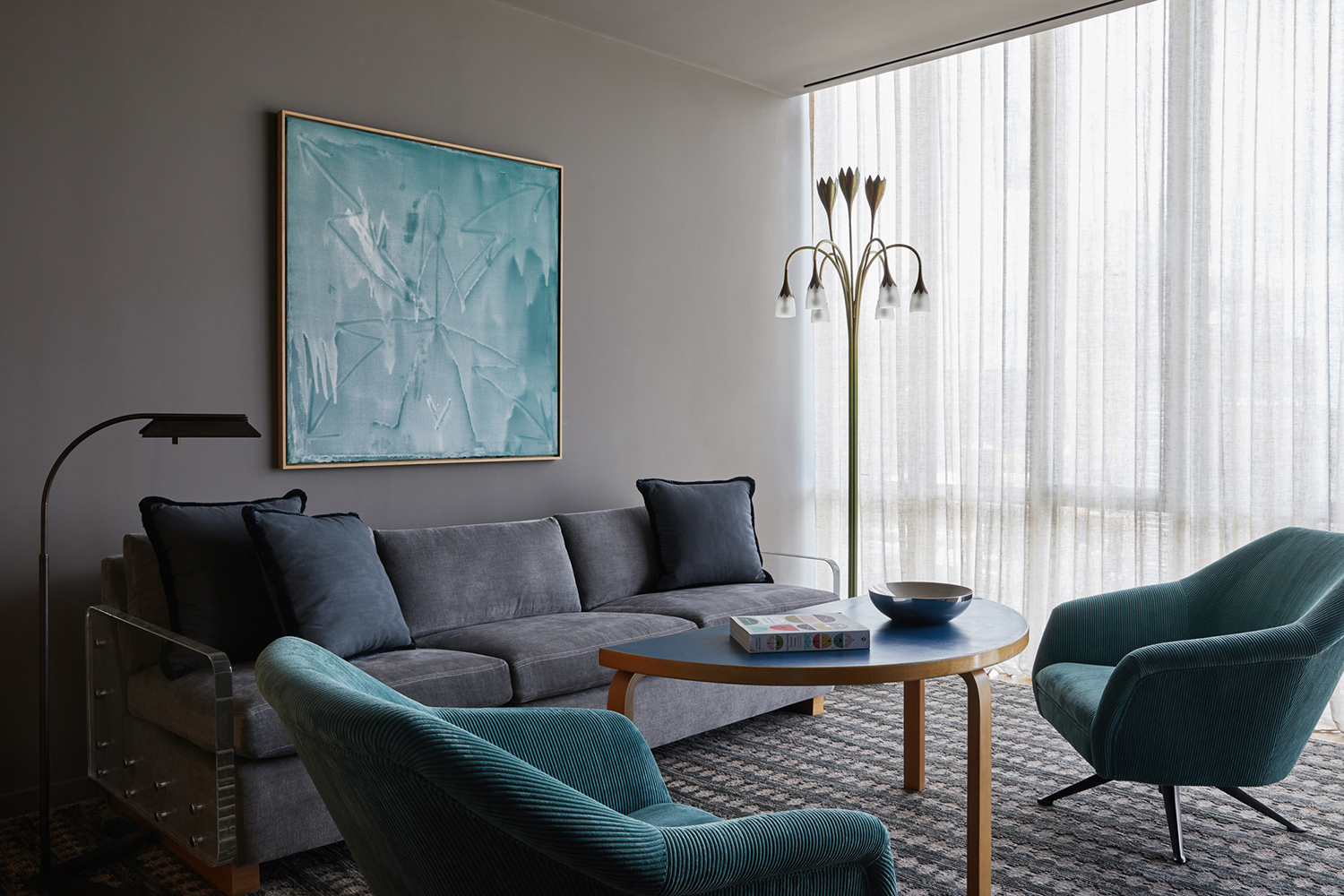 He contrasted the dark walls and the grey sofa with lighter rugs, cushions, and curtains to create balance and harmony. He also added pops of the blue color palette in the two armchairs, the same color in the artwork, to bring some life and vibrancy to the space.
The Transformation of a Light-Filled Apartment into a Dark and Moody Retreat
A striking transformation in the metamorphosis of a once sun-soaked apartment unfolds, turning it into a haven of darkness and moody allure. The monochromatic color palette, conceived out of a necessity to provide an escape from the bustling city outside, is a nuanced play of deep bluish-grays.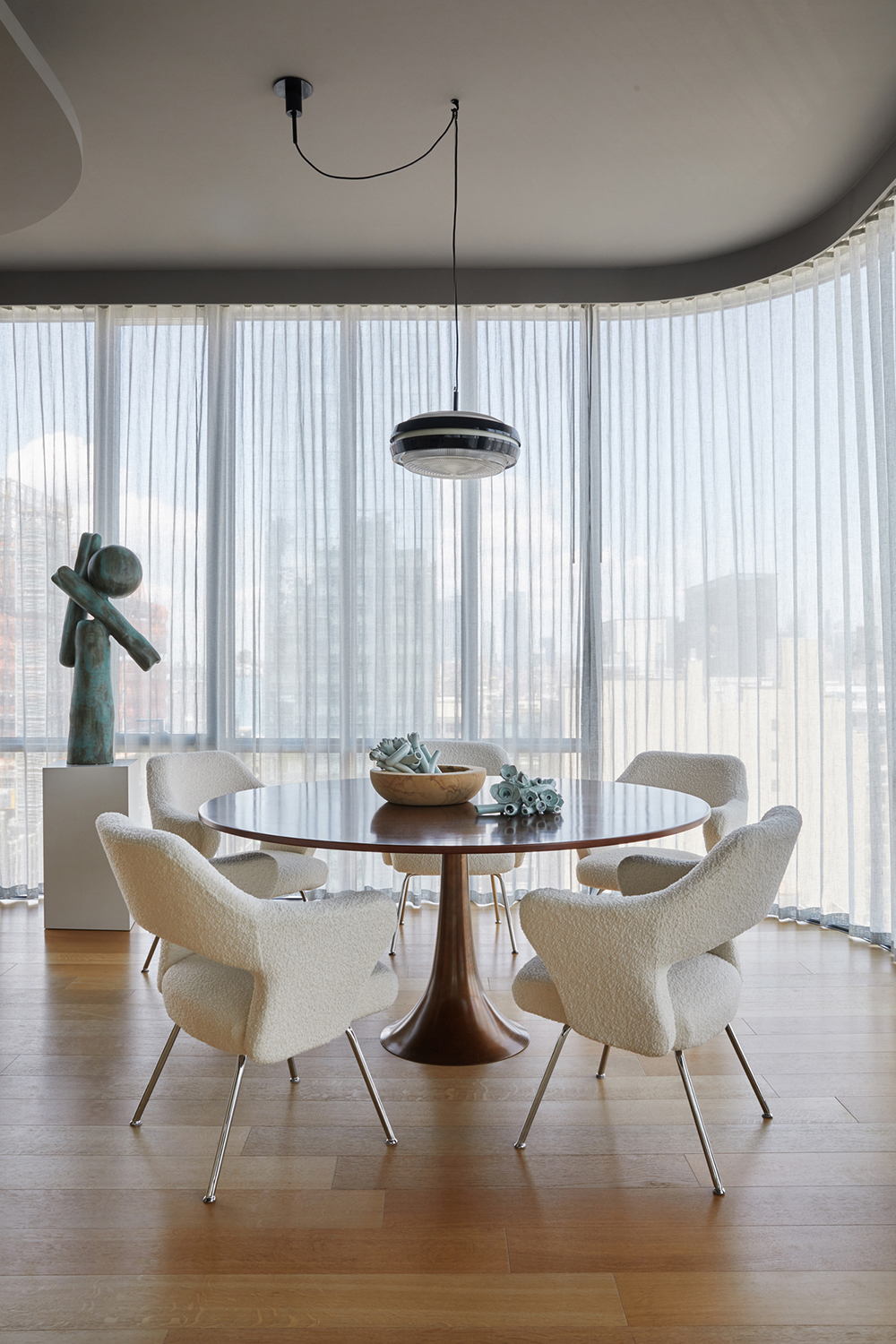 The Designer played with the lighting in his apartment, using different sources and intensities to create different moods and effects. He used dimmers, lamps, and candles to create a soft and cozy evening glow.
He also used spotlights, pendants, and chandeliers to highlight his home's architectural features and artworks. He also used the natural light of Renzo Piano Tower, especially in the living room, as a design element, letting it in through the large windows and the skylights and reflecting it with mirrors and metallic surfaces.
Thomas created a contrast between light and dark in his apartment to make an elegant and comfortable space that reflects his personality and taste, showcasing his collection of contemporary art and ceramics and his love for design and culture.
The Elements of a Dark and Moody Interior Design
Art becomes a guiding force in the primary bedroom, where a Danish painter's abstract canvas, rich in moody hues, sets the tone for an intimate escape. The intentional departure from the glassy, light-filled aesthetic of the rest of the residence manifests through a deep bluish-gray palette complemented by layers of texture—a silky rug, lamps, and a suede bedcover.
The Designer focused on these elements to create a dark and gloomy space:
Color Palette:

Deep Bluish-Grays: The predominant color scheme revolves around deep bluish-gray tones, evoking a sense of mystery and introspection. These hues are the foundation for the entire design, enveloping the space in a dark, sophisticated ambiance.

Texture and Materials:

Silky Stark Rug: A luxurious rug with a silky texture adds softness underfoot, creating a tactile and inviting surface.

Lighting:

White Lamps: Strategically placed white lamps cast a soft and subdued glow, contributing to the overall atmospheric transformation. The warm hue of bronze adds to the richness of the color palette while providing focused lighting for specific areas.

Furniture and Furnishings:

Minimalistic Design: The bedroom furniture design is minimalistic, allowing the color palette and textures to take center stage. Clean lines and simple forms contribute to the sophisticated yet understated aesthetic.

Contrast and Layering:

Contrasting Elements: The deliberate play of light and shadow, achieved through the interplay of dark colors and strategic lighting, creates a sense of contrast and depth.
These elements envelop the space, creating an intimate retreat that shields its occupants from the external noise and luminosity of the Renzo Piano Tower.
The Role of Contemporary Art and Ceramics in Neal Thomas' Design
Thomas has a diverse and eclectic collection of art and ceramics, which he sources from galleries, auctions, fairs, and online platforms. He has pieces that are abstract and minimalist, symbolic, colorful, and playful, as well as severe and profound pieces.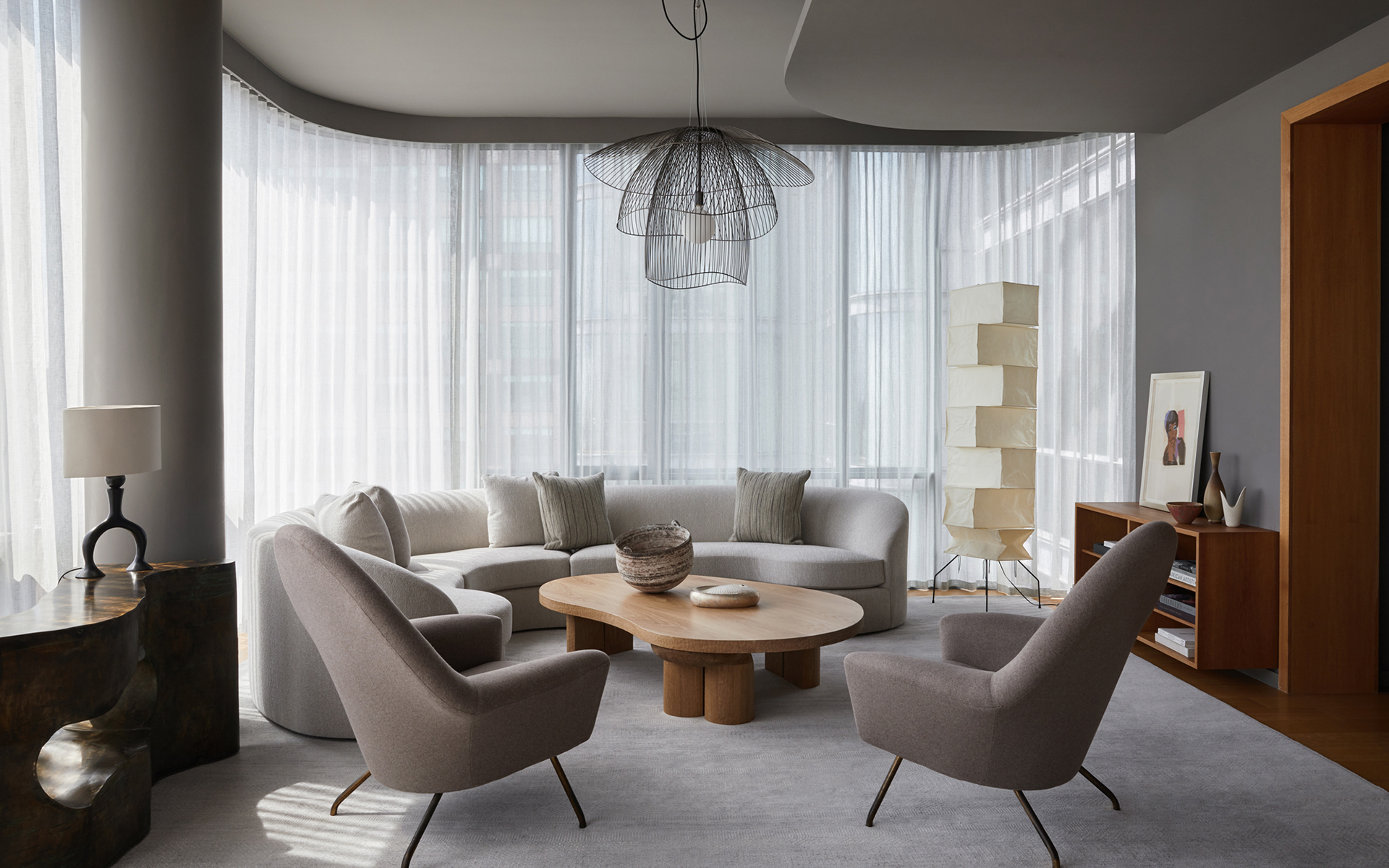 Thomas displays his art and ceramics differently, depending on the space and the effect he wants to create. He arranges his ceramics on the cabinets, consoles, or trays, creating a decorative and functional effect. He also mixes and matches his art and ceramics, creating contrast and harmony between them, believing that art and ceramics play an essential role in his design, adding color, personality, and interest to his space.
The Renzo Piano Tower is a remarkable architectural project that aims to create a new landmark in Paris. It is a building that uses light as a design element, creating a sense of openness and transparency.
This article explored the dark and moody interior design elements and how Neal Thomas used them effectively in his apartment to contrast with the joyful light. We hope you enjoyed the tour of this charming house and were inspired to create the perfect combination of dark and light colors simultaneously. We invite you to discover the HOMMÉS Studio Furniture and Lighting catalog to complete your space with an artistic look.