Exceptional design, elegance, warm colors, geometric patterns, minimalism, classics, and above all functionality are the characteristics of the mid-century style from the 1950s. Interiors decorated in this style look as if they were taken out of James Bond movies. They are elegant, spacious, and modern. Characteristic furniture – comfortable armchairs, sofas, and furniture walls still conquer the hearts of interior decorators today. Are you looking for a timeless interior design with the character? Check out our selection of 5 amazing top designs preserved in mid-century style:
Kelly Wearstler no longer needs to be introduced to anyone. We can now call her a design icon, who has won many awards and honors. Her projects are being admired all over the world. The interior design for Kelly Wearstler is largely based on intuition. Contrasting austerity with a sophisticated color mix and spontaneity, she has changed the face of contemporary American design. She creates experiences and believes that every new design is an invitation to an unexpected and fascinating journey.
Because design is about telling stories, Wearstler always tries to tell interesting ones. She likes to use a mix of materials and styles and is not afraid of adventures. Her philosophy is based on a love of color, risk, and curiosity. Besides juxtaposing different styles and epochs, she believes that nature is the best designer. Kelly always refers to her surroundings, whether through the marble pattern reflecting the movement of the leaves outside the window or through the color palette emphasizing the view of the ocean.
The Harper Avenue Residence is a mixture of California and Spanish vibes. Located in West Hollywood, this bungalow is a wonderful interpretation of mid-century style combined with vintage art. Retro and vintage style is especially important for Kelly, as she loves to visit and take inspiration from flea markets. This project is a great example of how functionality, thanks to the right choice of colors and textures, does not have to be monotonous and repeatable.
Potter by profession, the American designer Jonathan Adler is known for his passion for decoration and maximism. Rich patterns, intense colors, splendor – this is a style of interior design that is close to Jonathan's heart. In 1993 Adler created his first ceramic collection. Five years later he opened his first shop in Manhattan.
His interior design projects reflect his professional philosophy, which is that interior design projects should be above all useful. You cannot deny him an unusual style, creativity and love for bold decorations. In his works we can see an interesting selection of strong colours and very carefully picked decorative elements such as vases, pillows and carpets to complete the whole composition.
555 Ten residence is one of his best mid-century projects. Each of the furniture selected for the apartment looks like a work of art, as exemplified by the console at the entrance with its white, lacquered top and brass legs. The apartment is kept in a delicate palette of white and brown with strong colour accents of furniture and decoration. This residence was designed definitely to please the eye and pamper its residents.
Located in the center of Paris, Studio 10 Sur Dix is a family business established in 2013 by Marion, Mathieu, and Guillaume. Their work is characterized by attention to detail and an individual approach to each client so that the project fully reflects their tastes and visions. With true virtuosity, they combine Modern and Contemporary styles with Mid-Century, creating amazing interiors full of class and style so perfectly suited to Parisian interiors.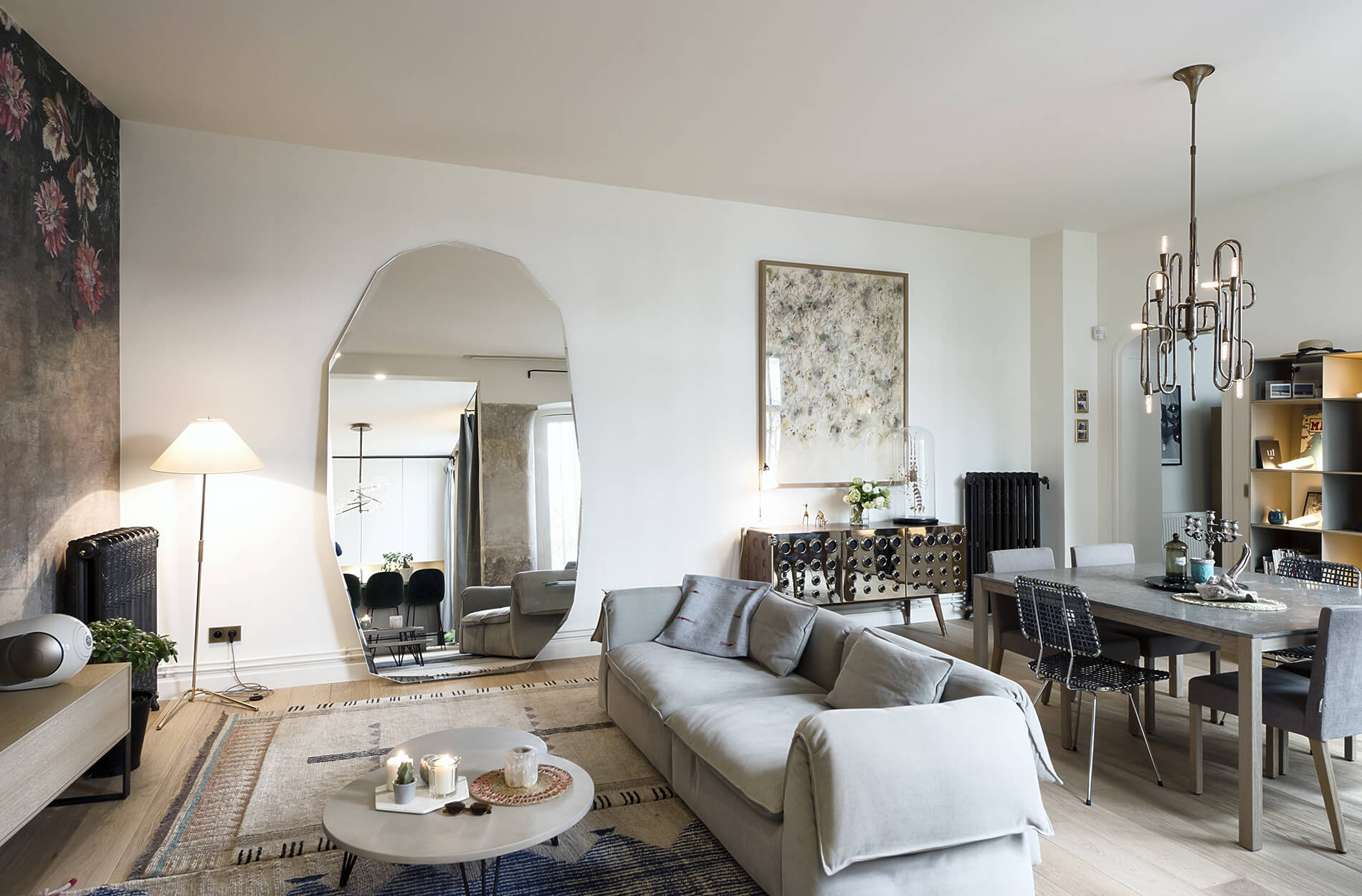 Apartment 9 in Paris was remodeled by the Studio for a family, so it was important to maintain a relaxed and pleasant atmosphere. The kitchen was custom made. It is open to the entrance and living room, making the rooms more dynamic and filled with light. The apartment combines industrial accents with mid-century modern design. It is maintained in a light, cozy atmosphere, but it does not lack interesting, eye-catching accents, such as a large, loosely leaning wall mirror in the living room or a sideboard with dark walnut and gold plated brass finishes.
"They say of me that I am a great smile" that's how Adriana describes herself on her webpage. Nicolau is one of the best designers in Spain, gaining more and more recognition worldwide. Her works are famous for its mid-century vibe and unique designs. She's an optimistic person who loves to laugh and loves the sun, which we can notice while looking at her colorful designs. Adriana seeks inspiration from her worldwide travels and she's aware of less waste and ecological materials that are environmentally friendly and can transport us back to nature.
"I can't define myself exactly but I think that I'm a very optimistic and empathetic person, I always see the positive side of things and I suppose this is reflected in my style, adapting to spaces and the history of each place or client".
In the Piso Barrio project located in Salamanca district in Madrid, all the features of her style are well adapted. Adriana focused on functionality that can be seen in the arrangement of space and furniture. There is an exploration of different traditional as well as non-traditional materials and a mixture of different and contrasting materials. She used a lot of colors and golden elements, making the space look fresh and joyful.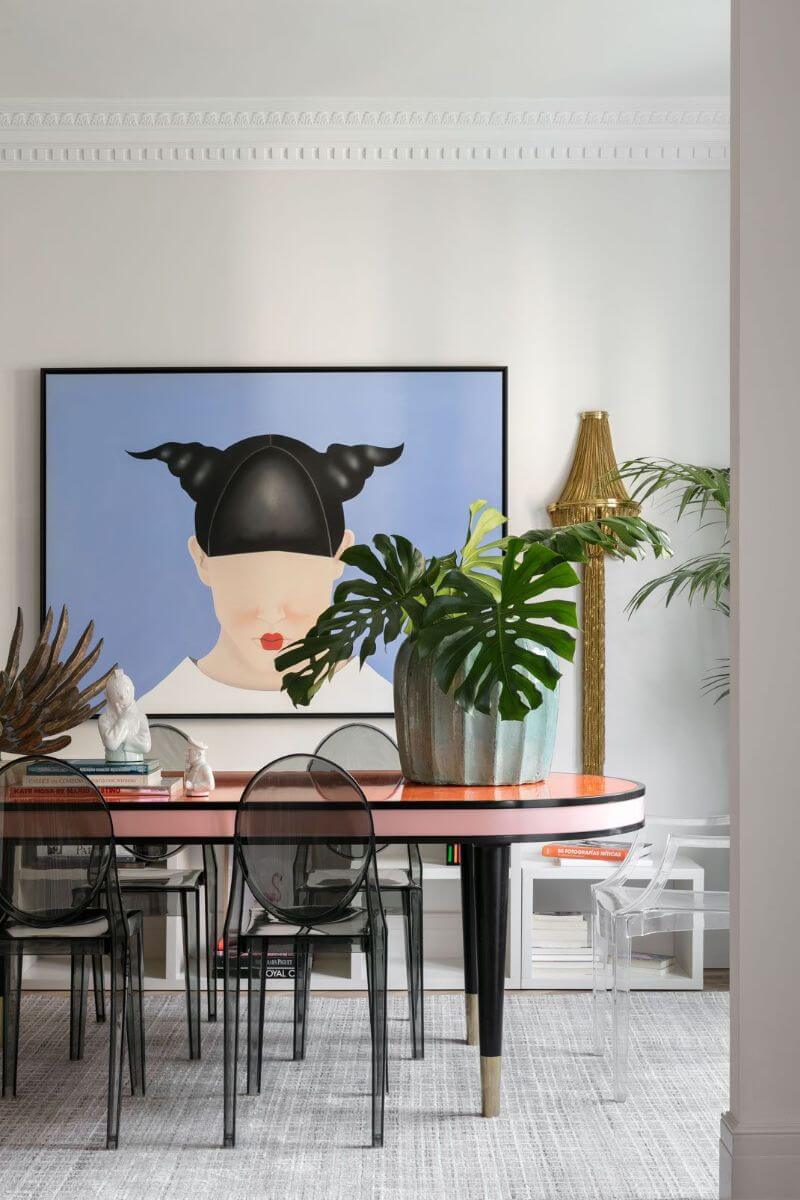 5. New York Project by Ananiev Interiors
Ananiev Interiors is a company founded in 2002 by Nadya and Givi Annaniev in Russia. They specialize in architectural design, construction, and project management, and their projects are mostly kept in mid-century and minimalistic style. Apart from running a studio, in 2018 they also opened their vintage gallery. Their goal is to create custom-made interiors for each client; "We try to create unique interiors and meet the most sophisticated needs of our clients. With the same purpose, we design pieces of furniture and decorative elements individually for any specific project".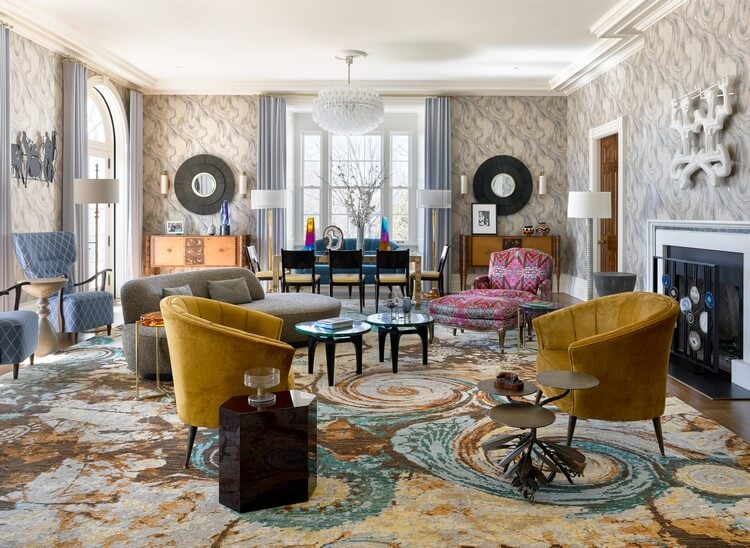 One of their first and most remarkable projects in the design of a luxury penthouse in New York. The house is divided into a common area (first floor) and private rooms (second floor) to make the living there for a family of six as comfortable as possible. Inside we can notice a play with colors and styles; the music lounge features both vintage and modern furniture. In the house, there is also an art room, which is a feast for the eyes. It's a mixture of the extraordinary color spectrum and amazing textures.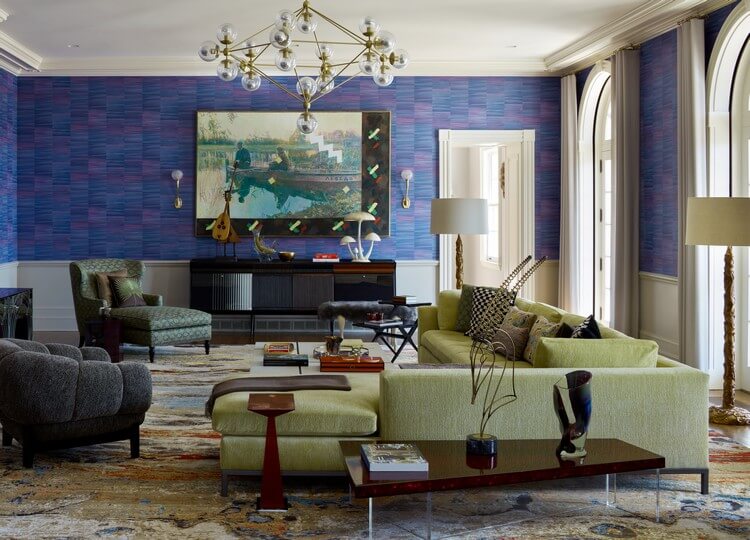 Discover handmade, customizable, and timeless mid-century modern furniture to complement your mid-century modern interior design project.