From lighting and mirrors to room dividers and rugs, Hommés Studio presents a perfect selection of design pieces combining high-end materials to elevate your interiors and offer your home the desirable unique style. Bring home an enthusiastic and contemporary feeling.
Hommés believes that a home must express the owner's soul, as clothes convey the personality of the person who dresses them. With the vibrant purpose of introducing a nouveau Haute Couture Interiors concept, Hommés presents spaces with bold and unique identities. The studio has focused on the in-depth study of different interior trends throughout the 20th and the 21st century, considering how they can fit contemporary spaces.
LIGHTING
Lighting plays a significant role in human life today. Since ancient times, it has fascinated us, regarded as a synonym of security and a chance for survival. Adequately selected lighting for the interior can give the room a completely new look.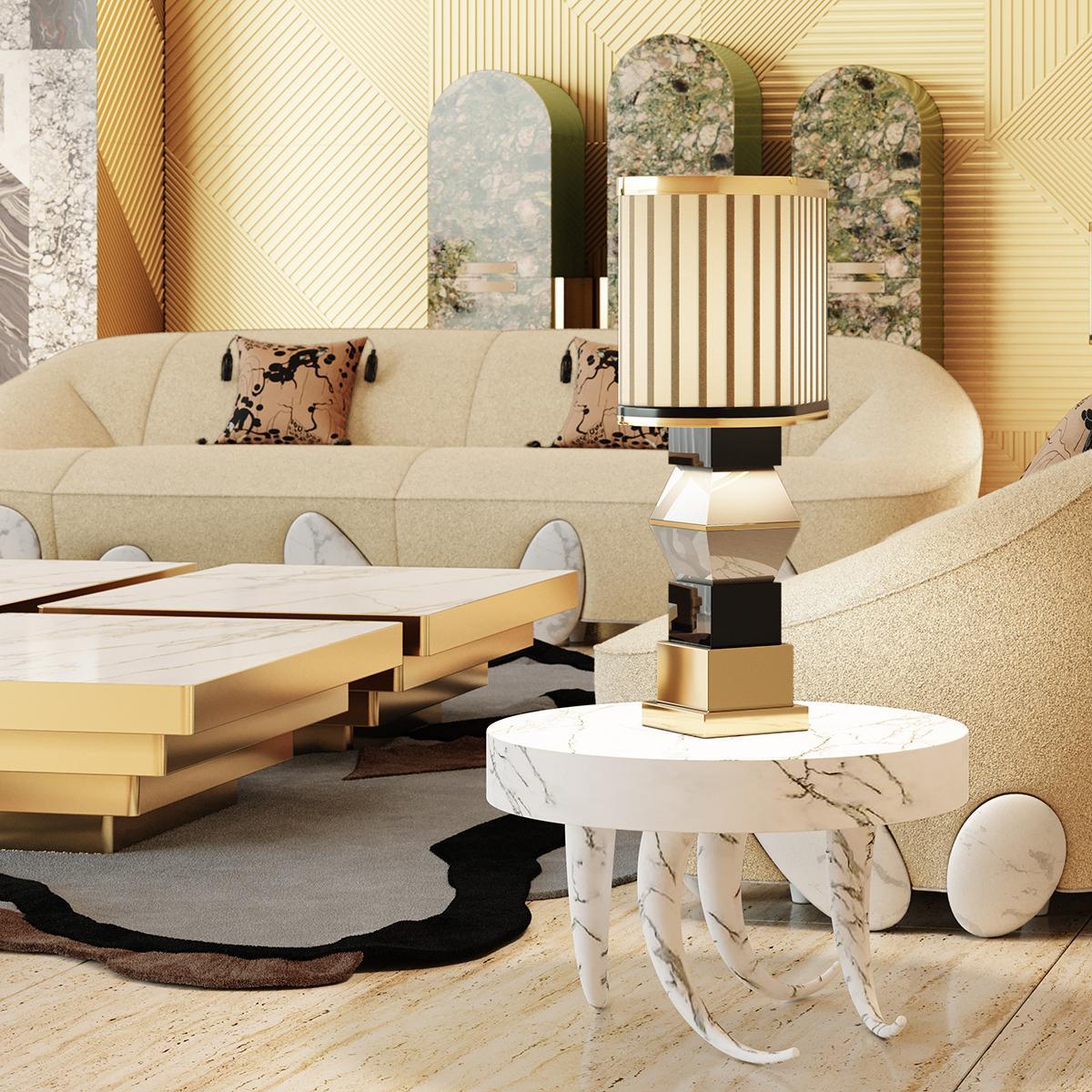 Cocoon
The shapes of Art Deco jewels inspired cocoon Suspension Lamp. It was designed to bring elegance and character to any living area. A luxury chandelier for a high-end interior design project.
No products were found matching your selection.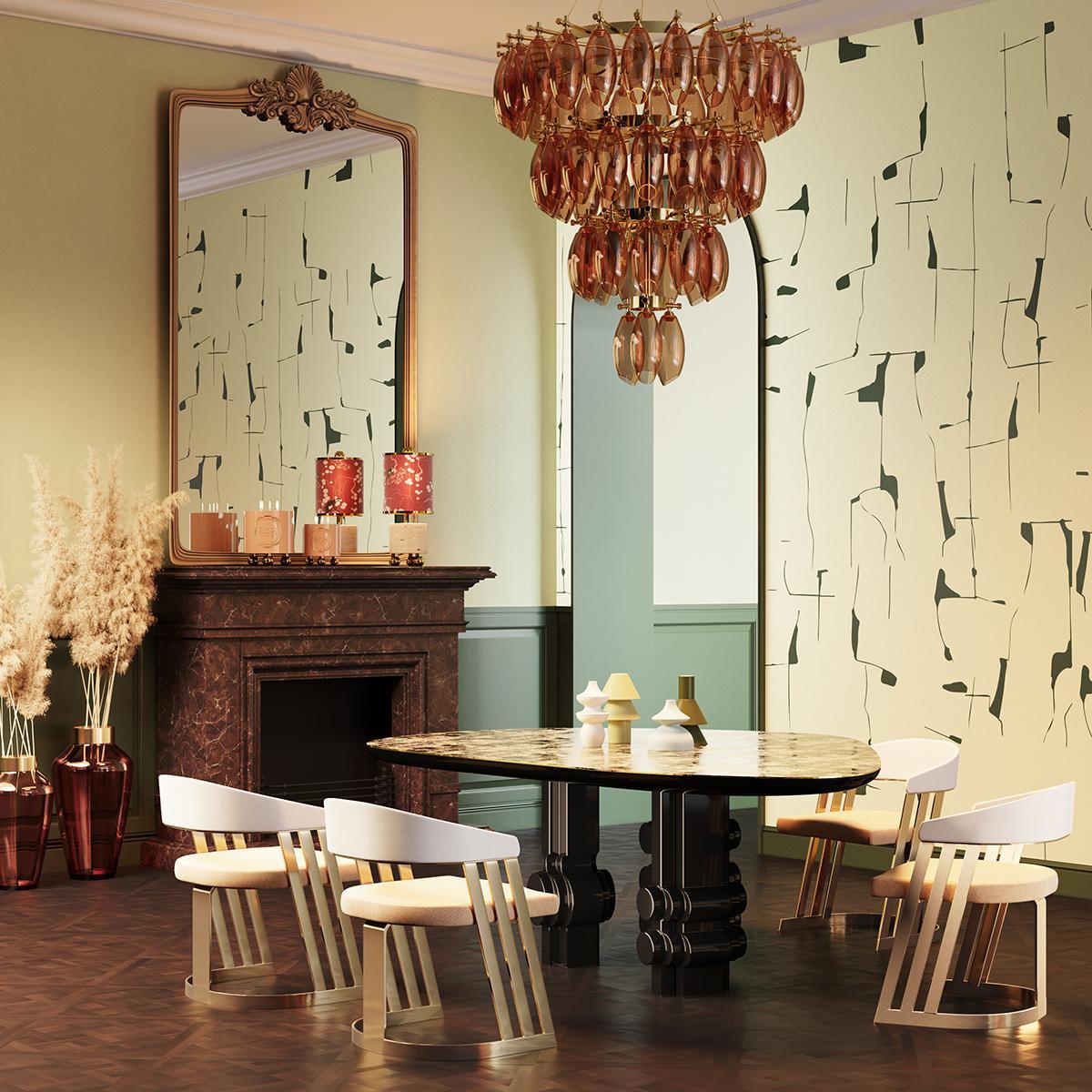 MATERIALS
– Structure in Gold Polished Stainless Steel
– Amber Colored Glass
– Globes in white glass
MIRROR
A mirror is a unique element of interior design. Hommés Studio always intends to offer the boldest and daring option, and this collection is no exception.
It allows us to cover up many of projects' imperfections and expose their advantages. A room may seem deeper and bigger and a narrow room – wider, thanks to a correctly positioned mirror.
Ibiza
Ibiza is an eye-catching wall mirror perfect for a modern design decor. The hanging mirror is inspired by the raw and timeless textures of the tribes' decorations, jewels, and artistic elements.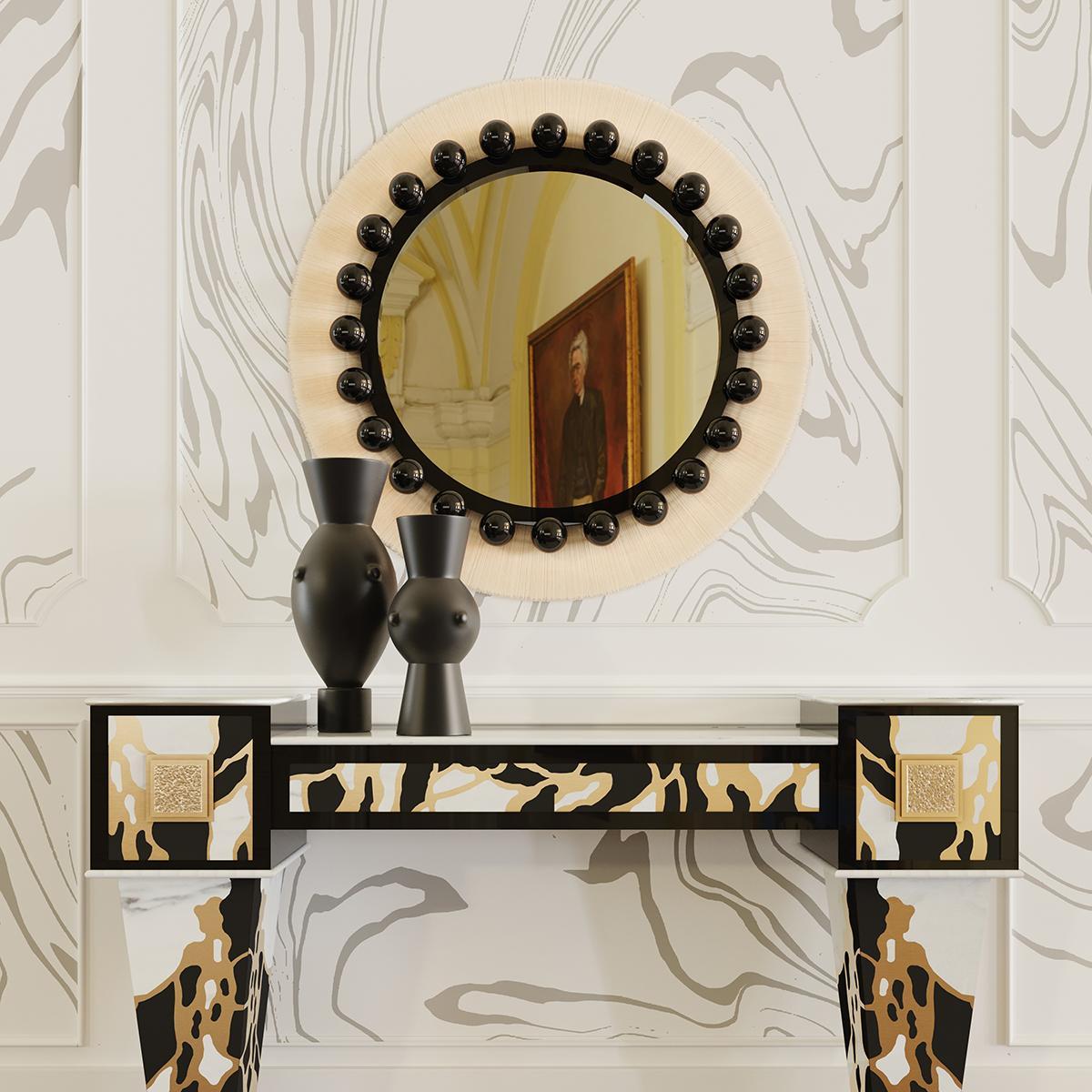 MATERIALS
– Clear mirror
– Lacquered Wood in Gloss
– Details in Natural Fiber
Zadine
Zadine Floor Mirror is a stylish-shaped mirror to add a contemporary and luxurious feeling to your home. This statement full-length floor mirror is ideal for those who want to boost any space's design with a gorgeous style. The Green tone is known as life's color. It brings energy, safety, fertility, and harmony.
Zadine Mirror

Mirror 6.600,00

€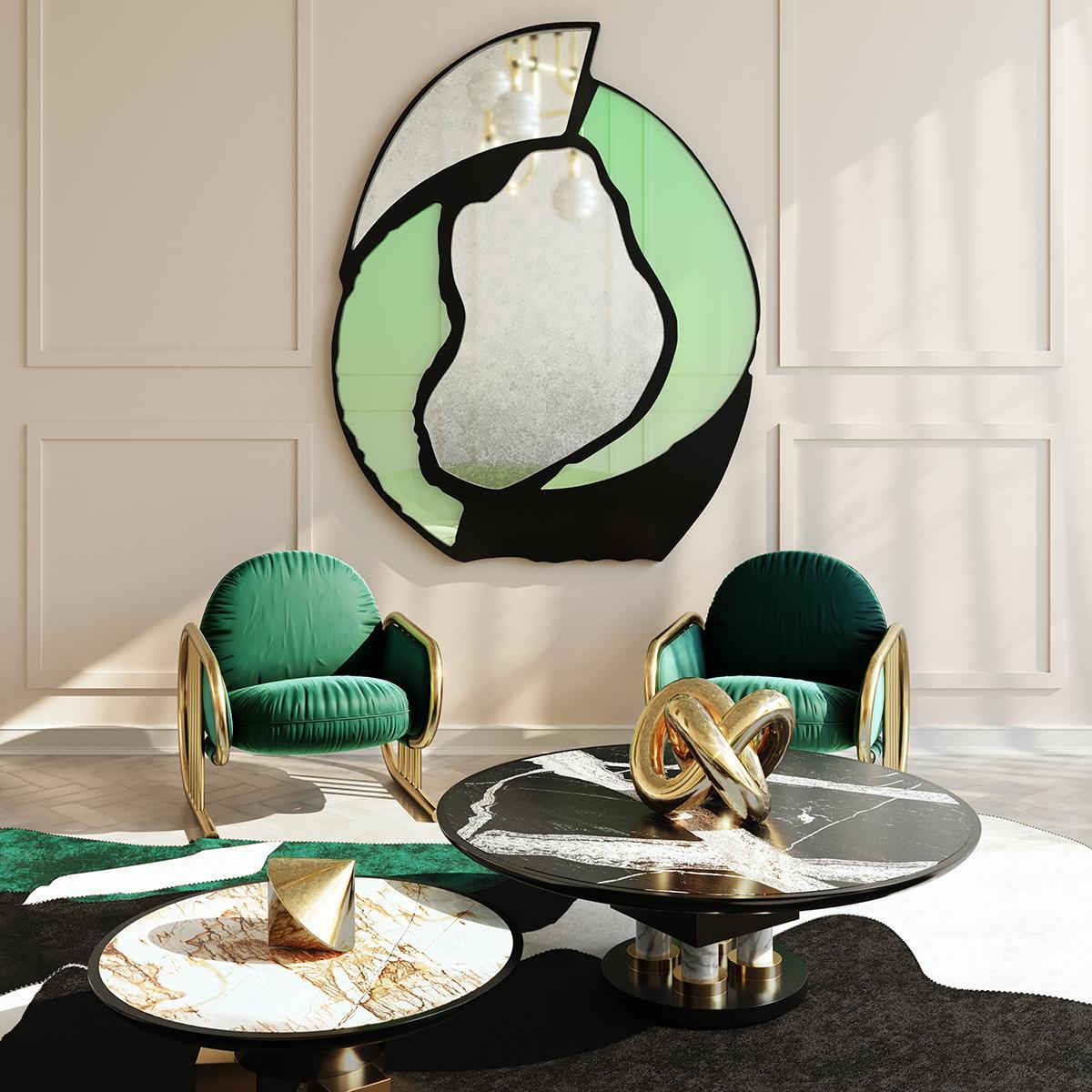 MATERIALS
– Lacquered Wood
– Mirror Glass
– Colored Mirror Glass
Moritz
Moritz is a luxury wall mirror inspired by the raw and timeless textures of the tribes' ornaments, jewels, and creative aspects. Moritz's mirror reflects identity and character to any contemporary wall decor.
Moritz Mirror

Mirror 2.950,00

€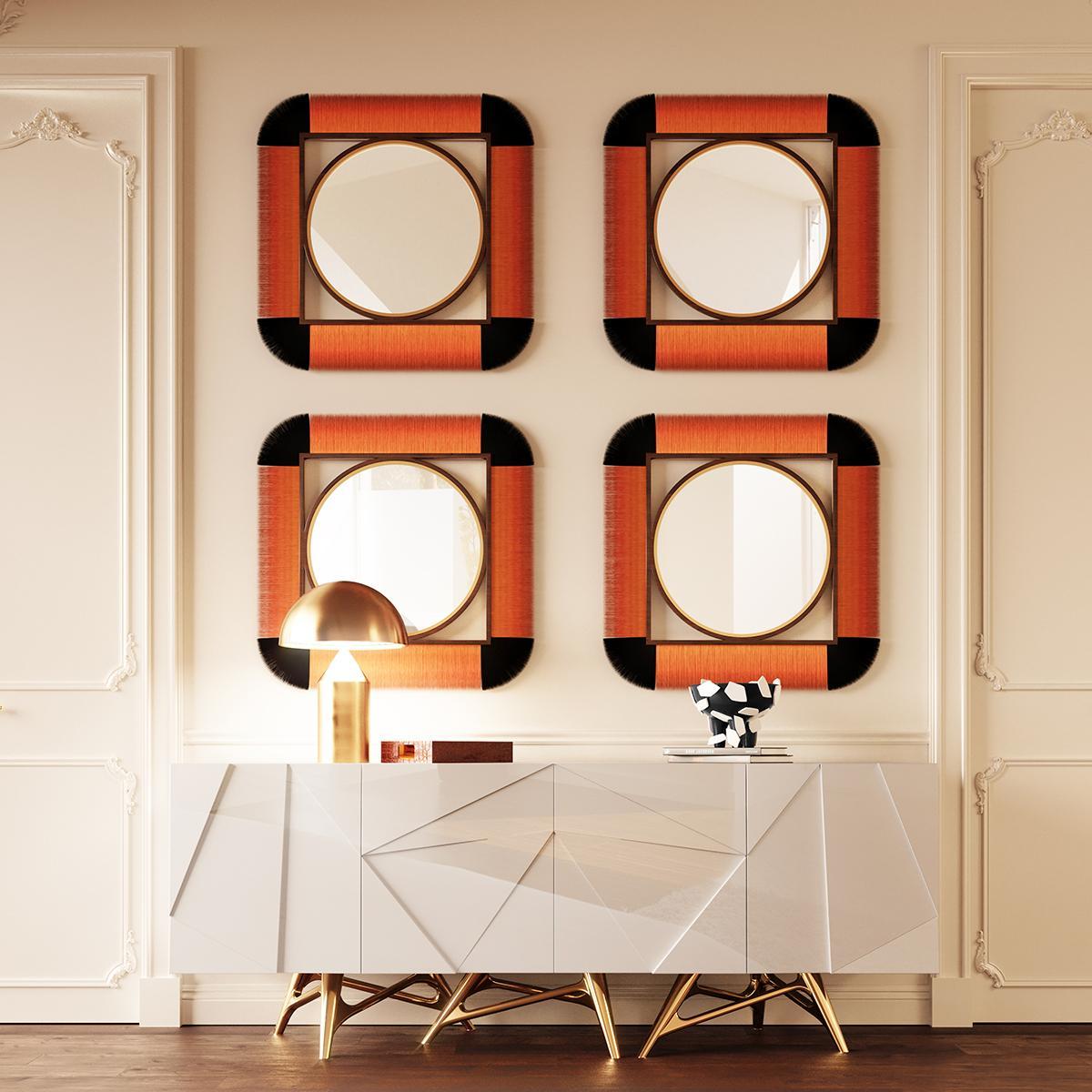 MATERIALS
– Clear mirror
– Structure in Wood and Gold Polished Stainless Steel
– Details in Natural Colored Fiber
Titan
Titan Wall Mirror is a spontaneous and sophisticated mirror design for walls. Inspired by the solar system, Titan is the largest moon of Saturn. This mirror represents a multifunctional design vision. While human beings cannot live on the Titan moon, Titan Wall Mirror can surely be part of their living areas.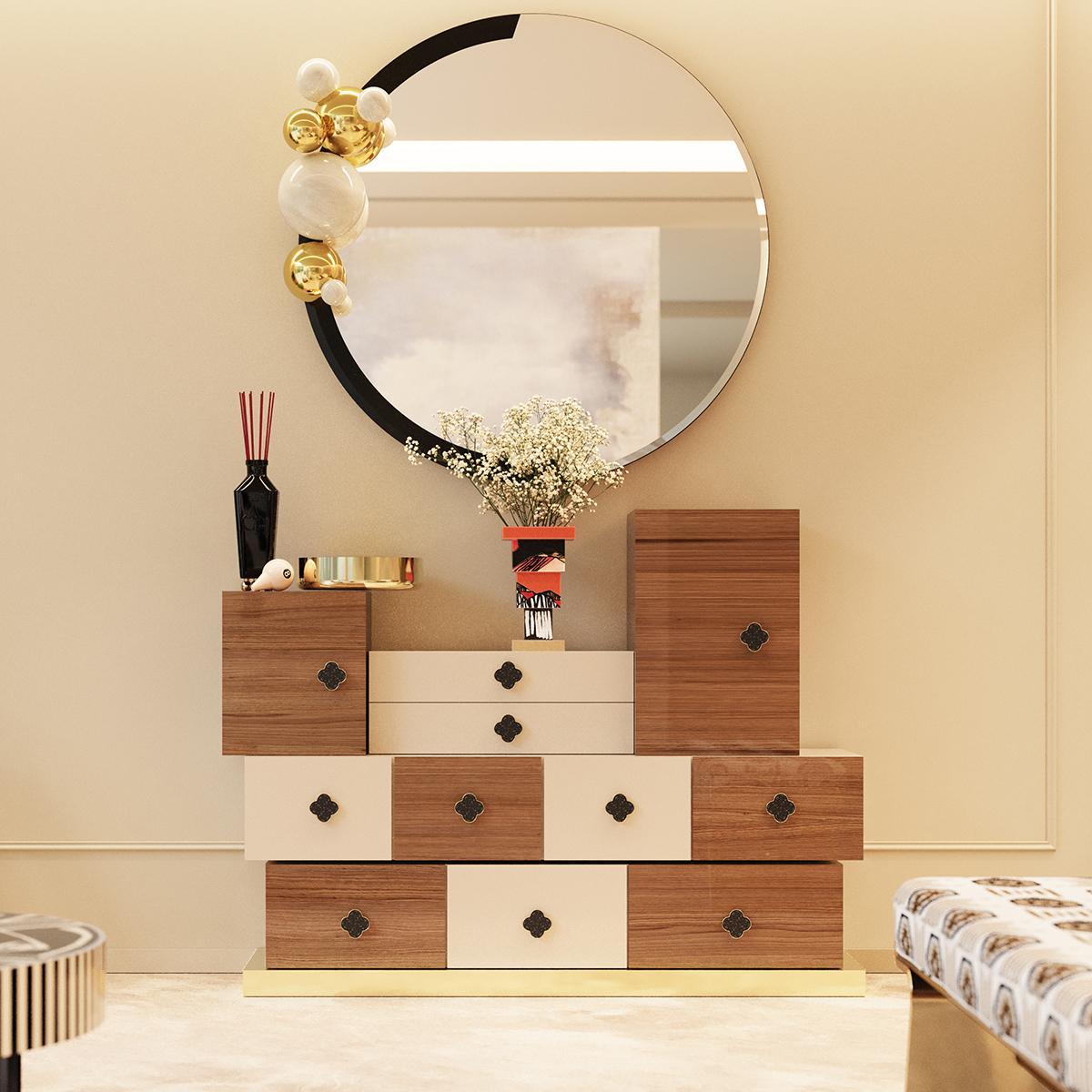 MATERIALS
– Clear Mirror
– Arc in Brushed Black Stainless Steel
– Three Spheres in Gold Leaf
– Four Spheres in Polished Estremoz Marble, One with Incorporated Light

ROOM DIVIDERS
HOMMÉS Studio presents you with products that offer an eclectic mix of cultures and design styles. From vibrant colors to more neutral tones, this room dividers collection was customized to a luxury lifestyle and elegant interiors.
Rebus
Rebus Folding Screen is the perfect choice for a room divider. This Folding Screen is the encounter between aesthetics and functionality, honoring an expertise handmade manufacture process.
No products were found matching your selection.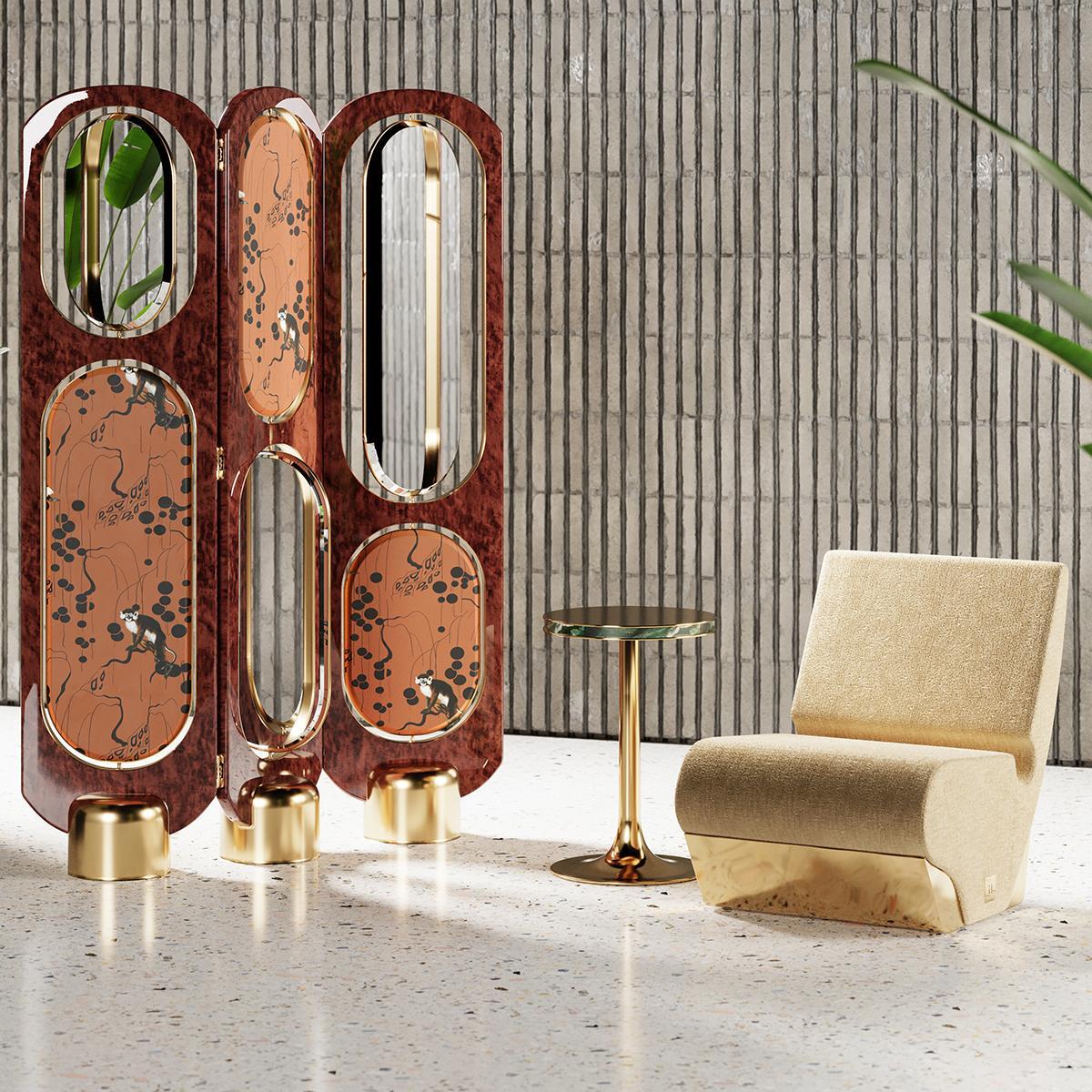 MATERIALS
– Structure in Walnut Root Wood Leaf in Gloss
– Rotative Panels Upholstered in One Side and With Mirror on Other Side
– Base and Metal Details in Gold Polished Stainless Steel
Zebra
Boasting a melodic and luxury flair in the gentle curves and warm sand tones, the Zebra Folding Screen is perfect for sectioning-up a luxurious space or adding a different mood and texture.
No products were found matching your selection.
MATERIALS
– Structure in Black Lacquered Stainless Steel in Gloss
– Metal Details in Gold Polished Stainless Steel
.
We really hope you liked our article. Feel free to pin all the images to your favorite Pinterest board. Meanwhile, you can also visit our Pinterest boards to get more inspiration.
Get more ideas for your projects and find functional, stylish, and sizable lighting and furniture choices: