Known for his transportive hospitality spaces worldwide, designer extraordinaire Martin Brudnizki has revealed a new social club in Los Angeles that goes beyond time and place. Opening April 2, The Britely features a sexy restaurant and bar inside, plus a tropical rooftop lounge equipped with poolside seating and sweeping views of the city skyline.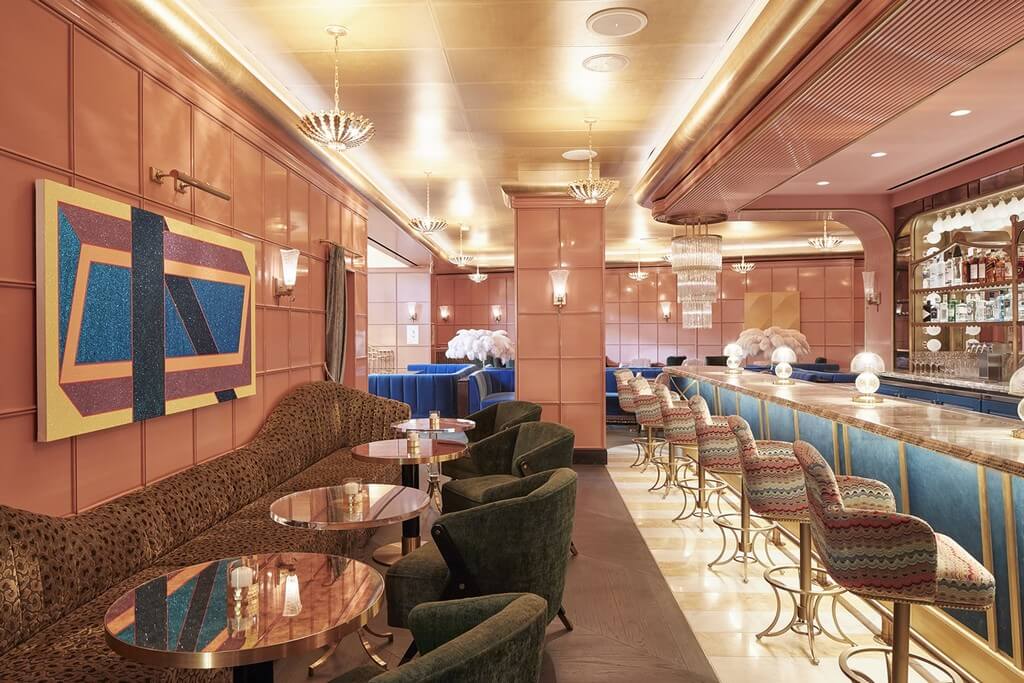 "The client said they wanted something 'hyper glamorous," Martin Brudnizki says. "For me to be able to design something as abstract as that, I needed to find and build a narrative: What is hyper-glamorous in West Hollywood? Of course, it was Hollywood itself, the film industry, and those incredibly evocative images that came through during the late 1940s and '50s."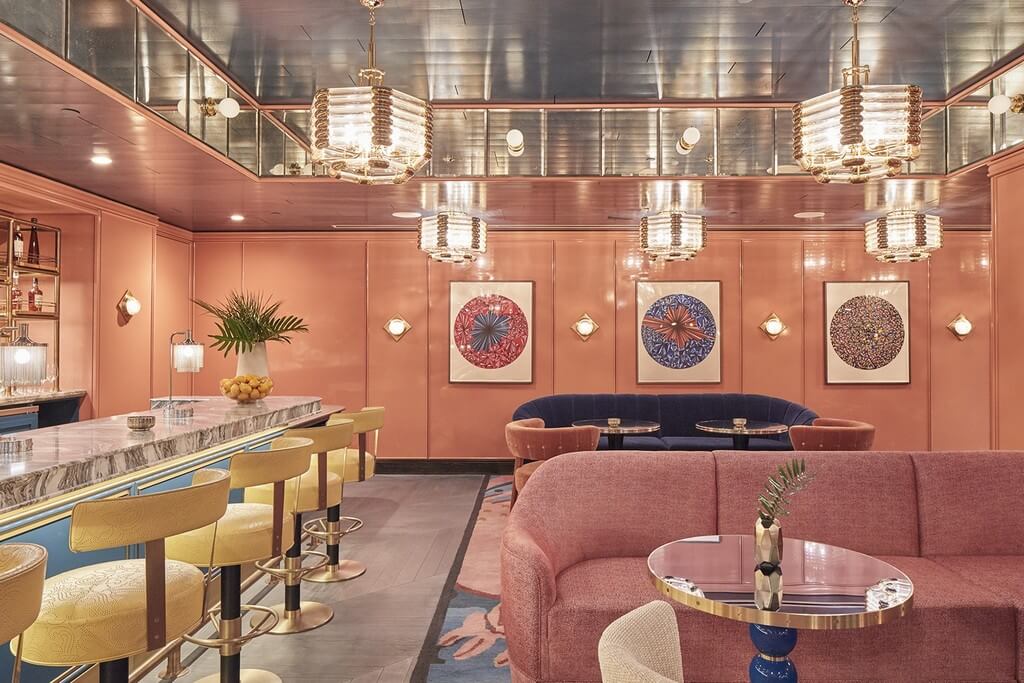 To give the indoor restaurant a cinematic quality, Brudnizki sheathed the rooms in a high-gloss lacquer and gilded the ceilings with mirrored accents. They picked the pink walls because the reflection of that color will make everyone look 2o years younger. "I love color, but what I think about when I paint a room a certain hue is what it will do with light through the day, afternoon, evening, and night because it is essential always to feel comfortable, warm, and welcoming."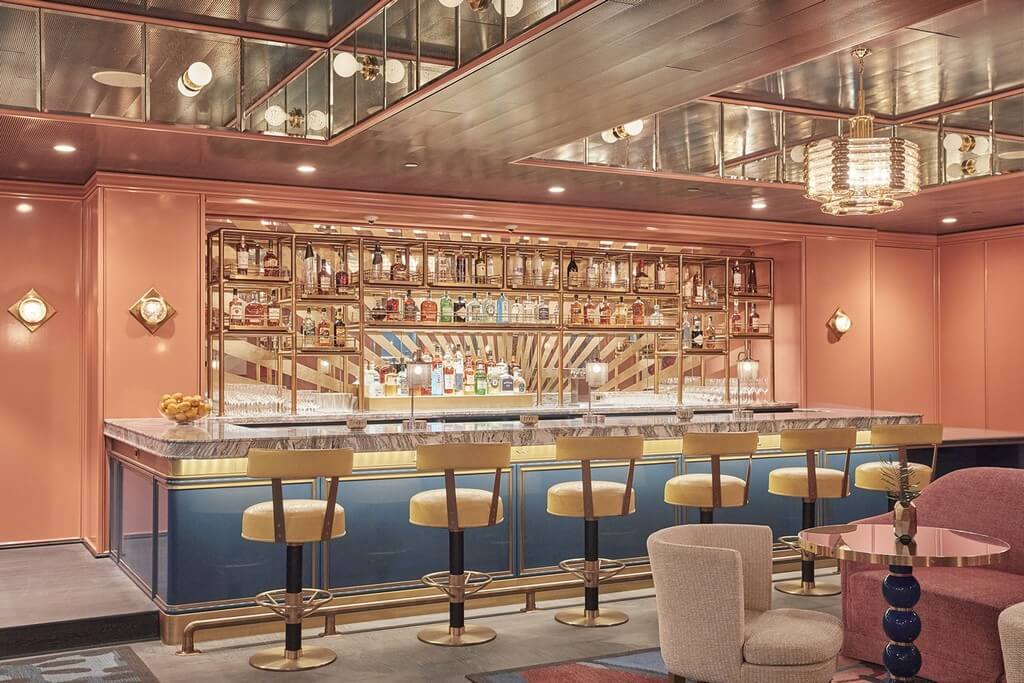 By swathing the space in reflective materials, the London-based designer gave the room sparkle and shine, bouncing the light from the custom fixtures around the space. The main bar, crafted to conjure the illusion of a starlet's vanity mirror, is surrounded by marquee-like bulbs with two cascading chandeliers bookending the dramatic marble-top counter that's surmounted by a curvilinear ceiling fixture.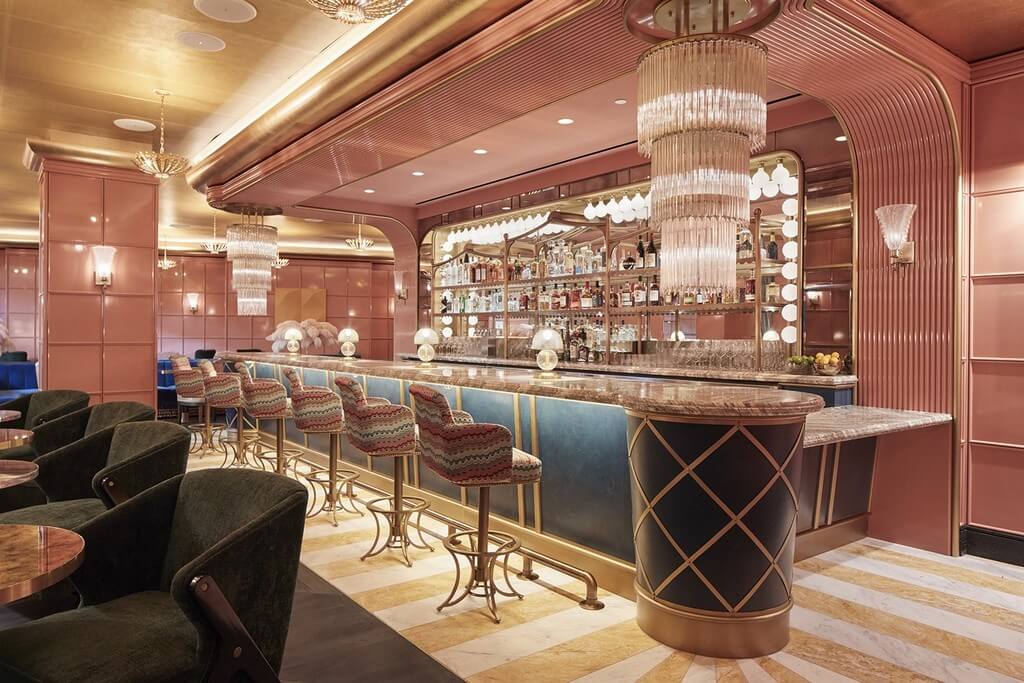 Punctuating those blush walls is a remarkable collection of art, among them graphic works by Sarah Awad and Megan Cotts, chosen in collaboration with Tiffany Lendrum of L.A.'s Lendrum Fine Art. In other spaces, exuberant House of Hackney wallcoverings create a bold look. "Many people would put that in and say this is very strong, so we need to make everything very quiet," Martin Brudnizki says of the ubiquitous palm print he used in one of The Britely's powder rooms.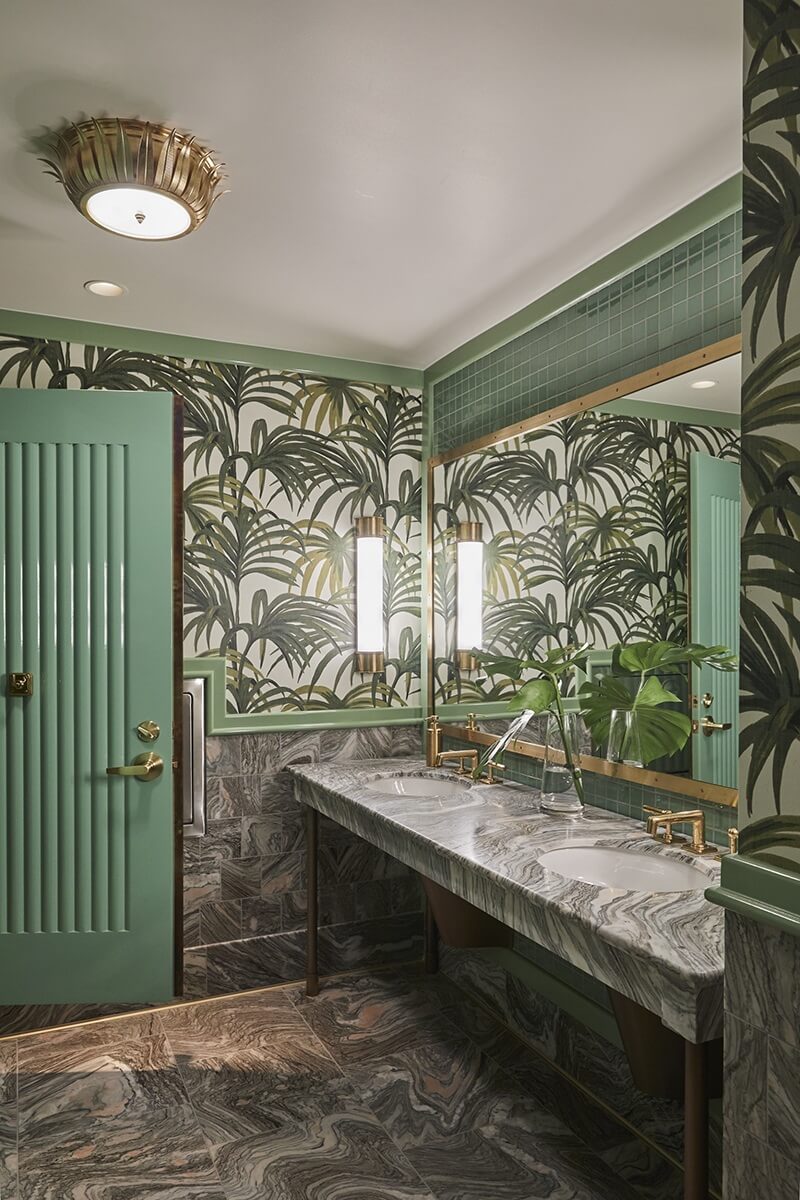 In addition to food by two-Michelin-star chef Wolfgang Puck, who is making his return to the Sunset Strip, The Britely presents recreational spaces. That is a bowling alley, a 24-hour gym, screening rooms, and a music venue. They are offering guests another place to gather in the Brudnizki-designed rooftop pool court. An L.A.–based friend of the designer suggested that the two most important things are the city's sunshine and green spaces, so Brudnizki filled the area with as many plantings as possible and plush custom seating in a softer palette of blues, greens, and pinks.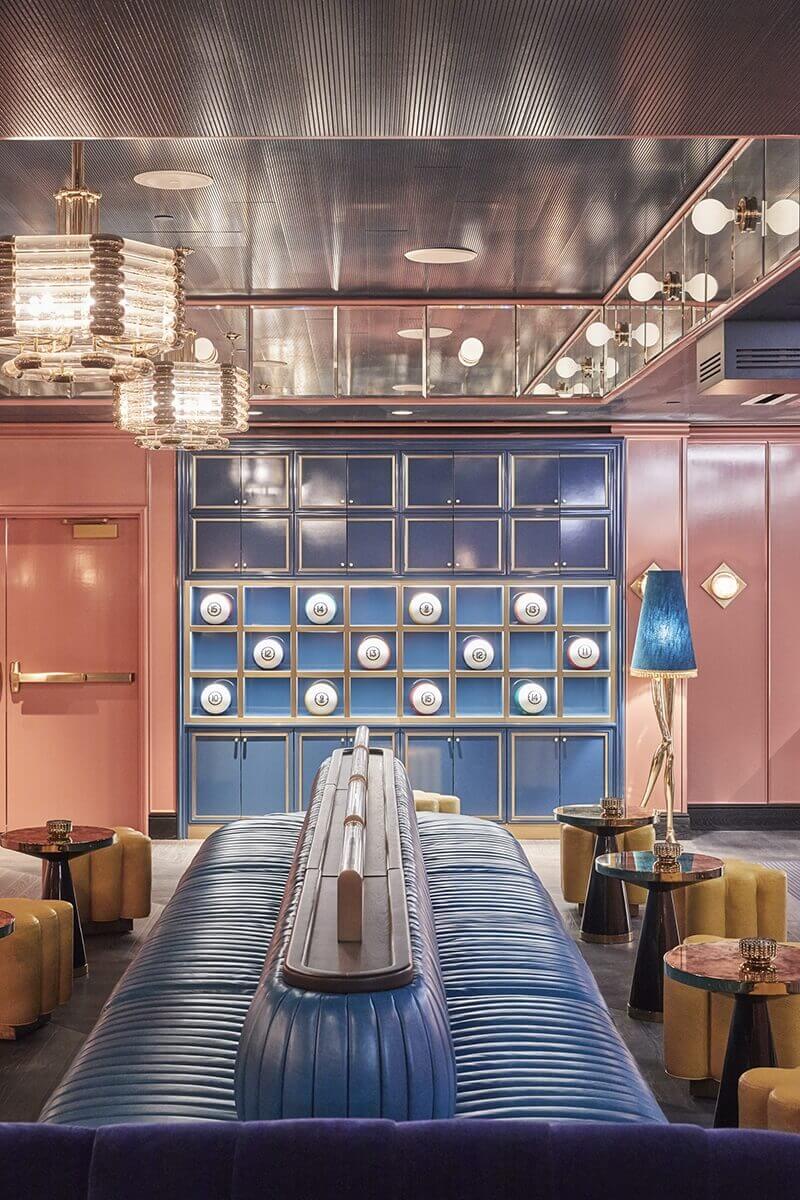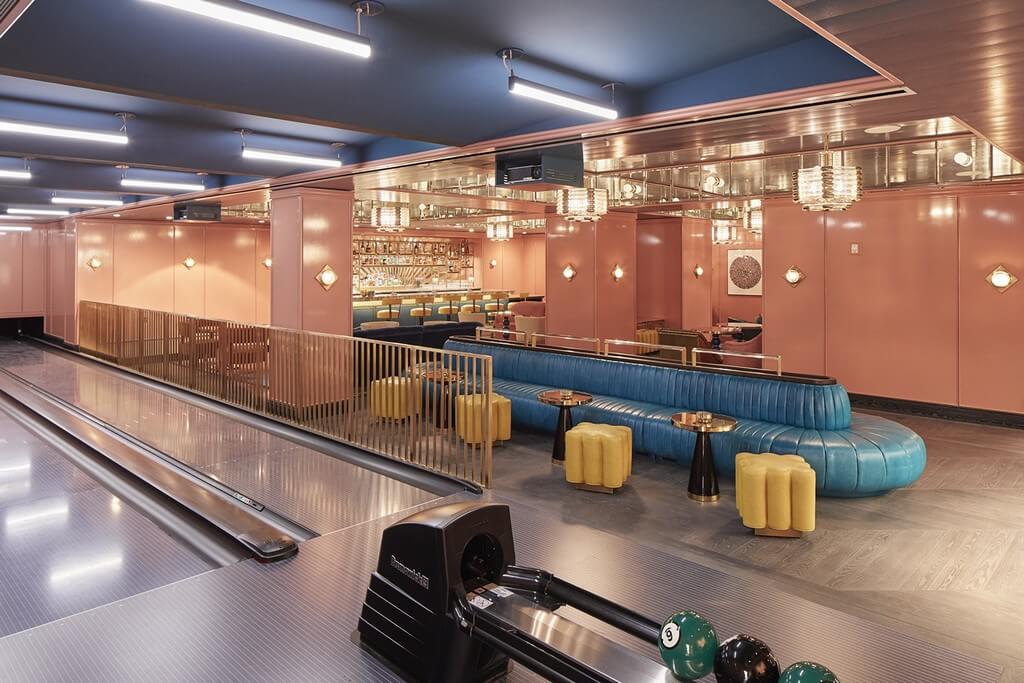 The color palette reflects the gentle aqua of the pool, California sky, and Hollywood Hills background. "These light, fresh colors make it relaxed and soft but with a design intent, not making it too bohemian," says Brudnizki.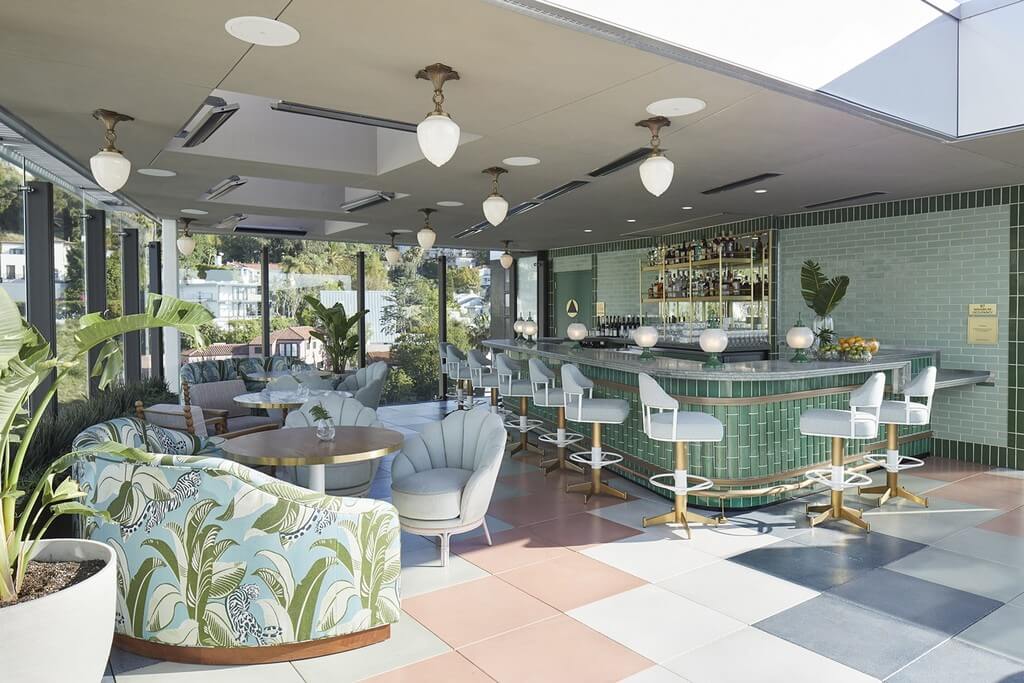 Pops of brass give the soothing ambiance moments of Tinseltown shine. "It is about sparkle and reflection," adds the designer. He always loved brass because of the warmth. He will boldly put it on the ceiling, and he will use it on lots of details everywhere because it adds that beautiful warm glow.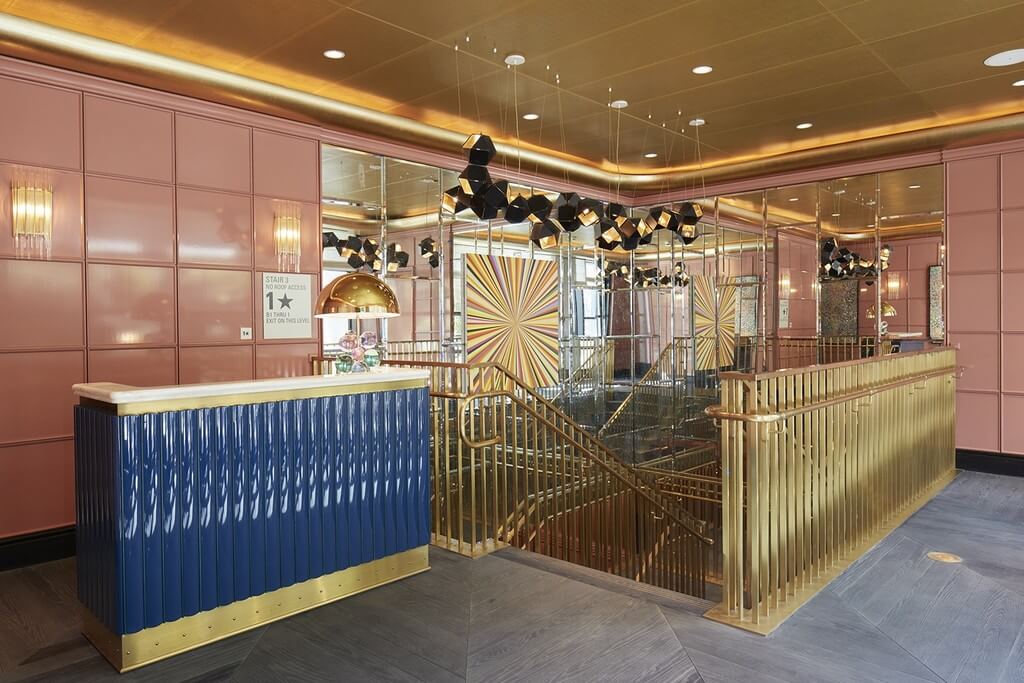 We really hope you liked our article. Feel free to pin all the images to your favourite Pinterest board. Meanwhile, you can also visit our Pinterest boards to get more inspirations.
Get more ideas for your projects and find functional, stylish, and sizable lighting and furniture choices: