Milan Design Week has officially started. Here's what happened on day 1 of CHROMATIK HOUSE at Fuorisalone 2022.
7th June marks the first day of the 60th edition of Milan Design Week. It also marks the first appearance of HOMMÉS Studio at an international design event. Launched in 2019, the Porto-based design studio spent the last three years collecting clients from all over the world and branching out a handful of brands.
CHROMATIK HOUSE – Improbable Interiors & Provocative Design showcases three years of work and four brands – HOMMÉS Studio, ACH Collection, ACH4Pets, and TAPIS Studio at Museo Bagatti Valsecchi in Quadrilatero della Moda on the third edition of Palazzo delle Meraviglie.

DAY 1: CHROMATIK HOUSE AT FUORISALONE 2022
It was 10 am in Milan when the doors of Museo Bagatti Valsecchi in Via Gesú in Montenapoleone District opened to visitors all over the world. Anyone who passes by is welcome to step inside the 19th-century house museum and discover 6 avant-garde sector companies selected by Katrin Herden, the host of Palazzo delle Meraviglie which is celebrating its 3rd edition at Fuorisalone 2022. One of them is HOMMÉS Studio.
Downstairs in the entryway of Museo Bagatti Valsecchi, there's a synaesthetic experience going on under the name CHROMATIK HOUSE. On day 1, HOMMÉS Studio's team engaged with customers and friends in conversations about the brand and the industry. It definitely feels good to be back gathering with interior design professionals in Milan, especially when there are so many brands introducing brave new concepts.
On day 1 of Milan Design Week, we acknowledged that everyone in the industry is aware that the future is now, and we must act on it. From choosing carefully materials and suppliers and delivering products that are functional, timeless, and beautiful, to designing NFT furniture and thinking metaverse architecture and interior design.
CHROMATIK HOUSE virtual tour was the main attraction of HOMMÉS Studio's day 1 at Fuorisalone 2022. Blending reality and imagination, four simulated living spaces with an architecture replica of Museo Bagatti Valsecchi can be accessed by visitors on-site and online. How many realities can you see? was the question being made along the day.
ABOUT CHROMATIK HOUSE VIRTUAL TOUR
CHROMATIK HOUSE's simulated reality reveals a home with four unexpected rooms beyond what one can imagine – CHROMATIK HOUSE, A-MAZE-ING RUGS, PILLOW PARTY, AND ULTRA DESIGN. HOMMÉS Studio's team has recreated the chamber of Museo Bagatti Valsecchi where the physical reality lies with pristine perfection. In the digital realm, the main room's ceiling gains a life of its own with a flock of golden leaves emanating a glowy light. And every wall and nook is embellished with unexpected sconces, mirrors, decorative pillows, home decor objects, and incredible pet accessories.
Access the virtual tour here. Let your imagination run wild.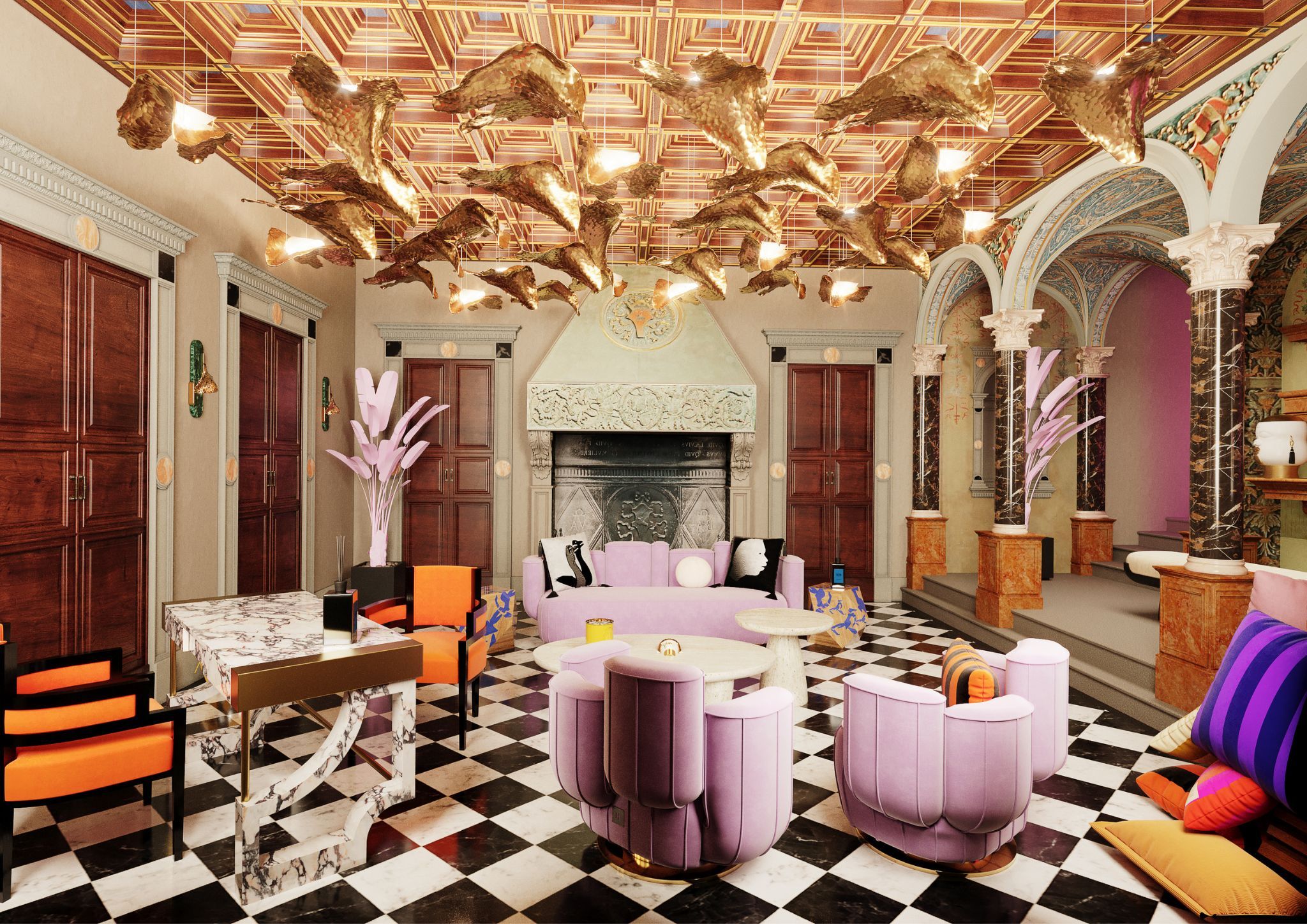 The first day of CHROMATIK HOUSE at Fuorisalone ended with a soirée at Museo Bagatti Valsecchi for invitees only.
You can still visit CHROMATIK HOUSE until 12th June from 10 am to 7 pm at Museo Bagatti Valsecchi at Via Gesú, 5.