French Allure Living Area is all about bright colours, accessories, and well-balanced contrasts. A contemporary interior that perfectly combines traditional charm with modern design.
A French-inspired room, where timeless aesthetics and lasting quality stand out. HOMMÉS Studio created this look especially for art lovers and collectors of design pieces.
HOMMÉS was born from a skilled merge of visionary identities, with distinctive perspectives of design, art, fashion, and cultures. Our brand's life motto is introducing an Haute Couture concept in the Interior Design industry.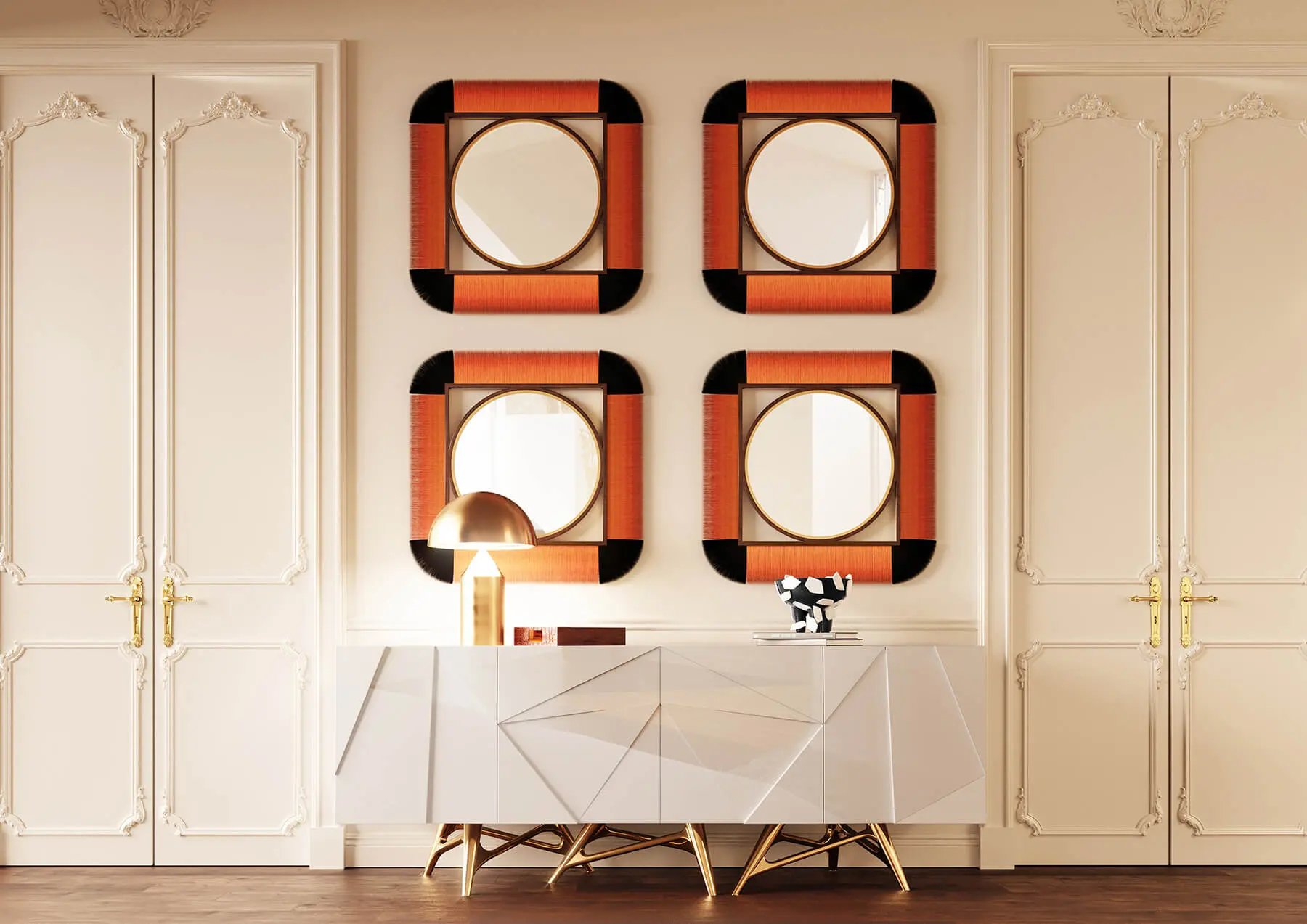 Inspired by the sophisticated "Je ne Sais Quoi," this design predominates white colour, soaring ceilings, bold patterns, and outstanding furniture.
The wall mirrors composition reflects personality and charisma in any contemporary wall decoration. Inspired by the vivid and timeless decoration textures, they combine perfectly with the modern sideboard of harmonious shapes and materials of high quality.
Hommés's furniture pieces used in the look above:
Rosalia Sideboard is an outstanding modern style design. The sideboard combines harmonious shapes and materials with an elegant theatrical shape to store your favourite items and be part of your high-end design project.
Moritz Mirror

Mirror 2.950,00

€
Moritz is a luxury wall mirror inspired by the raw and timeless textures of the tribes' decorations, jewels, and artistic elements. This decorative mirror is made of lacquered wood in the structure and ornamented with vibrant coloured fibre. Moritz's mirror reflects identity and character to any contemporary wall decor.
Hommés Studio Suggests:
Palm decorative mirror features a functional and cultural value, and it is perfect for a luxury room wall decor. Reflects a robust graphic character and is inspired by the raw and timeless textures of the tribes' decorations, jewels, and artistic elements. This oval mirror is made of stainless steel in the structure with gold-finished and vibrant coloured fibre.
We really hope you liked our article. Feel free to pin all the images to your favorite Pinterest board. Meanwhile, you can also visit our Pinterest boards to get more inspirations.
Get more ideas for your projects and find functional, stylish, and sizable lighting and furniture choices: