AB Concept has revealed its designs for several interior rooms at the new Waldorf Astoria Xiamen, China. For the 30,000m2 hotel, the design procedure has created several public spaces. These include the main lobby area, the entrance, concierge, reception, independent VIP room, and courtyard lobby lounged.
The Studio also designed banquet facilities spanning several F&B venues. Including bar and restaurant, Peacock Alley, and a private dining experience, Chef's Table. AB Concept looked to capture both the historical and contemporary thriving essence of Xiamen, paired with the timeless luxury for which Waldorf Astoria is renowned.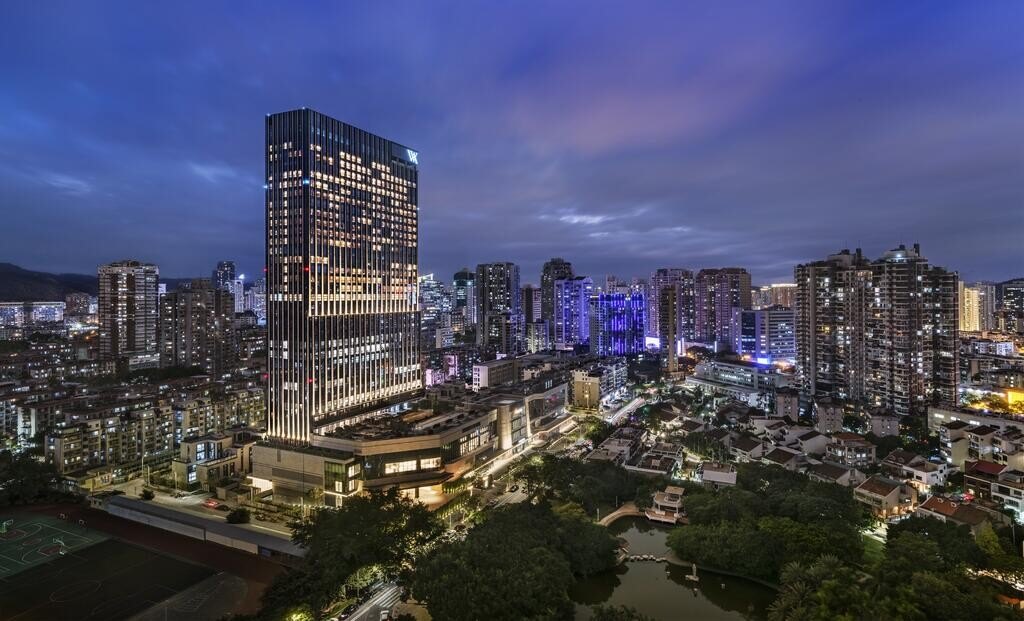 In response to the overarching interior brief, AB Concept devised a design journey that is romantic and elegant. Moreover, it reinterprets European architectural form through expressive contemporary elements. They also incorporate sculptural intrigue with typical Amoy features, such as arched gates, pillared hallways, mullioned windows, and parquet.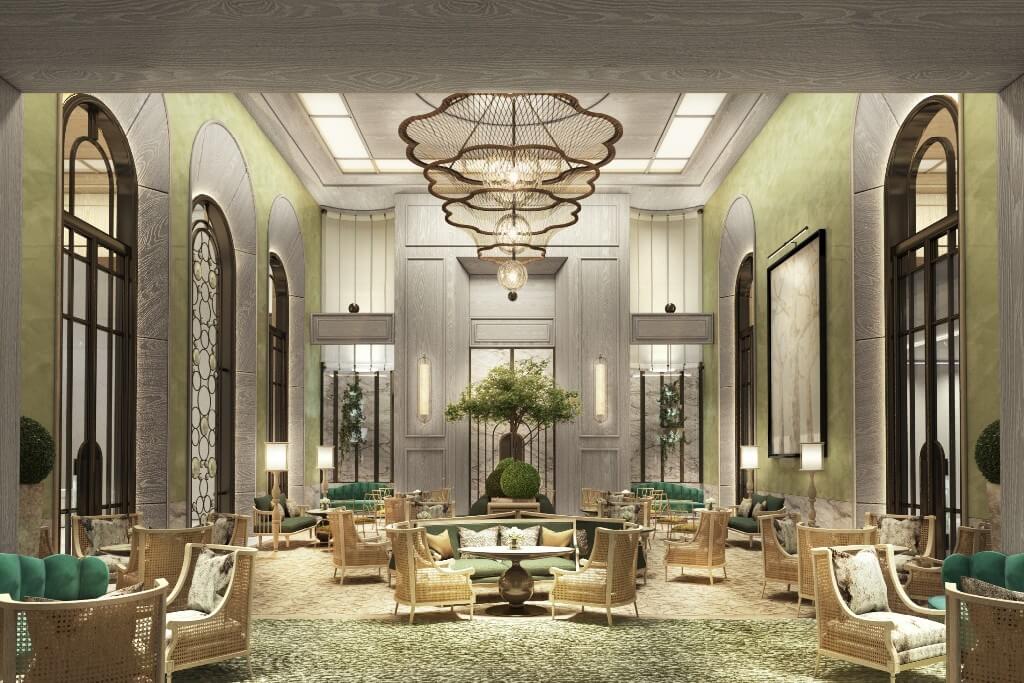 Creating a sense of expectation from the moment guests approach the building, AB Concept has crafted an entryway set back from the beautifully landscaped drive, revealing three tall archway doors flanked by lanterns. Giving the impression of a magnificent manor home, guests enter a porch-like space and concierge desk, then onwards through more arched doors into the 'courtyard.'
In the lobby lounge, seating is arranged in small groups to allow intimate social or business gatherings and afternoon teas. AB Concept has fostered an outdoor look and feel with large arched windows. Nevertheless, they use indoor balconies, and skylight-like lights to achieve a sense of natural light in the impressive double-height room.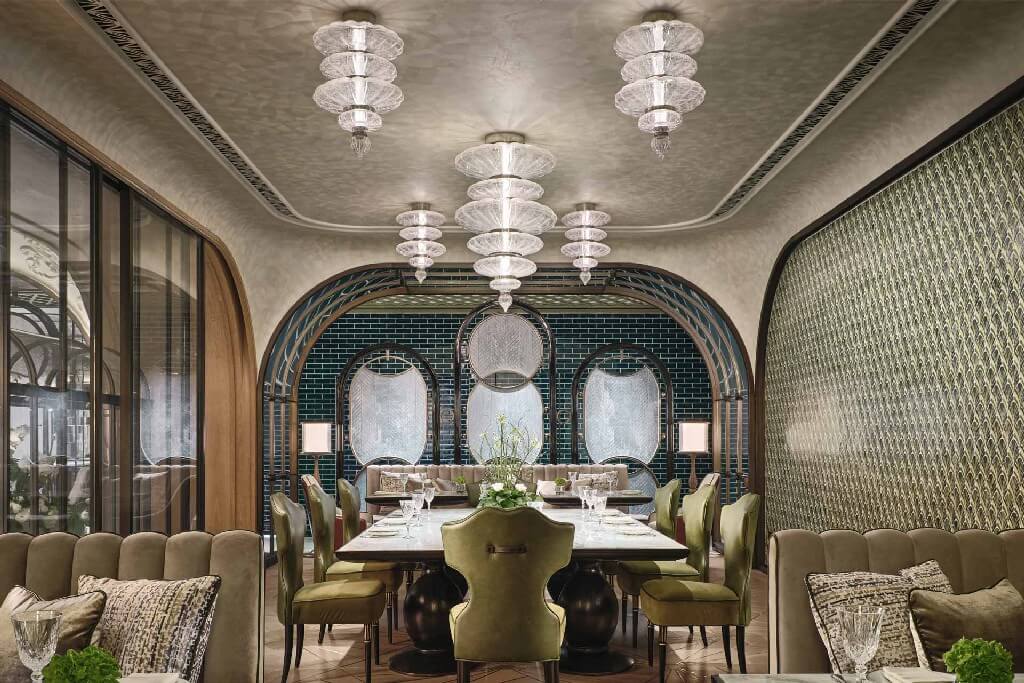 The reception counter is set back in a recessed archway in blue tones. The Studio has also created a neighboring VIP reception room. That is, a luxurious space with a private library feel, as an area for discreet check-ins.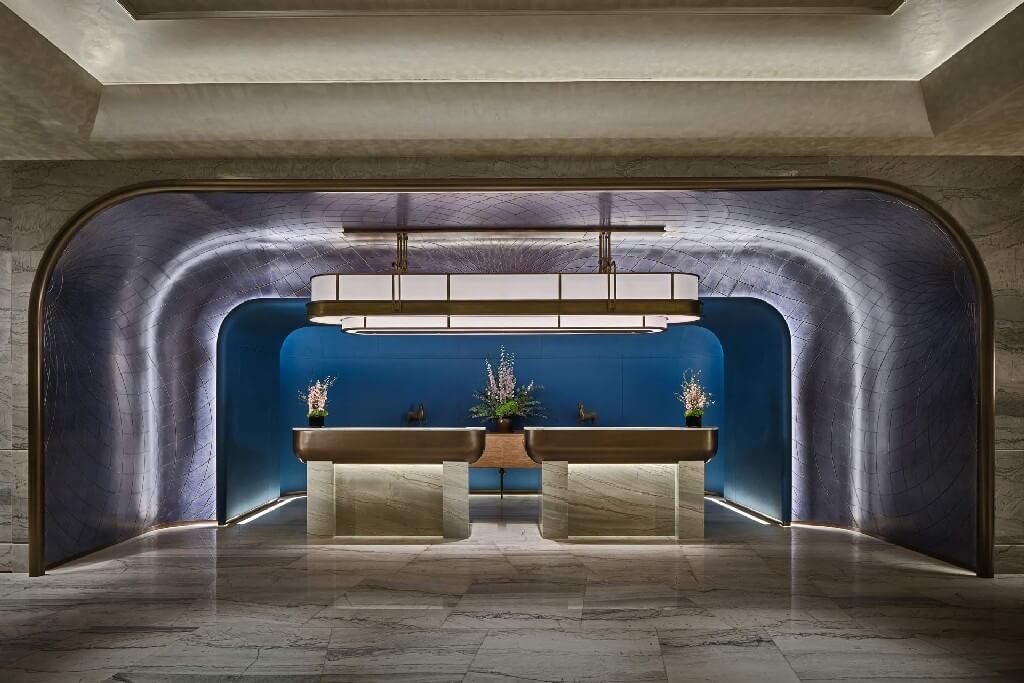 Located on the third floor, the suite of event spaces includes a ballroom, a glass room, a bridal room, and meeting rooms. These spaces are located off a hallway that feels sculptural, bright, and gallery-like.
The meeting rooms have bronze-framed textured glass to give scale and intimacy and a flow of light between the exterior windows and the third-floor lobby. The lobby opens into a grand corridor with eight meter-high ceilings, leading to the Sun Room and Ballroom.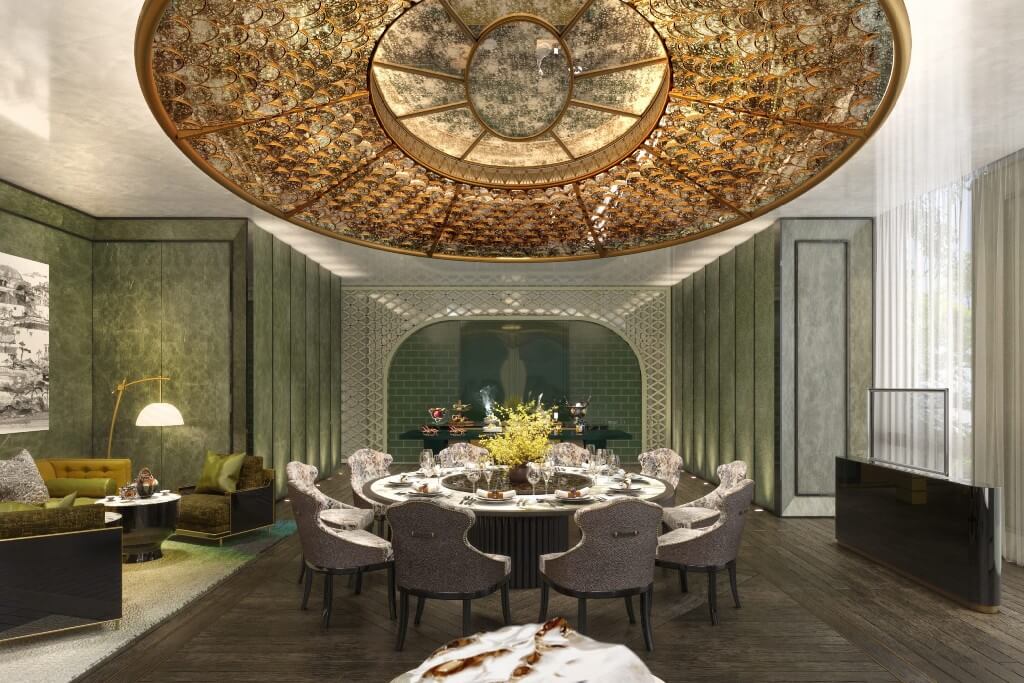 The Sun Room employs textured glass and arched French window-style doors. Therefore, the windows open onto a long room with large windows overlooking the verdant Lotus Park below. A multi-function space with the romantic feel of elegant greens and greenery pop against bronze frames, mirrors, and settled wood tones.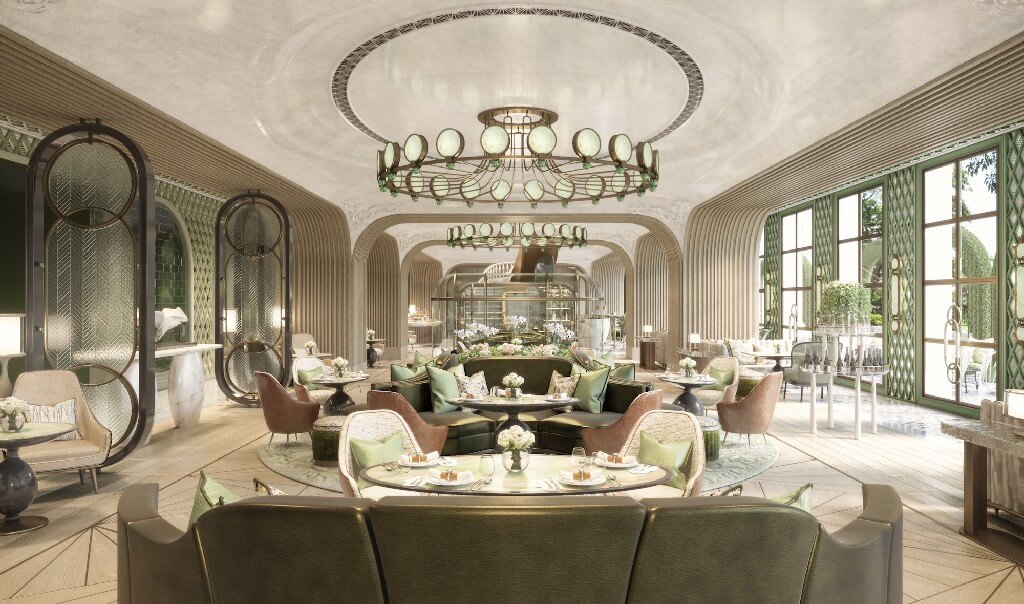 The Ballroom's neutral color design will provide a sophisticated backdrop for celebrations and corporate events. Moreover, it will be illuminated by crown-like crystal ceiling lights that represent a shimmering, modern interpretation of a crown.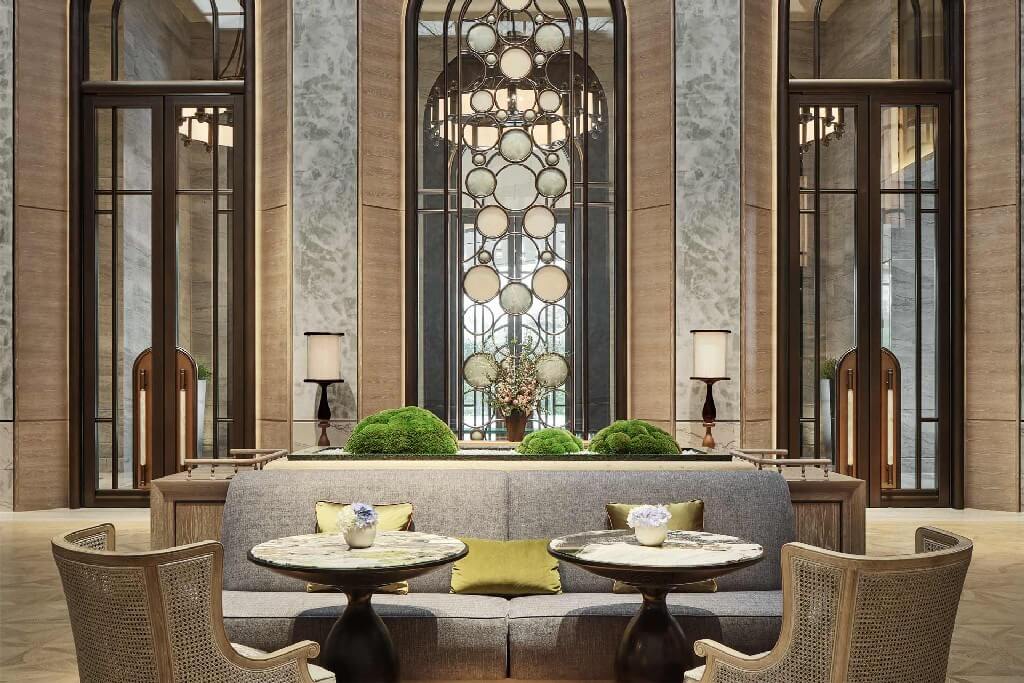 Connected to the main area of the third floor is the final jewelry box of a room, the Bridal Room. It was designed like a private boudoir in a pearlescent palette with beveled mirrors and sensual, elegant furnishings.
The fifth-floor Garden Foyer lounge and F&B space connect to a large outdoor terrace. An elegant playground incorporating a swimming pool, mini-golf, and barbeque area.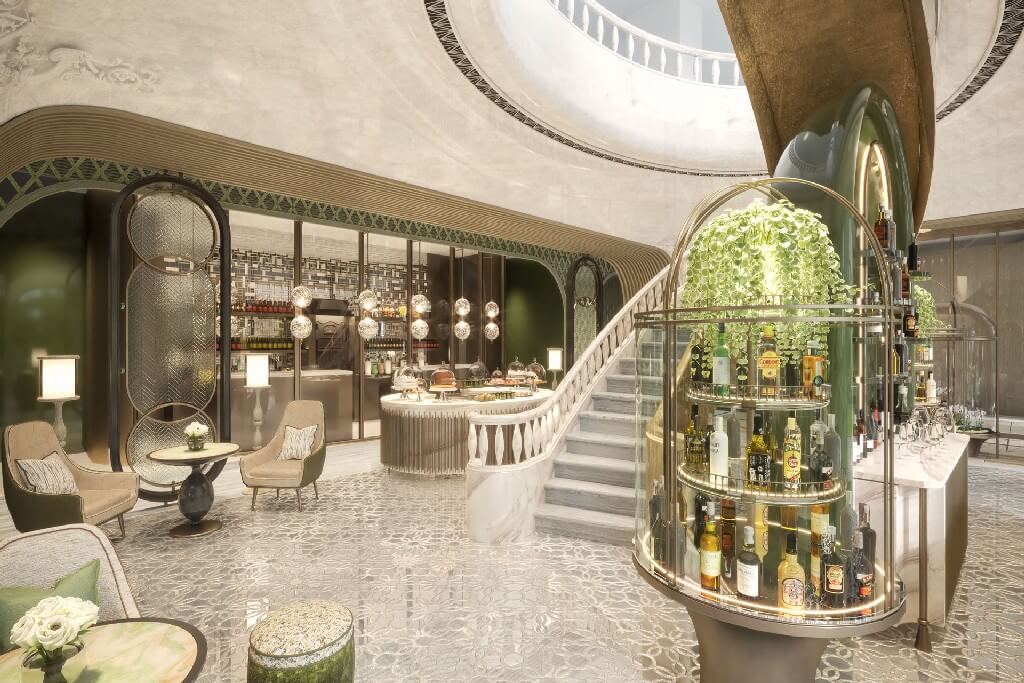 Again, bringing the outdoors in, natural elements echo throughout the Peacock Alley's color scheme and design details. A flower room reception welcomes guests to the entrance, which is cleverly divided with open, metal-work screens in the shape of a peacock's tail. The stucco ceiling references Victorian European interior details, while the delicately patterned parquet floor is typical of the rich trade history of southeast China.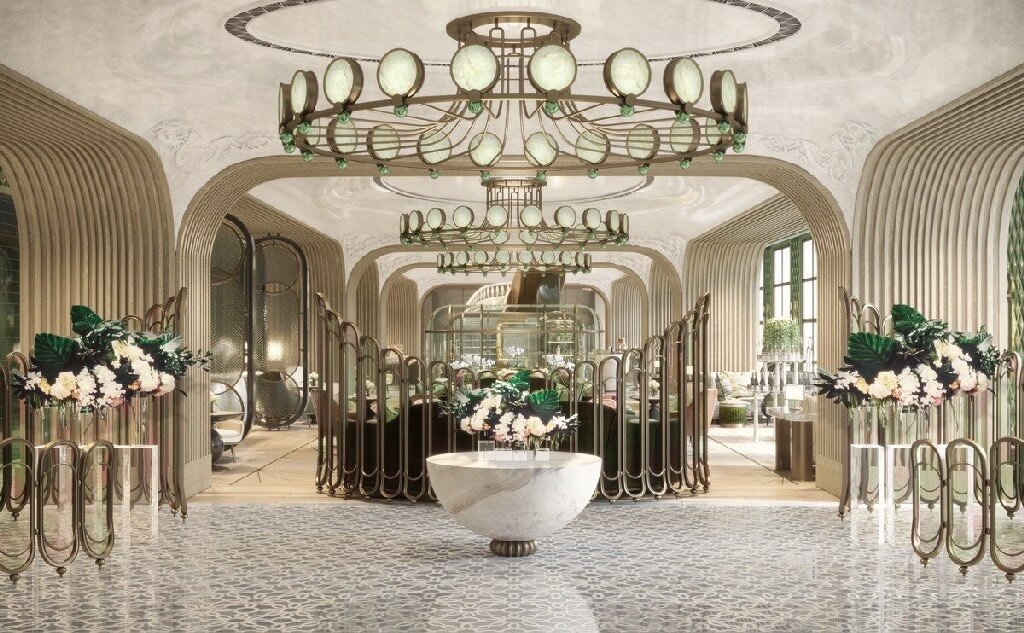 At the end of the room, an internal staircase links to the sixth-floor restaurant, under which is the marble Peacock Alley bar. It is an ideal spot for refreshment after outdoor activities or pre-dinner drinks.
The whole space utilizes a multitude of natural textures and materials. Therefore, this includes onyx, marble, leather, rattan, wood, and antique mirrors. They also use a spectrum of greens and warm colors for a soft, romantic, nostalgic feel. This small room is elegant and dramatic, with an exclusive chef's table dining experience serving refined locally-inspired cuisine.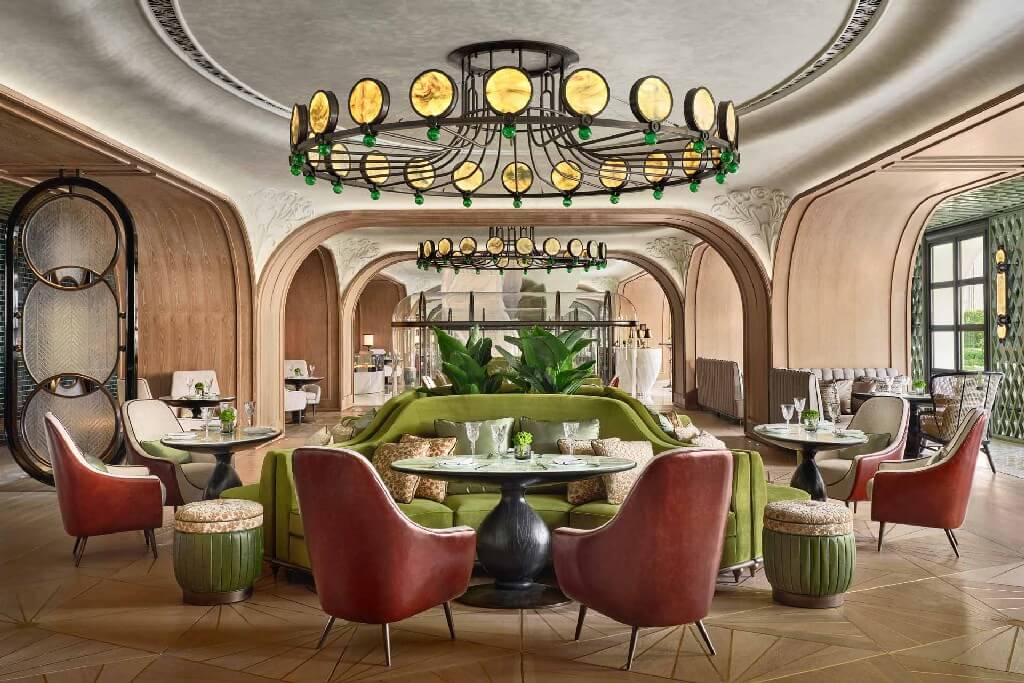 AB Concept designed a room to echo the southeast Chinese culinary creations with a deep, solemn palette of jades, saturated light green, grey, teal hues, warm timber, and bronze details intricate ceiling feature. A green lacquered door opens to reveal the private kitchen where the chefs can be seen at work.
"Working with a brand that epitomizes timeless luxury in such a culturally interesting location has allowed us to act as visual storytellers, integrating the area's history and craftsmanship into a contemporary interpretation," says Ed Ng, Co-Founder of AB Concept. "It is especially satisfying in such a challenging time to see this vision come to life."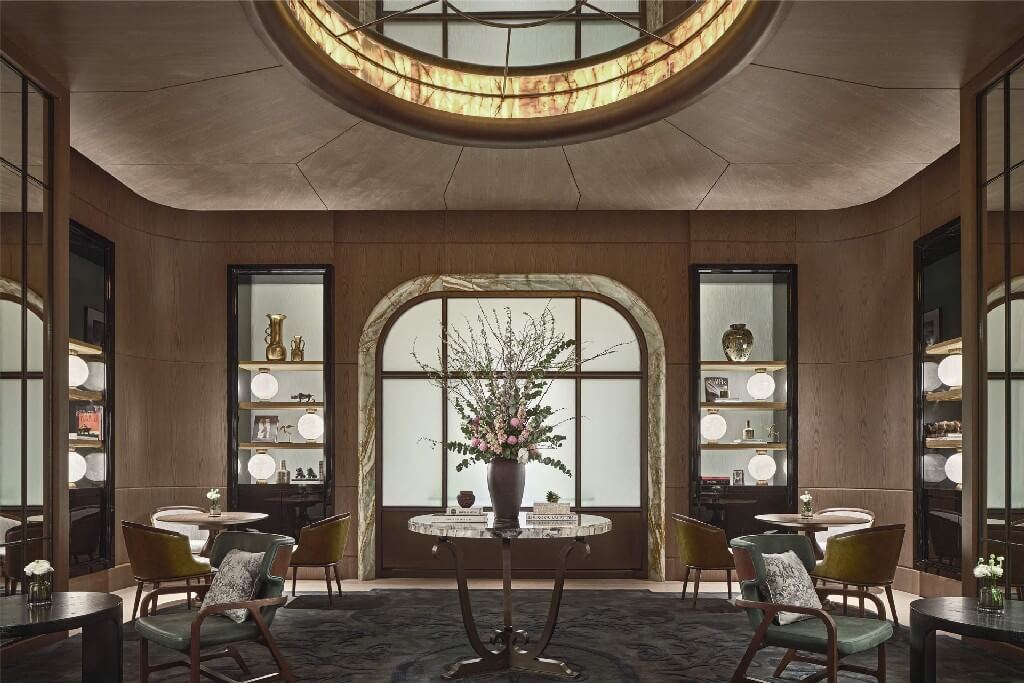 We really hope you liked our article. Feel free to pin all the images to your favorite Pinterest board. Meanwhile, you can also visit our Pinterest boards to get more inspiration.
Get more ideas for your projects and find functional, stylish, and sizable lighting and furniture choices:

Source: Sleeper Magazine