Indulge in luxury and style with our curated selection of Hommés Studio's best dining chairs. Explore unmatched comfort and exquisite design for a dining experience that transcends the ordinary.
When furnishing a new home, the focus often turns to hosting and entertaining. The desire to leave a lasting impression on guests during dinner parties, brunches, or soirees makes the design of the dining room crucial.
While a spacious table accommodating friends and family is essential, selecting the best dining chairs that exude elegance and comfort is equally vital. You will discover an exquisite, well-established category with diverse styles, ranging from midcentury modern classics to playful, contemporary designs.
This selection presents some standout favorites, from the sophisticated Pina chairs to the charming Cinco chairs. Let's delve into the world of tasteful dining aesthetics, which are more than seating pieces; they are a luxurious addition to high-end interiors where each detail exudes quality and durability.
1. Pina Chairs For a Special Dinner
The Pina Chair is one of the best dining chairs, crafted in an exquisite art deco style, and its form is meticulously designed to offer optimal comfort to guests. The luxurious velvet upholstery gracefully complements the modern wood structure, creating a harmonious blend of elegance and functionality.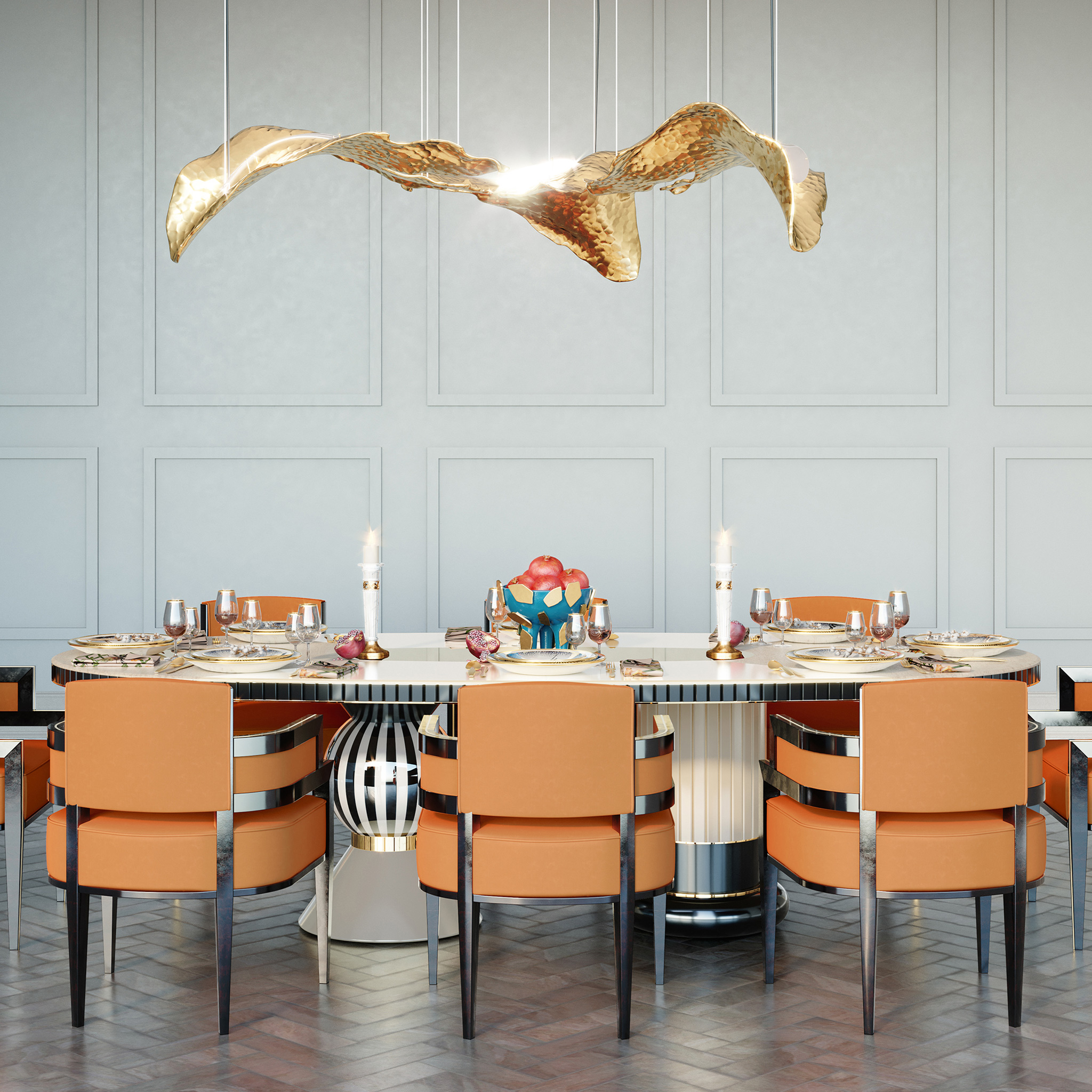 This chair is a testament to superior craftsmanship and a versatile addition to contemporary dining room projects. Whether as a standalone piece or part of a larger ensemble, the Pina Chair effortlessly contributes to an atmosphere of classic chic sophistication.
Whether drawn to the lively energy of the orange or the understated elegance of Menízia, both marry bold colors with timeless art deco style. Each variant promises to elevate your dining space with a classic chic vibe.
2. Pina Chair Mondrian For a Sophisticated Style
In the realm of upscale seating, behold the Pina Chair Mondrian – a masterfully crafted chair draped in vibrant red, blue, and yellow hues, one of the best dining chairs of Hommés Studio. This simple and sophisticated chair pays homage to the abstract expressionist pioneer Piet Mondrian. Its streamlined structure emanates a unique elegance and a soulful finish that captivates the senses.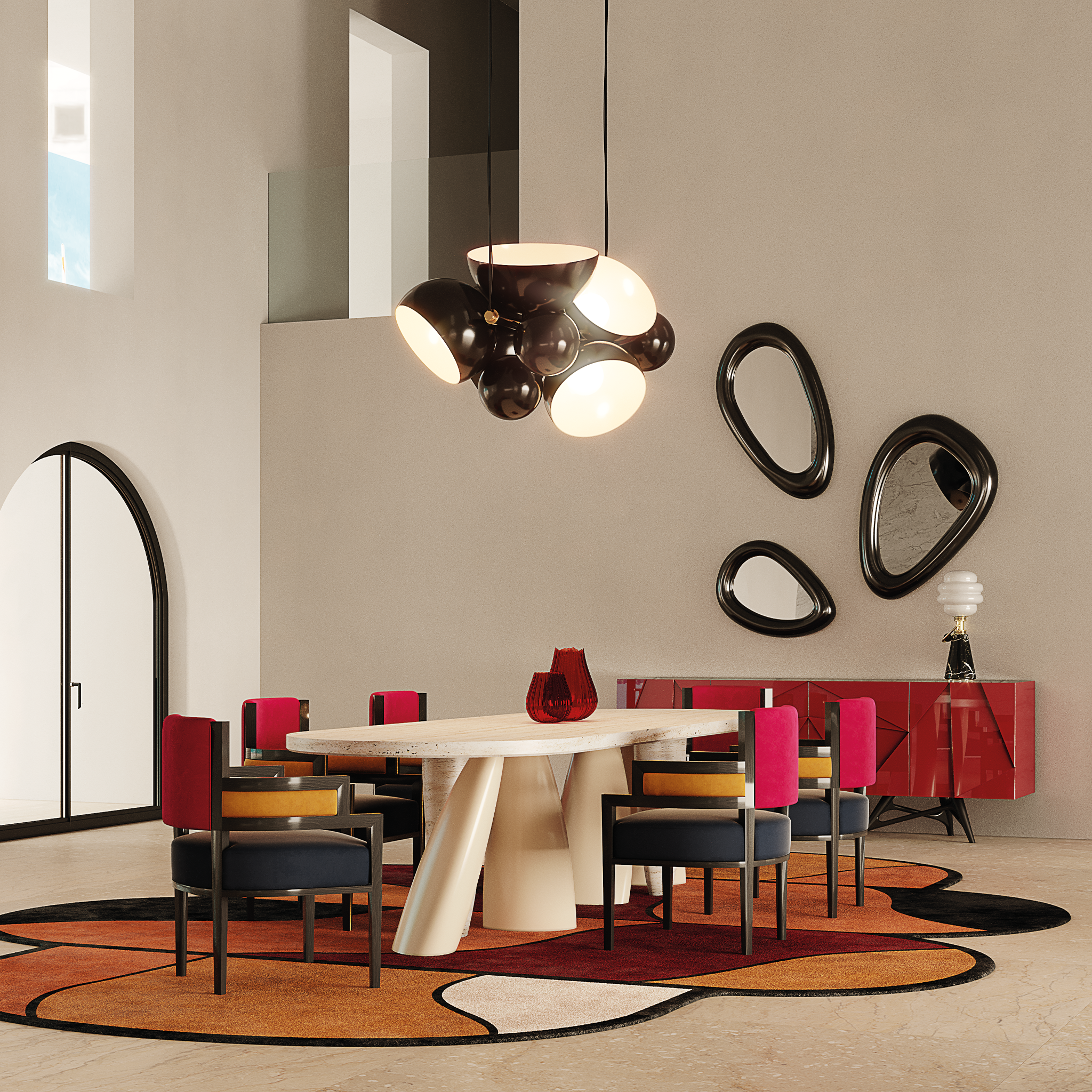 Adorned with Mondrian's iconic color triad, this chair transcends mere functionality, making a bold statement in any living space. Rooted in the clean lines and refined aesthetic of mid-century furniture, the Pina Chair Mondrian seamlessly blends natural and manufactured materials, presenting a practical and playful addition to any modern interior design project. Embrace the fusion of artistry and functionality with a piece that transcends the ordinary.
The Mondrian chair is the perfect piece to complement a sophisticated dining room, with a touch of orange in a rug and contrasting these colors with a white oval dining table for a stunning look.
3. White Pina Chair For a Classic Style
Moving to another one of the best dining chairs, the white pina chair, a refined masterpiece that exudes timeless charm and simplicity. This classic iteration of the Pina Chair brings a touch of understated luxury to any space, showcasing the transformative power of color in design.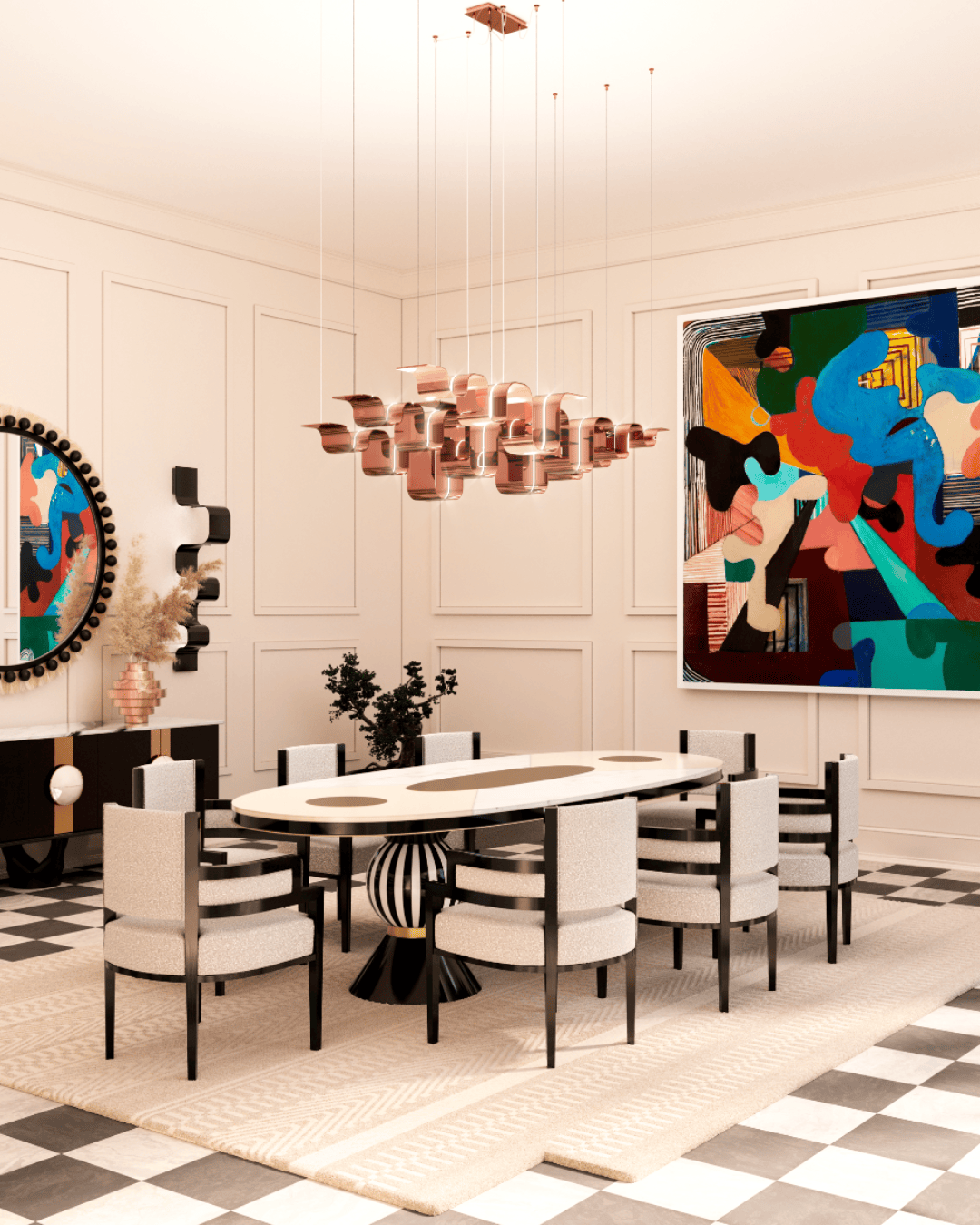 This chair's clean lines and graceful curves maintain the essence of mid-century design while introducing a new level of timeless elegance. The white upholstery imparts a sense of purity and versatility, seamlessly integrating with various design palettes.
With its different appeal, this chair seamlessly integrates into various design palettes, transforming any dining space into a haven of understated luxury and enduring style.
4. Nora Chair For a Contemporary Style
Step into refined luxury with the Nora Chair, a transformative addition that elevates your dining room decor to unforgettable heights. This dining chair, distinguished by its leather back, introduces an eye-catching element that captivates and intrigues the entire dining room design.
The Nora Chair is meticulously crafted to be more than just a functional seating piece; it is a statement of contemporary aesthetics seamlessly blended with timeless comfort. Beyond its role as a seat, the Nora Chair is a luxurious addition to high-end interiors, where each detail exudes unparalleled quality and durability.
Its beige variant brings a sense of understated elegance, making it from the best dining chairs, creating a soothing ambiance that complements a light-toned dining table. Conversely, the green Nora chairs boldly inject playful energy into the space against a white dining table.
A carefully chosen rug underfoot adds texture and warmth, anchoring the dining area, while a contemporary suspension lamp overhead casts a soft glow, creating an inviting atmosphere for memorable gatherings.
Whether in beige or green, the Nora Chair becomes an integral part of a dining room narrative where every element converges to create a space that is as visually captivating as it is comfortable.
5. Cinco Chair For a Minimalistic Look
Cinco chairs are one of the best dining chairs of the Hommés Studio Collection, striking the perfect equilibrium between comfort and quality, embodying a harmonious fusion of form and minimalism.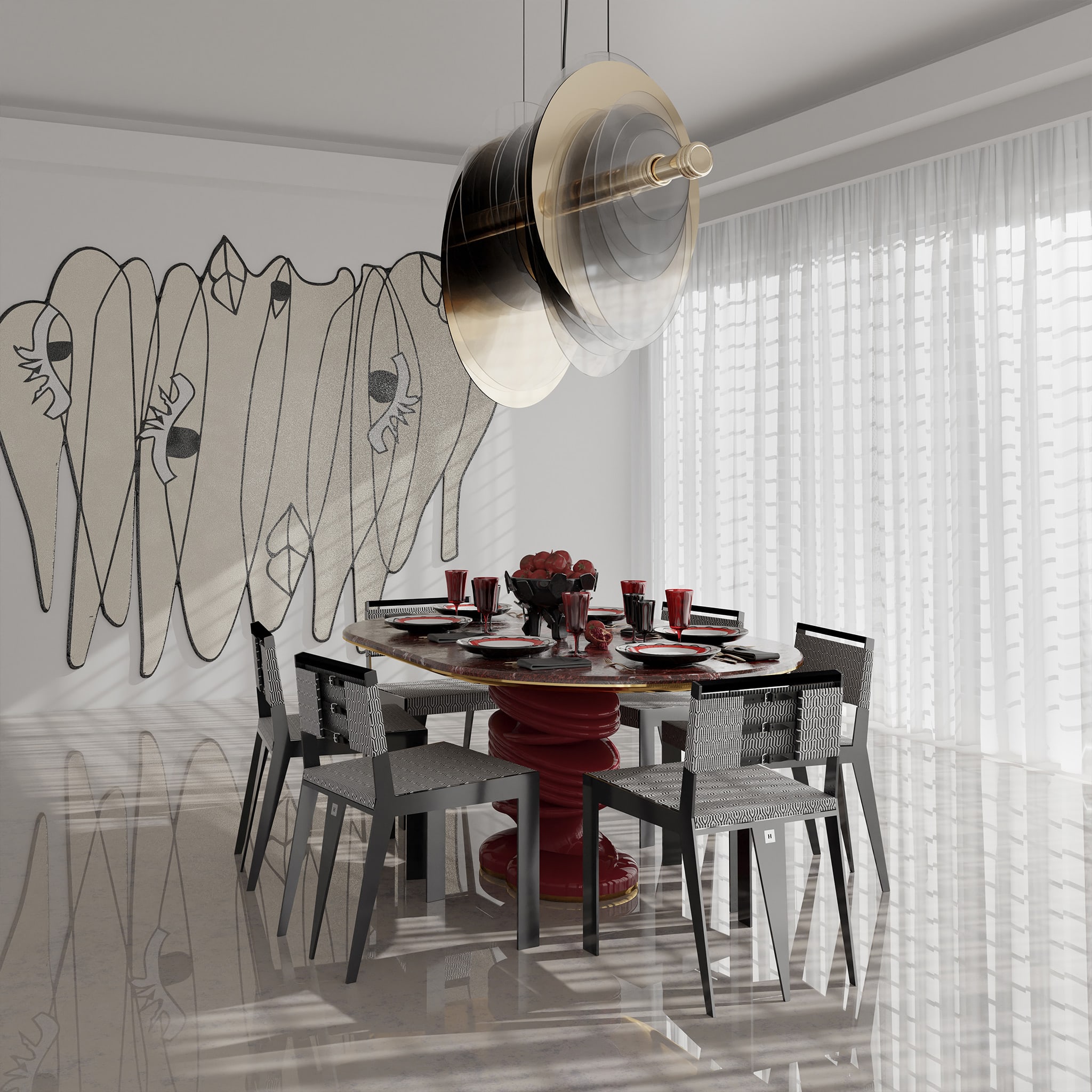 Provocative minimalism takes center stage in the Cinco Chair's design, where every element is meticulously curated for visual impact and practicality. The distinctive five-leg seating arrangement, supported by a contemporary stainless steel structure, ensures stability and adds a touch of modern sophistication.
A thoughtful buckle embellishment on the back is both a design accent and a functional element, showcasing the chair's commitment to aesthetics and comfort.
This detail, coupled with perfect symmetry and an efficient use of materials, epitomizes the Cinco Chair's dedication to creating an inviting and stylish seating experience.
In the grand tapestry of dining room design, each chair we've explored, from the Mondrian Pina Chair to the provocative minimalism of the Cinco Chair, contributes a unique thread, weaving together a narrative of comfort, style, and innovation. As we conclude this journey through the five best dining chairs of Hommés Studio, we're reminded that dining space is more than just a collection of furniture; it's an expression of individuality and a canvas for personal style. Whether you're drawn to the art deco charm or classic-chic vibes, these chairs transcend mere functionality, becoming the focal point of a dining experience that is as visually captivating as it is inviting.
Each chair, with its unique design elements and material choices, invites you to curate a dining space that resonates with your distinct taste and personality. We hope you enjoyed and were inspired by the best dining chairs collection, and we invite you to discover our Dining Tables Collection to make your living room stunning at each event.