Marine Drive Penthouse, by the Architect Ashiesh Shah, is a museum-quality-home for Shreyasi Goenka, a famous art patron, and friend.
The apartment is not only decorated with rare vintage furniture but also with a contemporary design.
The penthouse is in a famous avenue in Mumbai, India. This curved boulevard received UNESCO World Heritage status as the second most extensive collection of Art Deco buildings in the world, after Miami.
Ashiesh Shah and Shreyasi Goenka
Goenka and Shah, for 11 months, did some teamwork to discover the best pieces and ideas for the apartment interior design. As a result, it helped them establish a close relationship. They traveled to flea markets in Paris, went to some fairs, such as the design Milan fair. Where Goenka got to know Eric Schmitt and Rick Owens's work.
The Entrance Area
The Living Room is the first space that we see as soon as we step into the penthouse. It is immediately possible to realize that Goenka is an art lover and cannot live with empty walls. Like she says, "Art is the only thing I spend big money on." Every time she moves to a new house, the first task is to "put up the art."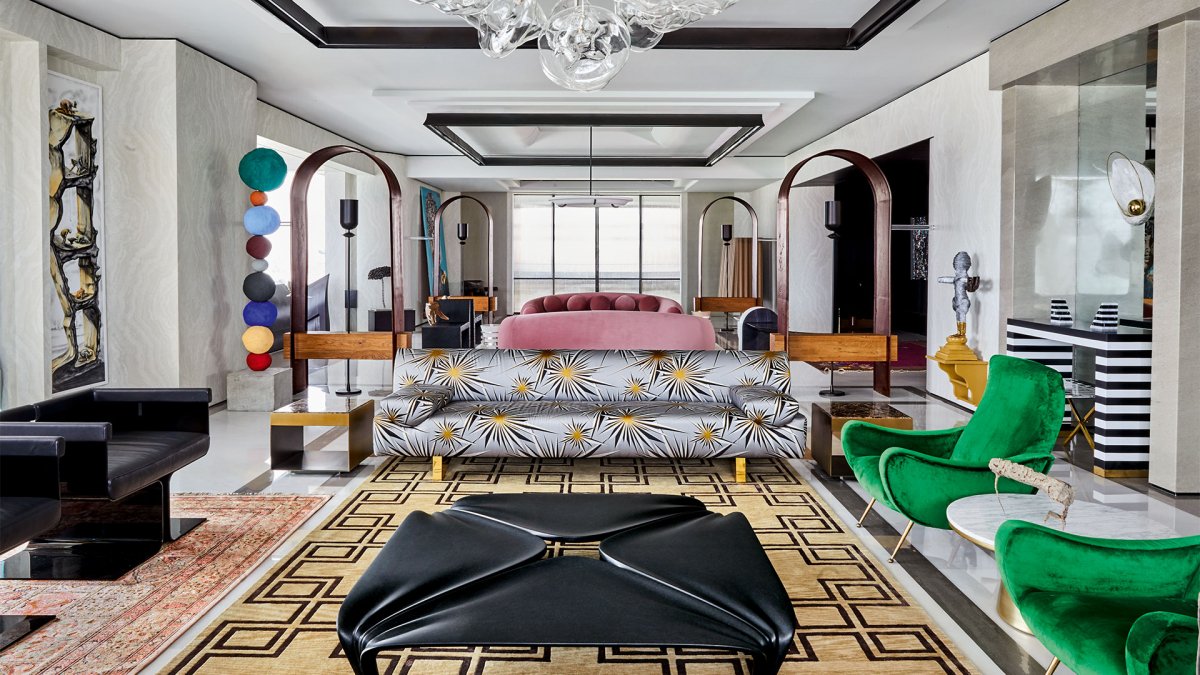 A Museum-quality-home
Right at the entrance, we come across with Rajorshi Ghosh's photomontage work and Tanya Goel canvas. As we continue to walk through the penthouse, there will be artwork such as a sculpture by Anne Morris, Ravinder Reddy, LN Tallur, and a Revoltage by Raqs Media Collective.
The pink velvet sofa, named "Ours Polaire," is a furniture piece of Jean Royère, and the wallpaper is from Splendour.

The Architect next to Anne Morris's sculpture, in the upper floor living room. On the right, the stairs that connect both floors and Ravinder Reddy's outstanding sculpture.
The Luxurious Formal Living Area
Playing the main role in the formal living area, there is a prodigious piece. It was made of hundreds of gold tongs commissioned by Goenka to the artist Subodh Gupta. They both decided to install beforehand the work on the seating area wall.
Lavish Dining Room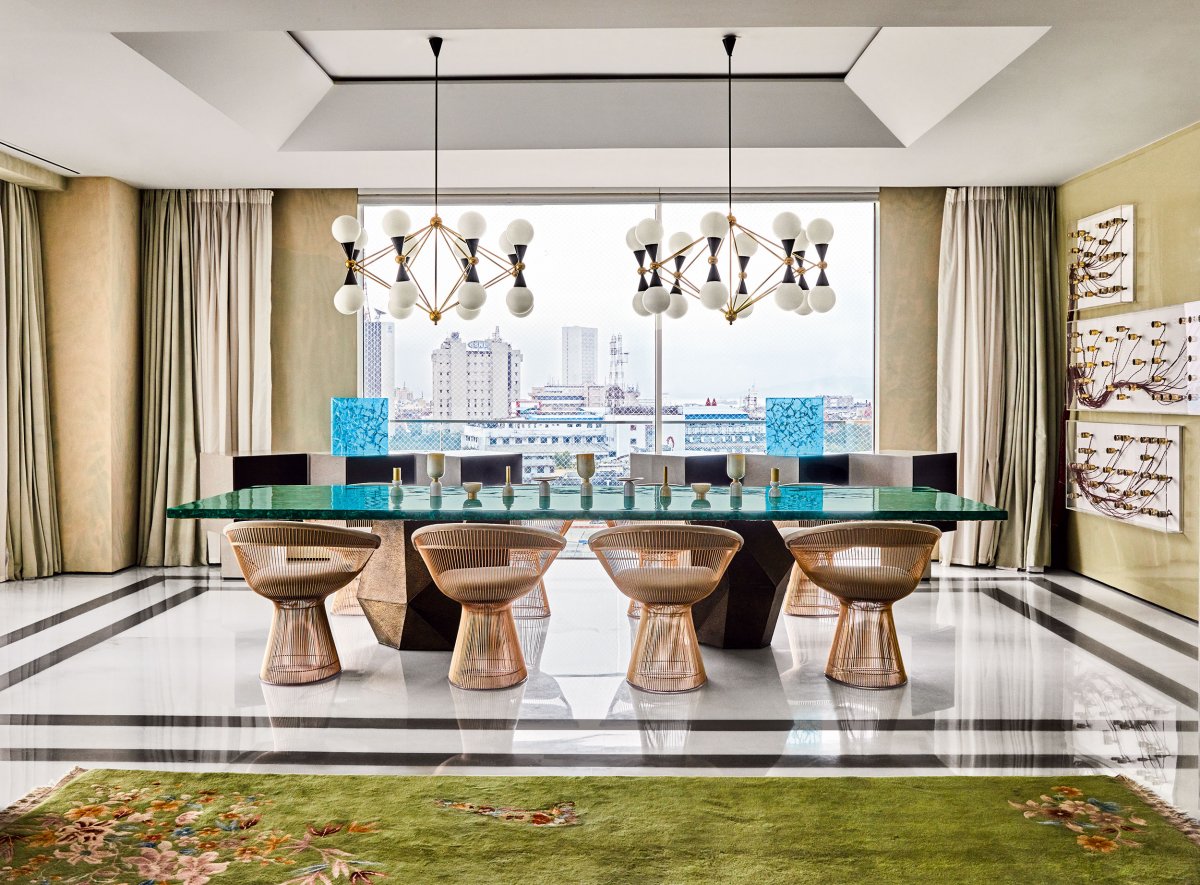 Shreyasi Goenka's luxurious dining table is a malachite stone supported by a base from Viya Home. At the same time, the chairs around it are the Platner Armchair, by Warren Platner. Ashiesh Shah designed himself the console behind the table, using material from the construction process.
As mentioned before, on the right, we can see the Revoltage by Raqs Media Collective. Above the table, the architectural lighting by Classic Luminaires.
We really hope you liked our article. Feel free to pin all the images to your favorite Pinterest board. Meanwhile, you can also visit our Pinterest boards to get more inspirations. Get more ideas for your projects and find functional, stylish, and sizable lighting and furniture choices: