Surrealist spaces. Poetic scenarios. Dreamlike interiors.
There is an atmosphere of mystery and poetry in each interior, questioning whether the interior is real or imaginative. Space can be so tempting, and the design so dreamy, that it would seem like an invitation to a whole new artistic experience.
Hommes Studio invites you to enter this magical wonderland of mystery and poetry, presenting to you the new Décor Lookbook for Art Lovers. 
Each set in this selection expresses a timeless luxury, full of art references, and extravagant creativity inspired by some of the most famous artists.  Eclectic and vivid interiors are the perfect combinations of styles and aesthetics. Rich colors and unique design pieces from this exquisite collection encourage us to transfer from one atmosphere to another.  
This book is an ode to Art and Design Lover. It's for those who look for an out-of-the-ordinary and unconventional life.
Live, feel, and breathe Art.

ROMANTIC BLUE GARDEN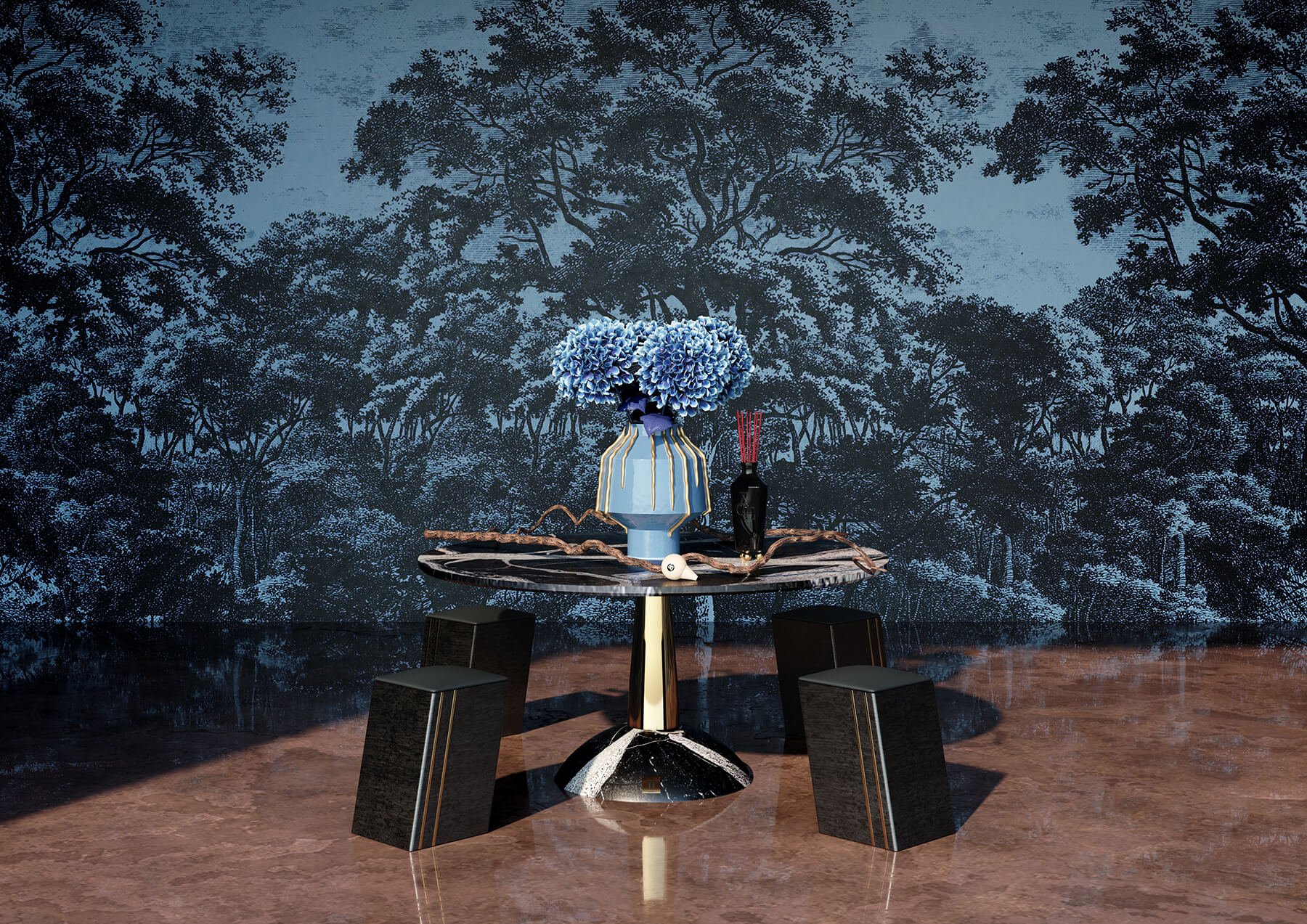 The Romantic Blue dining area is a modern, yet mysterious whimsical design set, inspired by René Magritte's painting, The Land of Miracles.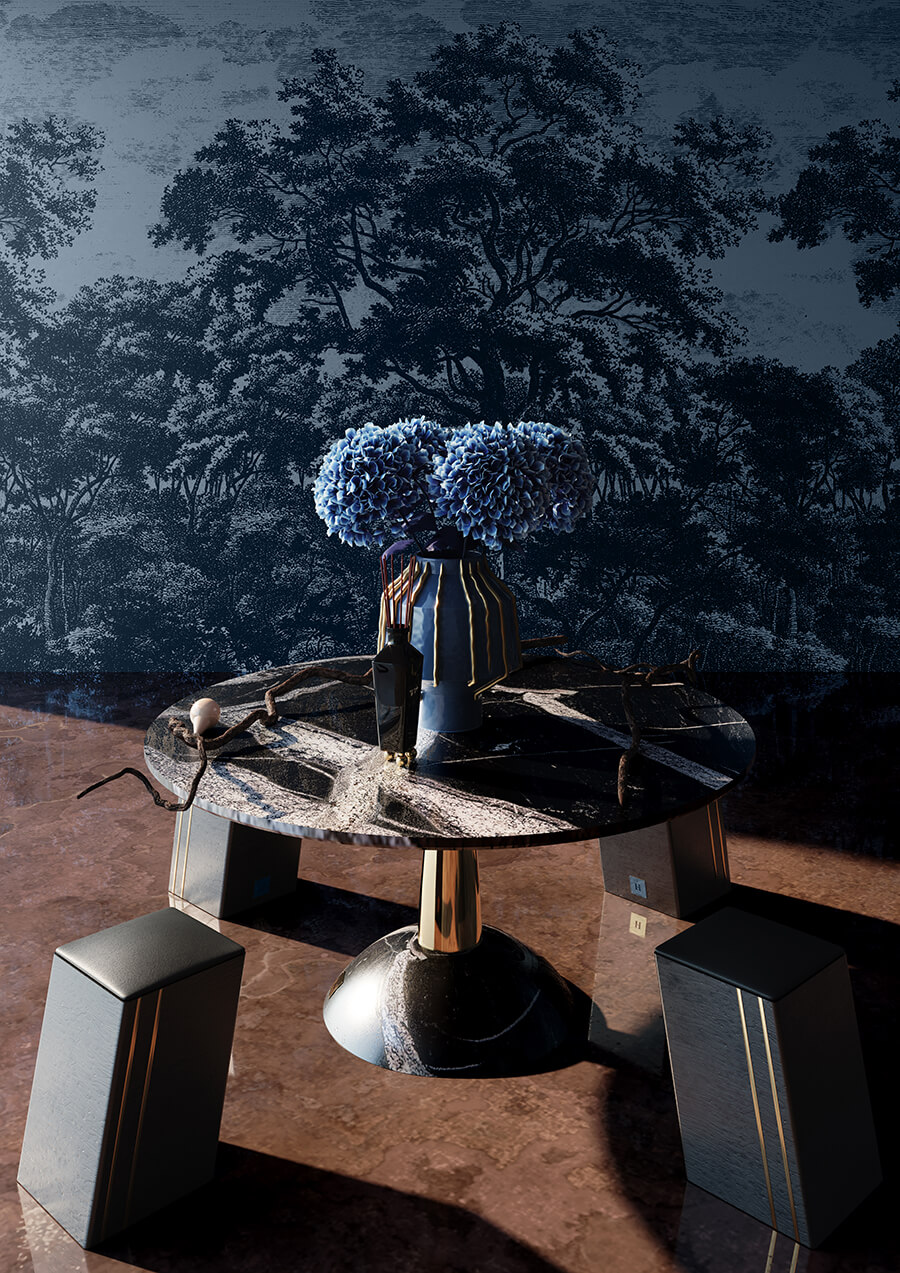 Blue hues, golden details, and outstanding design pieces evoke a sense of romance into this modern dining room, just like a secret garden.
This enigmatic scenario presents everyday objects in an unusual context to challenge realitys' perception. It's a thought-provoking design, a poetic imagination that creates an evocative image of romantic and idyllic space.
MOON LOVERS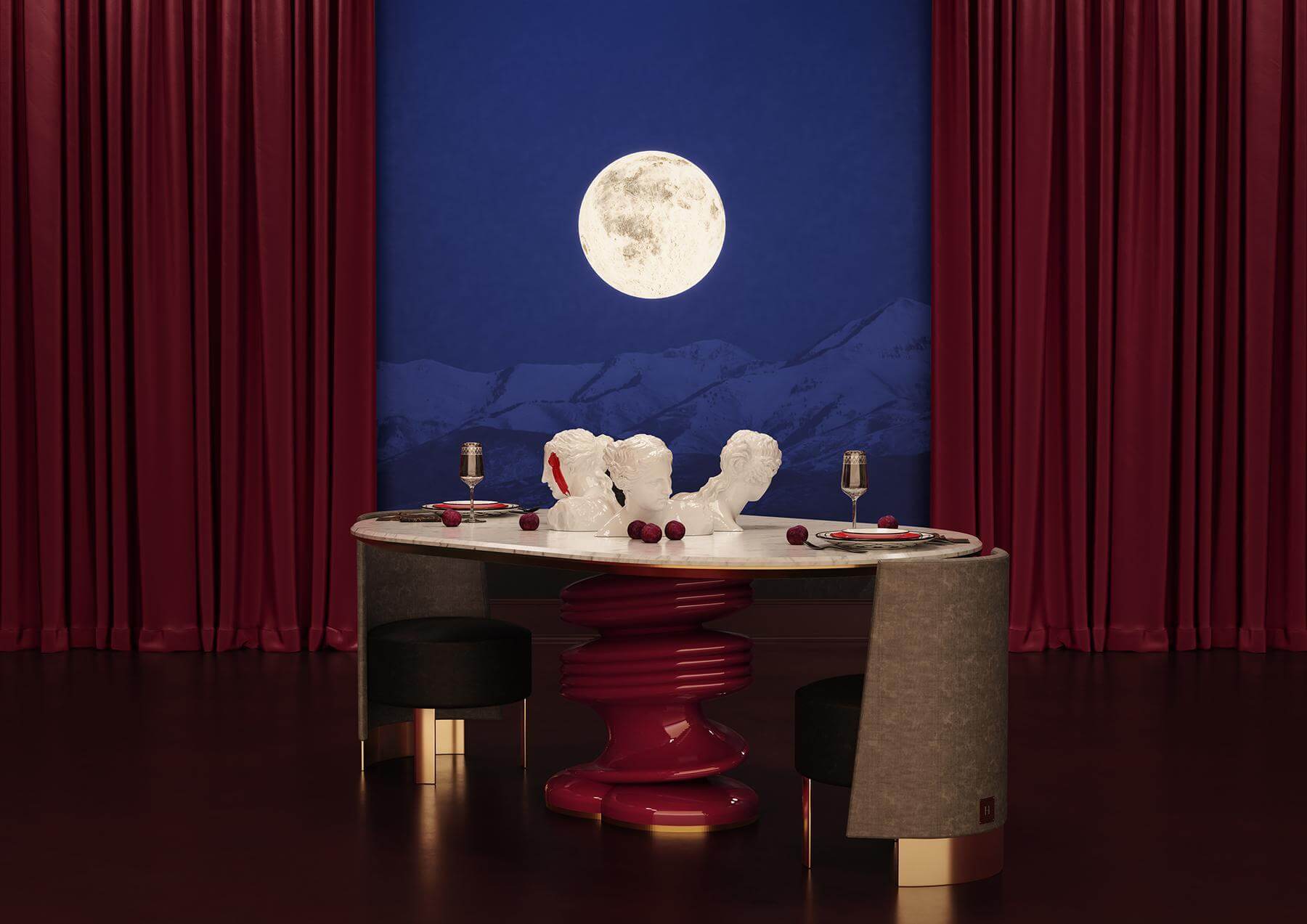 Moon Lovers is a theatrical set bursting with passion. The moon's bright glow casts a subtle light over the beautiful dining scenario, illuminating two abstract protagonists longing for a love story.
This contemporary design from interiors ebook creates a passionate and opulent dining room. With warm colors, exceptional table decoration and delicate furniture design, it takes us to another world of contemplation and desire.
JOIE DE VIVRE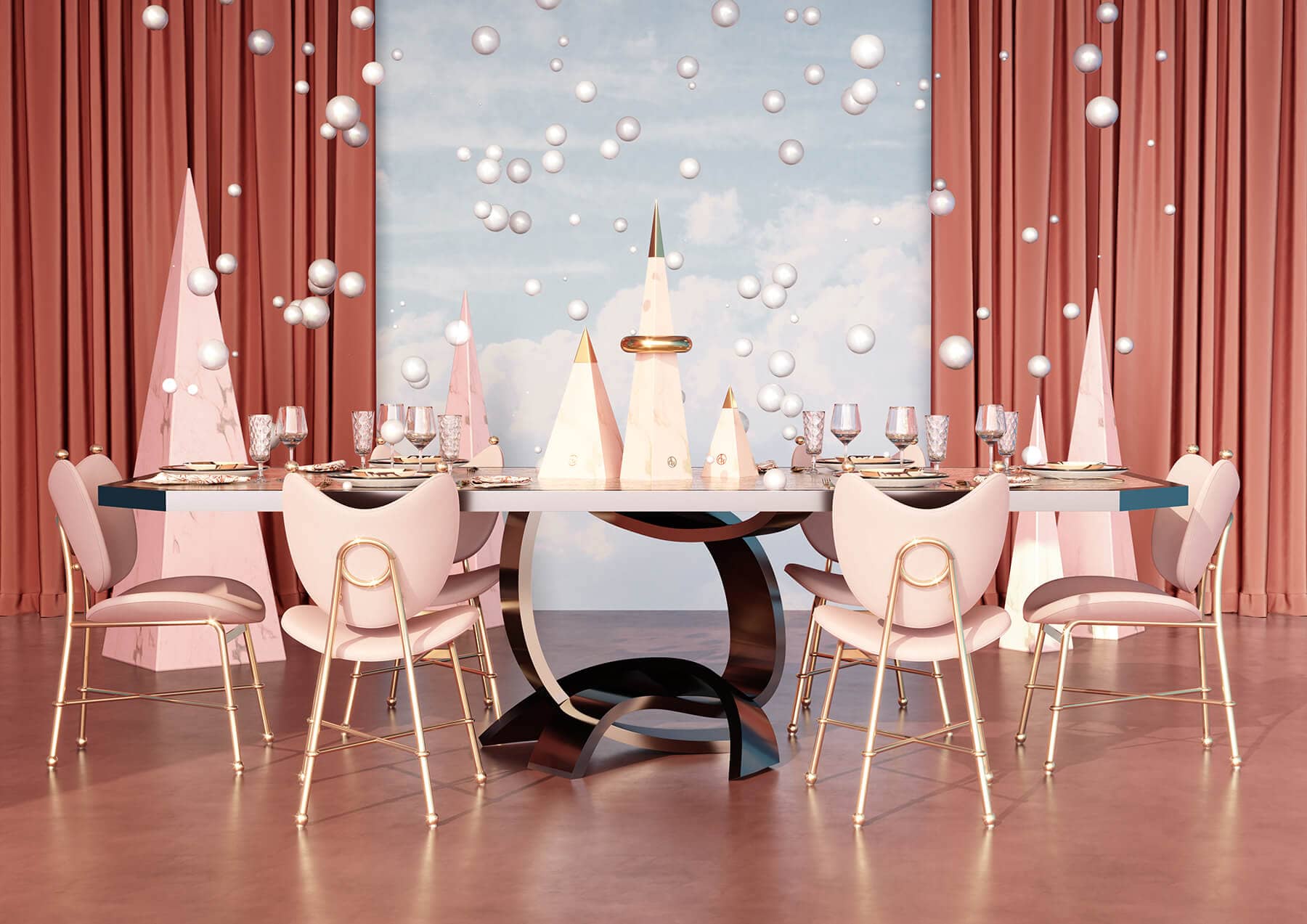 Joie de Vivre is a place of enjoyment and happiness, where unforgettable memories are created. This luxurious dining room with attractive design pieces makes a statement and will definitely leave a long-lasting impression on your guests.
The soft pink colors and unique decor transports us to a dreamy galaxy. Like in the Sheherazade painting by René Magritte, floating orbs immerse us into an imaginative and poetic world.
DININGSCAPE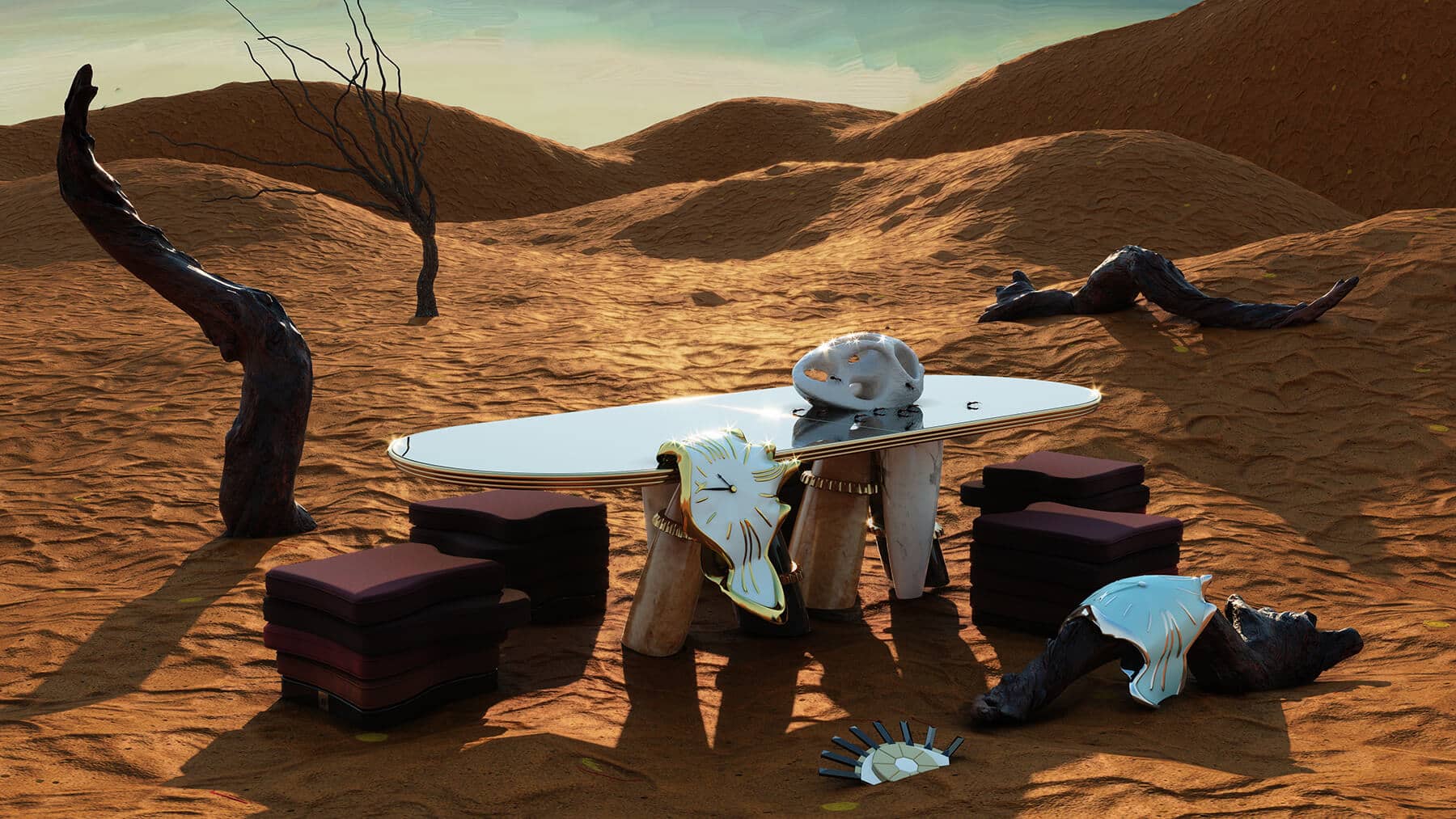 DiningScape is a surreal scenario inspired by the famous painting of Dali, The Persistence of Memory, that plays with our senses and imagination.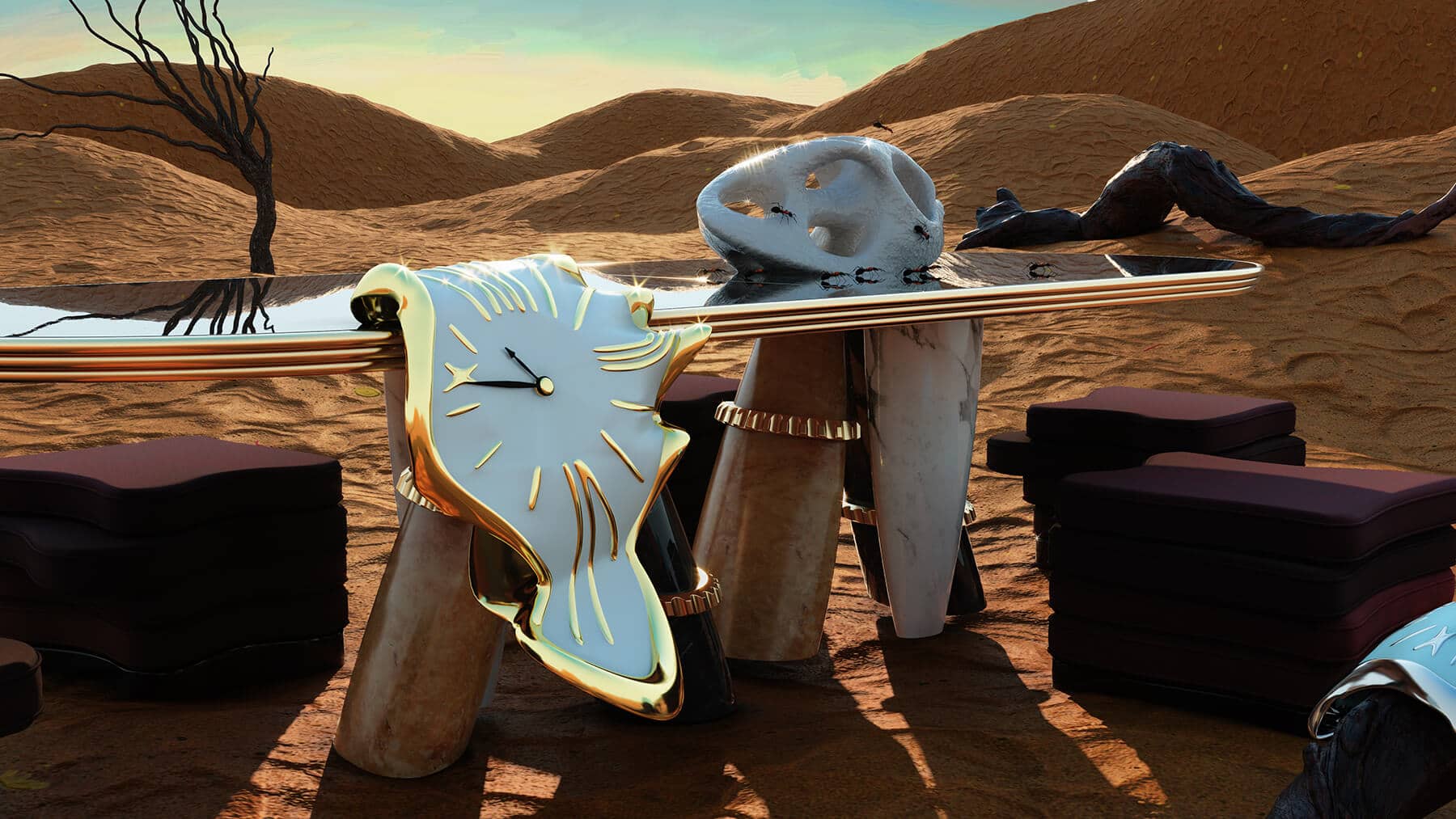 For the boldest and fearless, this surrealist dining room is a place for self-expression with a daring attitude to collect the most extraordinary memories.
With unrealistic and surreal elements blended with objects known to the human eye, this space will transport your dining experience to a journey of an infinite dreamscape.
DREAMERS' RENDEZVOUS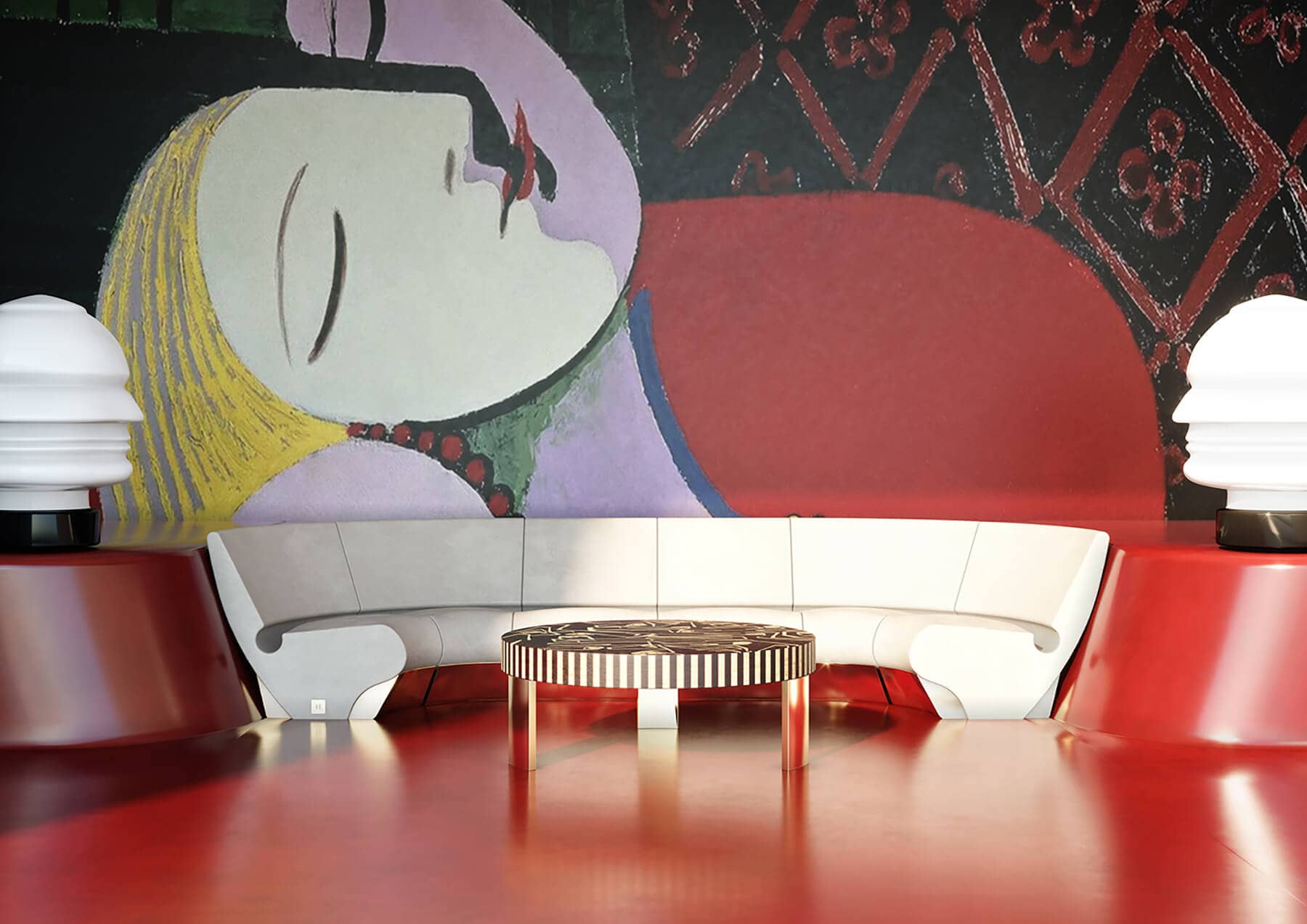 Dreamers' Rendezvous set is an invitation to be a part of a creative and dreamy scenario. Inspired by Picasso's painting, this intimate living area reflects the personality and dreamers' soul.

The beautiful background creates a melancholy and cinematic expression with bold colors, and a unique design display portrays a contemporary living area. Check out our interpretation of Picassos' art in this interiors ebook.
COSMIC LOUNGE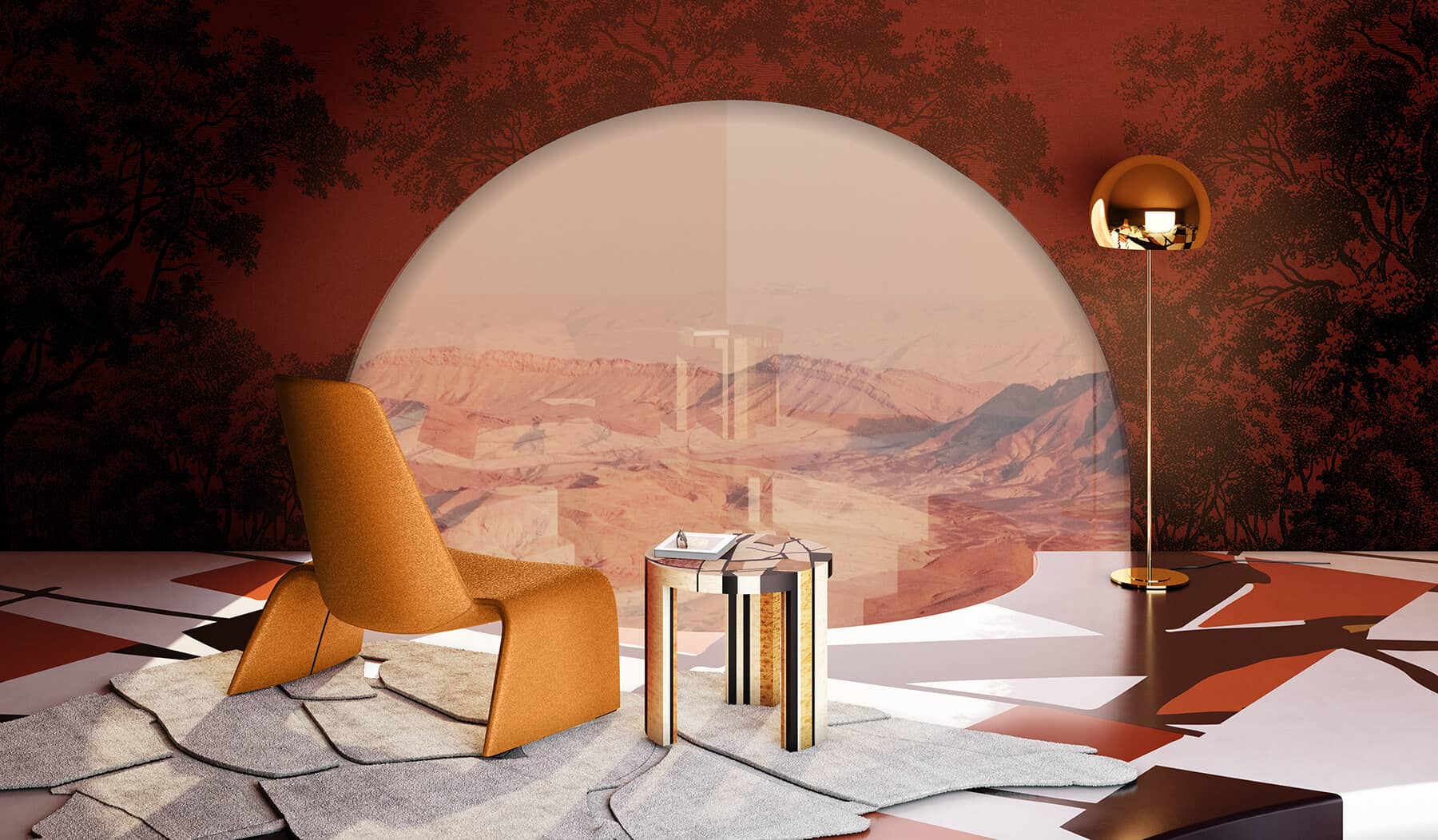 A panoramic lounge faces a surreal and intriguing scenario with a spontaneous and joyful shape. It's a contemporary interior created for art lovers to look for fulfillment through design.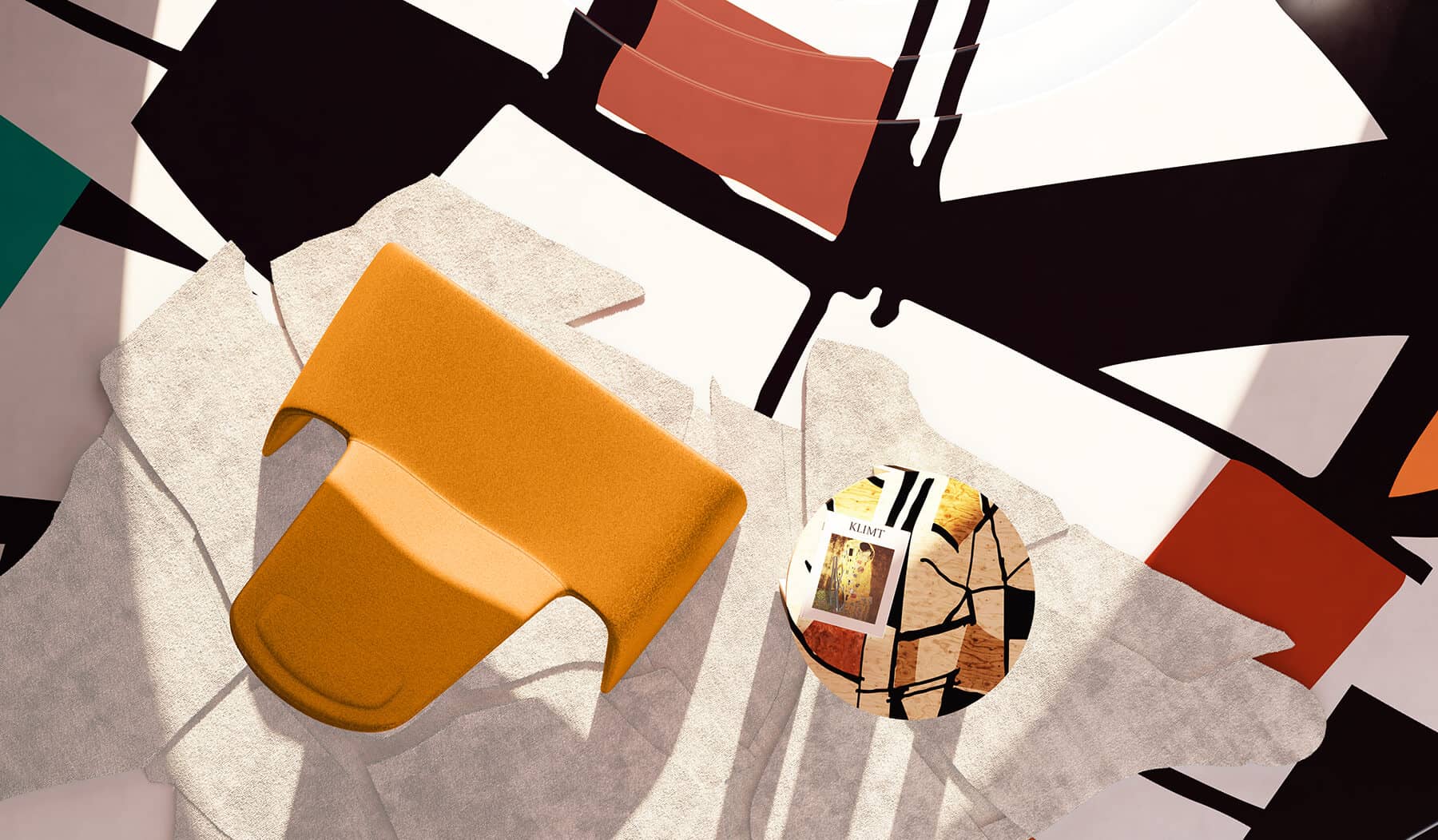 This cosmic living area collects a myriad of motifs from various cultural epochs but is mostly inspired by Klimt's fascinating oeuvre of art.
This puzzling interior exudes modernity with rich and unpredictable design details.
BLUE OASIS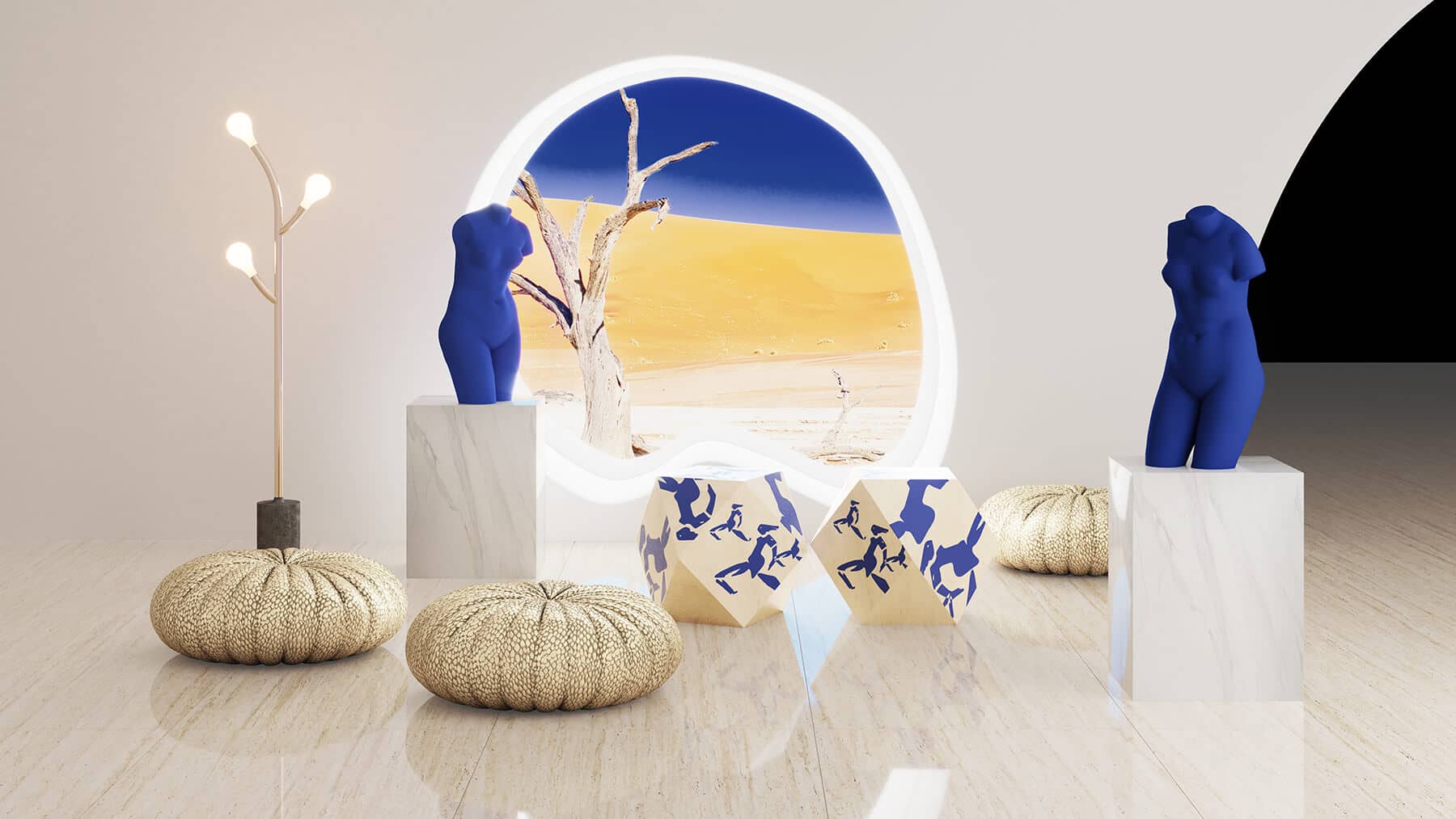 Beauty can exist everywhere but in a state of invisibility. Blue Oasis is a minimalist pop art scenario that tries to capture beauty wherever it is.
Inspired by the French artist Yves Klein, blue is a vehicle to the pursuit and to capture immateriality and infinity. It's a living space that evokes an art gallery scenario atmosphere, the blue radiates colorful waves that envelop the viewer's eyes and each one's imagination.
SURREALISM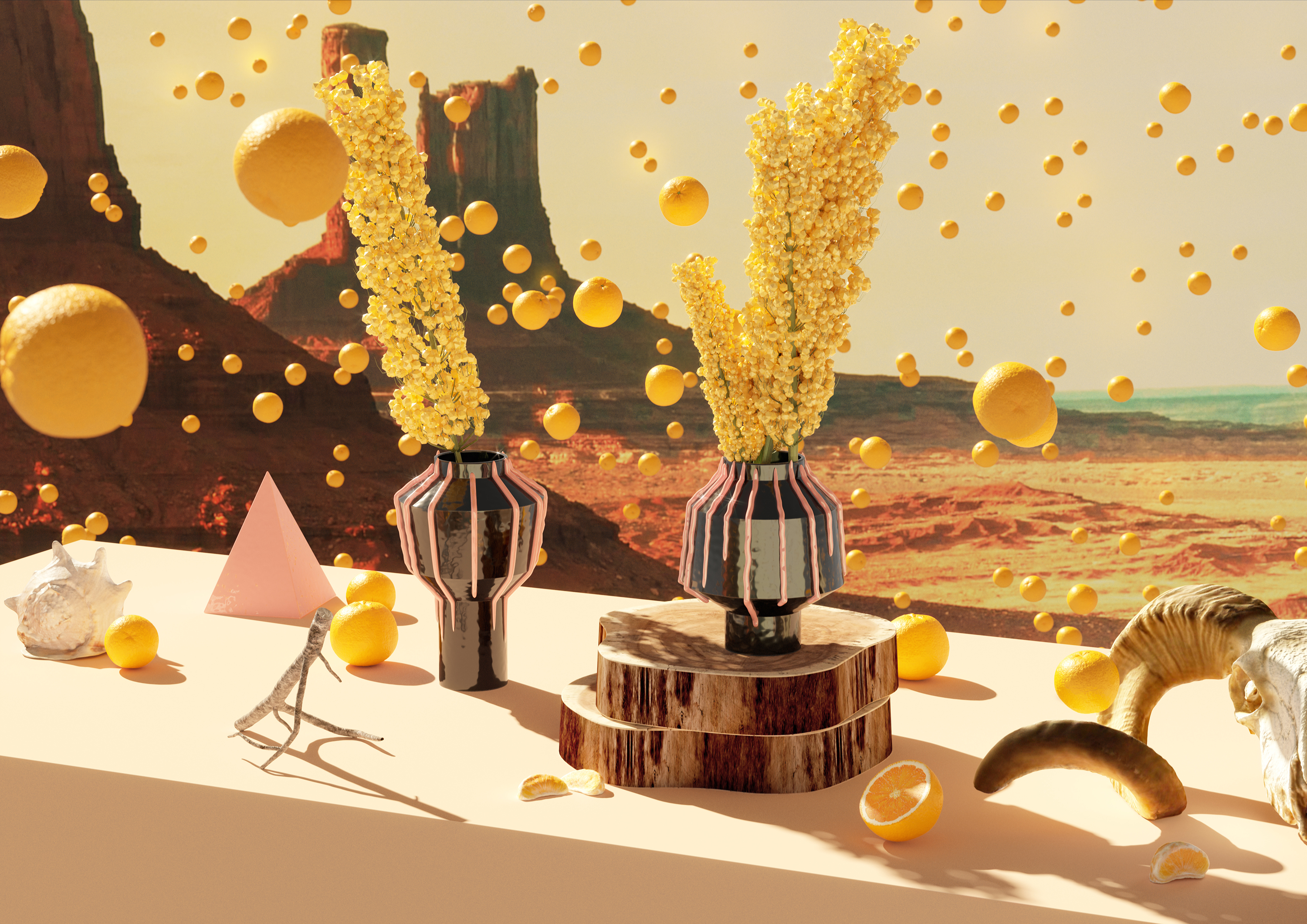 Say goodbye to traditional centerpieces, and hello to a new era of design and life, where traditional has a new and modernistic shape. With a mix of identities, cultures, styles from this interiors ebook, and a free mind, centerpieces are endless creativity and surrealists.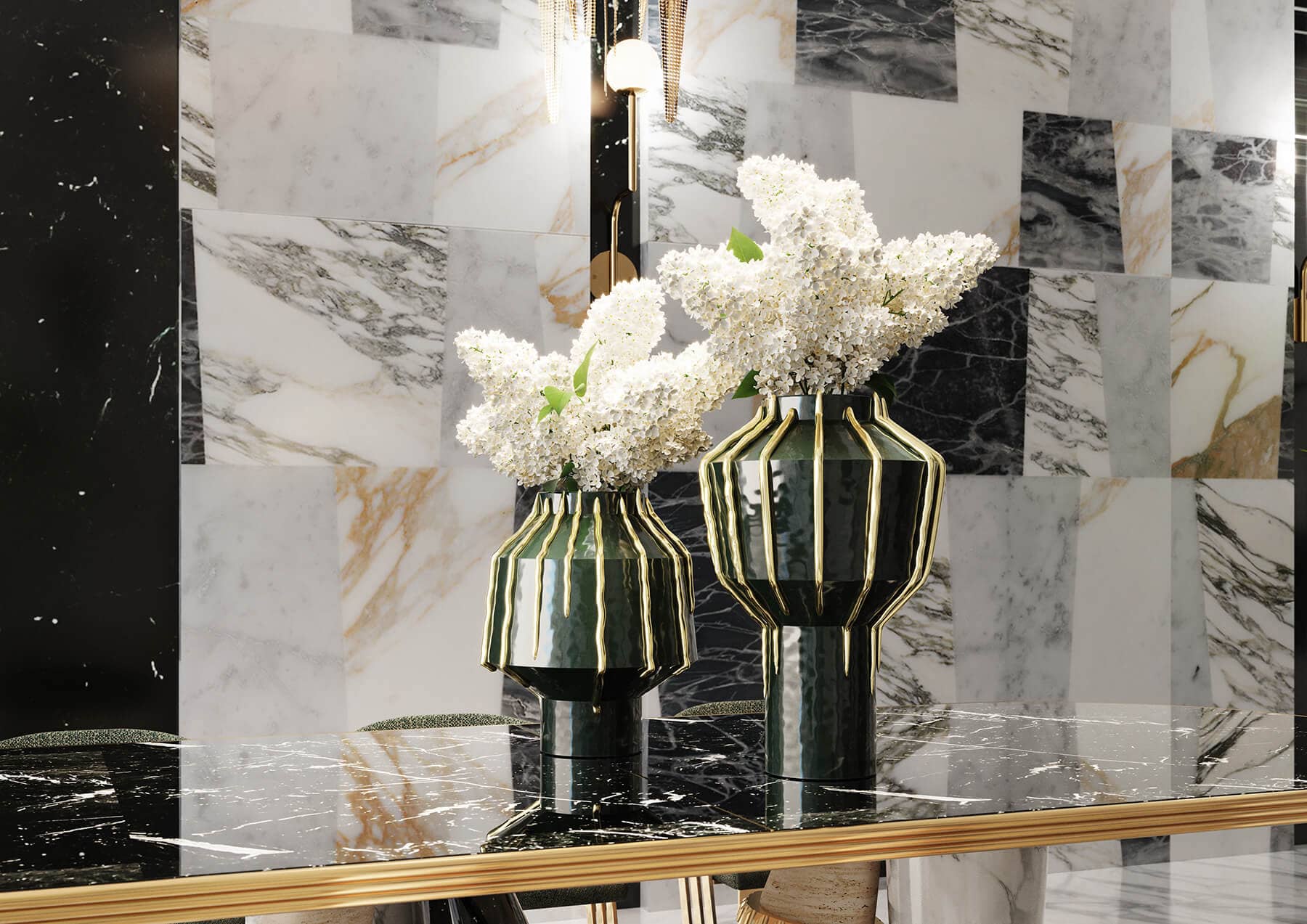 Break with rationalism and free your mind for an endless and unconscious creativity. The traditional has a new and more modern shape!
SUR LA TABLE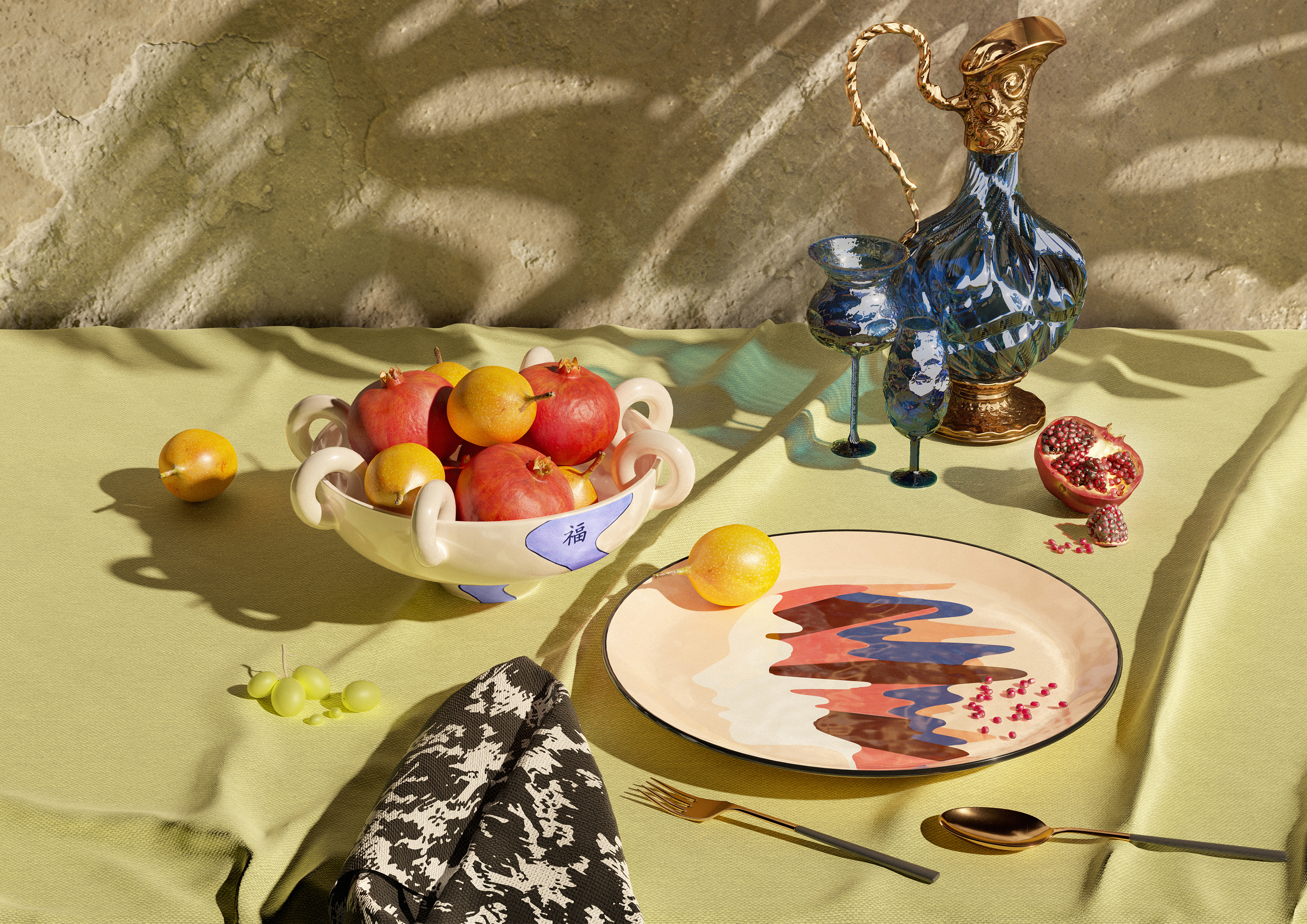 The dining room is one of the most desirable places at home. It is a showcase of each house because it is the meeting center with family and friends, where memories are awakened, stories told, and incredible memories created.
The ideas for decorating tables are a very controversial topic. They can be multiplied and multiplied, and the only limit can be our imagination. One thing is for sure, fresh colors, spontaneous objects, and extraordinary dining sets are suitable for any occasion.
VINTAGE NOSTALGIA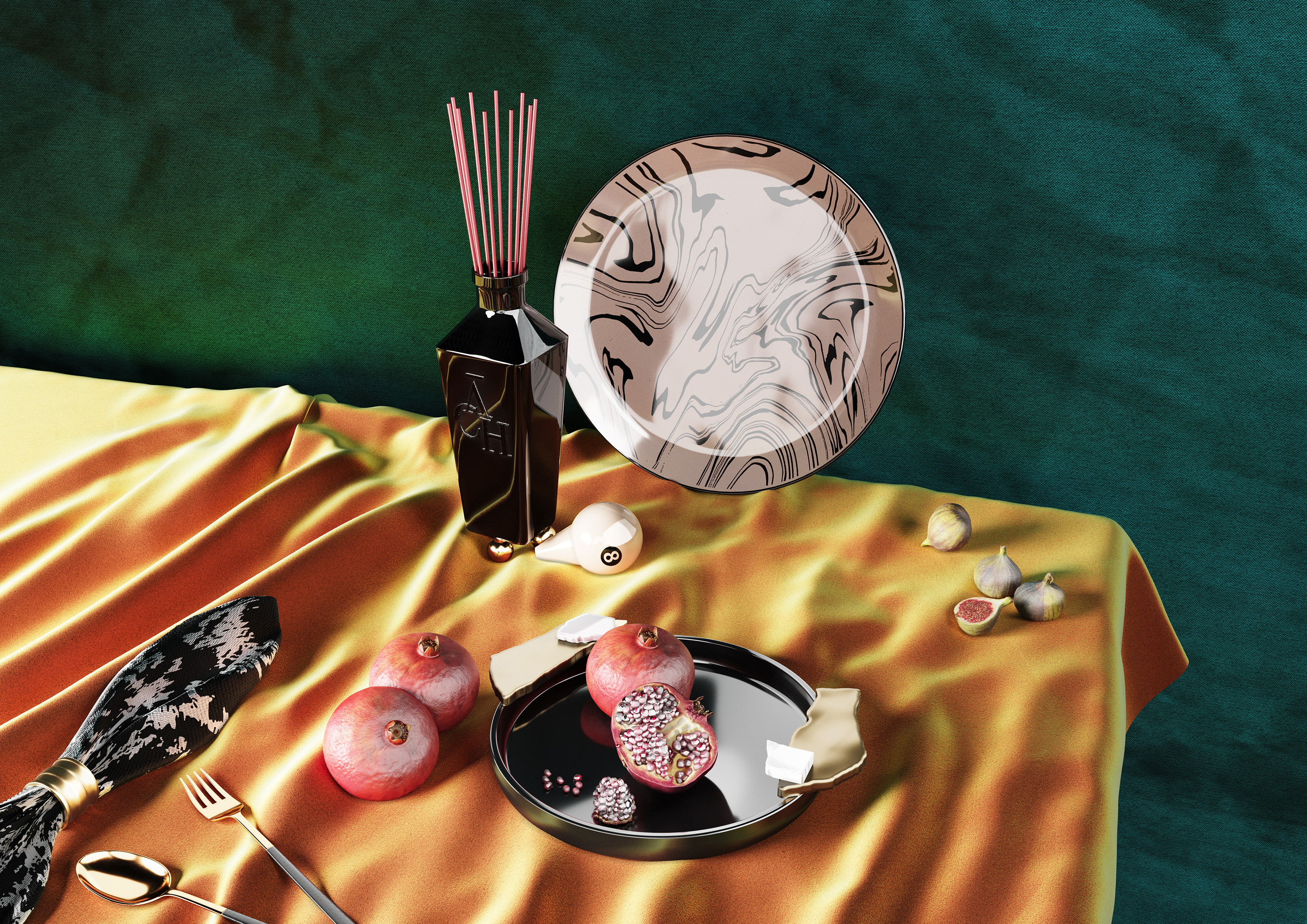 Treasure remarkable dining moments with family and friends and add an extra artistic value with ACH COLLECTION artsy dining sets from artsy interiors ebook.
It is not only necessary that the table is full of fabulous food, but also that it has the right decoration. Light spirit and fresh colors are the perfect combinations to create remarkable gastronomic moments, with the best artistic dining sets.