Kelly Wearstler is a world-renowned interior designer known for her ability to create elegant and bold spaces. Find out details about her latest project, Marlboro Residence in Los Angeles.
Over three decades, Wearstler, who is on the AD100 List, has established herself as a global reference in design, bringing refinement and authenticity to her work. As one of the few women to win awards in a male-dominated industry, Wearstler can be considered a pioneer in a success story.
Kelly Wearstler is a designer who values the importance of a home as a space for relationships and love, proof of which was accepting the challenge of redesigning a classic 1960s California bungalow in Brentwood.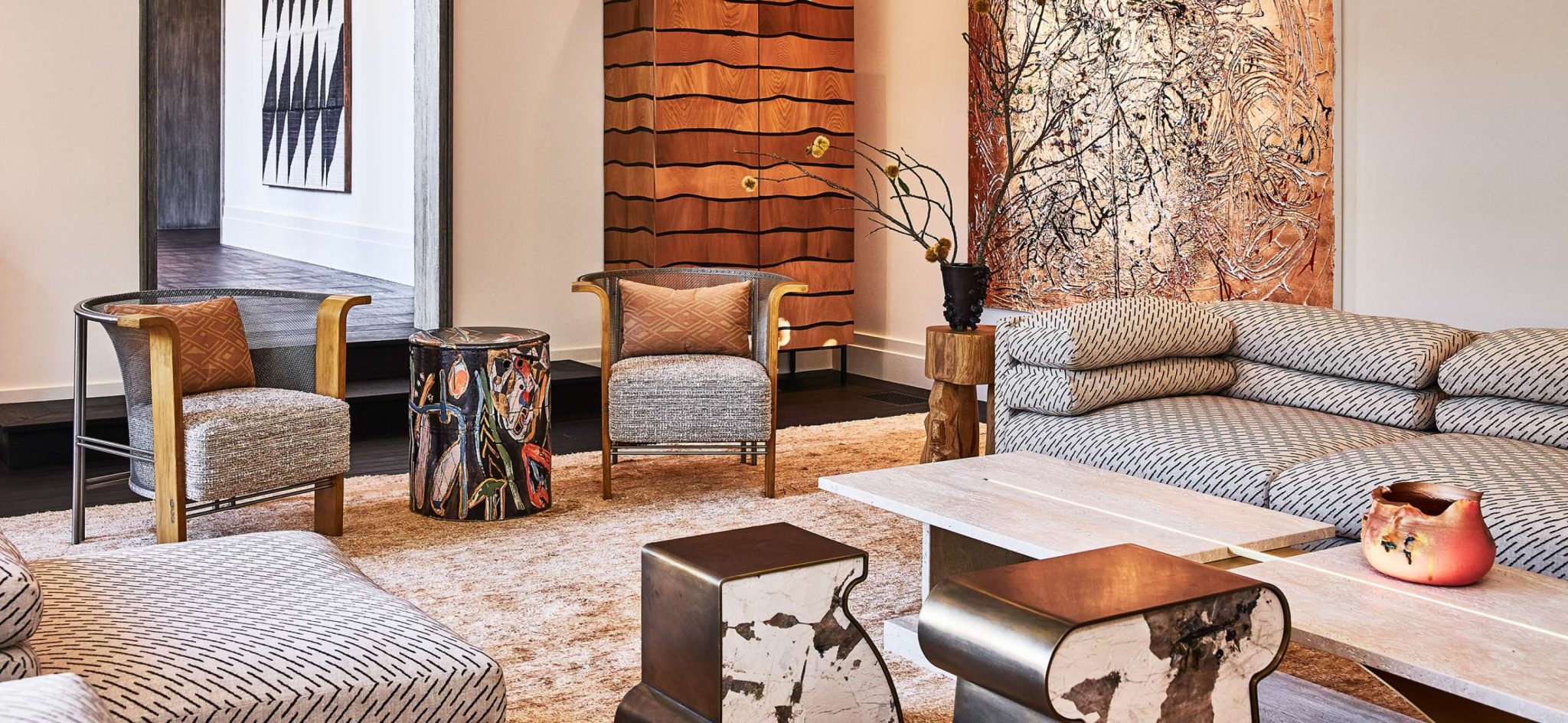 Just as no two people in the world are alike, each project designed by the professional is unique and personalized. Wearstler is known for channeling her clients' desires into her creations and is committed to listening.
In her Marlboro Residence project in Los Angeles, the designer used elements of the Mid-Century Modern aesthetic to compose an environment that is both welcoming and full of personality. The spaces were created to reflect the life of its inhabitants with an aesthetic marked by textured colors and vintage elements. Get to know more details about the project:
Kelly Wearstler And The Mid-Century Modern Aesthetic
One of the main influences of Kelly Wearstler's aesthetic is the Mid-Century Modern movement, which emerged in the United States in the 1950s. This style is characterized by simplicity, elegance, and functionality, strongly emphasizing using natural materials such as wood, glass, and metal.
By incorporating elements of the mid-century modern aesthetic into her designs, Kelly Wearstler creates timeless and modern spaces, with a unique visual that is difficult for other designers to replicate.
The Marlboro Residence is a perfect example of Wearstler's ability to combine distinct styles to create a luxurious yet welcoming space. The four-bedroom, six-bathroom home is a spacious space with white walls that highlight the vibrant colors and textures of the materials used. The designer mixed vintage and modern elements, creating a sense of balance and harmony between old and new.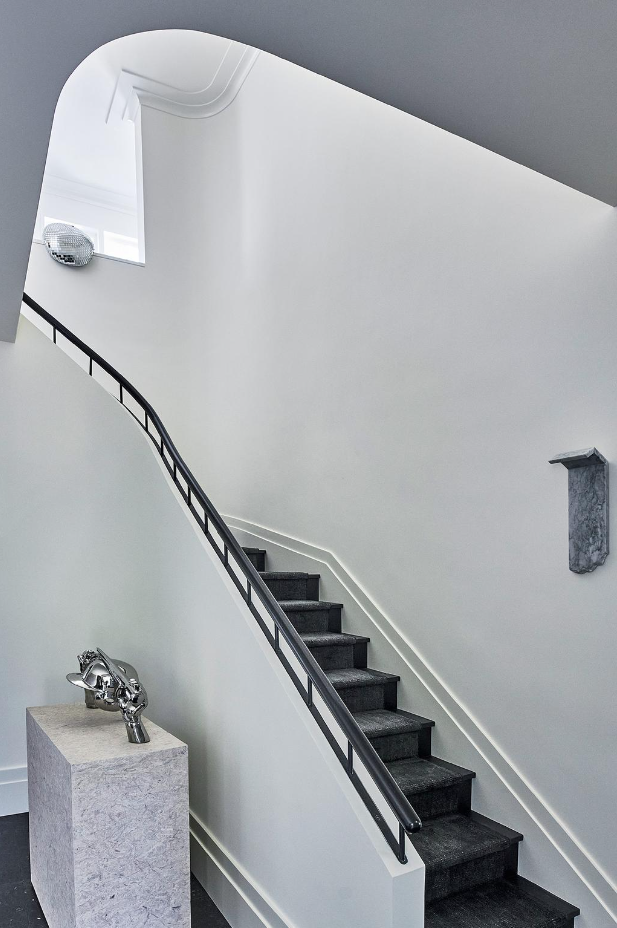 The Marlboro Residence Project
Walking through the Marlboro Residence, you can see that every detail was carefully thought out by Wearstler, who wanted to make the passion of the couple of owners one of the central points of the decoration.
The use of natural materials such as wood, leather, and stone appear throughout the house, whether in the furniture, finishes, or decorative details. Wood, in particular, is a material that often appears on walls, ceilings, and floors, bringing a touch of warmth and coziness to the environment.
The choice of fabrics and textures was also carefully thought out by the designer. She used soft and textured fabrics, such as velvet and wool, to create a feeling of comfort and coziness. These materials are combined with geometric prints and vibrant colors, creating an atmosphere of joy and optimism.
THE LIVING AREAS
Remember that for AD 100 Kelly Wearstler, every piece of information matters? Considering that the proprietors like to spend time together as a family, they wanted to have both formal and more intimate spaces in the house. Thus, one of the living rooms has a relaxed and cheerful atmosphere, with creamy tones highlighted by a bay window that brings California sunlight into the room.
The formal living room is decorated with custom furniture and emphasizes the couple's art collection, with objects that combine art and design. Highlights include a sculptural console in saffron tones, a handmade rug, a ceramic chair commissioned from artist Reinaldo Sanguino, and a special fabric upholstering the sofa and armchairs. In addition, a neon artwork by Tavares Strachan with the message "We are in this together" sits behind the sofa, while a bronze piece by Nick Cave, called Chaplet, hangs over the fireplace with an almost romantic – but politically misleading – floral structure.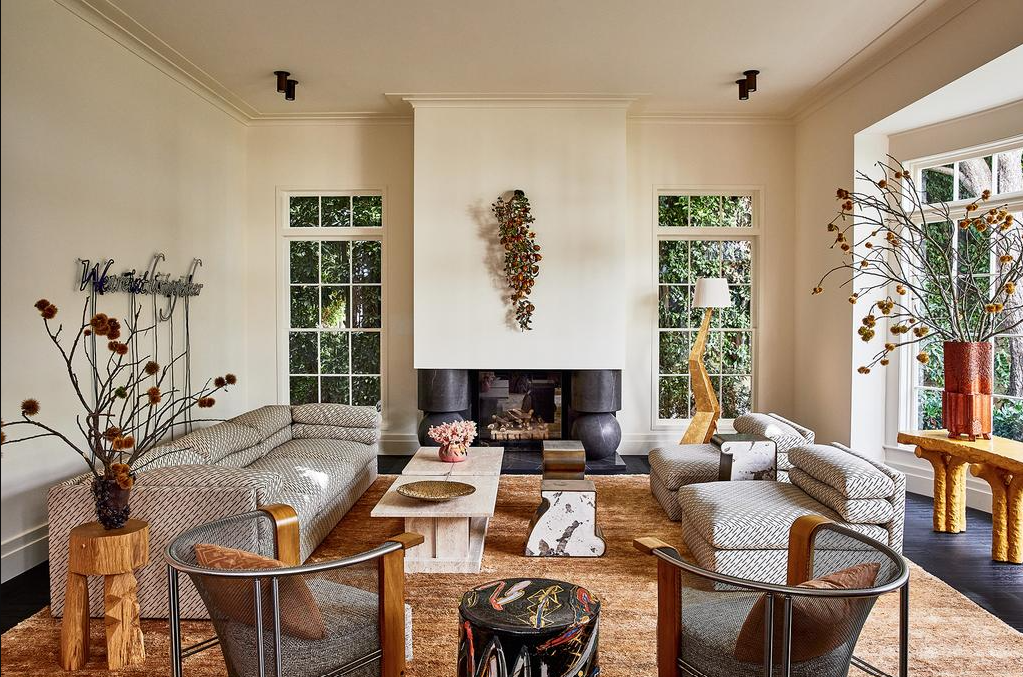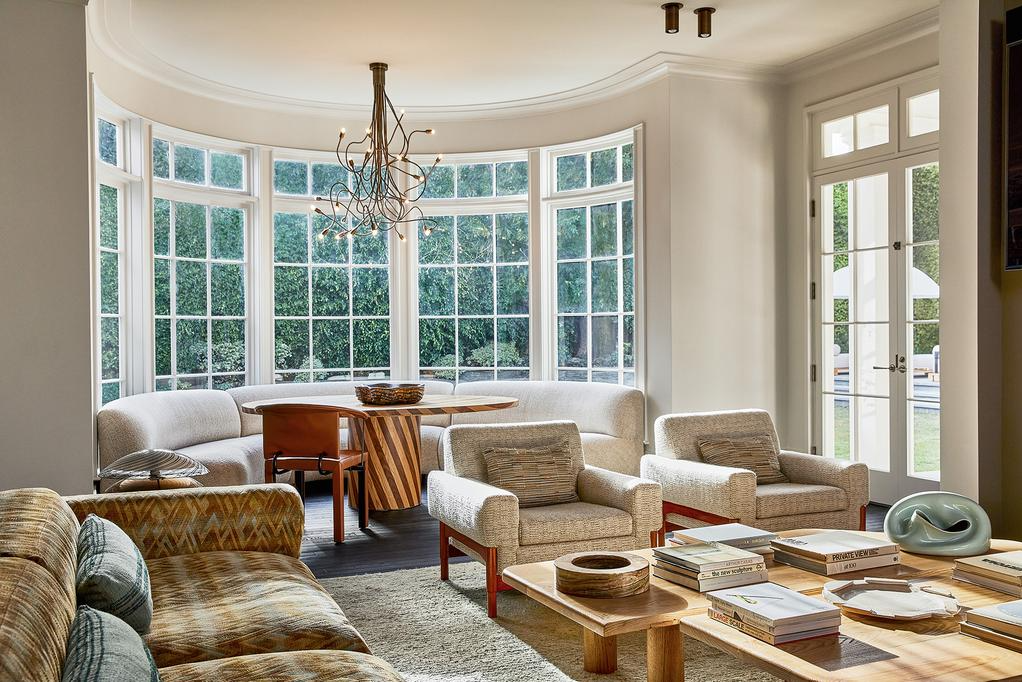 In the spacious kitchen, dark wood floors frame the space, which features a combination of white tones and a platinum quartzite island. "The really refined, broad stroke movement of the marble makes it so much more dynamic," says Wearstler in an interview for Vogue Living.
The designer's ability to subtly add a mid-century modern aesthetic to each room is impressive. For the – stunning – dining room, Wearstler couldn't have been more dedicated: vintage chairs accompany a beautiful 10-seat dining table made and stone, which contrasts perfectly with the choice of hanging chandelier, and the sideboard and cabinet set.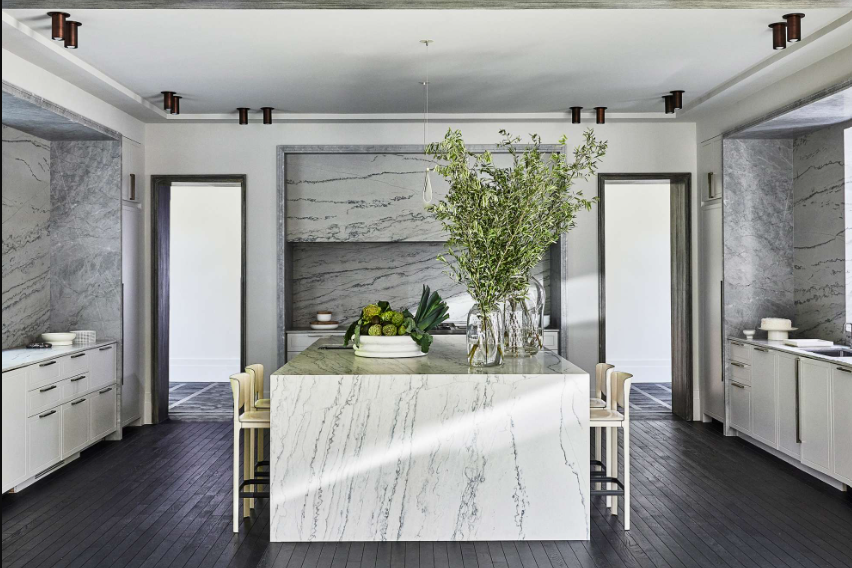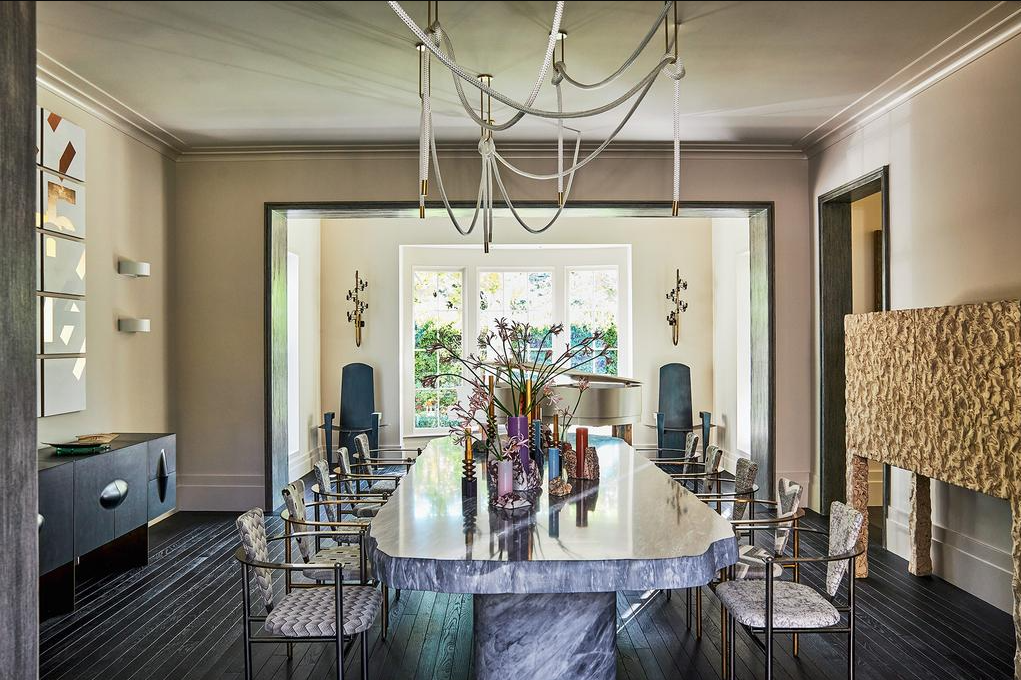 THE MASTER BEDROOM
Typical mid-century modern aesthetics, the master bedroom was designed to be a true invitation to relaxation, with warm tones of burnt ochre and golden brown. The walls have been covered with a beautiful pine tree, which offers views of the house's landscaping, giving the feeling of being in a "tree house." The room is an example of Wearstler's characteristic approach, which mixes old and new elements to create a sense of depth and soul in the space. The room includes contemporary finds as well as classics, such as Mario Bellini Pianura armchairs and vintage Italian bedside lamps.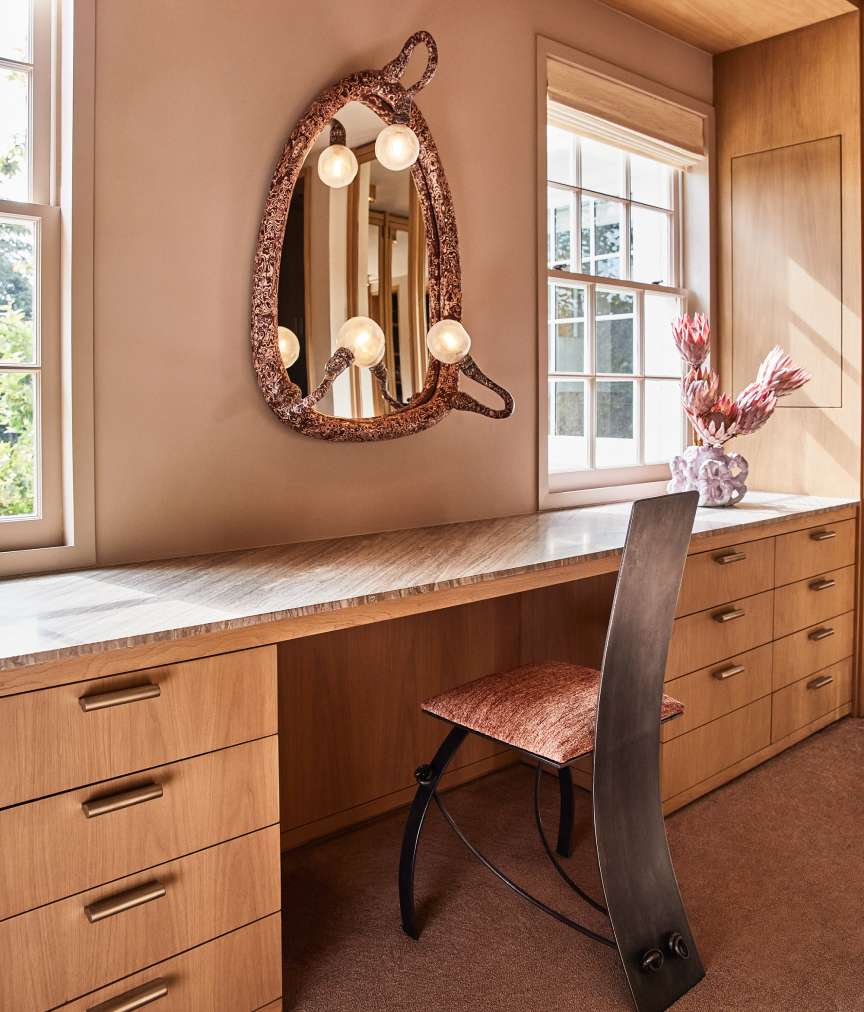 Finally, stone plays a vital role throughout the house, but it is in the master suite bathroom that it stands out. Using Ceppo Beige, the element was used in the composition of almost the entire room including sinks, walls, floor and a one-piece sculpted bathtub. "We wanted to ensure that the bathtub offered the perfect comfort and form," concludes Kelly Wearstler.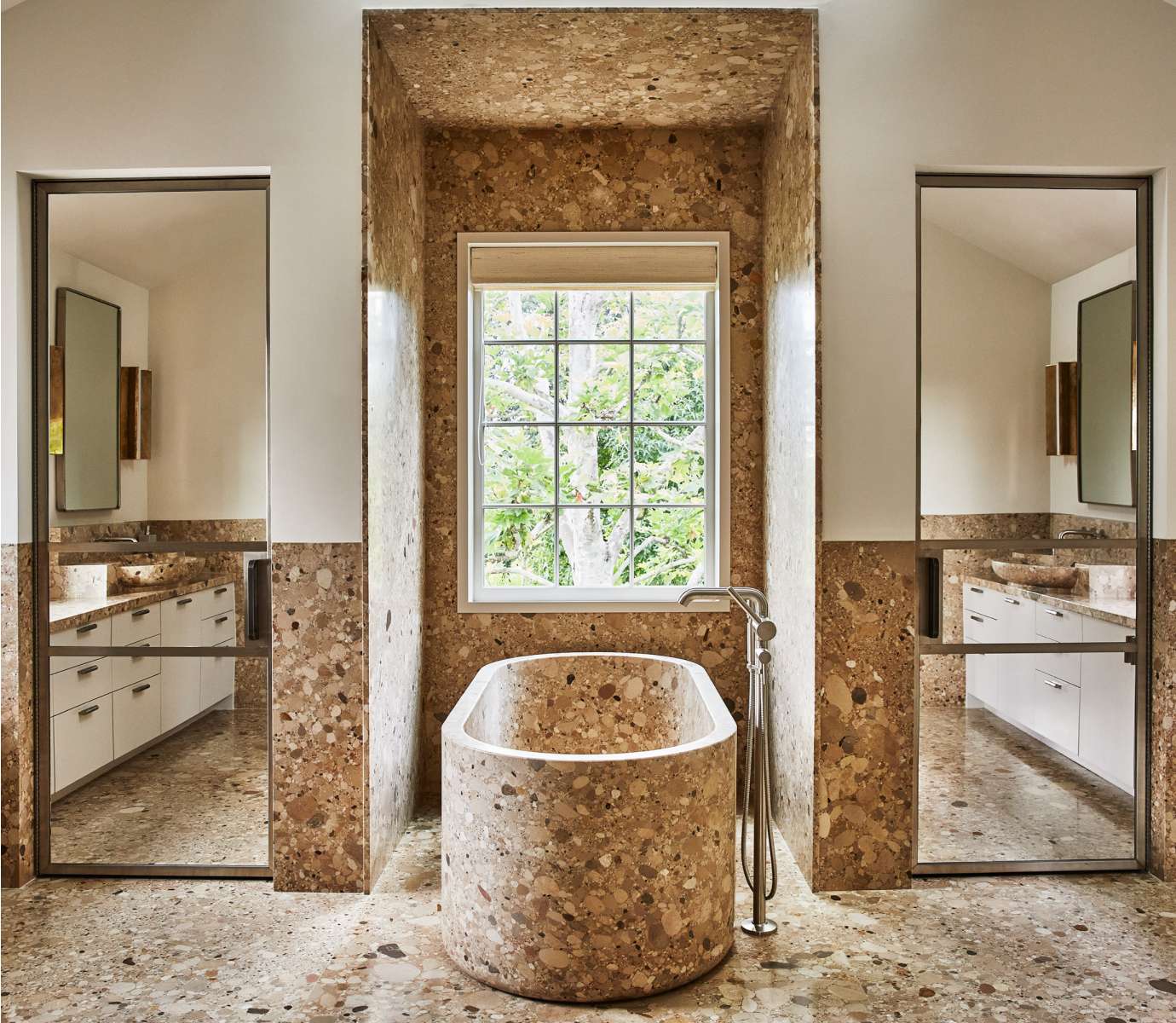 Get inspired by the look:
The Mid-Century Modern aesthetic, used with subtlety and sophistication, was one of the elements that contributed to the creation of this contemporary and timeless atmosphere. We selected some pieces inspired by the look to complete your decoration:
Lisola Sofa Retro

Sofa

$

6.100
As seen, the Marlboro Residence project is a demonstration of Kelly Wearstler's ability to combine distinct styles to create a unique and welcoming space. The result is a Mid-Century Modern aesthetic home that reflects the personality of its owners and is a true example of good taste and elegance.
Now that you're familiar with the decorating style, check out HOMMÉS Studio's selection of Mid-Century Modern aesthetic furniture. Add more style to your interior design projects with unique, elegant, and high-quality pieces!