Green Lush and Burnt Sienna are two interior design layouts for a modern luxury entryway, hallway, or any nook in the house.

The two modern luxury corners introduce the trendiest colors of the fall season – murky green, electric pink and orange, red, mustard yellow, amber, and brown. In any modern interior design project, a stylish nook with vibrant colors exhales a healthful sense of liveness.
Discover Green Lush and Burnt Sienna below.

GREEN LUSH: SHOP THE LOOK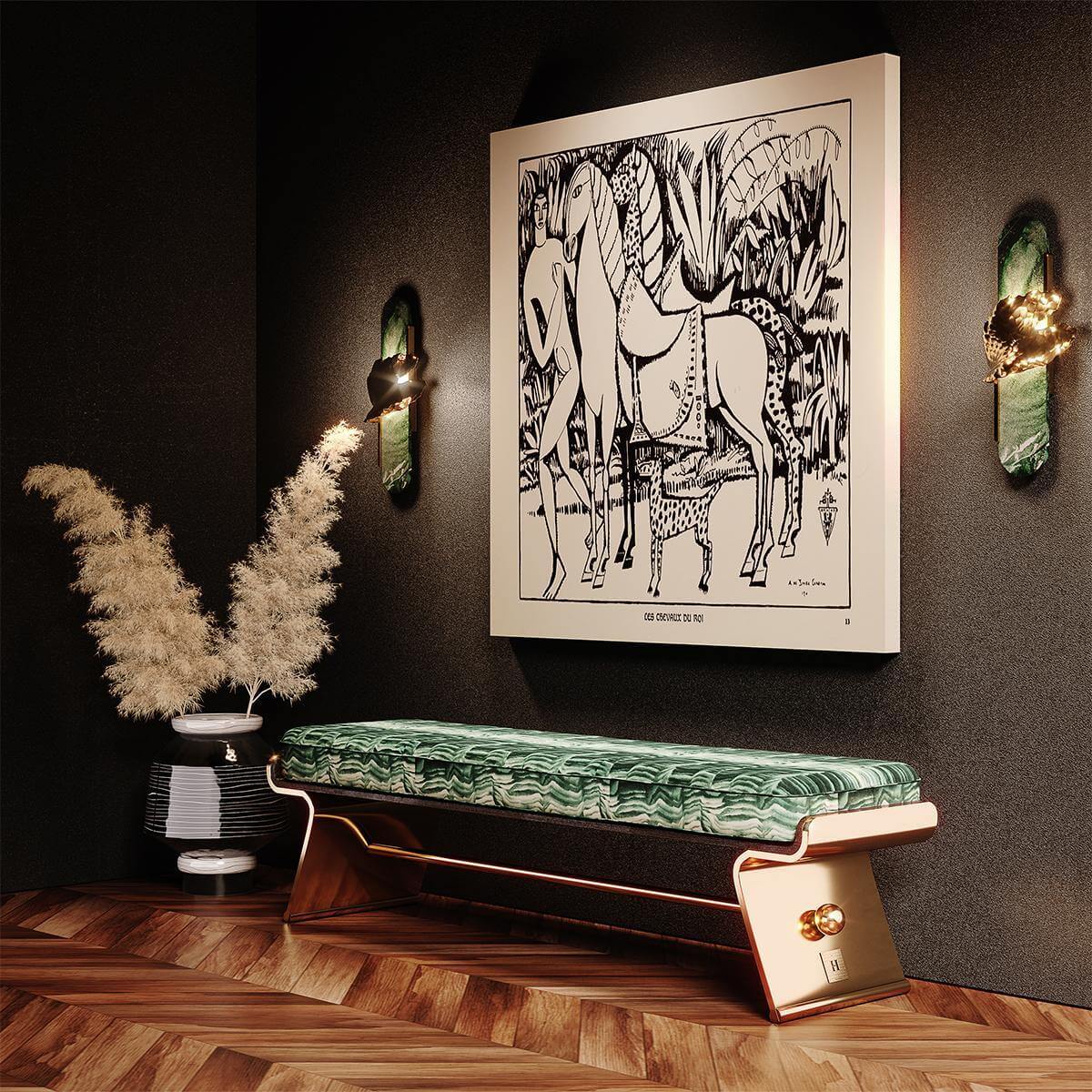 Murky natural hues, smooth and crispy surfaces, and streamlined and organic shapes repeat the unworldly sensation of immersing in nature.

Earthy green, caramel, and deeper brown hues bring outdoor indoors most luxuriously while a multitude of layers stimulates all our senses, with nature-inspired visual and tactile textures.

Spend the Fall outdoors, in the comfort of your home.
MAAK BENCH
Maak Bench is gorgeously glamourous and it is perfect to add the spaces an elegant extravagance. A sculptural gold base combined with a comfortable seating area will be your guests' favorite spot, giving an elegant edge to your entrance hall project.
ATLAS SIDE TABLE
Atlas Side Table is an astonishing design piece. A marble side table that got its inspiration in the surrealist movement. An artsy side table for a luxury interior design project.
LEAFUS WALL LAMP
Leafus Wall lamp is like a subtle breeze of fresh and modern design. A luxury wall lamp with an organic and elegant shape. Nature-inspired, this design lamp is perfect for a high-end interior design project.
COA VASE BY ACH COLLECTION
Coa decorative ceramic vase offers a minimal yet luxury silhouette design. A classic black and white vase, perfect for decorating your entrance pedestal table.
BURNT SIENNA: SHOP THE LOOK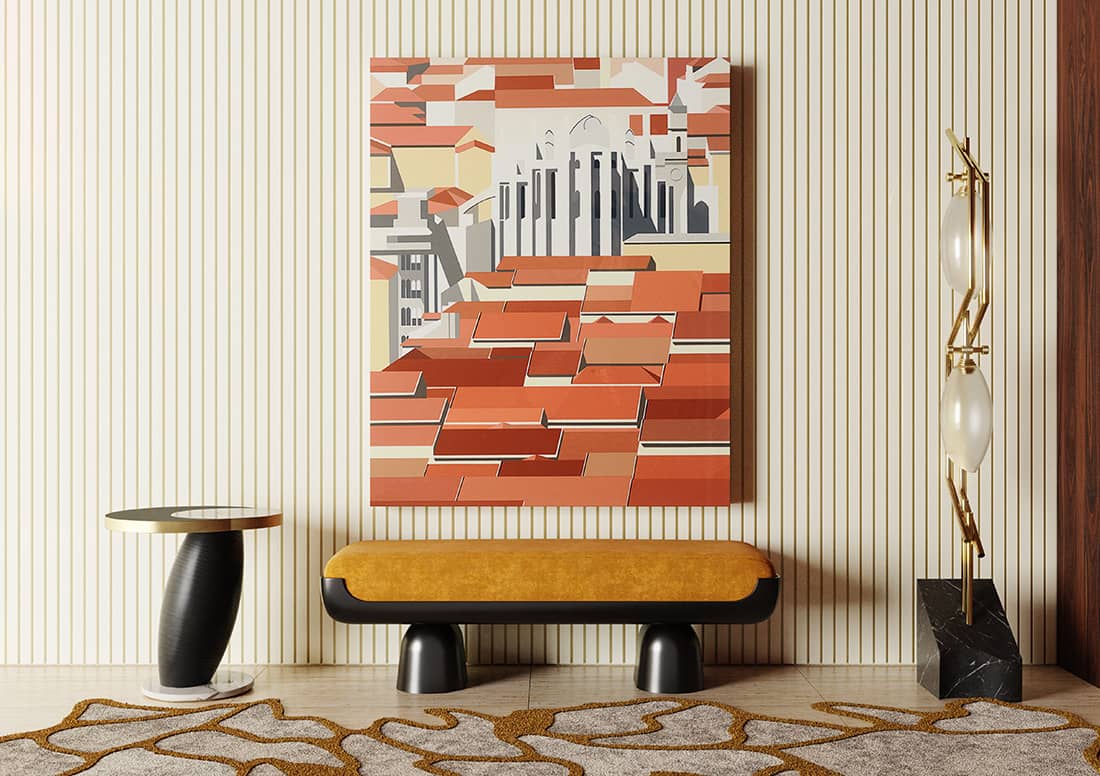 Mustard yellow, orange, sienna, purple, and brown are the colors your home should wear this Fall. The palette of saturated earthy hues tempers the muted color scheme of your interior project.

Playful arrangements, a modern rug with an organic shape, and some golden accents mimic the Autumn metamorphosis and outline a healthful home.
FIFIH BENCH
Fifih Bench is the perfect luxury bench for a minimalist and modern interior architecture project. Elements from the past mixed with a futuristic vision.
BILLIE SIDE TABLE
Billie Side Table owns a striking attitude and sculptural shapes.
Created in daring materials this luxury coffee table promises to steal the show of any high-end interior design project.
PANORAMA RUG
Panorama rug is a contemporary decorative piece reflecting a mix of shapes, colors, and materials made by experient hands. It can be featured in your next luxury living room as a functional decor piece.
Other luxury finishes and materials are available to customize your piece.
COCOON FLOOR LAMP
Cocoon Floor Lamp was inspired by the shapes of Art Deco jewels. It was designed to bring elegance and character to any living area. A luxury floor lamp for a high-end interior design project.
GREEN LUSH AND BURNT SIENNA: SHOP THE LOOK
Go to Shop The Look and discover a selection of products to style Green Lush and Burnt Sienna. We kindly suggest you get winter-ready with our FW21 Lookbook with modern luxury interior styling which you can discover here.
Download the Hommés Studio catalog and discover furniture, lighting, and home accessories to design a modern and sculptural interior.
Also pay a visit to ACH Collection website and discover high-end homeware and pet accessories for a wholesome modern lifestyle.