Dezeen magazine, also known as the world's most popular and influential architecture, interiors, and design magazine, featured the Tropez Daybed, a product of our new outdoor collection – The Mediterran Collection. As a team, the recognition that a great brand/magazine like the Dezeen Magazine gives to one of our products is absolutely fantastic.
The recognition by a magazine as influential as Dezeen Magazine leaves the entire team in ecstasy and ready to create even more valuable pieces for the different houses of the world.
Dezeen Magazine Showroom: Hommés Studio, a Portuguese furniture brand, has produced the Tropez Daybed, a sunbed inspired by the brightness of the French beach resort of Saint-Tropez. Tropez daybed is one of many products in the new HOMMÉS Studio collection. A collection that bets on everything that is good – All the good things. The Mediterran Resort collection is about all the good things, perhaps the best. Clear waters, warm breeze, lush vegetation, and restless relaxation. This product has both good and particularities, in a unique way it makes the outside of your home the right place to rest.
Mediterran is an ultra-modern outdoor furniture collection with top-shelf designs. They have smooth and round lines, dynamic forms, high-class fabrics, mesmerizing textures, and paradisal shades. Find more on our website about this amazing collection.
The reclining daybed was created to be a luxury and sophisticated piece of furniture that provides a comfortable spot to relax outside. Having fun with friends now, more than ever, makes sense to be at your home. With sophisticated details, as Dezeen Magazine mentioned, this lounger just right complements your exterior.
According to Hommés Studio, "Tropez Daybed is characterized by a strong minimalistic approach to summer living codes that exudes luxury and sophistication through its natural, seductive shapes,".
The daybed comes in three different styles, including one with a retro fern pattern fabric, a cream-painted frame, and gold polished brass fixings. This environment created with the Tropez Daybed must still be complemented with a few more elements. In the environment below, the team decided to complement it with the elektra parasol. Elektra Parasol is a luxury sombrilla, designed for contemporary luxury garden designs. A multifunctional parasol that can be turned into a side table.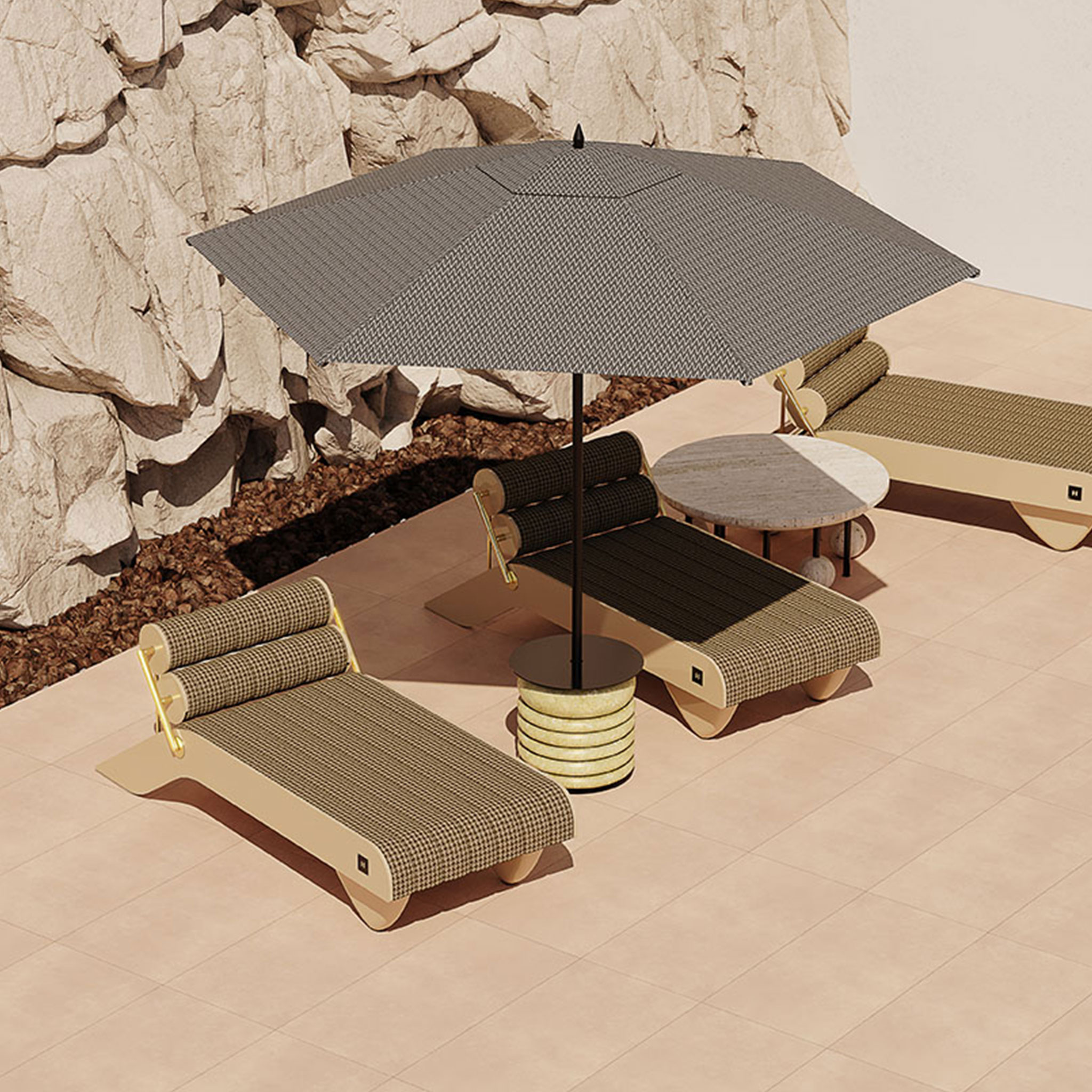 The black and white striped model has outdoor leather upholstery and a wenge wood frame with gold polished stainless steel fasteners, making it a contemporary addition to outdoor environments.
Additionally, Hommés Studio offers a customizing service, allowing users to choose from various textiles for the daybed, making it suitable for any outdoor setting. This personalization service is something that distinguishes and will make your home unique. In an elegant, subtle, and refined way, all projects are different and unique, carried out by a specialized team that will offer you the best service.
Product: Tropez Daybed
Brand: Hommés Studio
Contact: info@hommes.studio
Although this is just one of the products that the brand's new collection features, you might also like the following products. Framed in the same style, such as sun loungers, and which are part of our collection, they are also excellent options for decorating your home, or rather, the exterior of your home.
You can read their full article in Dezeen Magazine.
Source: Dezeen Magazine
ARE YOU INTO INTERIOR DESIGN?
If so, discover modern furniture and lighting designed by design lovers for design lovers. All you need is to download the Hommés Studio catalog. To complete your interior design project, choose the high-end homeware by ACH Collection.