Transform your living space with small changes in your coffee table decor, as your living room deserves the utmost care and attention as the heart of your home.
It's amazing how such a small change can make a big difference. So, let's explore some tips that can help you elevate your living room by changing your coffee table decor. With a few simple tweaks, you can create an elegant and sophisticated atmosphere that reflects your personal style and taste.
Embrace the multitude of options available for coffee table, and do not let the endless possibilities overwhelm you. Instead, allow your inner curator to shine and take this opportunity to showcase your organizational and creative talents.
We believe that coffee table is the perfect canvas for you to express yourself and create a unique, personalized space that reflects your personality. And the best part? Coffee table decor is one of the most versatile and non-permanent aspects of your home, allowing you to experiment and change things up as often as you like. So, let your creativity soar and transform your living space into a beautiful, inspiring haven.
Here are some tips to help you elevate your project room and take your productivity to new heights.
Indulge in the beauty of excess
By adding multiple coffee table decors, you can create a unique and eye-catching aesthetic that's anything but basic. Take inspiration from the sculptural coffee table decor in the HOMMÉS Studio living room inspirations as we can see below.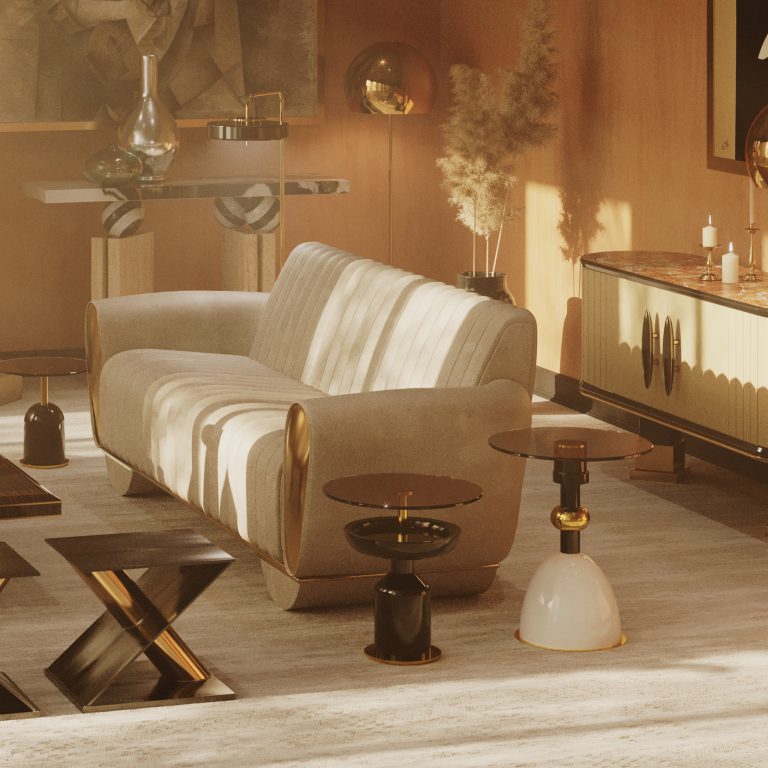 With their stunning design and unique shapes, they add a touch of elegance and sophistication to the space, making it both functional and visually striking. So, don't be afraid to experiment with multiple coffee table in your living space – sometimes, more is most definitely better.
Transform your coffee table decor into a giant catchall
Take inspiration from the ACH Collection for some decorative catchalls for the coffee table decor. Let candles, fresh flowers, books, sculptures, and even a sage bundle or two adorn your perfectly imperfect coffee table, adding character and charm to your space.
And don't worry about water stains or spills – simply keep a set of stylish coasters close at hand for guests to protect your precious belongings. Remember, your coffee table decor is not just a functional piece of furniture; it's an opportunity to showcase your creativity and style.
As you transform your coffee table decor into a giant catchall, don't forget to consider functionality. Keep a set of stylish coasters nearby to protect your beloved items from water stains or spills. And remember, there are no rules when it comes to creating a beautiful and inspiring space.
Get Sculptural
Take inspiration from the HOMMÉS Studio coffee table, whose interesting form allows it to leave a meaningful impact on the room with very minimal styling. By letting your coffee table decor shine on its own, you create a space that is both functional and visually stunning.
Remember, sometimes less is more, and simplicity can be just as impactful as a more elaborate approach. So, consider investing in a statement piece that will add character and charm to your living space without overwhelming it with clutter. Your coffee table decor is an opportunity to showcase your personal style, so choose a piece that truly resonates with you and enjoy the simple yet striking beauty it brings to your home.
Be Bold And Use Distinctive Shapes
Take a cue from Rachel Traub, who recently added a Murano egg lamp with a Hue lightbulb to her space, creating a colorful and calming atmosphere that she refers to as a "womb space." This addition demonstrates how simple changes can make a big impact in a room.
An unconventional coffee table, such as a triangular stone table, can add character and visual interest to any room. In fact, with a table of such a unique design, you needn't depend on styling to make an impact on the space.
Take inspiration from the way the triangular stone table plays off the softness of the other dominant elements in the room. This creates a visually stunning contrast that draws the eye and captures the imagination.
By choosing a coffee table with an unexpected shape, you have the power to transform your living space into an environment that is both sophisticated and captivating. So, whether you opt for a triangular stone table or another striking design, embrace the unexpected and create a space that truly reflects your personal style.
Play your color scheme
While you may not want to go quite as bold as the primary color pad in LA, there is still much to be learned from this vibrant space. By selecting a coffee table decor that matches the colors or materials of your other furniture, you can create a cohesive and harmonious look that ties all the elements together.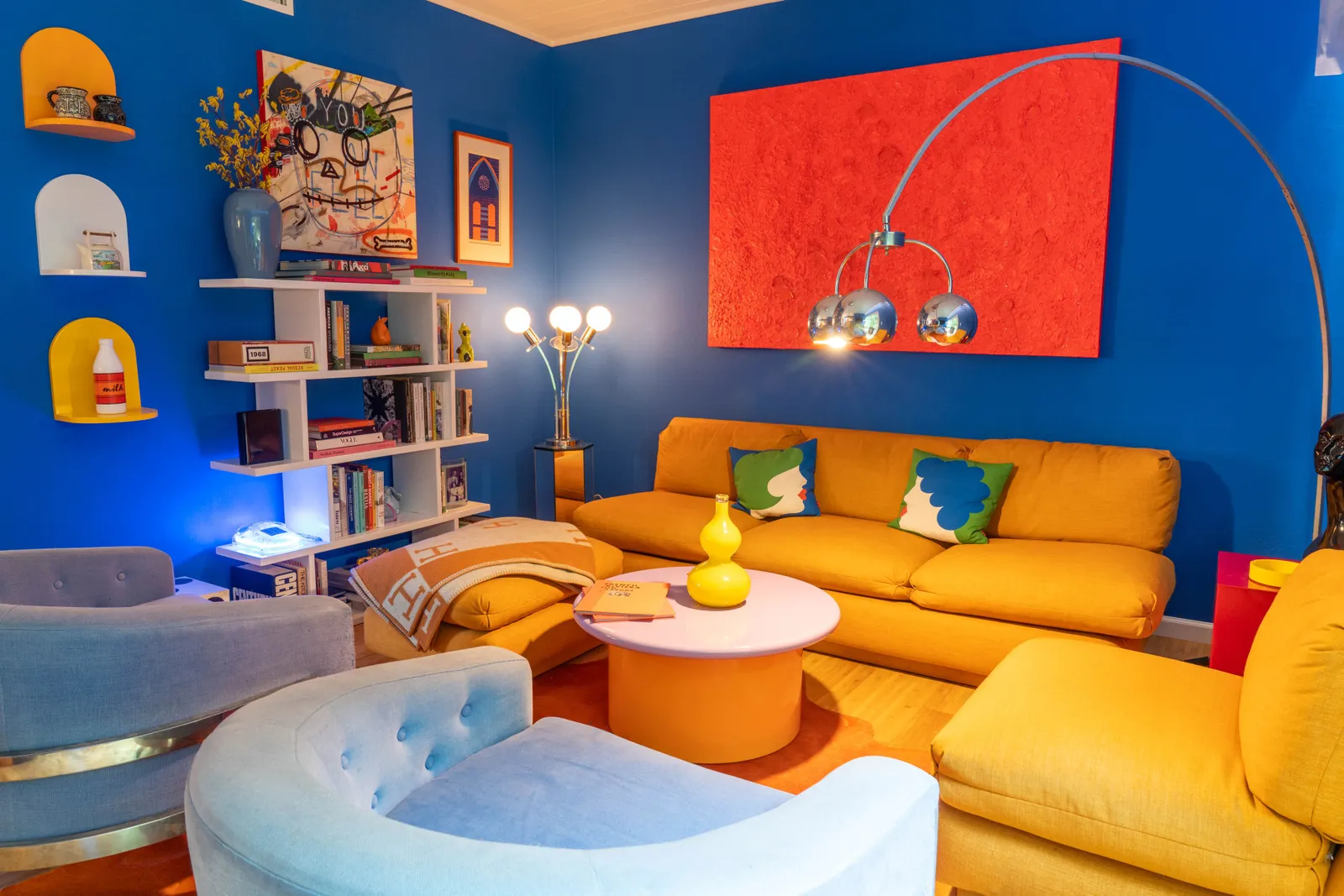 This approach works equally well in small or grand spaces, helping to unify the various elements and create a sense of visual balance. By coordinating colors and materials, you can create a feeling of harmony and serenity in your living space.
So, whether you opt for a bold and colorful palette or a more understated look, remember that a well-coordinated coffee table can make all the difference in bringing your living space together.
Whether you choose to go bold with colors and patterns, keep it simple and minimalist, or experiment with unique shapes and materials, your coffee table can serve as a statement piece that ties your entire room together.
By considering the size, shape, and style of your coffee table, as well as the colors and materials of the surrounding furniture and decor, you can create a cohesive and harmonious living space that reflects your personal style. Overall, coffee table provides a fantastic opportunity to showcase your creative and organizational talents while adding a touch of personality and style to your living space.
Incorporating these tips and ideas into your future projects can help you create stunning living spaces with beautiful and functional coffee table designs. And if you're looking for more inspiration, be sure to check out our catalog for a wide range of coffee table options and design ideas to suit every style and taste. We are confident that with the right coffee table decor, you can transform any living room into a welcoming and stylish space.