Delve into the Home Decor Trends for 2024 And Discover The Latest and Greatest Eight Stunning Ways to Refresh Your Space And Create a Unique Style.
2024 is approaching, and new and exciting home decor trends will transform your living space. Whether you are looking for a bold, edgy look, a natural and cozy feel, or a colorful and eclectic style, you will find something inspiring in this article.
A captivating fusion of innovation, style, and functionality, transforming living spaces into stunning expressions of individuality. In this exploration of "What's In for 2024", eight home decor trends promise to revolutionize your space, offering a perfect blend of contemporary allure and timeless elegance.
1. Biophilic Design & Nature-inspired
Biophilic design and nature-inspired spaces will take over the interior home decor trends for 2024. This trend is about connecting humans and nature and making our spaces more livable, healthy, and beautiful.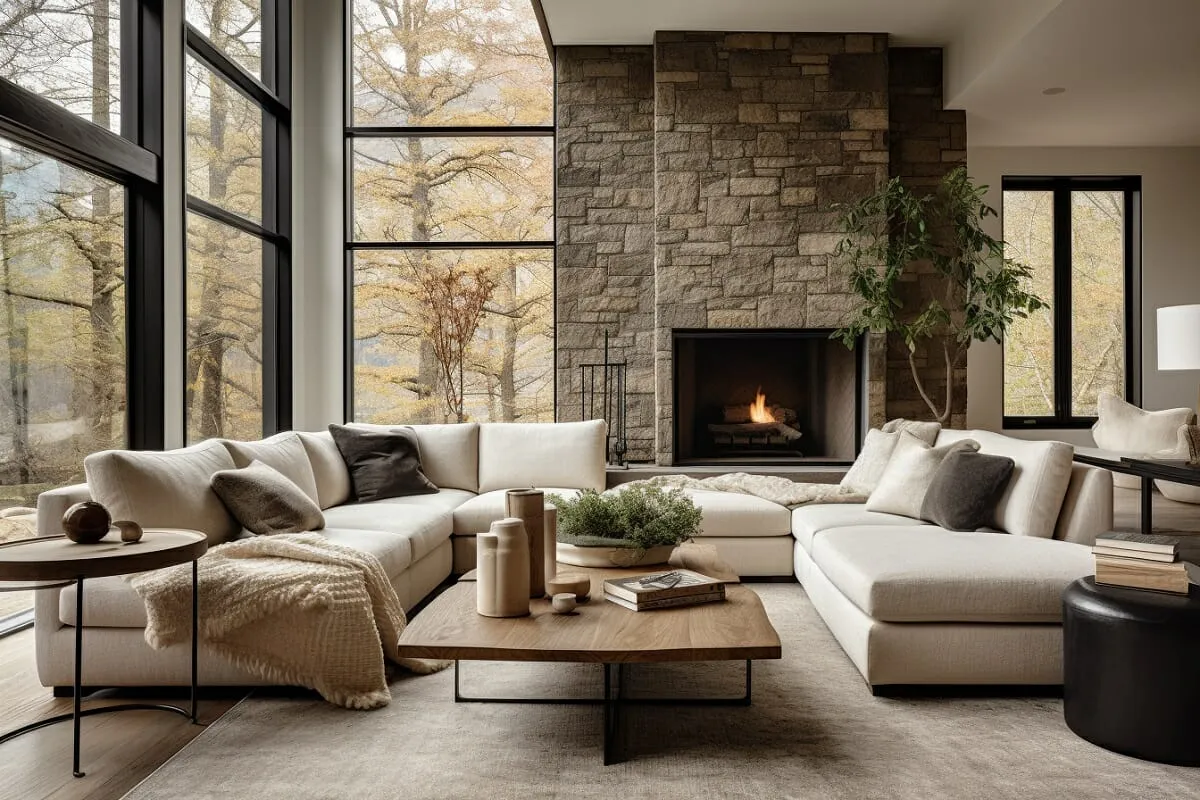 A modern organic space typically incorporates the colors and textures of nature, including natural wood furniture, baskets, natural fiber rugs, woven elements, and easy-care textiles like cotton and linen. Also, plants, water, light, raw materials, and earthy tones create a soothing and inviting atmosphere.
You feel freshness and vitality as you enter a nature-inspired living room filled with natural light that streams through the large windows and skylights. The walls are painted soft beige, contrasting with the green plants that adorn the shelves, tables, and corners, creating a comfortable, relaxing space.
Sofas in a soft beige color, with cushions and throws in different shades of beige, grey, and brown, arranged around wooden center tables, create a cozy and romantic atmosphere, especially in the evenings.
So, if you are looking for a calming, relaxed, and welcoming interior, earthy or nature-inspired tones are the perfect choice.
2. Joyful Aesthetics
Joyful aesthetics is a trend in creating spaces that trigger happiness and delight. This energetic decor can make every day feel like a celebration by using bold, vibrant colors, whimsical patterns, and playful elements.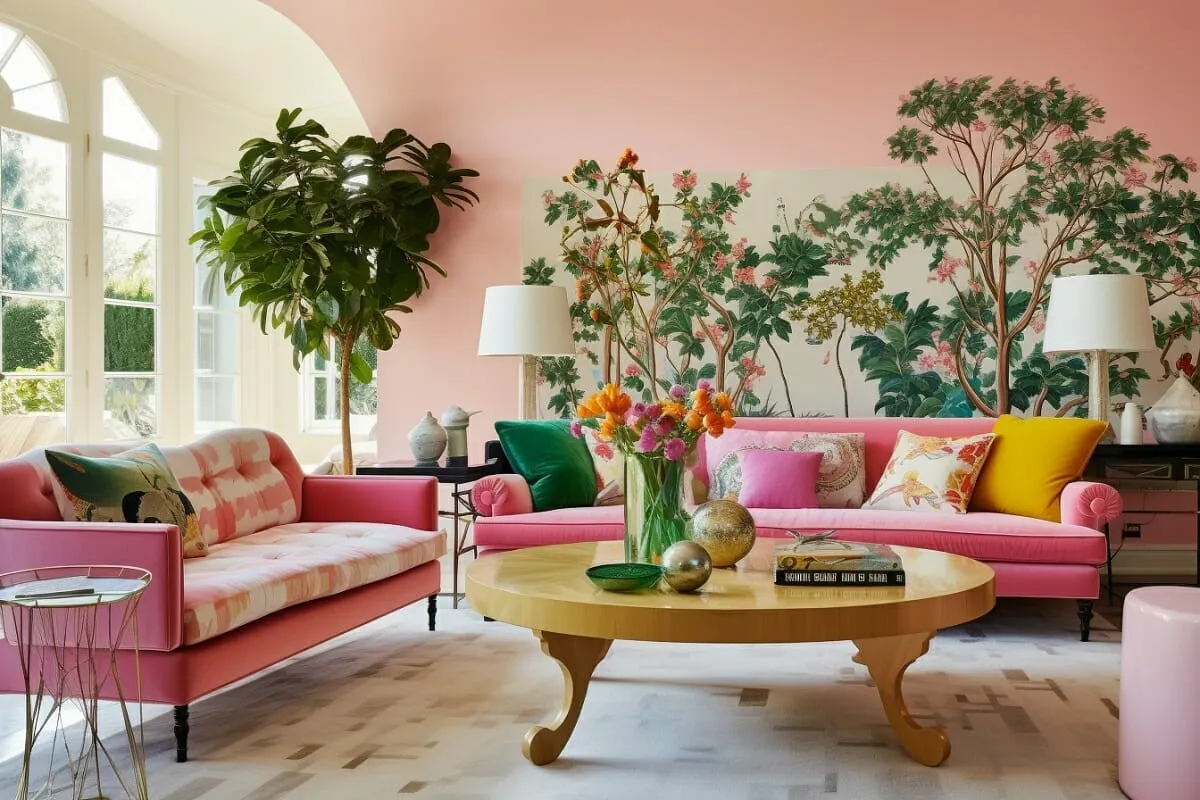 A living room with a bright pink sofa or beige sofa contrasting with pink chairs or a colorful rug, and a gallery wall of fun and quirky art, with some plants, books, and candles to add coziness and warmth. This living room is a perfect example of using color and pattern to create a cheerful and inviting space.
The colors provide an opportunity for a unique, crafted, and personalized space.
3. Warm Minimalism
Warm minimalism has gained popularity among interior designers as a way of achieving a peaceful aesthetic in homes during the past few years.
In 2024, this style will continue to grow as it improves a space's livability and facilitates concentration and relaxation by minimizing visual clutter, showcasing soothing earth tones, emphasizing a room's primary function, and promoting mindfulness, sustainability, and well-being.
This serene design style promotes mindfulness and slowing down. It perfectly balances simplicity, functionality, comfort, and style.
To create a warm, minimalist bedroom, you can opt for a simple and cozy bed with linen sheets, a fluffy duvet, and a few pillows. Just one or two suspension lamps create soft and warm lighting.
To opt for a warm minimalist dining room, choose a simple and elegant dining table and chairs in Rotin mixed with natural elements, such as plants and flowers, to decorate the dining table and create a fresh and inviting atmosphere. A warm dimmable lighting with the same material, such as a pendant lamp, a chandelier, or a candle, sets the mood for your dining experience.
Another perfect example of warm minimalism is the living room, where you can relax, entertain, and enjoy your time. To create a warm, minimalist living room, start with a neutral color palette for your walls and furniture, such as white, beige, or gray. Then, you can add some pops of color and texture with pillows, rugs, or plants.
4. Murals
Murals are one of the home decor trends that will be popular in 2024, especially when they are large-scale paintings or wallpapers that cover a wall or a ceiling and create a visual impact. They add color, creativity, and personality to any space and stimulate the senses and the imagination.
Murals can be customized to suit the style and preference of the home, transforming a blank wall into a focal point and a conversation starter.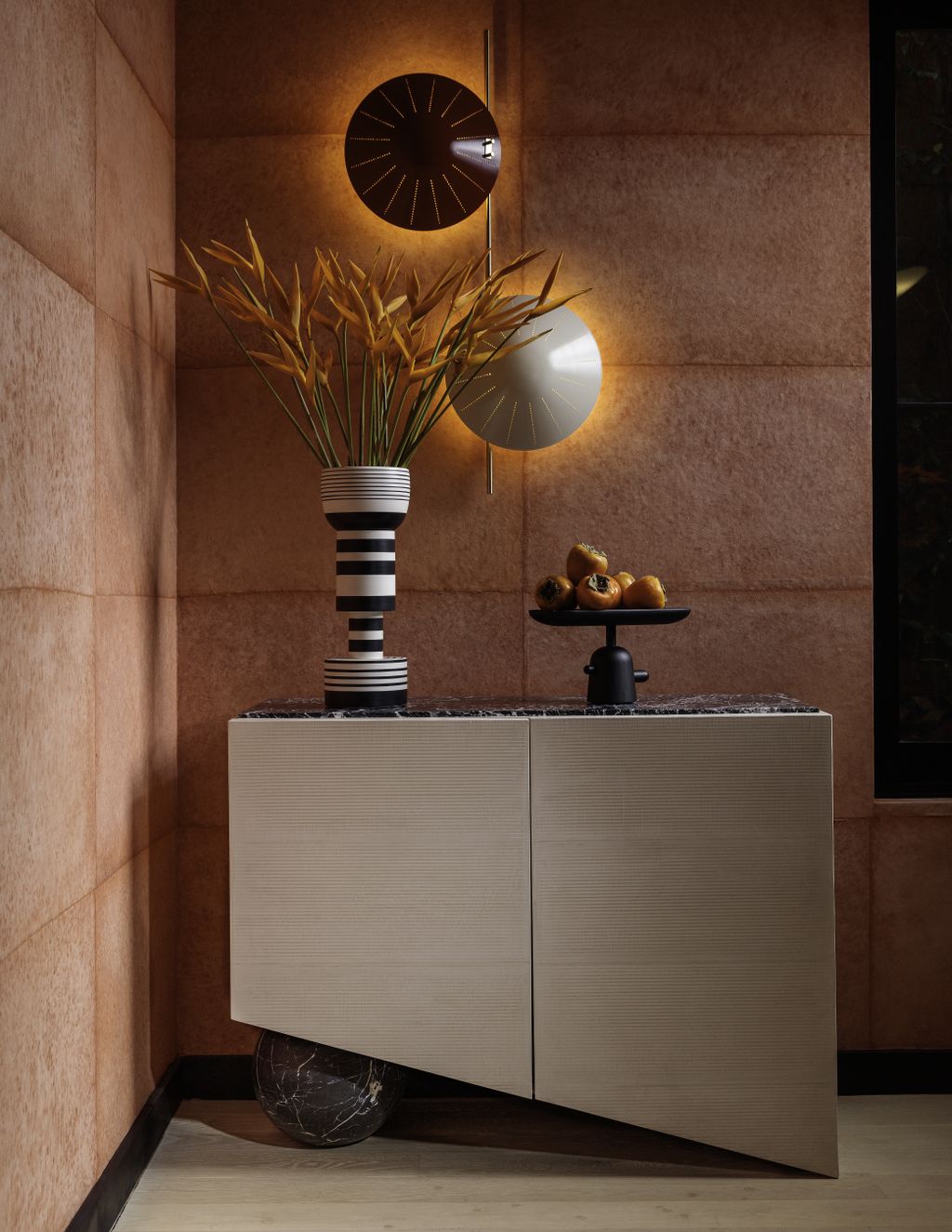 One of the examples of murals that you can use in your home is a green mural. Green is a color that symbolizes nature, freshness, and harmony and can create a soothing and relaxing atmosphere in your home and bring some life and vitality to your space. A green mural can also complement other natural elements, such as plants, wood, or stone.
Another example of a mural you can use in your home is a terracotta one. Terracotta is a color that symbolizes passion, energy, and trends. It can create a dynamic and dramatic effect in your home, make a statement, and express your personality. A terracotta mural can contrast with other colors, such as white, beige, or gray.
5. Shaped Mirrors
Shaped mirrors are one of the home decor trends for 2024. They can be irregular, geometric, or organic shapes, such as pebbles, stars, hexagons, arches, or leaves.
Shaped mirrors will add some interest, personality, and style to the walls, as well as reflect light and create a sense of space, and they work with any decor style, from modern and minimalist to vintage and eclectic.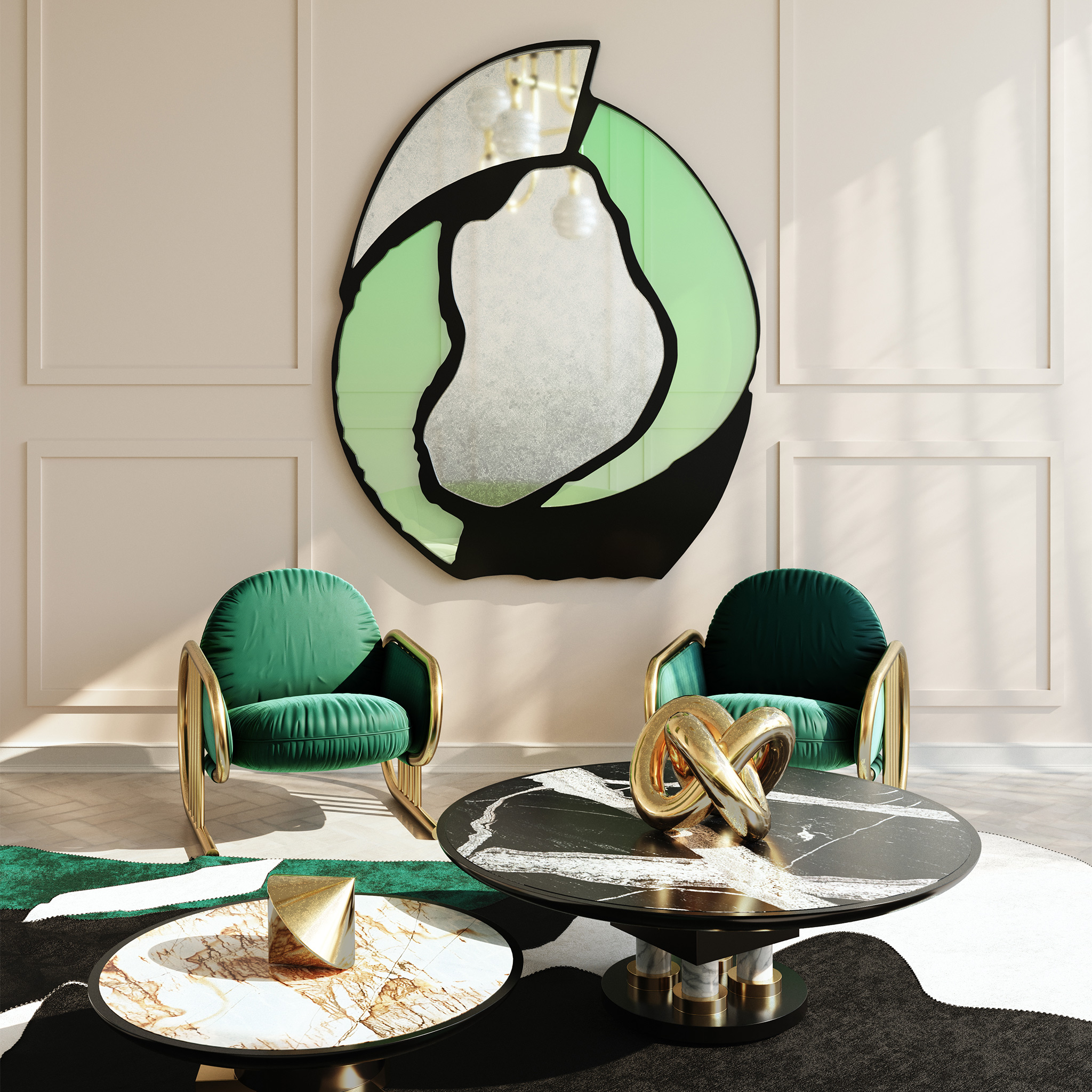 If you want to incorporate shaped mirrors into your home, here are some tips to help you:
Choose a shape that suits your taste, theme, and mood, whether you prefer a playful touch, a modern and sleek look, or a classic and elegant feel.
Experiment with different sizes, colors, and materials. You can opt for a large shaped mirror as a focal point, a small shaped mirror as an accent, or a set of shaped mirrors as a collage.
You can mix and match different shapes, sizes, and styles of mirrors to create a unique and dynamic display. Zadine Mirror and Martinez Mirror are two perfect examples of shaped mirrors that will evaluate the space.
6. Arches
Arches have been a solid architectural element and have been around for years. These add a whimsical touch to spaces, giving them an old-world charm while also framing essential spaces, and now, by the arrival of 2024, they are one of the most elegant and timeless home decor trends.
Arches can create a focal point in the space, whether inside or outside, drawing attention to a specific area or feature. They can enhance the natural light and airflow in the home, making it feel more spacious and airy. Arched windows and doors allow more sunlight and breeze to enter your room, creating a bright and fresh atmosphere.
Arches can complement any decor style, from modern and minimalist to rustic and eclectic. You can customize your arches with different colors, materials, and finishes to match or contrast with your walls and furniture. 
7. Curved Furniture
Curved furniture is one of the hottest home decor trends for 2024. They can create a sense of comfort, movement, and elegance in the house and soften your rooms' hard edges and corners.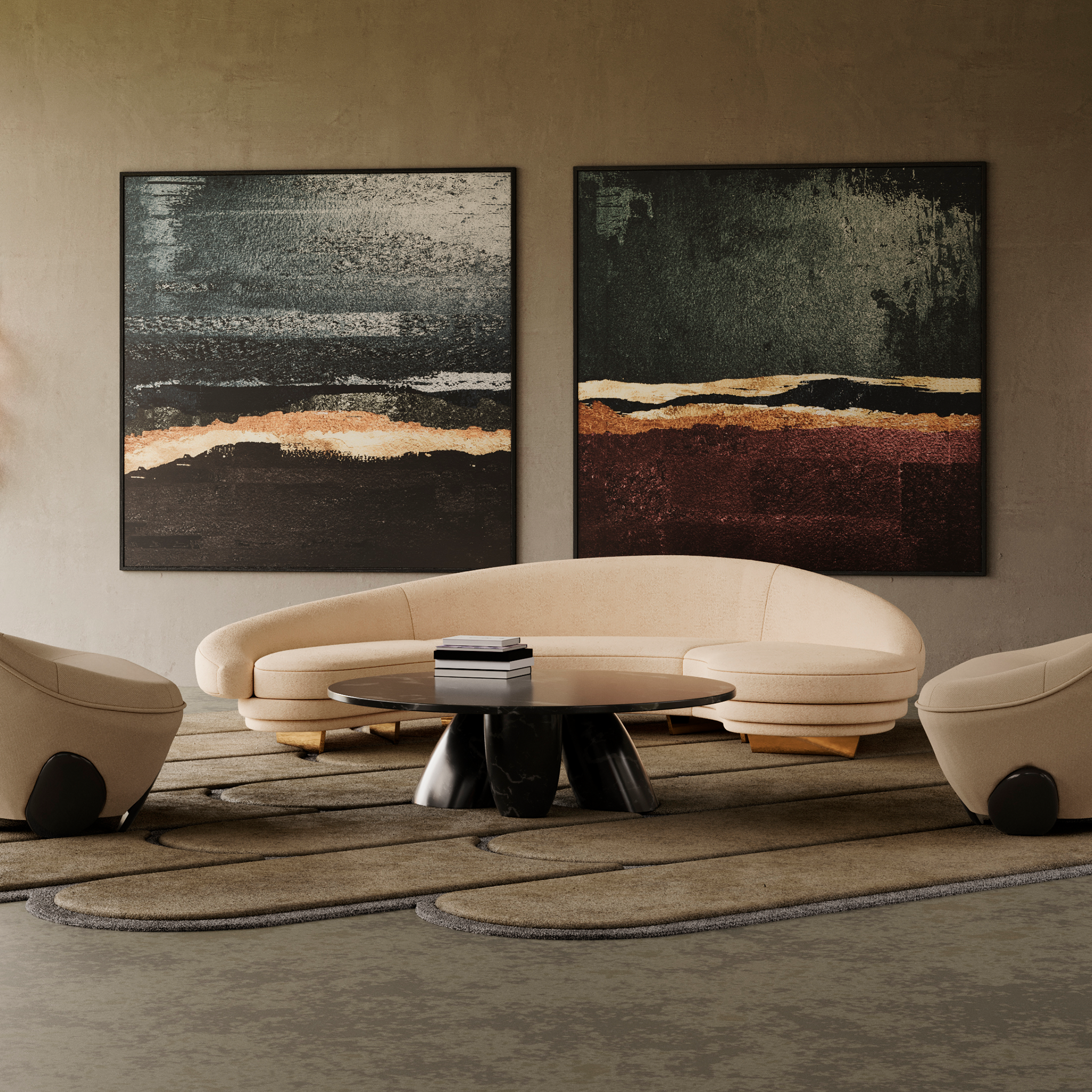 Curved furniture appeals to the eye with its graceful aesthetics and introduces a tactile and inviting dimension to our surroundings. Whether it's a curved sofa, as Giulia Sofa, a perfect example that cradles you in comfort, or a rounded coffee table that fosters a sense of friendliness, the trend towards curves transcends mere aesthetics to redefine the essence of modern interiors.
As we navigate the evolving design landscape, curved furniture stands out as a symbol of harmony, effortlessly blending form and function to create spaces that resonate with warmth and sophistication.
8. Vintage-Inspired Style
Vintage-inspired style is one of the most charming and nostalgic home decor trends for 2024. It features furniture, accessories, and colors that evoke a sense of history, culture, and romance. Vintage-inspired style can create a cozy, inviting, and unique atmosphere in your home and reflect a personality and taste.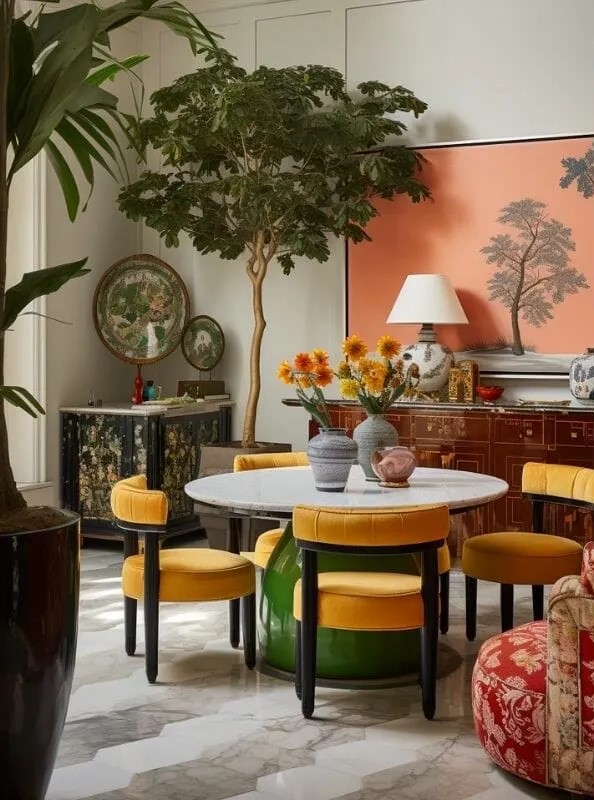 Some of the characteristics of vintage-inspired style are:
Furniture: Vintage-inspired furniture often has rounded or curved shapes, such as sofas, chairs, tables, or beds, using wood, leather, velvet, or metal to add warmth and texture to your space.
Accessories: Vintage-inspired accessories are the perfect way to add character and charm to your home. You can use

mirrors

, lamps, clocks, vases, or artwork to decorate your walls, shelves, or tables.
Colors: Vintage-inspired colors are usually bright, vibrant, or pastel, such as red, yellow, orange, green, or pink. They can create a cheerful and lively mood in your home and contrast with your walls and furniture's neutral or dark colors. You can use vintage-inspired colors in your curtains, rugs, pillows, or bedding to add color and interest to your space.
Home decor is a way to express your personality, style, and taste in your living space. It can also affect your mood, comfort, and well-being. Therefore, keeping up with the latest trends and ideas is essential to help you create a beautiful, functional, and cozy home.
In this article, we have discussed 8 home decor trends expected to be the hottest in 2024, from nature-inspired to vintage-inspired, eight trends that go with all tastes. We invite you to look at our Fall Winter 23/24 Ebook and get more inspiration to create a unique space.