When you think about home, where do you create your best memories? Dining rooms are where the most laughs happen and where revelations are made. Therefore, dining room decor is very important. It is like set design, to create the perfect scenario for great stories.
Discover our dining room design ideas to help you create the perfect scenario for your client's favorite stories.

1. MULTIPLE DINING TABLES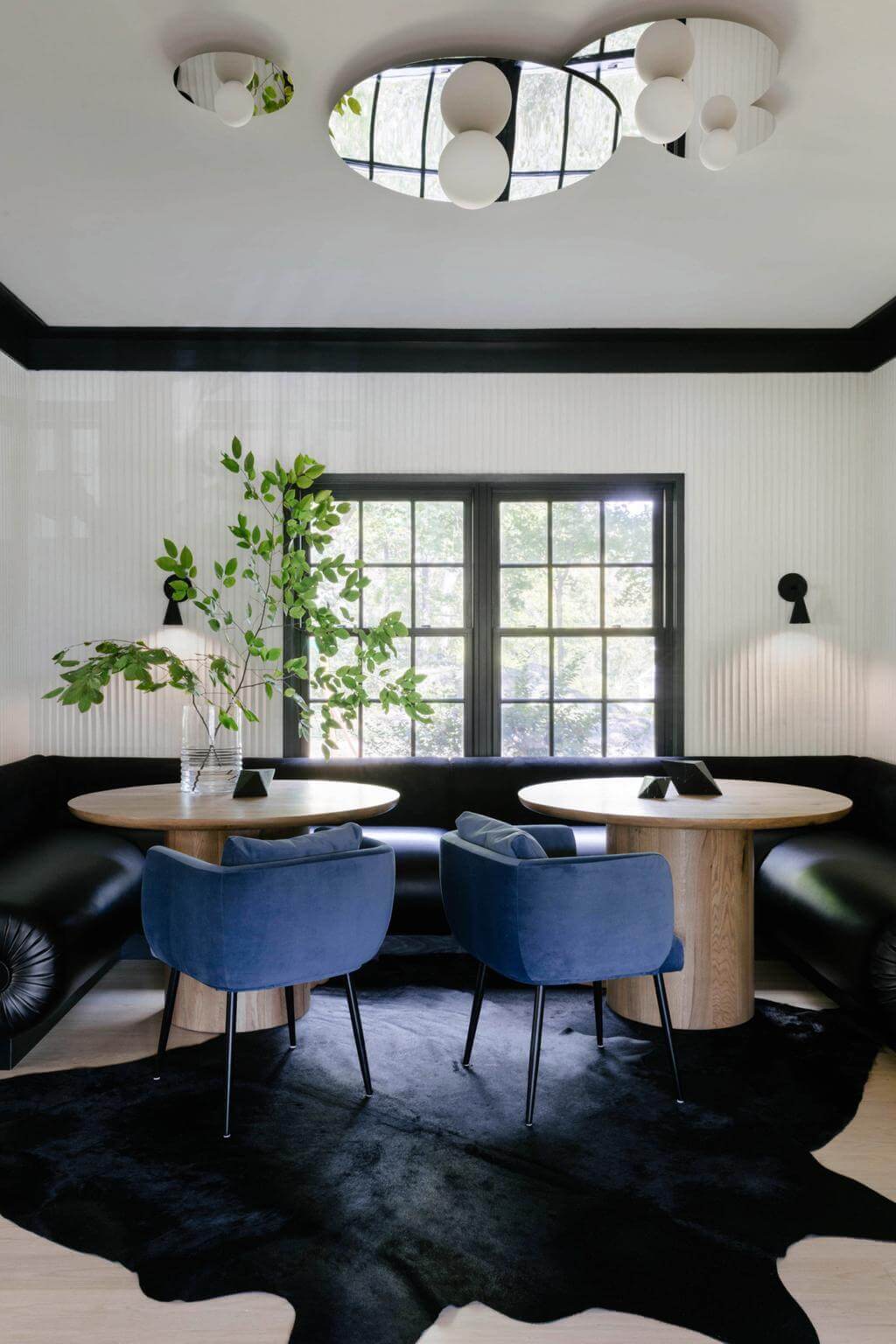 It is a risky move. However, it will add a bohemian flair to your interior design project. Multiple dining tables usually aren't part of a residential project, even if the property has several dining areas. What makes a dining room with multiple dining tables so special? It creates an intimate atmosphere. Moreover, it delivers the vibe of a pub or bar. Therefore, this is a modern dining room design idea suited for young owners who enjoy spending time with their friends. Due to the pandemic, this might be a good way of remembering the good old times.
2. GOLDEN FIXTURES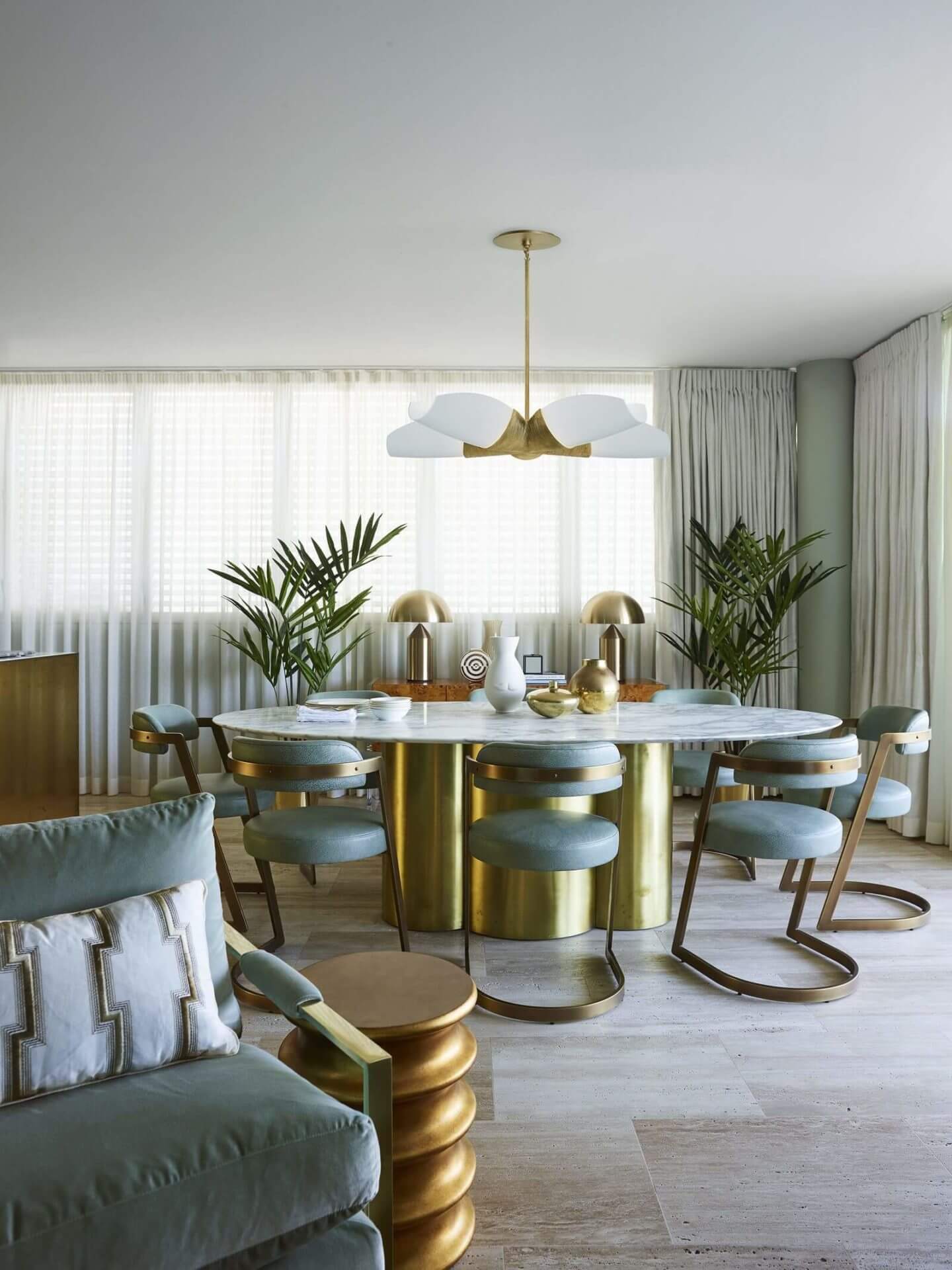 Some say that golden is neutral. And we totally agree. Metals are a subtle way to sophisticate a dining room. But how do you gold up a dining room? Decorative fixtures such as lamps and tabletop decoration are enough to make the dining room glow. Nevertheless, if you go for a full golden dining set, it won't be too much.
3. MIX OLD AND NEW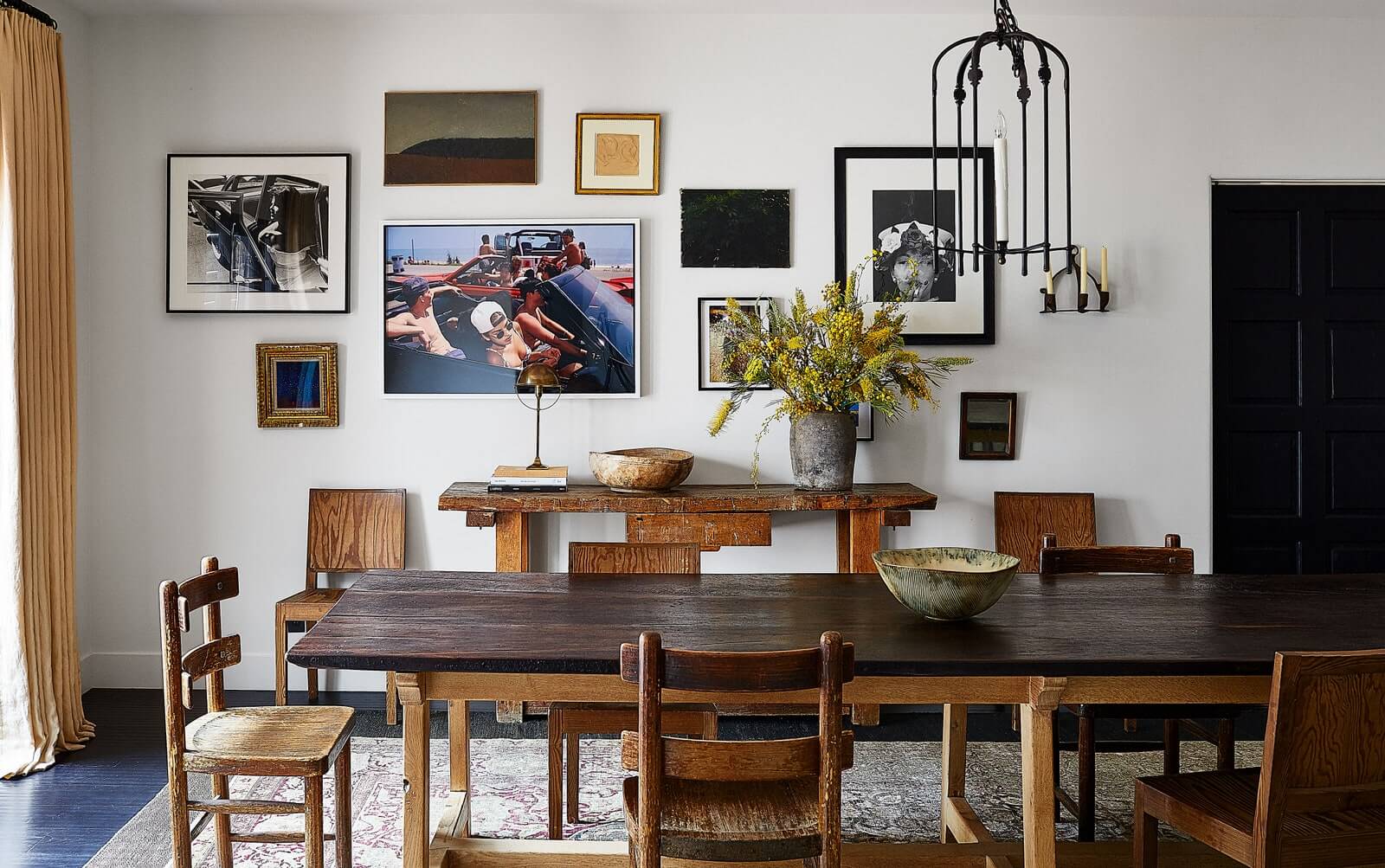 Another dining room design idea is to mix old and new. Old chairs with a new dining table or an old dining table set with contemporary art and decor pieces. There isn't a rule to mix old and new since it tells a story where the main characters are the decorative elements.
4. FUNK IT UP
Funk your dining room decor up! Don't underrate the power of animal print. A fabric with animal print adds fun and sophistication to any room. If you're designing a dining room from scratch and want it to be funky, add animal print. However, if you're renovating a dining room and want to make an impression, try to upholster the chairs with animal print fabric.
5. CREATE A GRADIENT INTERIOR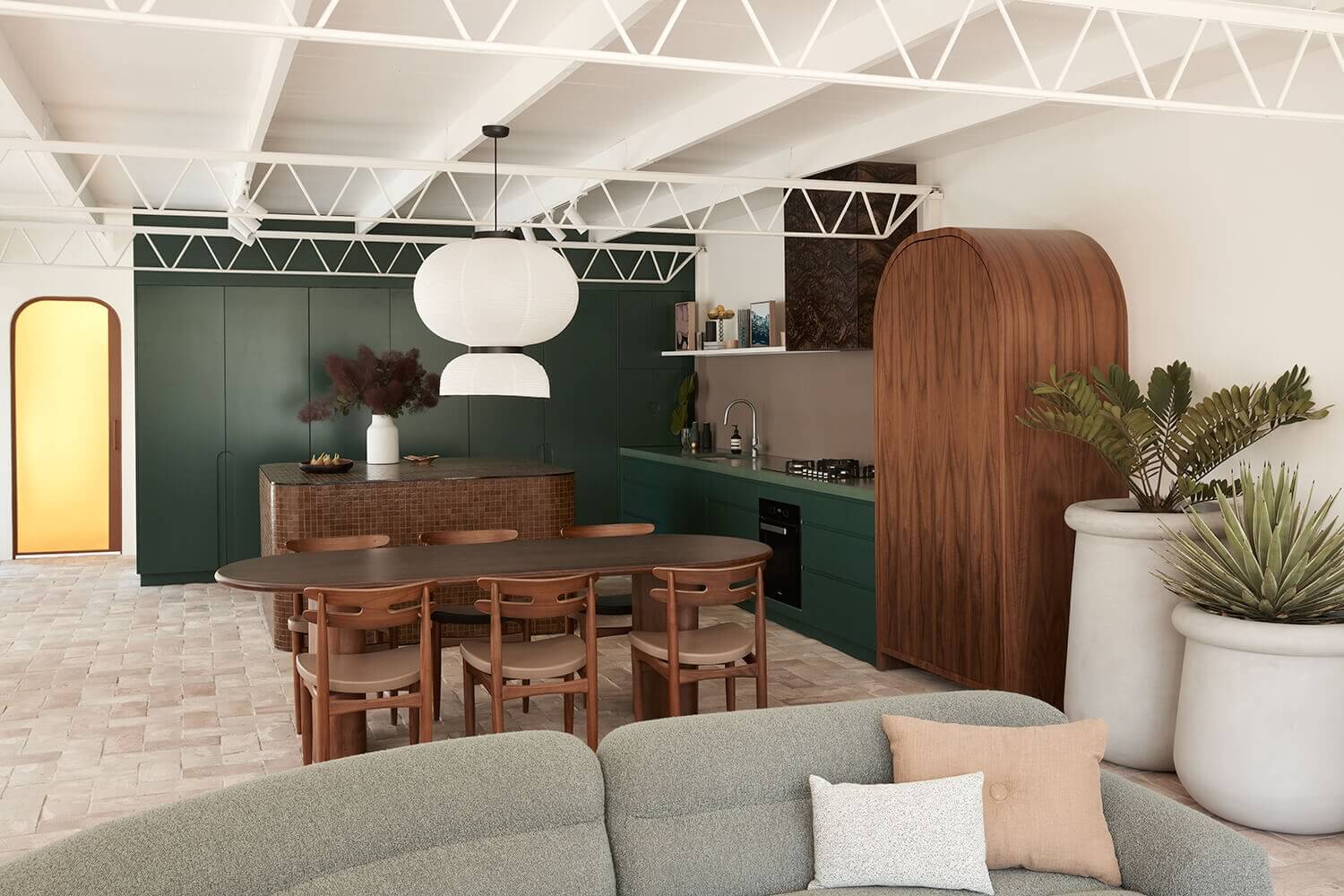 When working on an open space interior, creating a gradient within the space is a great way to delimitate the several "rooms." To illustrate, this house in Sydney has a variety of earthy hues. The kitchen has an earthy green with a deep tone of brown. Then follows the dining area, with a light brown that leads us to the warm grey of the living room.
6. PLAYFUL DINING ROOM DECOR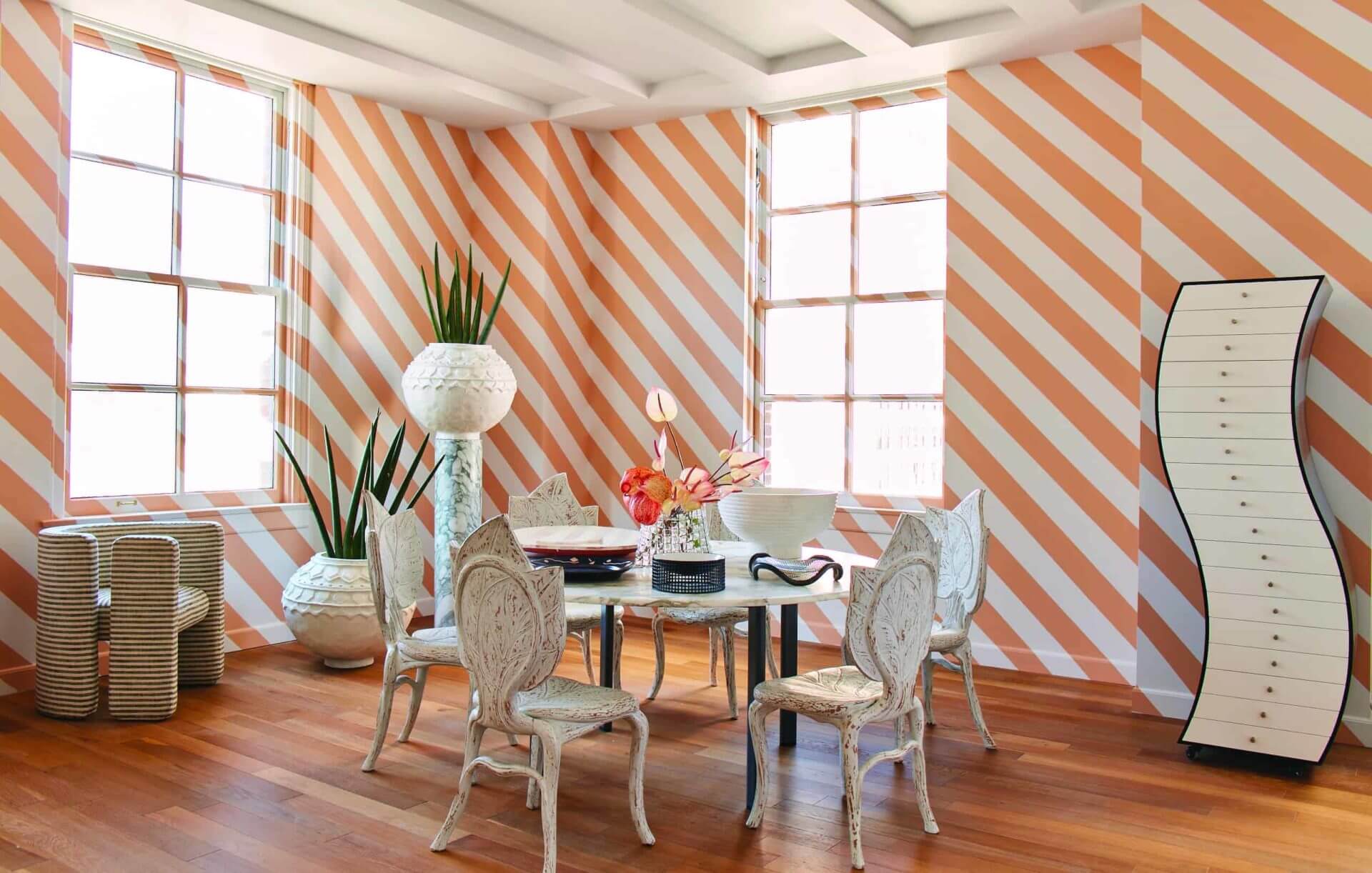 Becoming a dining room decor playful is easy. Add contemporary wallpaper or hand-paint the walls. Stripes are a classic pattern – it fits in any interior design style and any room. In addition, find an unusual furniture piece and decor the dining room with it.
7. CLASSIC DINING ROOM DECOR WITH PANELING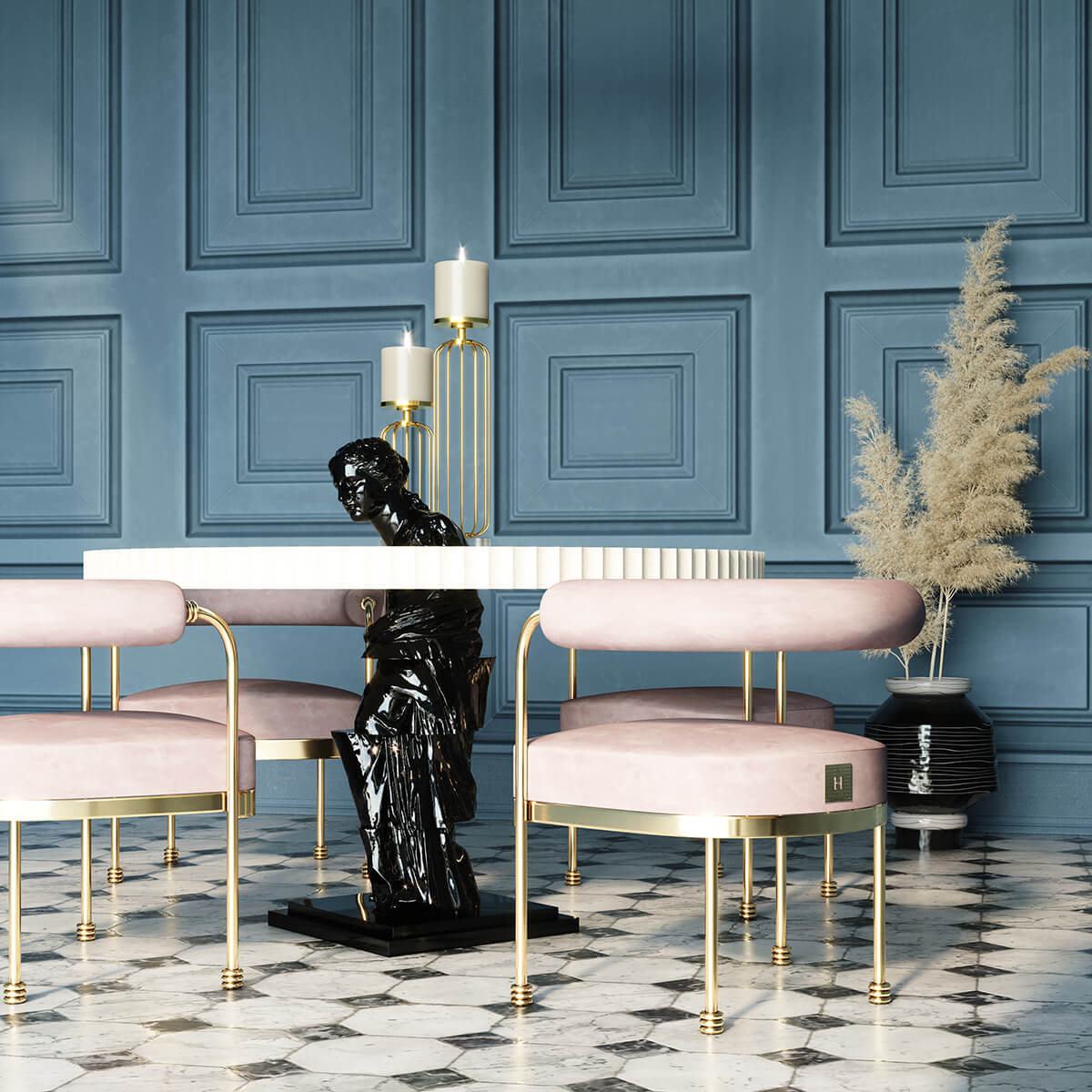 Paneling is a gold old decor idea to bring some classicism to a room. Adding to this, paneling serves as the perfect background to display art pieces. To provide more sophistication to the paneling, try to use colorful panels either matching or contrasting with the dining room decor.
8. MILLENNIAL PINK DINING ROOM DECOR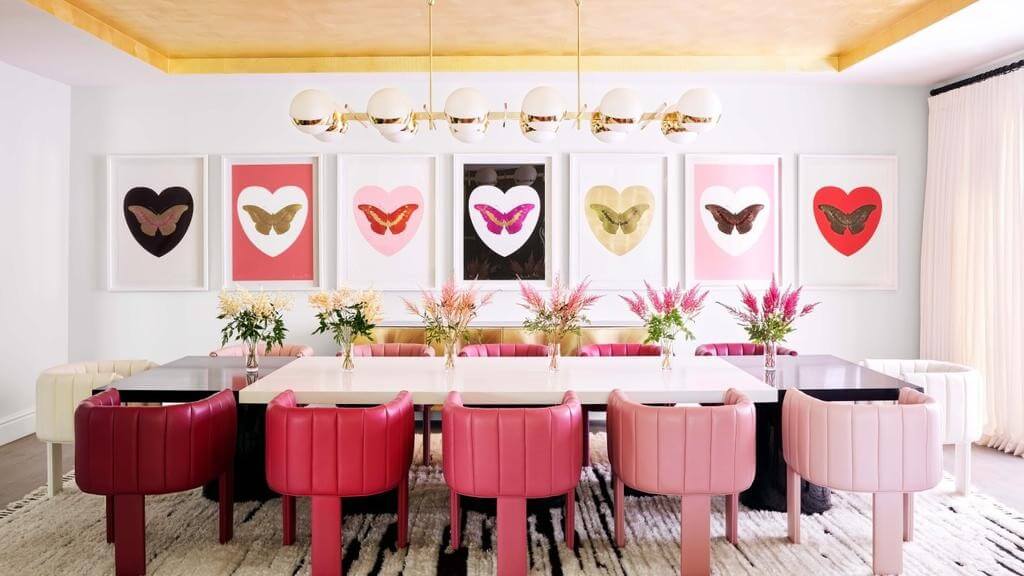 Millennial Pink is not a color exclusive for millennials. Instead, this pink hue is happy, funny, and immediately associated with youth and freedom. As a result, millennial pink is the perfect color for a dining room with a charismatic personality.
9. EAST MEETS WEST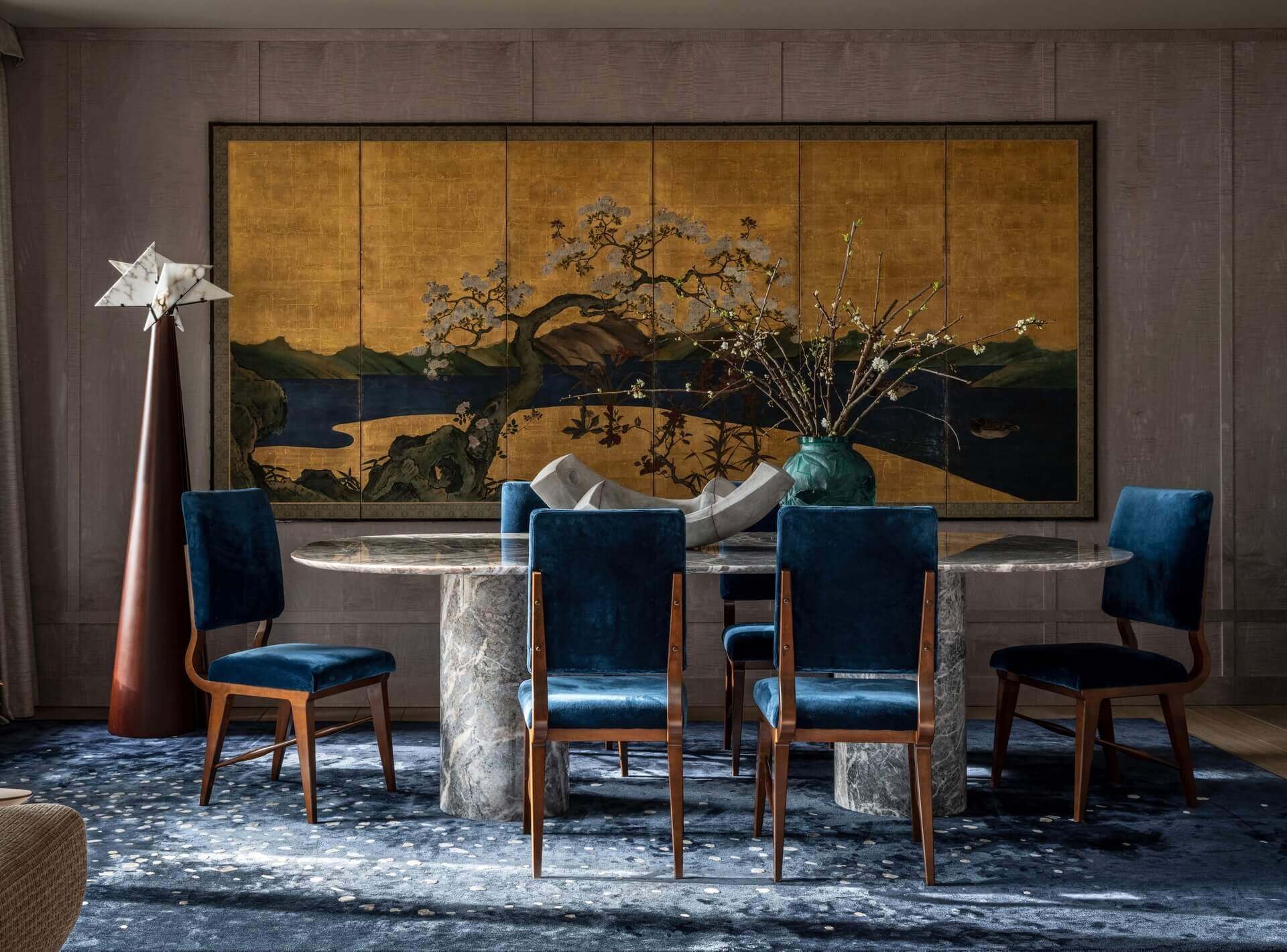 Mix Eastern furniture and decor pieces with Western elements. If your client travels the world or has an eclectic collection of art and ceramics, mix multicultural expressions in the dining room.
10. DINING ROOM WITH WOOD ELEMENTS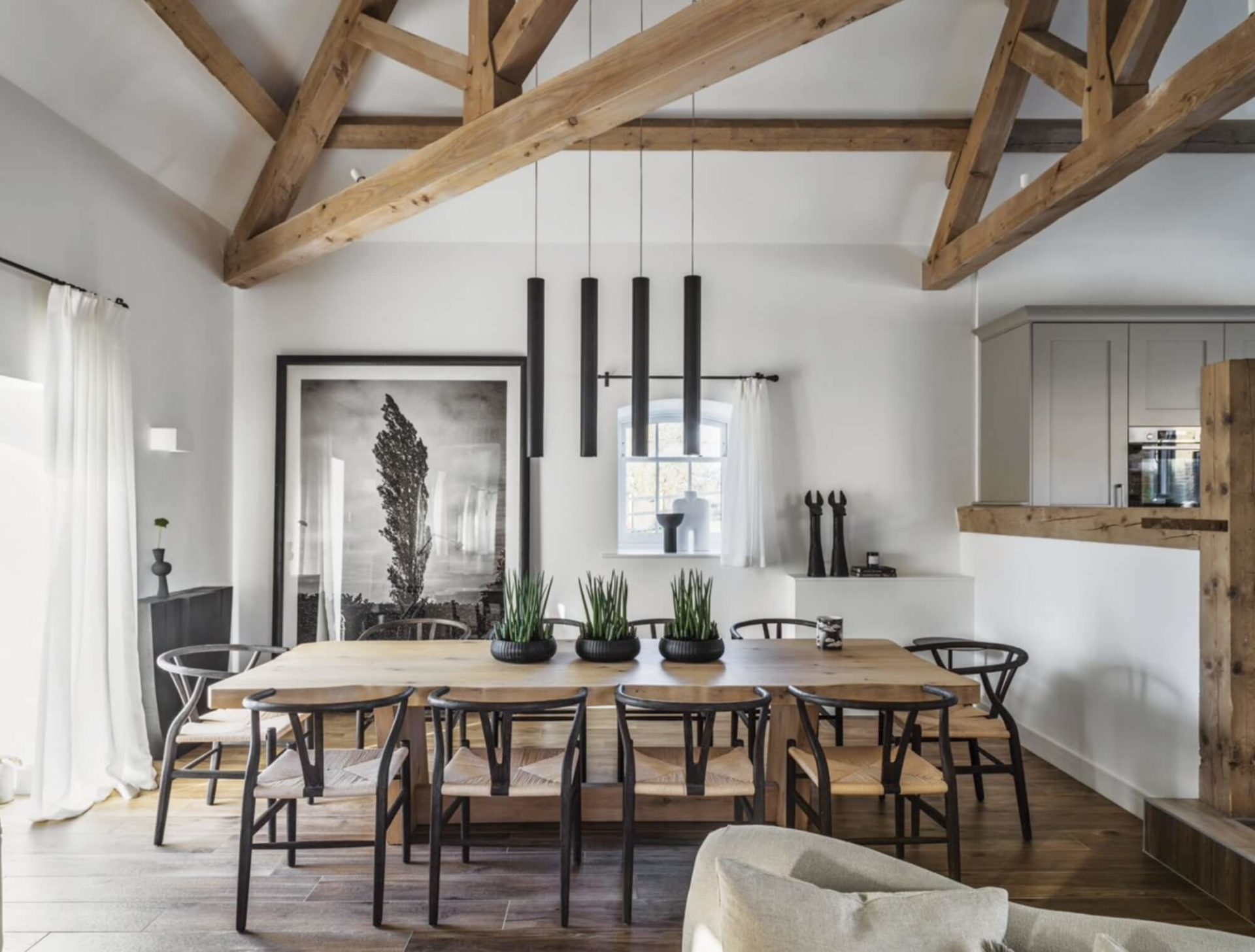 Wood is a simple yet extremely versatile material. You can create stunning dining room decor entirely with wooded elements. Despite using a wood dining table, add some joinery to the ceiling and countertops.
11. CONTEMPORARY DINING ROOM
Decor a dining room with sleek lines and sober colors. Combine dark wood with a minimalist dining set, that is sophiticated enough. Nevertheless, stylish lighting fixtures and metallic details will make a luxury statement.
12. ROUND DINING AREA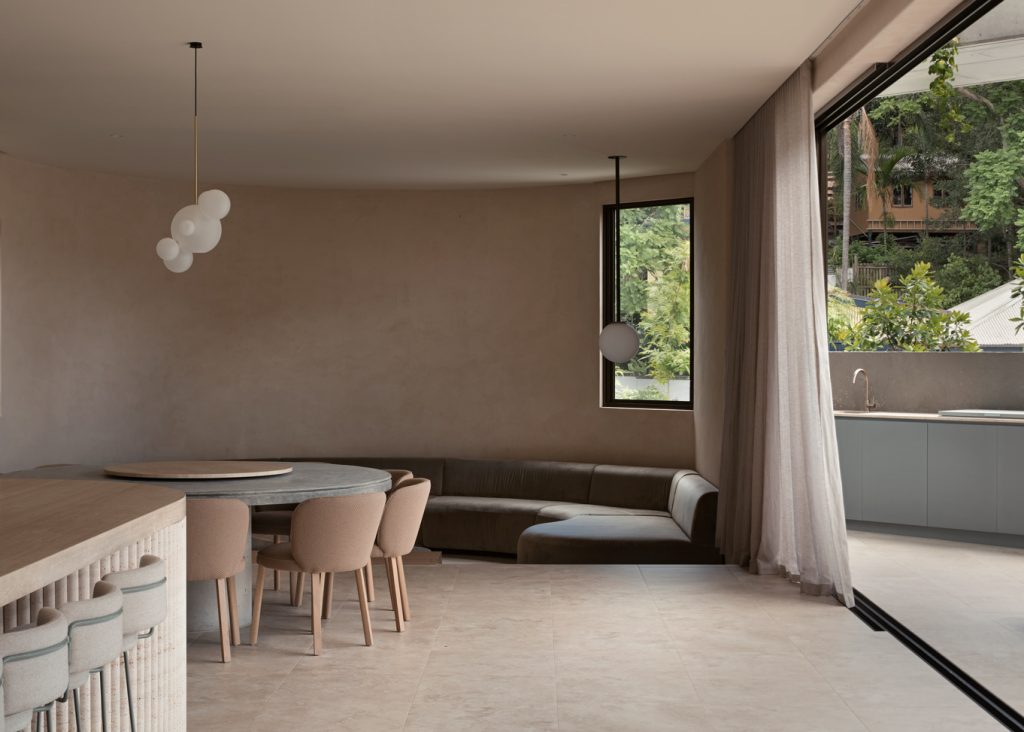 In an open space, you can delimitate a dining area with opposite forms. In this manner, try to breach a straight room with round shapes. For example, a round table and curvy dining chairs will stand out in the open space.
13. ADD AN ELEGANT ELEMENT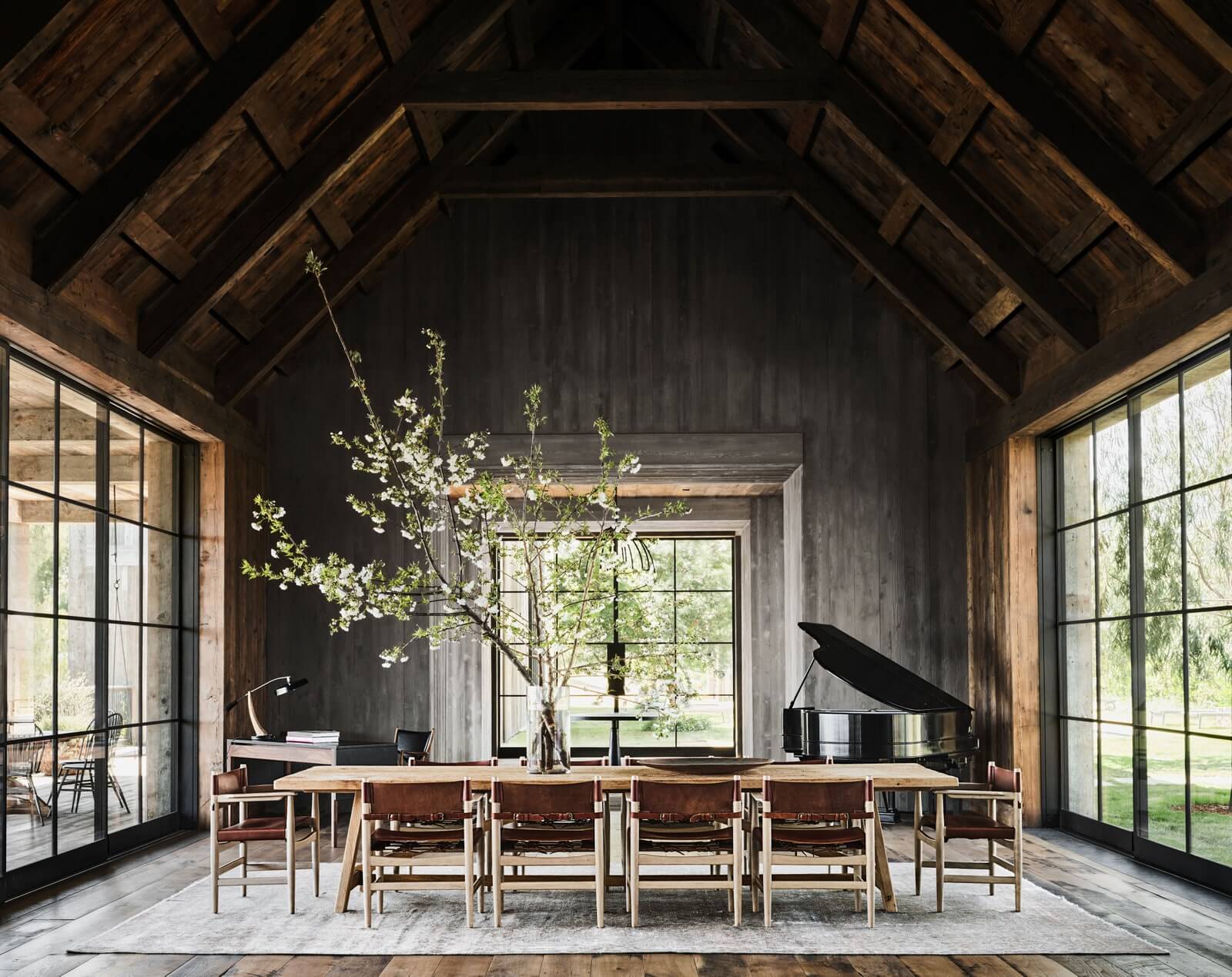 In the rustic dining room of Mila Kunis and Ashton Kutcher, the Hollywood couple added a classical piano. Besides being great for entertaining guests, this element adds an elegant and classy vibe to the rustic dining room.
14. ECLECTIC DINING ROOM DECOR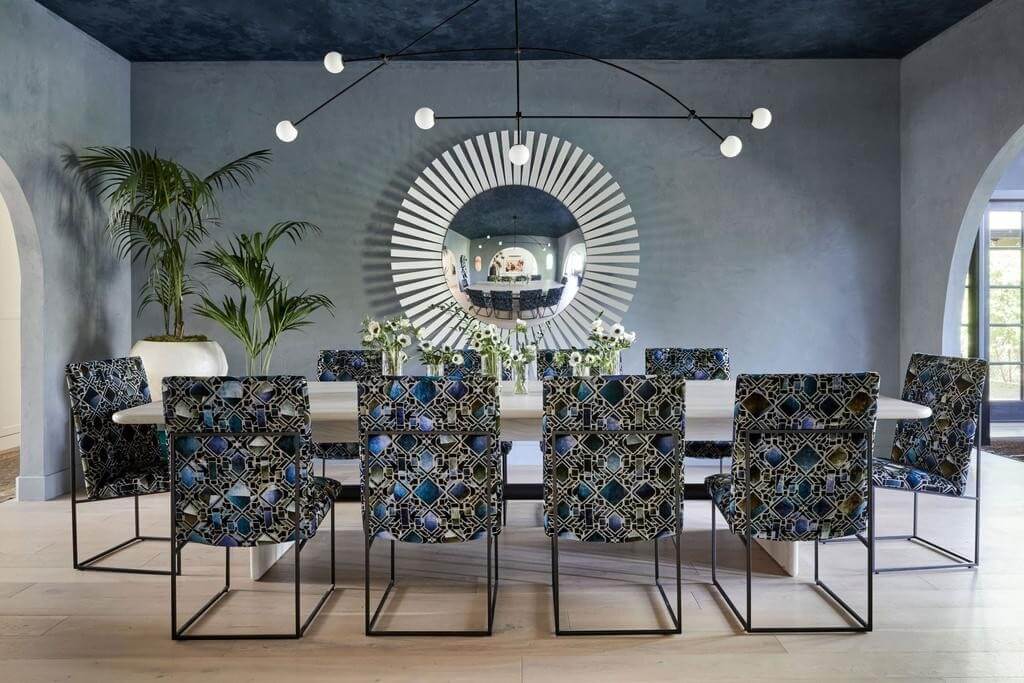 Designing an eclectic dining room is about paying attention to details. An ordinary modern dining room becomes a sophisticated, eclectic interior by choosing a bold fabric for the dining chairs.
15. VARIED SEATING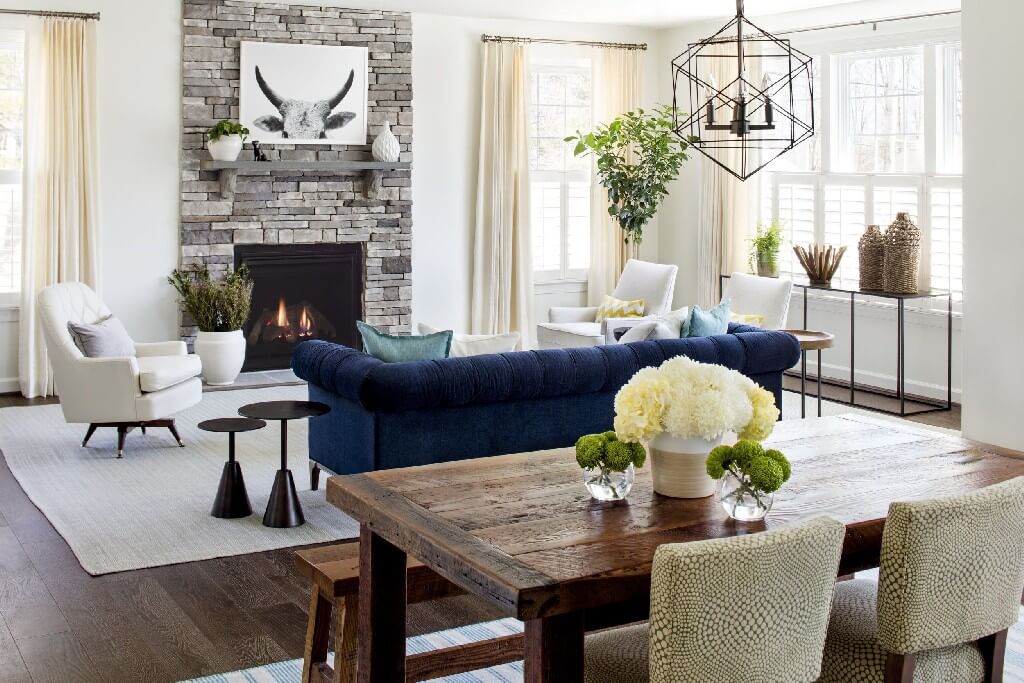 Use different seating options to make your dining room decor stand out—mix dining chairs with benches and even stools.
16. OPPOSITE COLORS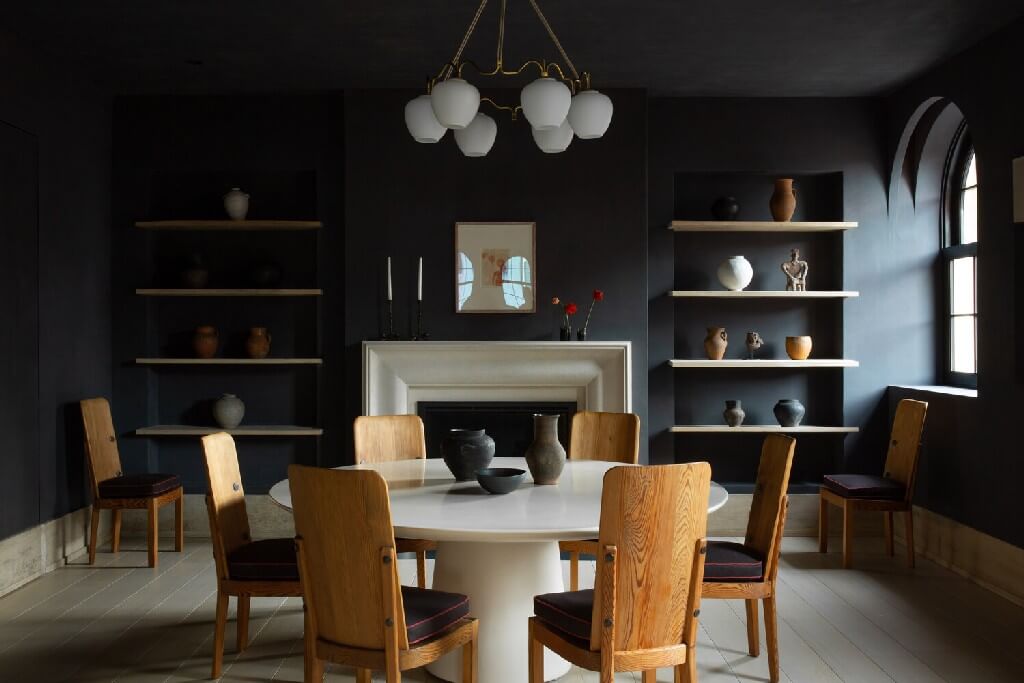 Decor a modern dining room using opposite colors, such as black and white. Black and white are a timeless combination – it never gets out of fashion since they are neutrals and the base of all colors. If you want the dining room decor to make an impression, surprise with walls painted black contrasting with the conventional colorism.
For more dining room decor ideas, discover the DINING ROOM DESIGN IDEAS moodboard on Pinterest.