Wood Scent for this Autumn to be at ease in your modern luxury bedroom, surrounded by cozy textures and cinnamon and honey hues.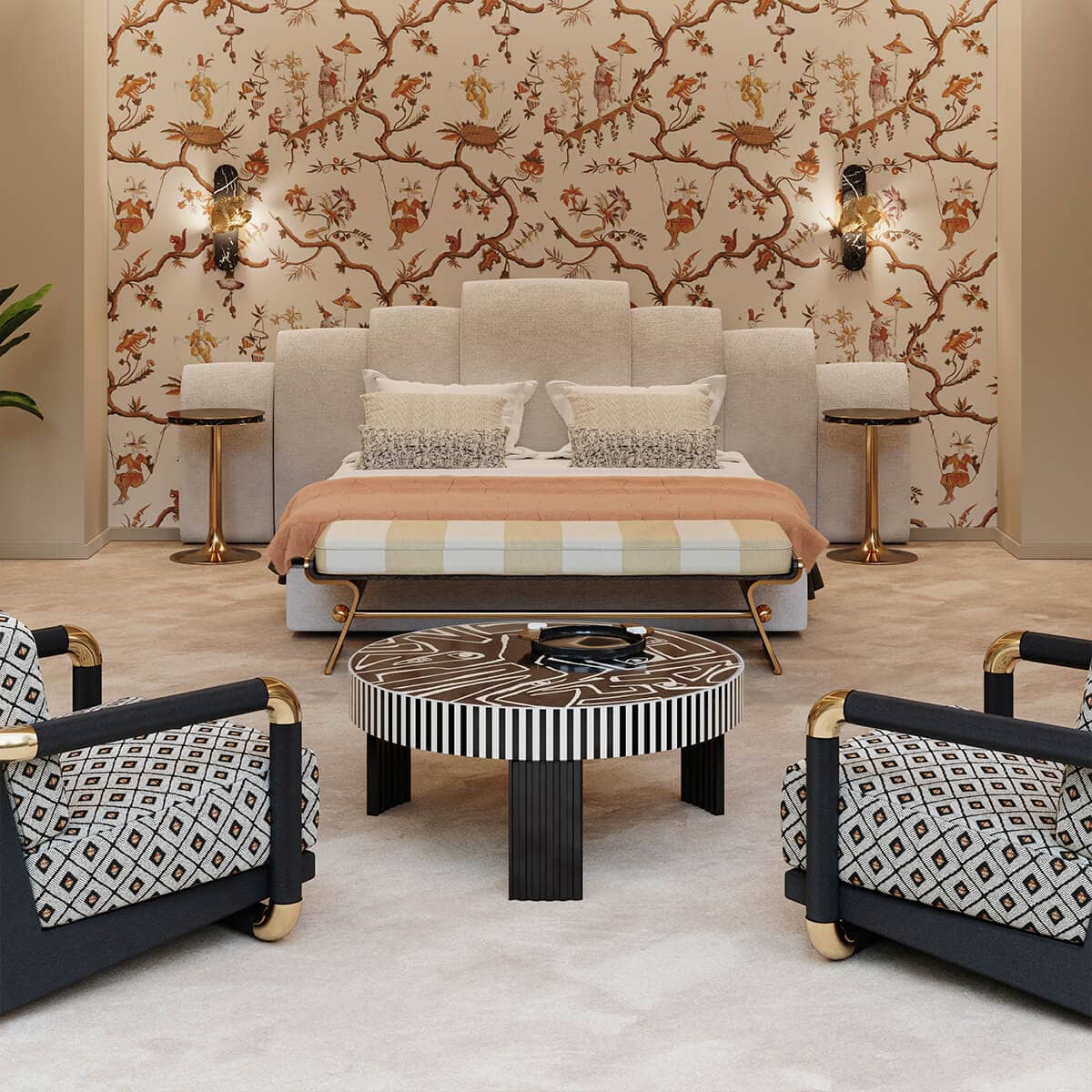 This Autumn, be at ease in your modern luxury bedroom.
A pinch of cinnamon and honey spices up the ambiance that the nude color scheme exhales. Finely crafted wood and a golden veil of details assure the utmost sophistication.
Unapologetically cosmopolitan, this master bedroom will wrap you up and allow you to sleep snug and warm.
Discover Wood Scent below.

WOOD SCENT: SHOP THE LOOK
KARA BED
Kara Bed is a "modest luxury" styled piece – a precursor to minimalism– stripped away any superfluous decoration in search of simplicity. The best choice for a minimalist luxury master bedroom design project.
LEAFUS WALL LAMP
Leafus Wall lamp is like a subtle breeze of fresh and modern design. A luxury wall lamp with an organic and elegant shape. Nature-inspired, this design lamp is perfect for a high-end interior design project.
KLIMT SIDE TABLE
Klimt Center Table is the perfect choice for a nature-inspired luxury interior design project.
Made with the marquetry technique, can be customized to meet your style and favorite colors of wood.
JAXON RUG
Jaxon rug is an irreverent and funny geometrical rug. It brings back the rebellious attitude within Memphis Design Movement due to its unconventional curvy shape.
Jaxon rug is also the perfect modern rug to add flow and dynamism to your interior design project.
WOOD SCENT: SHOP THE LOOK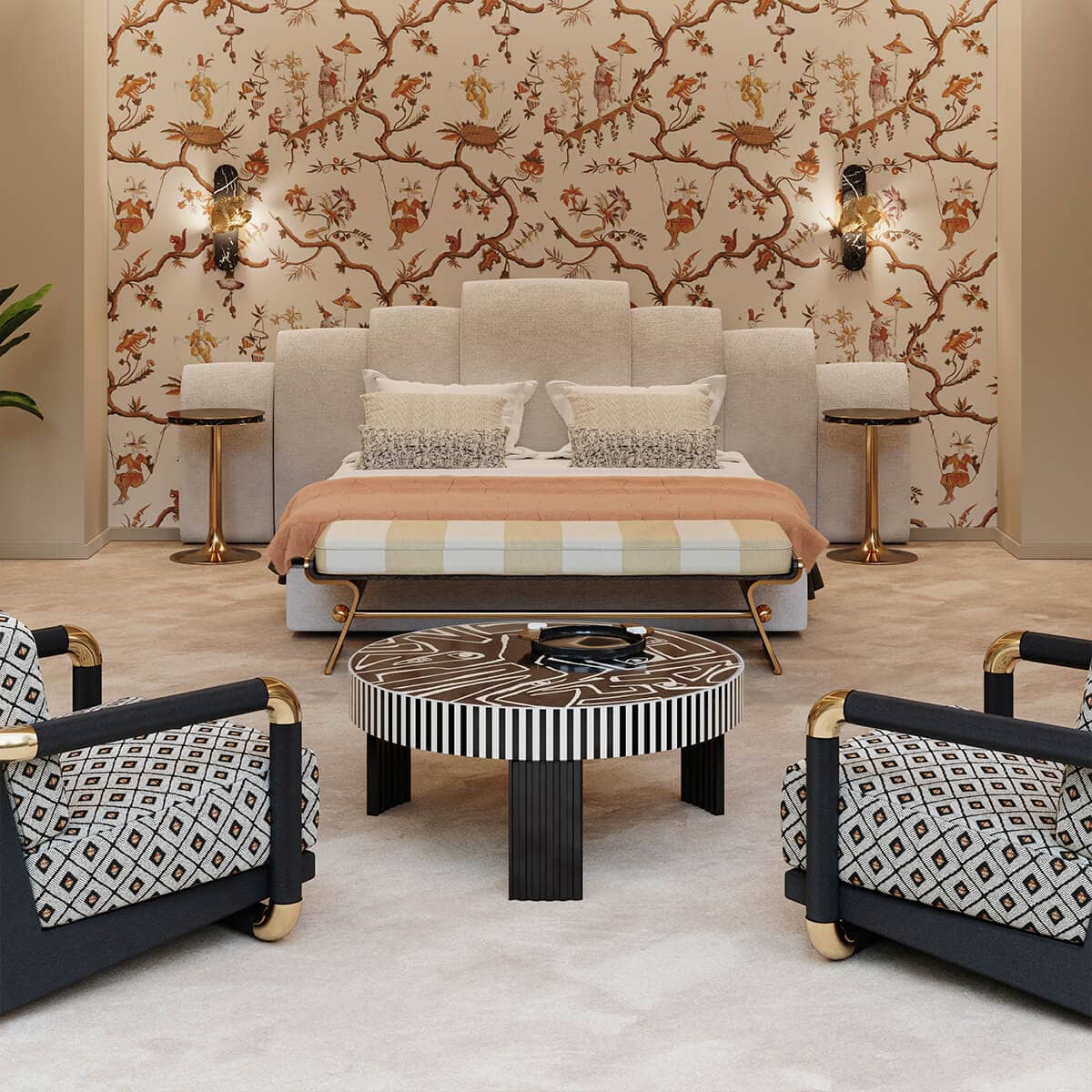 ZEUS BENCH
Zeus Bench is a modern bench design, perfect for a modern hotel lobby or for a presidential suite.
KONGO ARMCHAIR
Kongo Armchair is a mid-century modern armchair. It's an accent armchair, designed to add elegance to a modern living room design project. Its prime silhouette will add the perfect touch of elegance to any living room.
PICASSO CENTER TABLE
Picasso Coffee Table celebrates with handcraft expertise the 20th-century art movement, Cubism. And also his leader Pablo Picasso. Rough and natural materials approach us with a very precise message: modest luxury. This simple yet artistic center table invites you to join a simple and honest way of designing a contemporary interior design project.
LISOLA ARMCHAIR
Lisola Armchair is a luxury seating piece. An eclectic armchair created by the most refined design with delicate materials makes it an authentic luxury design piece. It fits perfectly in a contemporary living room and is a nice-to-have in outdoor space.
It provides the same satisfaction that discovering a portion of ground in the middle of the ocean does. It is inviting and irresistible. At least it will make anyone want to come back to see it once again.
WOOD SCENT: SHOP THE LOOK
Go to Shop The Look and discover a selection of products to style Neutral Statement. We kindly suggest you get winter-ready with our FW21 Lookbook with modern luxury interior styling which you can discover here.
Download the Hommés Studio catalog and discover furniture, lighting, and home accessories to design a modern and sculptural interior.
Also pay a visit to ACH Collection website and discover high-end homeware and pet accessories for a wholesome modern lifestyle.