Kelly Hoppen designs her new home in a barn in Cotswold. The Barn is simultaneously Kelly Hoppen's latest interior design project and new home.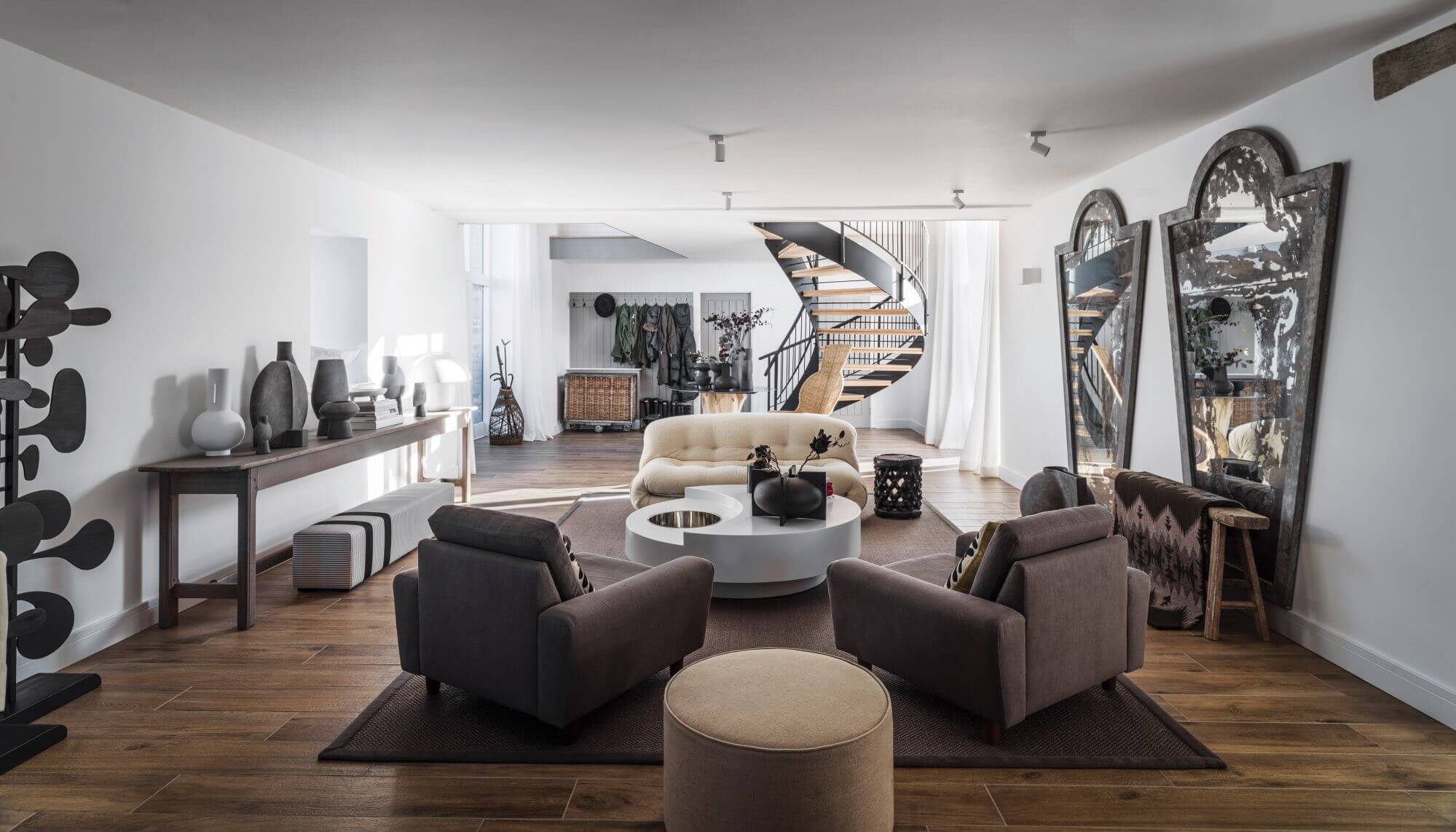 From Kelly Hoppen to Kelly Hoppen, in the British countryside of Cotswold. The interior designer delivers a property with her signature style – modern eclectic interiors – a juxtaposition between East and West, sleek lines, and vintage furniture.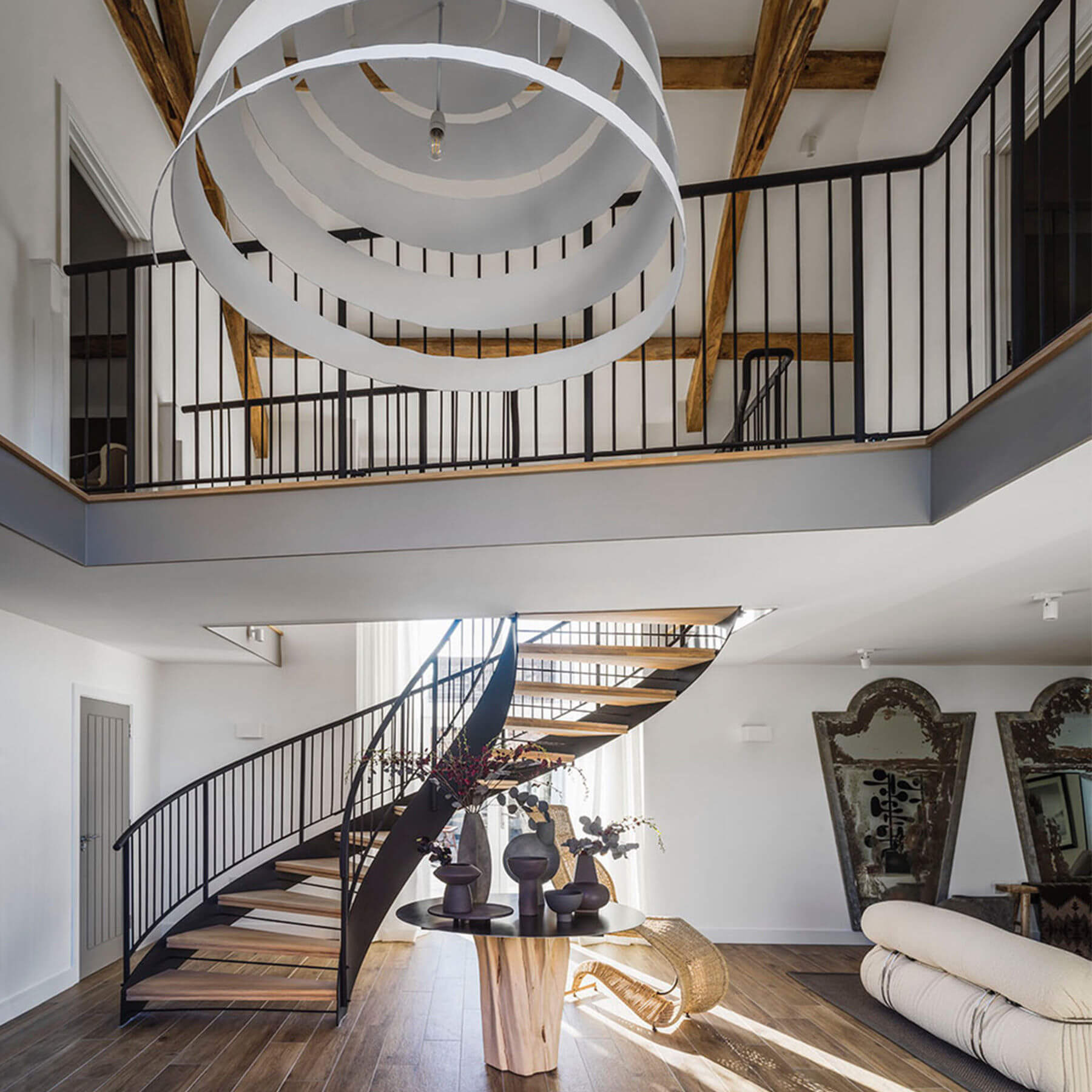 Kelly Hoppen designs her new house to answer the needS that she pointed out by spending more time indoors due to the pandemic. The Barn, by and for Kelly Hoppen, is balanced, proportional, comfortable, and versatile.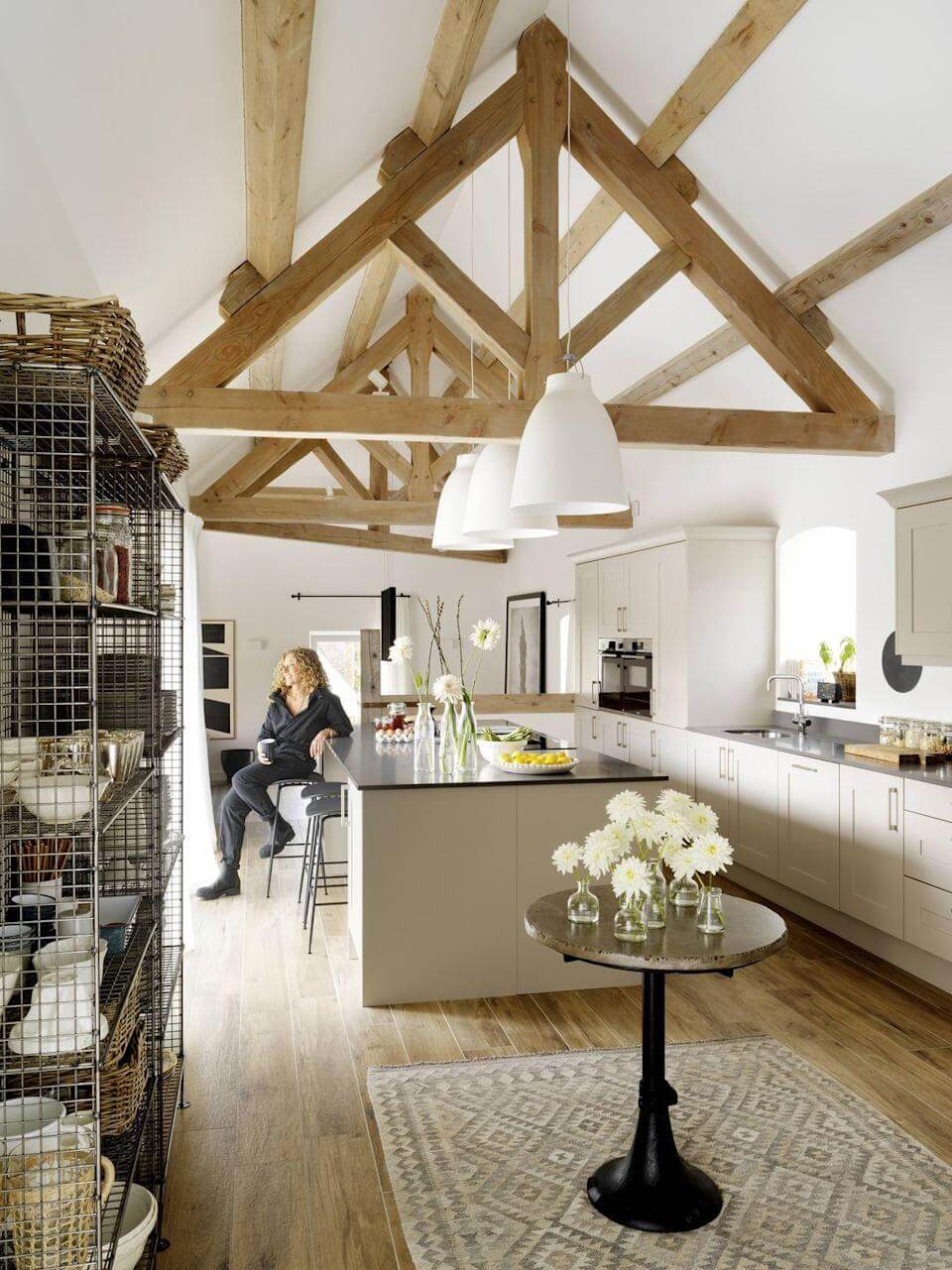 The new project of Kelly Hoppen is a lighweighted property where neutrals juxtapose the white walls of the former barn.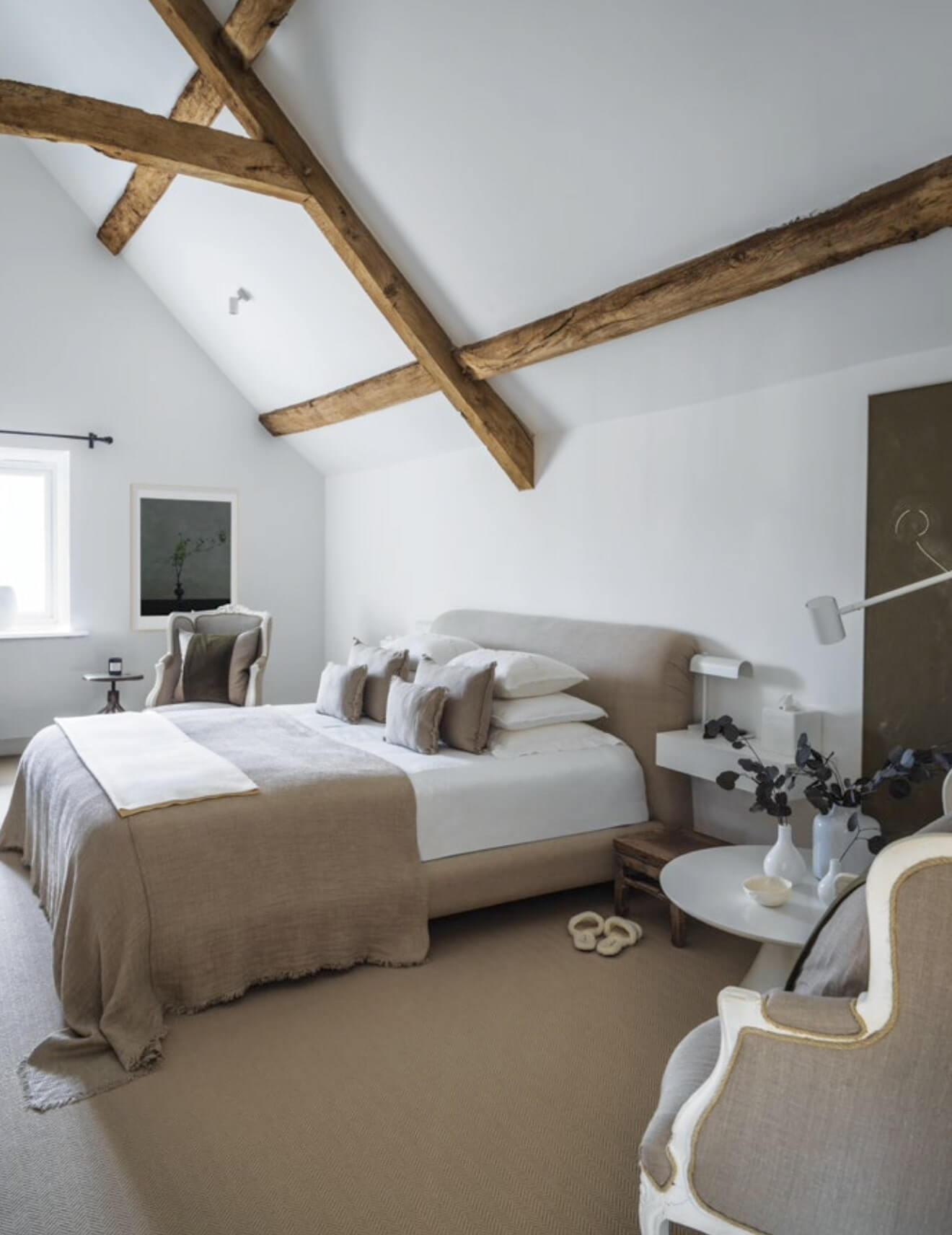 Due to the original structure of the estate, the spaces are wide and end up serving multi purposes. Just like Kelly Hoppen aimed. For instance, the front yard is simultaneously a home gym, a hallway and a chill out space.
Inside the house, the focal point is a spiral staircase made of wood and metal. Even though the staircase is a modern creation, it has a rustic appearance. In other words, the showstopper of The Barn materializes not only the history of the property but also how Kelly Hoppen designs eclectic interiors.
Kelly Hoppen designs a home that is balanced in color and textures, and shapes. When it comes to furnishing, the British interior designer merges tactile materials and textures, sleek and simple lines and shapes of the West, and the East's texture, depth, and richness. These features can be seen in ceramic vases and vintage pieces, and linen and velvet as well. This is a combination that beautifully contrasts with the original wood of The Barn.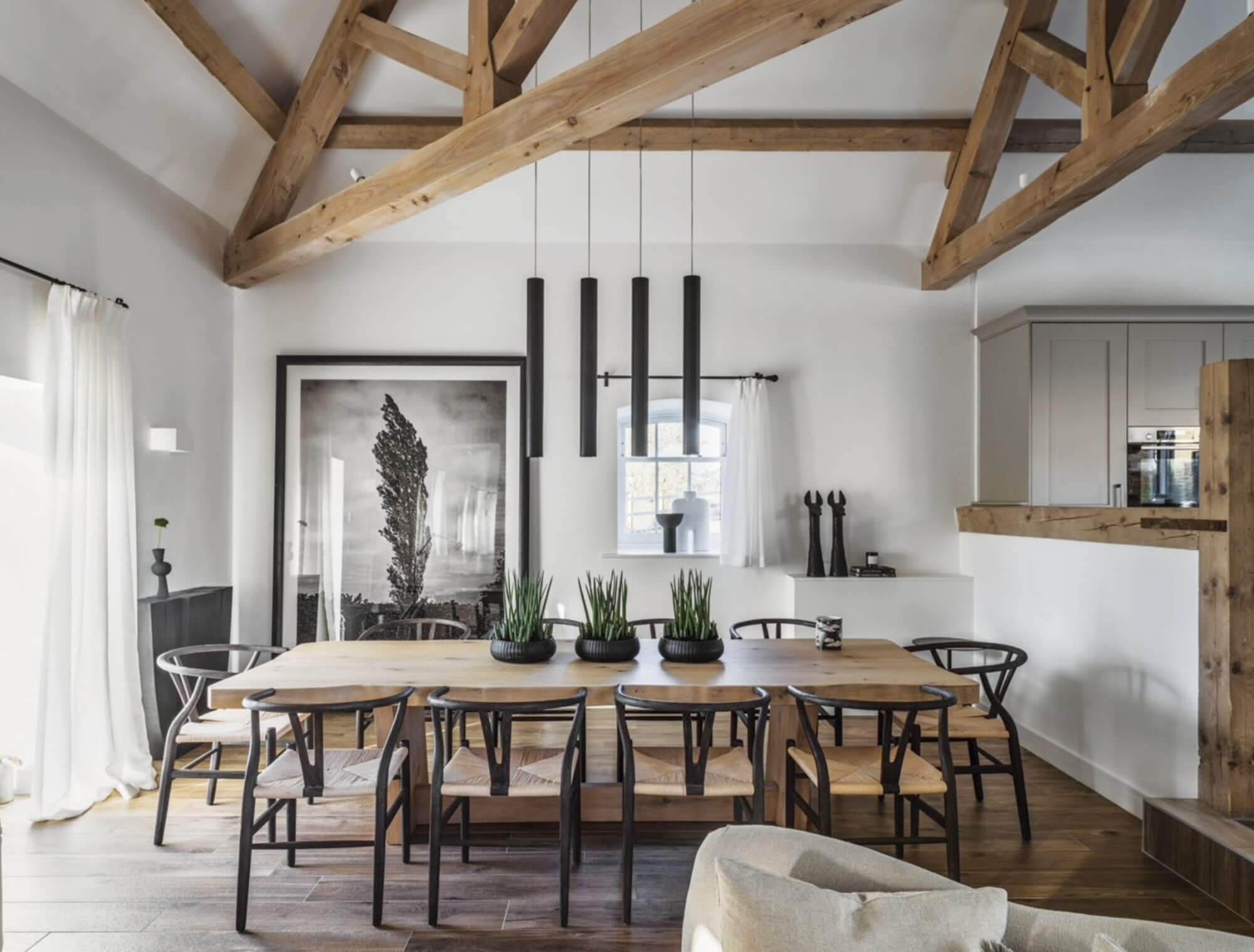 Kelly Hoppen designs an eclectic temple where East and West meet. Old and new. Rustic and modern. City and country.
Since Kelly Hoppen's new home is located in the British countryside, a proper landscape was required. Therefore, the outdoor area was designed in collaboration with acclaimed landscape designer Stephen Woodhams. Hoppen and Woodhams designed the garden to feel like an extension of the interior of the house. For instance, Kelly Hoppen can enjoy the landscape while cooking from the kitchen's windows.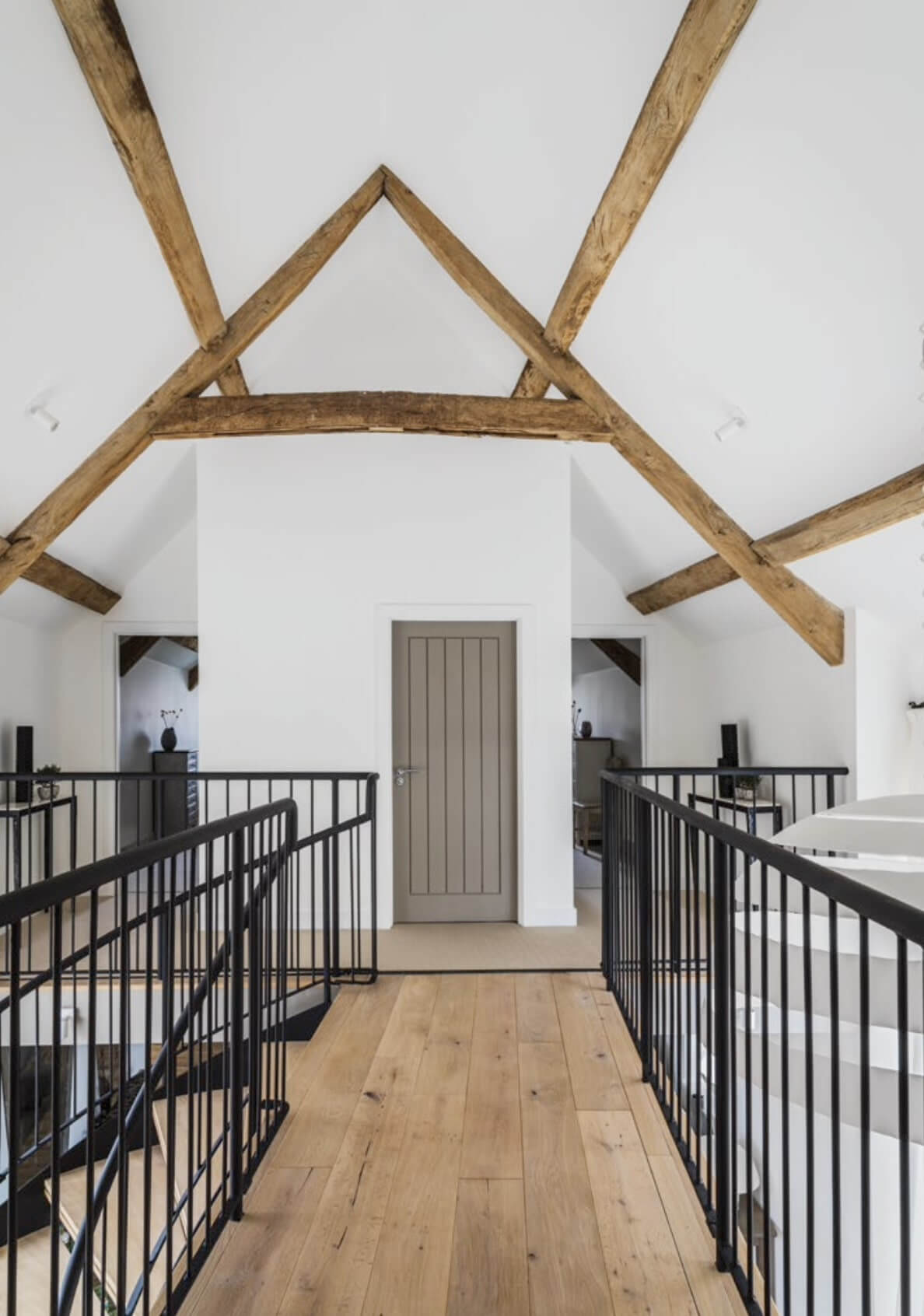 In addition to the light, open and multifunctional spaces, Kelly Hoppen felt like it was really important to have a courtyard where the designer can have both moments of relaxation and inspiration.
For similar interior design projects, read Mila Kunis & Ashton Kutcher's Modern Farmhouse in LA but if you're looking for inspiration, take a peek at Hommés Studio's Pinterest for curated interior design ideas.

Source: Vogue Australia