Discover how furniture customization can elevate your space to new heights of sophistication and style. Uncover the inspiration that fueled the design of this exquisite penthouse, and learn how to infuse your own projects with the same level of curated elegance.
In the heart of Hong Kong, a penthouse stands as a testament to the seamless integration of luxury and furniture customization. Cream Design's awe-inspiring project has not only redefined living spaces but has also become a beacon of inspiration for those seeking to elevate their interiors. Join us on a journey through each room division of this remarkable penthouse, as we unveil the art of furniture customization that breathes life into every corner.
The focal point of the living room is undoubtedly the bespoke sofas and chairs that redefine the concept of comfort. Cream Design has curated a collection of seating that not only beckons relaxation but also serves as a canvas for luxurious fabrics and textures. Explore the meticulous craftsmanship behind each piece, from tailored upholstery to carefully selected cushions, and discover how to bring this level of comfort and couture into your own living space.
The living room's ambiance is further elevated by custom lighting fixtures that serve as both functional luminaries and sculptural elements. From bespoke chandeliers that command attention to strategically placed accent lights that highlight architectural features, discover how Cream Design has masterfully used custom lighting to create an atmosphere that is both welcoming and sophisticated. Uncover tips on selecting and placing lighting fixtures to enhance the mood and aesthetics of your living room.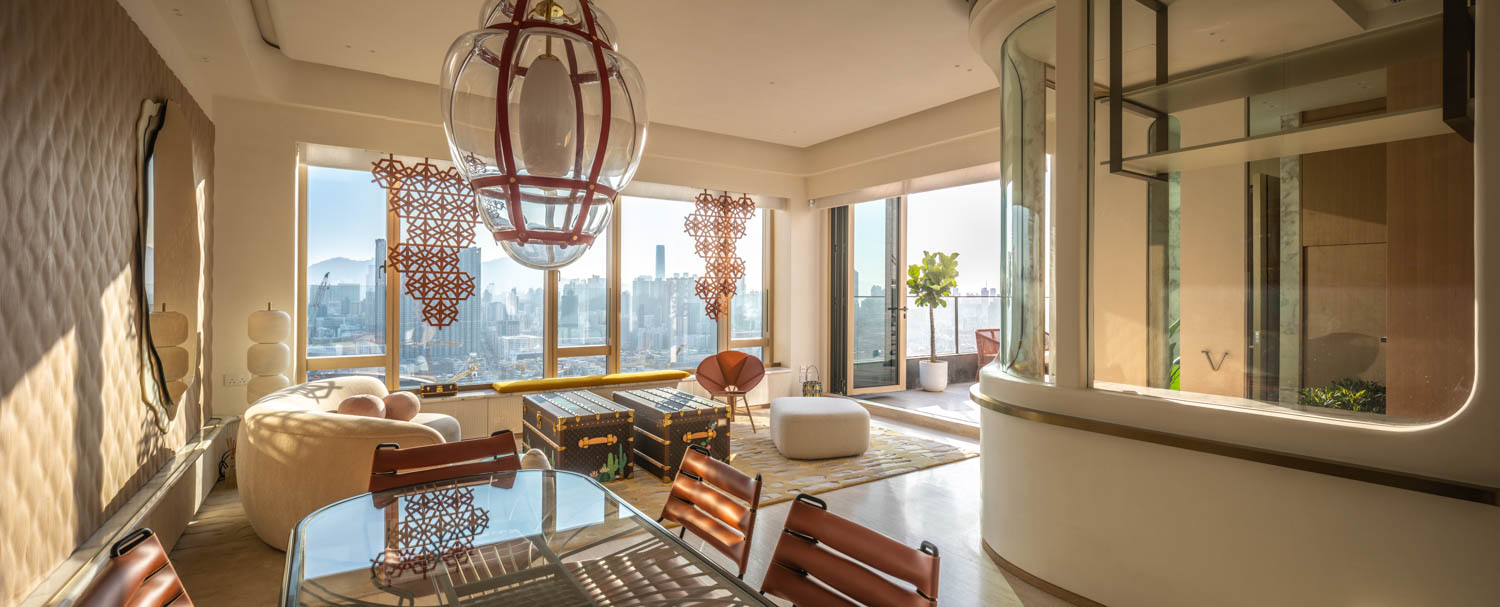 In the heart of the living room, we can see a furniture customization, the coffee tables take center stage, transforming the space into a conversation-worthy gallery. These Louis Vuitton trunks are more than functional surfaces; they are pieces of art. Delve into the design choices that make these tables stand out, whether it's the choice of materials, innovative shapes, or intricate detailing. Learn how to make your coffee table not just a functional necessity but a statement piece that reflects your unique style.
To complete the living room symphony, Cream Design has carefully chosen personalized accessories that add the final flourish to the space. From custom Louis Vuitton screen and throws to unique decor acessories, and every single one tells a story. Explore the art of accessorizing with intention, and learn how to curate a collection of personalized furnishings that not only enhance the visual appeal but also resonate with the inhabitants on a personal level.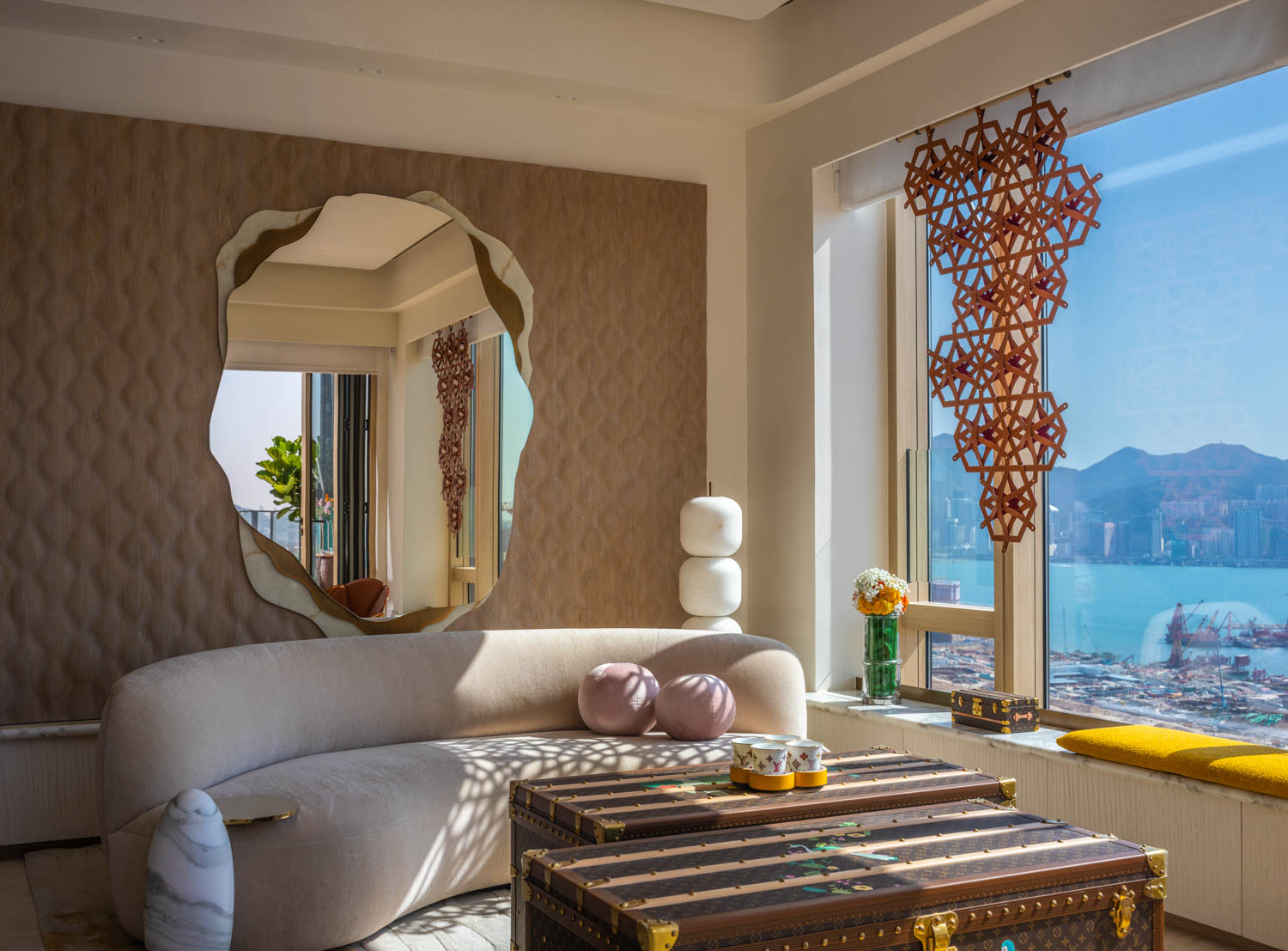 At the heart of the dining room stands a bespoke dining table, a masterpiece that turns every meal into a grand occasion. Cream Design has a meticulously crafted table that not only serve their functional purpose but also make a bold statement in design. Explore the choices in materials, shapes, and finishes that contribute to the unique character of these tables, and discover how to choose or customize your own dining table to become the focal point of your dining space.
Surrounding the custom dining table are chairs that redefine the concept of seating. Cream Design's dining chairs are not mere furniture; they are pieces of art that offer comfort fit for royalty. In Cream Design's dining room, furniture customization is a celebration of culinary luxury. It's about creating a space where every meal becomes a feast for the senses, and where the design of the room itself becomes an integral part of the dining experience.
As we venture into the bedroom of Cream Design's Hong Kong penthouse, a sense of tailored tranquility envelops every corner. Here, the art of furniture customization takes center stage, creating private sanctuaries that seamlessly blend opulence, comfort, and personal expression.
The bedroom feature bespoke bed frames that redefine the concept of restful elegance. Cream Design has meticulously crafted these centerpieces, ensuring that the bed is not just a place to sleep but a work of art. In Cream Design's penthouse bedroom, the art of furniture customization transforms each room into a haven of personalized luxury. It goes beyond aesthetics, allowing inhabitants to connect with their surroundings on a deeper level.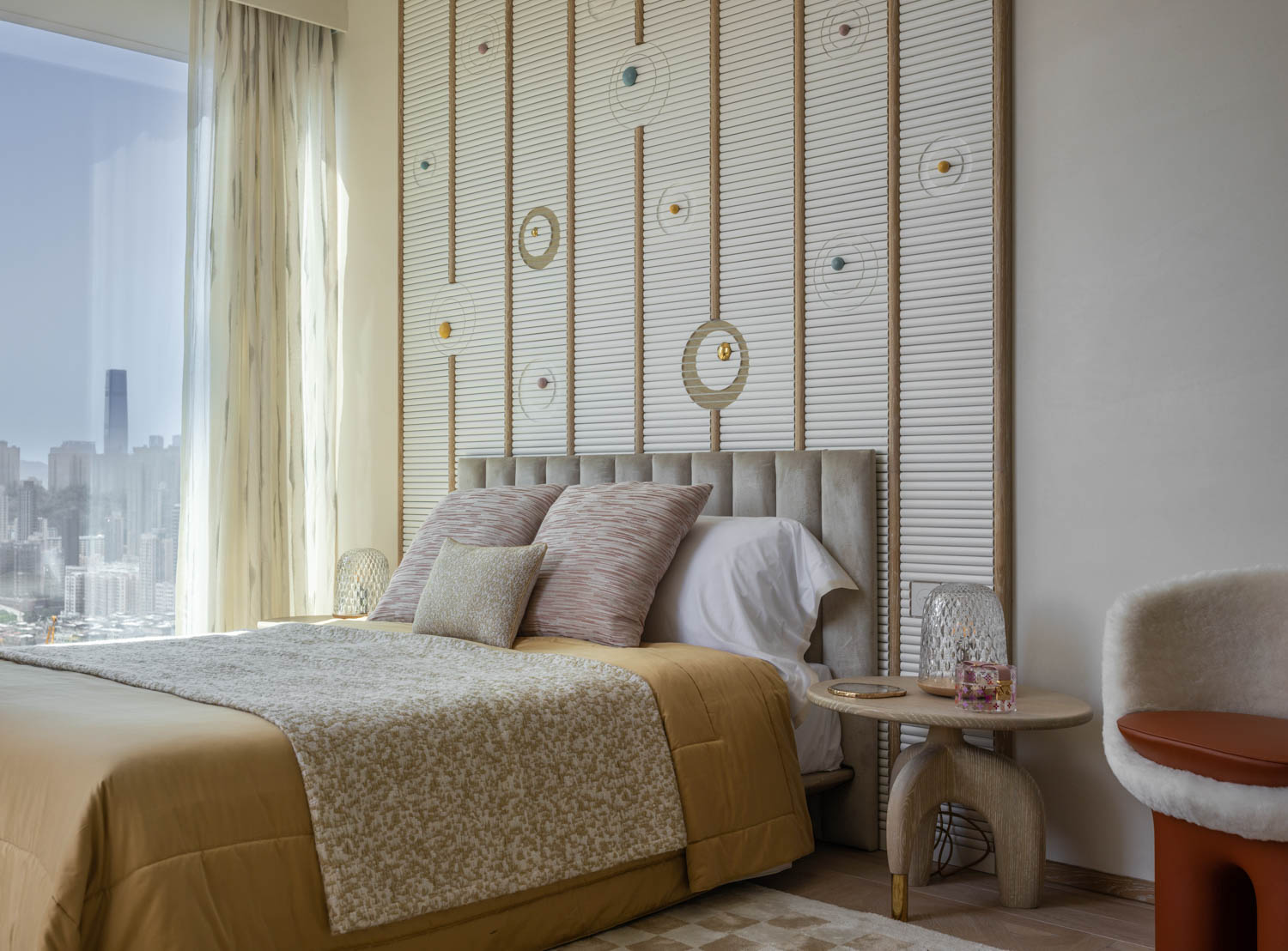 The terrace pool is not just a water feature; it's a work of art that seamlessly blends with the urban skyline. Cream Design has crafted an infinity-edge pool that creates an illusion of merging with the surrounding cityscape poolside loungers and seating redefine the concept of outdoor relaxation. Cream Design has carefully selected and designed furniture customization pieces that not only withstand the elements but elevate the terrace into a luxurious retreat.
Beyond the pool's edge, the terrace is adorned with carefully selected greenery and landscaping. Cream Design has incorporated plants and features that not only enhance the aesthetics but also create a connection with nature.
Cream Design's terrace pool is a testament to the extension of luxurious living beyond four walls. It's a celebration of outdoor opulence where every element, from the pool's design to the customized furniture, contributes to a harmonious and breathtaking experience. As you explore the terrace pool oasis, let it inspire you to transform your outdoor space into a haven of elevated bliss, where the boundaries between indoor and outdoor living dissolve, and each moment is a celebration of customized luxury.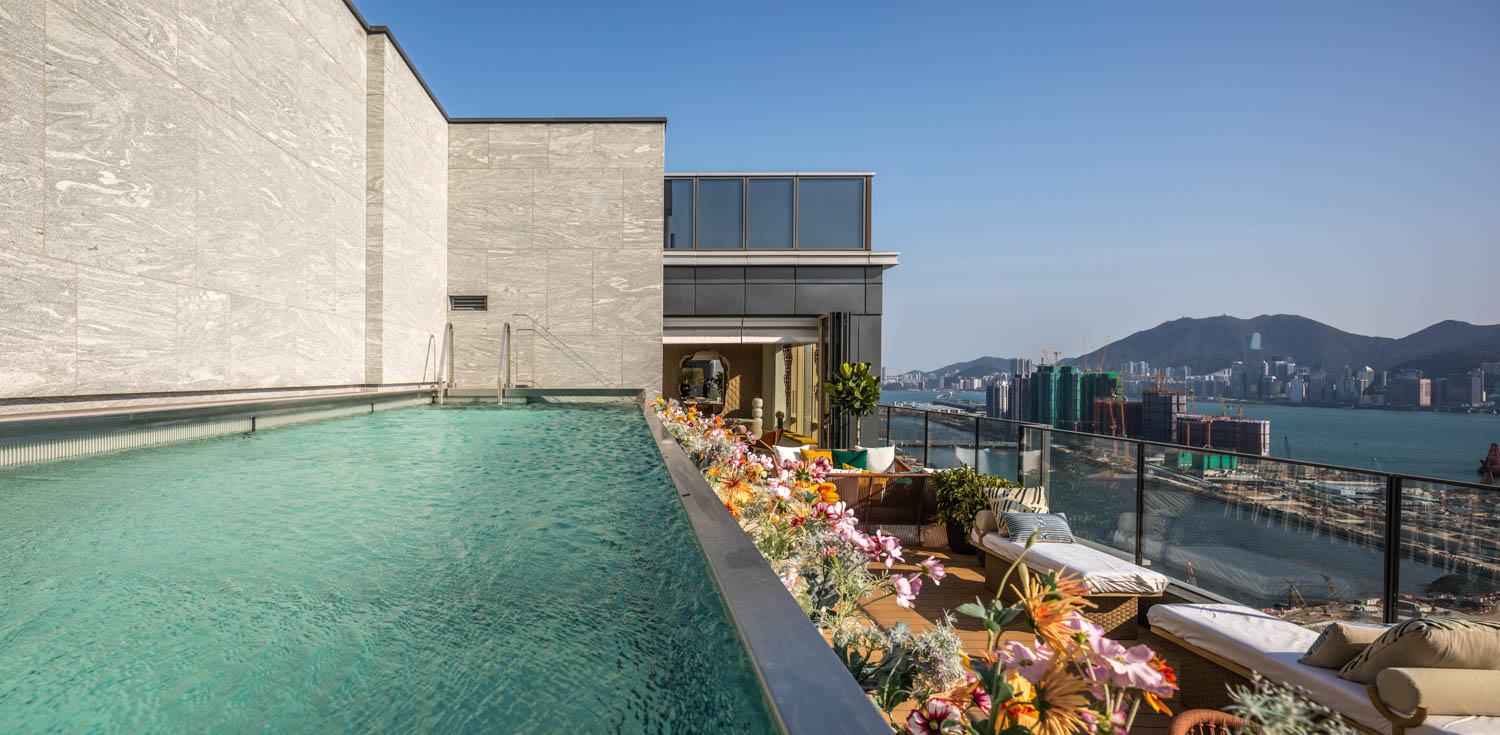 As we conclude our exploration of Cream Design's Hong Kong penthouse, it's evident that the art of furniture customization goes far beyond mere aesthetics—it's about crafting a personalized haven that tells a story, embraces individuality, and redefines the concept of luxury living.
From the symphony of elegance in the living room to the tailored tranquility of the bedrooms and the elevated bliss of the terrace pool, every corner of this penthouse serves as an inspiration for those seeking to infuse their living spaces with a touch of bespoke charm.
The journey through Cream Design's masterpiece reminds us that customization is not just about creating beautiful furniture customization; it's a narrative woven into the very fabric of our homes. It's about selecting or crafting pieces that resonate with our tastes, reflect our personalities, and enhance our daily lives.
So, go ahead—unveil the art of furniture customization in your own interior design projects. Embrace the luxury of personalized living, where each piece of furniture becomes a chapter in your story, and every room is a canvas for your individual style. Craft your haven, and let it be a testament to the artistry of living in a space that truly feels like yours, for more inspiration explore Hommés Studio arts and crafts collection.