In this New York Manhattan apartment, Brian Mccarthy, founder of Brian J. McCarthy, Inc, used his addiction to art collection as the main element in this design.
The two-bedroom apartment on 57th Street in a 1922 building across from Carnegie Hall has undergone three significant renovations since McCarthy moved in 23 years ago.
His continuously adding items to his collection makes him need to update furniture and art at the apartment. He explains, "It's fun because I'm constantly collecting, and so there's always something coming and going."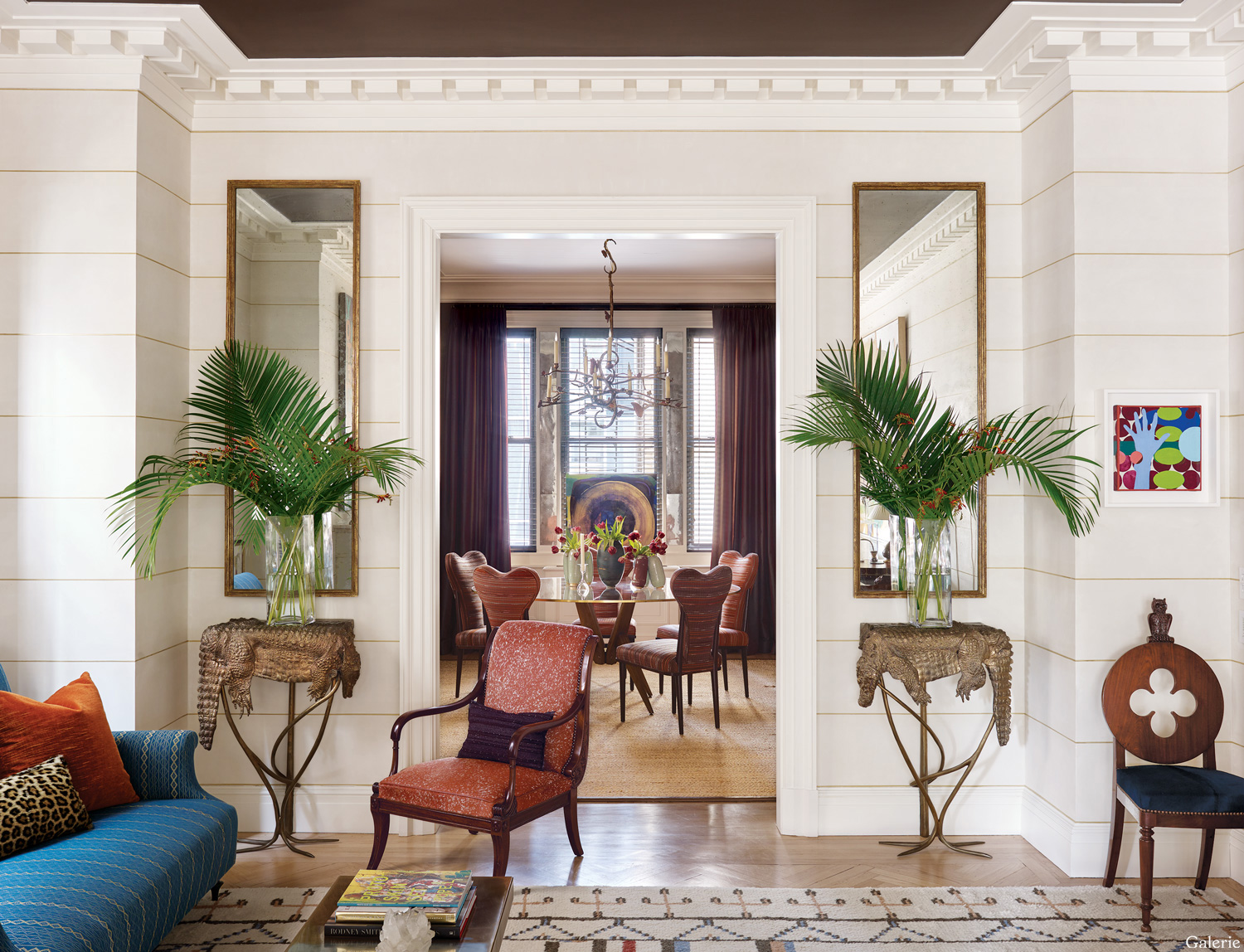 Brian McCarthy is well-known for infusing his designs with glitz and aesthetic savoir-faire. While his rooms are impeccably tailored, they never feel ordinary, thanks to the unusual colors, inventive decorative details, and unique combinations of exceptional furnishings and art.
In light of the designer's interest in art, he attempted to make his interior design look gallery-like. As we will see, the pieces he purchased can be found in each room of this apartment.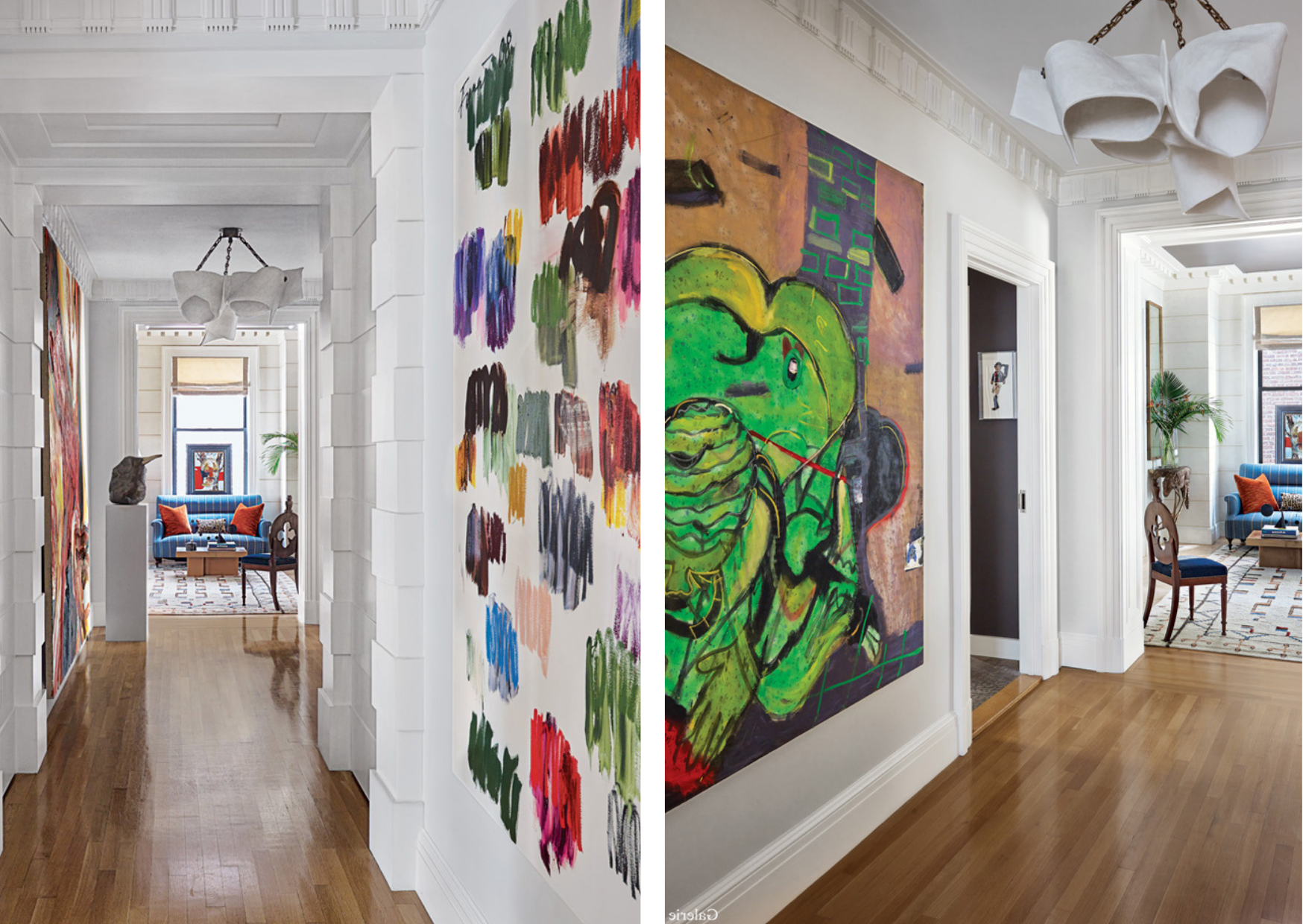 A colorful Günther Förg painting, as seen from different angles in the two photos above, is joined by a Patrice Dangel plaster-and-bronze chandelier, a Doron Langberg canvas, and an Alma Allen sculpture in the gallery-like hallway. Brian McCarthy selected figurative works, frequently by artists of color and queer artists dealing with identity issues.
A bright hallway, designed by Brian McCarthy, in front of a window lets in plenty of natural light, although It has a distinguishing lighting suspended near the entry to the living room.
By keeping some historical elements from a previous renovation, such as the 18th-century mantelpiece, he gave the living room a spicier feel. Designer Brian McCarthy added a salty Mel Bochner text artwork over the fireplace to this Manhattan apartment room.
Given its size, the room nevertheless has a Jonas armchair, a monkey table by Claude and François-Xavier Lalanne, and a lambswool-covered stool by Albert Oehlen. A little Pino Pascali picture hangs to the right of a W. P. Sullivan lamp, a French lacquer side table from the 1930s, and a lounge chair by Joaquim Tenreiro.
We can see in the image above how the layouts are so effectively displayed, even though Brian McCarthy has an extensive collection of artistic objects, all of which have unique shapes and colors. Yet with all of its components, the space doesn't appear too packed.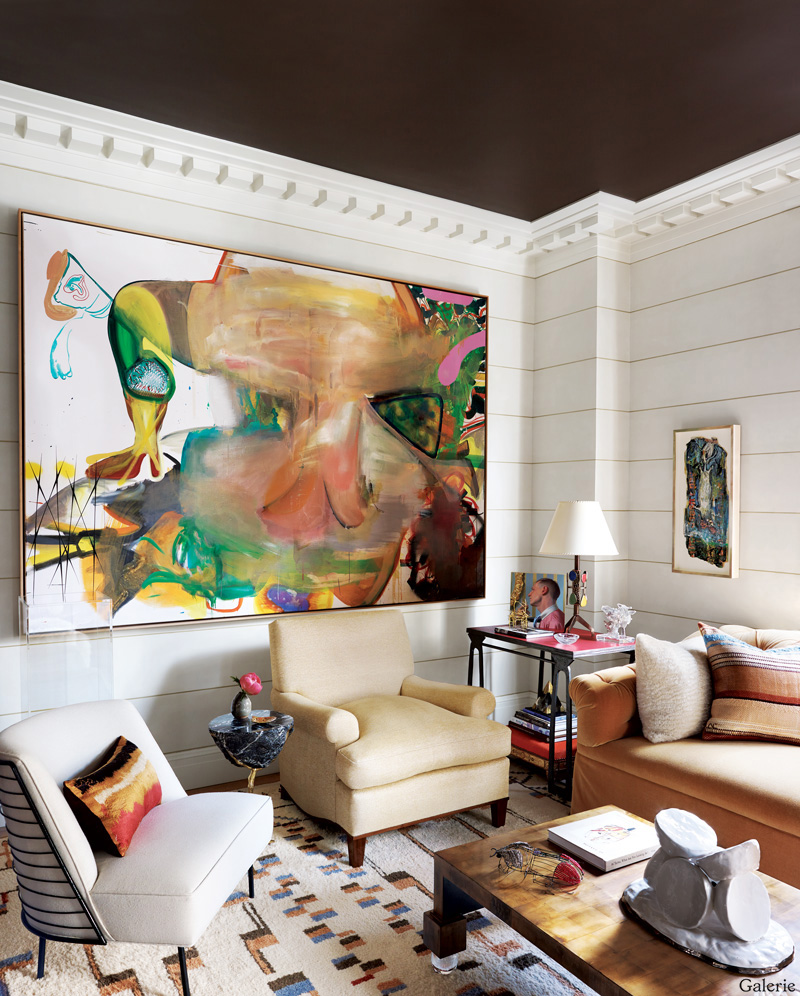 Albert Oehlen, a significant German artist, is featured in the living room of the home of designers Brian McCarthy and Daniel Sager. Oehlen's paintings are known for being abstract, with figurative forms and frenetic energy.
The room pictured above presents a diverse variety of furnishings with a tendency toward more modern and contemporary styles. Some of the artistic elements were expressly commissioned and crafted by some of McCarthy's favorite artisans, including the late Claude Lalanne, who made the stunning bronze chandelier in the dining room.
The lovely couple's bedroom features a variety of decorative items in distinct shapes, with warm orange serving as the room's primary color. The room's blushing ocher and the new custom chandelier, a delicate tangle of metal strands by Hervé Van der Straeten, complements copper tones. Its wavy shape contrasts with the wavy Caleb Woodard cabinet in the room and the funny disk-encrusted Stephen Antonson plaster bedside lights.
Sager and Brian McCarthy now have their bathroom, complete with unique marble and fixtures, just like the other rooms in this property.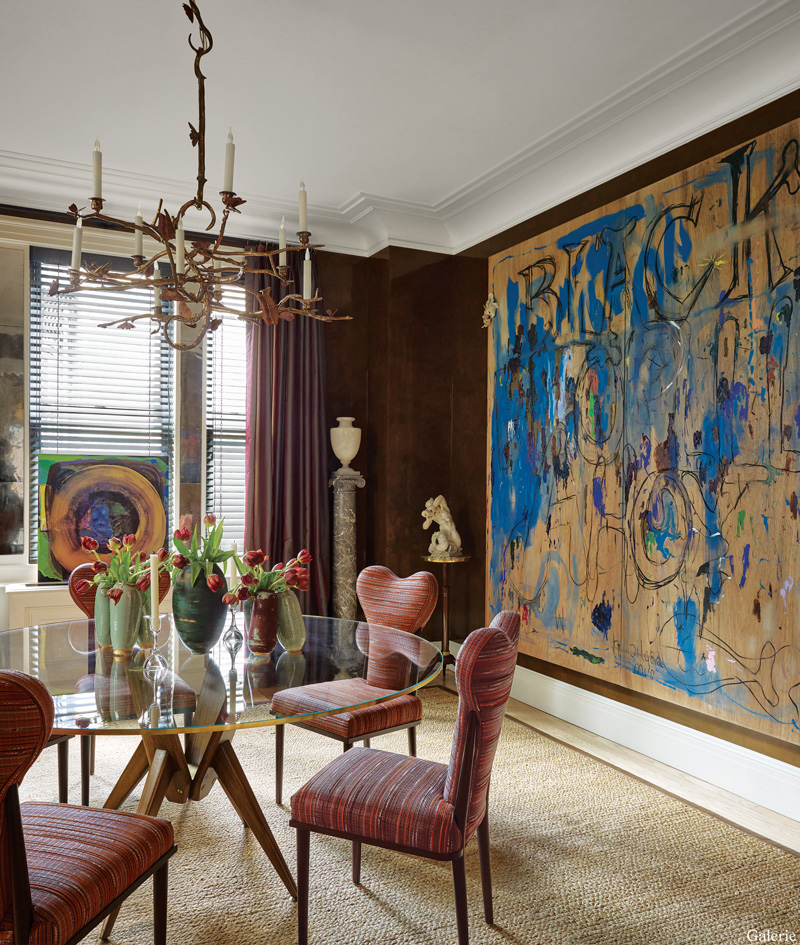 The dining room's color scheme is reversed from that in the living room, with the walls painted a dark mocha. The impressive wall-mounted William Pope painting is the room's standout feature. "I wanted this rich, black background that kind of throws its arms around everyone when you're in here," L. Brian McCarthy said. All included are a glass-topped table with an eye-catching Gio Ponti wood base, four chairs with exciting designs, and an above Claude Lalanne chandelier.
We hope you enjoyed this article and it helped you get inspired by the art of combining unique masterpieces which Brian McCarthy collects and the design which fits altogether with the items. On our project page, you will see more inspiring examples for your future projects and learn about more stunning interior design ideas

Photos by FRANCESCO LAGNESE