Shopping malls in the cities are becoming not only a place to shop but also an art and culture meeting point, an urban attraction, and we often found it among those buildings more bold in design. Here is a great example located in Gwanggyo, South Korea that is going to blow your mind.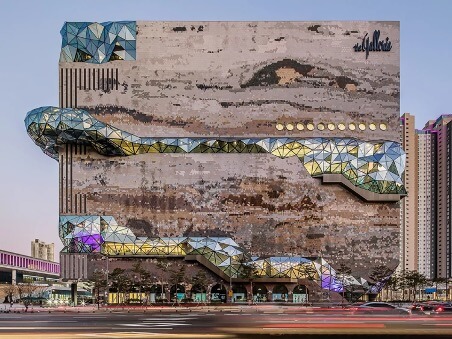 Completed in 2020 by OMA, or The Office for Metropolitan Architecture, an architectural firm based in Rotterdam, for Korea's biggest department store franchise Galleria. Founded in 1975 by Dutch architect Rem Koolhaas and Greek architect Elia Zenghelis, along with Madelon Vriesendorp and Zoe Zenghelis, OMA has designed so many amazing buildings, Seattle Public Library, Villa Dall'Ava, Casa da Música in Porto, Netherlands Dance Theatre, McCormick Tribune Campus Center, China Central TV Headquarters, Guggenheim Museum Las Vegas, Prada New York….

Glasses went around the building like a flying dragon, mixed with textured mosaic stone to contrast strongly in color, weight and texture. The transparency offers the passersby an opportunity to peek inside while the visitors inside get another city view point. Other than retails, visitors can also find here cinemas, club spaces, culture center, vip lounge, Academy, a place to host masterclasses and video booths. The most outstanding feature is the public loop that brings people directly from the ground to upper level, going through pop up spaces, café area and event space along its route. This is no doubt a landmark and pride of the city.
After talking with client and working with European department stores like KaDeWe, Galleries Lafayette and Selfridges, as well as studying the current landscape of the city and consumer psychology, the architects decided to make a connection with the outdoor and surrounding environment, the loop that travels along the façade is a cantilevered transparent walkway that aims to make people want to go in and stay in.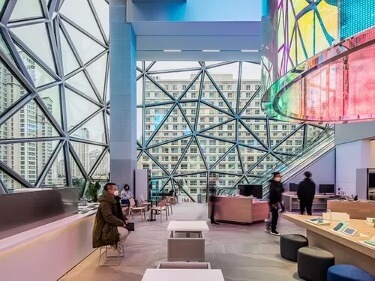 Shopping in malls has become a very important part of social life, especially in Asia, that's why the design can not consider only the role of consumer and shopper, but also tourist and visitor who just want to hang out and interact with surroundings.
We really hope you liked our article. Feel free to pin all the images to your favorite Pinterest board or to print it and use it on your projects' mood boards. You can also visit our Pinterest boards in order to get more inspirations.