In 2023, the Kips Bay Decorator Show House will make a beautiful comeback, presenting an exquisite five resplendent stories of innovative designers and architects.
This extraordinary event, the Kips Bay Decorator Showhouse, is a beacon of philanthropy, tirelessly raising funds for the Kips Bay Boys & Girls Club and its invaluable enrichment programs. Over the years, the show house has generated a staggering $28 million, empowering countless young minds and fostering a brighter future.
The Kips Bay Decorator Show House graciously displays its exquisite grandeur till June 6. The ancient River Mansion, which overlooks Riverside Park and the magnificent Hudson River and is tucked away in the Upper West Side's lovely neighborhood, is a monument of beaux arts opulence. Enter this fascinating home to see how a symphony of imaginative minds has reimagined every nook and crevice of its expansive 10,000 square feet.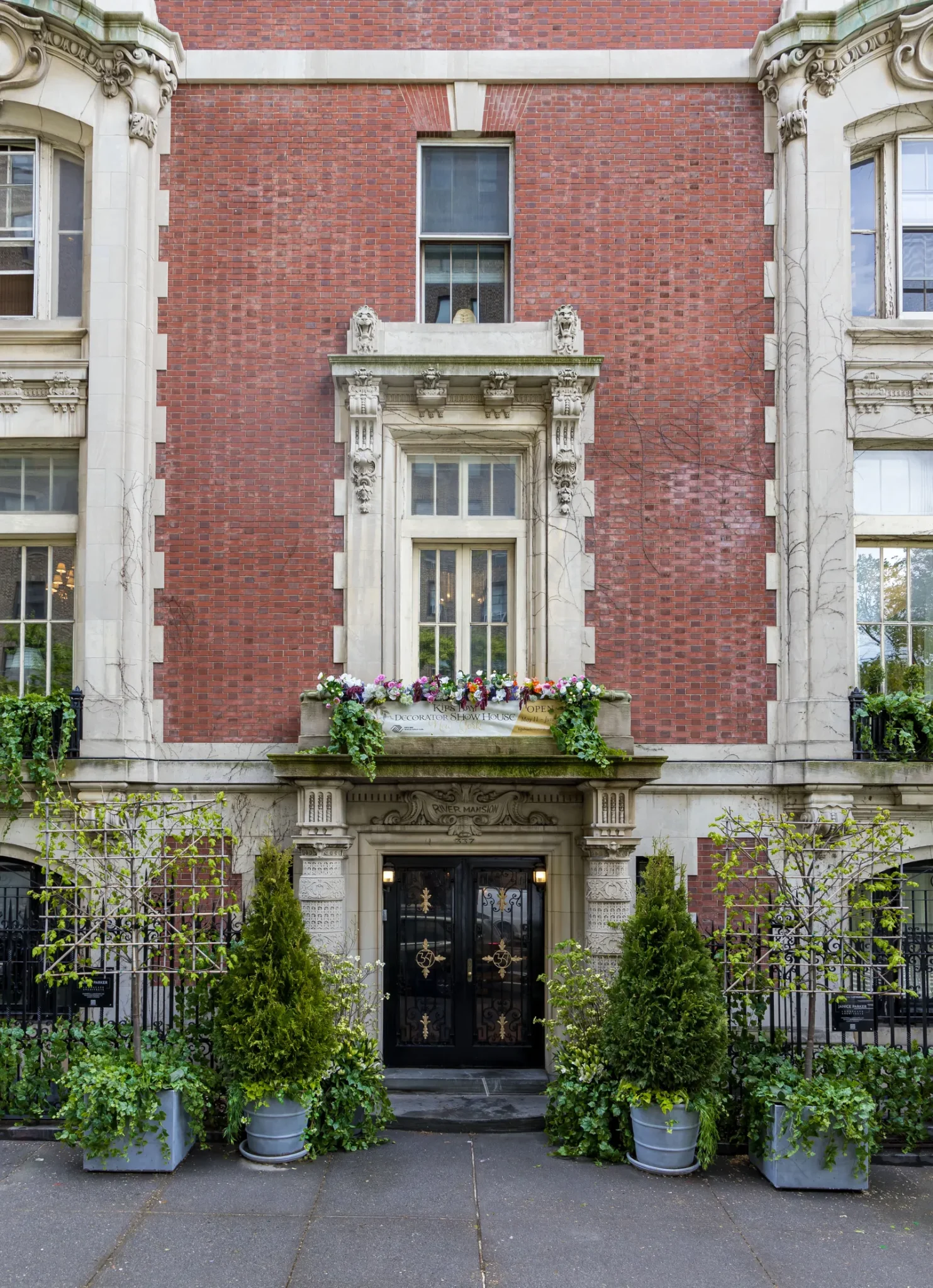 As seasoned professionals share their insights and cutting-edge ideas that light their souls on fire, get ready to be fascinated by the creative expertise of this year Kips Bay Decorator. Each area invites you to set out on a journey of creativity and inspiration, from a serene shell grotto-inspired refuge that exudes an ethereal appeal to a fascinating rococo Candyland that transports you to a fantastical dimension.
As you wander through the meticulously curated interiors of the Kips Bay Decorator River Mansion, not only will you be captivated by its resplendent beauty, but you will also contribute to a remarkable cause that uplifts communities and transforms lives.
Foyer and Main Stair Hall by Yellow House Architects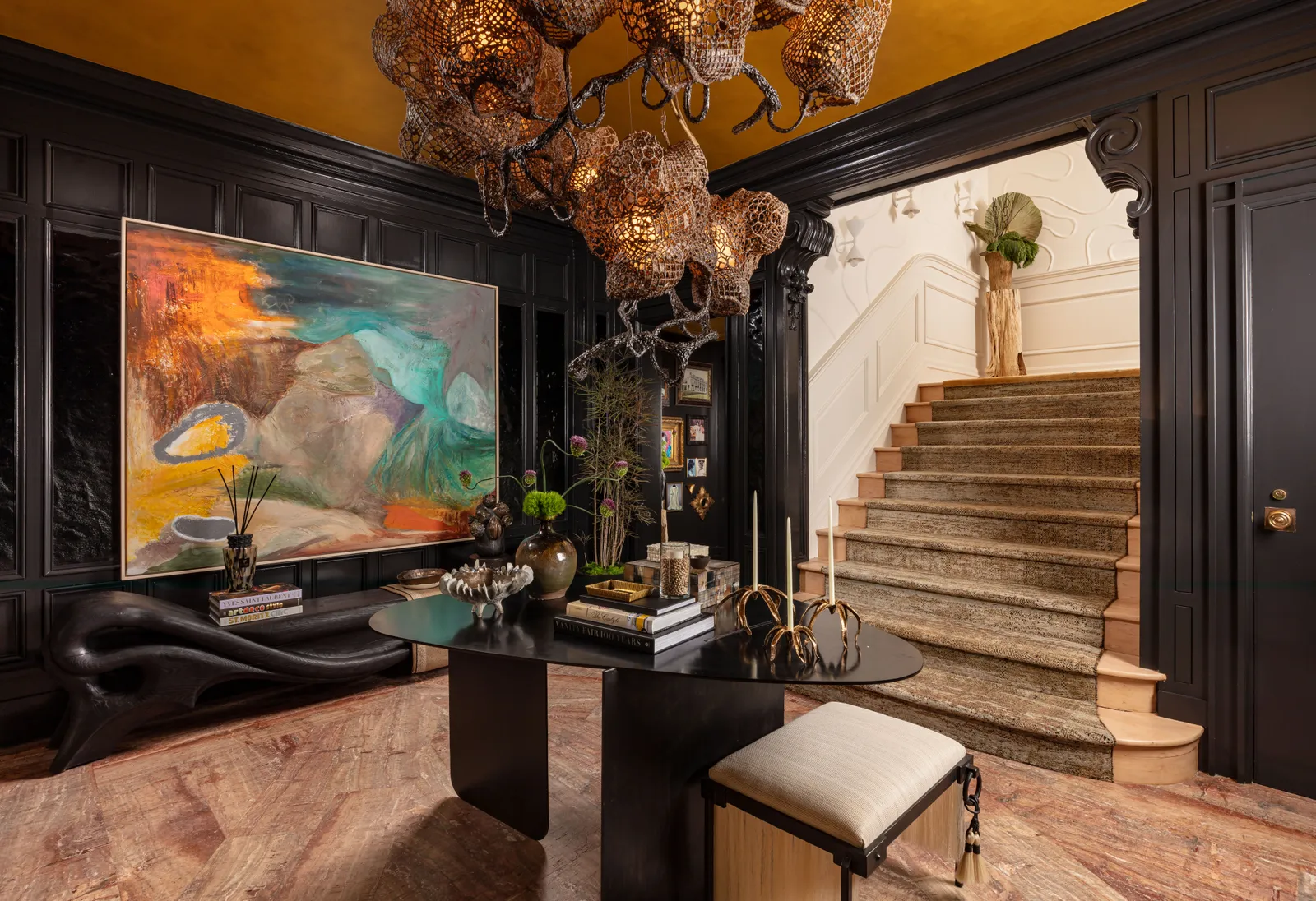 Drawing inspiration from the illustrious Julia Marlowe, the renowned Shakespearean actress and the River Mansion's inaugural resident, Yellow House Architects embark on a journey of grandeur and theatricality within the foyer's hallowed space. Every detail in this Kips Bay Decorator showhouse room is a testament to their artistic indulgence, paying homage to Marlowe's captivating spirit.
Amidst the shadowy ambiance, a striking contrast emerges. A squiggly-lined white plaster treatment, gracefully adorning the walls, adds a touch of quiet sophistication.
Atelier Barrois' expertly made warped glass paneling throws ethereal shadows that dance on the walls, producing a captivating display that catches the eye. Nacho Carbonell's sculptural chandelier hangs suspended like a celestial masterpiece and casts a dazzling glow throughout the Kips Bay Decorator showhouse room.
Parlor by David Scott Interiors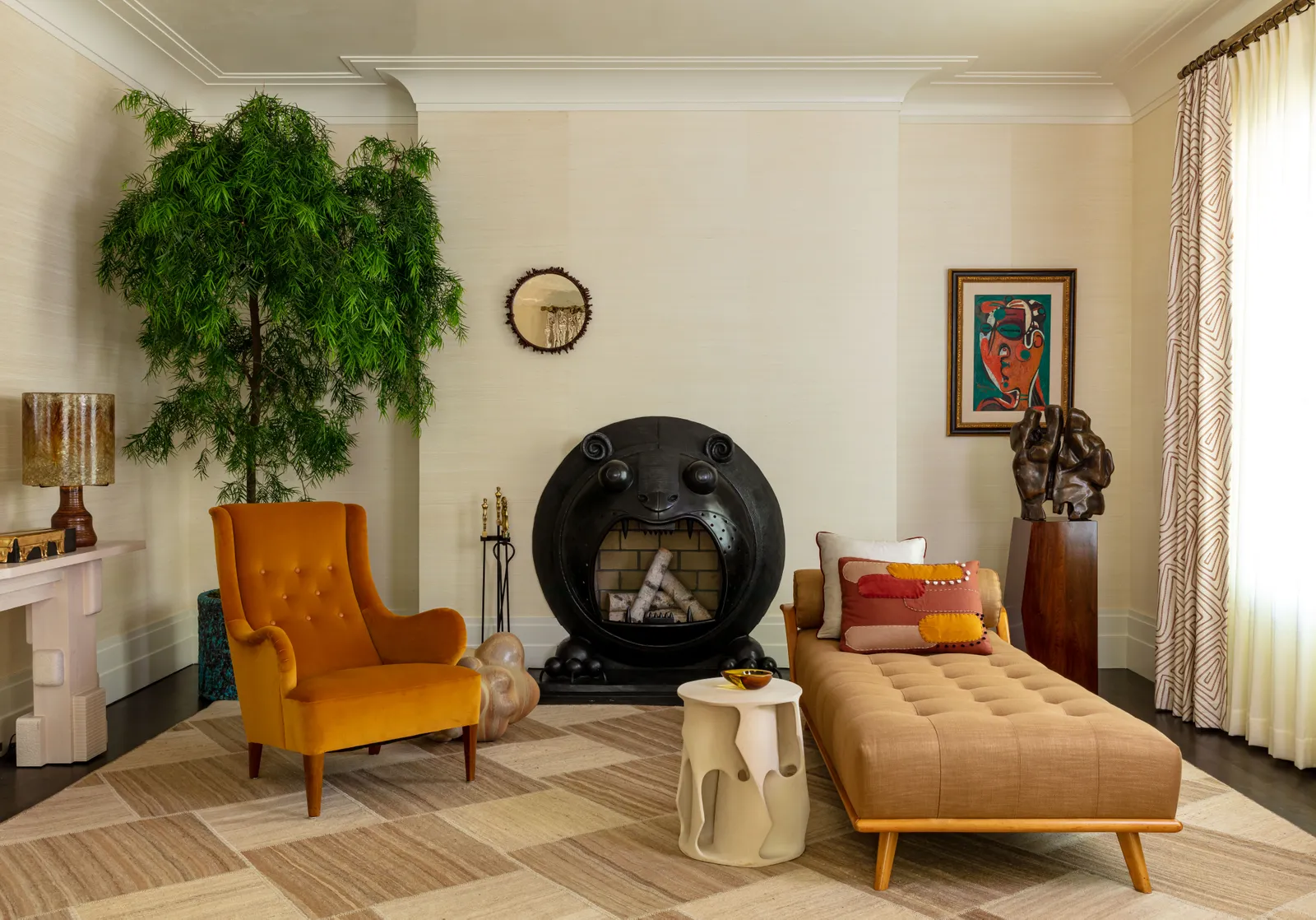 David Scott Interiors brings its signature touch to the parlor, seamlessly blending sophistication and allure. Within this refined setting, a harmonious combination of neutrally toned Pierre Frey fabrics creates a serene backdrop, allowing the collectible design pieces to take center stage.
As the focal point of the room, the pièce de résistance emerges a captivating patinated bronze chimney designed by Jean Marie Fiori, sourced through the esteemed Twenty-First Gallery. This remarkable statement piece commands attention, exuding an air of timeless elegance and artistic mastery.
With meticulous attention to detail, David Scott Interiors orchestrates a symphony of beauty and restraint. Each element within the parlor is thoughtfully chosen to enhance the overall composition, inviting viewers to appreciate the interplay between materials, textures, and exquisite craftsmanship.
Family room by Halden Interiors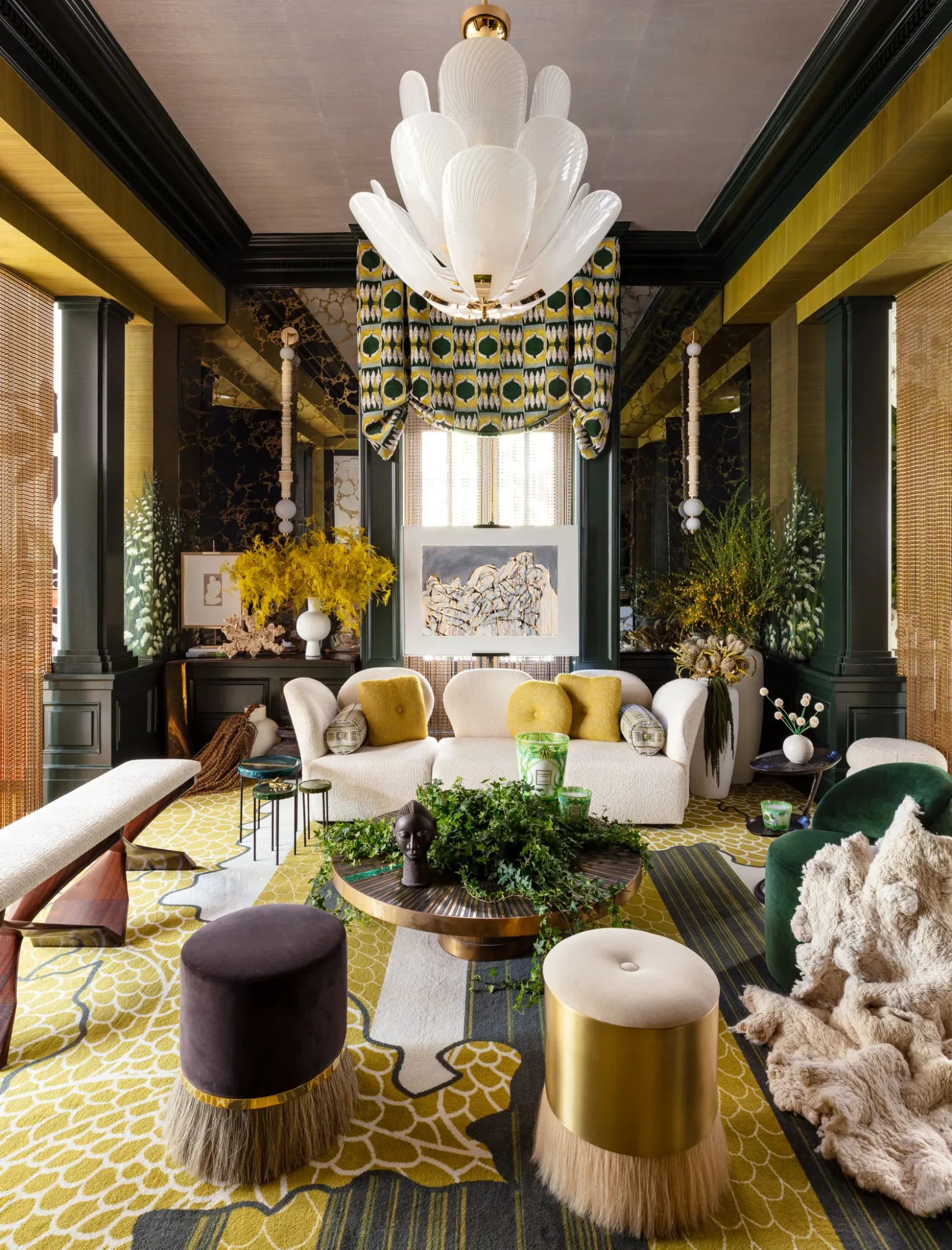 Kesha Franklin weaves her creative magic in the captivating "Heart of the Vine" family room. In a remarkable display of artistry, Franklin custom designs an abstract leaf floor of this kips bay decorator showhouse room.
This lively color scheme becomes the motif that runs through the entire space, giving each crevice a sense of organic vitality.
The window treatments made by The Shade Store continue to reveal the spirit of this alluring color. They radiate a harmonious blend of natural tones thanks to the Gaston y Daniela fabric from Kravet, which adds to the Kips Bay Decorator showhouse room's wonderful atmosphere.
Parlor by Ghislaine Viñas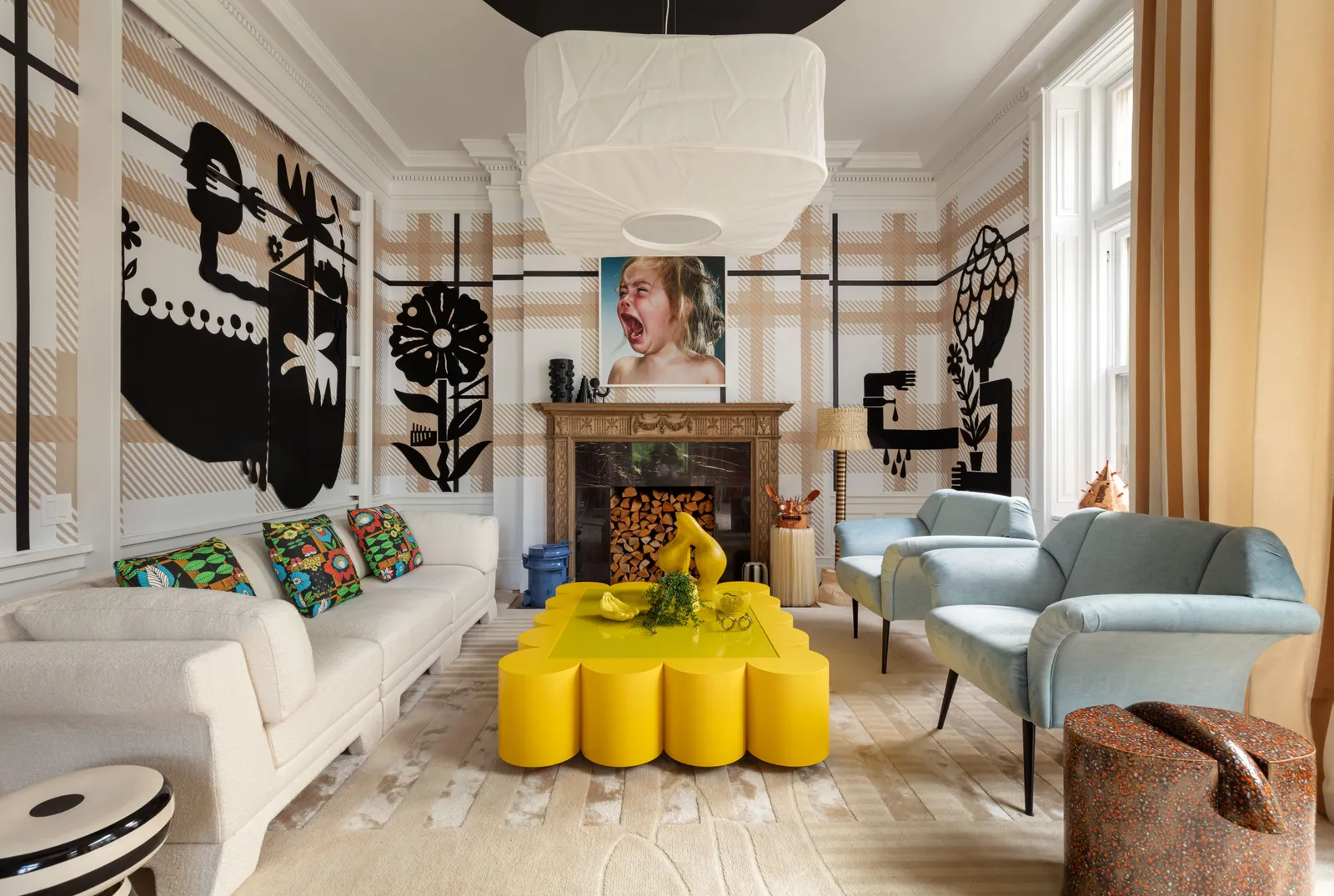 Designer Ghislaine Vias embraces the spirit of collaboration, calling upon a network of skilled artisans to bring her vision to reality. She envisions a space that is as compelling as the magnificent view of the Hudson River that can be seen beyond the parlor's large windows.
At the heart of the parlor, felted murals crafted by the talented Mark Mulroney take center stage, Layers upon layers of artistic expression intertwine, creating a visual feast that sparks intrigue.
Various pieces from The Future Perfect complete the ensemble, injecting a sense of curated sophistication into the interior. With each carefully chosen item, the space becomes a gallery of artistic expression and a testament to Viñas' discerning eye for design.
Together, these collaborations form a harmonious symphony of creativity and craftsmanship within the parlor. Ghislaine Viñas, with her network of artisans, has transformed the space into a realm of awe and inspiration.
Family Room by Timothy Corrigan, Inc.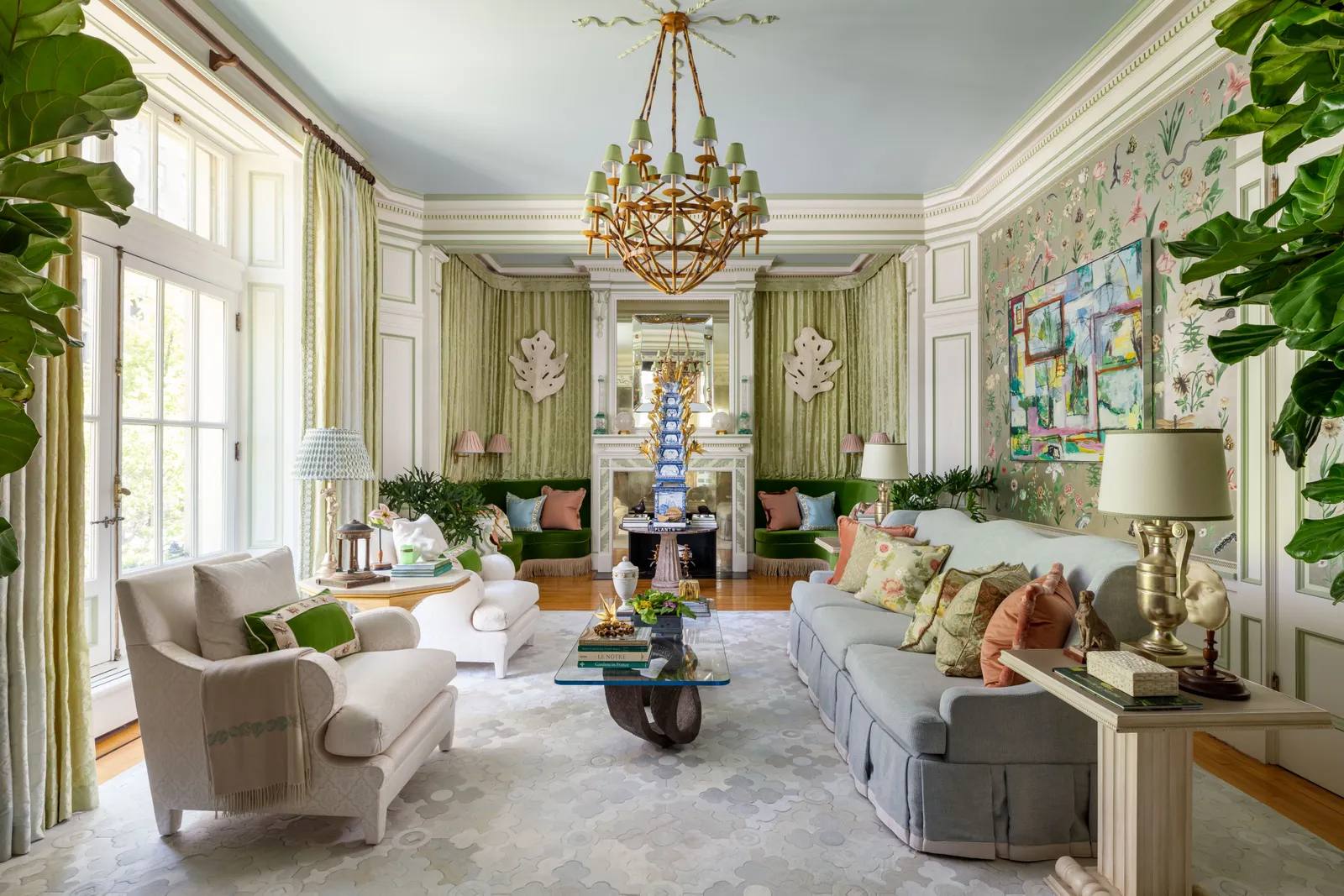 Every element within the family room harmoniously contributes to the narrative. Insect-adorned pillow trim by Samuel and Sons adds a whimsical touch, while plaster leaf sculptures by Stephen Antonson evoke a sense of organic beauty. The custom serpent medallion, gracefully slithering from the David Duncan Studio chandelier, adds a touch of enchantment and intrigue.
Within this meticulously curated space, Timothy Corrigan's vision unfolds, capturing the essence of refined elegance and artistic finesse. From the carefully selected color palette to the intricate details, every element resonates with purpose and intention.
Library by JayJeffers, Inc.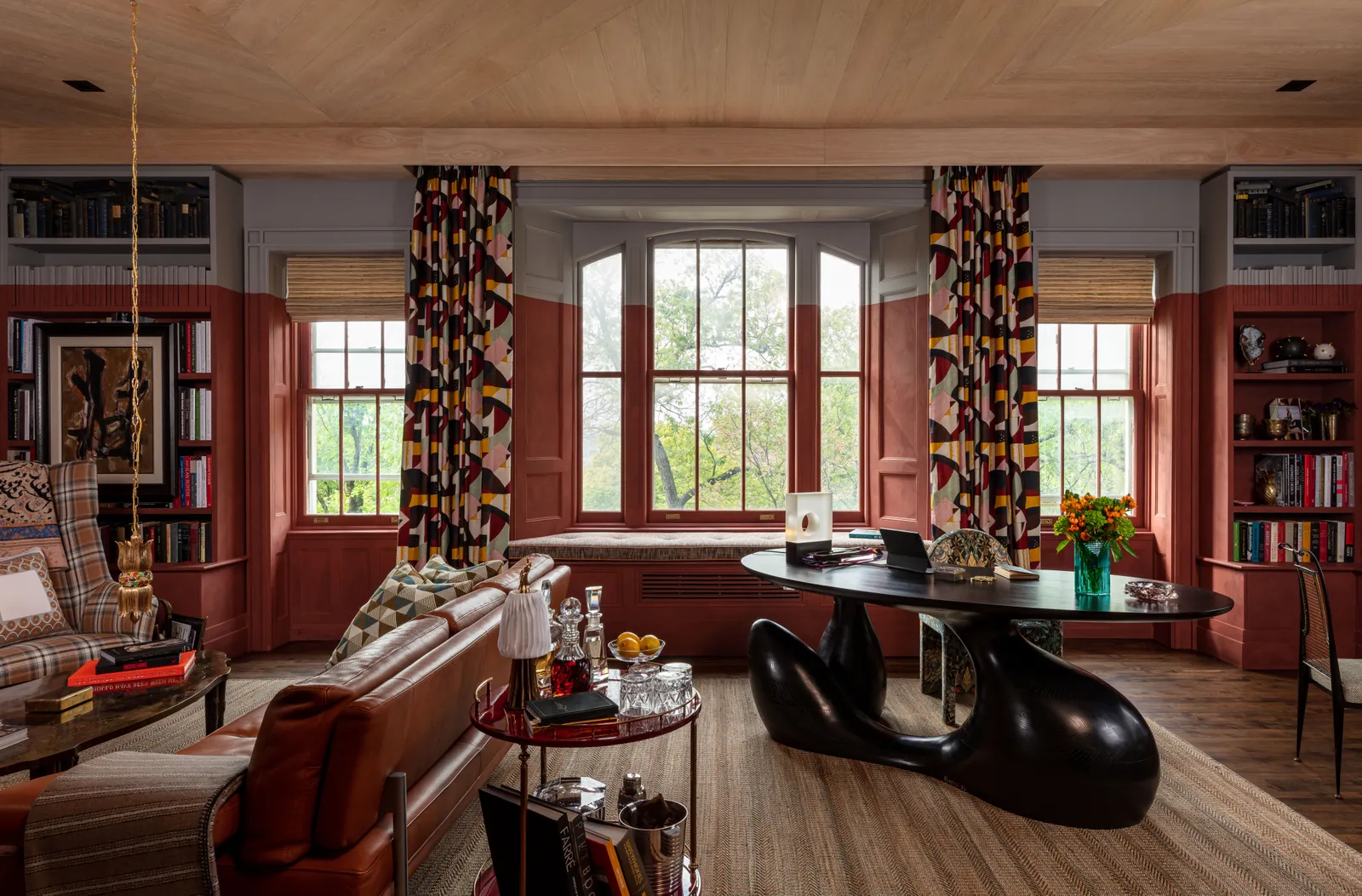 In this immersive setting, artisanal works take center stage, adding depth and character to the bicoastal narrative. A commanding desk, skillfully crafted by Brooklyn sculptor Aaron Poritz, becomes a focal point, exuding both strength and artistry. The desk chair, created by LA-based Cuff Studio, seamlessly blends comfort and style, while a jute and wool rug, expertly designed by Mark Nelson Designs, adds warmth and texture.
As you enter this coastal-inspired library, you are transported to a realm where the spirit of San Francisco and New York intertwine. The skillful application of color, the choice of artisanal pieces, and the thoughtful arrangement of every element create an environment that is as alluring as the cities that inspired it.
Collaborating with the talented John Pomp, Sasha Bikoff turned her vision into reality by fabricating an inflated bed frame that exudes a fabulous radiance. This stunning piece shines brilliantly against the reflective backdrop of the Atmosphere wallpaper by Calico, which was specially created in custom rococo Candyland colors.
A corner nook, adorned with a hot pink vegan fur rug and Bazaar sofa by Superstudio, adds a touch of sultry seating. Every element in the space has been carefully curated, with the carpet and chandelier being Sasha Bikoff's own designs for Rug Art and Versace, respectively. The bow and tasseled window treatments, impeccably crafted by the Shade Store, add a final flourish of elegance.
Sasha Bikoff's design in this space is a harmonious symphony of color, texture, and artistry. Every detail has been thoughtfully considered and meticulously executed, resulting in a truly captivating environment.
Dining room by Georgis & Mirgorodsky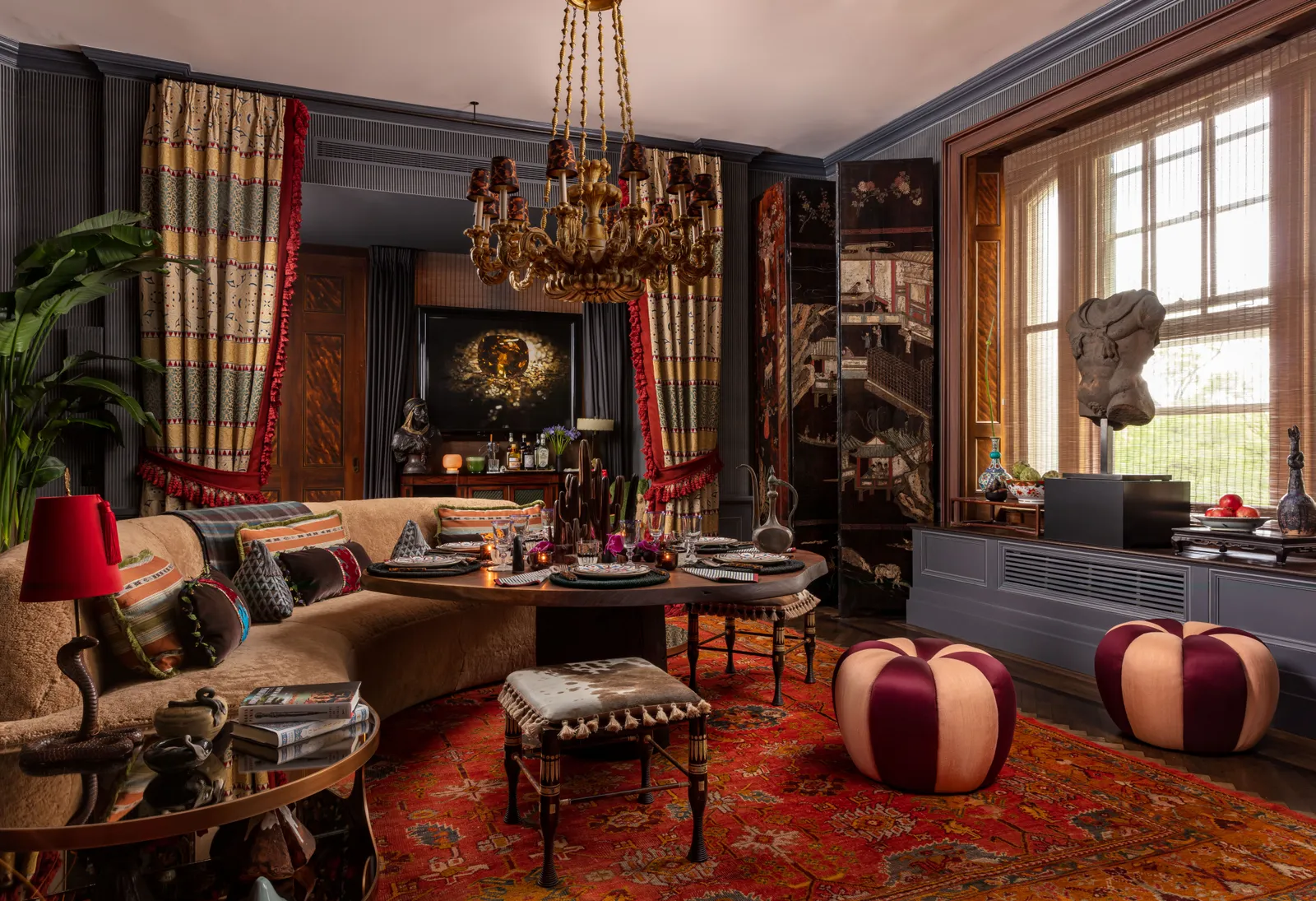 Georgis and Ilya Mirgorodsky have crafted a dining room and lounge that pays homage to these vibrant cultural melting pots.
For those fortunate enough to secure a seat, the Georgis & Mirgorodsky-designed Bombola sofa, available through Maison Gerard, becomes a luxurious haven. Upholstered in an acorn-brown shearling from Dualoy Leather, it exudes warmth and sophistication, inviting guests to sink into its embrace.
The meticulously designed Thebes stools and custom poufs offer additional seating options, ensuring comfort and style for all. The meticulous attention to detail and the use of rich materials create an atmosphere of refined elegance.
Every detail was meticulously considered to craft a space that would transport its occupants into a world of refined beauty and self-expression.
Among the talented participants are Wesley Moon, Design Studio Interiors, David Scott Interiors, Timothy Corrigan, Lindsey Coral Harper Interior Design, Helden Interiors, Neal Becksted Studio, JayJeffers Inc, Lillian Woo Studio, Sawyer, Mary McDonald, Sergio Mercado Design, Sasha Bikoff Interior Design, and Clinton Smith Studio. Take a moment to explore the remarkable work of these designers who have contributed to the event, for their creations are sure to leave a lasting impression.
We hope that these inspirational insights into each room have sparked your imagination and appreciation for the artistry showcased.f you yearn for more captivating experiences, we invite you to explore further in our Journal events.

Photos by Nickolas Sargent