San Francisco designer Nicole Hollis is well-known for rigorously spare interiors, favoring neutral palettes of blacks, whites, and grays. However, her rooms never feel unambiguous, thanks to a skill with distinguishing materials and textures matched by her keen eye for high-impact contemporary art and unique furnishings.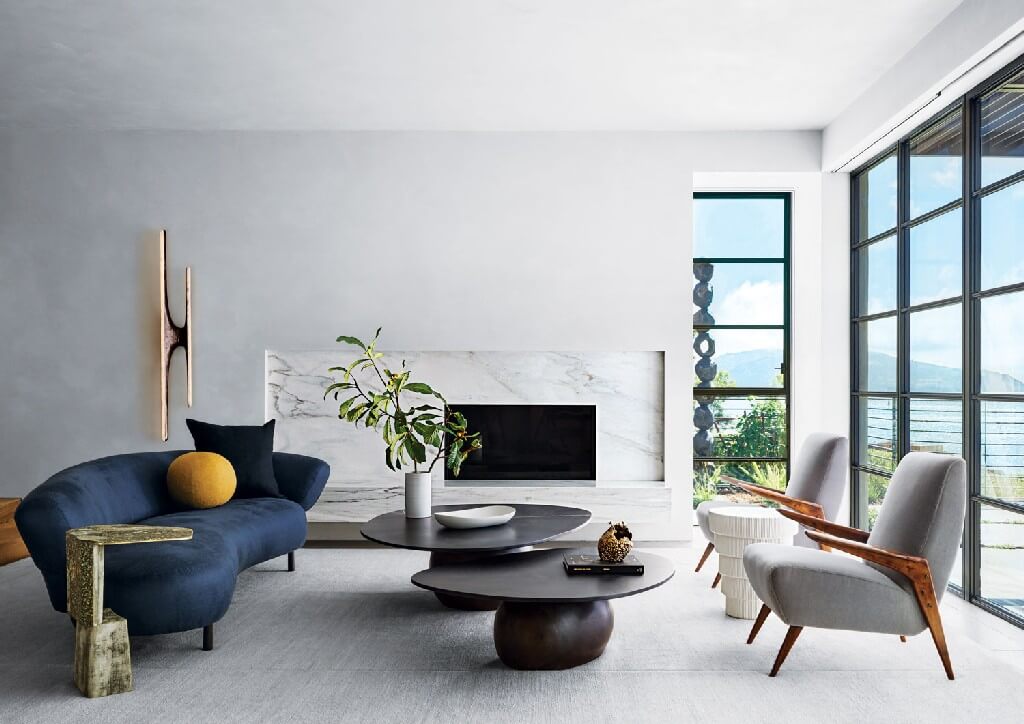 Nicole Hollis's boldly sophisticated style has made her a favorite among clients, including one who recently returned to Sausalito after living for years on the East Coast. His passions continue to social entrepreneurship, art, and the outdoors. He wanted a home overlooking the bay to entertain friends and spend time with his grown daughters.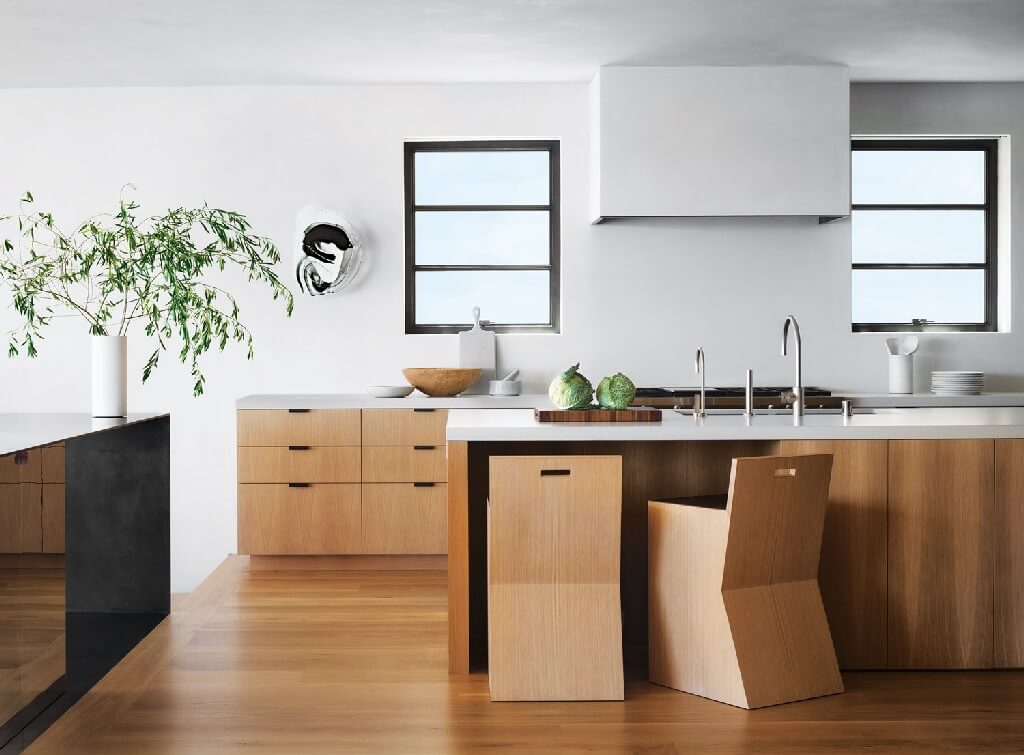 He found a house, but its Mediterranean styling was not precisely what he had in mind. So he turned to Nicole Hollis, who collaborated with the San Francisco firm John Lum Architecture, to give the place a glossy, modern makeover. The goal was to pair a feeling of serenity with the spectacular view. They wanted to simplify but with suitable materials – taking it down and then bringing it back up.
Structural changes included moving the stairs to create a vital, more central architectural element. In addition, the team removed some first-floor walls to open up a spacious living and dining area, where Hollis installed limestone flooring and finished the walls in warm white plaster.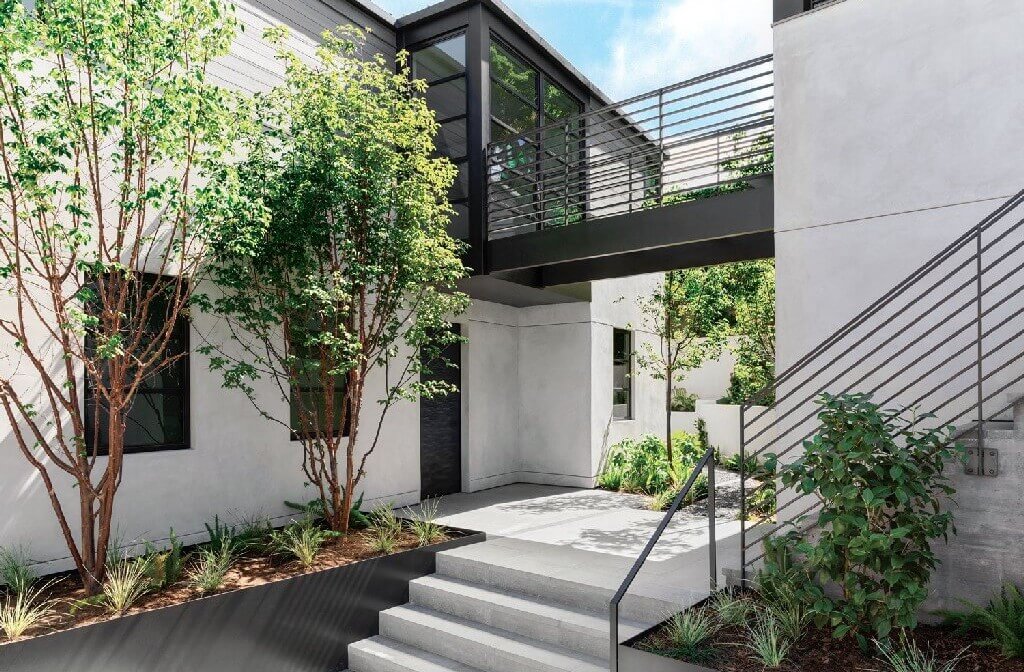 One of the living area walls is a minimalist white marble fireplace and floating hearth that Hollis describes as the room's star. That space's confident mix of furnishings is anchored by a curvaceous sofa and a pair of midcentury Italian lounge chairs.
Holly Baxter & Associates recommended the art acquisitions, including the Pae White "Smoke" tapestry that overlooks the dining area. Hollis designed the fumed-oak table, keeping in mind her client's desire for it to serve double duty as a spot for poker games and meals. She also conceived the rift-cut, white oak cabinet with textured panels to accommodate a pop-up TV.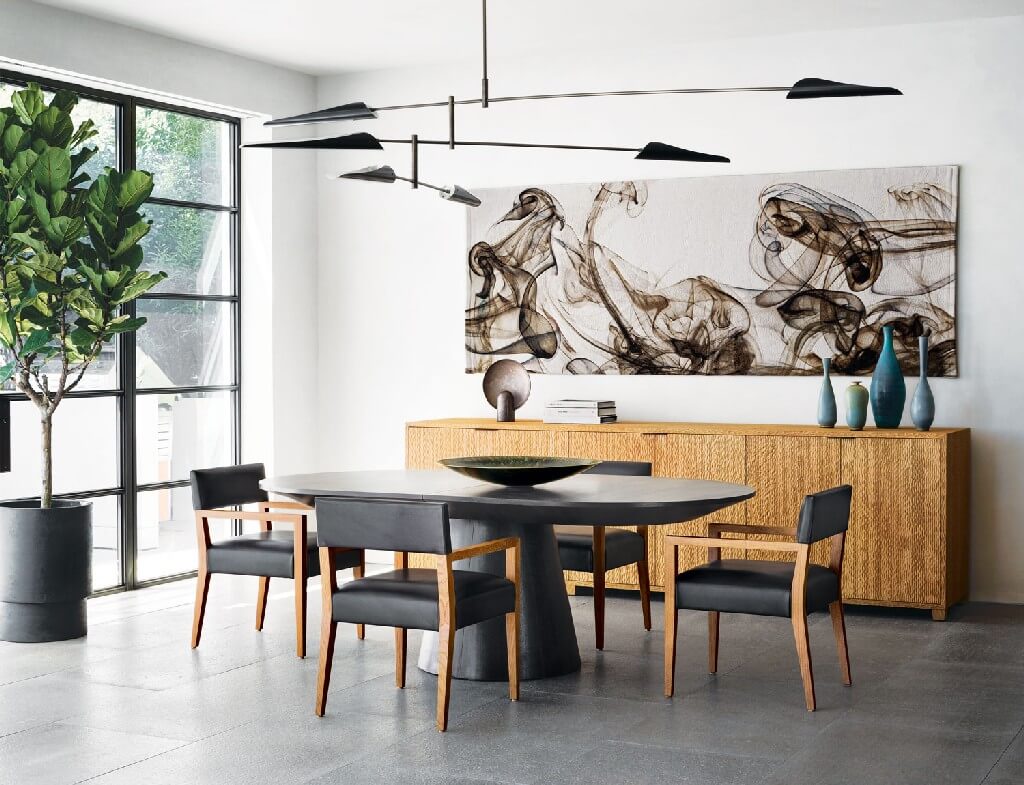 The kitchen is outfitted with oak floors and low cabinets so as not to interrupt the view. Murano glass and silvered brass wall lamps break up the room's orthogonal solid, while walnut stools with angular backs by Hollis tuck under the island's counter.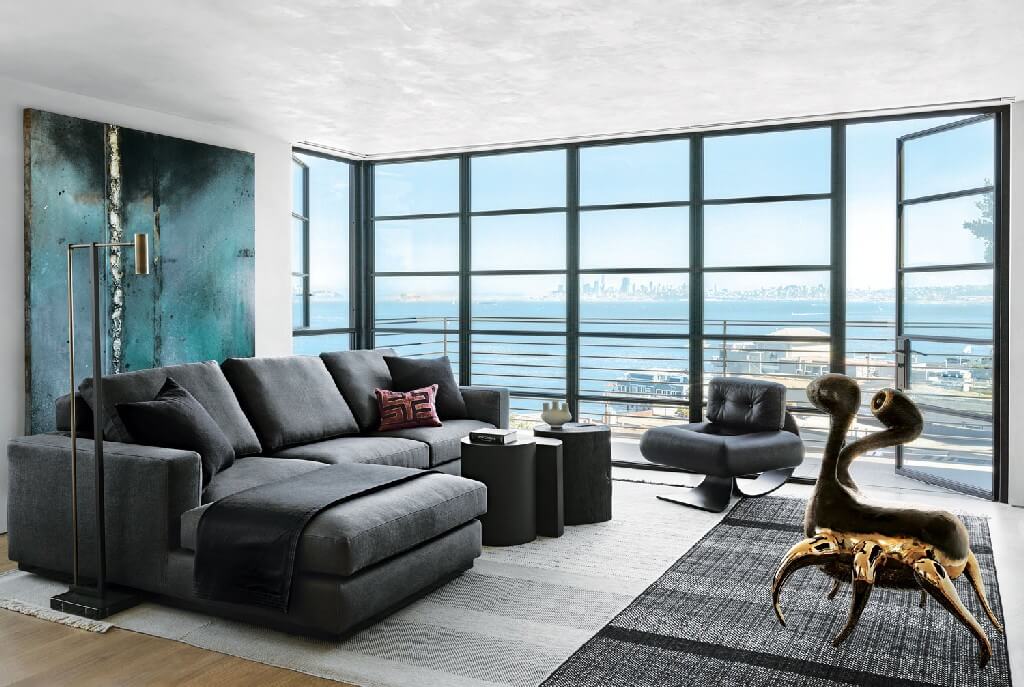 In the client's office, a Viktorie Langer painting in bold reds and blues stands out amid the room's predominantly dusky color scheme. The office's bronze and leather desk are surrounded by matching hand-carved chairs by Rooms and stands on a Christopher Farr carpet in dark charcoal silk.
In the entryway, at the foot of the open staircase, Richard Artschwager's sculpture Exclamation Point injects a playful pop of enthusiasm. The stairs lead to a second-floor landing with a rectangular skylight. Adding to the play of light are a Jim Lambie wall installation of colored sunglasses and a geometric hanging sculpture with tinted acrylic panels.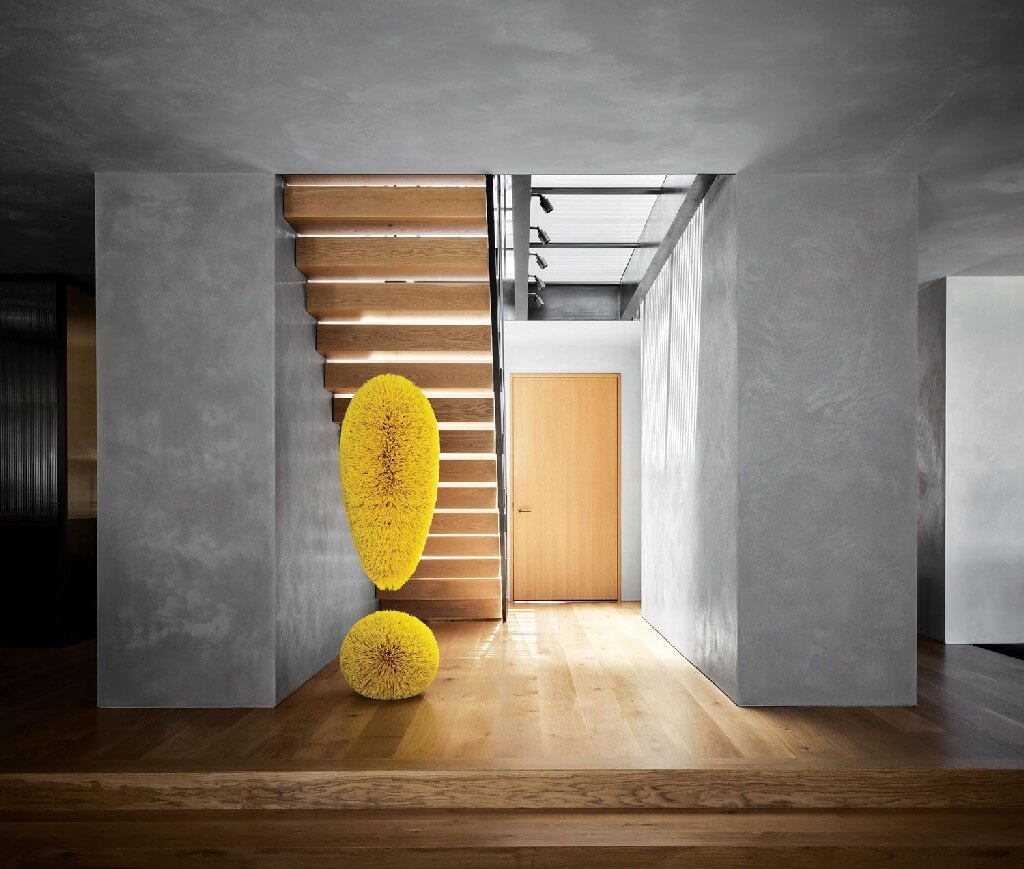 The serene primary bedroom features a custom-designed bed and otherworldly sculpted-plaster pendants by Rogan Gregory on the second floor. The bath is just as calm, with oak cabinets, travertine countertops, flanking the custom mirror framed in blackened steel, and a pair of minimalist lights by Michael Anastassiades.
Nicole  Hollis says that her client was deeply engaged while "trusting our vision, which made the project so enjoyable and collaborative." However, she notes that the art of creating restrained interiors is far from simple or easy.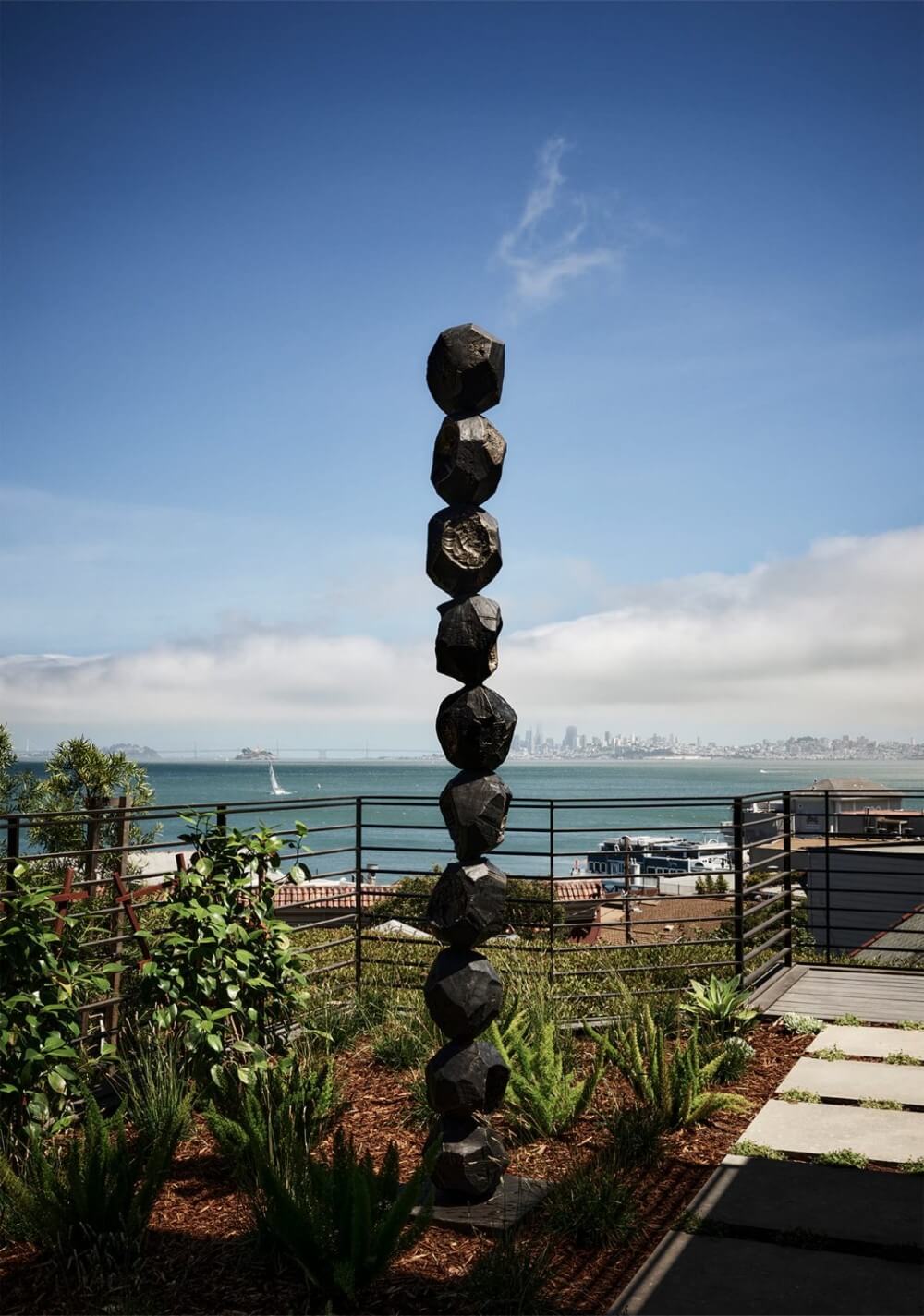 We really hope you liked our article. Feel free to pin all the images to your favourite Pinterest board. Meanwhile, you can also visit our Pinterest boards to get more inspirations.
Get more ideas for your projects and find functional, stylish, and sizable lighting and furniture choices:

Source: Galerie