It's easy to design a celebrity dining room when you have the right inspiration, the right piece of furniture, and the right decorative objects.
We've selected 10 celebrities from the world of entertainment and sports with amazing homes. Most of these homes are in Los Angeles, Beverly Hills, or Hollywood. Nevertheless, not all stars live in California. Some live in Colorado, and others shine bright in Nigeria. Across all these locations, there is a common feature – the homes are designed to entertain.

Celebrities know how to throw a party and know that the best moments always happen around a table. Feed your eyes and soul on these 10 celebrity dining room design ideas.
DITA VON TEESE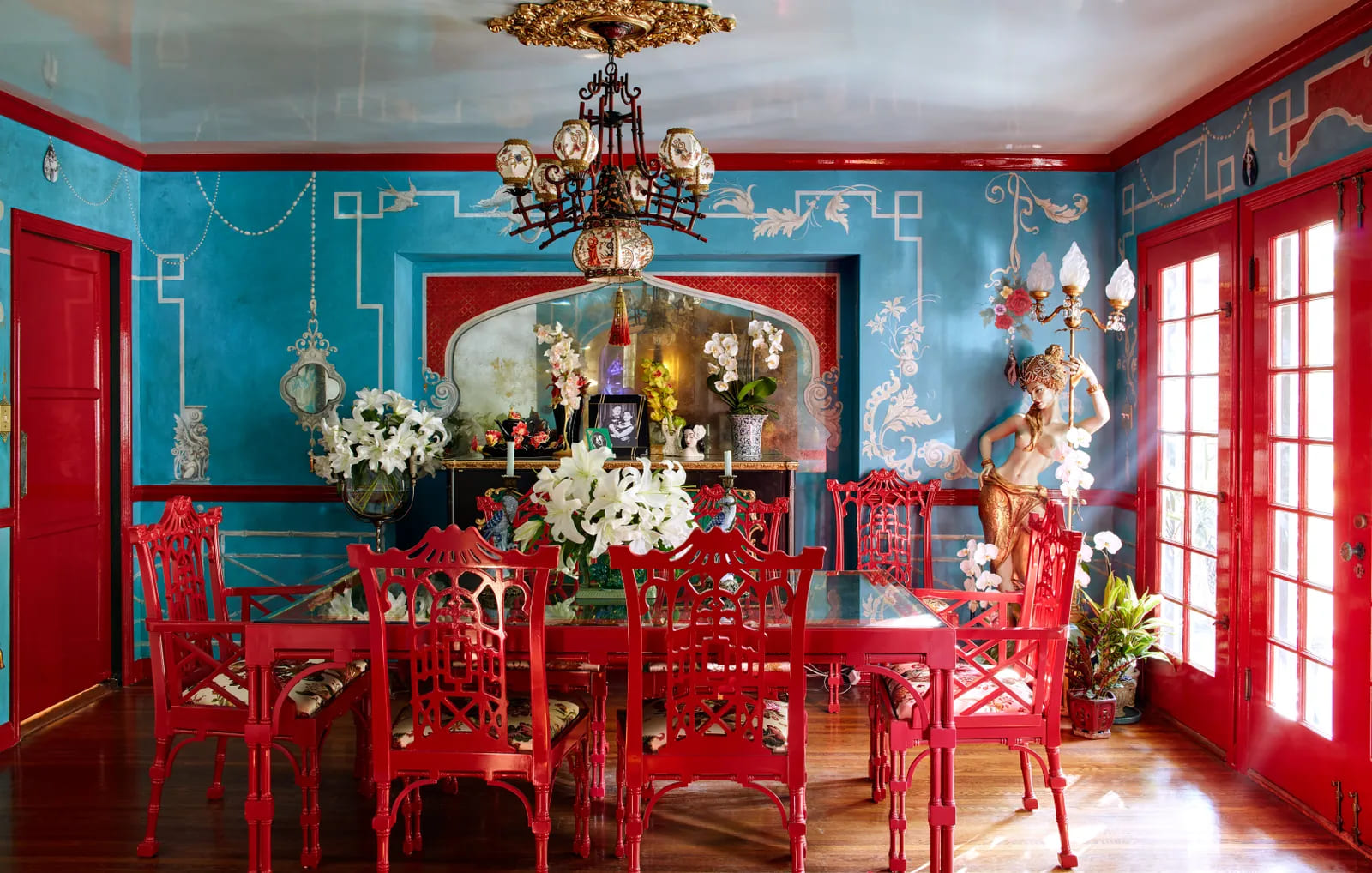 Known for her unique appreciation for anything vintage, Dita Von Teese's home reflects her personality – maximalist and charismatic. In the dining room of her Tudor Revival property in Los Angeles, the burlesque star teamed with interior designer Caroline Lizzaraga, who she reached out to on Instagram, to design a dining room inspired by the red and blue colors on the bottle of her favorite perfume, Lou Lou by Cacharel.
Dita Von Teese decided to paint her celebrity dining room with colors that have a strong emotional value to the artist. What are your colors? What colors would you put on your dining room walls and custom-made furniture?
Muller Dining Table

Dining Table

$

19.303

Pina Chair

Chair

$

2.116
HUGH JACKMAN AND DEBORRA-LEE FURNESS
Airy, serene, and packed with sculptural objects. It was Deborra-Lee Furness's dream to create her and Hugh Jackman's family home from scratch. The house is located in East Hampton and has modernist bones and an ethereal view. Inside, the interior owns an undisturbed neutral palette and every room is decorated with functional yet artistic furniture pieces.
Hugh Jackman and Deborra-Lee Furness's dining room has a dining room with an irregular shape and is surrounded by varied seating options. Play with irregular shapes and different types of seating for recreating this celebrity dining room design.

ASHLEY TISDALE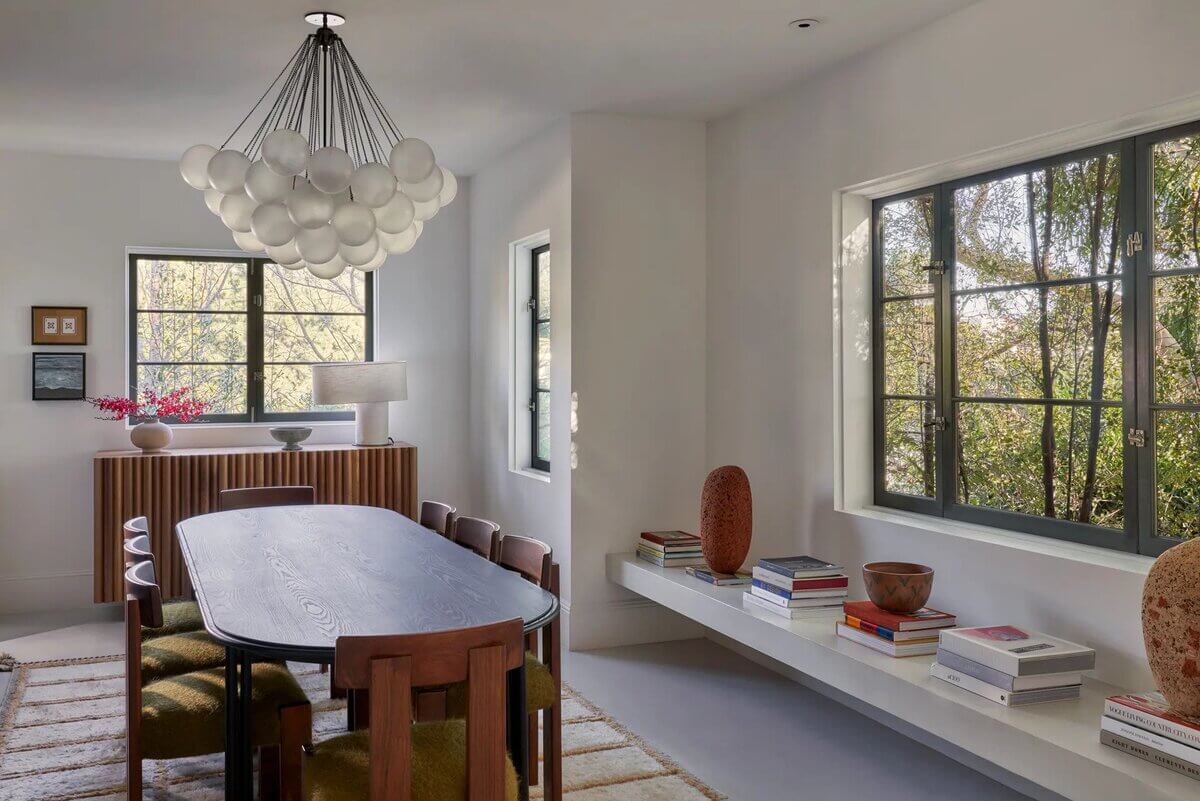 Ashley Tisdale's peaceful dining room in her airy home in Los Angeles was created around the modern suspension lamp. While many pick the dining table and chairs first, that came secondary for Ashley. The bubbly lamp above the custom-made dining table was the first object to be chosen and installed in this airy and fresh mid-century modern dining table. Therefore, the stylish lighting fixture is the conversation starter in Ashley Tisdale's dining room.
Get the celebrity dining room look with a modern lighting fixture that embellishes the eating space and feeds the eyes of your guests.
Miyake Suspension Lamp

Suspension Lamp

$

8.189

Cocoon Explosion Suspension Lamp

Suspension Lamp

$

12.230
MARK RONSON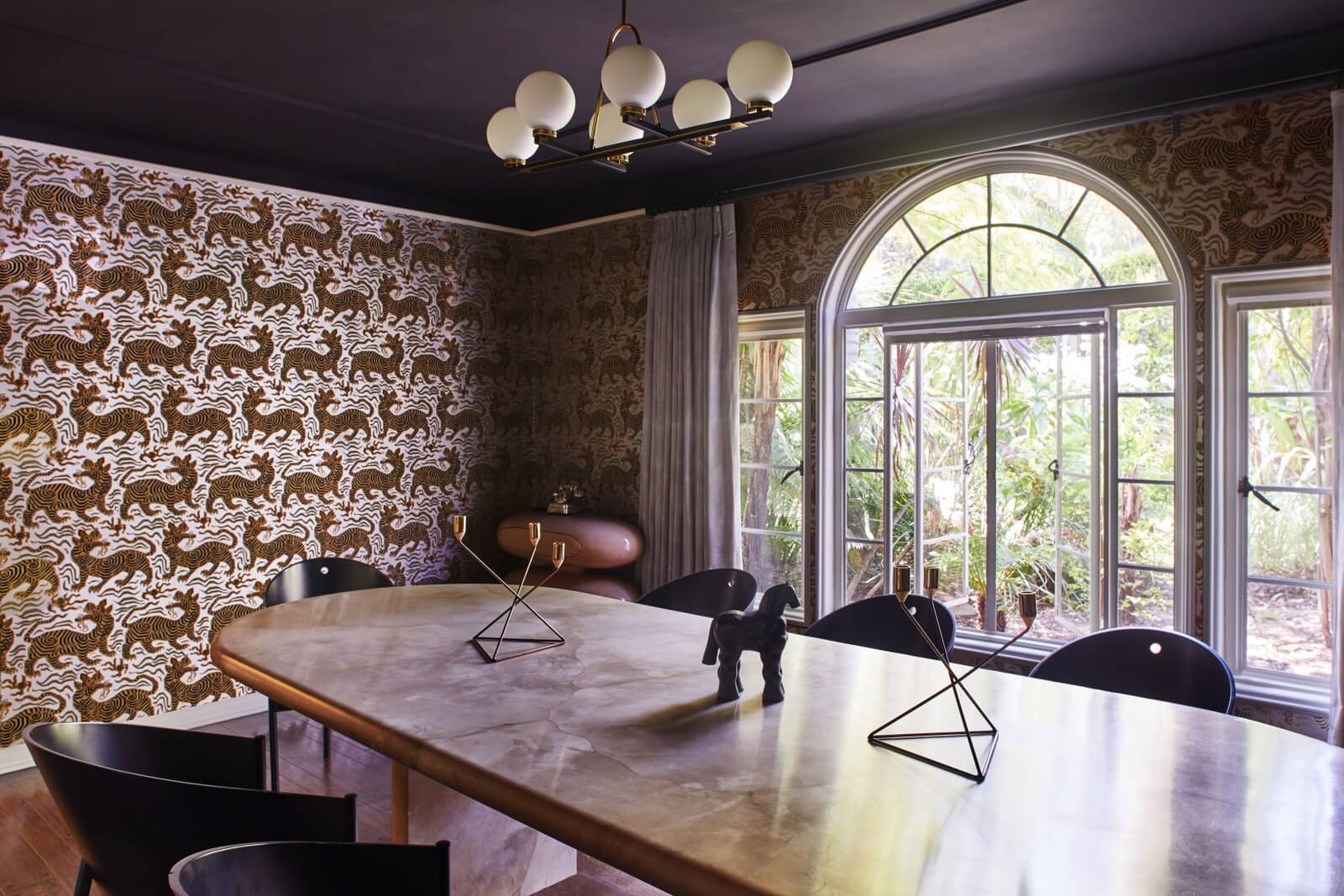 Mark Ronson's home in Los Angeles exhales eccentricity. Black painted ceiling, extravagant animal print wallpaper and brass fixtures give Mark Ronson's dining room a much-needed golden gleam. This eccentricity is repeated around his mansion, the epitome of 1930s Hollywood glam.
The dining table in Mark Ronson's Hollywood Regency style dining room is long and has round corners. The tabletop and the lighting fixture add the proper opulence. To balance the design, the dining chairs are slightly more discreet but still have a sculptural shape. Combine simple furniture with lavish objects for a glamorous celebrity dining room design.
BURNA BOY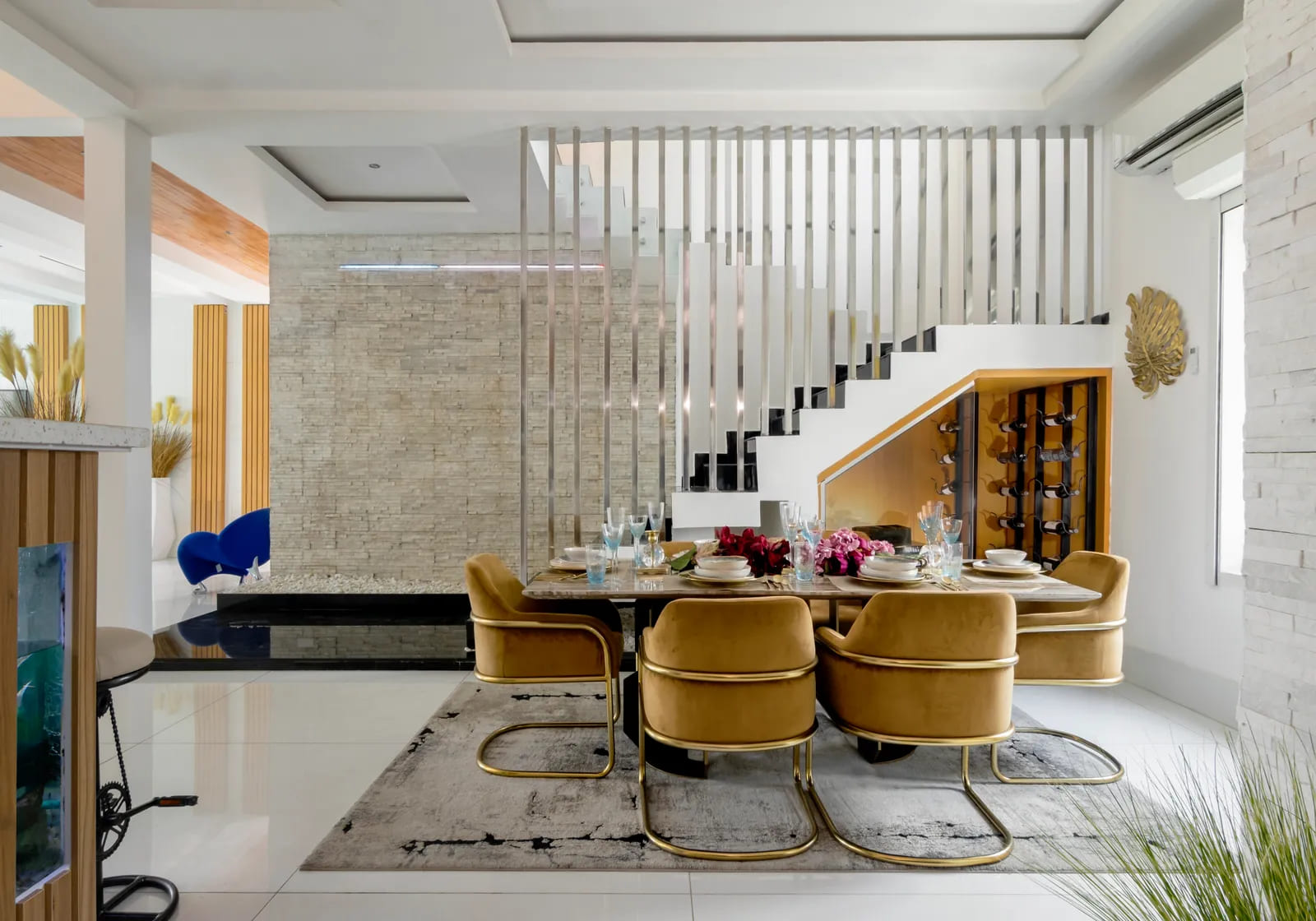 The ultra-modern dining room of Burna Boy's home in Lagos, Nigeria, is another piece in the Grammy-winning superstar's contemporary luxury living puzzle. Inside the two-storey mansion with high ceilings, tall windows, and plenty of entertainment areas, such as a gaming room or a home cinema, his dining room belongs to a continuous floorplan.
To design a celebrity dining room like Burna Boy's, pay attention to storage and give a luxury room divider a try for moments you're craving some privacy.
No products were found matching your selection.
NIKOLAJ COSTER-WALDAU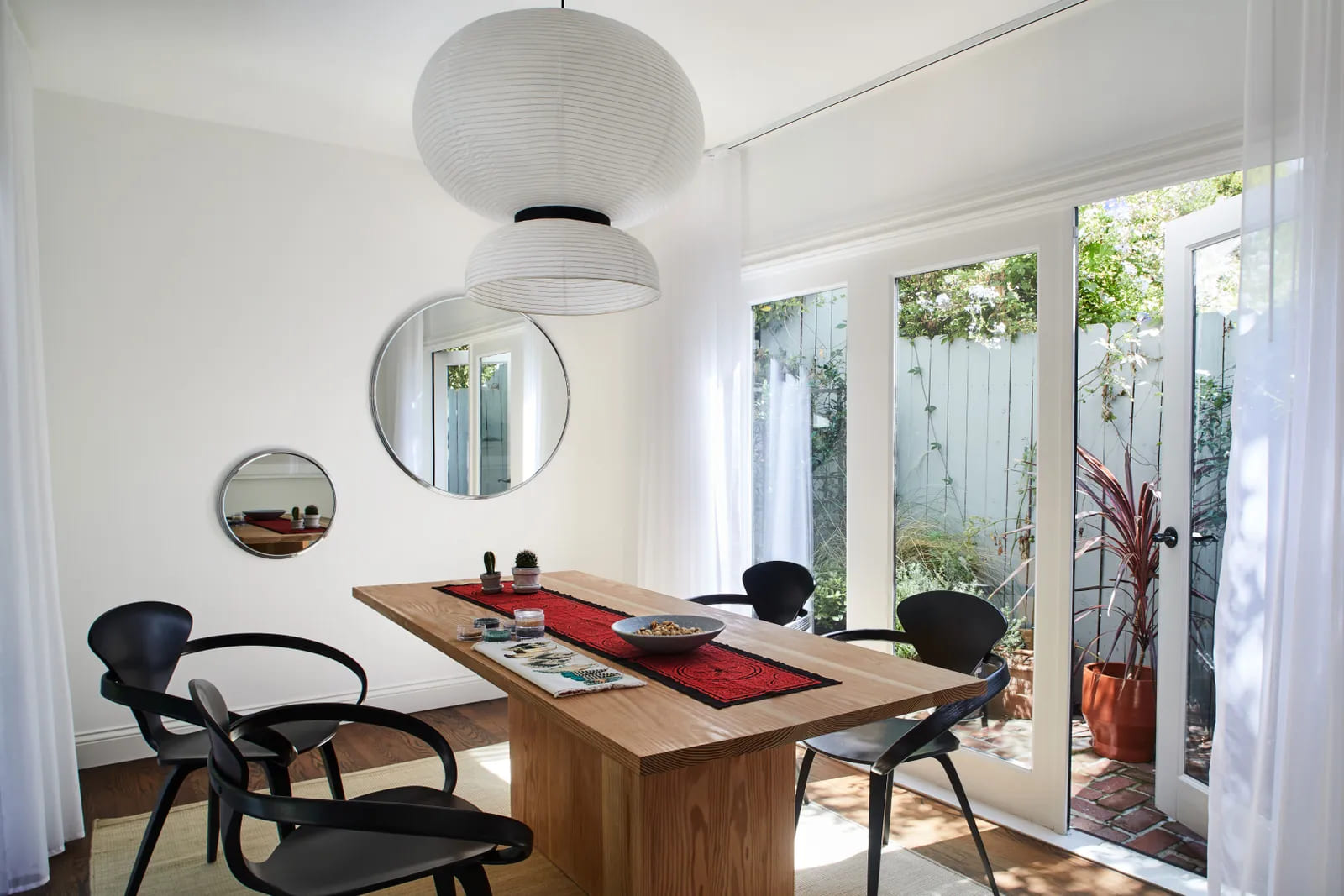 It took 15 years working in Hollywood before Nicolaj Coster-Waldau decided to buy a second home for himself and his family. The Danish actor best know for giving life to Jamie Lannister in Game Of Thrones took as much Denmark as he could to Hollywood Hills. The Kingslayer hired two Danish designers, Lonnie Castle and Birgitta Nellemann, to make the interior of the Californian mid-century modern house as Scandinavian as it gets.
At Nicolaj Coster-Waldau's dining room, minimalism slays. To design a Scandinavian dining room like a Hollywood celebrity, make a wood dining table king and surround it with modern dining chairs with a clean shape.
Tower Dining Table

Dining Table

$

16.952

Mantis Chair

Chair

$

2.871

Get Price

Everest Mirror

Complements

$

7.445
LANCE ARMSTRONG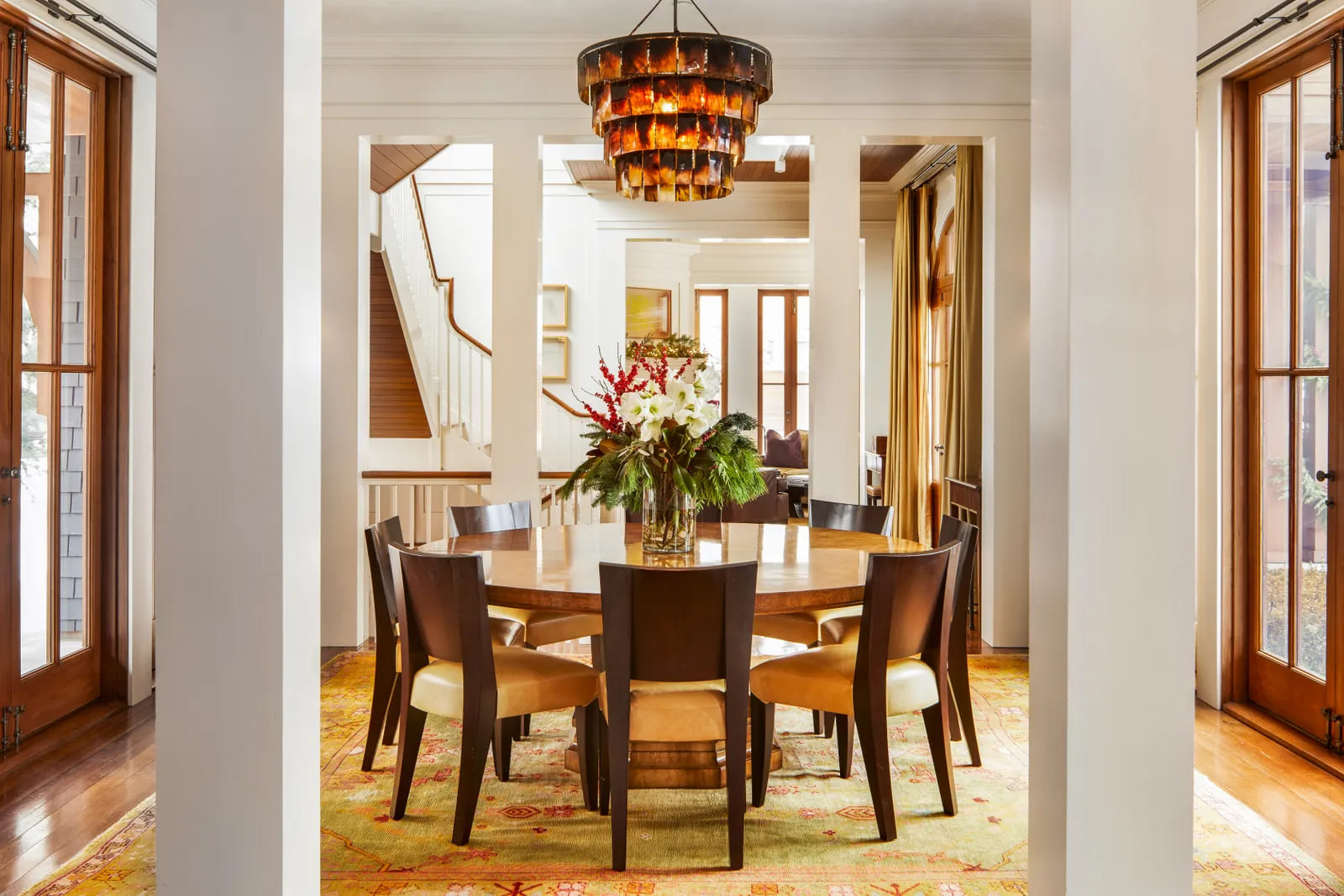 Lance Armstrong decided to retire from the spotlight and did it in style. His permanent family home in Aspen is a fascinating combination of contemporary and classic. On the one hand, Armstrong and his wife own a contemporary museum-worthy art collection with names like Shepard Fairey, Tom Sachs, Yoshitomo Nara, Ruscha, and Bansky.
Roy W. Materanek was the artist on duty to design a practical and comfortable interior. Lance Armstrong's celebrity dining room samples the rest of his house – packed with wood, browns, reds and yellows, and the merge of Art Deco and mid-century modern furniture.
ALICIA KEYS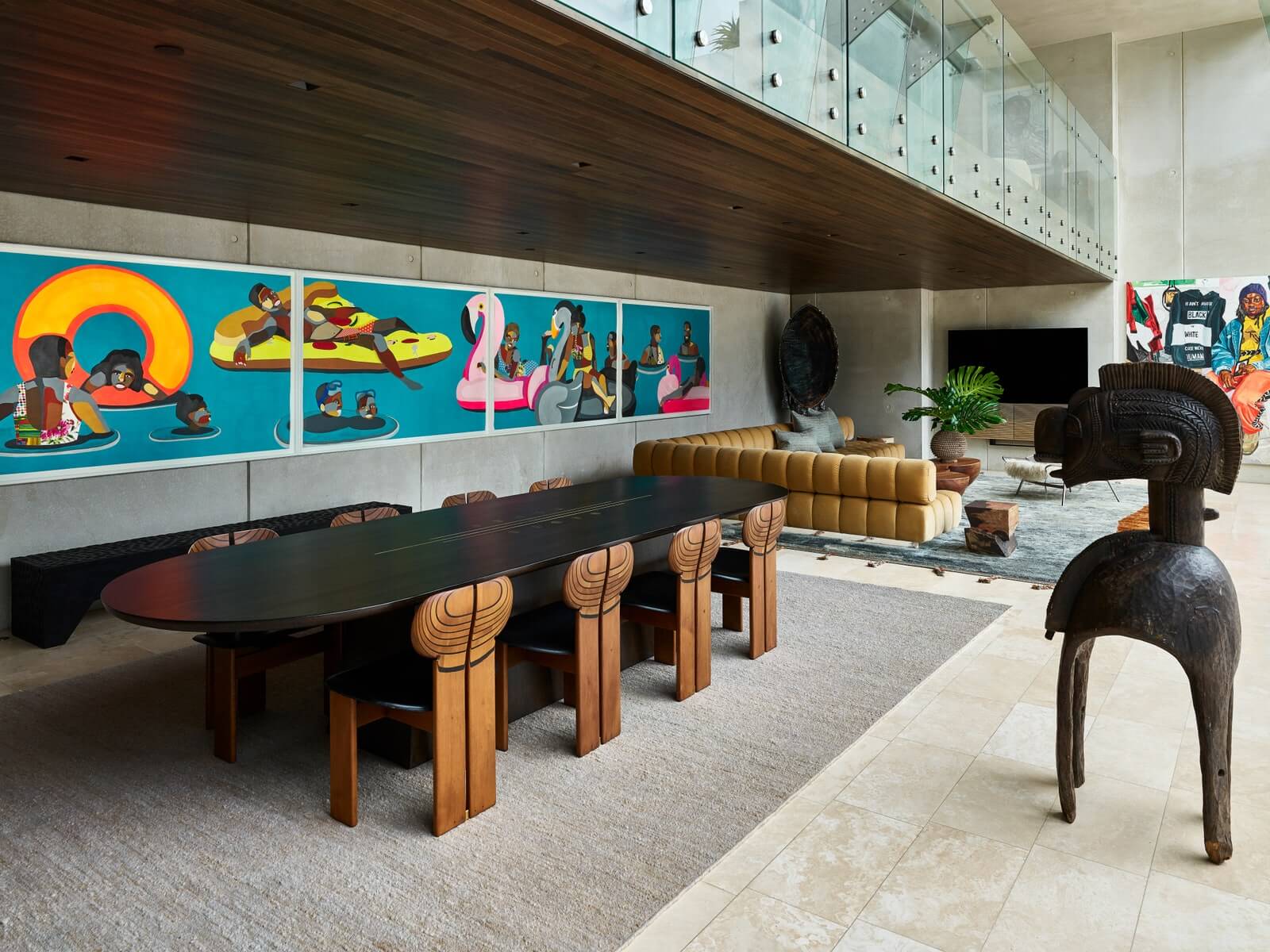 Overlooking the Pacific Ocean, The Razor House in La Jola, California, is the architectural masterpiece designed by Wallace E. Cunningham that is home to Alicia Keys and her husband, the music producer Swizz Beatz. The contemporary construction of glass and concrete has a high-end interior, designed by the A-list Kelly Behun.
On an open-plan floor that merges Alicia Keys' celebrity dining room with her living room with a yellow sofa, the dining table is a precious mid-century modern exemplar, surrounded by an army of sculptural dining chairs and a modern bench.
Fifih Bench

Bench

$

4.360

Zimmer Dining Table

Dining Table

$

22.865
JENSON BUTTON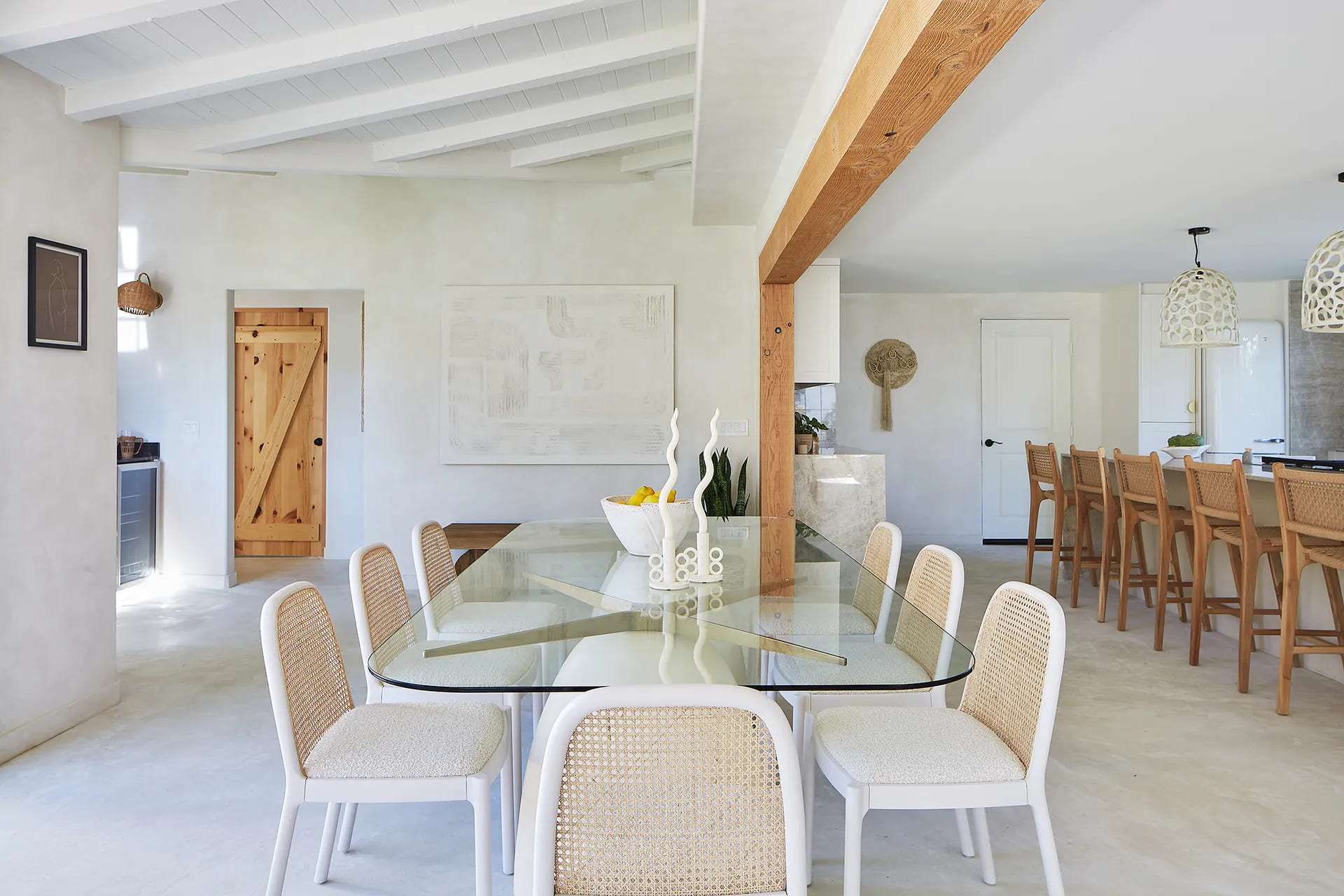 From high-speed weekends to slow living days. The Spanish Revival home of the former Formula One driver and vice-champion Jenson Button in Palm Springs was designed by his wife Brittny Button and decorator Tanya Stone. The Californian retreat has a relaxing outdoor area. The inside is packed with serenity, pristine materials and fair shades.
To design a celebrity dining room like Jenson Button's neutral dining room, combine modern dining chairs upholstered in beige, grey, cream, and white with a modern dining table with bright colors and rich mirrors.
Nora Chair

Chair

$

2.978

Cinco Chair White

Chair

$

3.648

Prymo Dining Table

Dining Table

$

12.656
ELTON JOHN
With the spirit of midcentury modernism in mind, Elton John and David Furnish asked their friend and celebrities' favorite interior designer, Martyn Lawrence Bullard, to design a 1960s home for their family, where children can play and walk around freely. With an array of contemporary artworks, vibrant colors and hypnotic patterns, every room has a contagious groovy energy.
Elton John's dining room has walls packed with art, a glass dining table with decorated with sculptural vases and vessels, and instead of modern dining chairs, modern armchairs with a sculptural silhouette.
20 CELEBRITY DINING ROOMS THAT ARE A FEAST FOR THE EYES
Discover 20 celebrity dining rooms that will influence your interior design project and our dining room remodel – from organic design, passing by effortless chic dining rooms to extravagant and lush colors and patterns around – and on – the table.
Read the article here.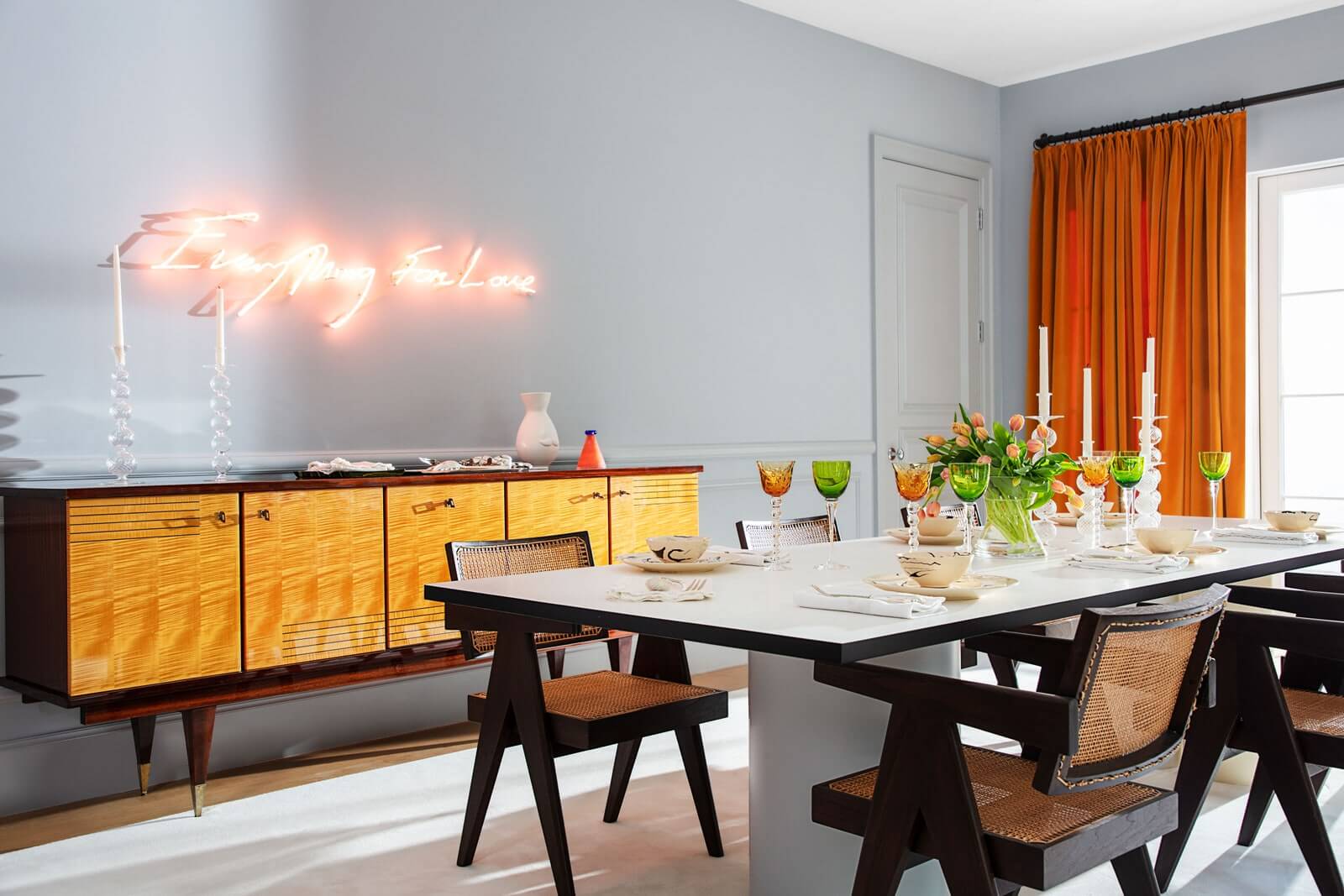 PERFECT TIMING TO DOWNLOAD OUR MODERN FURNITURE CATALOG
That's it. Now that you're inspired and creativity is racing in your mind, it is the perfect time to download our modern furniture catalog. It takes less than a minute to don't bother your imagination.