Discover 20 celebrity dining rooms that will influence your interior design project and our dining room remodel – from organic design, passing by effortless chic dining rooms to extravagant and lush colors and patterns around – and on – the table. Celebrities influence the way we dress, and even the way we think. Why not allow them to influence the way we design interiors? With access to the world's most exclusive properties and interior designers, these are the 20 dining room design ideas that will feast your eyes and creativity.

MILA KUNIS AND ASHTON KUTCHER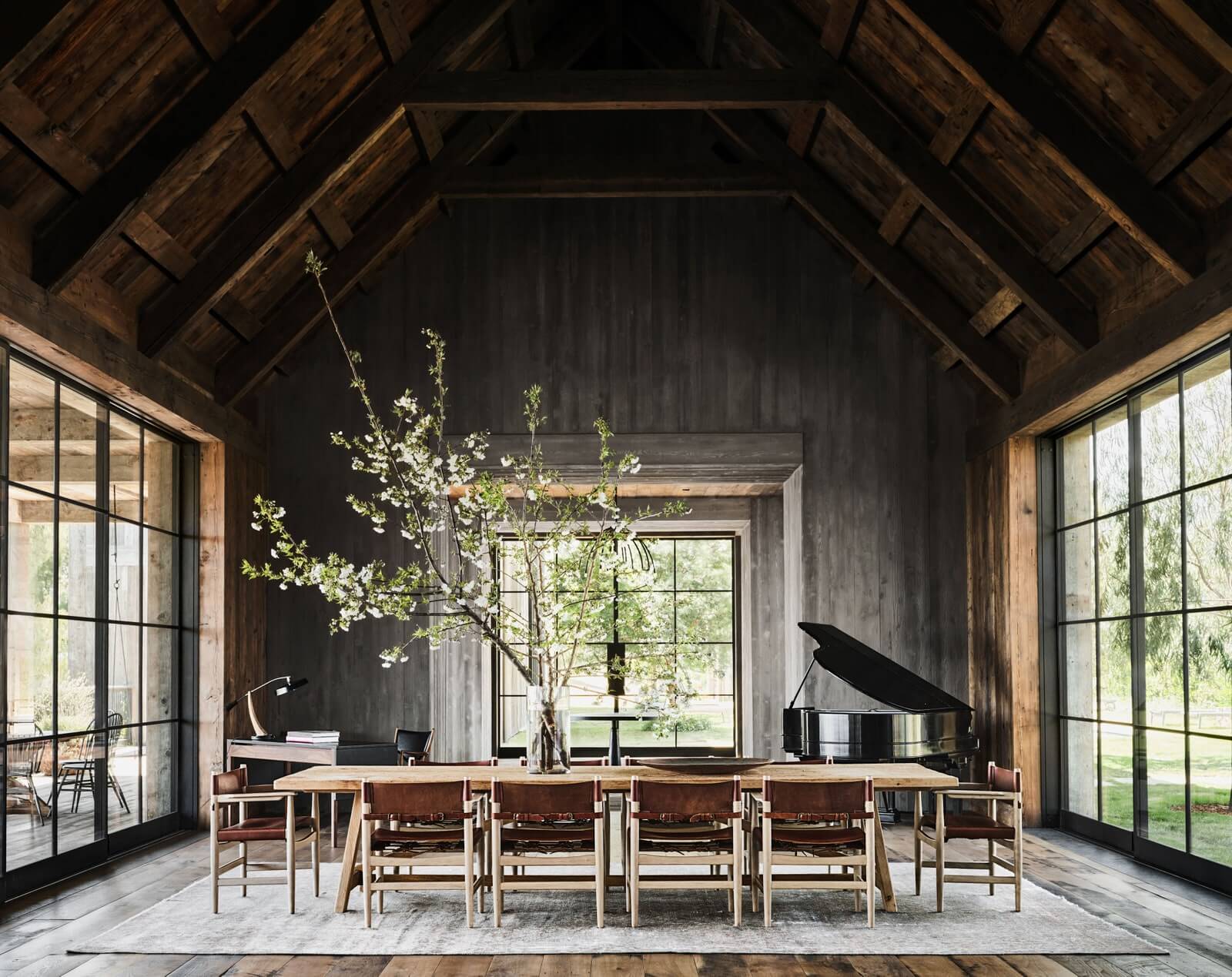 Mila Kunis and Ashton Kutcher's family home on the hilltop of Beverly Hills is a sophisticated farmhouse. The dining room in Backen & Gilliam Architects designed the barn-look-alike home that Charles & Co. Vicky Charles decorated designs one of the most whimsical celebrity dining rooms – where rustic and luxury harmoniously coexist.
ELLE MACPHERSON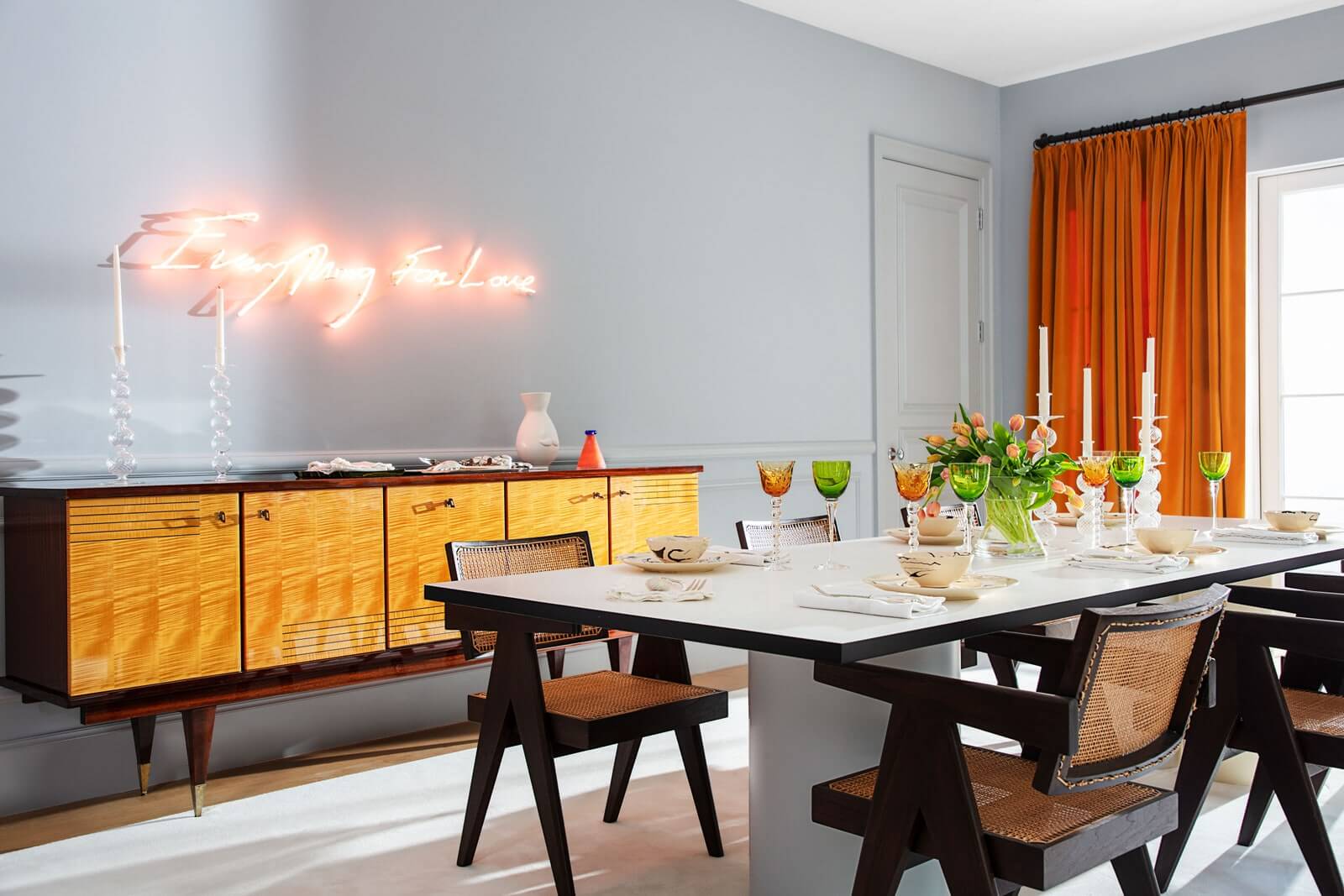 Sawyer | Brenson, the New York City-based AD100 practice, worked alongside Elle Macpherson for two intensive months to bring to life the newest Elle Macpherson home in Florida. The supermodel and 90s heart-breaker wanted a sustainable approach to her new home yet modern. The dining room has contemporary artwork – a neon installation of British artist Tracey Emin – and vintage furniture, such as 1950s Pierre Jeanneret chairs and a mid-century modern sideboard.
SETH MEYERS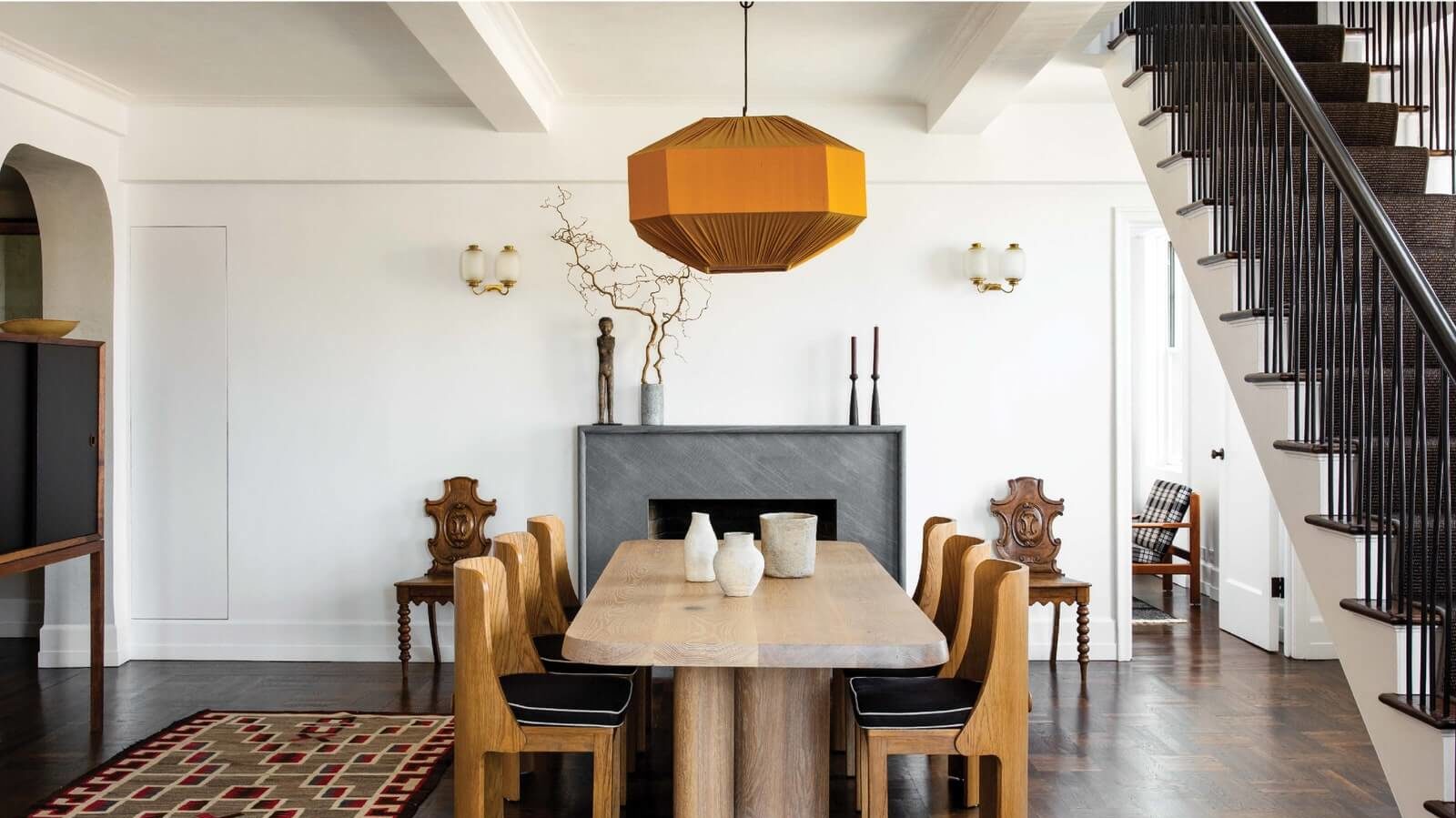 The Manhattan duplex, home to Seth Meyers and Alexi Ashe, was decorated by Meyer's sister-in-law, Ariel Ashe and Reinaldo Leandro. The talented duo Ashe Leandro brings together the simplicity of Scandinavian design and the charm of 1930s Manhattan in a neutral schemed home.
ELTON JOHN AND DAVID FURNISH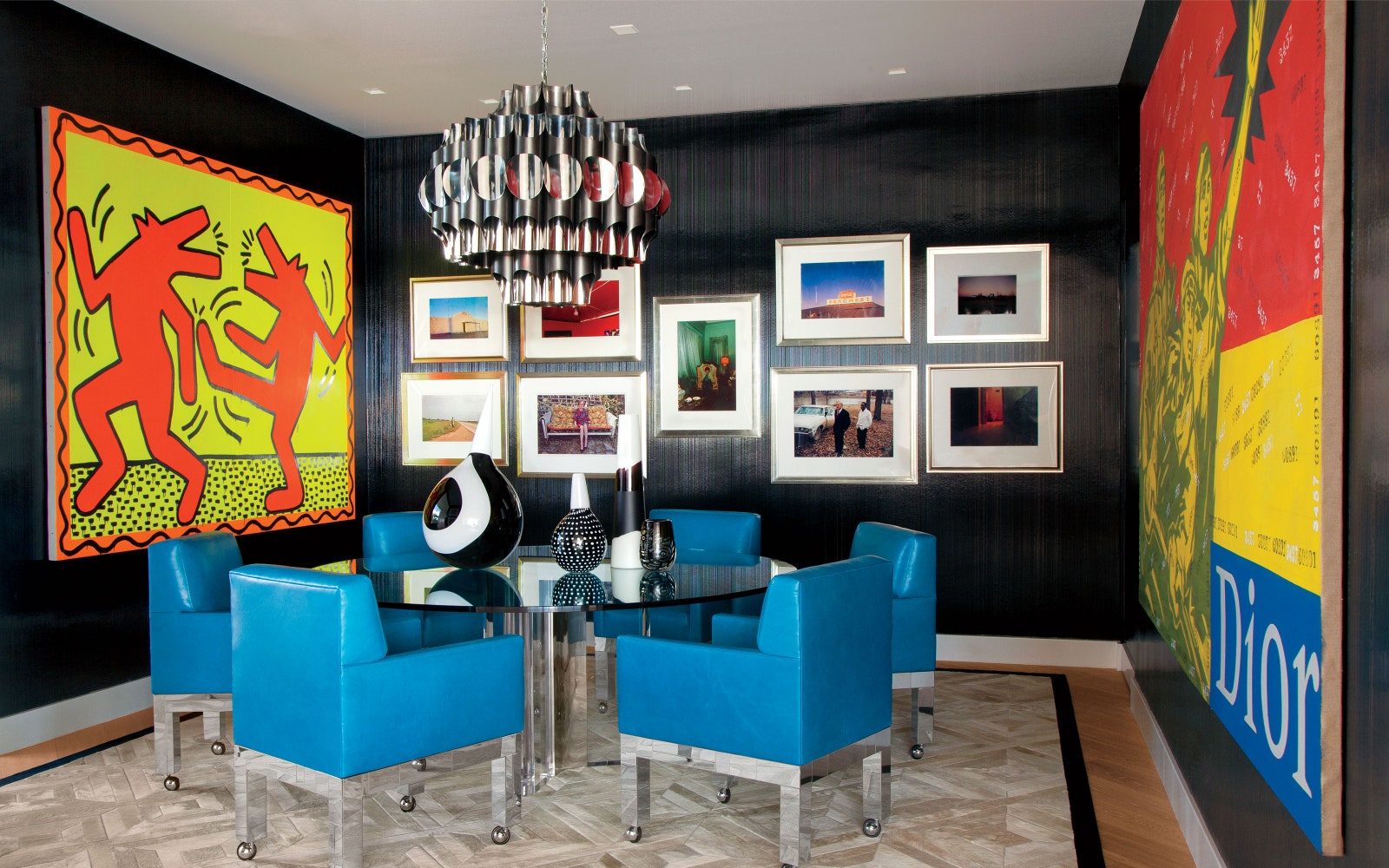 One of the most beautiful colorful celebrity dining rooms is Elton John and David Furnish's home in Los Angeles. The modern dining room design includes vintage furniture pieces and artworks of Keith Haring and Wang Guangyi and a group of photographs by William Eggleston. The interior design is by Martyn Lawrence Bullard.
KENDALL JENNER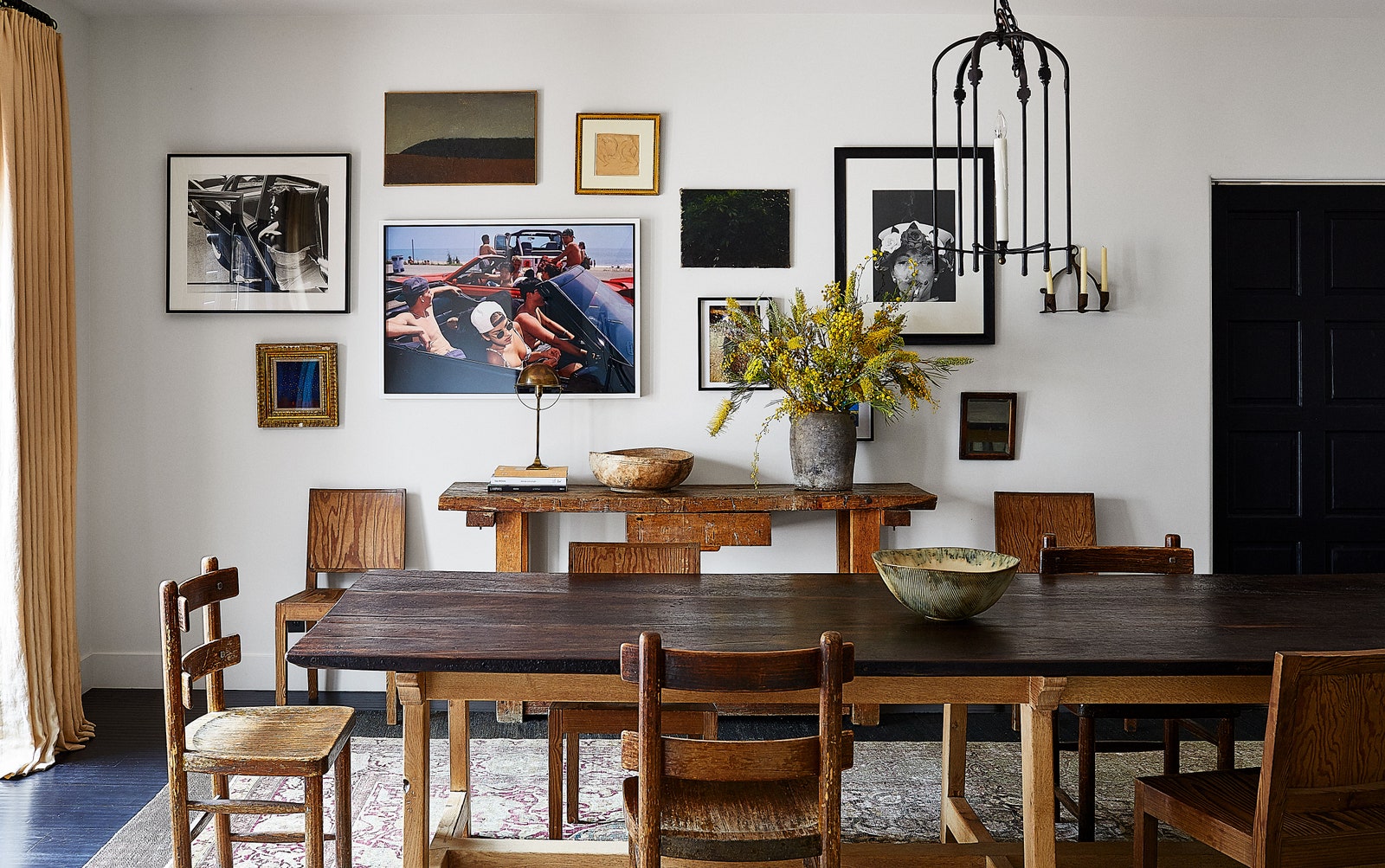 Kendall Jenner's home in Los Angeles is one of a kind – and so it is her dining room. Designed by mother and son interior design duo Clements Design, this is one of the most exquisite celebrity dining rooms. Wood furniture, vintage lighting fixtures. The dining room has a worn-out aesthetic, almost as if Kendall Jenner breaks into an authentic 1920s Hollywood residence lost in time.
SERENA WILLIAMS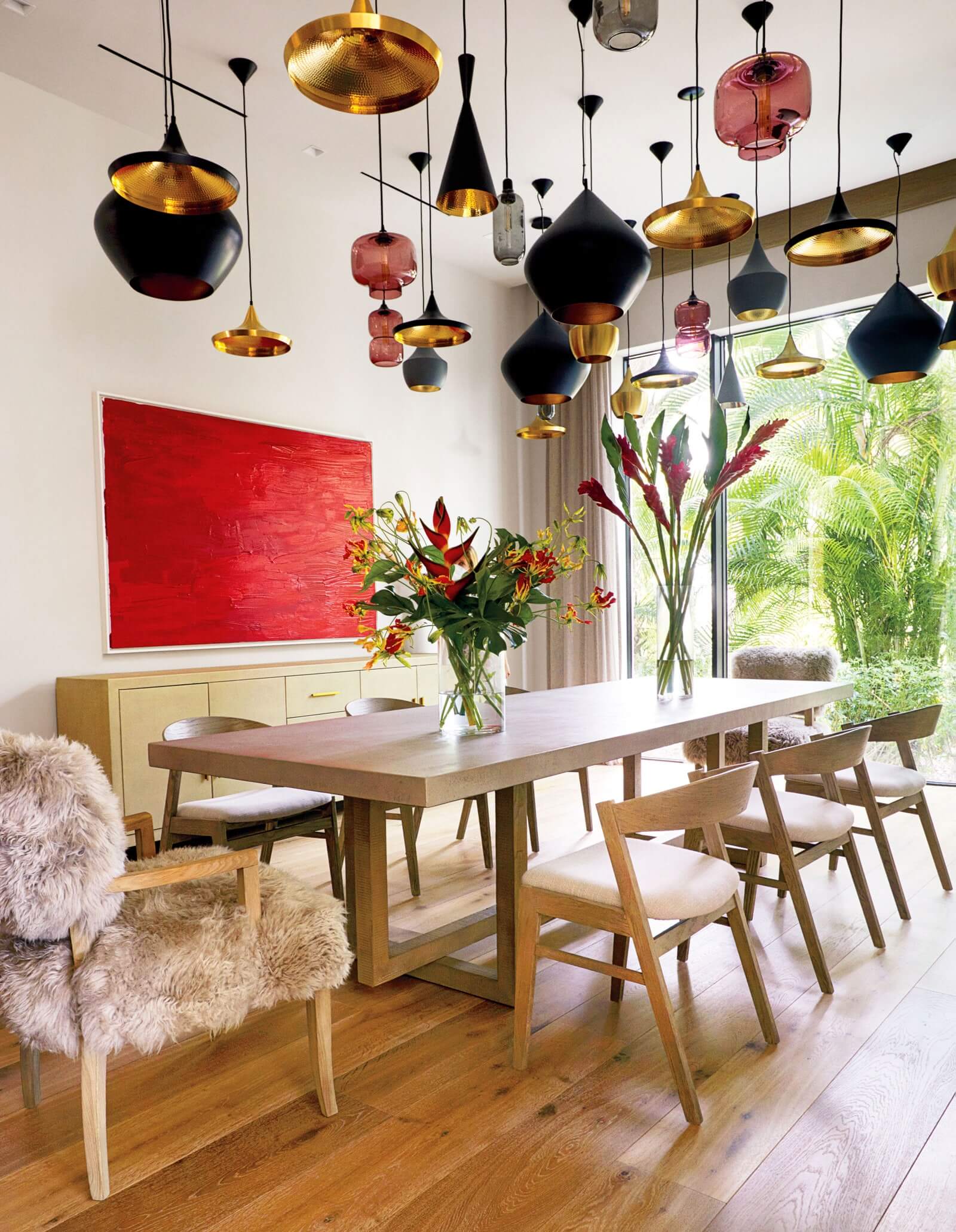 Serena Williams, alongside sister Venus Williams and her interior design practice, V-Starr, designs her dream home in Florida. The minimal celebrity dining room gets a dramatic ambiance with the red artwork on the wall – painted by Serena Williams – and the several lighting fixtures above the dining table.
MARK RONSON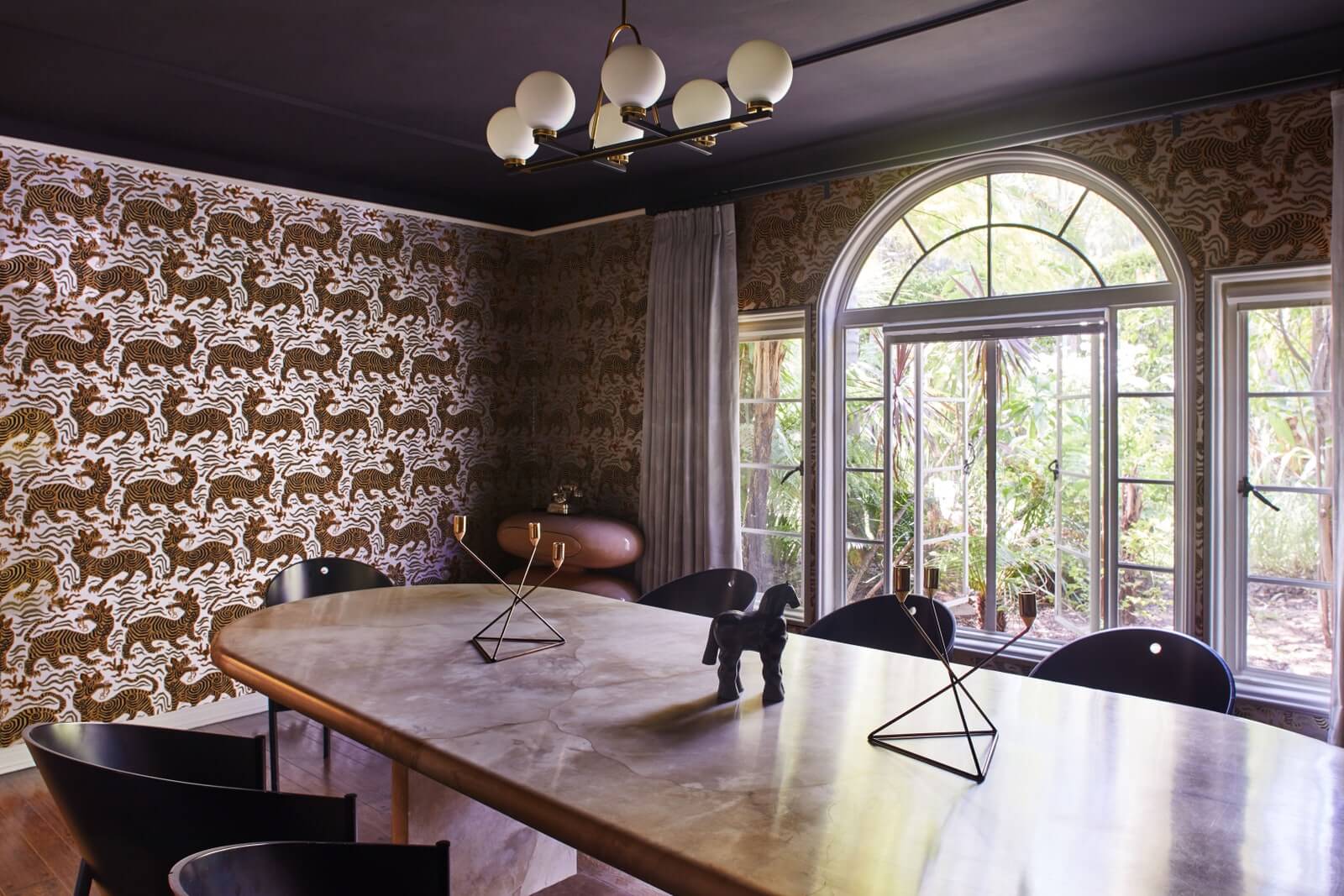 Mark Ronson's home in Los Angeles exhales eccentricity so that this is one of the most lavish celebrity dining rooms. Black painted ceiling, extravagant wallpaper and brass fixtures. This eccentricity is present in other rooms of the house. As a matter of fact, Mark Ronson's home in Los Angeles is the perfect scenario for the 1930s Hollywood bohemian living – animal print, golden fixtures and bold yet classic colors, such as blue cobalt.
JESSE TYLER FERGUSON AND JUSTIN MIKITA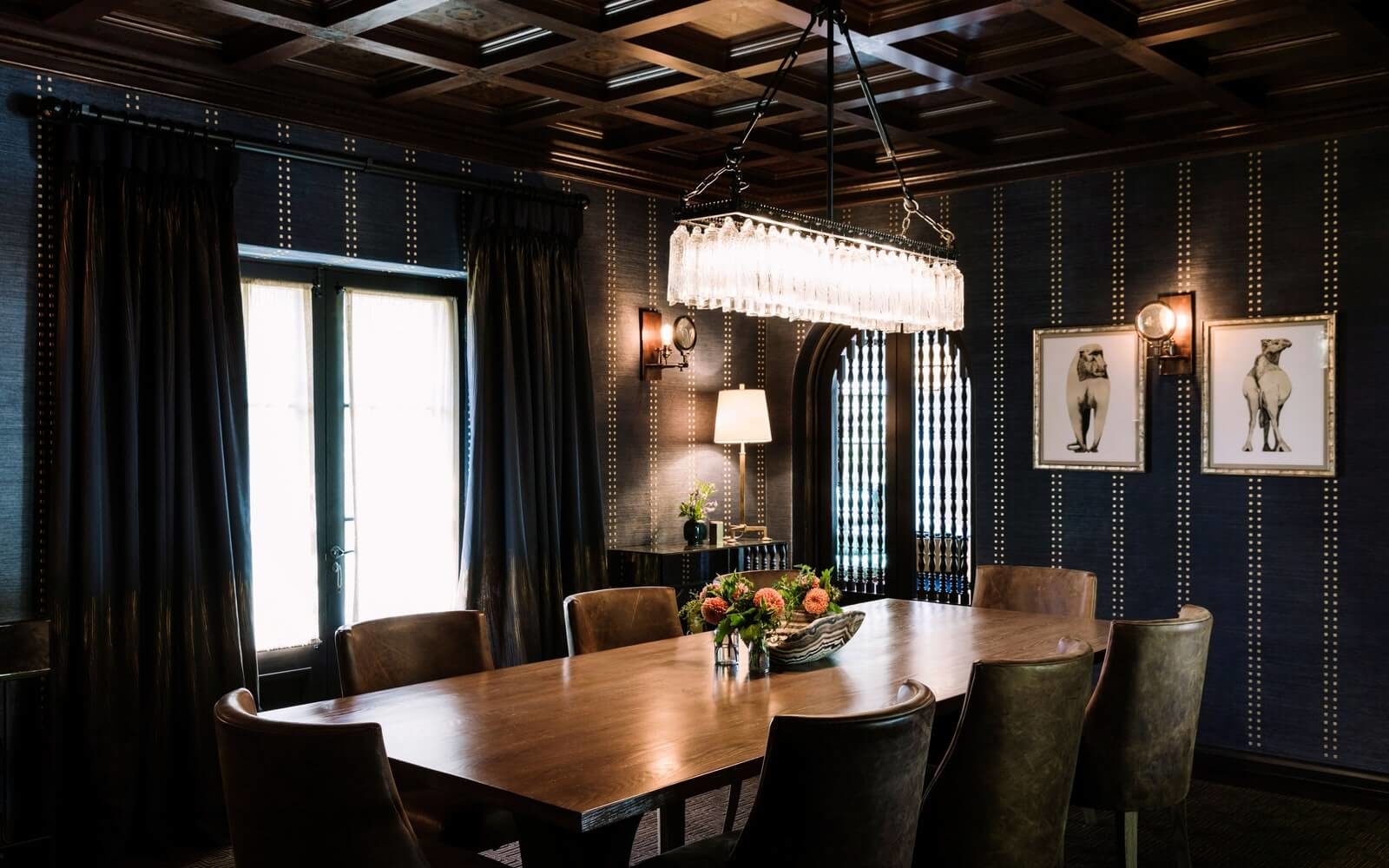 One of the most elegant celebrity dining rooms belongs to Jesse Taylor Ferguson and Justin Mikita. The Modern Family actor Justin Mikita collaborated with set decorator-turned-interior designer Peter Gurski to bring to life his family home in Los Feliz. The interior of the 1928s Spanish Colonial property is classy and elegant with an outstanding art deco flair.
JESSICA ALBA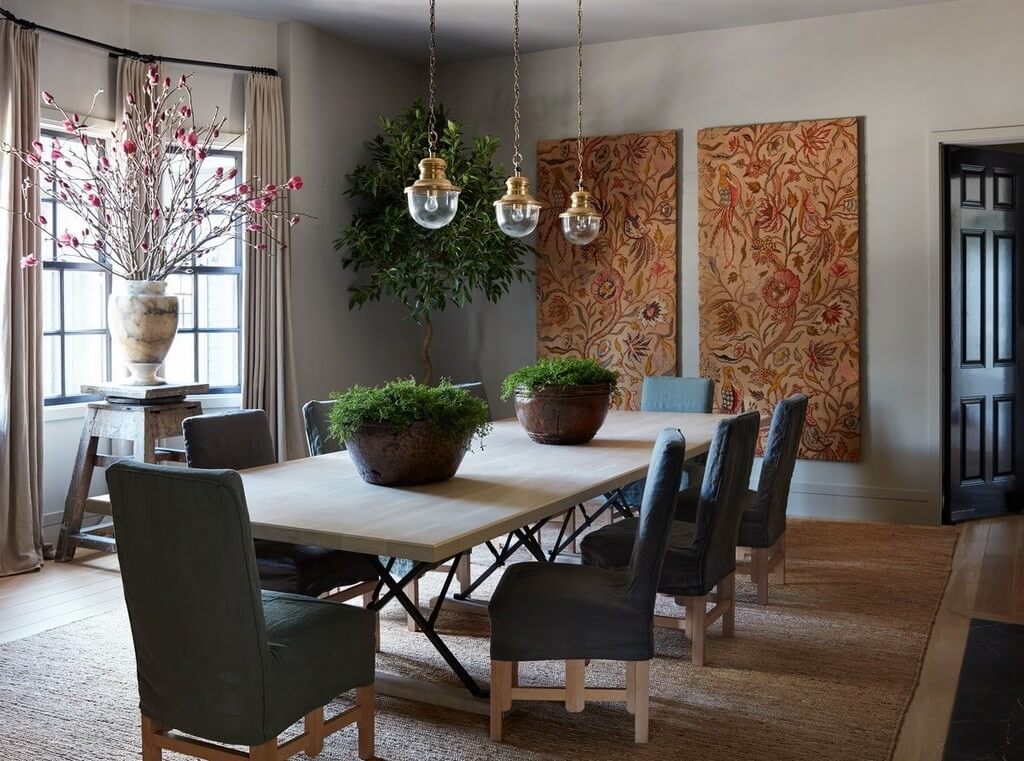 Clements Design is the creative mind behind Jessica Alba's family home in Los Angeles. The interior design is a transitional style, with a lot of modern furniture meeting classic pieces and eclectic accessories in the same room.
MILEY CYRUS
Tish Cyrus and Mat Sanders design a psychedelic home for Tish's daughter – the unique Miley Cyrus. Her home is very much like her personality – provocative, bohemian, and passionate. The celebrity dining room combines bohemian patterns with contemporary furniture design.
LEE DANIELS
Forever a New Yorker, the home of Lee Daniels in Los Angeles is a minimalist dream. The modern home prioritizes natural materials – and colors – over anything else. At Lee Daniels home we find one of the most captivating celebrity dining rooms – black, white, stone, wood, and glass are adorned with the sunlight.
KYLIE JENNER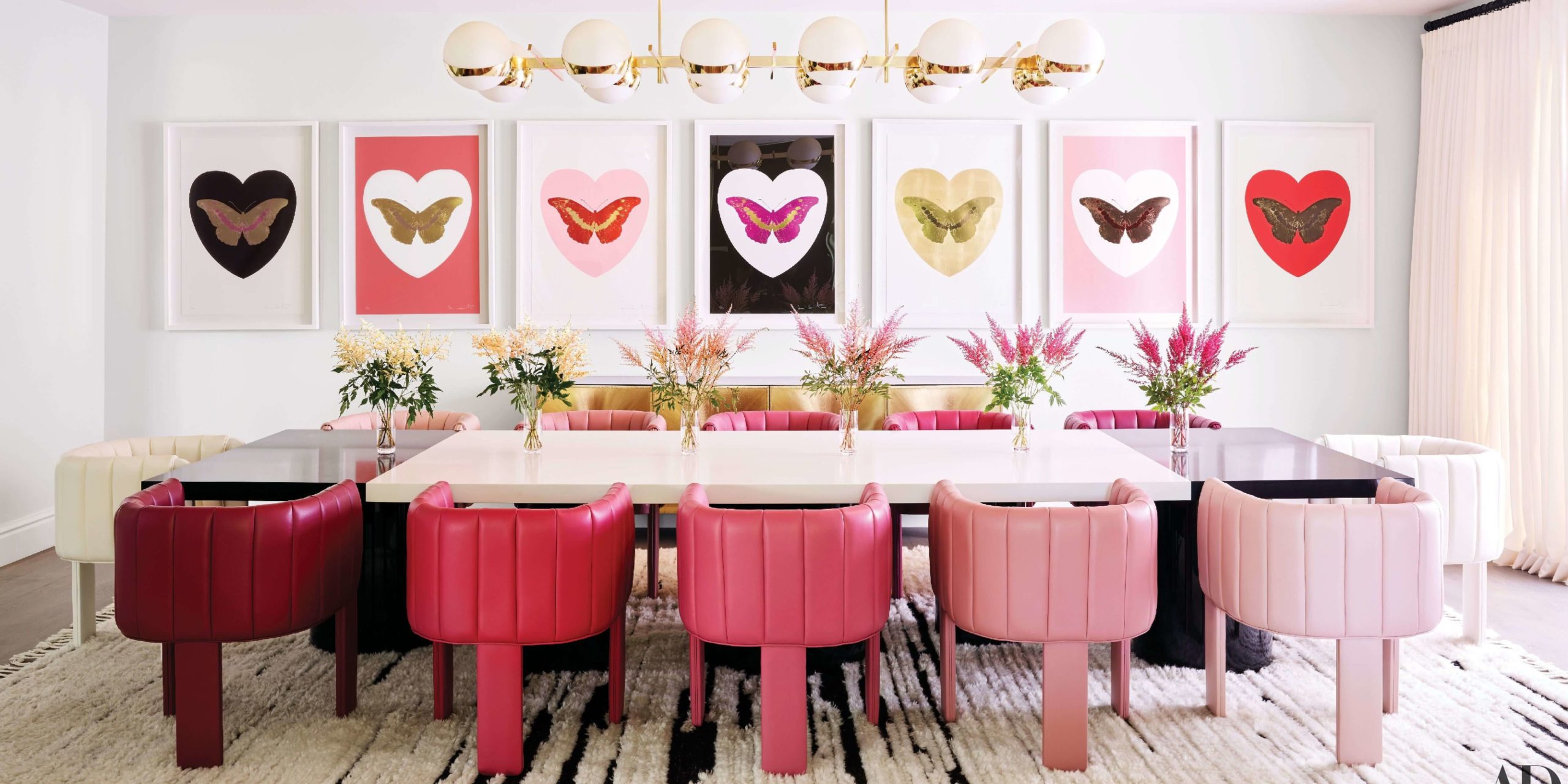 Martyn Lawrence Bullard has in his portfolio some of the Kardashian-Jenner's estate. The home of Kylie Jenner in Los Angeles was decorated by the top interior designer. The modern dining room is disguised in Millennial-pink hues.
CHARLI XCX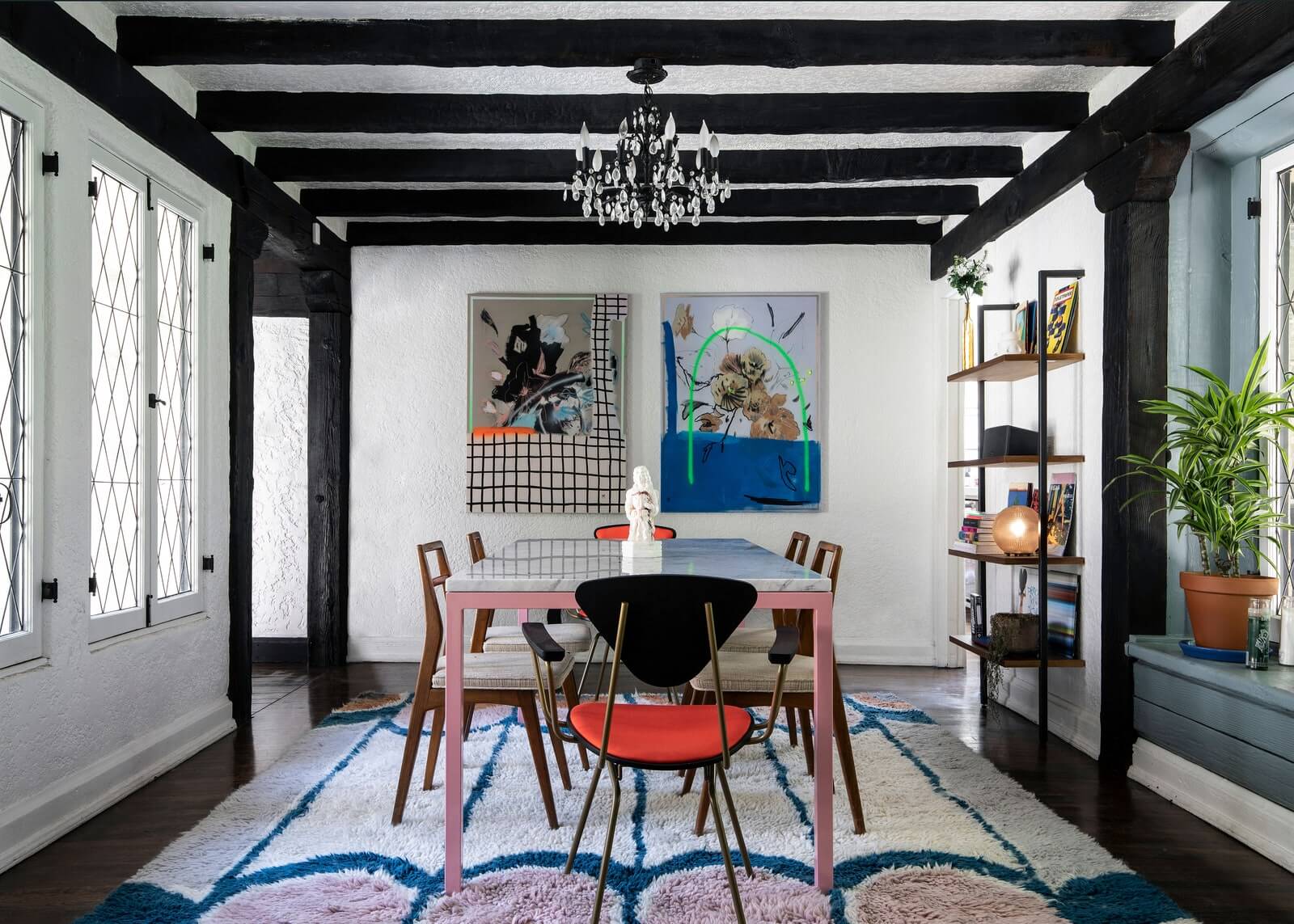 Charli XCX's home in Los Angeles is bohemian and colorful – so does her celebrity dining room. The retro interior design is filled with second-hand, vintage, and thrift-store findings. The dining room is effortlessly chic – with contemporary artworks, a classic chandelier, mid-century furniture, and a Memphis Milano-inspired rug.
MARC JACOBS
The home of the fashion designer Marc Jacobs in New York translates his fashion visual identity into interior design. His home is irreverent – a harmonious composition of light and dark hues, new and old pieces. The dining room of Marc Jacobs has a dramatic collage that contrasts with the conventional dining table and chairs.
CHRISSY TEIGEN AND JOHN LEGEND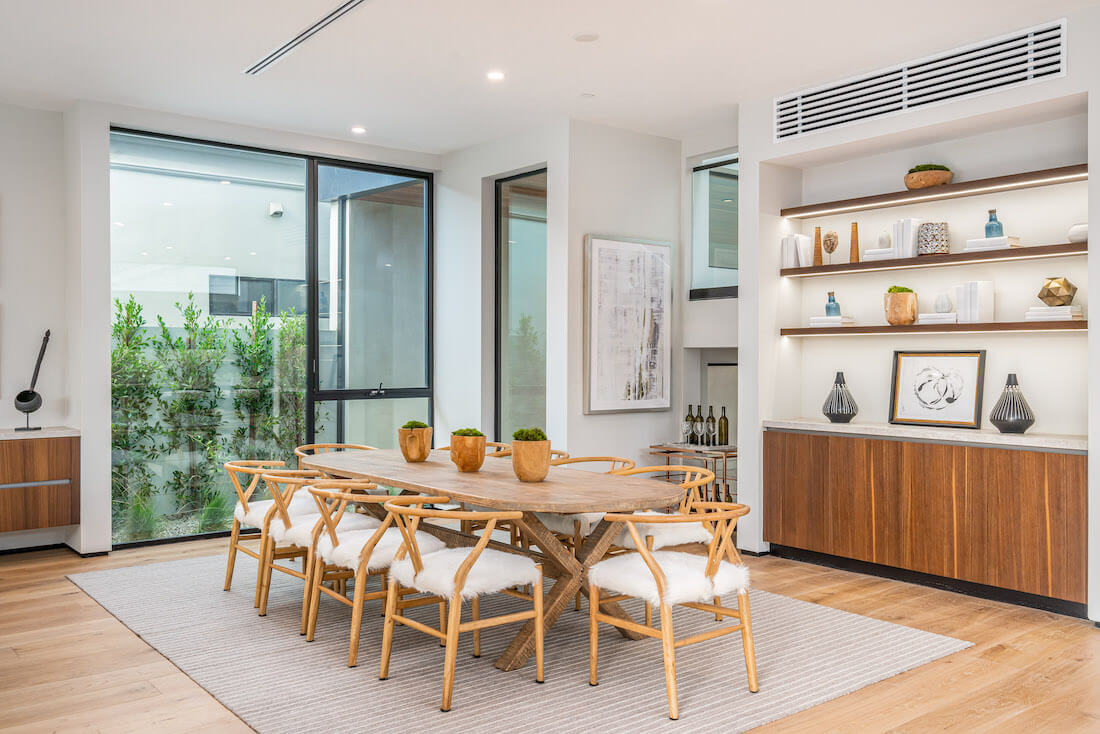 Minimal and organic, the words that best describe John Legend and Chrissy Teigen's home. Neutral hues and natural materials reign. Therefore, the minimal dining room is one of the most effortless chic celebrity dining rooms ever.
ANNE HATHAWAY AND ANDY SHULMAN
Studio Shamshiri rethinks a historic Alpine-inspired getaway for Anne Hathaway and her husband Andy Schulman. The couple's dining room is made of wood has is decorated with an elegant pendant above the vintage dining table.
LENNY KRAVITZ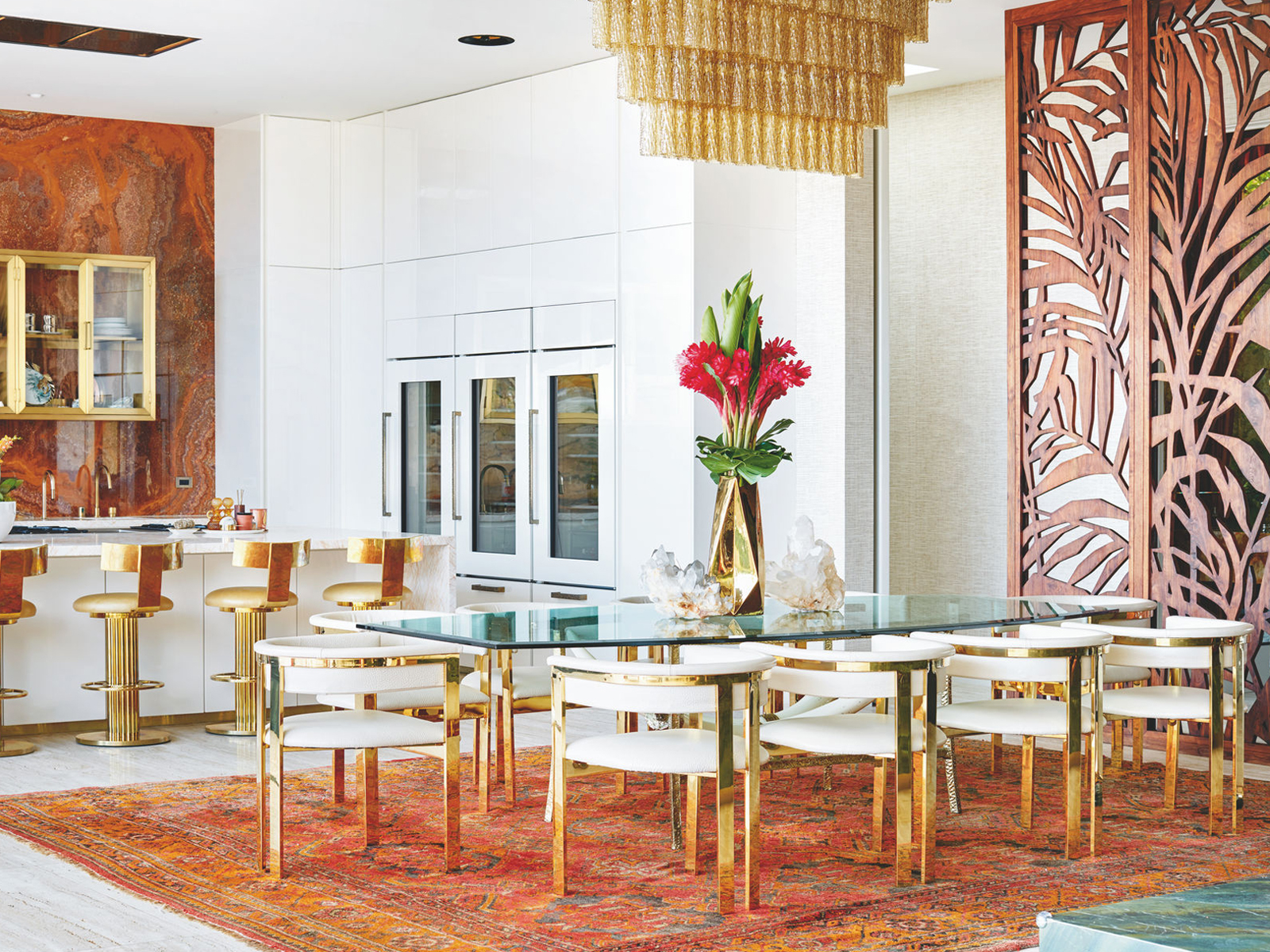 Sexy, funny, and provocative – that's the dining room of Lenny Kravitz's home in Beverly Hills. A dining table with a glass tabletop and modern dining chairs with golden details stand out among the warm and burning hues of the singer and interior designer's home.
TOMMY HILFIGER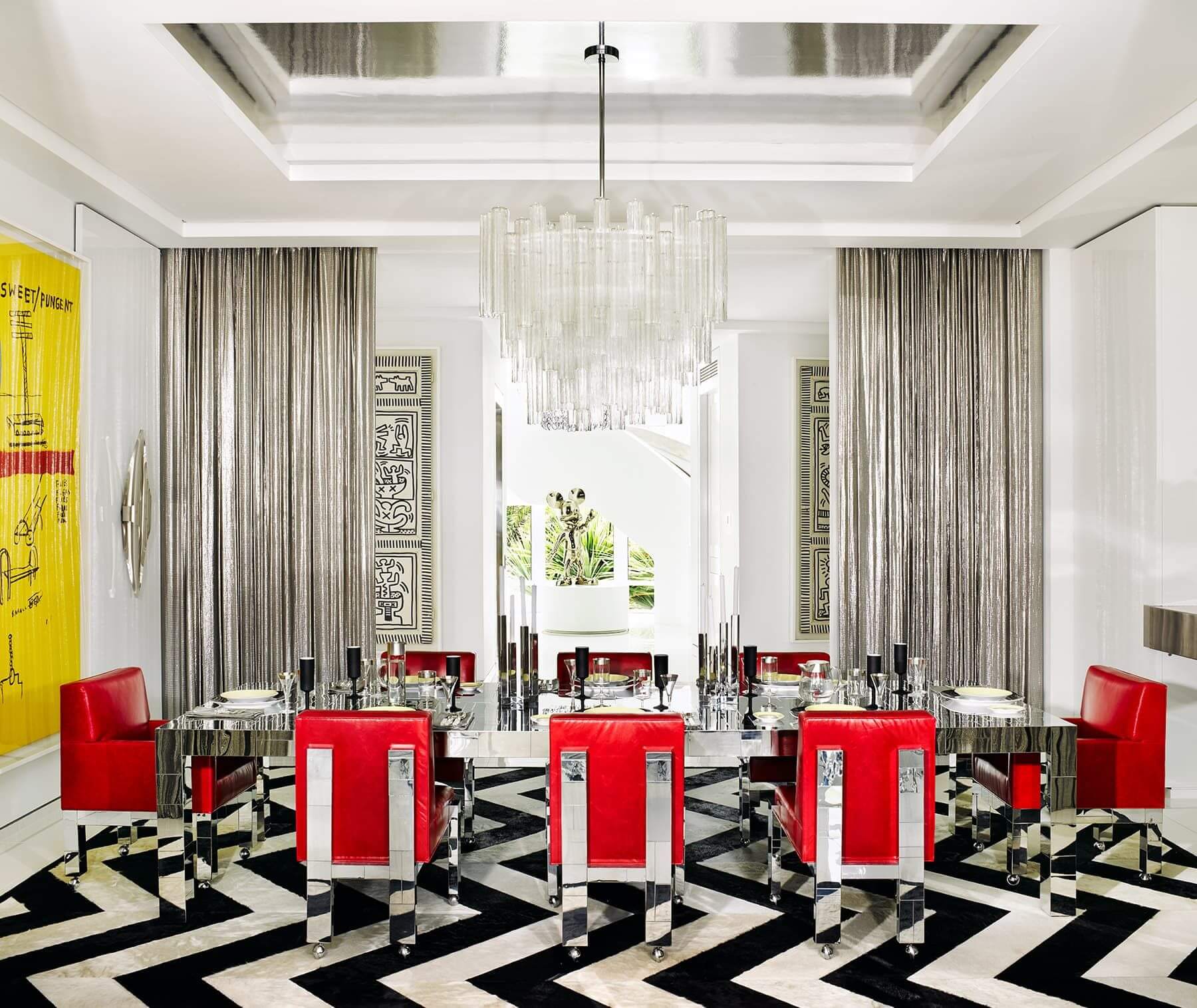 Celebrities love Martyn Lawrence Bullard as much as the interior designer loves bold colors and geometric patterns. For Tommy Hilfiger's home in Miami, the interior designer creates a contemporary and vibrant dining table – one of the most sophisticated celebrity dining rooms.
BROOKE SHIELDS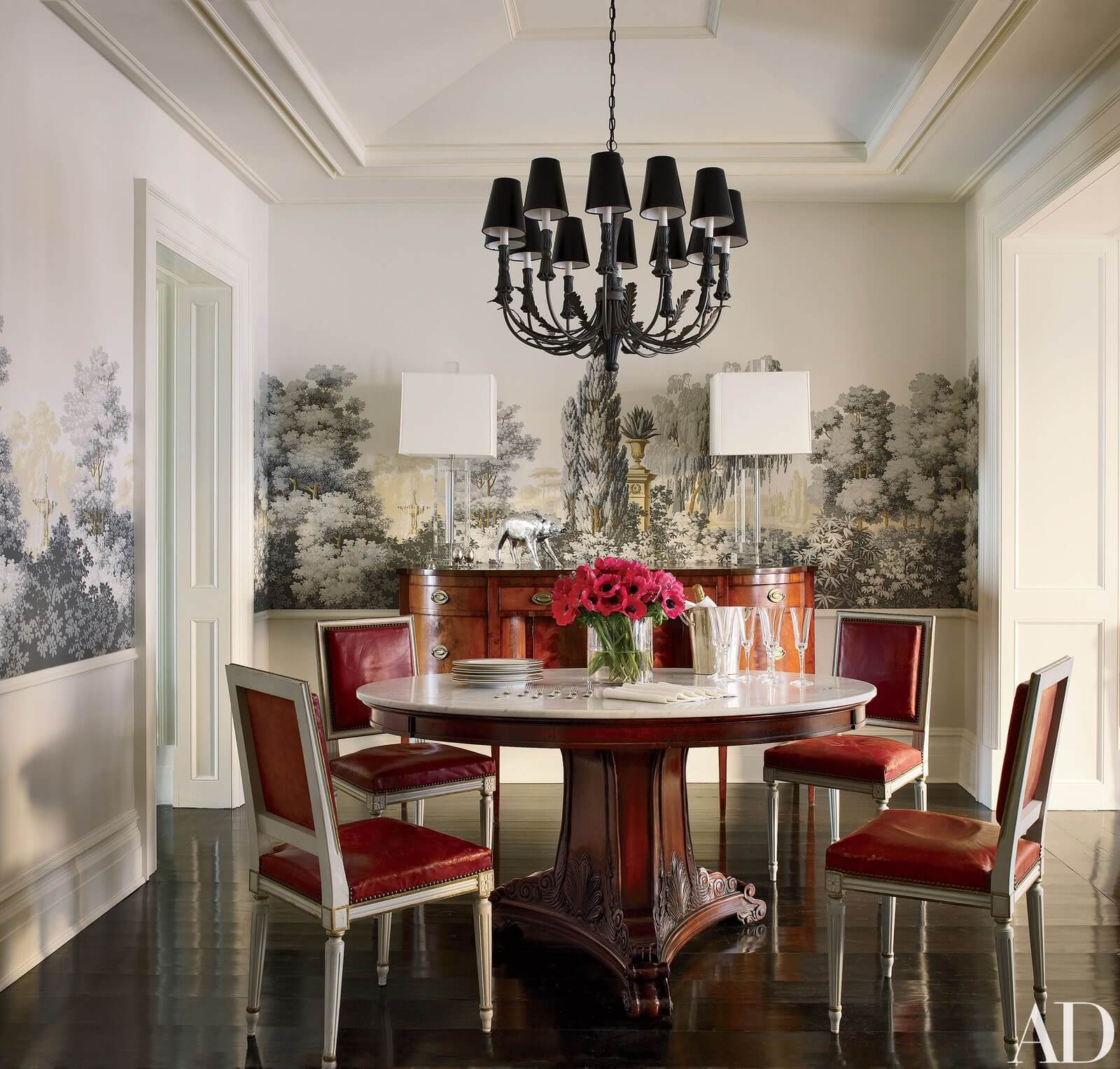 Brooke Shield's family nook on Greenwich Village has an elegant and timeless aesthetic. In collaboration with decorator David Flint Wood, Shields conceives a home to shelter both her family and her memories. The classic dining room has some irreverent features, such as the dramatic black suspension lamp.
Bring together the dining room of your dreams with Hommés Studio luxury modern furniture. Discover our furniture collection and customization options in our catalog which you can download for free below –

For more dining room inspiration like these stunning celebrity dining rooms, be up to date with the best dining room design ideas with Hommés Studio moodboard Dining Room Design Ideas on Pinterest.